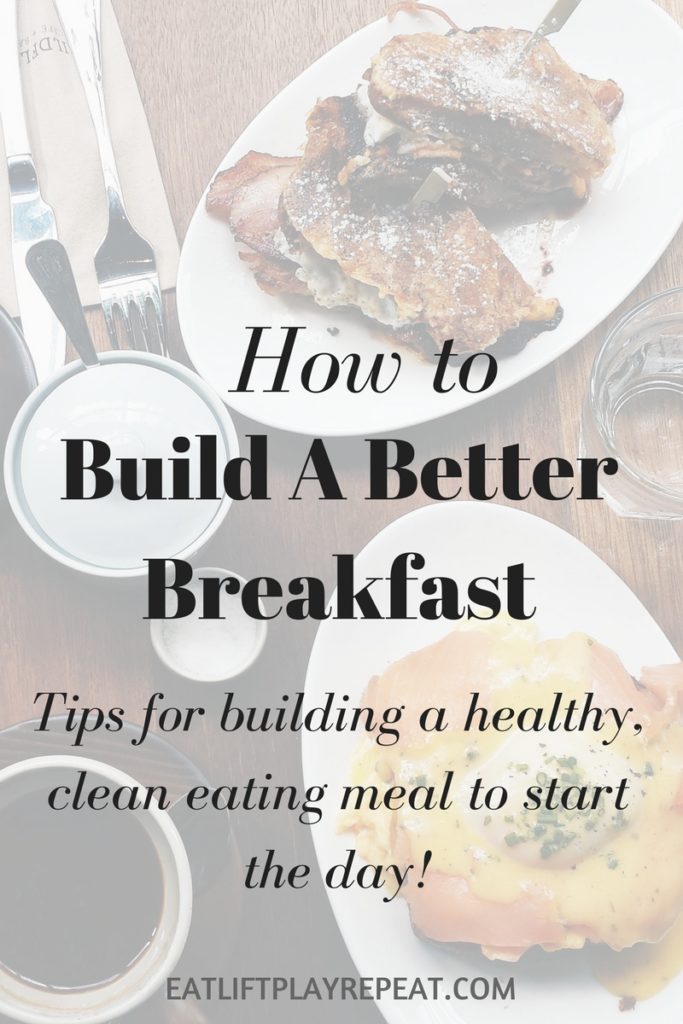 A lot of people refer to breakfast as the most important meal of the day. It is important to me, because it is my FAVORITE meal of the day! If you are new to the breakfast world or just need a few tips for making a healthy breakfast then I'm here to help. Here are my tips for how to build a better breakfast!
I am a huge breakfast fan. Honestly, I could eat breakfast-type foods all day long. I am pretty notorious for requesting breakfast-for-dinner when my husband asks what I would like.
There are just so many good foods that are considered "breakfast foods" here in the United States. Eggs, bacon, sausage, oatmeal, pancakes, waffles, French toast, etc. So many good options and a lot of those foods can be made healthy.
So how do you build a better breakfast? I'm here to offer my advice.
Start with protein. Whether you exercise frequently or not, protein is a very important part of any healthy diet. I do quite a bit of weight lifting and strength training so I have a high intake of protein. Even if you do not strength train, it is still important to get a sufficient amount of protein. It helps preserve muscle mass and keeps blood sugar levels stable.
Eggs are one of my favorite protein sources in the morning. They are one of the most nutrient dense foods you can buy. By that, I mean they are packed full of nutrients your body needs, yet one large egg is only 70 calories! Basically, you get more bang for your buck.
I definitely recommend eating at least one whole egg, because all the nutrients are found in the yolk. Occasionally I'll have a few egg whites topped with an over easy egg or I'll make an egg scramble using 3 egg whites + one whole egg.
Yogurt and cottage cheese are a couple other foods I'll eat at breakfast to sneak some protein in. I like sweet topping for both when I eat them in the morning. Sliced bananas, strawberries, blueberries, raspberries and blackberries are my go-to fruit toppings to add flavor and a touch of sweetness.
Occasionally I'll have a protein powder with breakfast. If I just eat a protein shake/smoothie for breakfast then I tend to get hungry a few hours later so I try to eat something else with that shake (toast, half a bagel, etc). I don't like to rely a ton on protein powder, but it is quite convenient on busy mornings. I'll mix it into oatmeal or blend it with milk and frozen fruit before heading out the door.
Pair protein with a complex carb. Complex carbs take the body longer to break down to use as energy so they keep you full longer than simple carbs. Donuts, pastries, white bread, etc are simple carbs while whole wheat bread and oatmeal are complex carbs.
Another benefit of complex carbs is the fiber content. Complex carbs and whole grains tend to have more fiber than simple carbs.
If you are making eggs for breakfast, then a good pairing would include whole wheat bread, a whole wheat English muffin or a whole wheat bagel. If you are in a hurry and need to stick to protein powder, then a good pairing is oatmeal. Either blend some oats into a protein smoothie or make quick cooking oats and mix protein in afterwards.
Use whole wheat bread to make French toast or use whole wheat flour to make pancakes or waffles!
The combination of complex carbs and protein is perfect for any meal during the day, including breakfast. Pairing the two together will keep you feeling full longer than if you were to eat carbs alone or protein alone.
Add a little healthy fat to the plate. Fats have more calories per gram than protein or carbs, but if you choose the right fats then they can help keep you satisfied until your next meal. Eggs, avocado, nuts, nut butters etc are the healthy fats I reach for in the morning.
Egg yolks are loaded with healthy fats so I try to consume at least one whole egg with my breakfast. If you want to stick to egg whites only, then I suggest adding avocado in the mix! Take a piece of whole wheat bread and top it with mashed avocado. Slide a scrambled or over-easy egg on top and you have yourself a well rounded breakfast!
If you are going with the oatmeal route, then top your oats with peanut butter, almond butter or even coconut butter! You could also sprinkle a serving of nuts on top, such as chopped pecans, walnuts, almonds or pepitas.
For a protein smoothie, feel free to add peanut butter or almond butter in the mix. Avocado is another great addition to a smoothie. You won't taste it, but it makes it extra creamy. My go-to healthy fat addition to a smoothie is chia seeds. I add anywhere between 1/2 tablespoon to 1 tablespoon of chia to my smoothie before blending. It helps thicken it up and provides some healthy fats and protein.
Keep portions in check. By all means don't skimp on breakfast, because you'll continue to be hungry throughout the rest of the day. However, if you get too crazy adding a million ingredients to your breakfast then you could end up over-eating calorie wise in the morning.
I highly suggest using an app to track your calories, at least until you get the hang of things. It is easy to start making overnight oats or a smoothie and start adding a few ingredients here and a few ingredients there. Pretty soon you have a "healthy" breakfast that is 600+ calories! My favorite app to use is My Fitness Pal. It has a wide variety of foods to enter and it is pretty simple to use.
Those are a few tips for how to build a better breakfast. As a bonus, here are some of my favorite breakfast combinations:
1 slice whole wheat toast, 1/4 avocado (mashed), 3 egg whites + 1 whole egg (eggs cooked however you prefer)
1/2 whole wheat bagel topped with 1/2 Tbsp cream cheese plus a veggie omelette made with 3 eggs, 1 whole egg and 1-2 different vegetables (broccoli, cauliflower, bell peppers, zucchini, spinach)
1/3 cup quick oats (cooked using water) mixed with 1/2 scoop protein powder and topped with 1/2 sliced banana, 1Tbsp peanut butter and cinnamon
overnight oats made with 1/3 cup rolled oats, 1/3 cup unsweetened almond milk, 1/3 scoop protein powder, 1 ounce of Greek yogurt and 1Tbsp chia seed (add additional toppings after the oats have soaked in the liquid)
1 whole wheat waffle topped with 1/2 sliced banana, cinnamon and 1 tsp maple syrup, plus 3 egg whites + 1 whole egg on the side(egg cooked however you prefer)
So there are some basics for how to build a better breakfast. Start with protein, add a complex carb and some healthy fats. I do suggest tracking your breakfasts (especially if you are new to the healthy-breakfast game) just to make sure your portions are in check! You don't have to track them forever, but at least until you get the hang of things.
What is your favorite healthy breakfast combination?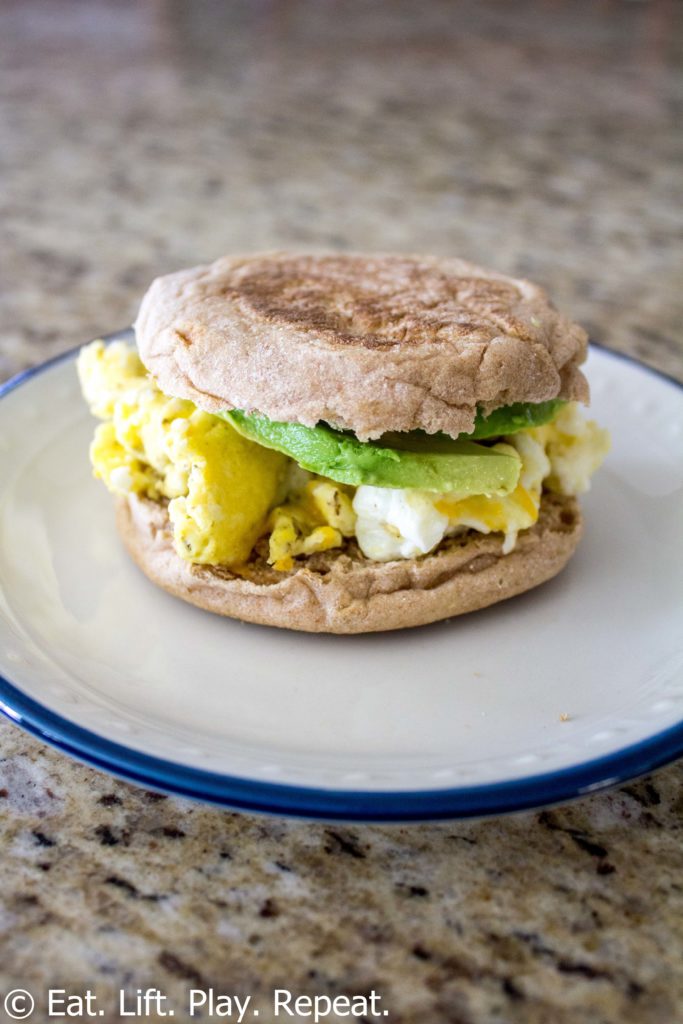 5-Minute 4-Ingredient Breakfast Sandwich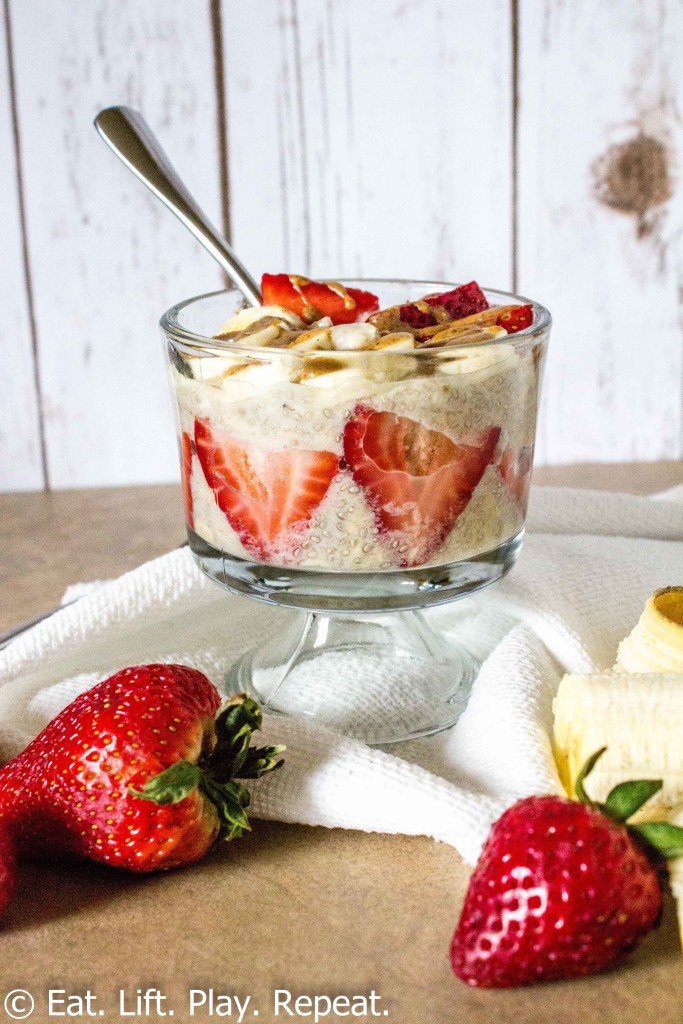 Strawberry Banana Protein Overnight Oats