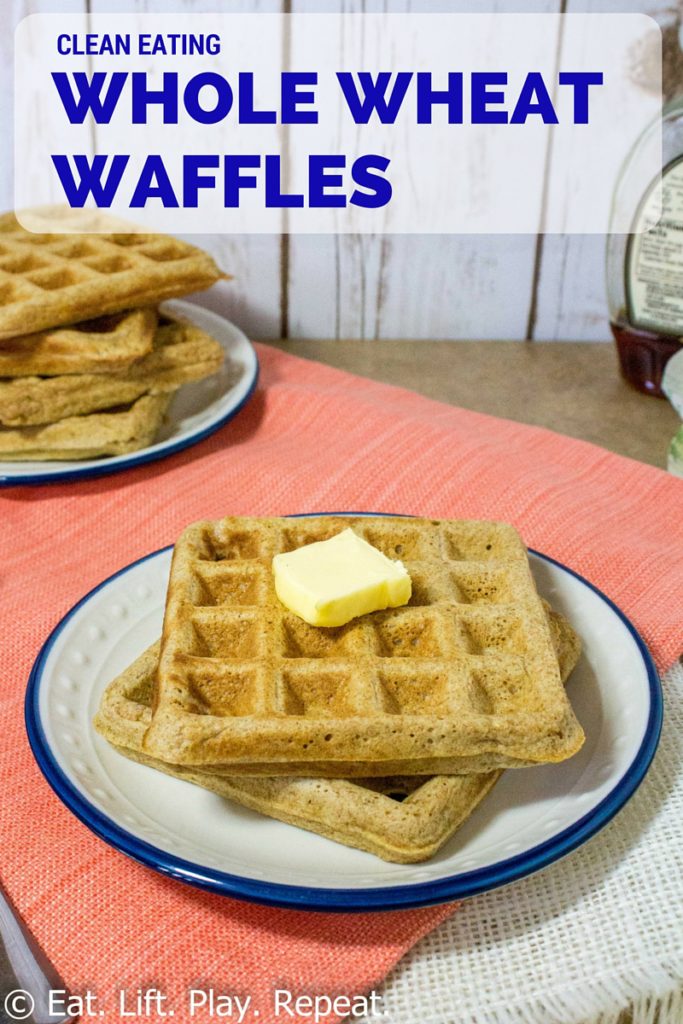 Are you a waffle person? Or a pancake person? Some people prefer one over the other. I love both, but if I have to choose then I will go with waffles 9 times out of 10.
I love how crispy waffles get compared to the fluffiness of pancakes. Plus, each little indention allows a small pool of syrup to settle in….yum!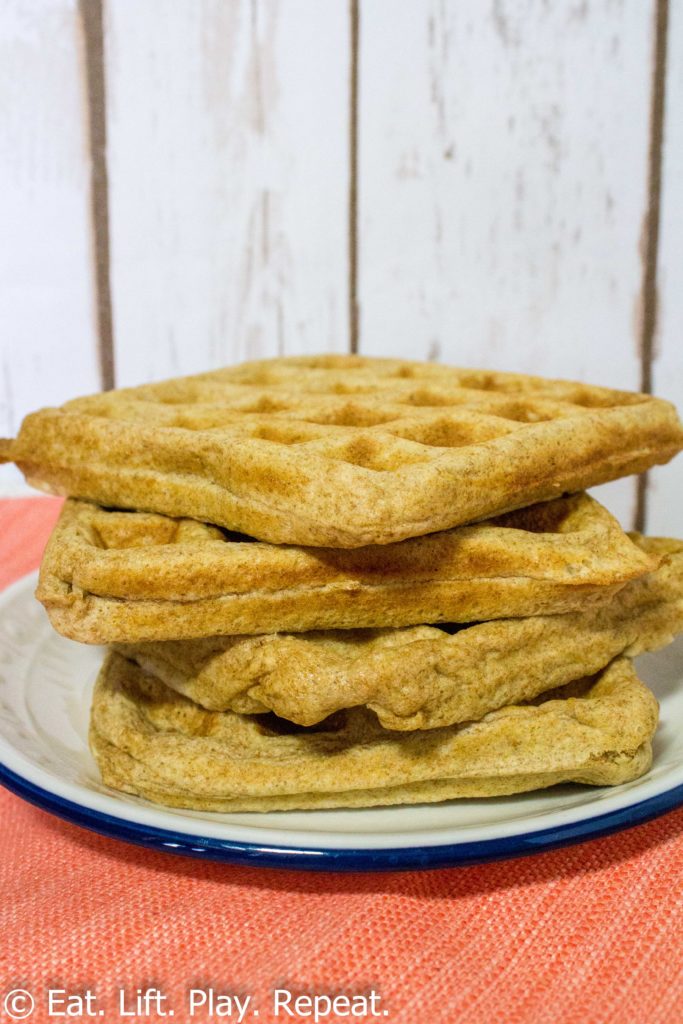 Most waffle recipe are made with all purpose flour, refined sugars and vegetables oil. Now, don't get me wrong they are delicious. However, they do not provide much nutritional value and they can leave you hungry a short while later. You'll get a rush of energy from the refined carbs, sugars and extra syrup (because duh…..syrup is a must) but then a crash once those fast-moving carbs have left.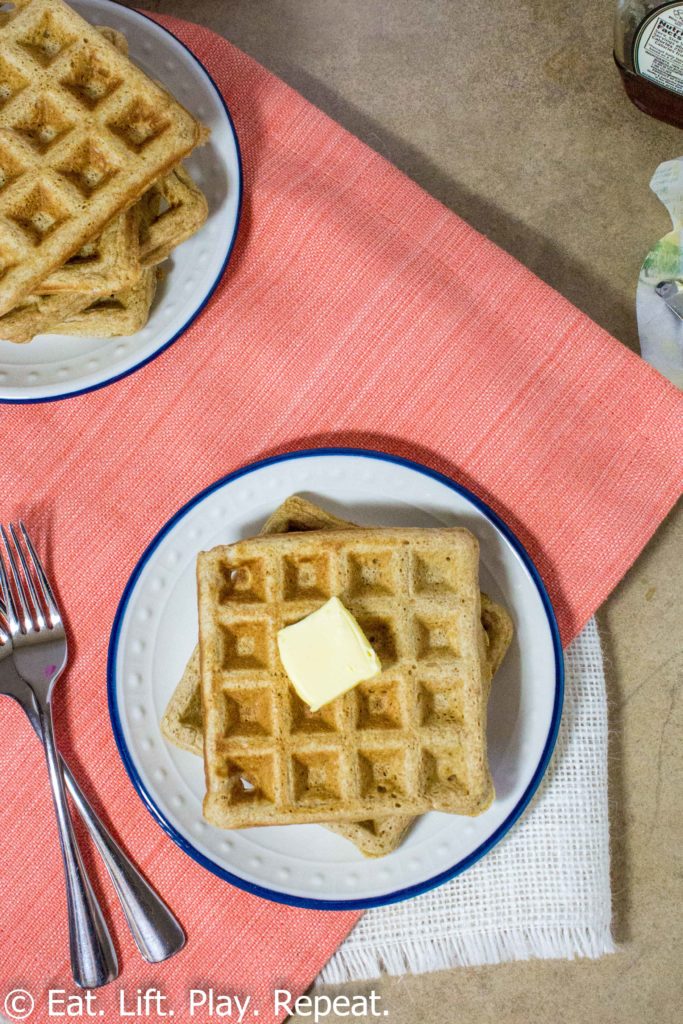 These Whole Wheat Waffles use whole wheat flour, applesauce and coconut sugar instead of the AP flour, oil and sugar. They are just as fluffy and crispy as the original!
I did learn a trick from my Grandma when it comes to making waffles. It takes a few extra minutes, but I promise it is worth it!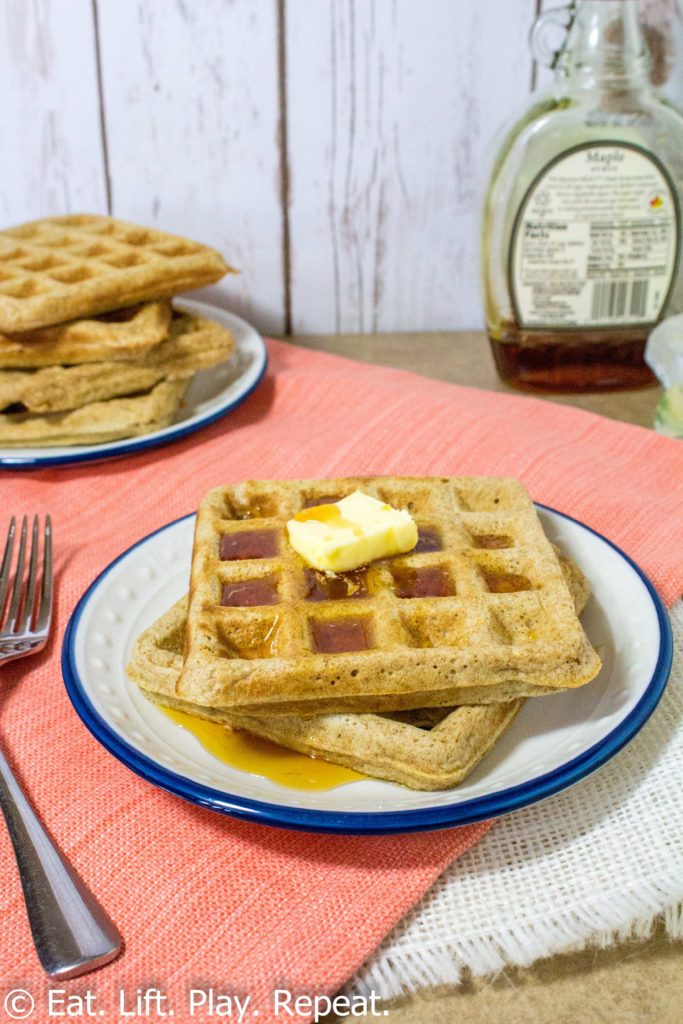 Beat the egg whites. Yes, beat the egg whites with an electric mixer or standing mixer until the egg whites forms stiff peaks. This adds air into the batter and makes the waffles super fluffy! Thank you Grandma.
I still use the yolks for the healthy fats they provide, but keep them separate. Throw the yolks in with the wet ingredients and toss the egg whites into their own mixing bowl.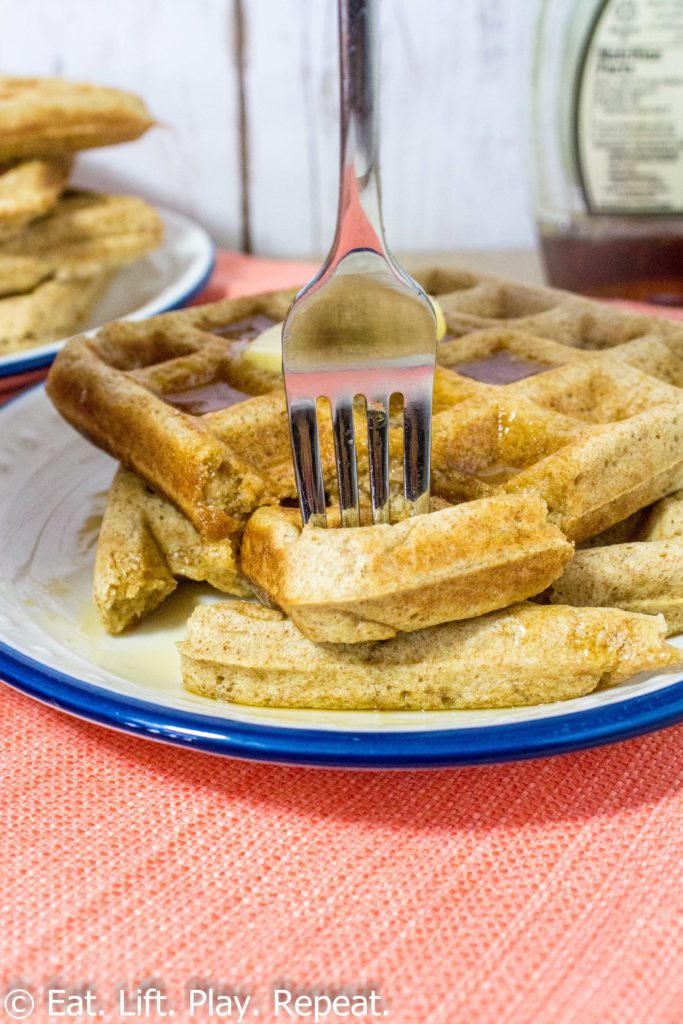 Making the stiff peaks for the egg whites only takes about 5 minutes and a couple extra dishes. Again, it is worth it in my opinion.
My other suggestion is to make extra waffles. I mean, why not?! I will sometimes double the recipe in order to have leftovers.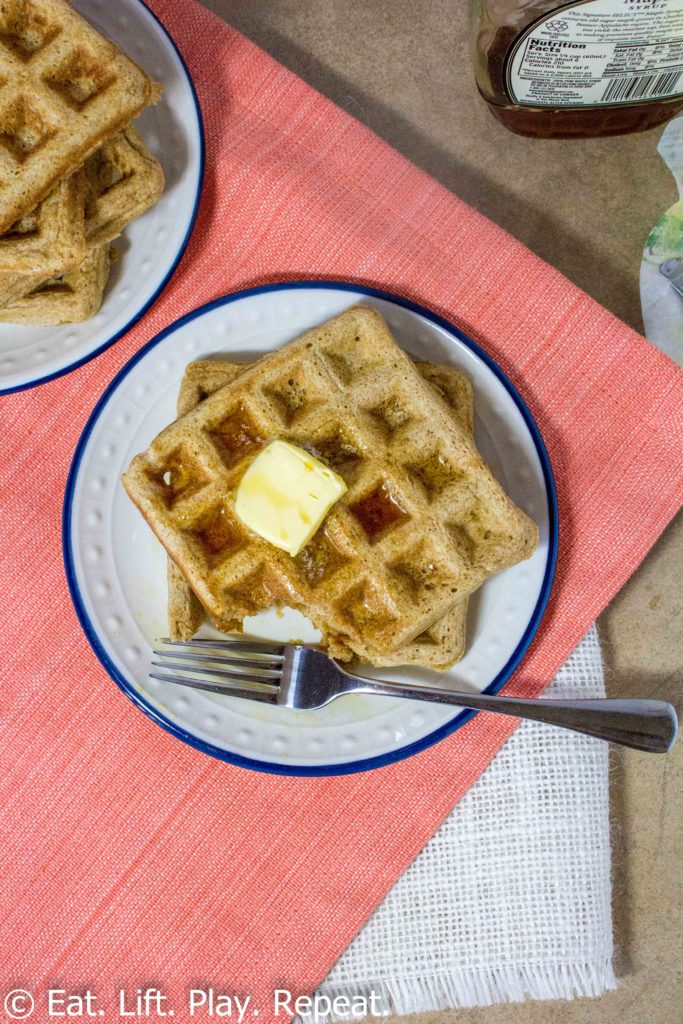 Waffles freeze fantastically! I pack them up in Ziploc freezer bags in pairs, then freeze them for future breakfasts. You could also freeze all the leftovers all together in a 1-gallon or 2-gallon Ziploc freezer bag. Either way works.
Some weekday mornings I crave a waffle, but who wants to mix up the batter and make waffles before being at work at 8:00am? I get up early and I STILL don't want to do this. Instead, I pull a waffle out of the freezer, pop it in the toaster to make it even more crispy and bam, waffle for breakfast!
It is like your very own Eggo factory in your kitchen. How awesome is that?!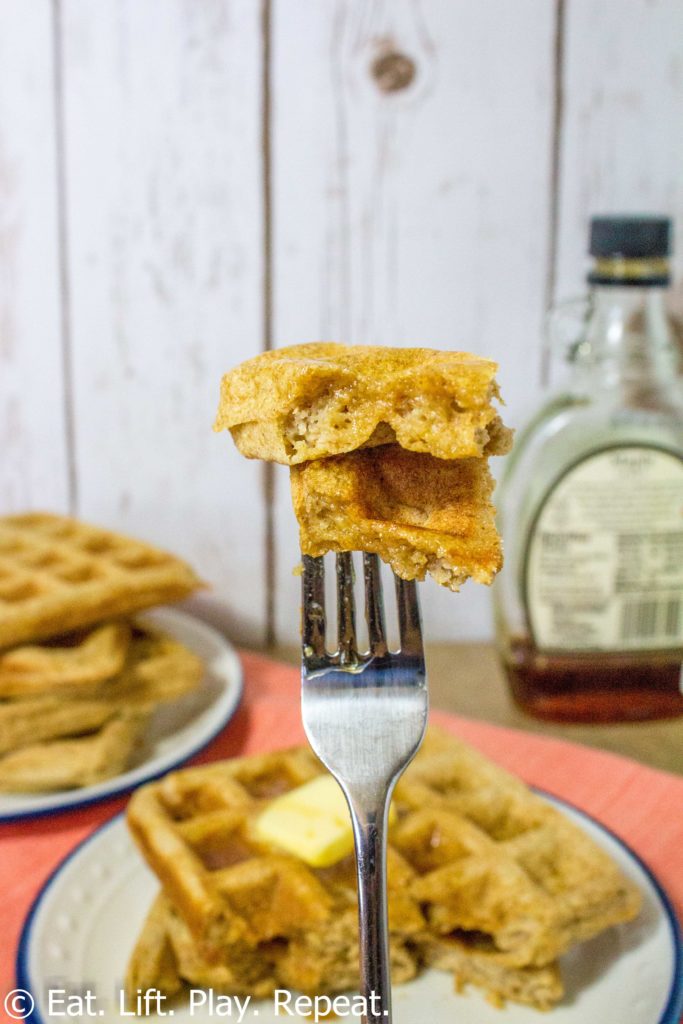 If you never happen to make this recipe that's ok (sort of… I suggest it, but it is your decision), but please remember these two suggestions when making any waffle recipe:
Beat your egg whites to form stiff peaks before folding them into the batter
Make a lot of extra waffles so you can freeze them for future breakfasts
Can you handle that?! Now, excuse me while I drool over these Whole Wheat Waffles slathered in syrup and butter.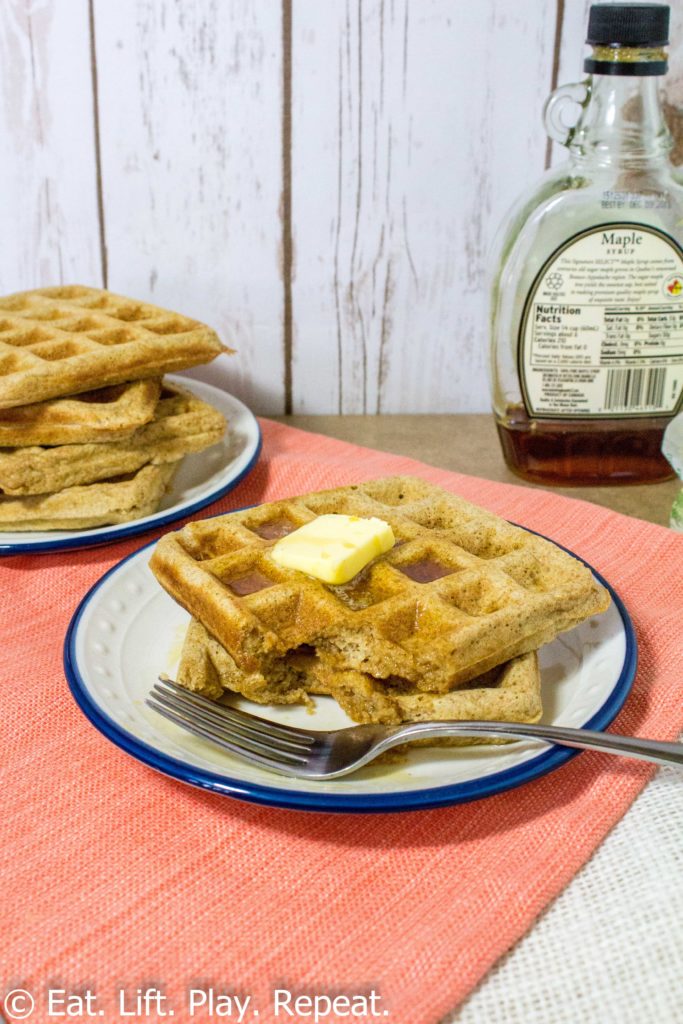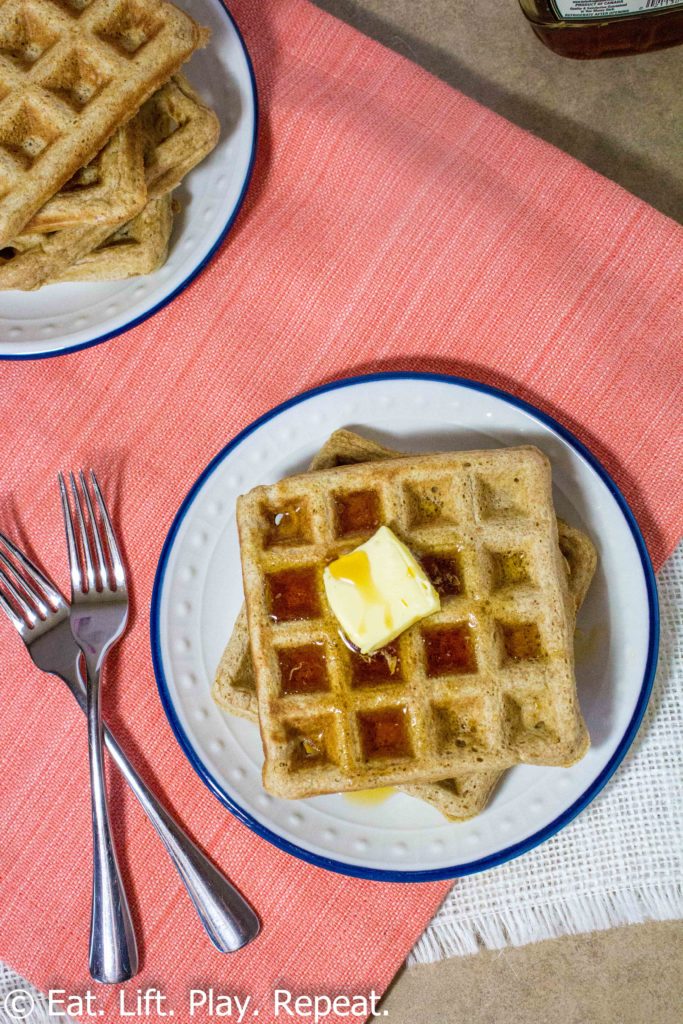 Whole Wheat Waffles
2016-07-31 10:44:04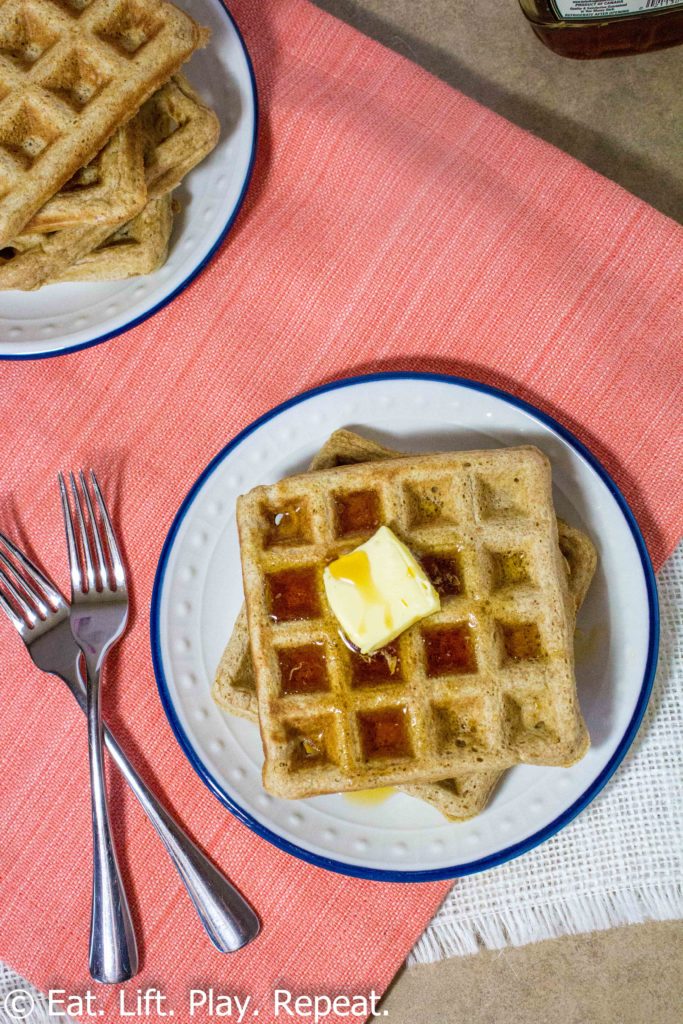 These fluffy waffles are made with all clean eating ingredients and can easily be frozen to be grabbed for a quick, healthy breakfast. Plus, no oil or refined sugars are used for this recipe!
Ingredients
2 cups whole wheat flour
2 Tbsp coconut sugar
1 Tbsp baking powder
1/4 tsp salt
1 1/2 cups almond milk, unsweetened*
1/2 cup applesauce, unsweetened
2 eggs, whites separated from yolks
1 tsp vanilla extract
Instructions
In a large mixing bowl whisk together the flour, sugar, baking powder and salt.
In a medium bowl combine the almond milk, applesauce, vanilla and egg yolks. Whisk until well combined.
Add the egg whites to a small mixing bowl. Using an electric hand mixer, beat the egg whites until stiff peaks form.
Add the liquid mixture to the dry and whisk until evenly combined.
Add the egg whites to the waffle batter and gently fold in. Do not overmix!
Scoop the batter into your waffle iron and cook according to its directions. Serve immediately.
Notes
*any milk of choice will substitute for the unsweetened almond milk.
Eat. Lift. Play. Repeat. http://eatliftplayrepeat.com/
What is your favorite tip or trick for making waffles?