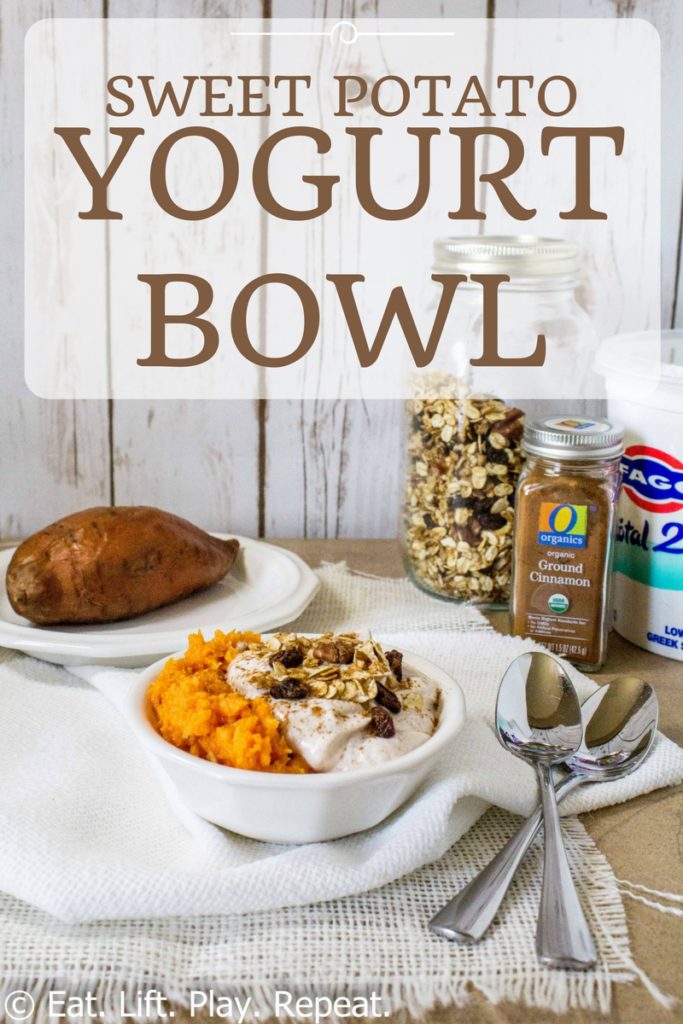 We made it back from our weeklong vacation to Oregon. We had the best time! Donny & I both had fun and feel like we came back refreshed, which is the point of a vacation right?!
We try to keep vacations pretty relaxed with a few activities each day, but not go-go-go the whole time. We ate some great food and tried some interesting beer. I didn't take a TON of pictures, but I have some that I'll share those with you tomorrow.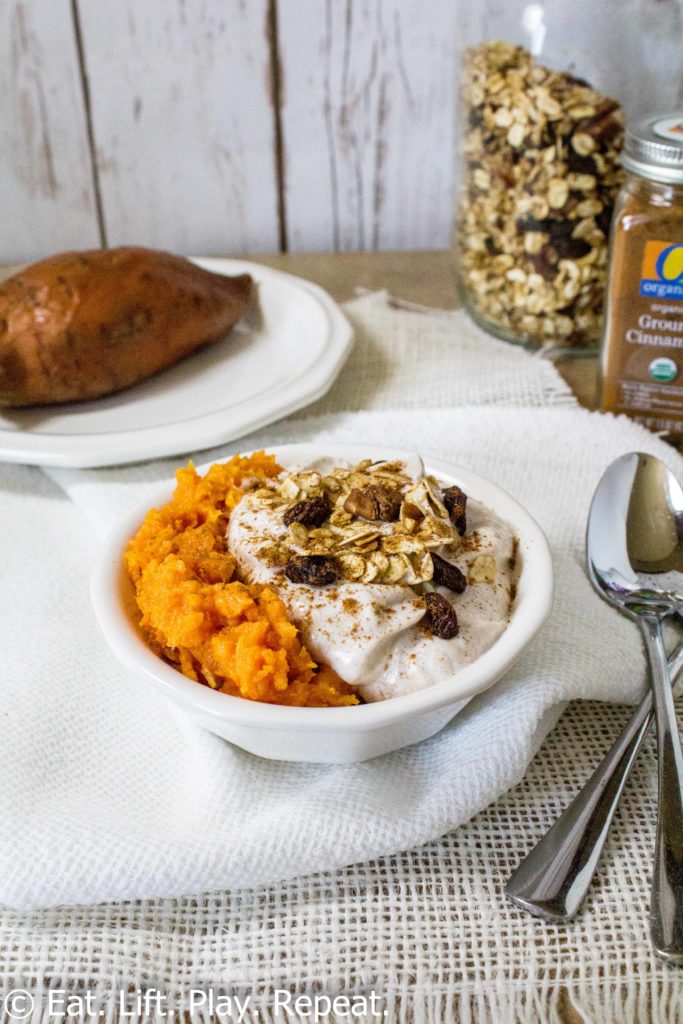 More about vacation later. Right now I want to talk about this Sweet Potato Yogurt Bowl!
So I have shared a couple pictures of this meal on Instagram, but I have not made an "official" recipe for it. Today is the day!
I honestly feel bad even calling this a "recipe", because it is so dang simple to throw together!
This whole concept might sound weird, but don't knock it until you try it! Browsing through Instagram I happened to see a few people put sweet toppings on mashed sweet potato, but I was weary of the whole thing. I know that sweet potatoes are sweet tasting, but it didn't seem like a great combo. Boy was I wrong!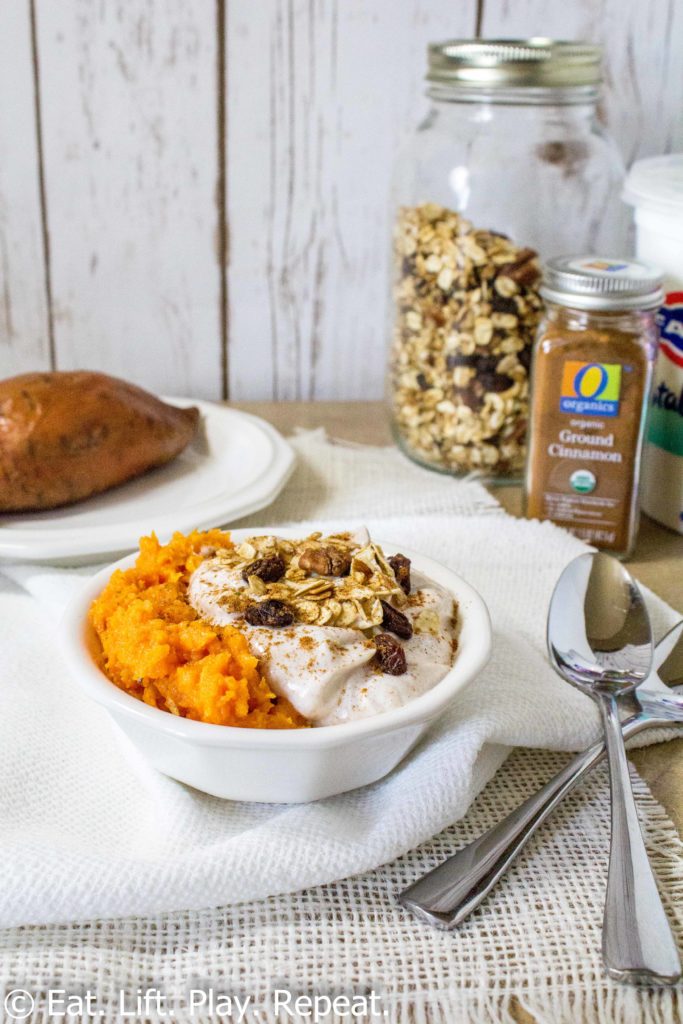 One day I had a few extra baked sweet potatoes in the fridge and decided to give it a go. I left the sweet potato cold rather than heating it in the microwave, which is how I prefer it. Since yogurt is cold I figured it would be better to have a cold potato with cold toppings, instead of a hot potato with cold toppings.
If you decide to heat the potato up, then more power to you. But please let me know how it turns out!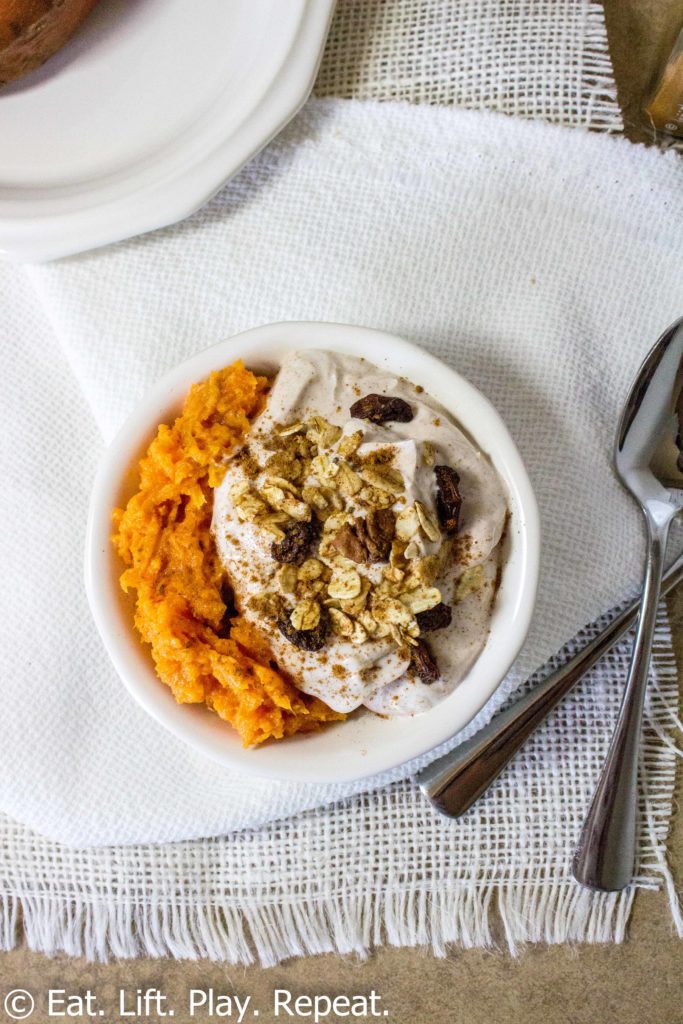 There are plenty of reasons why I love a sweet potato yogurt bowl. First of all, it works for breakfast or a snack (aka can be Breakfast #2). Next, it is filling and has a great balance of complex carbs and protein. Lastly, it is also quite versatile in terms of flavors. I know I say that a lot, but versatile foods are the best. We keep a wide variety of nuts, seeds, dried fruits, etc on hand so I like versatile recipes that I can mix and match flavors.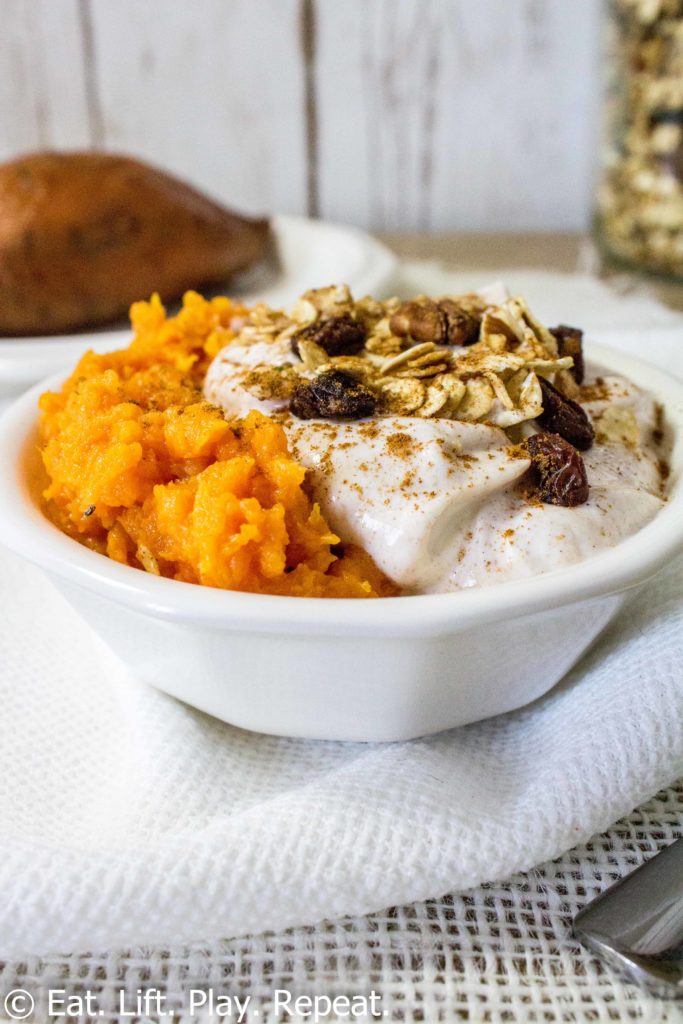 Get creative with toppings or use whatever you have on hand. Here are some suggestions: pecans, almonds, cashews, peanuts, pepitas, sunflower seeds, chia seed, peanut butter, almond butter, cashew butter, raisins, dried cranberries, dried blueberries, chopped dried apple, etc.
You could also try chocolate (chips, chunks, sauce) or fresh fruit include blueberries, raspberries, blackberries, banana, apple, etc. Go crazy!
In the pictures that I took I topped my Sweet Potato Yogurt Bowl with Cinnamon Raisin Toasted Muesli. Delicious! Pre-packaged muesli or granola would work great too.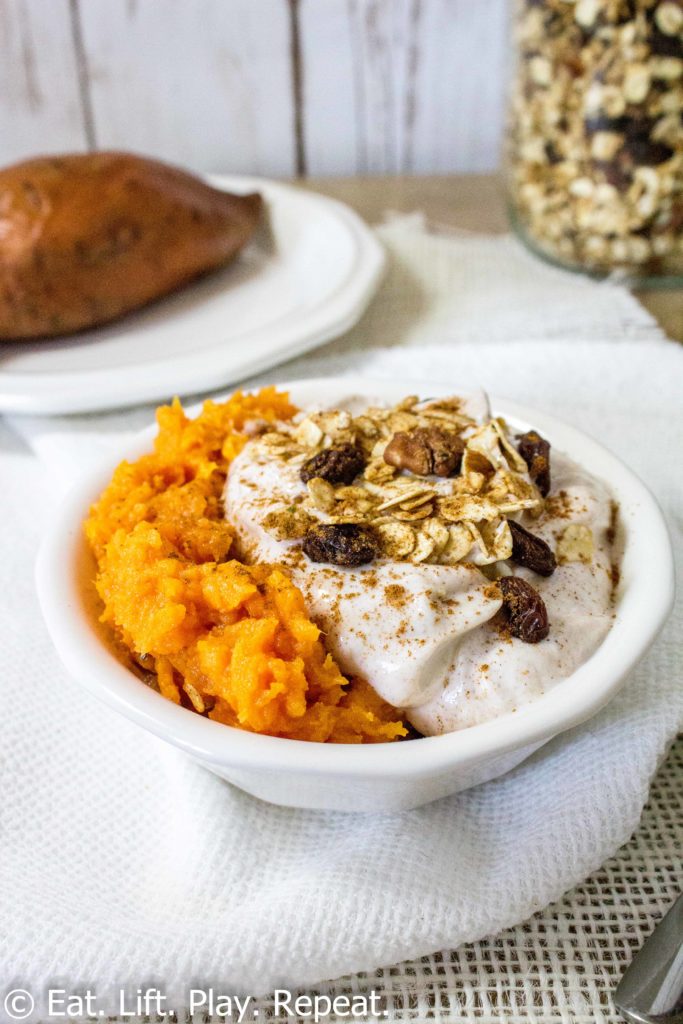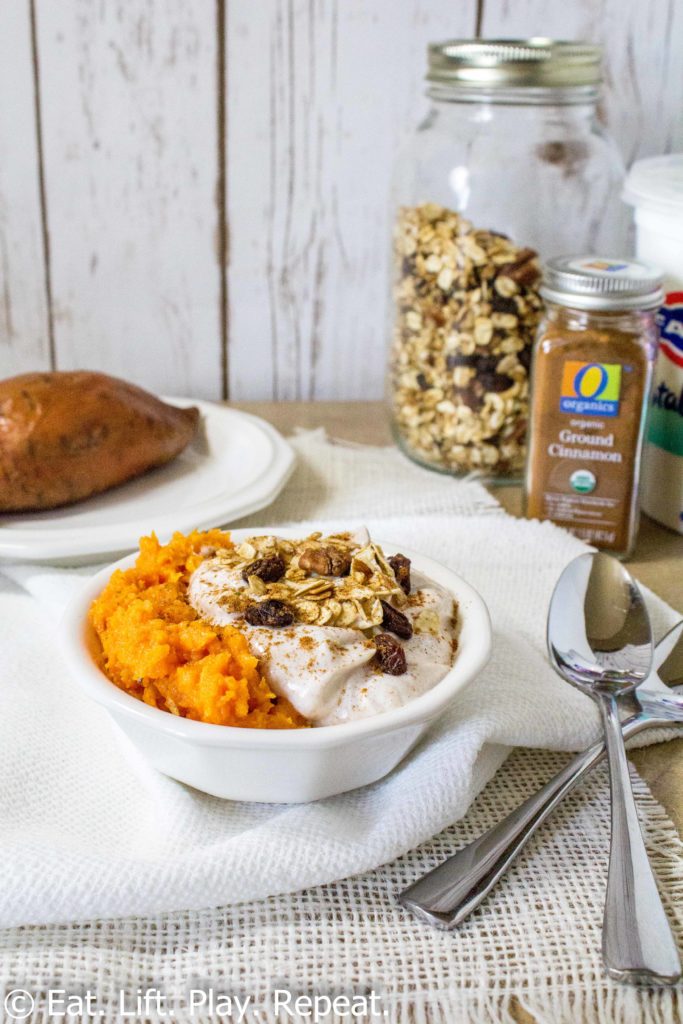 Sweet Potato Yogurt Bowl
2016-08-28 15:21:51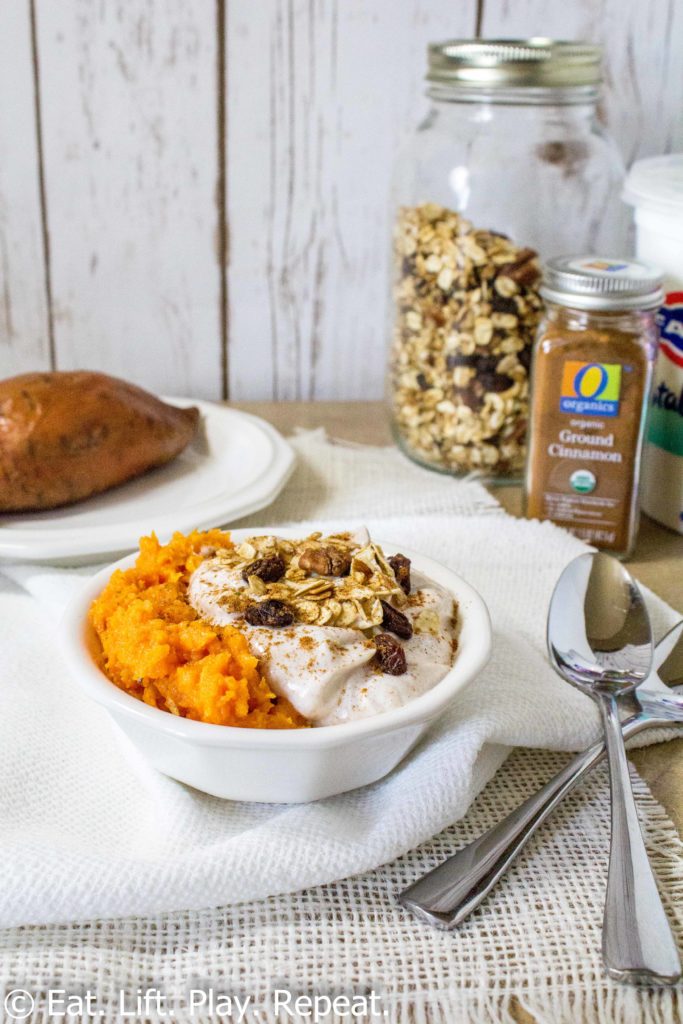 Serves 1
Switch up your yogurt parfait routine by adding sweet potato to the bowl! The natural sweetness of a sweet potato pairs perfectly with the yogurt and parfait toppings, including fruit, nuts, seeds, granola, etc.
Ingredients
1/2 medium baked sweet potato
4oz 2% Greek yogurt, plain*
1 tsp honey
1/4 tsp cinnamon
Instructions
In a small mixing bowl combine the yogurt, honey and cinnamon. Stir until well combined.
Place the sweet potato in a bowl and top with yogurt mixture. Add additional toppings as desired.
Notes
Additional Topping Suggestions: fruit, granola, nut butters, chopped nuts, seeds, etc.
*Fat free or whole milk Greek yogurt can be substituted for 2%.
Eat. Lift. Play. Repeat. http://eatliftplayrepeat.com/
Have you tried sweet toppings on a sweet potato? If so, what did you put on top?