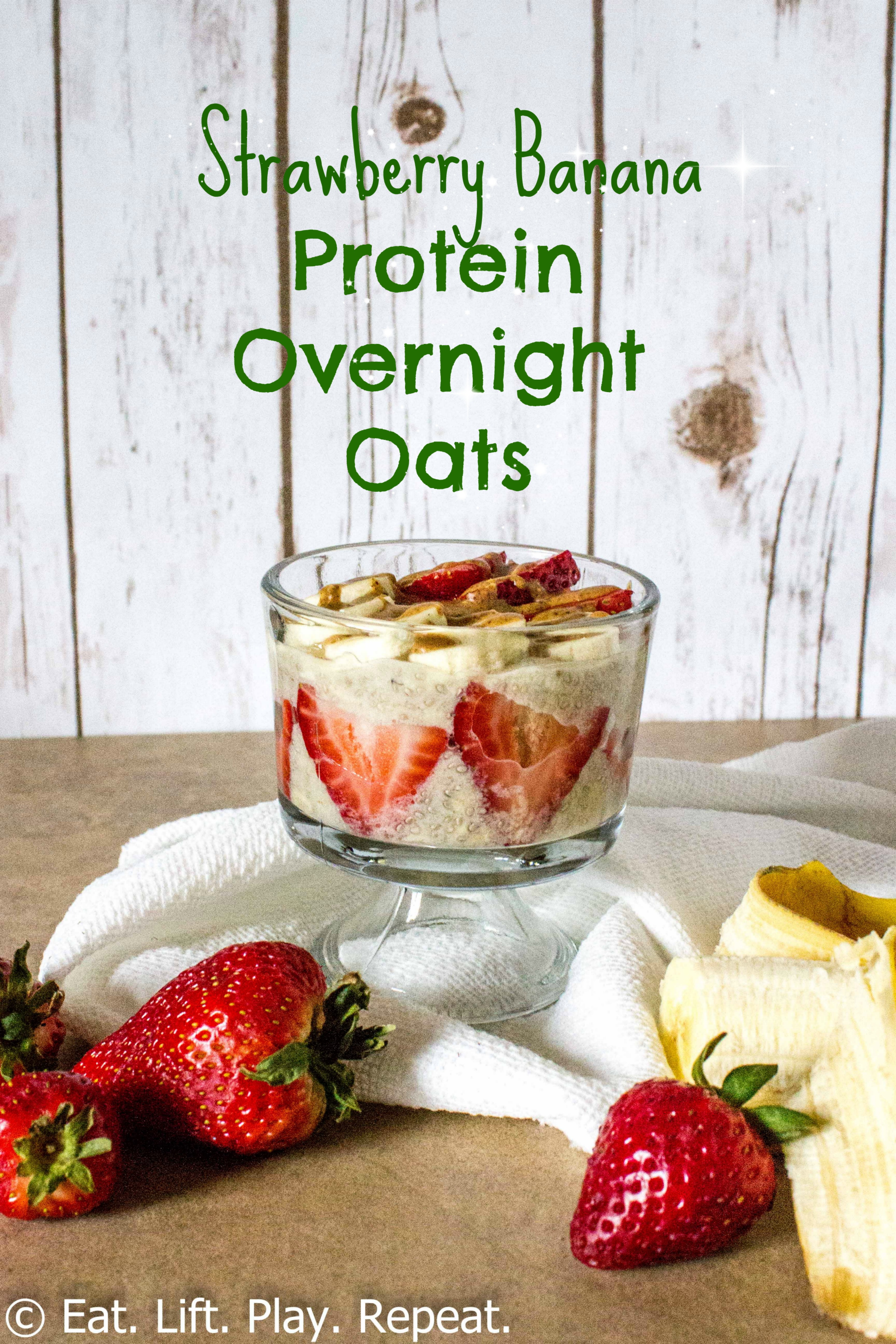 Overnight oats are one of my favorite snacks. I usually enjoy a hot breakfast because I have time to make it (eggs, hot oats, etc). However, sometimes on Friday when I go to yoga I get home a little later than normal. I don't want to be rushed so I will plan ahead and make chia pudding or overnight oats the night before. That way, I can come home, eat, and get ready.
I was not sold on overnight oats the first time I had them. They are obviously cold and I wasn't sure how I felt about that at first. I'd been eating hot oatmeal my whole life and trying it cold was very different.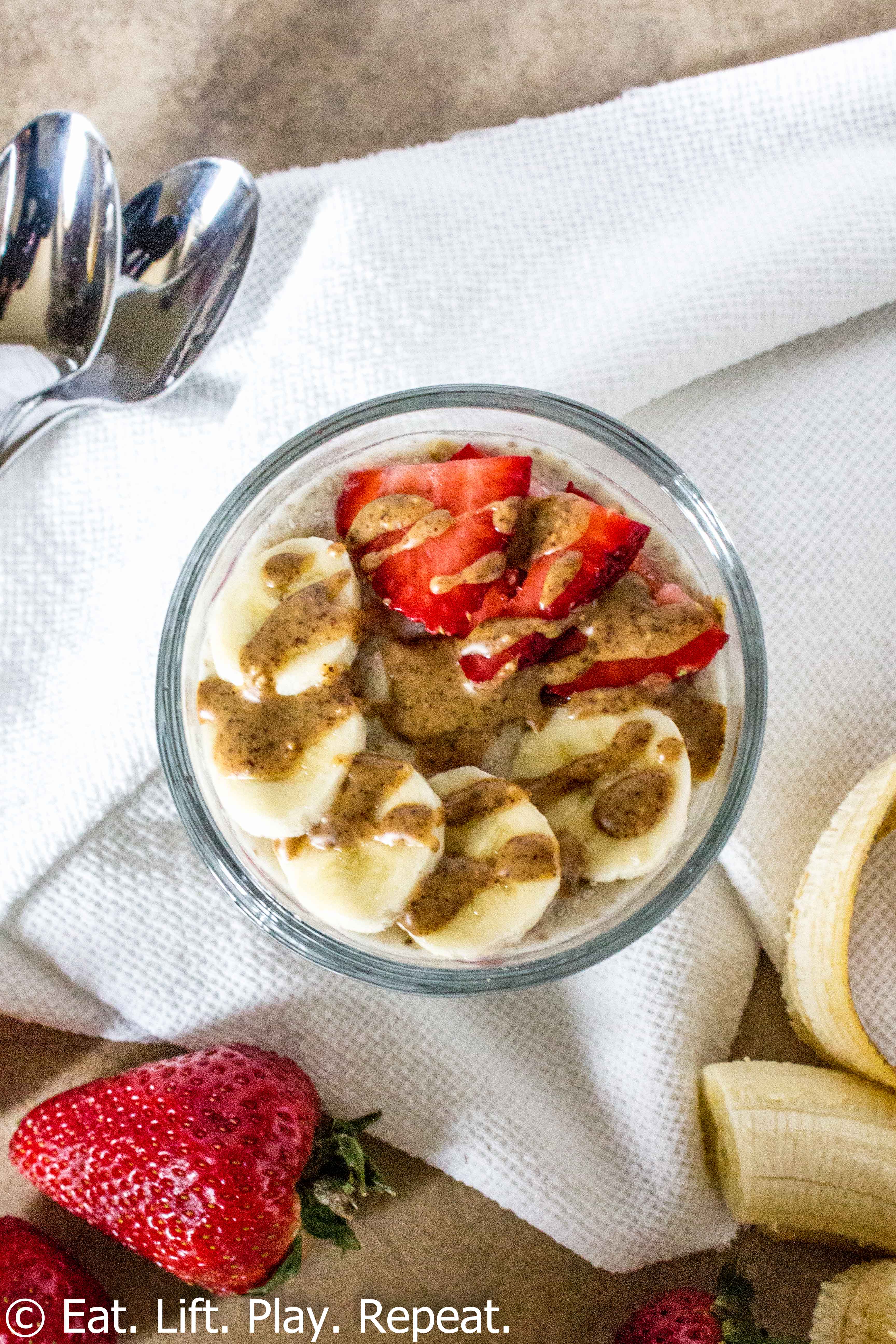 Fast-forward three years and I sometimes enjoy overnight oats MORE than hot oats! Crazy, I know.
Overnight oats are super simple. You take all the ingredients and combine them in bowl. Let them sit over night and both the chia and oats absorb the liquid to make them soft. That's it.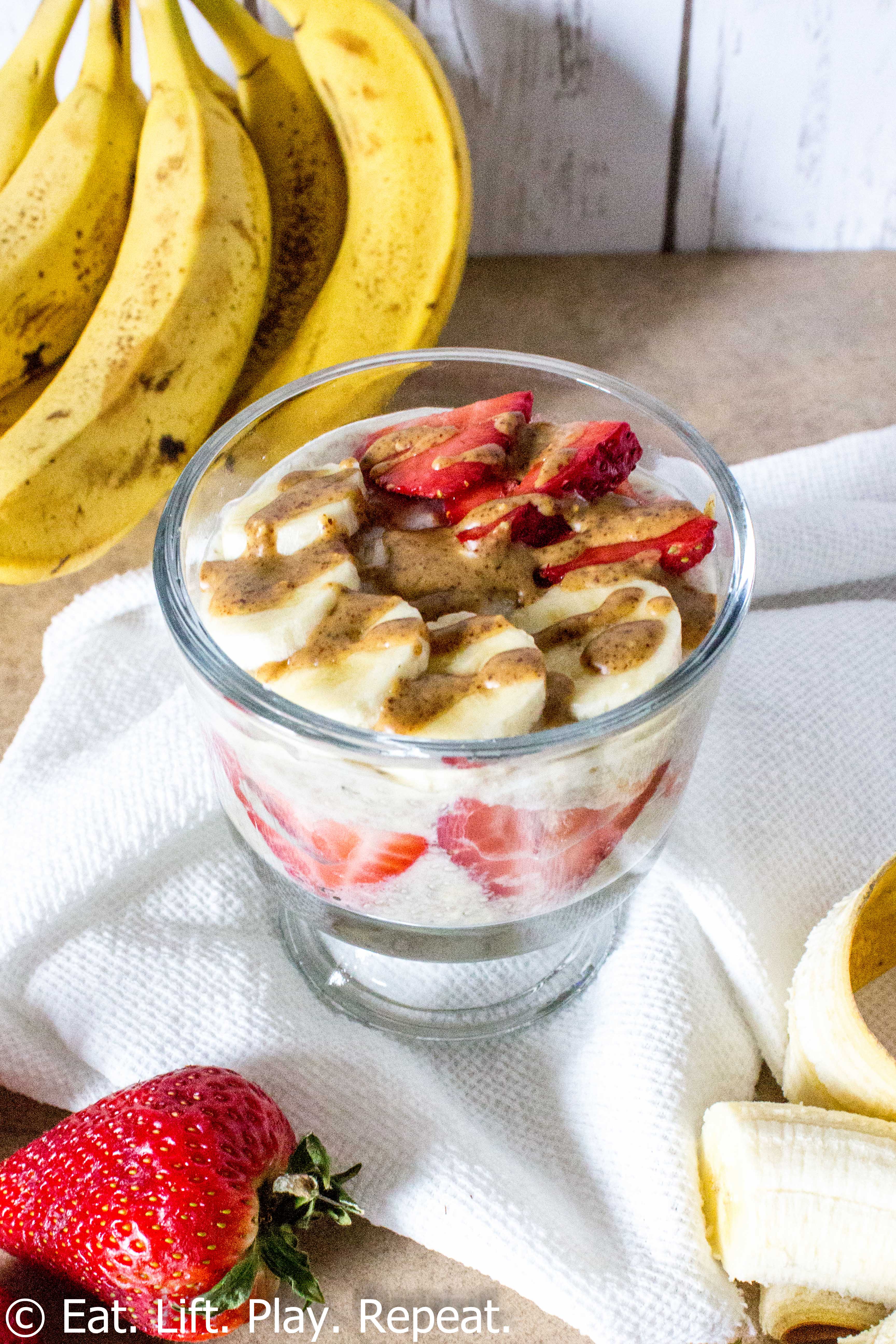 I have made overnight oats before I went to work and 2-3 hours later they were good to go. I prefer to let them soak all night long, but sometimes you don't have that luxury.
There are a million different flavor-combos to try for overnight oats. Try using whatever fruits, nuts, and seeds you have on hand. It could be your new favorite combination!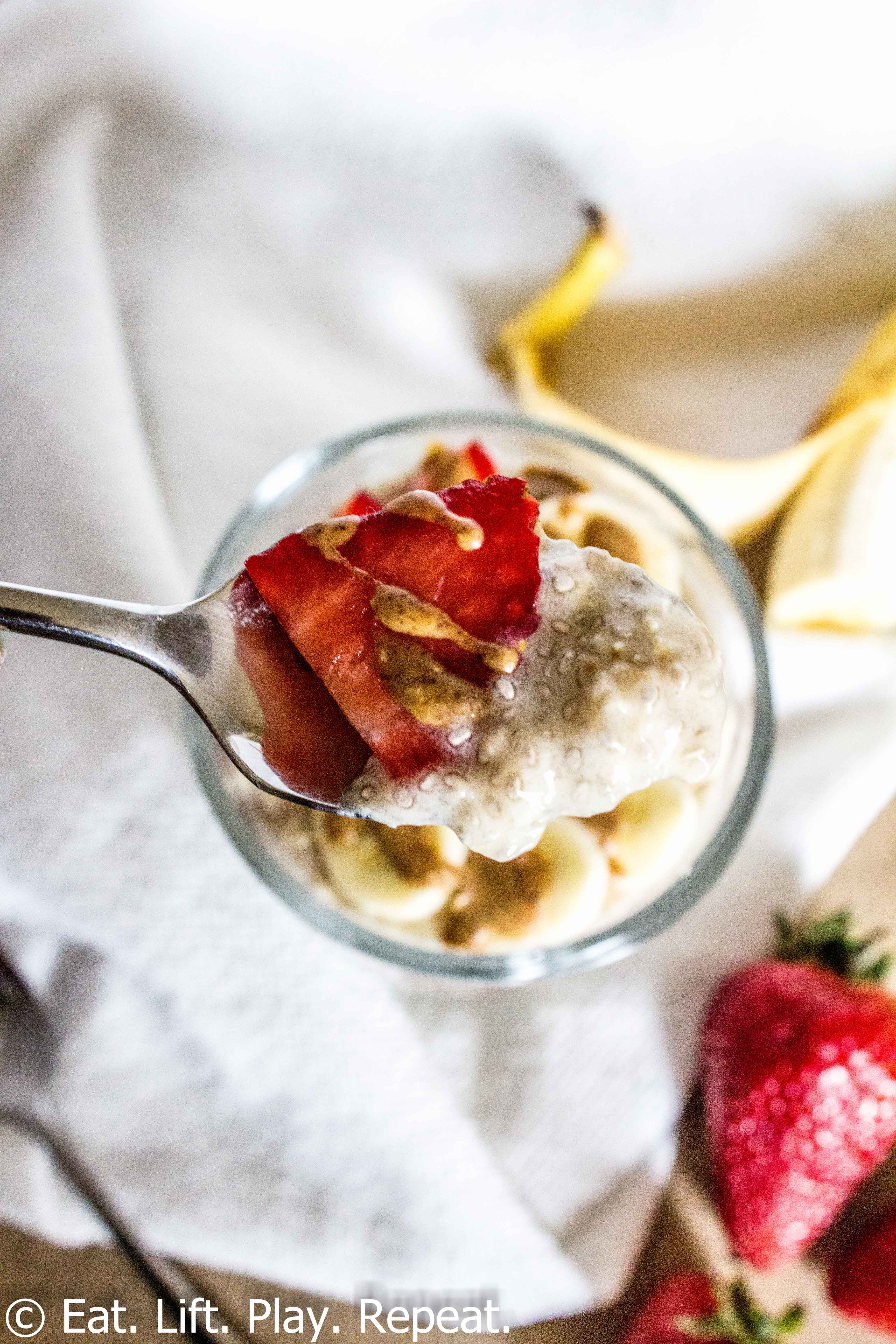 Strawberries & bananas are two of my favorite fruits. Bananas are one of my absolute favorites, but they are available year-round so I think I take them for granted. Shame on me.
Strawberries can be available all year long, but let's get real, they are not always the best. Spring and early-summer are the peak seasons for strawberries so take advantage! Make this Strawberry Banana Protein Overnight Oats recipe, slice some on top of yogurt, blend them into your smoothies, or eat them plain!
All this strawberry-talk is making me crave more strawberries…..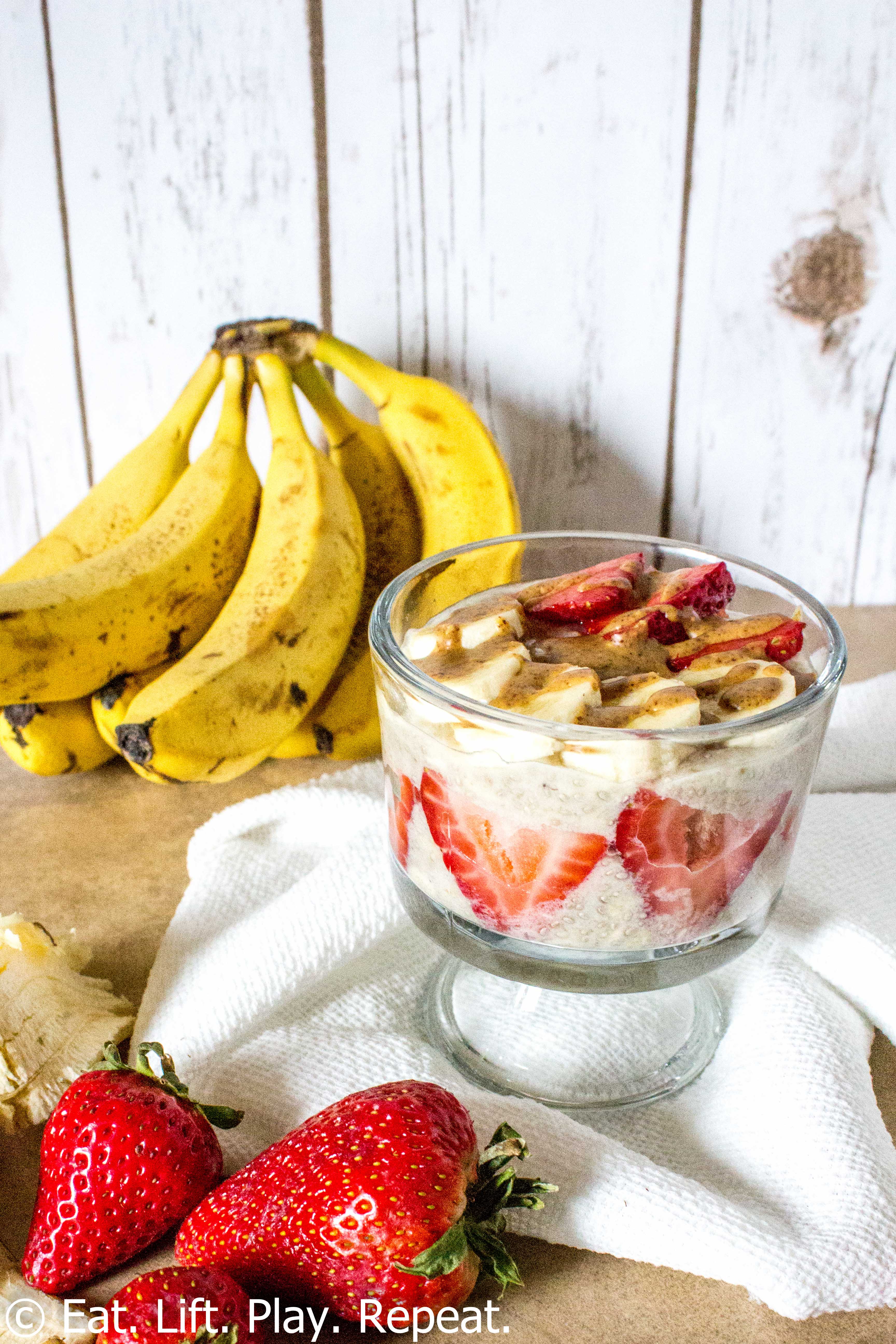 This recipe for overnight oats contains added protein. I aim for 40% of my diet to come from protein sources, which can be difficult occasionally! Protein mixed with complex carbs (whole grains like oatmeal) help keep me full for quite a while. I added vanilla whey protein powder to this recipe and I use MusclePharm Isolate Protein. It is already fairly sweet, so I did not need to add any more sweeteners. If you want to skip the protein powder, then add a little honey, maple syrup, agave, or stevia.
Greek yogurt also adds protein AND helps make the oats super creamy. I have made overnight oats without Greek yogurt before, but I personally prefer them with the yogurt. I used plain, nonfat Greek yogurt, but plain full-fat yogurt would work too. The 2 oz of Greek yogurt add 5.5 grams of protein, so if you skip the protein powder then make sure to add the yogurt!
If you like overnight oats then check out my recipe for Pistachio & Cherry Overnight Oats.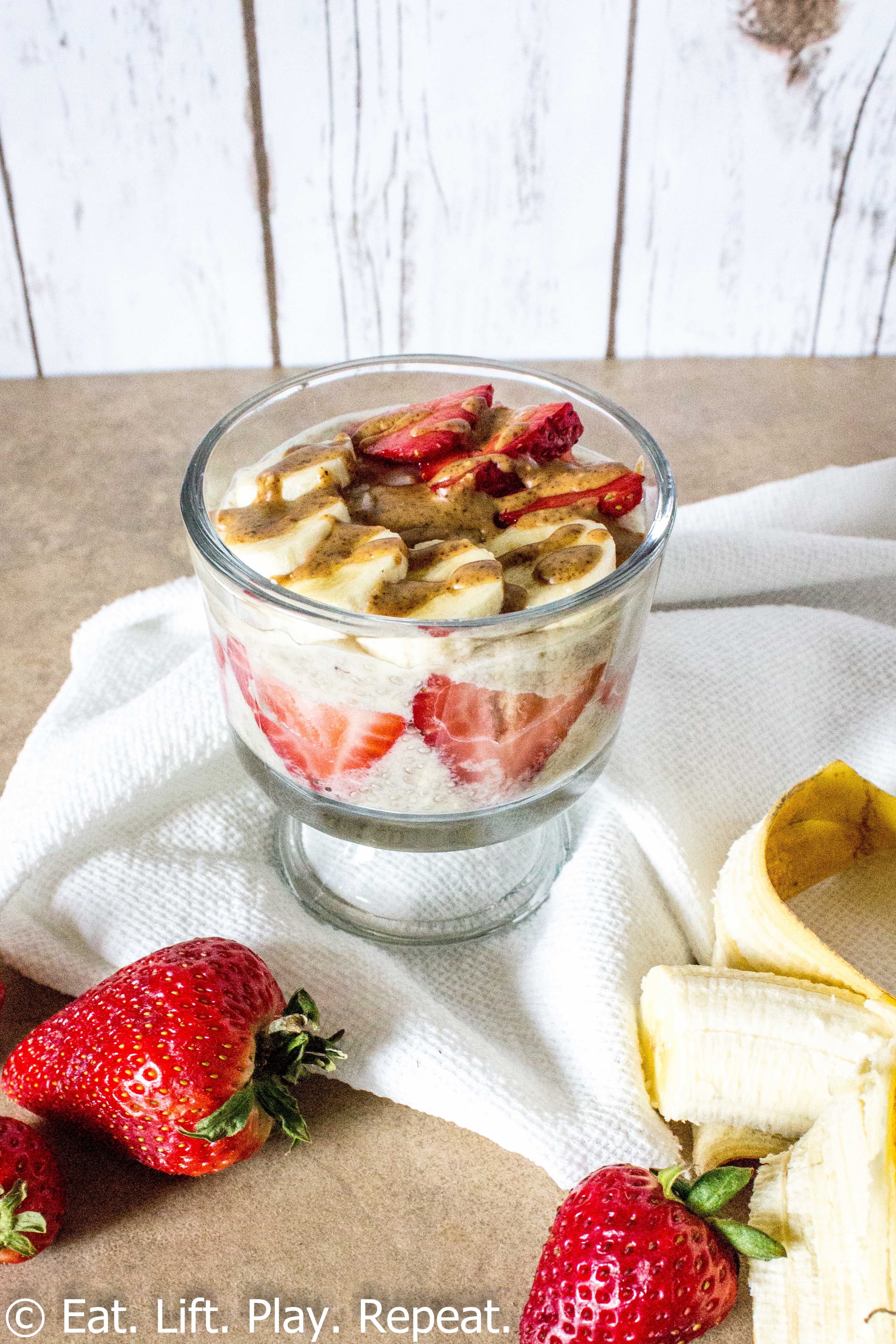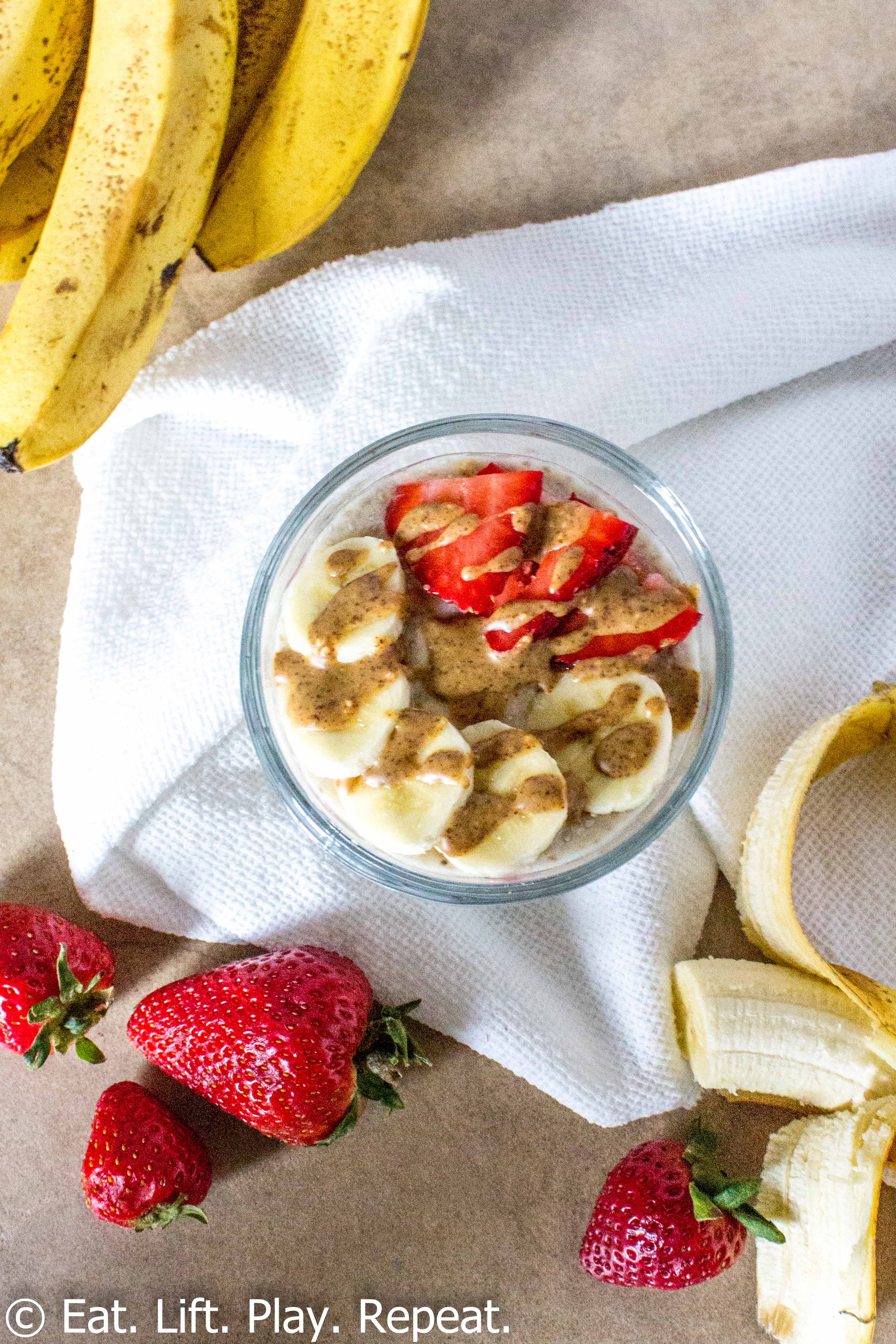 Strawberry Banana Protein Overnight Oats
2016-04-18 18:23:06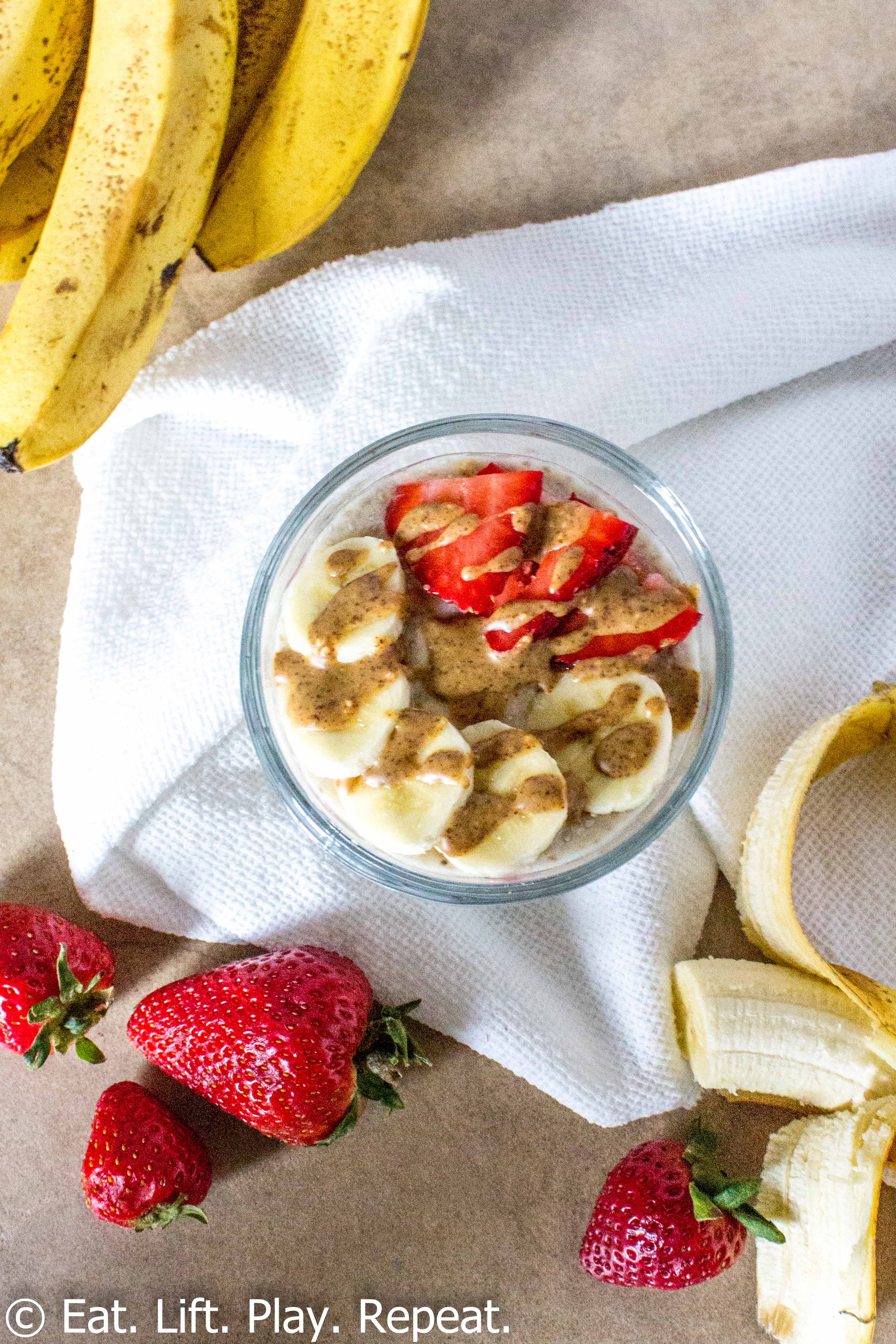 Serves 1
Strawberry and banana make the perfect combination for these overnight oats. No cooking is needed so this recipe can be made the night before and enjoyed on a busy morning!
Ingredients
1/3 cup unsweetened almond milk
1 scoop vanilla protein powder
2 oz Greek yogurt
2 Tbsp rolled oats
1 Tbsp chia seed
1/2 banana, sliced
2 medium strawberries, sliced
Instructions
Whisk the almond milk and protein powder together in a mason jar or small glass bowl. Add the yogurt, oats, and chia to the mixture and stir until well combined. Cover and refrigerate overnight or for at least two hours.
Top with sliced banana and strawberries.
Notes
Make several servings at once and keep in the refrigerator up to five days.
Additional toppings include almond butter, peanut butter, sliced almonds, chopped walnuts, pecan pieces, etc.
Eat. Lift. Play. Repeat. http://eatliftplayrepeat.com/
Have you experimented with overnight oats?