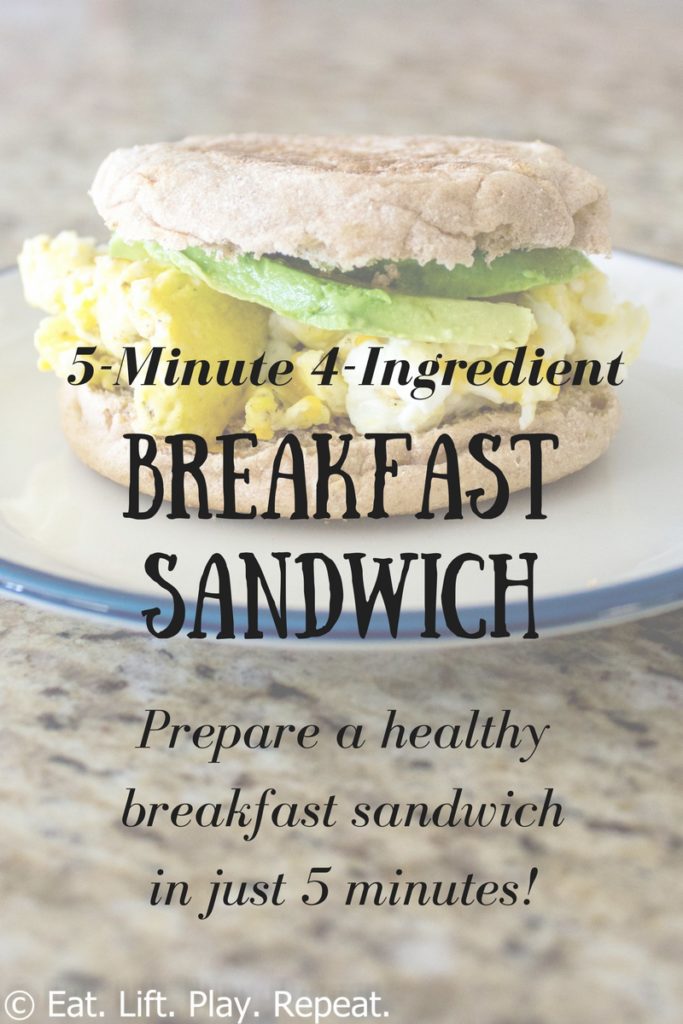 A healthy breakfast cannot get any easier than this! I'm serious….this 5-Minute 4-Ingredient Breakfast Sandwich is full of protein, carbs and healthy fats to start your day off on the right track.
Scramble the eggs, toast the English muffin and stack all the ingredients into a delicious sandwich. Easy, right? I promise it is as easy as it sounds.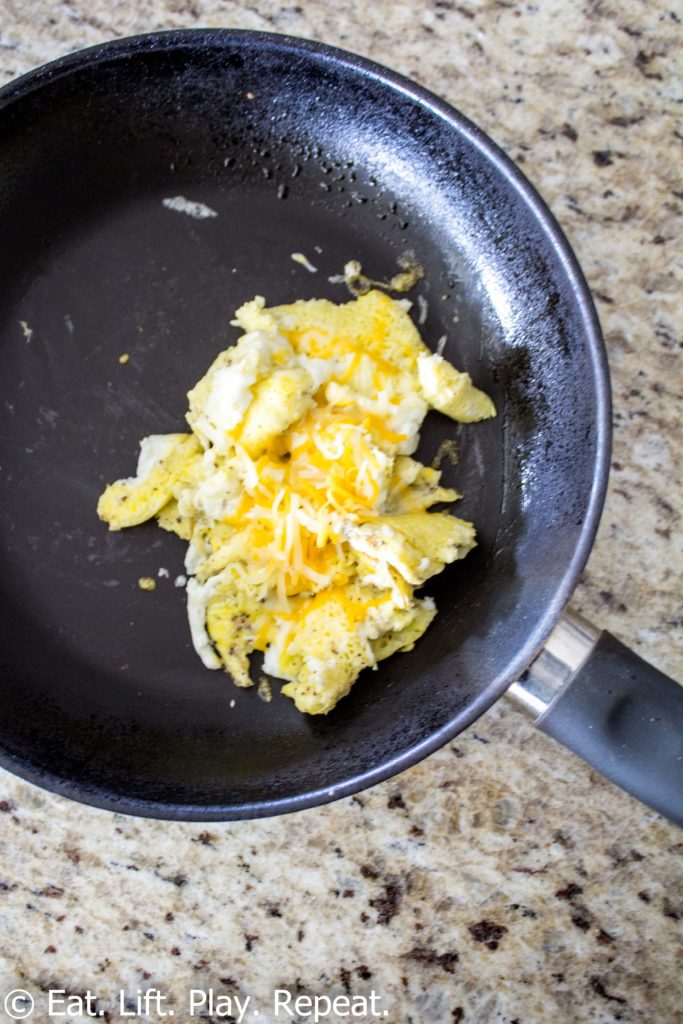 This 5-Minute 4-Ingredient Breakfast Sandwich comes in at around 300 calories with 20 grams of protein. It has 13 grams of fat, but the egg yolk and avocado provide healthy fats which will keep you satisfied throughout the morning!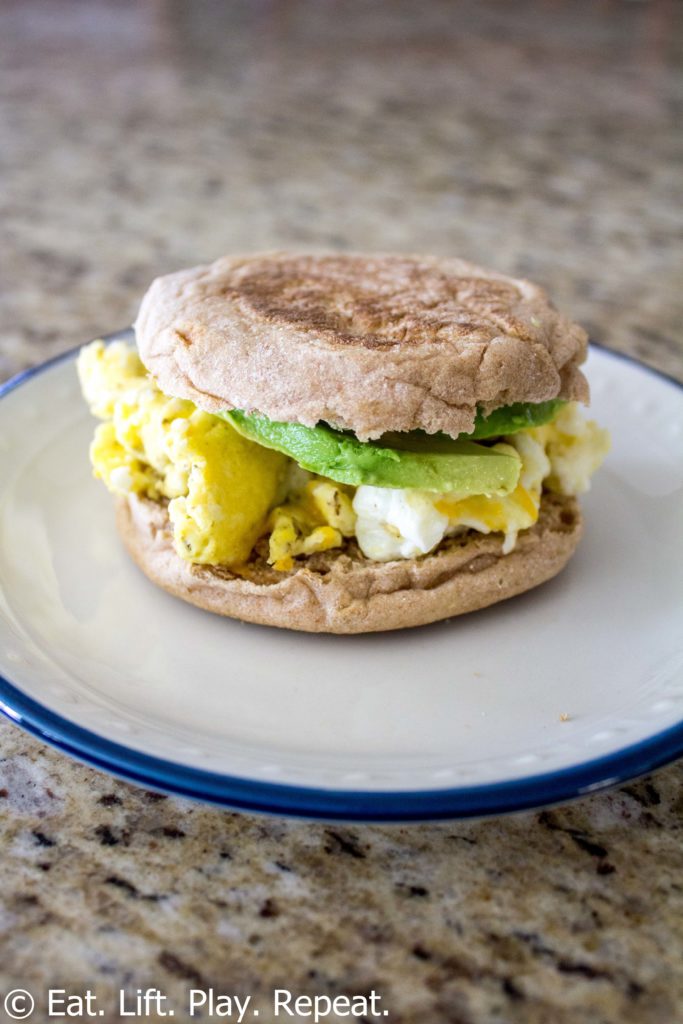 Make this healthy breakfast sandwich in the morning and eat it quickly before work, or wrap it in plastic wrap or foil and take it with you!
One reason I love sandwiches (including the breakfast variety) is that they are portable! You can eat them with one hand and take them pretty much anywhere.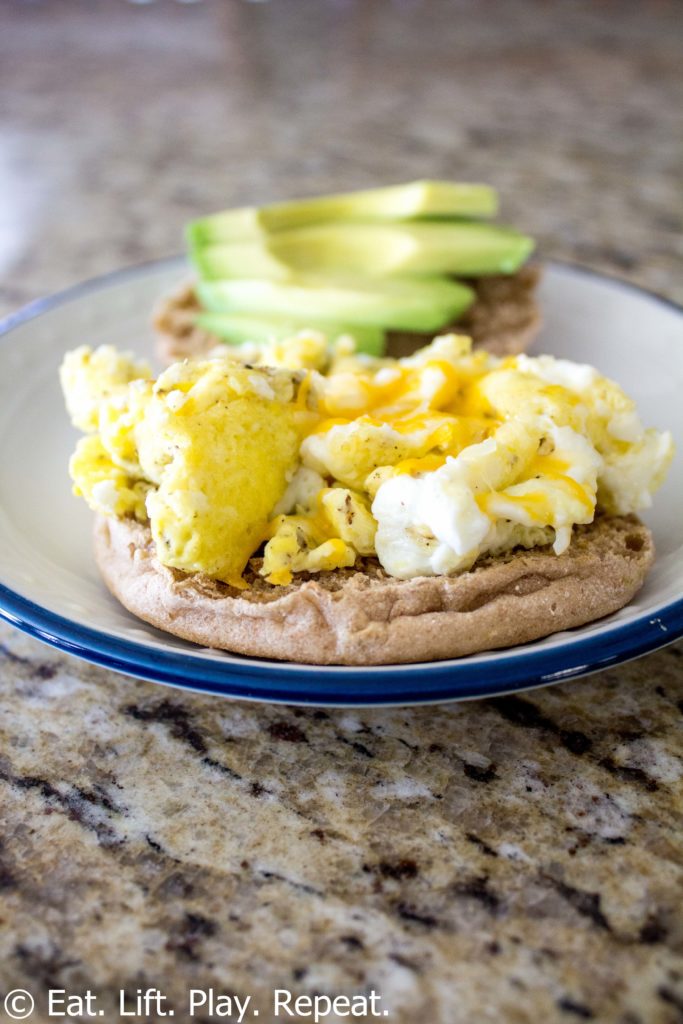 [I do mean anywhere…. I did some sideline broadcasting at football games for a year and the guys I worked with could go HOURS without eating. No joke, I would pack a PB&J in my pocket to eat throughout the game. Yes, I'm that girl!]
Feel free to make this breakfast sandwich using two whole eggs or even two egg whites. You will cook them the same, but the nutritional content will be different.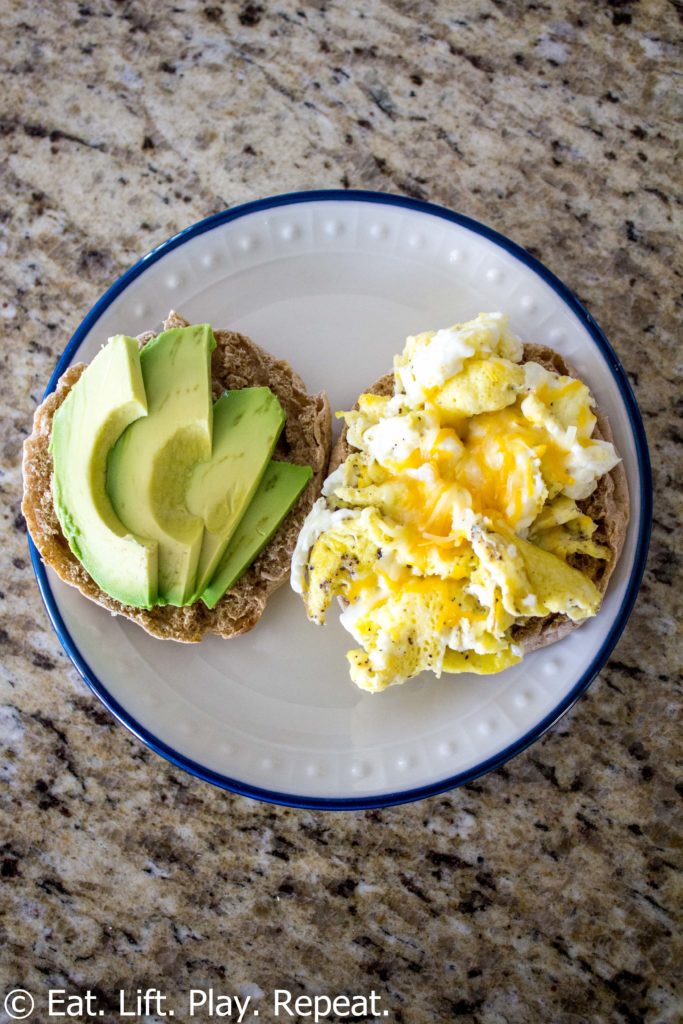 Add any additional condiments you'd like such as chopped green onion, hot sauce, tomatoes, salsa, etc.
If you are out of English muffins then use two slices of whole wheat toast or even half a whole wheat bagel. It really is customizable to whatever bread you have on hand!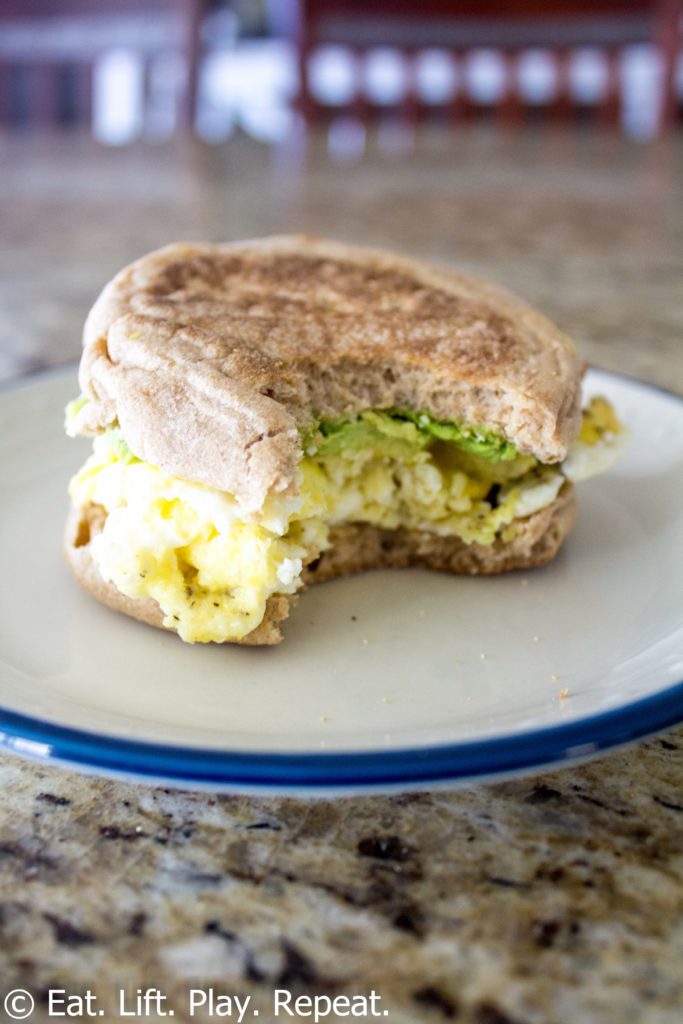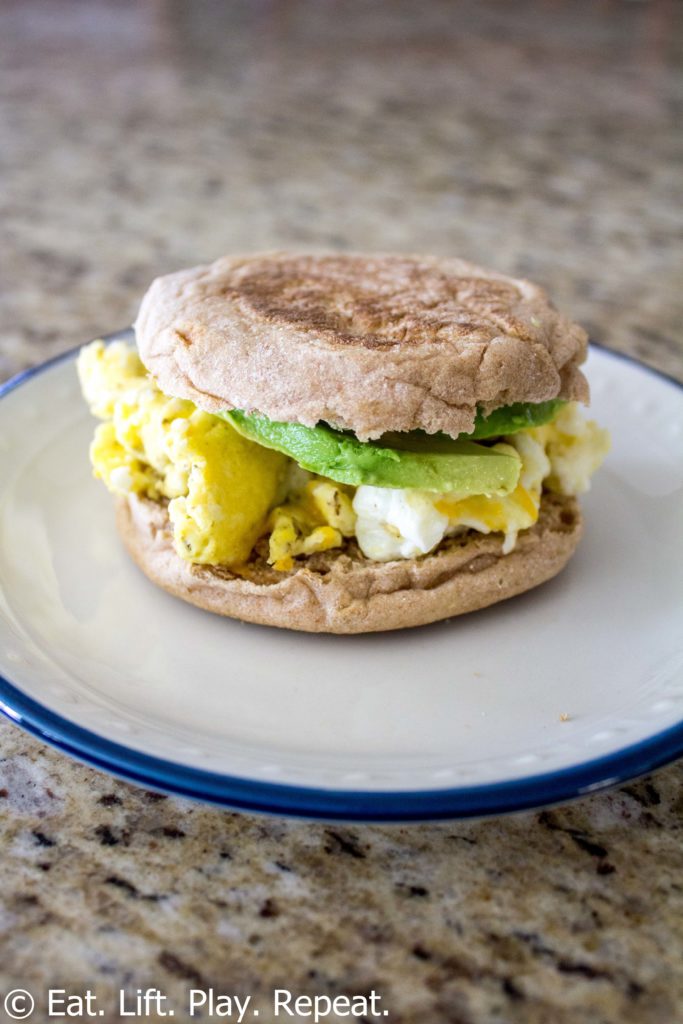 5-Minute 4-Ingredient Breakfast Sandwich
2017-05-21 17:58:47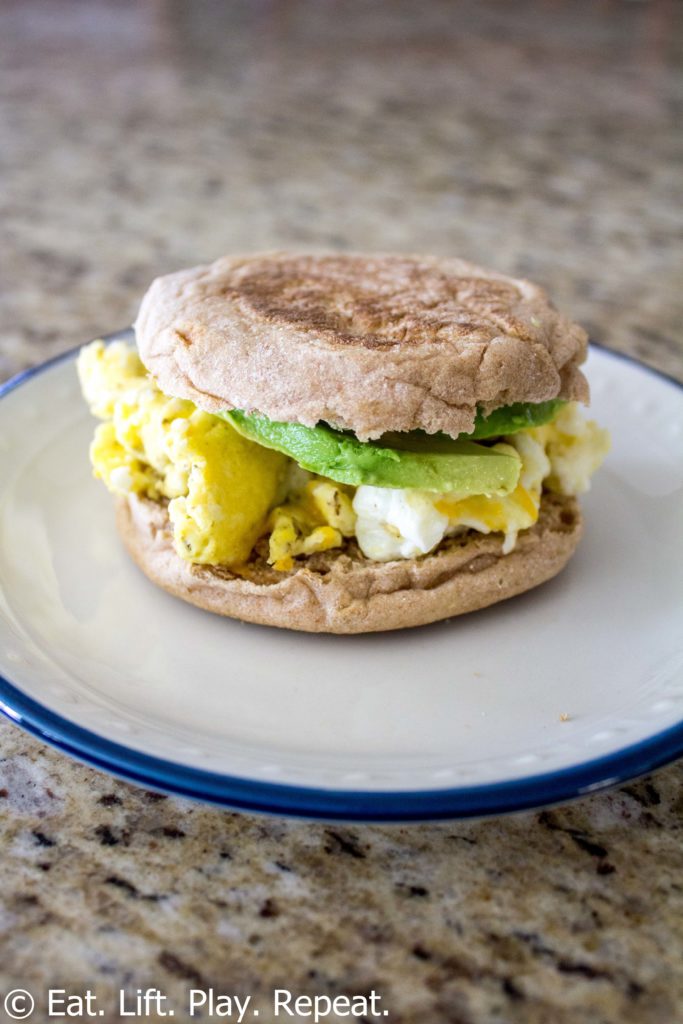 Serves 1
A healthy breakfast sandwich recipe that has a good balance of protein, carbs and good-for-you fats! It only takes a few minute to whip up this easy 300-calorie breakfast.
Ingredients
1 whole wheat English muffin
1 egg + 1 egg white*
1/4 avocado
1/2 Tbsp cheese, shredded
Pinch of salt and pepper
Instructions
Whisk together the egg and egg white using a fork. Spray a small saute pan with non-stick cooking spray and cook eggs until done, stirring occasionally. Sprinkled a pinch of salt and pepper on the eggs as they cook.
While the eggs are cooking, toast the English muffin.
Once the eggs are fully cooked, sprinkle them with cheese. Place the eggs on one half of the English muffin and the avocado on the other half. Combine the two sandwich halves and enjoy!
Notes
Add any additional condiments you'd like including hot sauce, salsa, tomatoes, green onion, etc.
*Two whole eggs or two egg whites may be substituted, but nutritional content will vary.
Eat. Lift. Play. Repeat. http://eatliftplayrepeat.com/