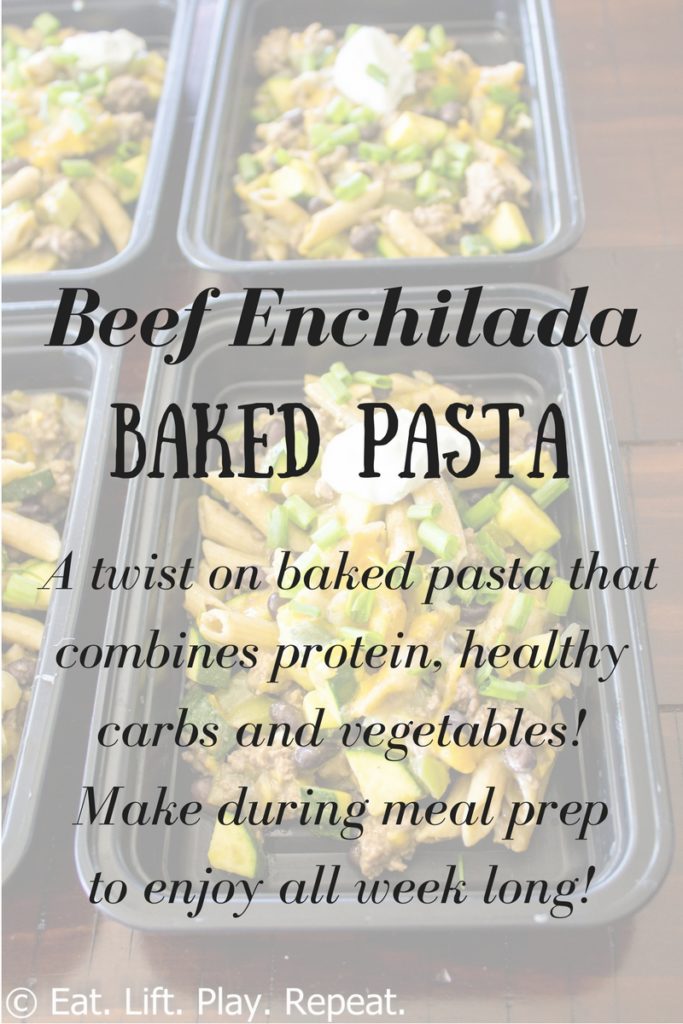 Beef Enchilada Baked Pasta makes a great healthy dinner or meal prep recipe! It is full of lean protein, vegetables and complex carbs.
Try this simple twist on the standard baked pasta dish. Trade the marinara for enchilada sauce, then add green chiles and black beans for even more flavor!
Whole wheat pasta and black beans provide lots of fiber in this dish while lean ground beef adds plenty of protein!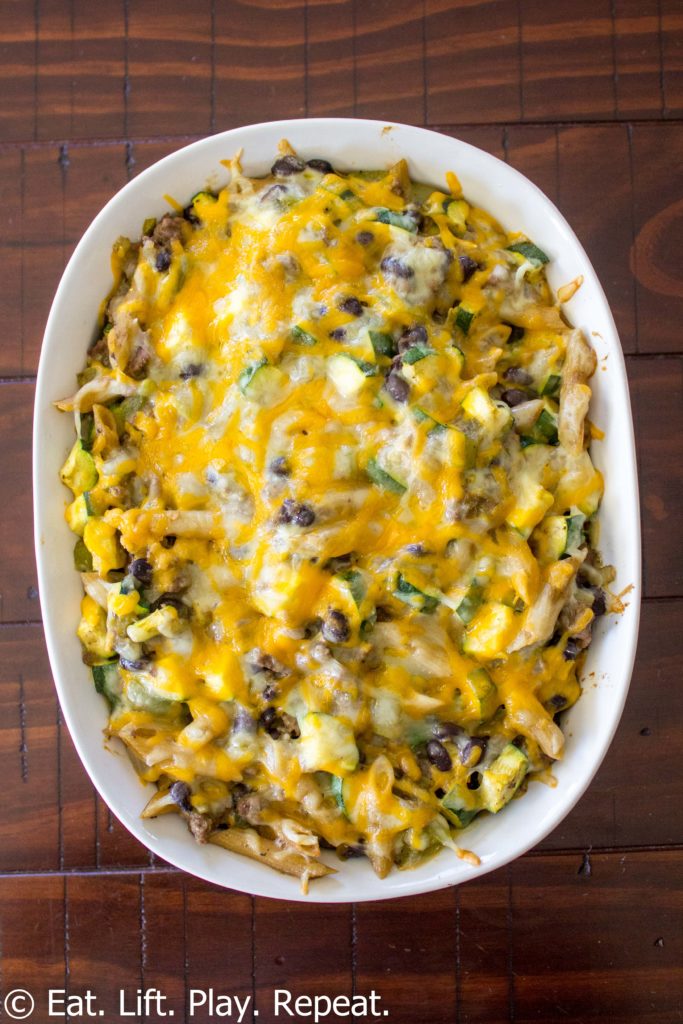 I am a huge advocate of meal prep. Meal prep can help save time throughout the week by having a healthy meal ready-to-eat in the refrigerator.
Plus, meal prep can save you money if you skip eating out at lunch since you'll have a healthy meal already made!
Read more about the benefits of meal prep in 5 Reason to Meal Prep.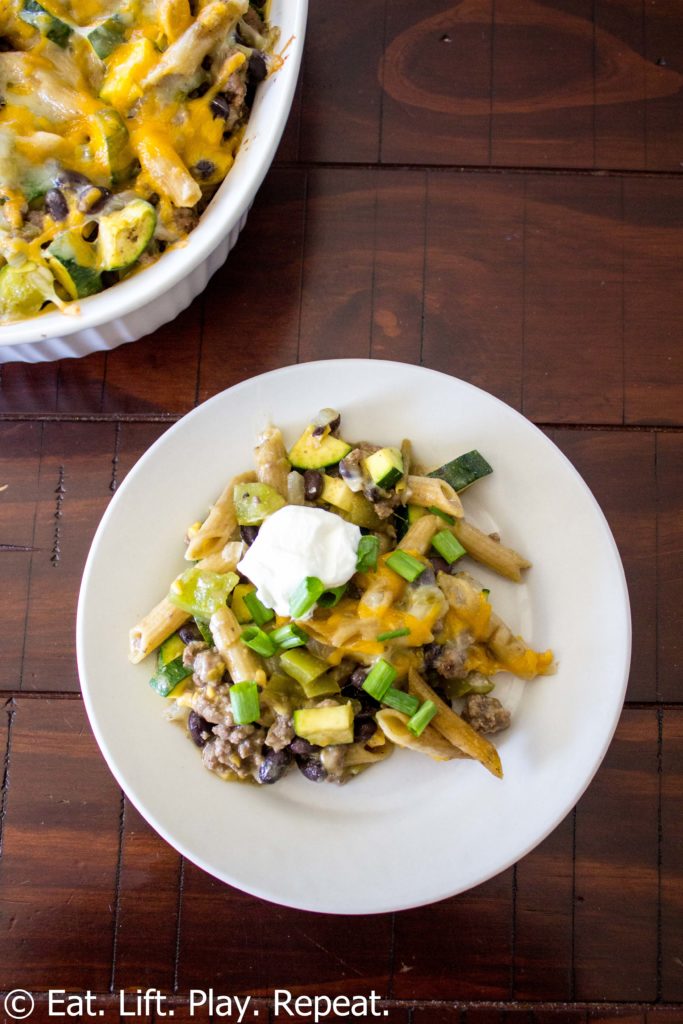 Add this easy recipe to your next meal prep session or try making it for the whole family for dinner. I promise it is a simple, yet healthy meal that tastes great!
Beef Enchilada Baked Pasta is basically a mash-up of my Healthy Enchilada Casserole and a classic baked ziti dish.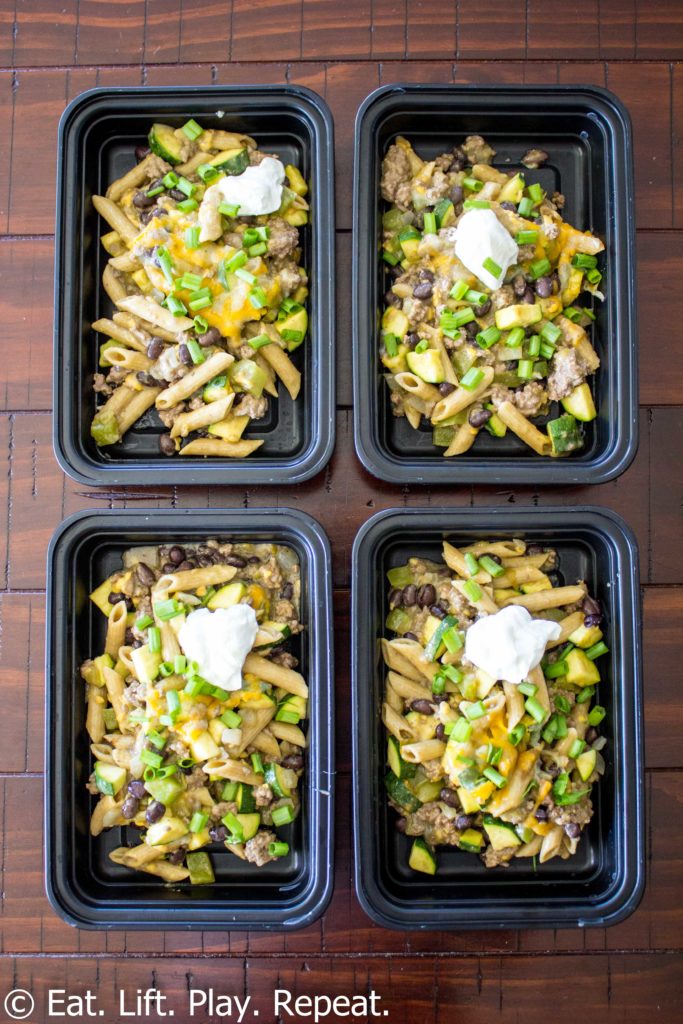 Zucchini, onion and green bell peppers help you get vegetables into your diet without even noticing!
Whole wheat penne is used for this Beef Enchilada Baked Pasta, but feel free to substitute any whole wheat noodle of your choice! It is less about the shape of the pasta and more about all the fiber.
Whole wheat pasta provides fiber and will help keep you full until your next meal.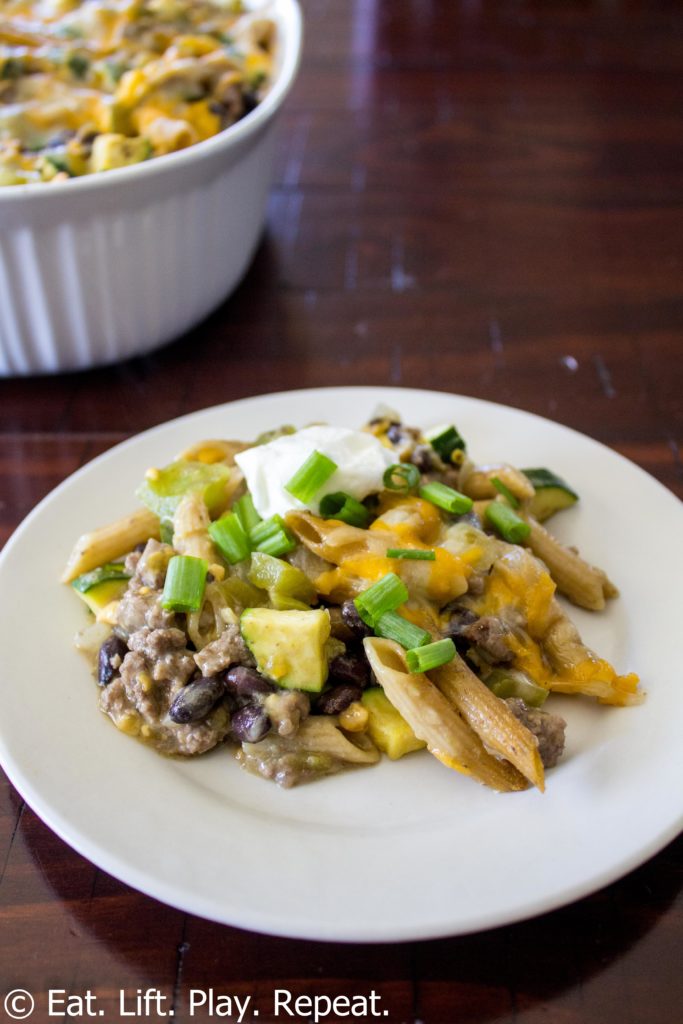 Lean ground beef is used for this healthy recipe, so look for 90% or 93% lean ground beef. Feel free to substitute ground pork, ground chicken or even ground turkey.
When it comes to garnishes get creative! I suggest green onion or cilantro, plus salsa, mashed avocado and even plain Greek yogurt or sour cream.
If making this dish for meal prep, then you could add different garnishes every day to switch the flavors up slightly!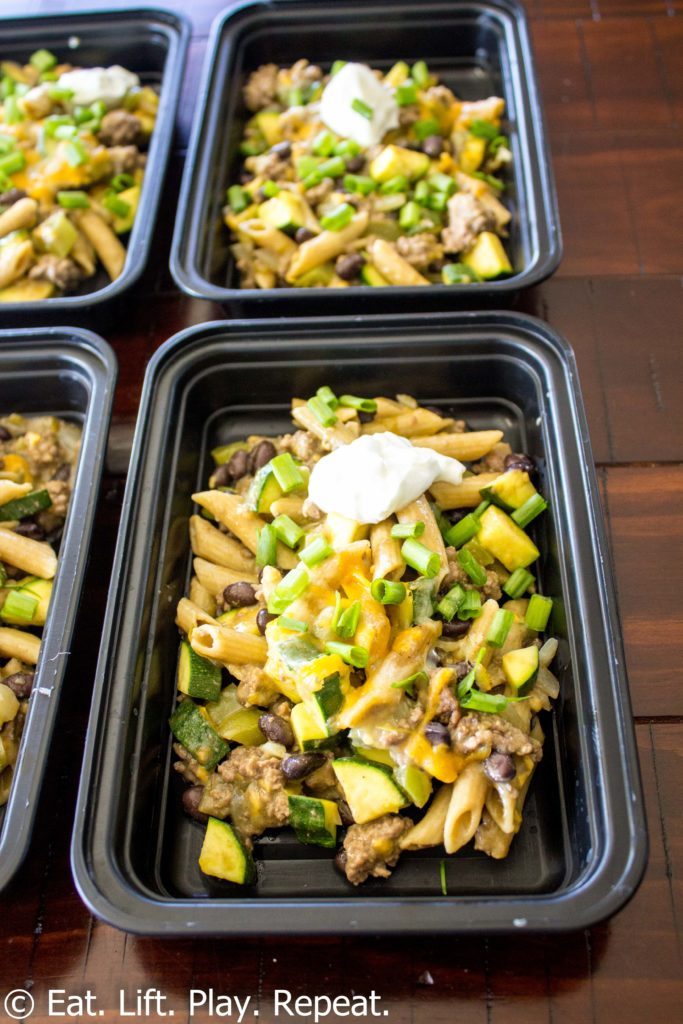 For other easy meal prep recipes, try my Healthy Enchilada Casserole, No Cook Meal Prep Burrito Bowls and Meal Prep Taco Salad Bowls.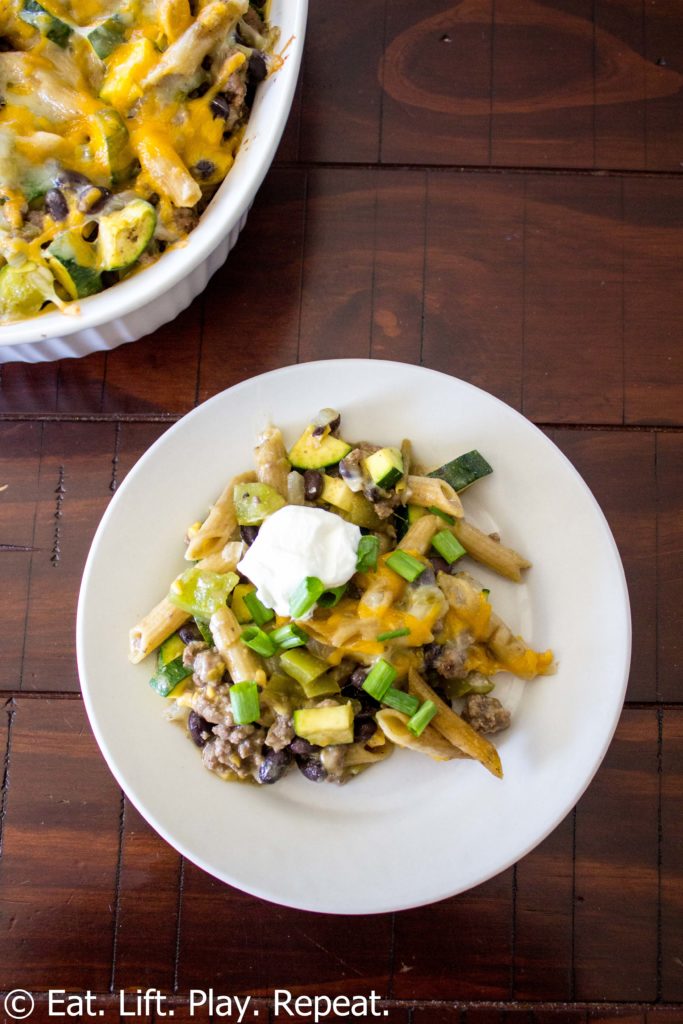 Beef Enchilada Baked Pasta
2017-09-03 21:31:07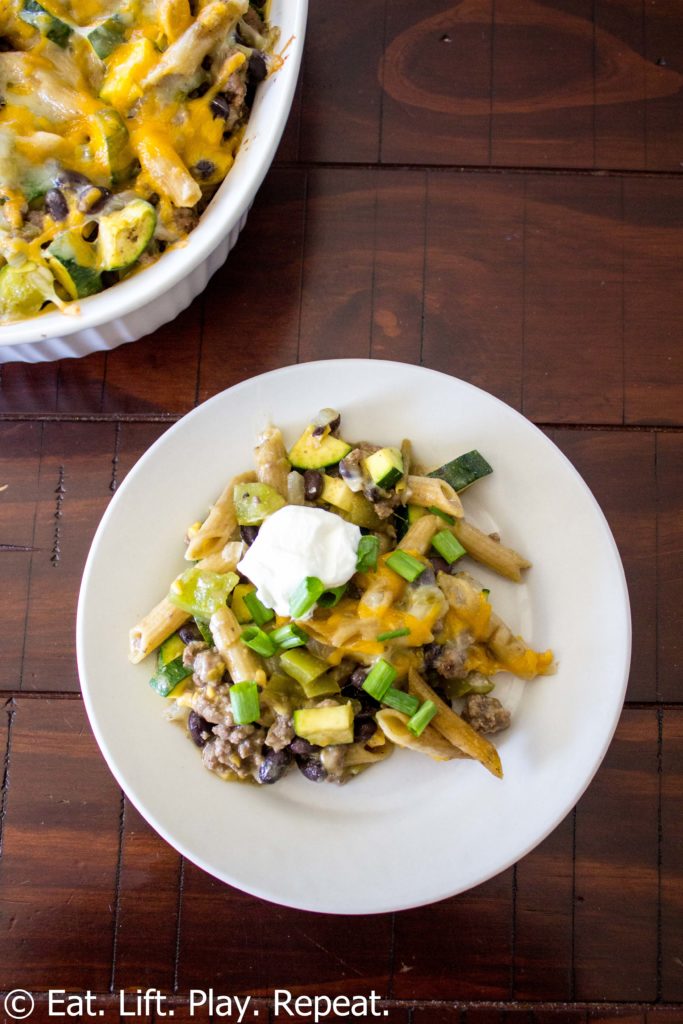 Serves 8
A healthy twist on baked pasta that is perfect for meal prep! This recipe combines lean protein with healthy carbs and vegetables.
Ingredients
2 cups whole wheat penne pasta
1lb lean ground beef
4 cups diced zucchini
1/2 yellow onion, diced
1 green bell pepper, diced
2 cloves garlic, minced
1 15oz can black beans, drained and rinsed
1 15oz can enchilada sauce
1 4oz can diced green chiles
1 tsp salt
1/2 Tbsp extra-virgin olive oil
1 cup low-moisture part-skin mozzarella, shredded and divided
1 cup medium cheddar cheese, shredded and divided
Optional: green onion, plain Greek yogurt, salsa, cilantro, avocado
Instructions
Preheat oven to 350 degrees. Spray a 2.5-quart baking dish with non-stick cooking spray and set aside.
Bring a medium pot of water to boil. Cook penne according to package directions. Drain water once the pasta is cooked.
While the pasta cooks, pour the oil into a large sauté pan and turn heat to medium. Add the garlic and onion and cook for 1 minute. Add the green bell pepper and cook another minute. Add the ground beef and cook until there is no longer any pink. Add salt and stir to combine.
In a large bowl combine the cooked pasta, beef mixture, drained black beans and green chiles. Add the enchilada sauce, plus 1/2 cup cheddar cheese and 1/2 cup mozzarella. Stir until ingredients are evenly distributed.
Transfer the mixture to the prepared baking dish and sprinkle the remaining cheese evenly on top. Bake at 350 degrees for 25 minutes.
Allow to cool before eating or dividing into meal prep containers.
Notes
Garnish with chopped green onion, plain Greek yogurt, salsa, avocado, etc.
Eat. Lift. Play. Repeat. http://eatliftplayrepeat.com/