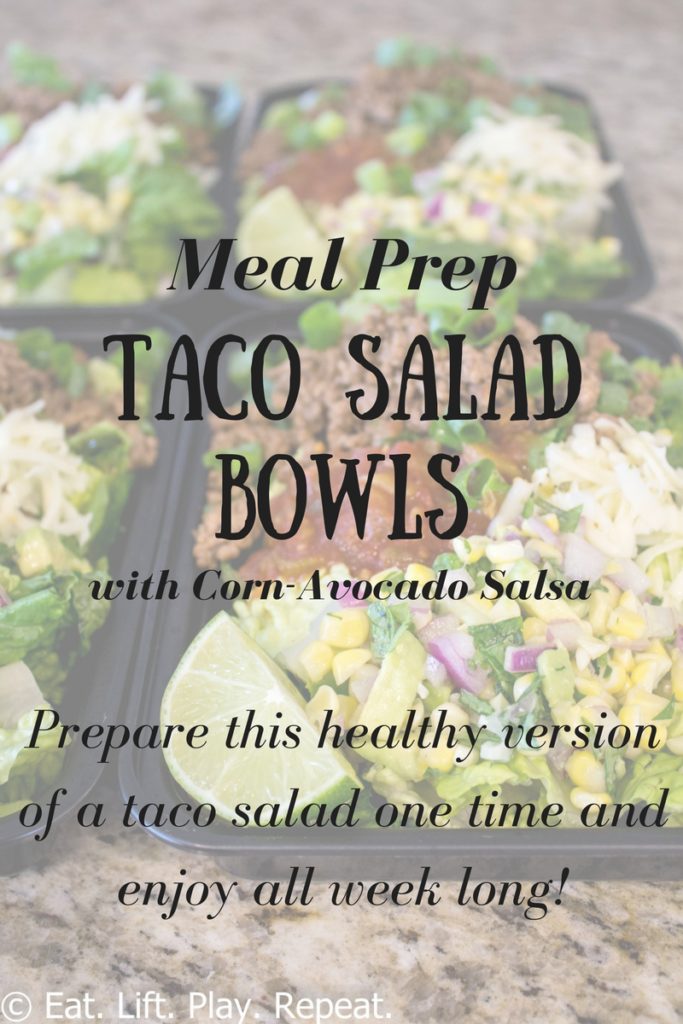 Meal prep is a big part of my weekend routine. I like to prepare food on Saturday & Sunday so that I have healthy meals available all week long. For a low carb, high protein lunch option, try making these Meal Prep Taco Salad Bowls!
Taco salads in restaurants can be quite deceiving. Sure the term "salad" seems like a healthy option, however a lot of restaurants pack a ton of unhealthy ingredients into their taco salads.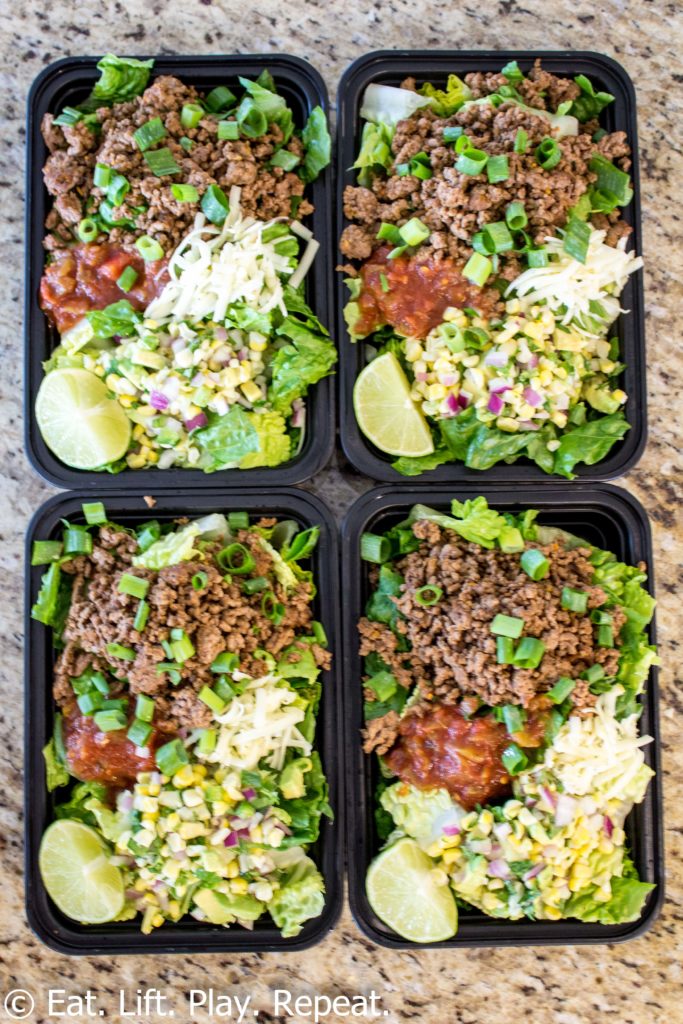 For example, Taco Bell's taco salad has 770 calories! Some can be found with mounds of cheese, sour cream and a deep-fried tortilla bowl, which can add a ton of fat and calories to an otherwise healthy meal.
Instead of picking up a salad from a restaurant, make your own healthy taco salad at home to eat all week!
This Meal Prep Taco Salad Bowl is loaded with protein and low in carbs. It is packed with lean ground beef, salsa, a moderate amount of cheese and homemade corn-avocado salsa!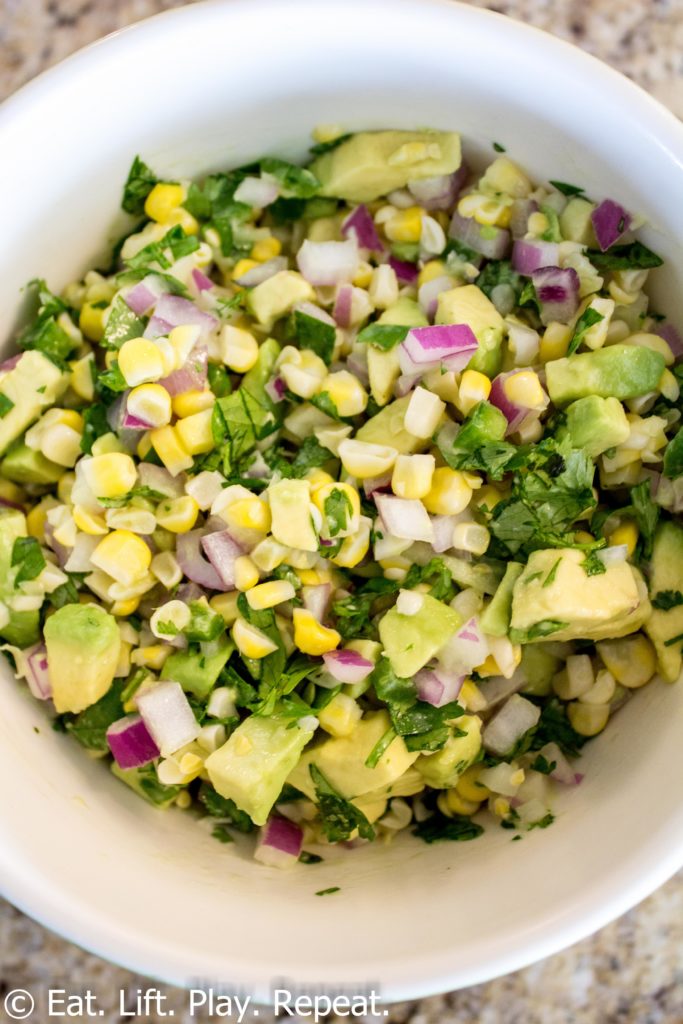 The best part about these Meal Prep Taco Salad Bowls is they are quite customizable. Omit certain ingredients or add others you'd like.
Some healthy additions to this salad would be black or pinto beans, green chiles, black olives, brown rice (obviously this wouldn't be low carb), chopped tomatoes, etc. Feel free to add a dressing to the salad, but certain dressing can pack a ton of calories. Honestly, the two salsas in the salad act almost like dressing, so I don't even add any.
If you aren't a beef fan, then swap the beef out for ground turkey, ground chicken or beans.
Once these simple Meal Prep Taco Salad Bowls are assembled, store them in the refrigerator until you are ready to enjoy them. Take one for lunch a few days per week, or keep them in the refrigerator to enjoy as a healthy last-minute dinner option.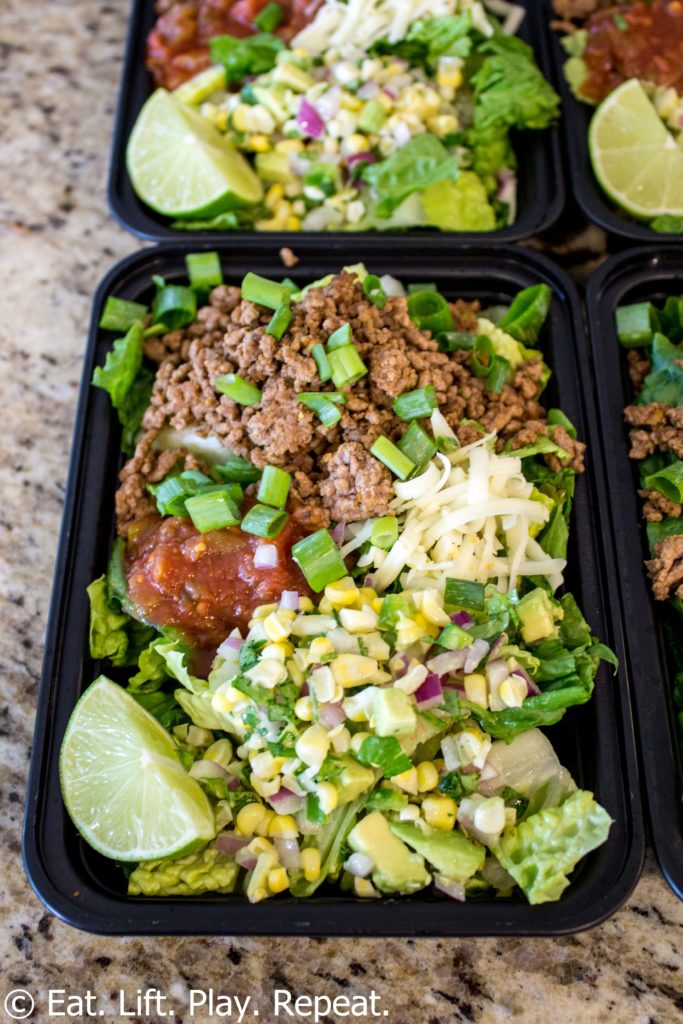 For more simple meal prep recipes check out my Healthy Enchilada Casserole, No-Cook Meal Prep Burrito Bowls & Meal Prep Zoodles with Marinara & Meatballs.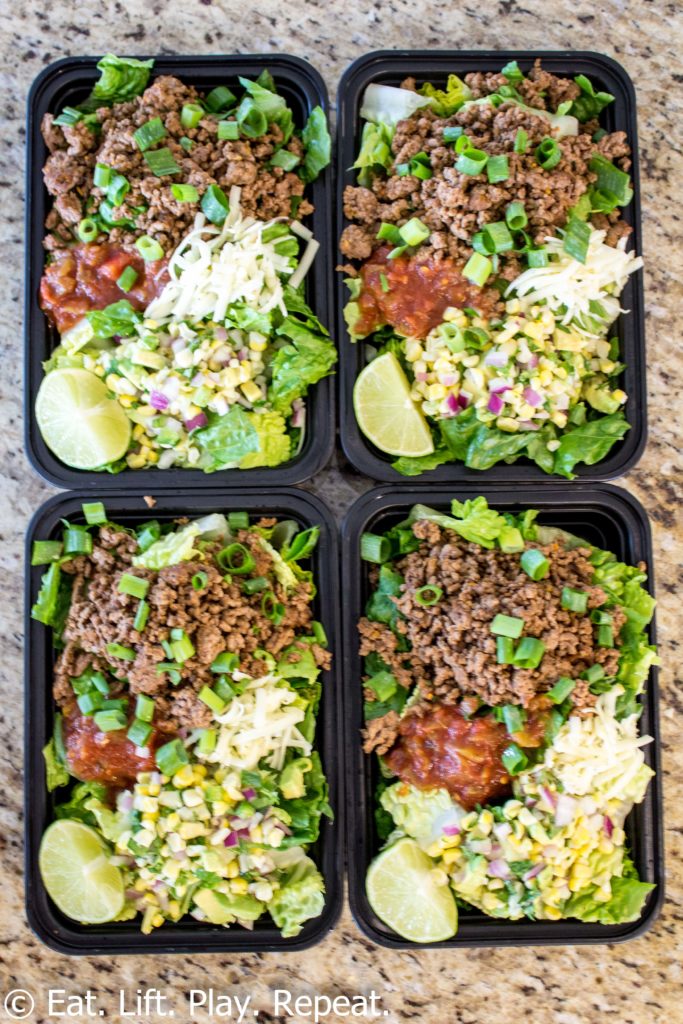 Meal Prep Taco Salad Bowls
2017-06-25 13:11:05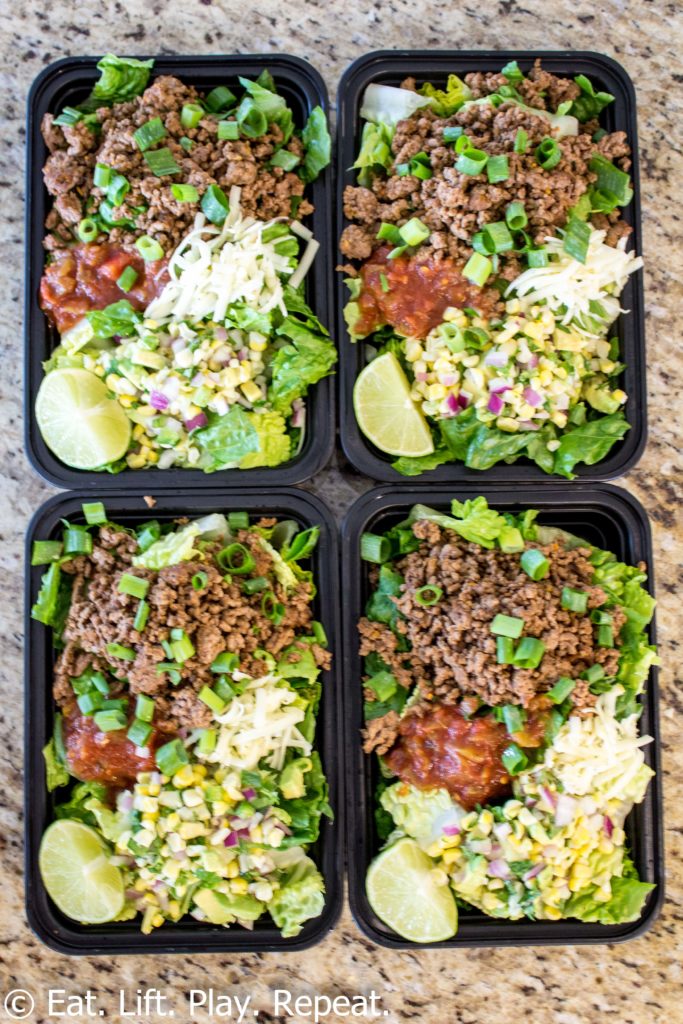 Serves 4
A healthy version of taco salad that is low in carbs and high in protein. Make once and enjoy for lunch all week long!
Ingredients
1lb lean ground beef*
8 cups romaine lettuce, chopped
1 cup corn-avocoda salsa (recipe below)
1/2 cup salsa
1/4 cup cheese, shredded
1 Tbsp Mrs. Dash Fiesta Lime Salt Free Seasoning
1 tsp salt
Green onion, chopped
1 lime, cut into 4 wedges
Corn Avocado Salsa
2 cups sweet corn
1 avocado, diced
1/2 red onion, diced
1 jalapeno, seeds removed and diced
1/4 cup cilantro, chopped
1/2 tsp salt
Juice of 1 lime
Instructions
In a large skillet over medium heat, cook the ground beef until it is no longer pink. Drain excess grease then stir in salt and Mrs. Dash seasoning.
Prepare the meal prep bowls by adding 2 cups romaine lettuce to each container.
Add 1/4 of the cooked ground beef, 1/4 cup corn-avocado salsa, 2 Tbsp salsa and 1 Tbsp shredded cheese to each container. Garnish each container with chopped green onion and 1 lime wedge.
Store in the refrigerator until ready to eat.
Notes
*Ground turkey or chicken can be substituted for beef.
Additional toppings ideas include: black beans, pinto beans, brown rice, green chiles, black olives, chopped tomatoes, etc.
Eat. Lift. Play. Repeat. http://eatliftplayrepeat.com/
What are your favorite additions to taco salads?