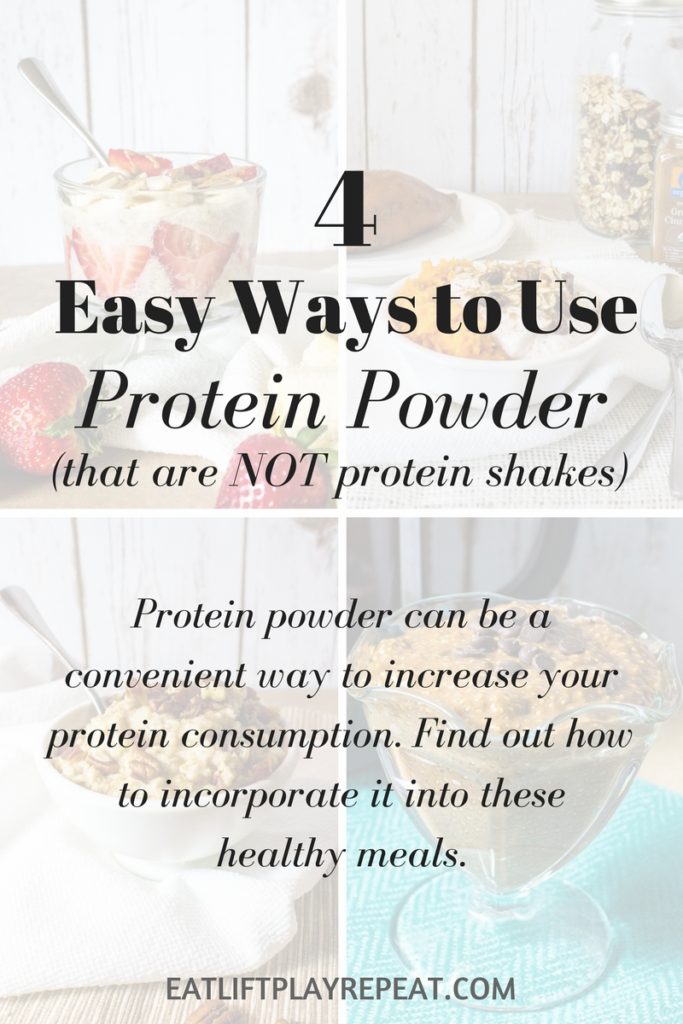 A few years after I began weight lifting I got more serious about fueling my workouts. I started trying to get 40% of my calories from protein, which is not that easy to do!
I prefer to get as much protein as I can from whole foods, such as lean meats, eggs, yogurt, cottage cheese, etc. However, that isn't always realistic.
Sometimes I need to use protein powder because it is quick and easy. Other times I need a little more protein added to the meals I already have.
So what meals do I add protein powder to besides simple protein shakes? Here are 4 easy ways to use protein powder.
You can keep your meal simple with oats/yogurt/cottage cheese/etc and protein powder, then jazz it up with toppings that go well with your protein powder flavor.
Once you read through these 4 easy ways to use protein powder, check out some of my favorite topping combinations for vanilla and chocolate protein.
Oatmeal. Oatmeal is a great complex carb to enjoy for breakfast or for a snack. It has a small amount of protein, with 5 grams per 1/2 cup serving, but not enough for it to be the only protein source for a well balanced meal.
Protein powder can be added to any type of oatmeal including microwave quick cooking oats, stovetop rolled oats, overnight oats and even baked oatmeal recipes.
When making oats in the microwave or on the stovetop, cook the oats according to package directions and add the protein powder after. If you like thick, stick-to-your-ribs oatmeal, then mix the protein powder in and enjoy. If you like runny (or even somewhere in between) then add a little extra water or milk to the oats along with the protein.
When adding protein powder to overnight oats or baked oatmeal, whisk it into the milk or liquid that you choose to use.
I suggest no more than 1/2 scoop of protein powder for every 1/2 cup dry oats. If you add the full scoop then it tends to get grainy and have a weird texture.
Protein powder obviously adds protein to your meal, but it also adds a little sweetness too. I only add protein powder to oatmeal if I want to add sweet toppings, rather than savory.
Suggested Recipe: Strawberry Banana Protein Overnight Oats, Maple Pecan Protein Oatmeal
Plain Yogurt. Let's be honest, plain yogurt is not that great! I buy Greek yogurt, which can be tart rather than sweet.
Protein powder helps to cut the tartness from the plain Greek yogurt and makes it sweet. I prefer yogurt parfaits with toppings that are sweet, so I like the yogurt to be sweet.
Flavored yogurts can be loaded with sugar, so sweeten it yourself AND add extra protein by mixing in protein powder.
Just like oatmeal, be careful how much protein powder you add to your yogurt. A full scoop is typically too much, so stick to 1/2 scoop or less per serving of yogurt.
Suggested Recipe: Sweet Potato Yogurt Bowl
Cottage Cheese. I don't know what took me so long to realize that protein powder could be mixed into cottage cheese just like yogurt!
It might sound crazy, but it is really good.
I like sweet or savory toppings for cottage cheese, but I only mix protein powder in when I want sweet toppings. Add the same toppings to cottage cheese as you would oatmeal or yogurt.
I use less protein powder when mixing into cottage cheese than I do with yogurt. It might be because cottage cheese is thicker.
If you accidentally add too much protein powder, then add a tiny bit of milk to make the texture more appealing.
Chia Pudding. Chia pudding is really easy to make, but doesn't have very much protein on its own. In fact, chia seeds have 3 grams of protein per tablespoon, which isn't quite enough for a well balanced snack.
Just like oatmeal, yogurt and cottage cheese, I like to add protein powder to chia pudding recipes to add protein AND sweetness.
Chia pudding typically involves some sort of milk and chia seeds. I suggest whisking some protein powder with your choice of milk before adding the chia.
Adding protein powder does not effect how the chia absorbs the liquid, so feel free to add protein powder to your favorite chia seed recipe!
Well those were 4 easy ways to use protein powder, without having to make a protein shake!
I love adding protein powder to oatmeal, yogurt, cottage cheese and chia pudding. I also love adding lots of toppings! Here are some of my favorite flavor combinations
Toppings to go with vanilla protein powder:
sliced banana, peanut butter and honey
blueberries, almond butter and cinnamon
raspberries and sliced almonds
peanut butter and your favorite jelly
raisins, peanuts, sliced almonds and mini chocolate chips
sliced strawberries and cacao nibs
strawberries, banana, pineapple and mini chocolate chips
Toppings to go with chocolate protein powder:
peanut butter and mini chocolate chips
strawberries and cacao nibs
sliced banana and peanut butter
shredded coconut and sliced almonds
strawberries, sliced banana and almond but
If you have questions about these easy ways to use protein powder, then email me at eatliftplayrepeat@gmail.com. Check out my Instagram so you can keep up with some of these healthy meals I prepare.