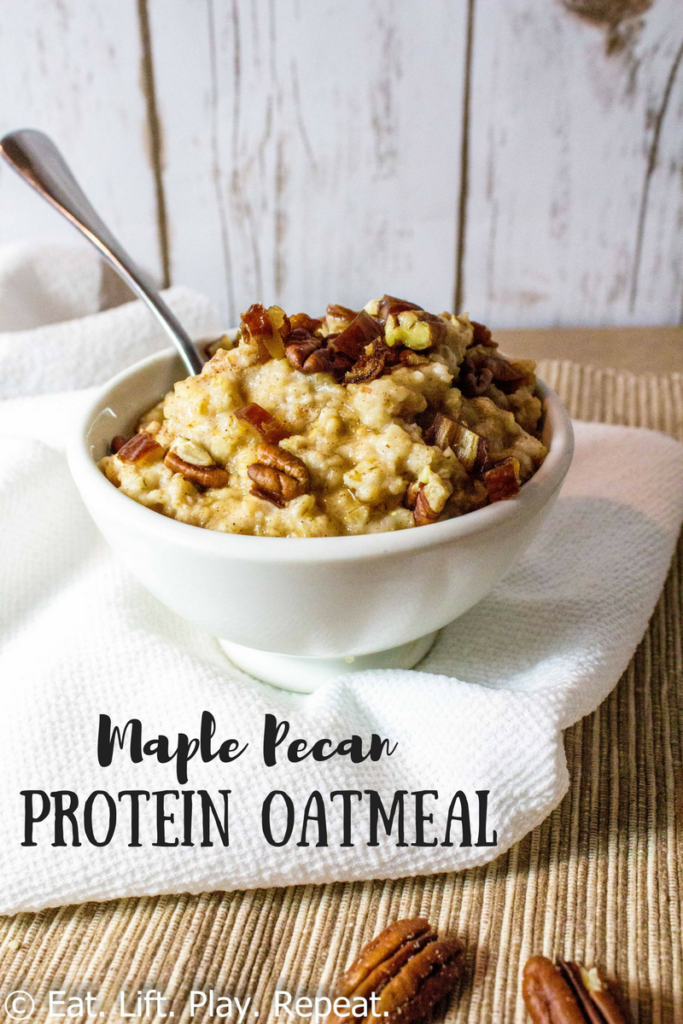 Breakfast is my favorite meal of the day. I love breakfast foods SO much, that I typically have Breakfast #1 between 6:00-7:00am, then Breakfast #2 between 9:00-10:00am. Yes, that's right I schedule TWO breakfasts. Lately my breakfast addiction has been hot oats, especially Maple Pecan Protein Oatmeal. Oatmeal is awesome for a few reasons.
First of all, this Maple Pecan Protein Oatmeal recipe combines a few of my favorite fall flavors together in a delicious and warm bowl of oatmeal.
Second of all, oats are high in many vitamins and minerals, plus they provide a good dose of fiber making them a great start to the day! In fact, each 1/2 cup serving provides 8 grams of fiber, which is one-third of the recommended intake for women.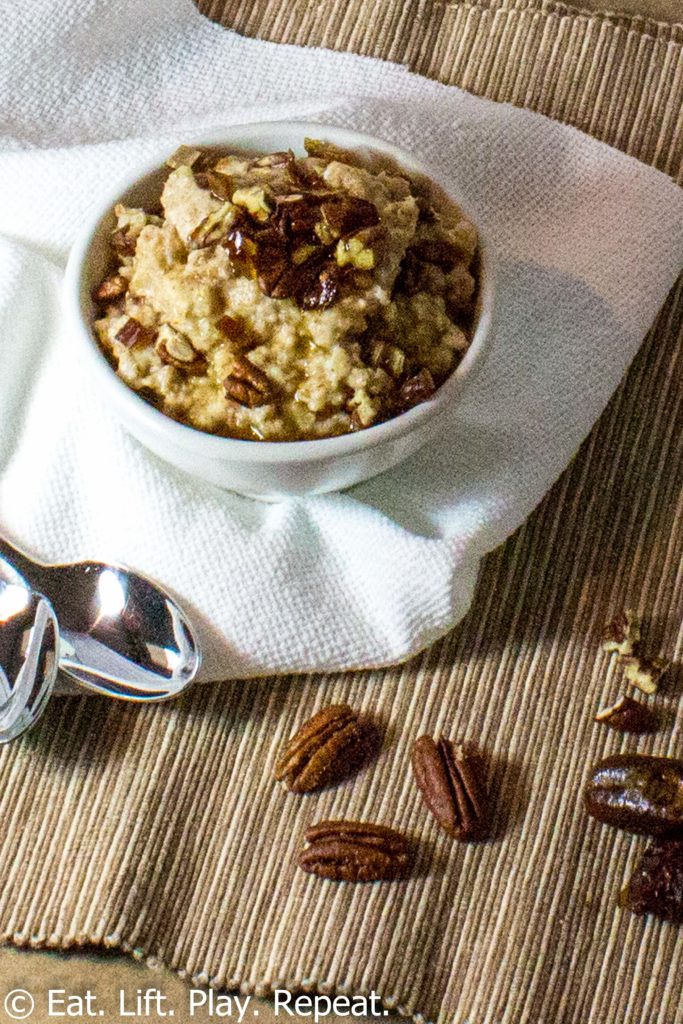 Oatmeal is healthy on its own, but it is important to combine complex carbs with protein for a balanced breakfast. My favorite way to incorporate more protein into oatmeal is to add protein powder and/or mix in egg whites!
The only thing different about protein oatmeal is that whipped egg whites are added to the oats and water before cooking. The same idea can be used with rolled oats cooked on the stovetop or quick oats cooked in the microwave. Quick oats are used in this Maple Pecan Protein Oatmeal recipe in order to speed up the cooking time for busy mornings.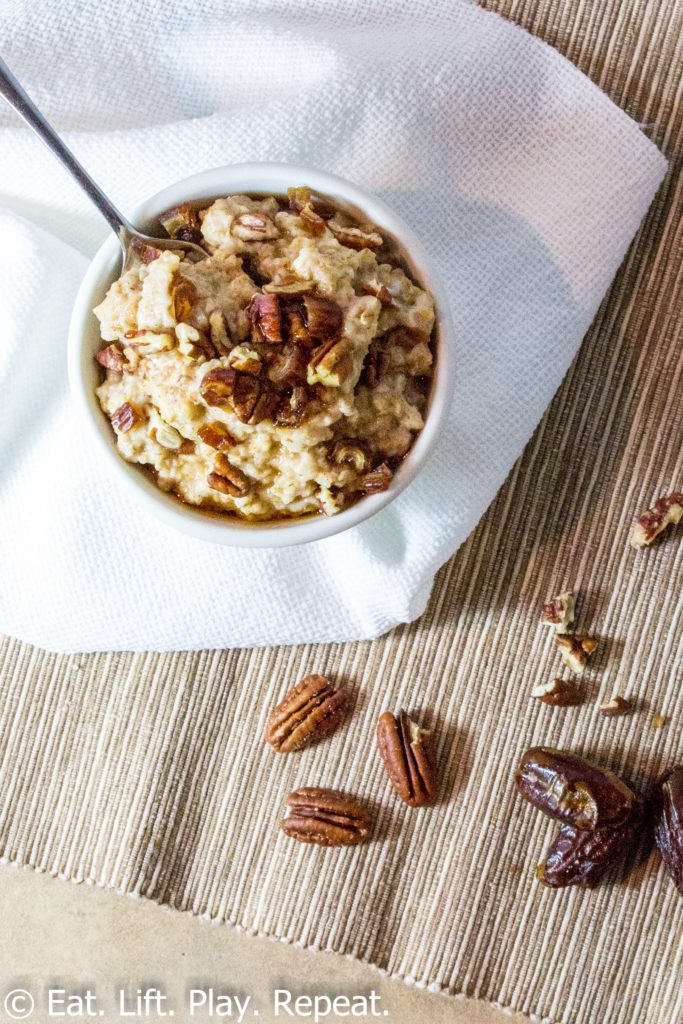 Start by separating the egg yolks from the whites and discard the yolks. Whip the egg whites using a fork until they become frothy, typically 30-45 seconds. Then add the quick oats and water to the bowl (oatmeal require a 2:1 water to oats ratio). Next, give it a quick stir and finally microwave away!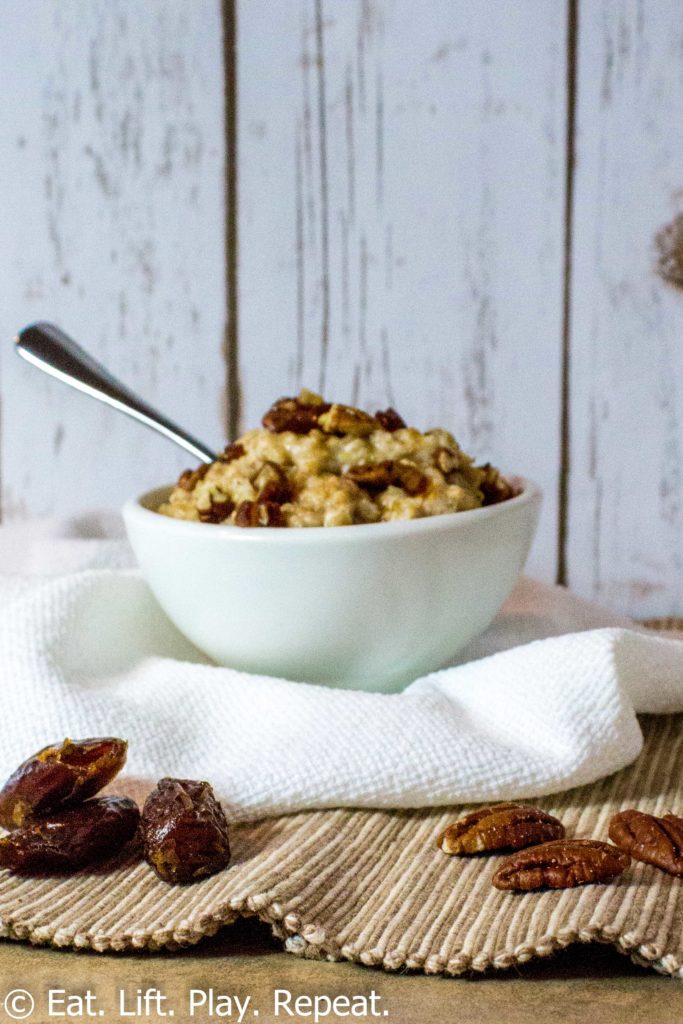 Be prepared to check the oats as they cook. I'm the queen of getting distracted and letting the oatmeal boil over the edges of bowl. Not only is it a mess, but you lose out on some oats!
Each microwave is different, but it takes mine 90 seconds to get the oats and egg whites cooked. Feel free to stir the mixture midway through to redistribute the egg whites and make sure it hasn't boiled over.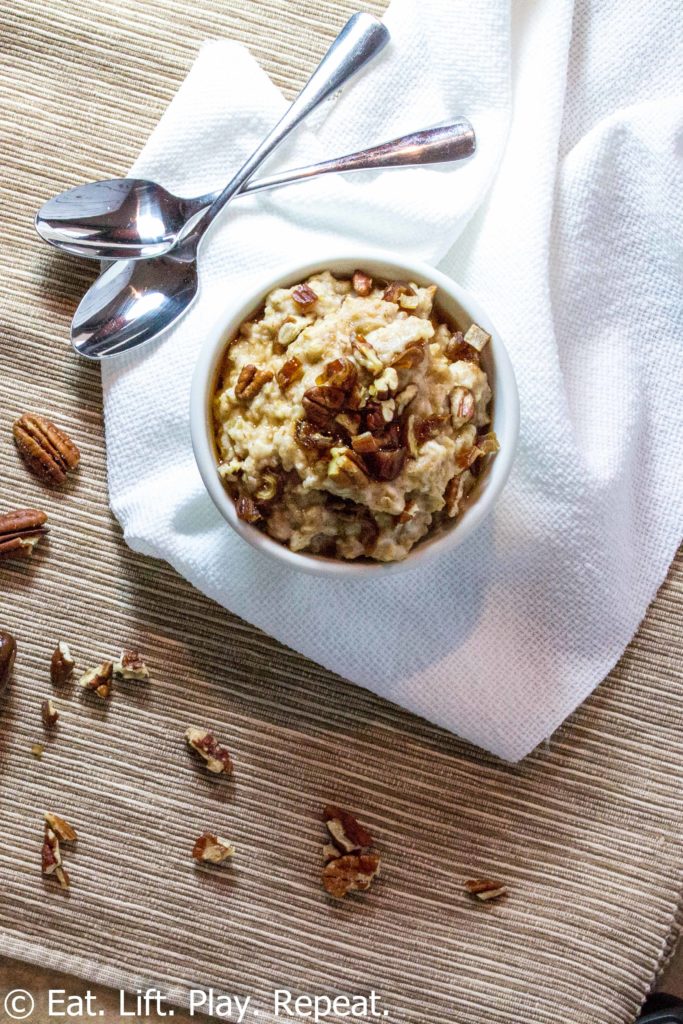 Once the egg whites are fully cooked stir in salt and cinnamon. Last but not least, add the toppings! This Maple Pecan Protein Oatmeal recipe calls for chopped dates, chopped pecans and maple syrup. This is a delicious combination on its own, but feel free to add other ingredients such as sliced banana, dried cranberries, raisins, almonds, walnuts, etc.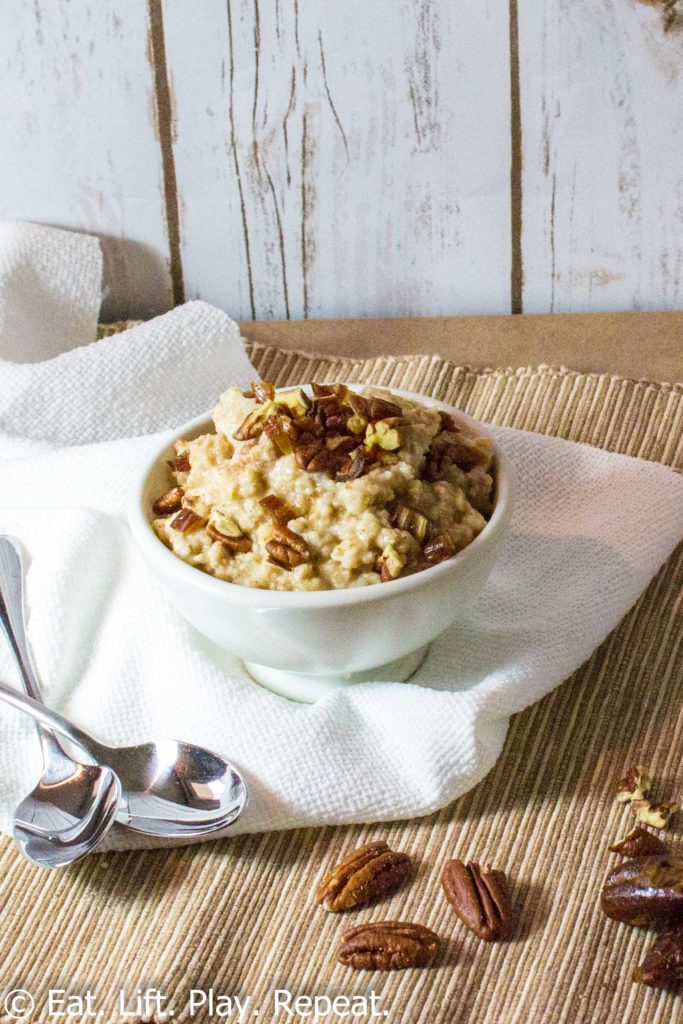 Some mornings I need even more protein (I aim for 30 grams per meal), so I'll add some protein powder to the oats. The protein powder is added after cooking. It can be stirred into the oats along with the cinnamon and salt in this particular recipe.
If you prefer soupy oatmeal rather than sticky oatmeal, then you could also mix protein powder with water or milk and pour it on top of the oats. Both ways are delicious!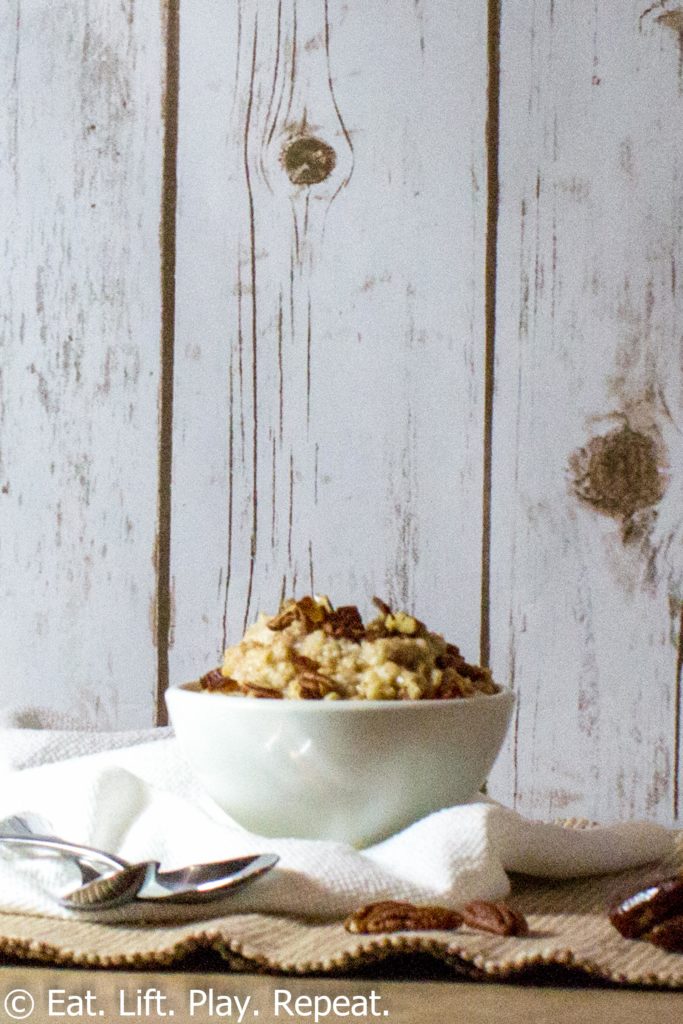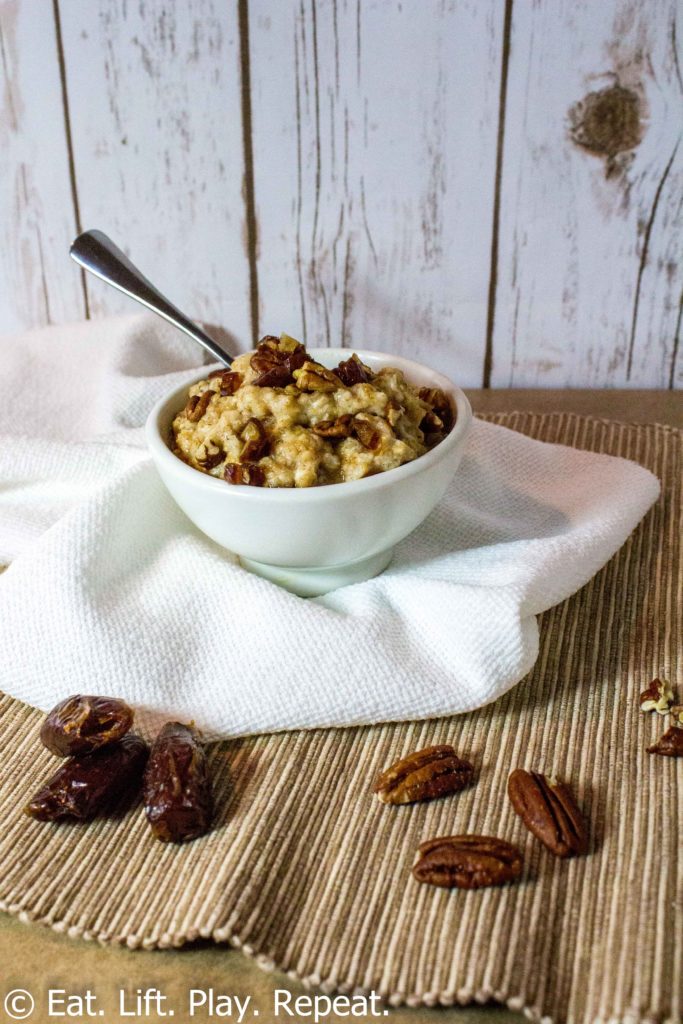 Maple Pecan Protein Oatmeal
2016-11-27 17:20:55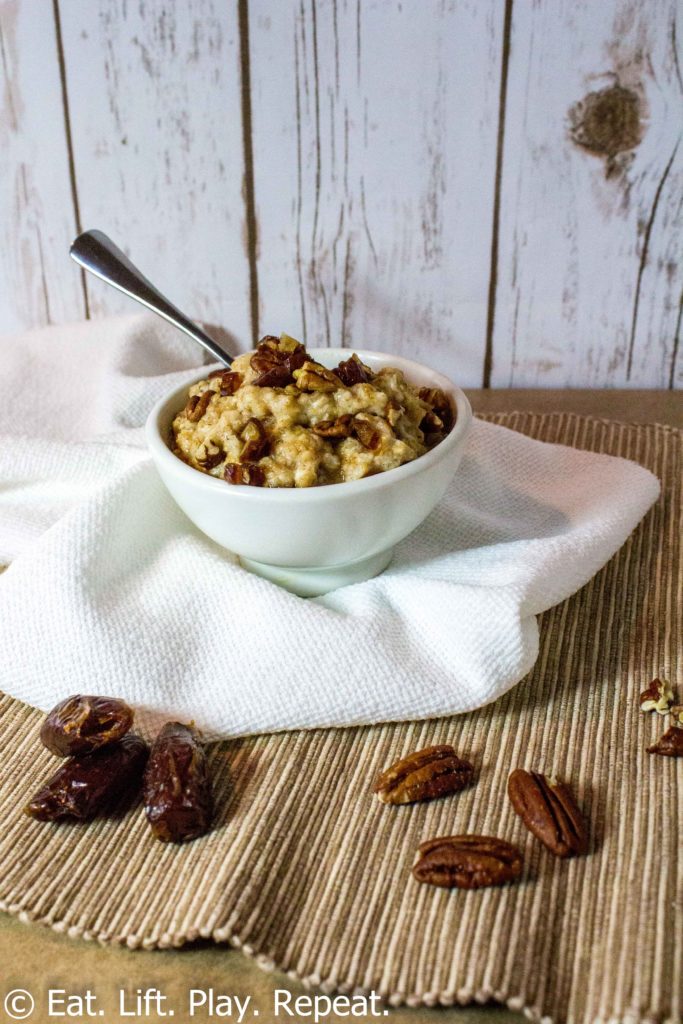 Serves 1
A quick, yet healthy breakfast recipe that has a good balance of protein and complex carbohydrates. This oatmeal recipe only takes 5 minutes to whip up and provides over 10 grams of protein!
Ingredients
2 egg whites
1/3c quick oats
2/3c water
1-2 pitted dates, chopped
1Tbsp pecans**, chopped
1tsp maple syrup
1/4tsp cinnamon
1/8tsp salt
Instructions
Pour egg whites into a small microwave safe bowl. Using a fork, whip the egg whites until frothy (30-45 seconds). Add quick oats and water to the bowl. Microwave on high for 90 seconds*.
Add salt and cinnamon to the cooked oats and stir until well combined.
Top oats with dates, pecans and maple syrup. Serve immediately.
Notes
*Every microwave is different, so check the oatmeal frequently while cooking to make sure oatmeal doesn't spill over. If eggs are not fully cooked after 90 seconds then cook an additional 30 seconds and check again.
**Feel free to substitute any nuts or seeds of your choice including walnuts, almonds, pistachios, etc.
Eat. Lift. Play. Repeat. http://eatliftplayrepeat.com/
What is your favorite way to add protein to oatmeal?