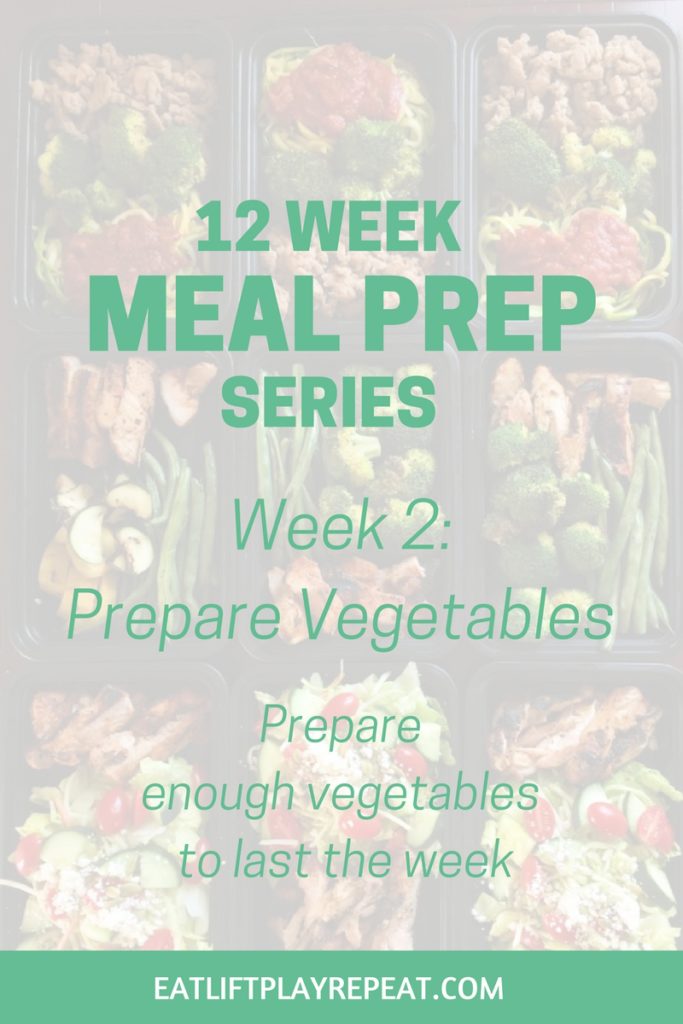 Every healthy diet should have plenty of vegetables incorporated. My challenge for you Week 2 of the Meal Prep Series is to prepare a variety of vegetables to last you the week. If you missed Week 1 of the Meal Prep Series then you can find that here.
I am lucky because I actually enjoy the taste of (most) vegetables! When I food prep I typically try to cook 4-5 different vegetables to rotate throughout the week. My go-to veggies include broccoli, cauliflower, zucchini, green beans, Brussels sprouts, bell peppers and carrots.
If you struggle with vegetable intake then start by picking your two favorites and work your way up from there each week.
Most of the time I have Donny grill the vegetables for me. It keeps my kitchen clean and I can do other tasks while those cook outside. However, roasting vegetables is another great option, as well as eating them raw! If you are short on time then you could always throw together a chopped salad using raw vegetables like carrots, snap peas, green peas, broccoli slaw and your favorite leafy green (romaine, spinach, arugula, kale, etc).
In terms of cook oil and seasonings, I use extra-virgin olive oil, salt and pepper. Occasionally I'll use a salt-free seasoning blend on the vegetables, but then I'll add salt as well. I like to be able to control the amount of total salt, hence the salt-free blends. In terms of ratios, for every 3-4 cups of vegetables I'll add 1Tbsp oil and 1tsp salt. Broccoli generally needs a little more oil, while zucchini and green beans can do with less.
So what type of vegetables should you make? The possibilities are endless.
Flip through food magazines, cookbooks and Pinterest for some vegetable inspiration! Or go simple and roast the vegetables with a little olive oil and salt. Get creative in the kitchen and try a new vegetable every now and again.
Here are three tutorials for how to make some of my favorite vegetables:
If you are fairly good at getting enough vegetables at lunch and dinner, then challenge yourself this week to incorporate them into another meal throughout the day. Breakfast is a great place to add vegetables! Try an egg or egg white scramble with cooked broccoli and cauliflower mixed in. You could also make a frittata using zucchini, bell peppers, onions, etc.
When I meal prep, I try to have extra vegetables cooked in order to throw together quick, healthy dinners. Sometimes I'll use some of those extra veggies in the morning – nothing like getting those nutrients and fiber right off the bat!
If you haven't signed up for email yet then I suggest you do. I'll be emailing over my favorite ways to cook vegetables and also options for days when you have zero time to cook! Don't forget to check out last week's Meal Prep Series – Week 1: Cook Chicken post.