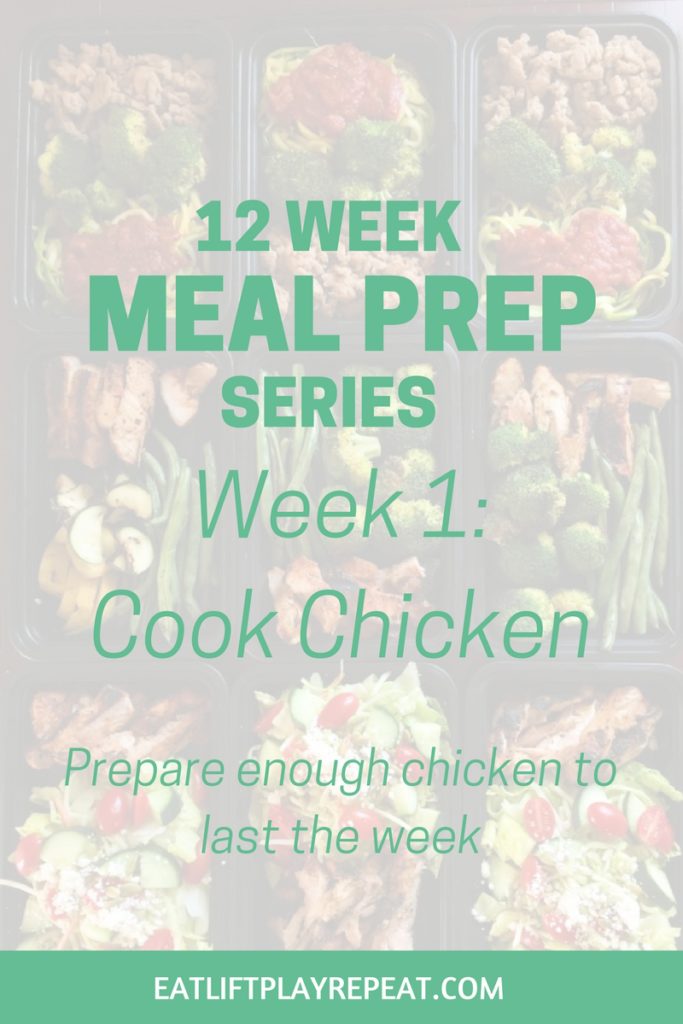 Chicken can be a very healthy and versatile food, which makes it perfect for meal prep. Boneless, skinless chicken breasts are high in protein and are low in fat.
One 3oz serving of cooked chicken breast is 120 calories and provides 26g protein. Boneless, skinless chicken thighs are another good option for a clean eating diet. Chicken thighs provide more flavor, but also have a higher fat content.
It is rare for me to meal prep for the week without cooking chicken in some way, shape or form. Both chicken breasts and chicken thighs can be prepared easily. My preferred methods of cooking including baking, grilling or cooking in a slow cooker.
So how much chicken should you prepare to get through the week? It will take a small amount of math.
First, take a look at your week and see how many meals you want to prepare ahead of time. For example, if you want to pack lunch to take to work Monday through Friday then you'll need 5 servings of chicken.
Next, decide how much chicken you are going to take per day. A typical serving is 4oz raw. Chicken loses water once it is cooked, in fact it'll lose about 1/4 of its weight. 4oz of raw chicken will end up weighing about 3oz cooked.
When I meal prep, I typically pack 4oz cooked chicken because my protein goals are high.
Take time to think about what your week looks like in terms of eating. Do you have any lunch meetings where you won't need to pack your lunch? Do you have dinner plans where you won't need to make dinner? Take a look and decide how many meals you will need to prepare and how many of those meals you want to involve chicken.
Now use this formula to see how much chicken to buy to get you through the week:
# of servings x raw weight in ounces per serving = raw weight to buy
Here is an example:
5 servings of chicken (1 serving per weekday) x 4oz raw chicken = 20oz (1.25lbs) raw chicken to buy
The raw weight versus cooked weight will vary, so I suggest buying a little bit more than you think you'll need. For this particular example I'd buy 1.5-1.75lbs so that I don't run out by the end of the week.
I suggest buying extra chicken and cooking it. If you don't end up using all the cooked chicken then you can always freeze it for later.
I keep cooked chicken in the freezer for last minute meals or for weeks that I have minimal time to meal prep. I'll divide the chicken into 4oz servings and place each serving in a Ziploc freezer bag. When I am ready to use it I'll defrost the chicken in the microwave.
Your task for the first week of the Meal Prep Series is to cook enough chicken to last the week. Again, take a look at your schedule and decide how much chicken you'll need to buy based on the formula given above. Then decide how to cook the chicken including baking, grilling or cooking in the slow cooker. For an easy and healthy way to cook chicken breasts check out my tutorial How to Bake Chicken Breast.
If you have any questions about meal prep or cooking chicken then feel free to email me at eatliftplayrepeat@gmail.com.
If you haven't already, sign up for my email list. I'll be emailing other tips, ideas and recipes for cooking chicken!