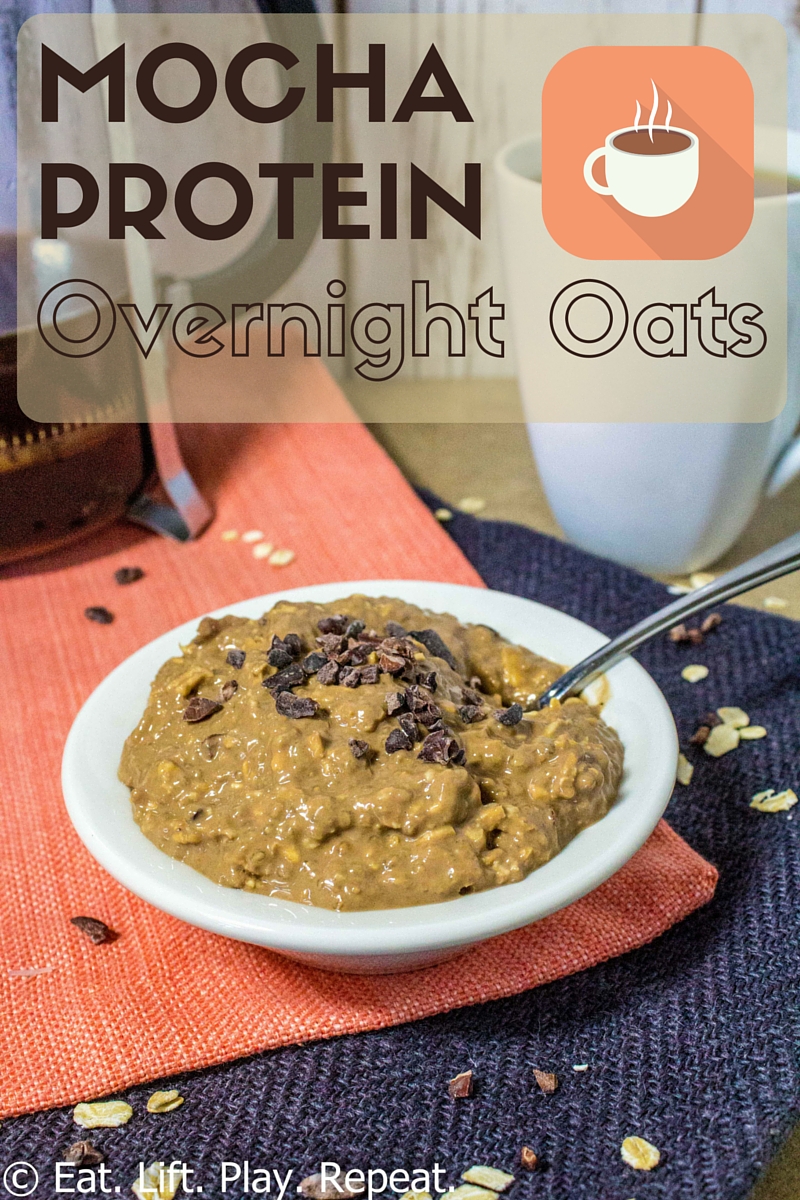 Donny & I had a wonderful anniversary celebration in Denver over the weekend. We ate at Stoic & Genuine, a seafood restaurant inside Union Station and stayed at The Oxford Hotel, which we found out is the oldest hotel in Denver! I took pictures of our room and of dinner so I'll share those with you in a later post.
Right now I want to talk about my obsession with overnight oats. It is real.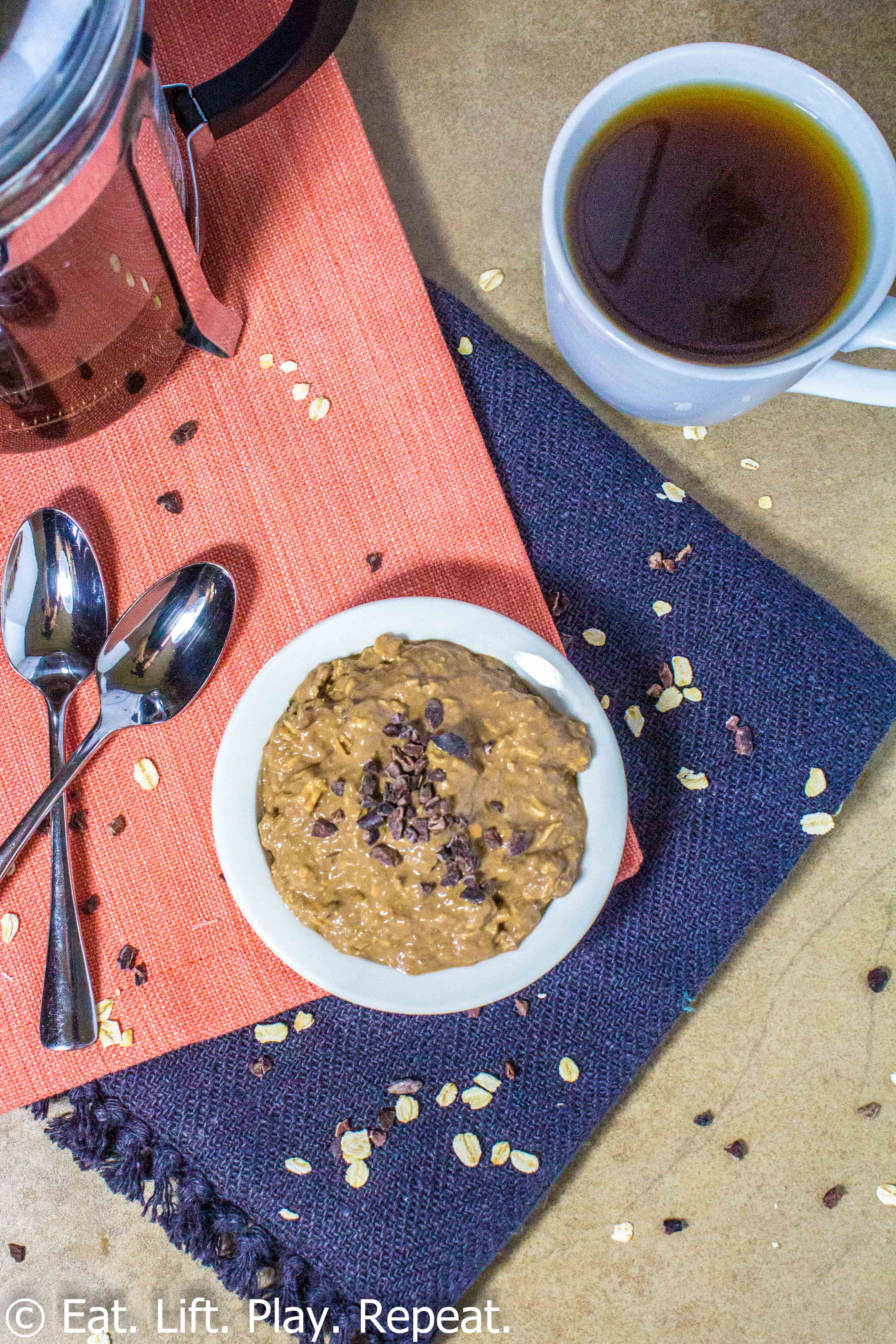 The summertime is a perfect time for overnight oats. I have a hard time eating hot oats when I know it is going to be 100 degrees out that day (and it is already 70 degrees at 6:30am), so I prefer the no-cook version of oatmeal: overnight oats.
Preparing overnight oats is so simple. Combine all the ingredients in a mason jar or bowl and then let the magic happen in the refrigerator while you sleep. It is so easy!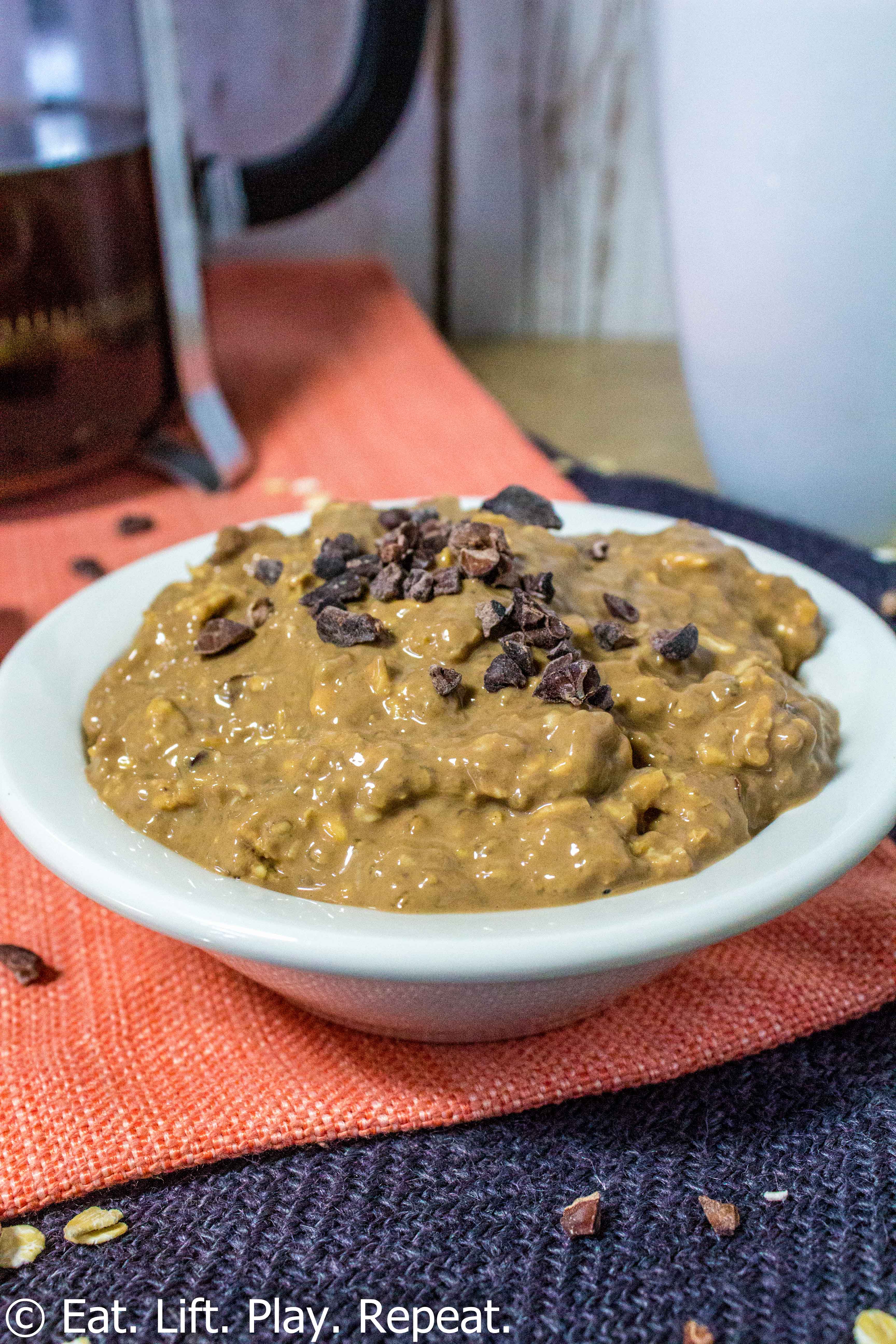 I have made overnight oats a lot and have found my favorite technique for combining all the ingredients. It takes 2 minutes longer to prepare, but I find it worth it.
I like to combine the protein powder with the liquid (in this recipe the coffee but most of the time it is some type of milk). I whisk that together to make sure the protein powder gets dissolved and doesn't stay clumpy. Then I add the Greek yogurt and whisk again. After that I throw the rest of the ingredients in (minus the toppings) and stir it all together.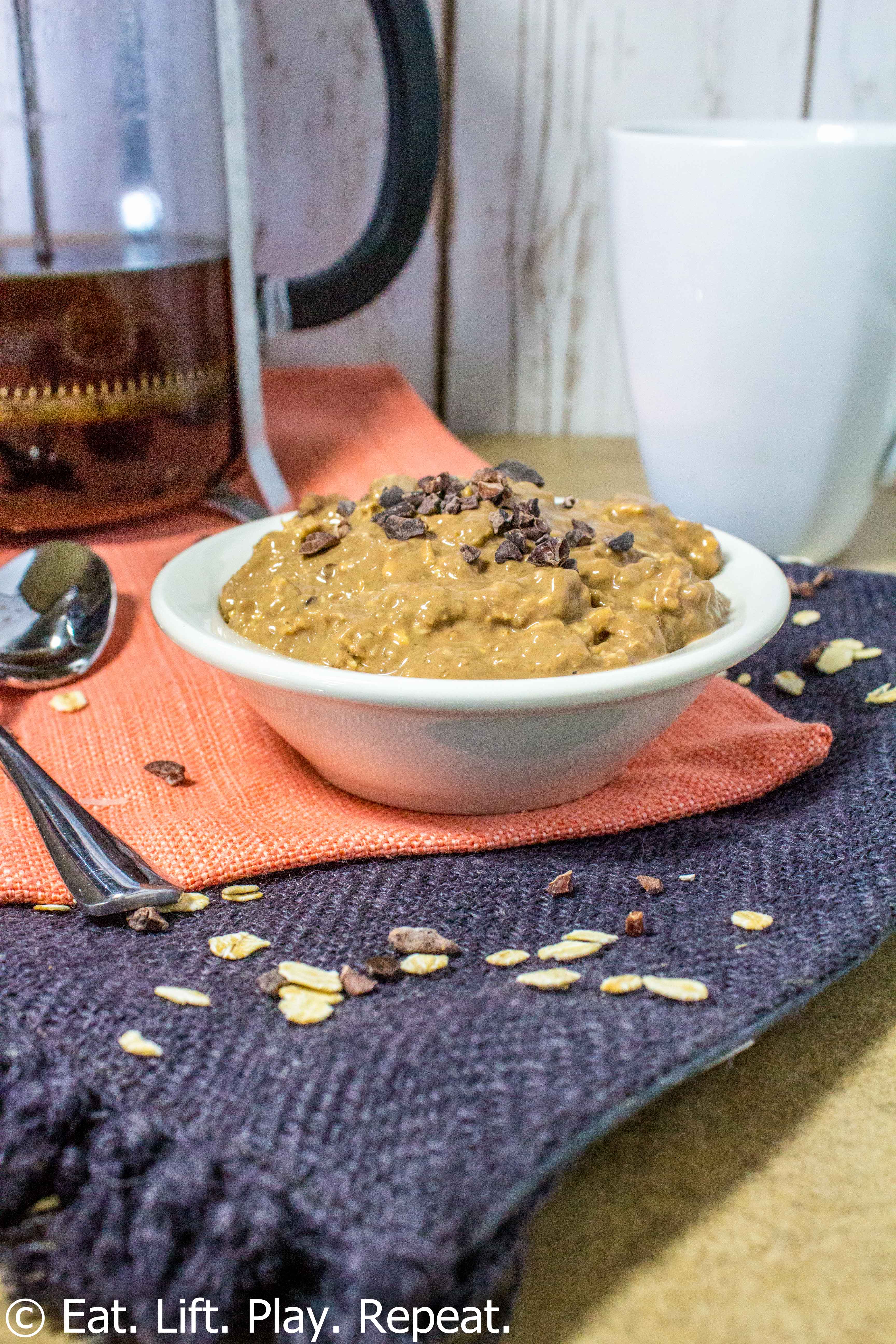 You absolutely do not have to take those two extra steps, but I find them worth it. You can simply throw all the ingredients in a bowl or mason jar and stir away. The flavors will be the same, but I prefer to get the protein dissolved first.
In terms of overnight oats, I did have to get used to the oats being cold at first. I'd eaten hot oats my whole life so switching to cold oats was interesting. Now I'm addicted and I won't be surprised if my overnight oat obsession continues into the winter!
Mocha Protein Overnight Oats combine chocolate protein powder with coffee, rather than almond milk to make a fantastic combination of flavors. On a busy morning you can have your coffee AND breakfast is one glorious bowl of deliciousness. Boom.
If you enjoy this Mocha Protein Overnight Oats recipe then check out my Mocha Chia Pudding recipe. I also have some other overnight oat recipes on the blog. Look for Strawberry Banana Protein Overnight Oats and Chocolate Covered Strawberry Overnight Oats.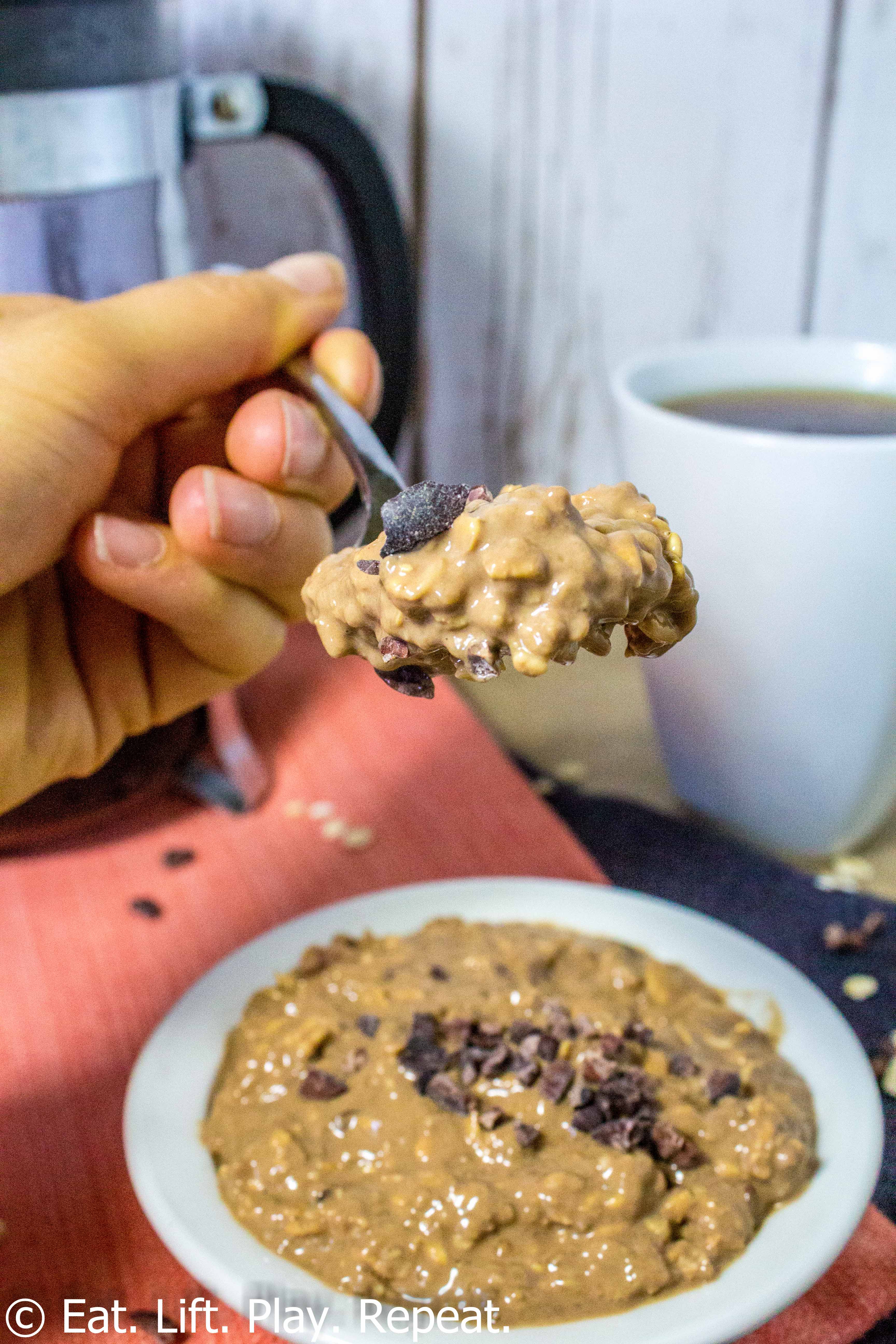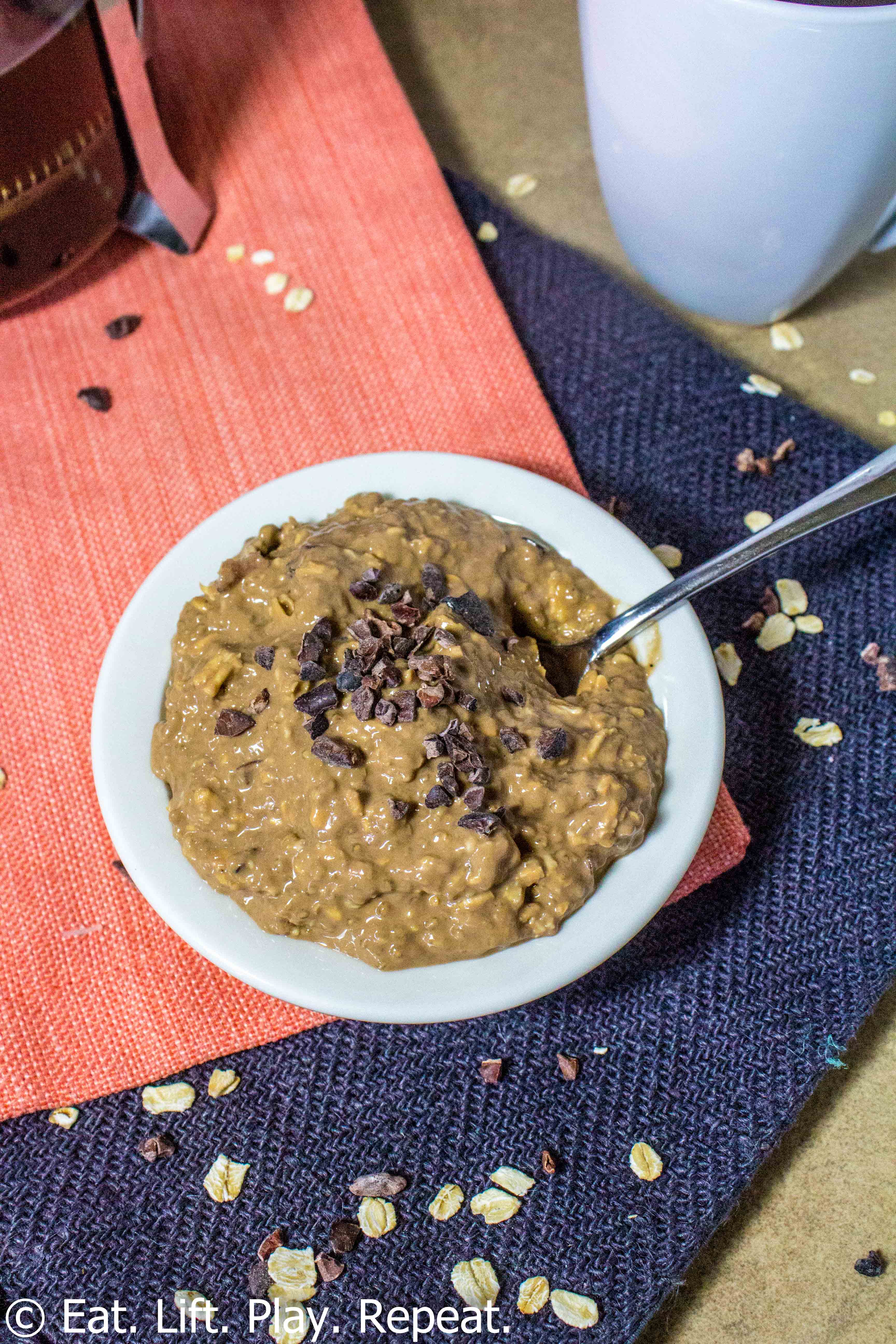 Mocha Protein Overnight Oats
2016-07-24 19:23:43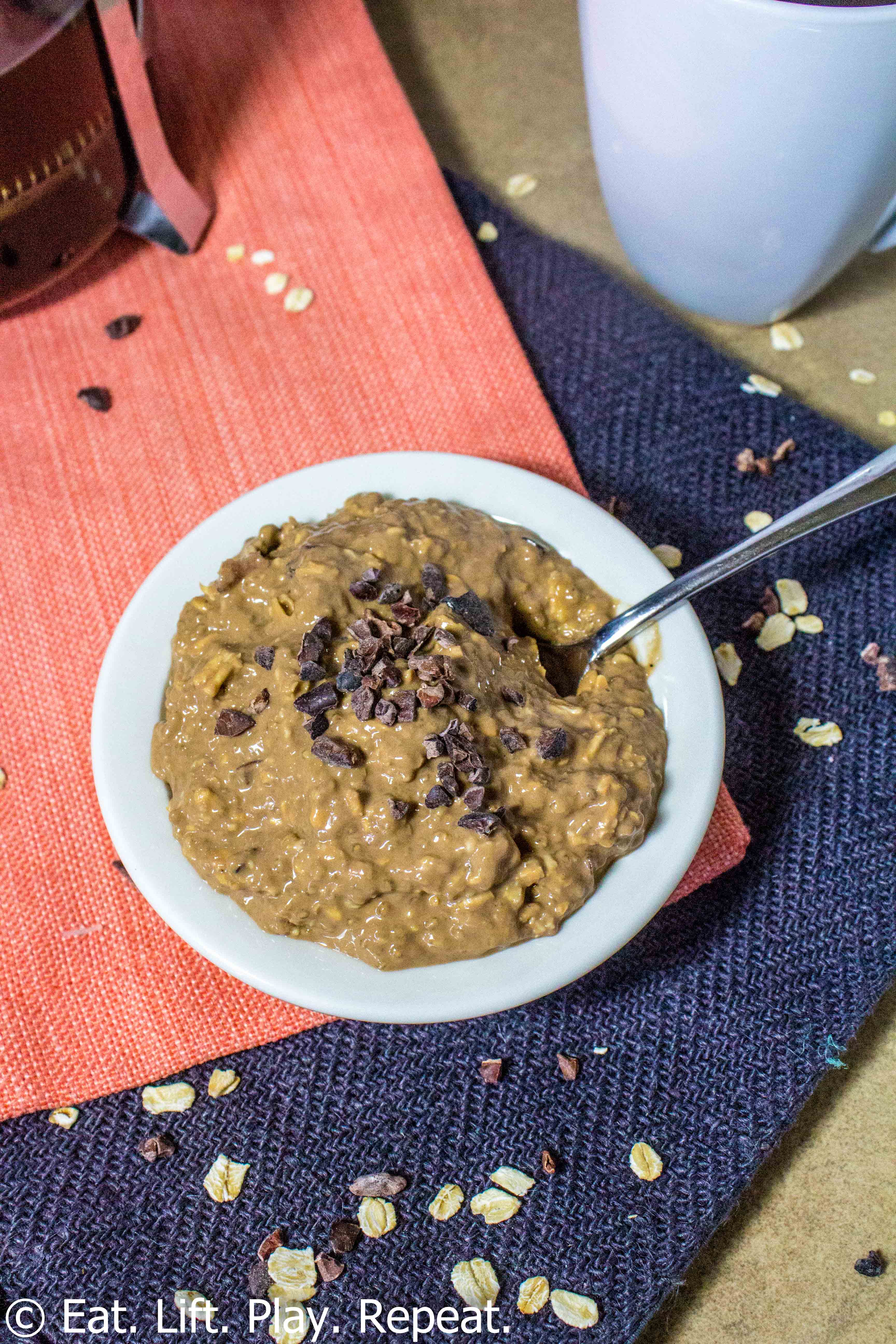 Serves 1
The perfect balance of protein and carbs to start your day off right. Make these overnight oats before going to bed and have a healthy breakfast ready for a busy morning.
Ingredients
1/3 cup strong brewed coffee*
1/2 scoop chocolate protein powder
2 oz 2% Greek yogurt
2 Tbsp rolled oats
1 Tbsp chia seed
1 Tbsp cacao powder (optional)**
Additional toppings: cacao nibs, chocolate chips, etc
Instructions
Combine all ingredients in a mason jar or small bowl. Stir until all ingredients are evenly distributed. Refrigerate overnight or at least 2 hours. Add additional toppings before serving.
Notes
*1/3 cup hot water mixed with 1 tsp instant coffee granules can be substituted for the strong brewed coffee
**cocoa powder can be used in place of cacao powder
Eat. Lift. Play. Repeat. http://eatliftplayrepeat.com/
What is your favorite quick breakfast recipe?