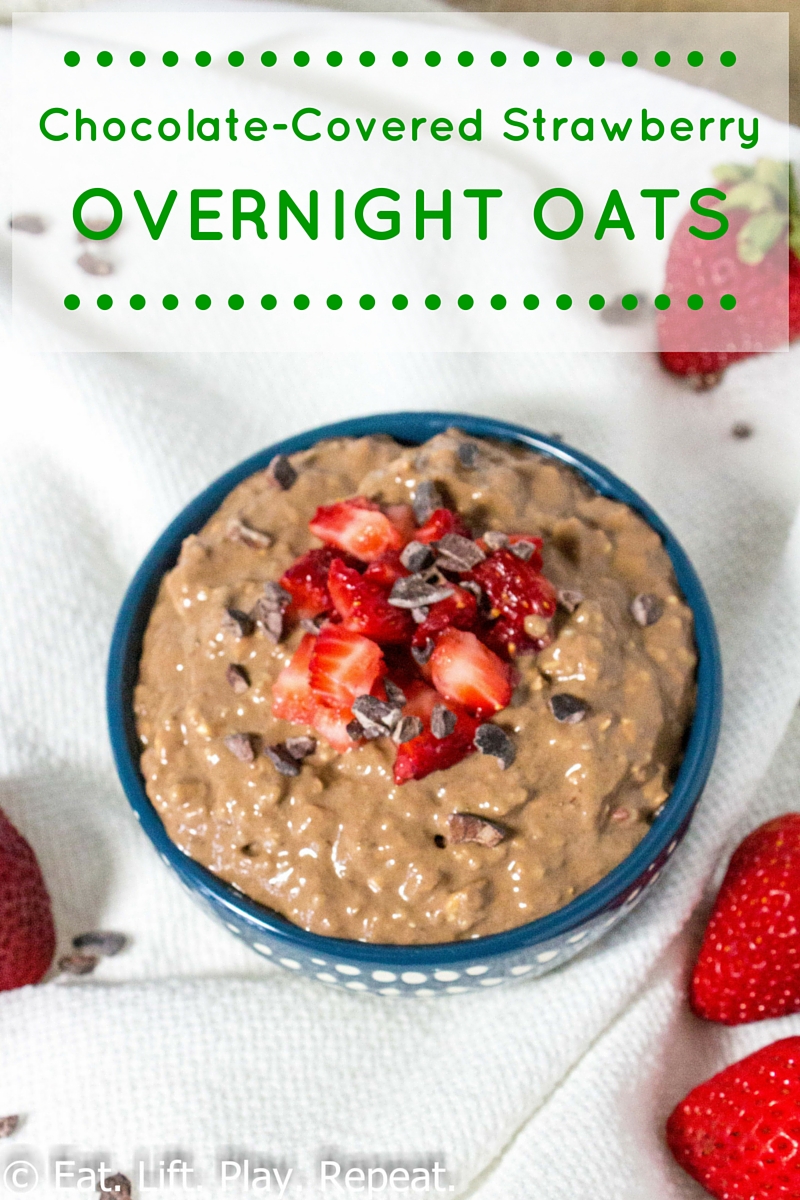 When the weather warms up, I don't want a hot breakfast as much as something cool or cold. I drink more smoothies in the summer and choose hot oatmeal more in the winter. However, I will eat eggs year around, regardless of temperature.
Last week I had either overnight oats or chia pudding for breakfast every single day. I had packed a frittata for my mid-morning meal so I chose to use more yogurt and oat-based items for breakfast. Plus, I'd wake up in the morning craving overnight oats, so it made sense to eat them all week! Most of the time I made them the night before so they could sit overnight, however one morning I did made chia pudding before going to the gym and it was still good when I got back!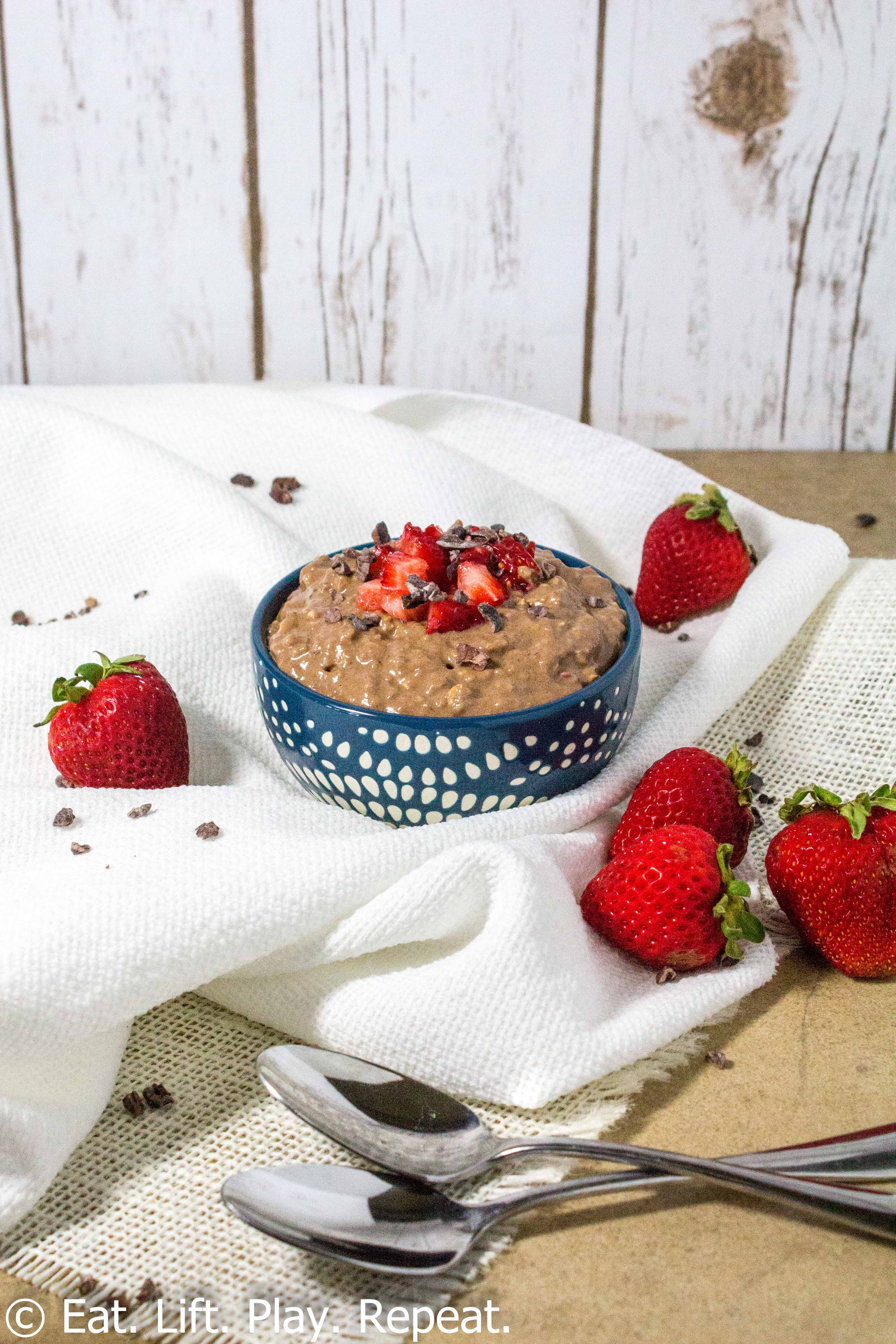 I love the creaminess of overnight oats, probably due to the addition of yogurt. You can make overnight oats without yogurt and they are still delicious, but I've found I prefer a little yogurt added.
The best part about overnight oats is how easy they are to make and how great it is to already have breakfast waiting for you when you wake up! All you have to do it throw the ingredients in a bowl or mason jar, stir it up, stick it in the fridge and let the magic happen overnight. Boom, easy.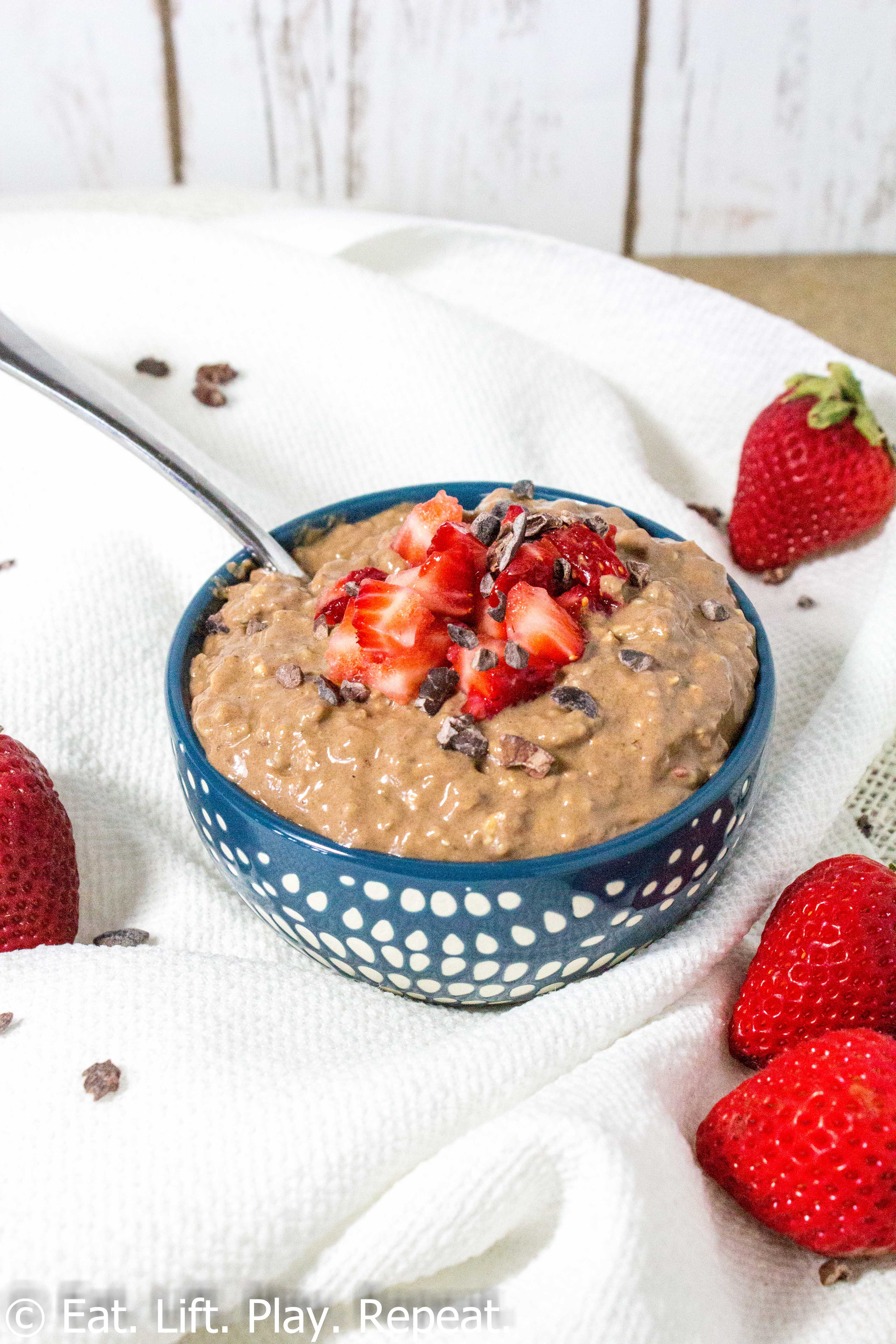 There are a million different foods you can add to overnight oats and you can basically take any hot oatmeal recipe and turn that into overnight oats! Pinterest if FULL of ideas and suggestions. I also recommend Strawberry Banana Protein Overnight Oats. It is one of the most popular recipes here at Eat. Lift. Play. Repeat and for good reason! They are delicious!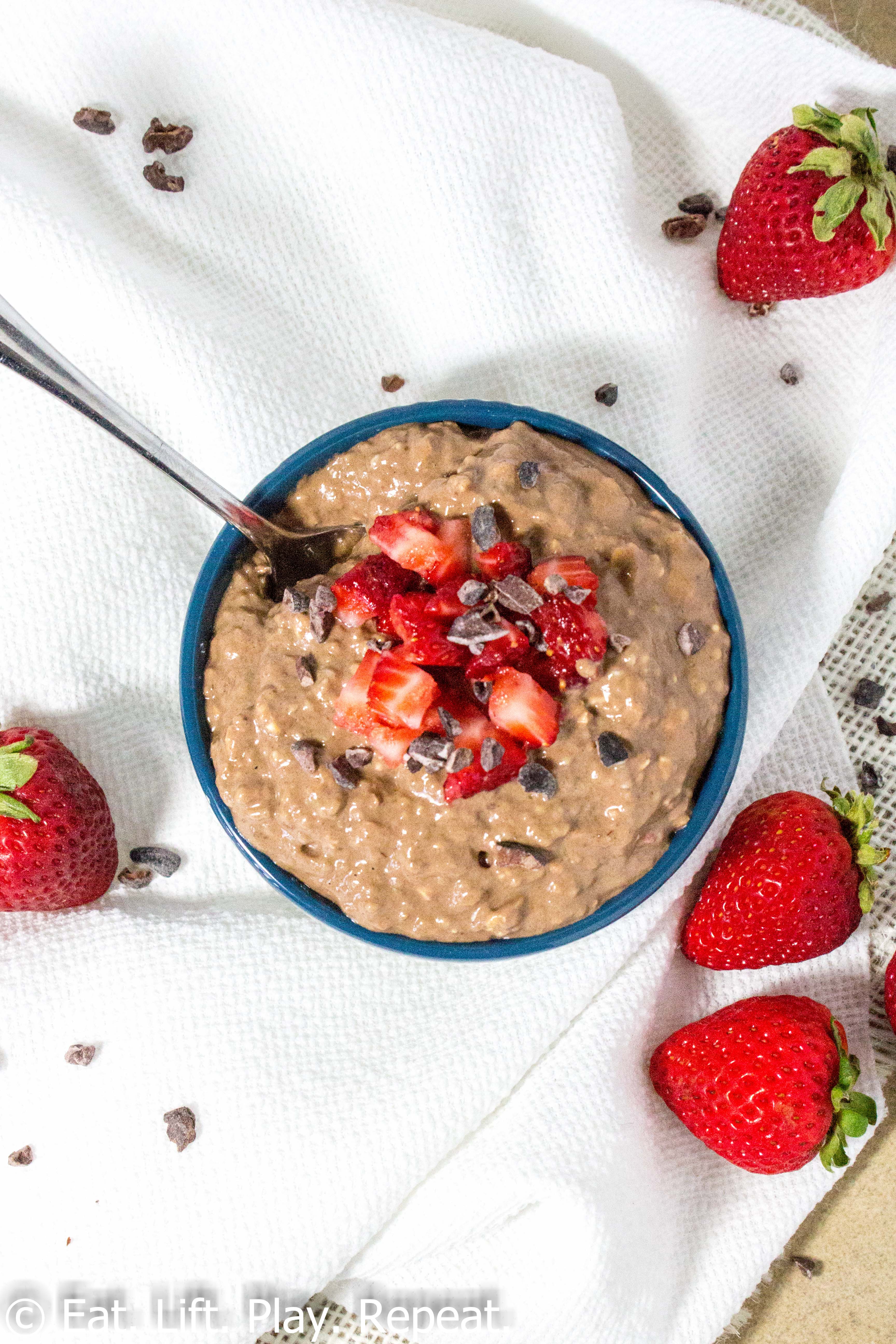 These Chocolate Covered Strawberry Overnight Oats are pretty bomb-digity too though. I mean chocolate for breakfast?! Yes, please. I love chocolate and never complain about getting to eat it first thing in the morning. Plus, summertime is the perfect time to eat every. single. strawberry. that comes within arms reach. Or is that just me that does that?! I love strawberries and love adding them to my breakfast, whether it is to oatmeal, pancakes, waffles, or yogurt.
Basically this is one of the best breakfasts for me because is contains some of my favorite things: overnight oats, strawberries, and chocolate!
These oats are a great way to start the day, not just because of the chocolate, but because they are loaded with protein and complex carbohydrates. It makes a great combination that will keep you full until your next meal. This recipe makes two servings, so you can have breakfast ready for two days in the week or half the recipe for a single serving.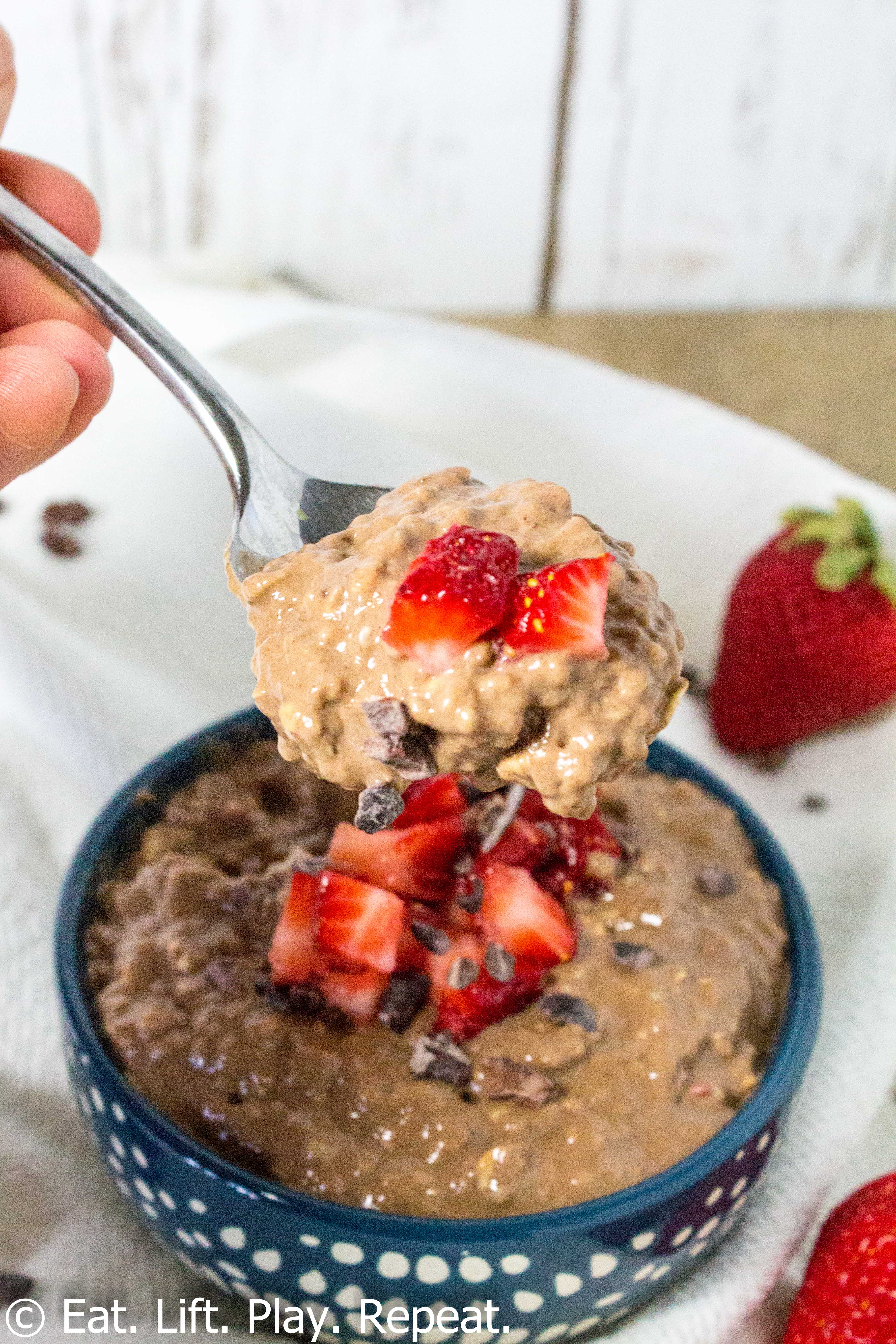 I chose to use fresh strawberries for this recipe because strawberries are in season. You could use frozen strawberries if you needed to, just be sure to thaw them out before adding them to the recipe. You could microwave them and then pour the hot berries and the sauce that comes with it over the oats too. That'd be fantastic!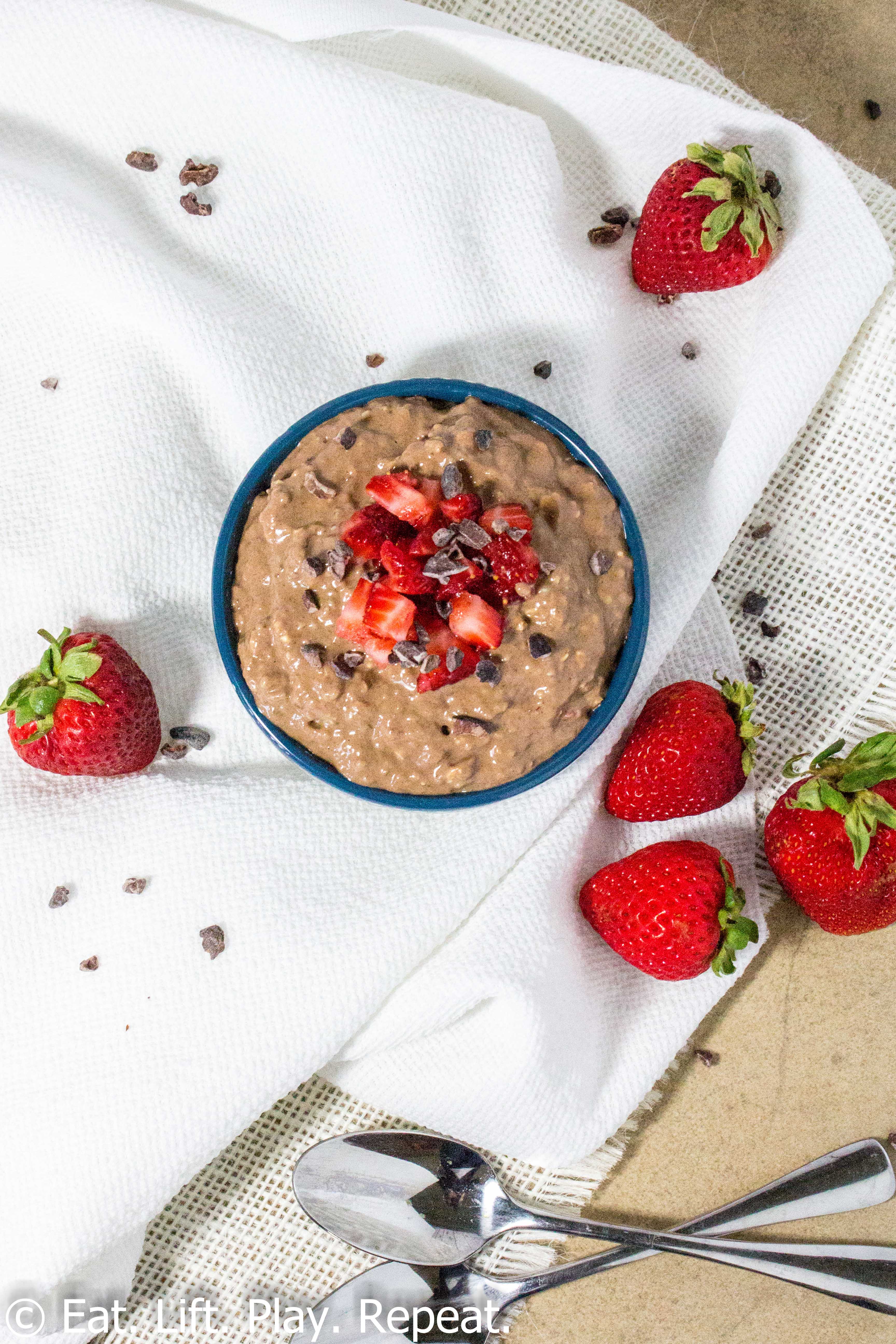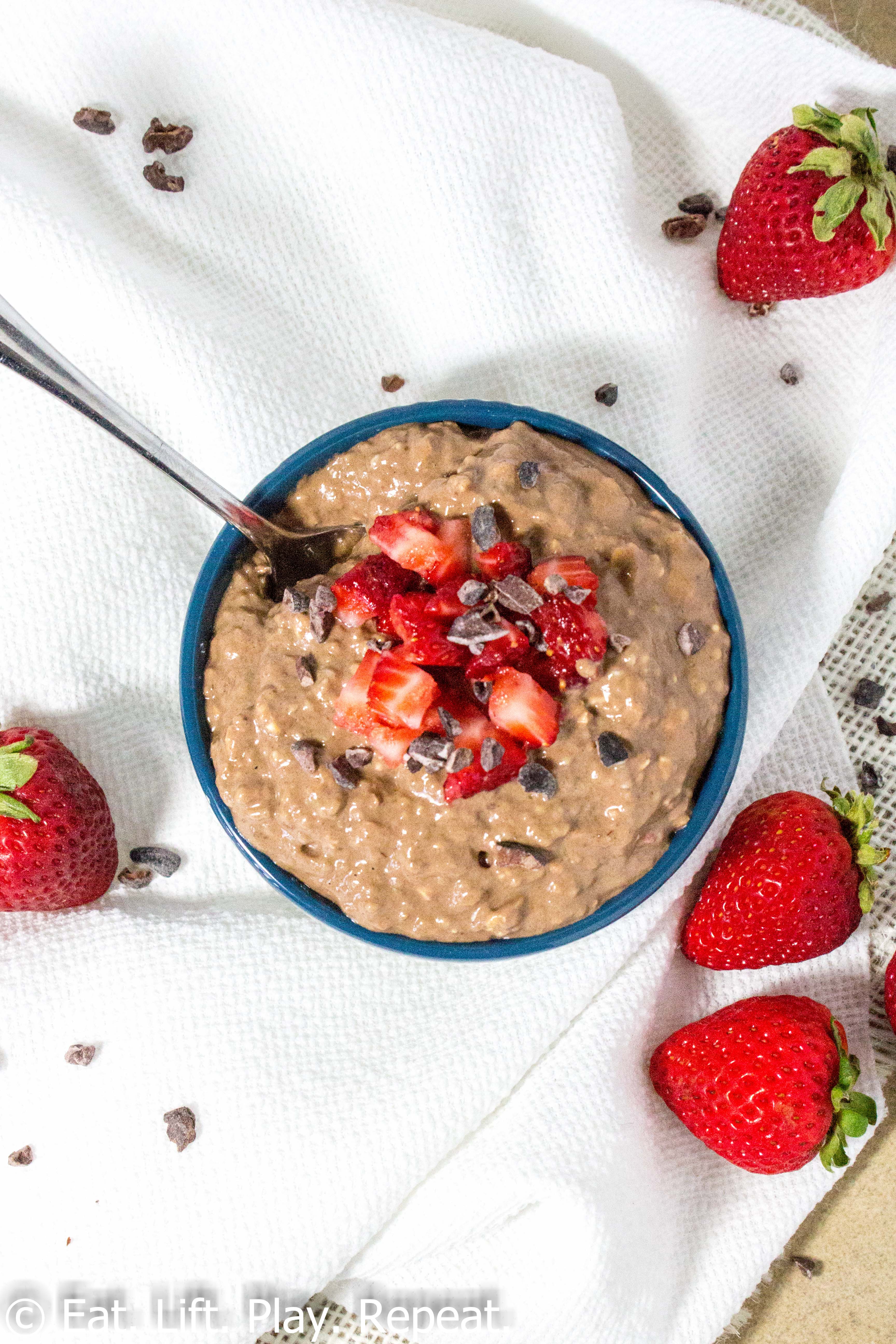 Chocolate Covered Strawberry Overnight Oats
2016-06-01 20:25:23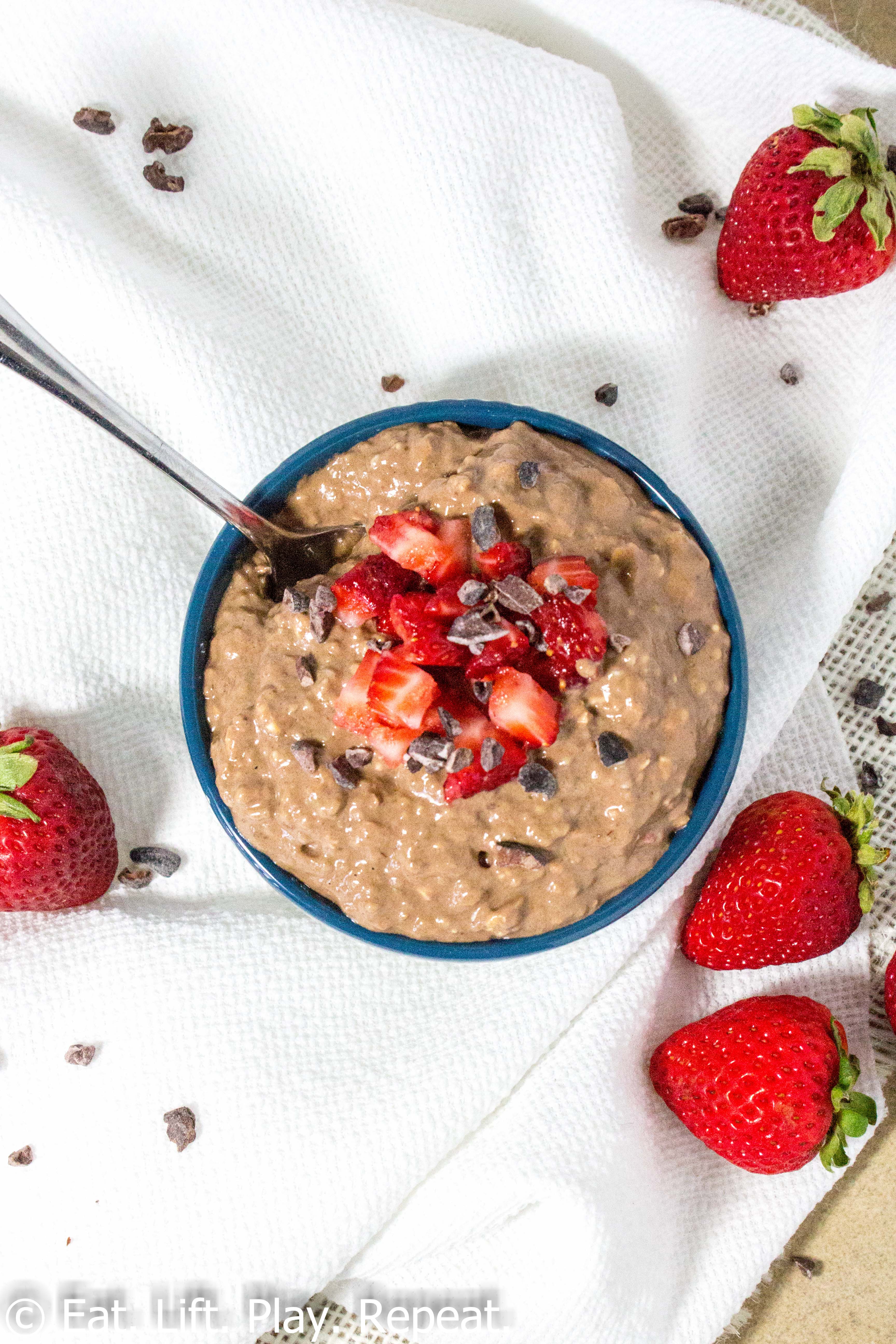 Serves 2
A delicious overnight oats that taste like a chocolate-covered strawberry! All clean eating ingredients are used in this healthy breakfast recipe.
Ingredients
1 scoop chocolate protein powder
2/3 cup vanilla almond milk, unsweetened
4oz 2% Greek yogurt, plain
1/2 cup strawberries, diced
1/4 cup oats, rolled
2Tbsp chia seed
1Tbsp cacao powder*
Instructions
In a mason jar or medium bowl, whisk together the protein powder and almond milk.
Add the remaining ingredients and stir until well combined.
Cover and refrigerate overnight, or at least two hours.
Divide into two small bowls. Top with additional strawberries if desired.
Notes
*Cocoa powder can be substituted for cacao powder.
Eat. Lift. Play. Repeat. http://eatliftplayrepeat.com/
What is your favorite way to prepare overnight oats?