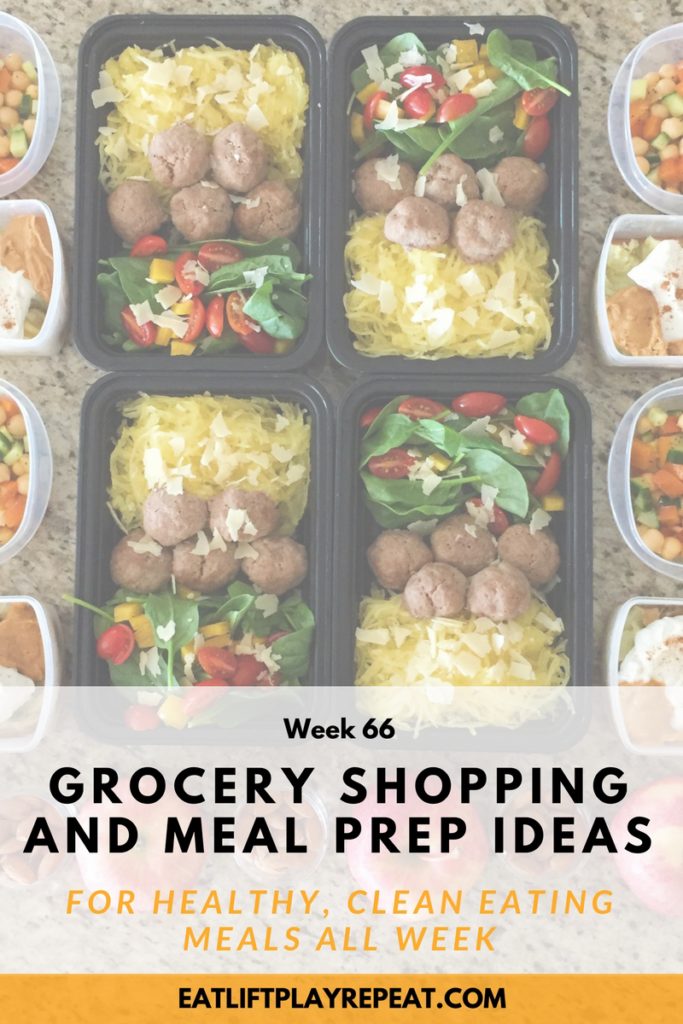 Meal prep ideas this week included a little more cooking that I've done the past few weeks. I didn't go crazy, but used my oven and microwave to prepare a few foods!
To make things easier on me I split cooking up into two different sessions. I had some extra time on Saturday so I prepared a few things and finished the rest on Sunday. It helped to not feel like I had to do it all on Sunday!
If you have questions about these meal prep ideas then please ask. Feel free to email me any questions at eatliftplayrepeat@gmail.com.
Groceries: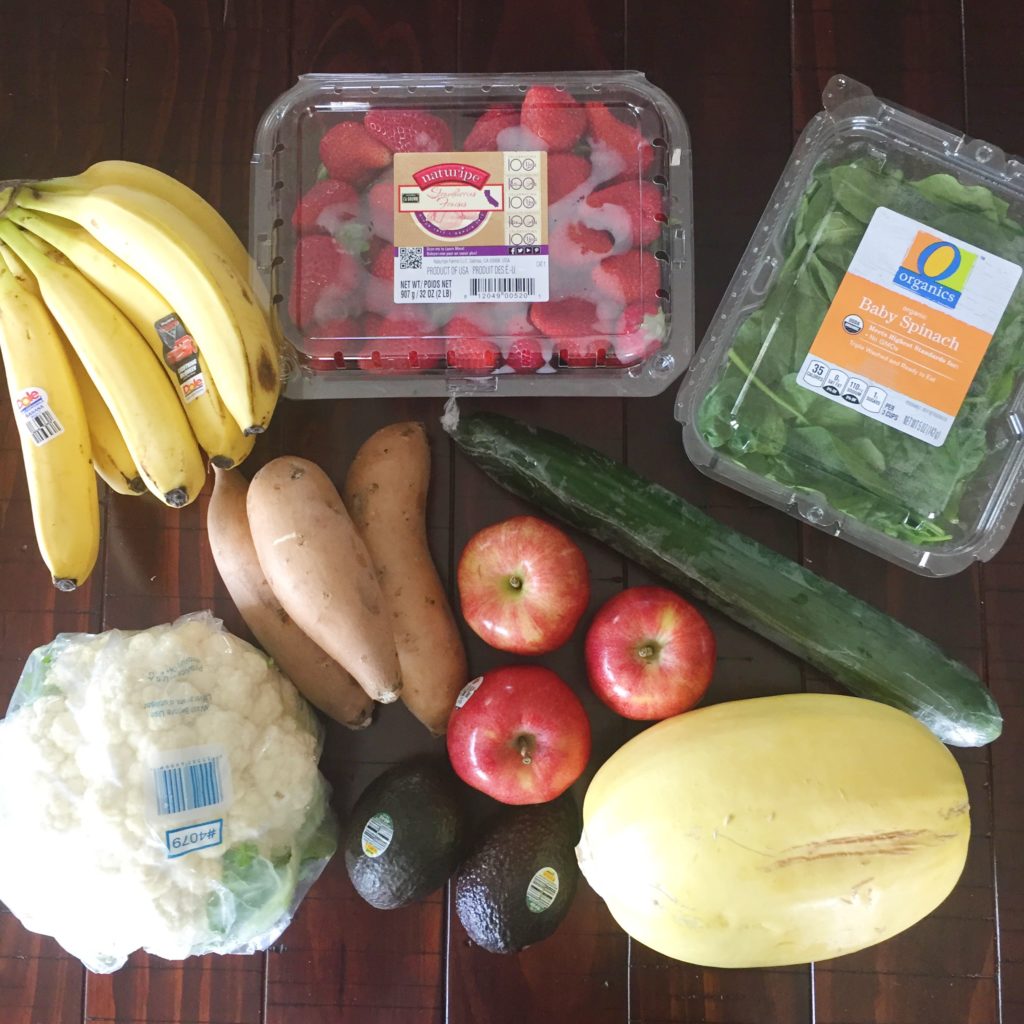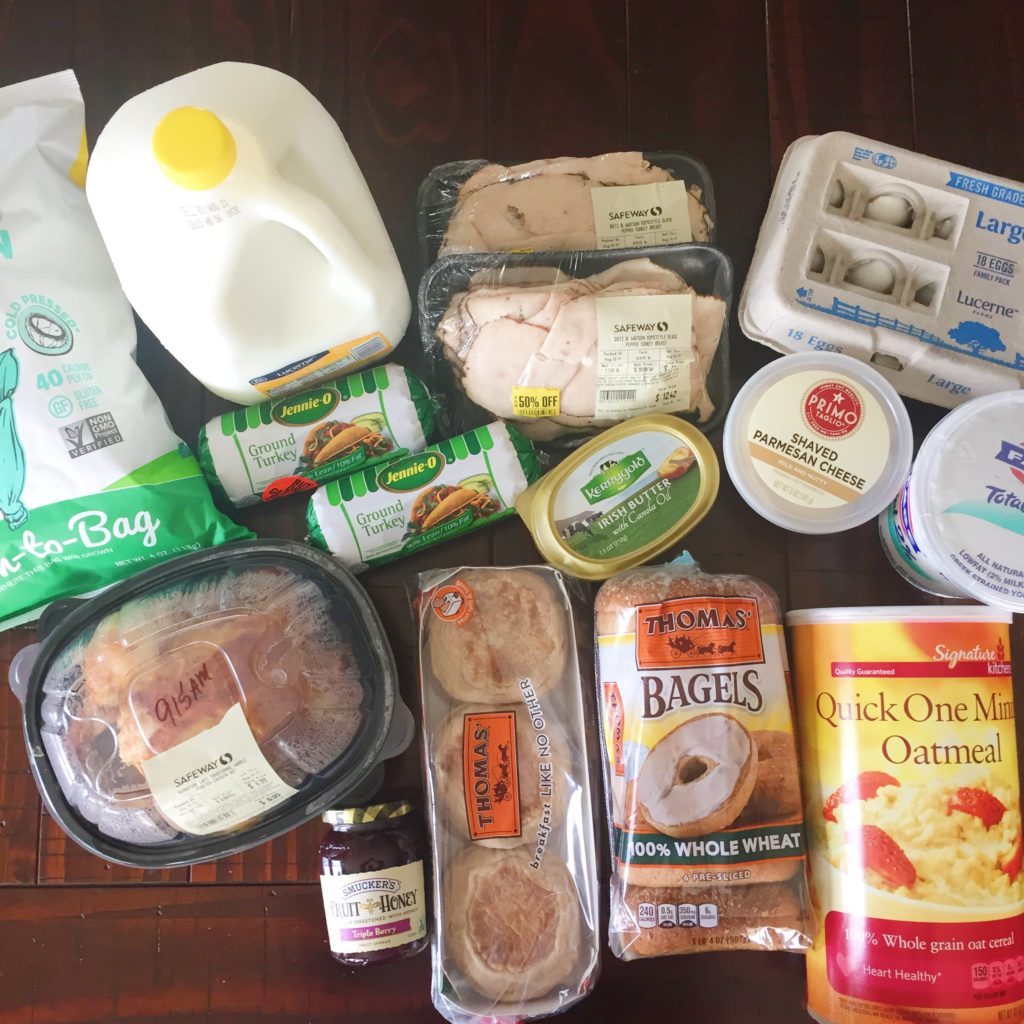 baby spinach, spaghetti squash, cucumber, cauliflower and sweet potatoes
bananas, strawberries, apples and avocado
1% milk, 2% Greek yogurt (plain), eggs, shaved parmesan cheese and grass-fed butter
lean ground turkey, whole roast chicken and pepper deli turkey
quick cooking oats, whole wheat bagels and whole wheat English muffins
honey-sweetened jam and Quinn coconut-oil popcorn
Meal Prep Ideas: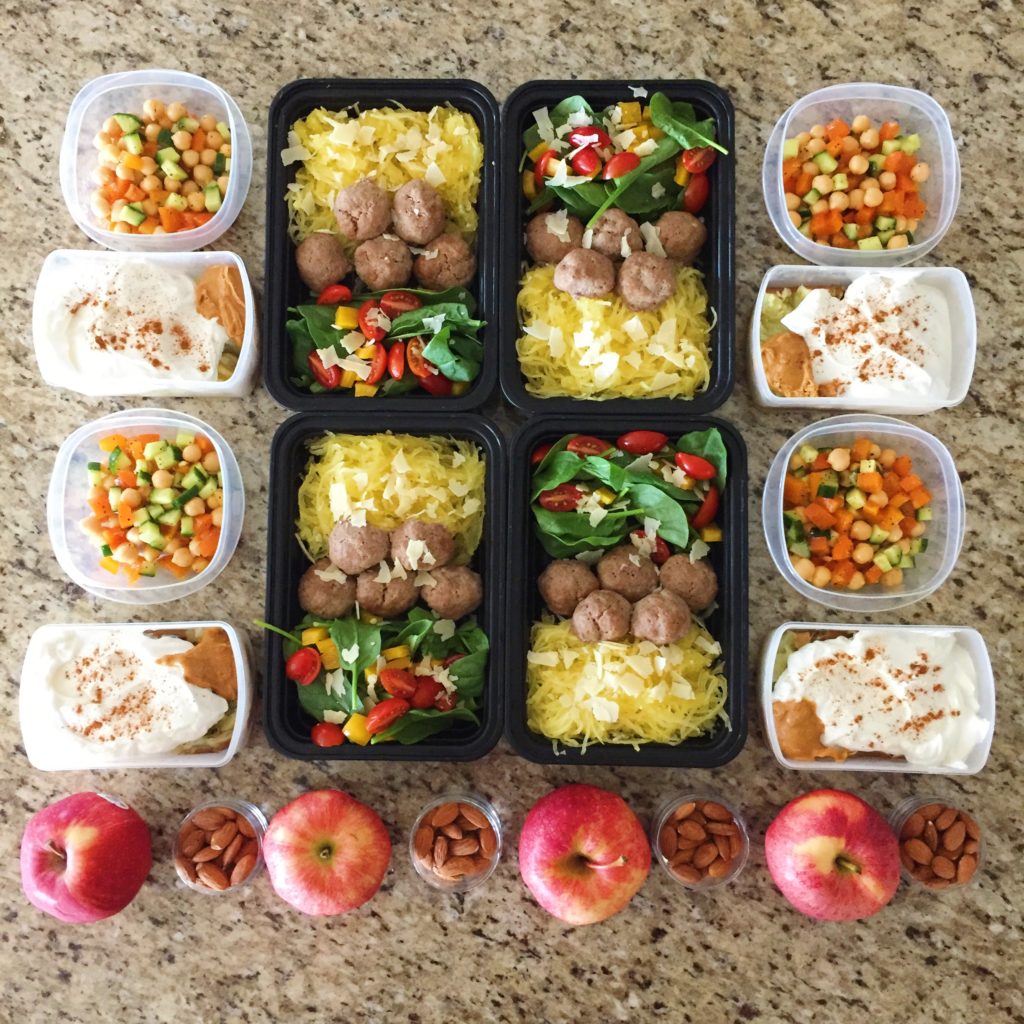 I split meal prep into two different sessions. On Saturday I had a little free time, so I cooked a few items.
First I baked sweet potatoes. I washed and pierced each one with fork, then wrapped them in foil and baked them for one hour at 375°.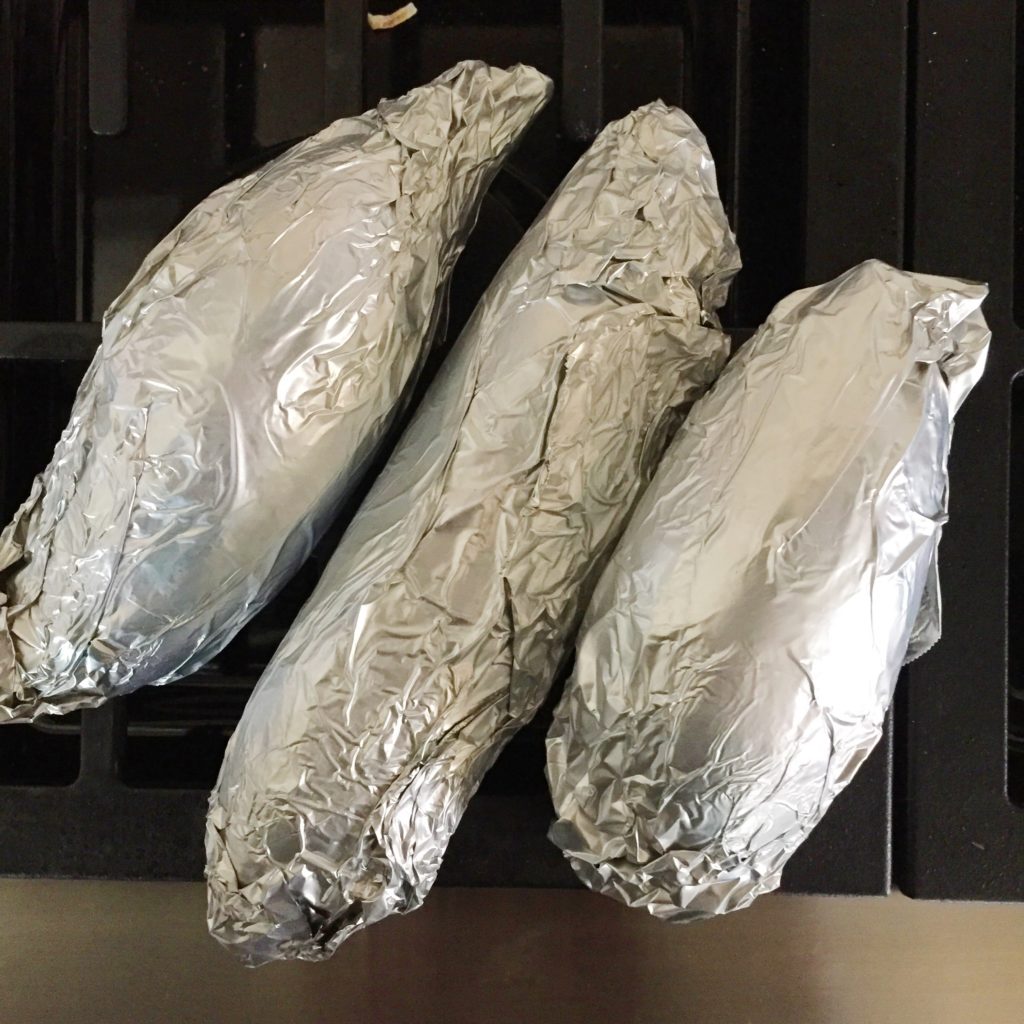 I also cooked spaghetti squash. To make things go a little quicker, I cooked the squash in the microwave.
I cut it down the middle lengthwise, scooped out the stringy pulp and placed it cut-side down in a glass baking dish with 1/4-inch water. Then I microwaved it for roughly 20 minutes (I tried 12 minutes first, but that wasn't enough so I cooked an additional 8 minutes).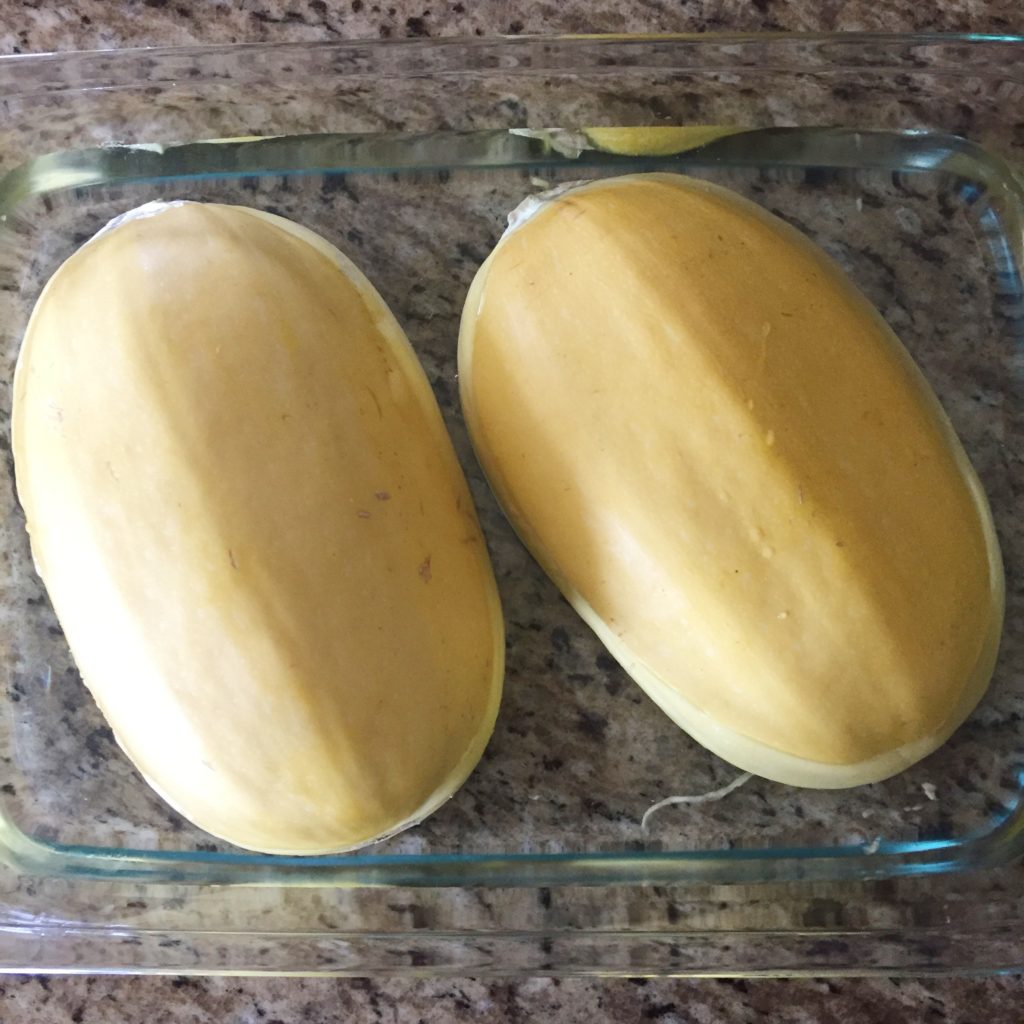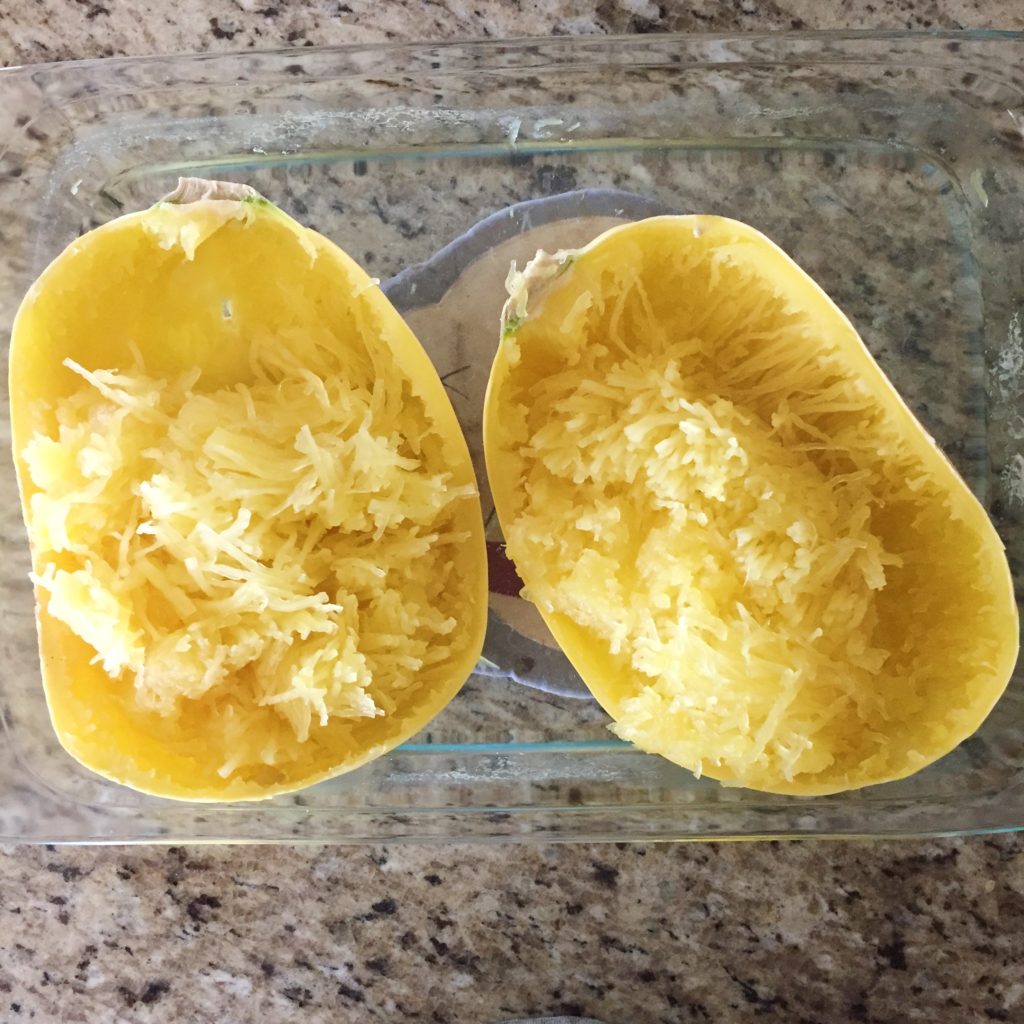 On Sunday I prepared the rest of my food and assembled all my meals.
First I made turkey meatballs. I mixed 2 lbs of ground turkey with 1 egg and 2 tsp salt. I divided the turkey mixture into 1 oz portions and rolled those into balls. Then I baked the meatballs at 400° for 20 minutes.
These were not my favorite meatballs to be honest. I was not a fan of the turkey that I used… it was mushy and had no texture compared to others I've had. I recommend making my 3-Ingredient Italian Turkey Meatballs instead!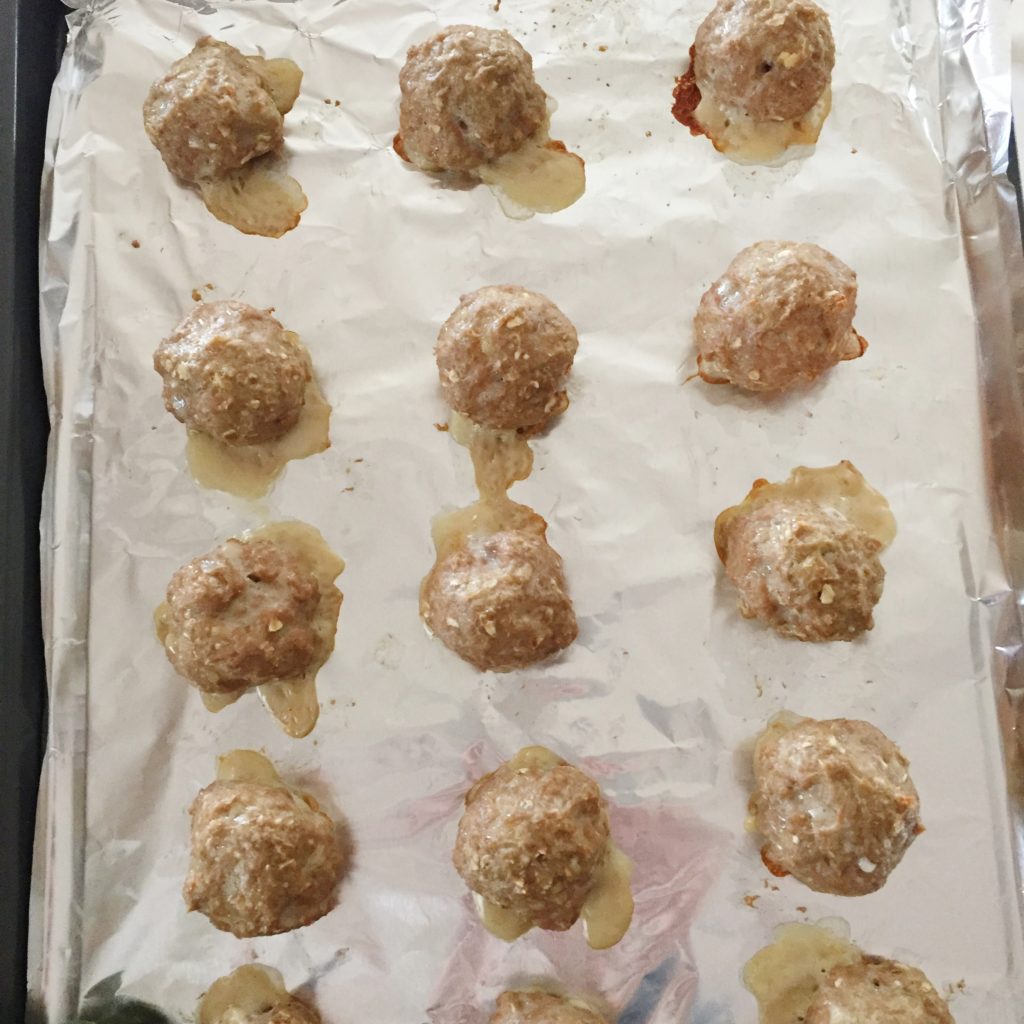 As the meatballs were cooking I measured 1 cup spaghetti squash into my five meal prep containers. I sprinkled the squash with a little salt and some parmesan cheese.
Then I added some baby spinach to the containers and topped it with chopped bell pepper and tomato. Last but not least I added five of the cooked meatballs to each container. Boom, lunch is ready for the week!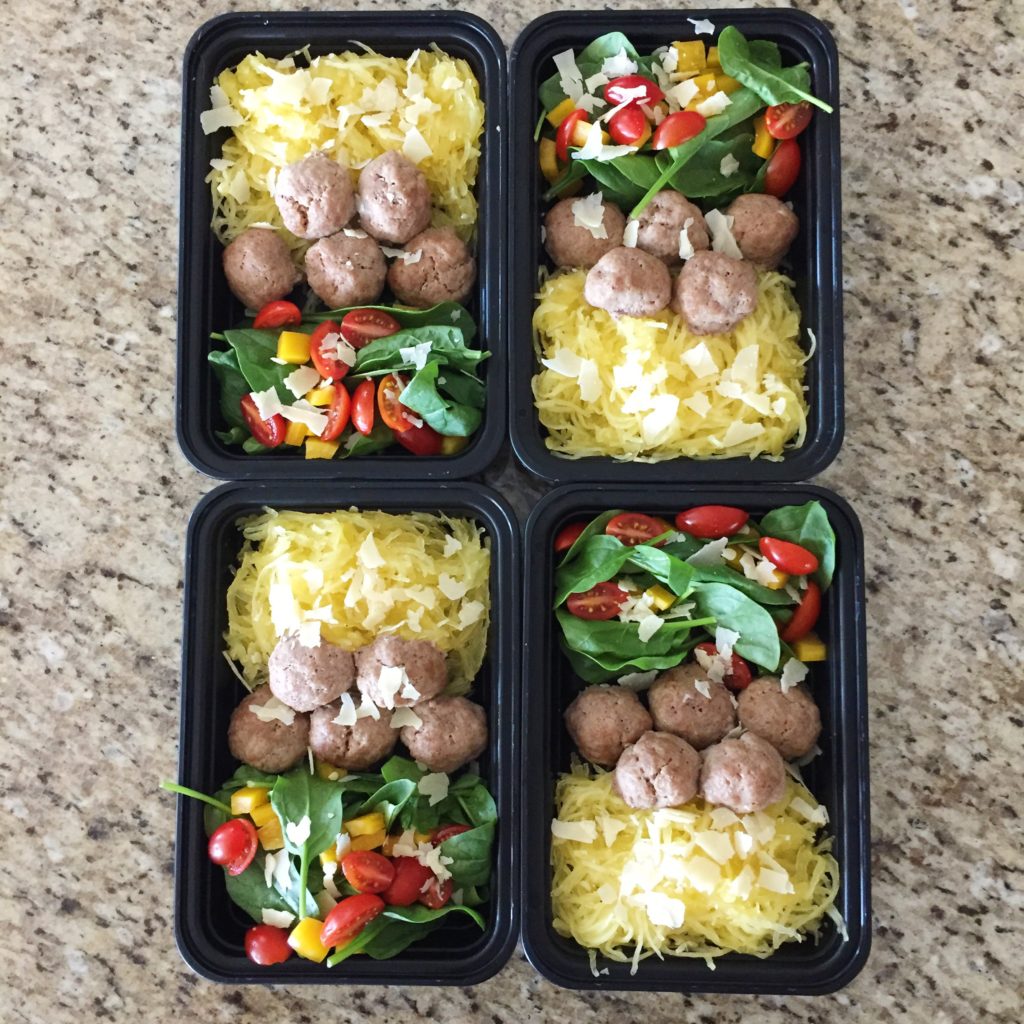 Next, I mixed the entire container of 2% Greek yogurt with vanilla protein powder. It ended up being the equivalent of 1/4 scoop protein per servings (there were five servings). Next I measured out roughly 5oz sweet potato (that were baked the day before), topped the sweet potato with 1/5 of the yogurt, 3/4Tbsp peanut butter and a dash of cinnamon.
These Sweet Potato Yogurt Bowls are one of my favorite snacks! They are so yummy.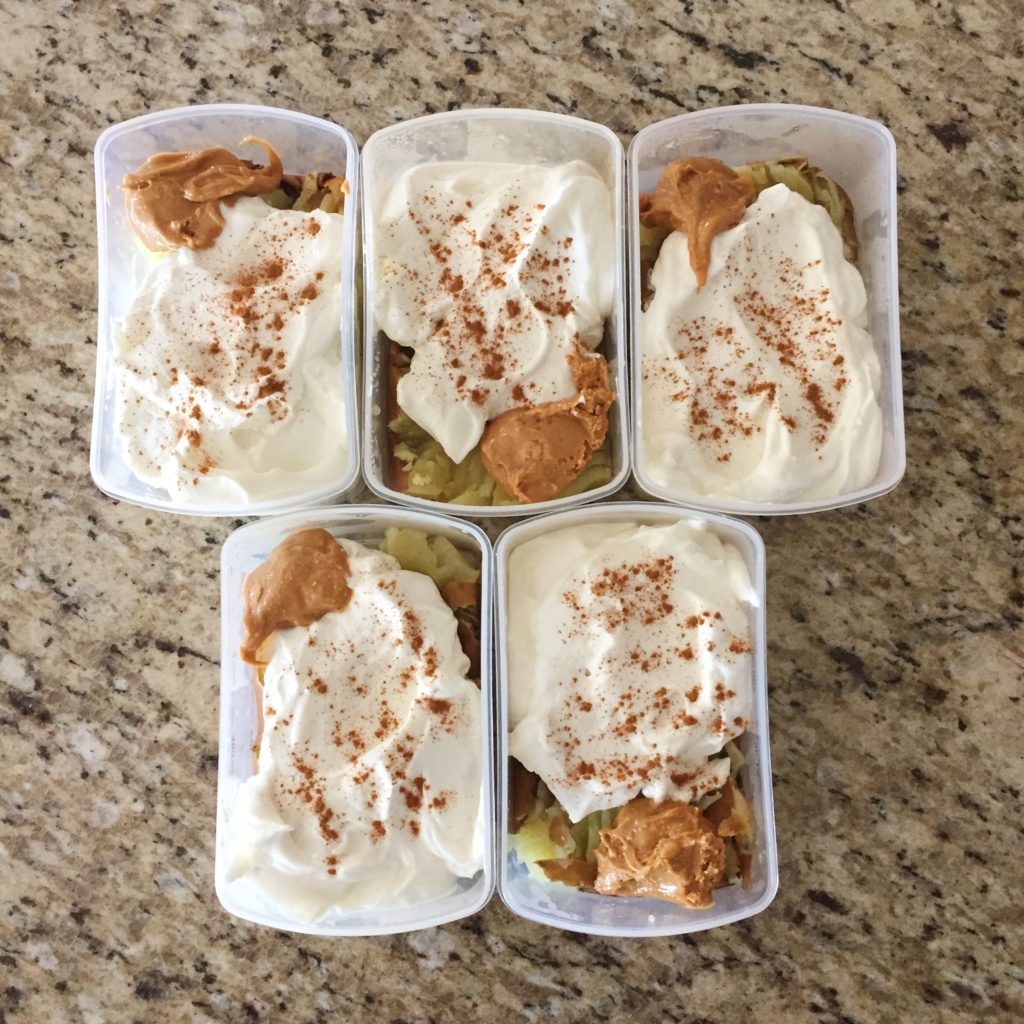 The last thing I made was a little chickpea salad for my afternoon snack. I mixed 1 can chickpeas (drained) with 1 cup diced cucumber, 1 cup diced bell pepper, 1 tbsp extra virgin olive oil, 1/2 tsp salt and 1/2 tsp pepper. I divided that mix into five different containers. It was super simple and actually pretty tasty!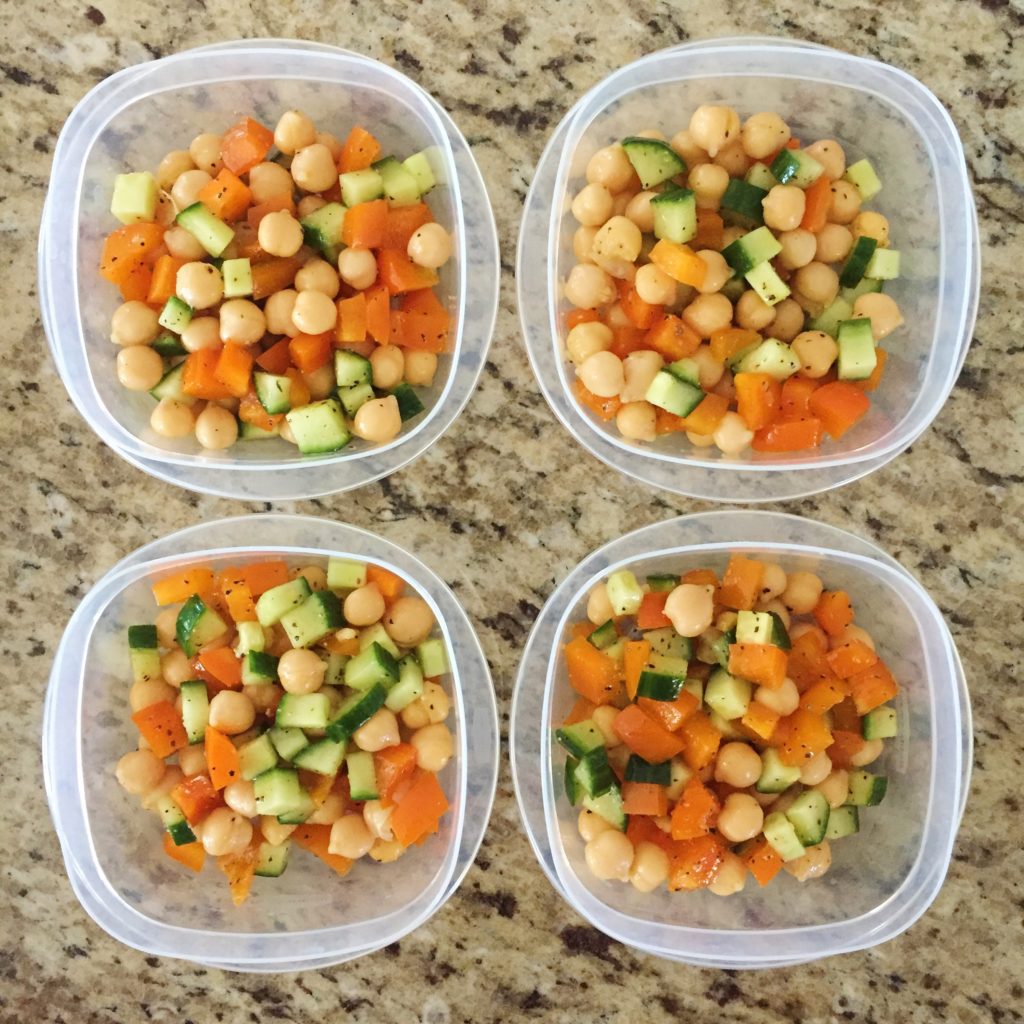 Well that was everything that I made in terms of meal prep ideas this week! Some of the extra food I'll pack includes apples, raw almonds and the Quinn Coconut Oil Popcorn that I bought!
If you have any questions then let me know. Email me at eatliftplayrepeat@gmail.com or comment below. Good luck with your meal prep ideas this week!