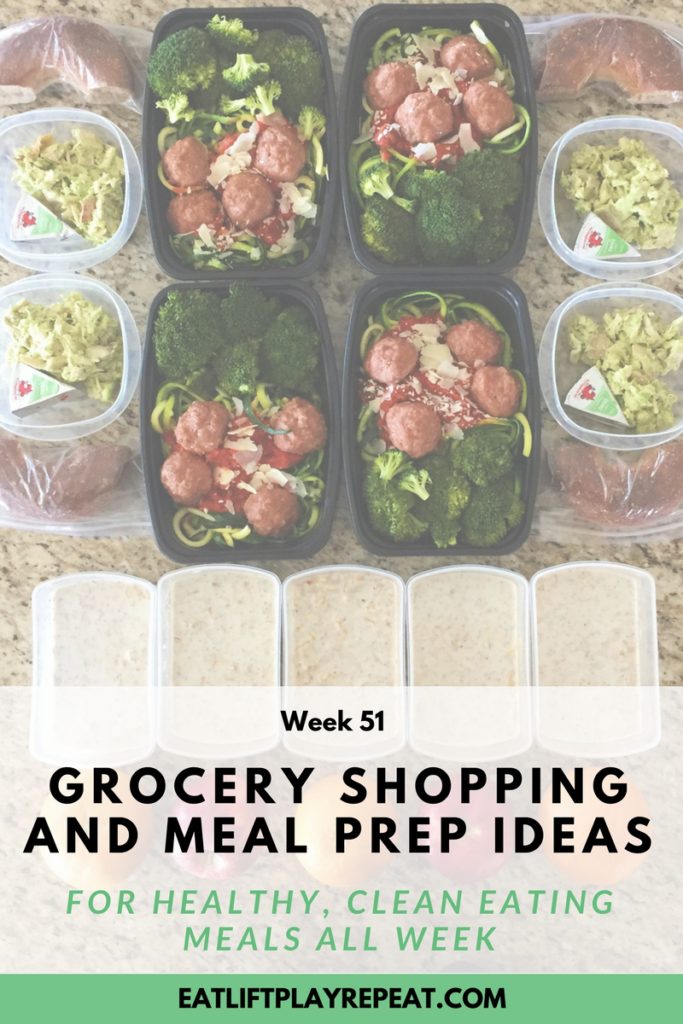 Part of my weekend routine involves packing food for the week! I take my lunch and two snacks to work each day, so I make it all ahead of time to keep the week easy. I have a ton of meal prep ideas and try to vary them week to week.
A few of my go-to meal prep ideas include overnight oats (which I made this week), yogurt parfaits and a variety of cooked vegetables and proteins for the week.
This week I was crazy and made zoodles with meatballs and marinara, plus a clean eating chicken salad to spread on a bagel! Healthy and easy meals are what I prefer to eat throughout the day.
If you have any questions about these healthy meal prep ideas then email me at eatliftplayrepeat@gmail.com.
Groceries: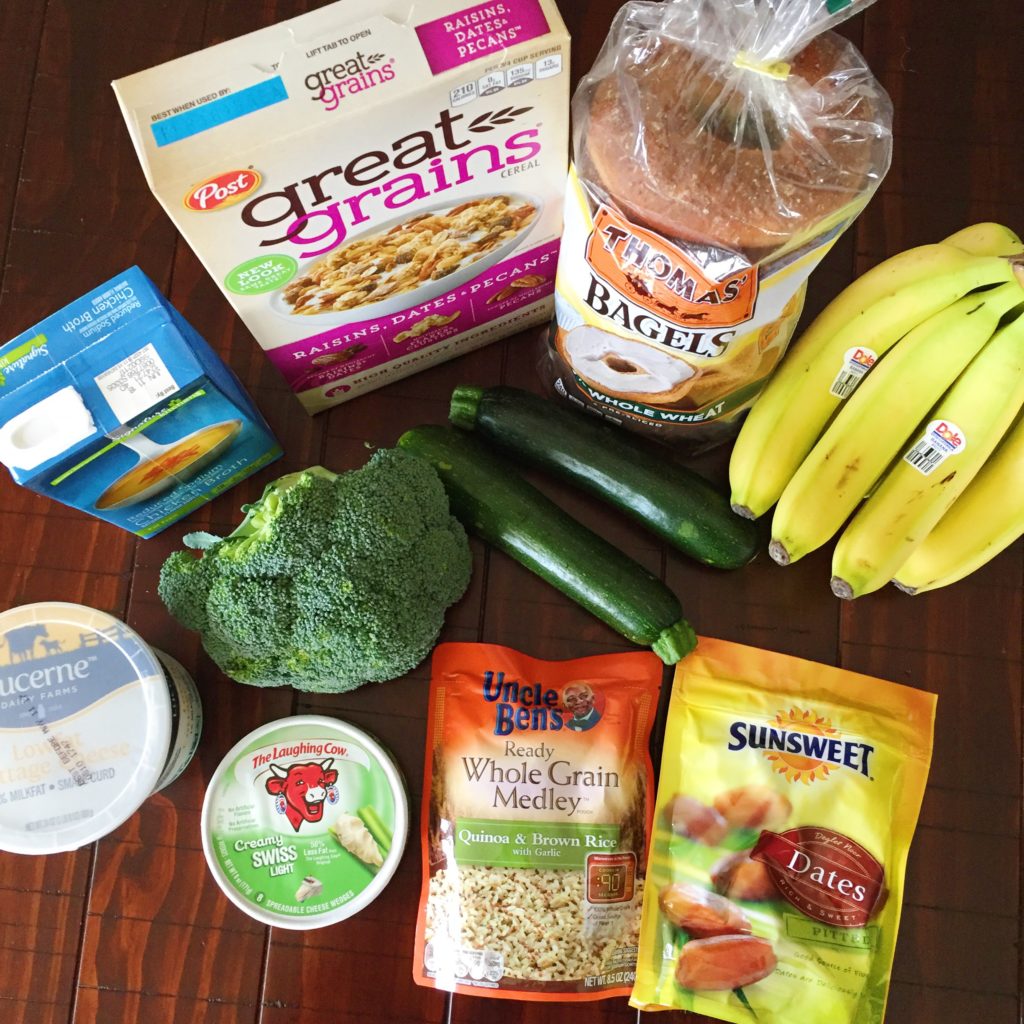 roast chicken, Jennie-O Italian Seasoned Lean Ground Turkey and beef sirloin steak
eggs, cottage cheese and Oikos Triple Zero yogurt cups
1% milk and unsweetened almond milk
broccoli, zucchini and bananas
low sodium chicken broth and Light Swiss Laughing Cow Cheese
Uncle Ben's Ready Whole Grain Medley, Great Grains cereal, whole wheat bagel and pitted dates
Meal Prep Ideas: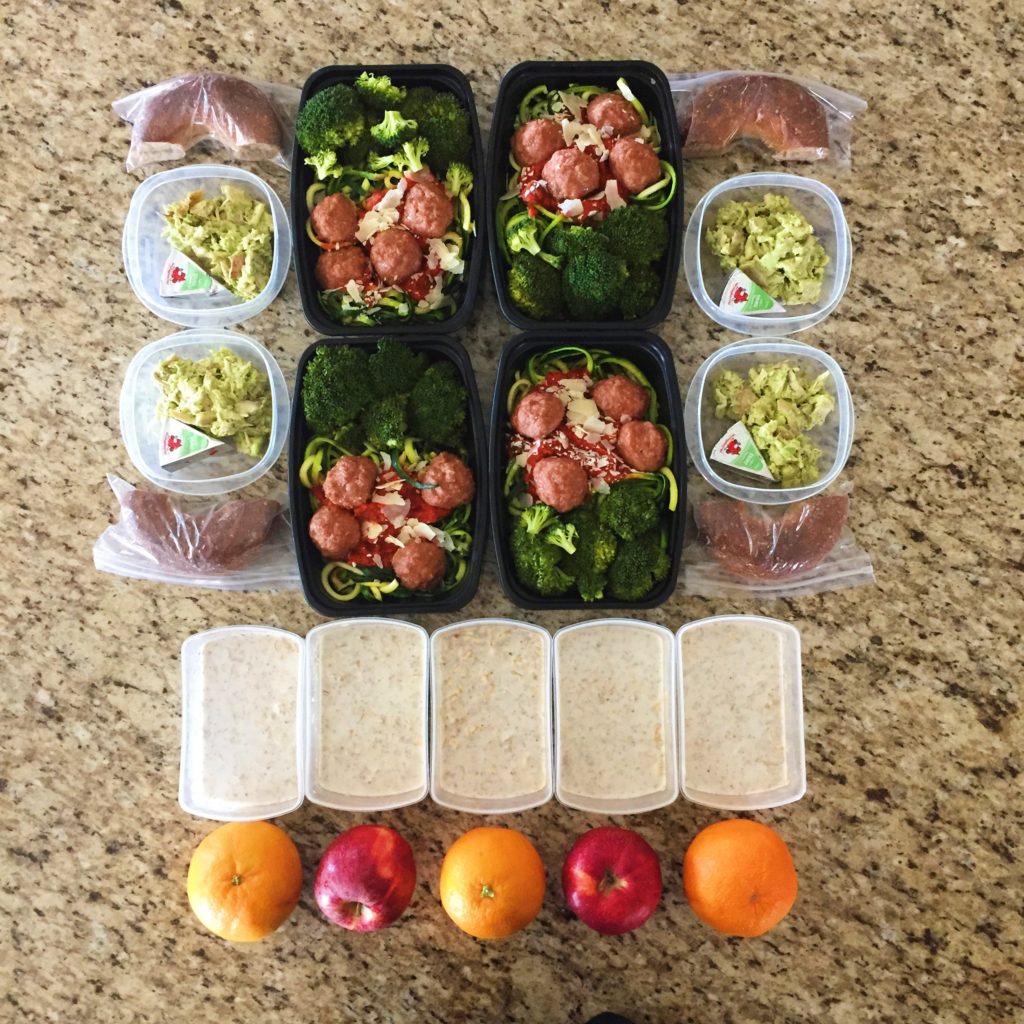 Meal prep started by making these 3-Ingredient Italian Turkey Meatballs. They are super easy and so good! Plus, they only take 30 minutes to whip up.
As the meatballs were baking I steamed some broccoli. Another great (and easy) way to cook broccoli is to blanch it. Check out How to Prepare Blanched Broccoli for an easy cooking method.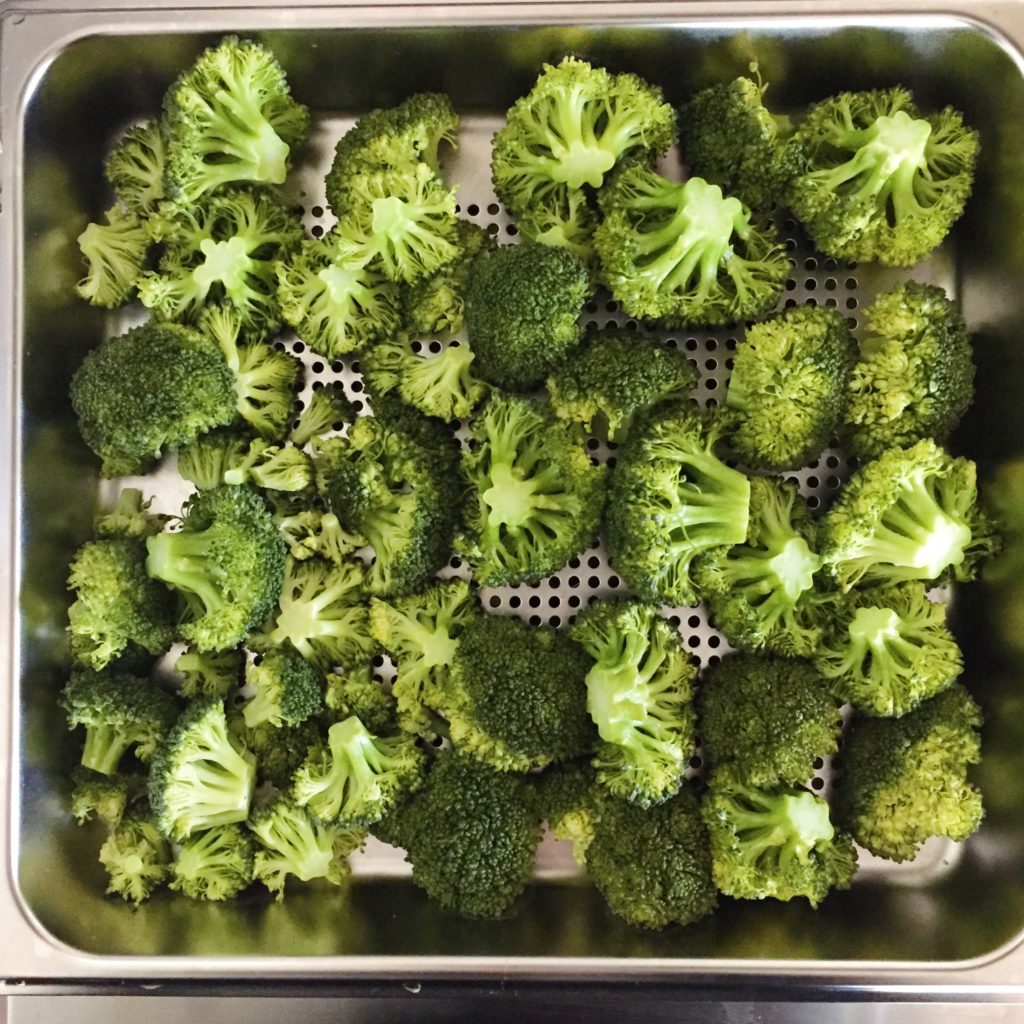 Next I made zucchini noodles using my hand-held spiralizer. We have a spiralizer similar to this and it works great for zoodles! After making the zoodles, I sautéed them over medium heat for about 5 minutes, stirring occasionally.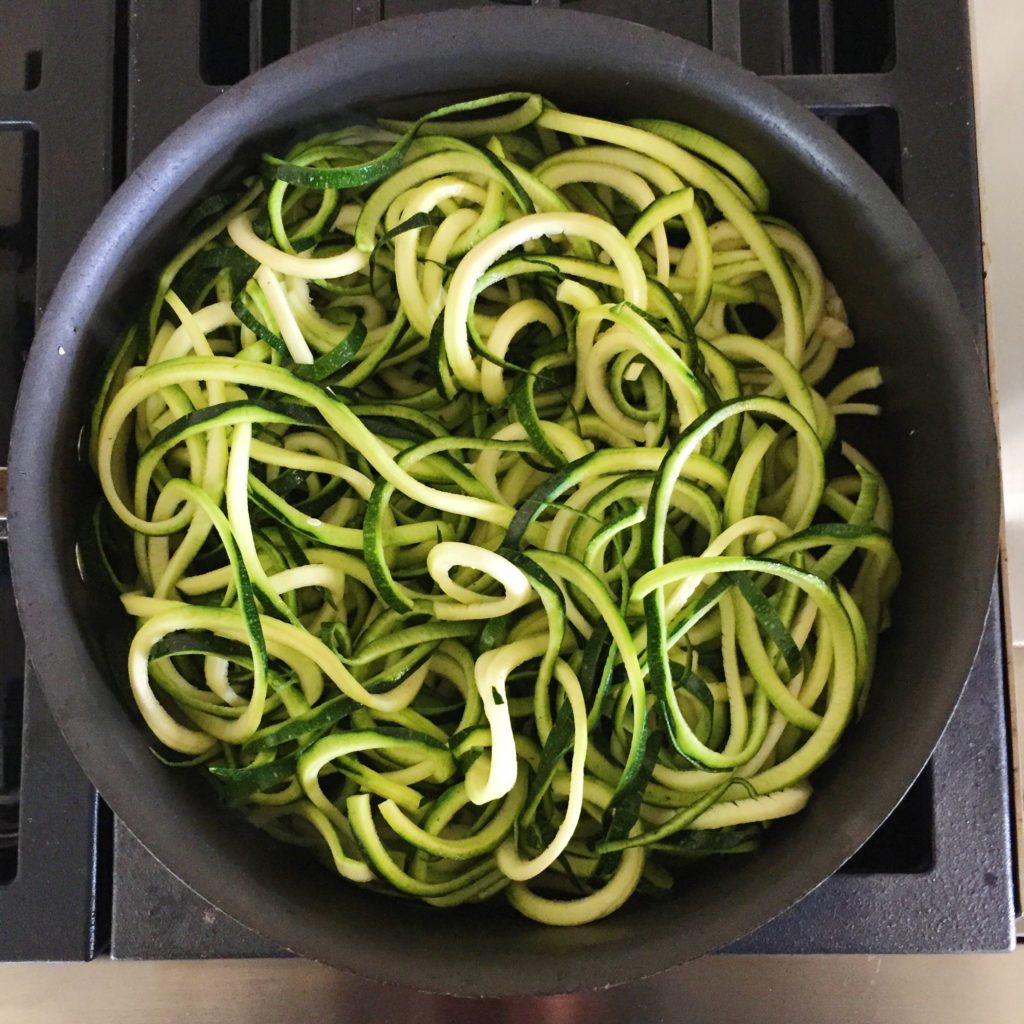 Once the meatballs were cooked, I added zoodles, jarred marinara, shaved parmesan, meatballs and broccoli to four different meal prep containers. This is a healthy, low carb options for lunch.
I've been needing more carbs throughout the day, so I'll probably pack a slice of Dave's Killer Bread to eat along with this at lunch.
Next, I made a clean eating chicken salad.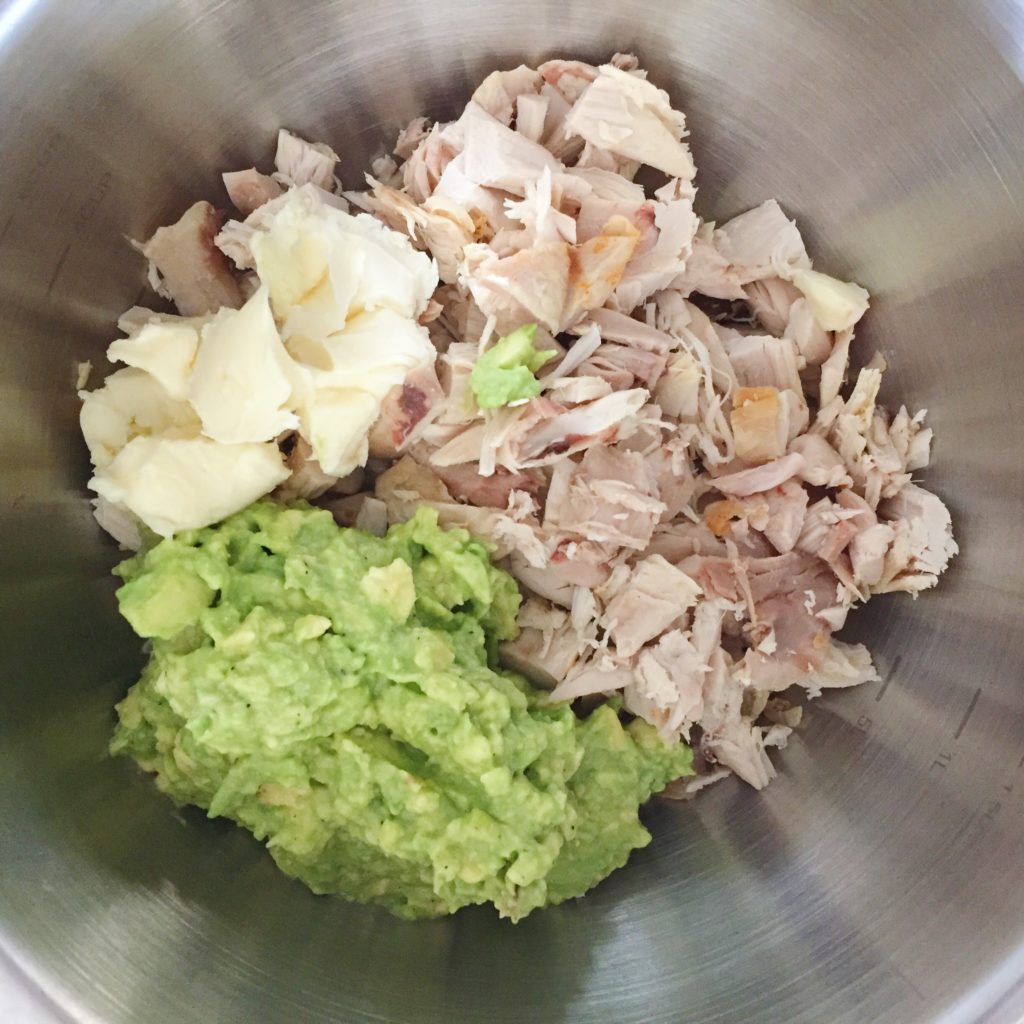 First, I mixed 10oz diced rotisserie chicken, 2Tbsp avocado oil mayo (we use this brand) and 1 mashed avocado until the chicken was evenly coated with the other ingredients. I added salt and pepper to taste and divided it into five containers.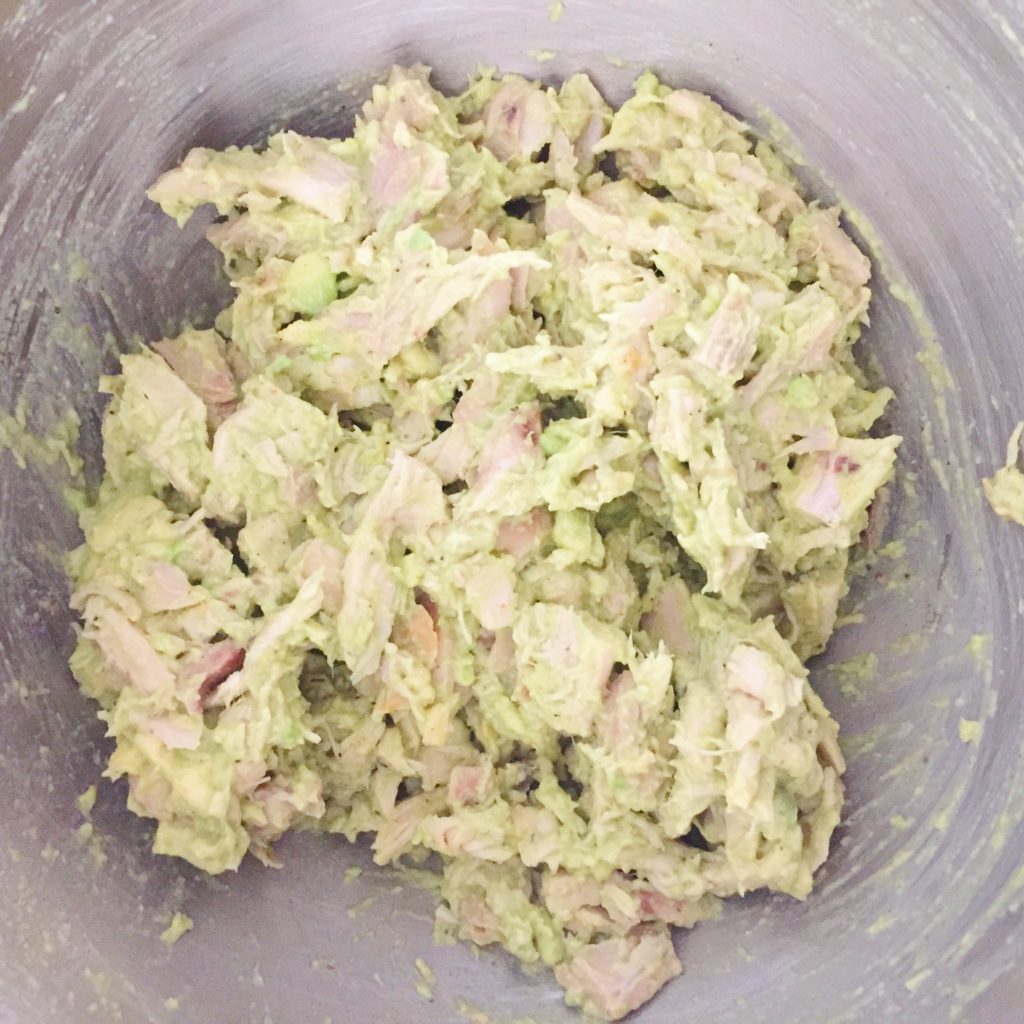 Then I added 1 wedge Light Swiss Laughing Cow and 1/2 whole wheat bagel. My plan is to spread the cheese and maybe yellow mustard on the bagel, then add the chicken salad and eat it like a bagel sandwich!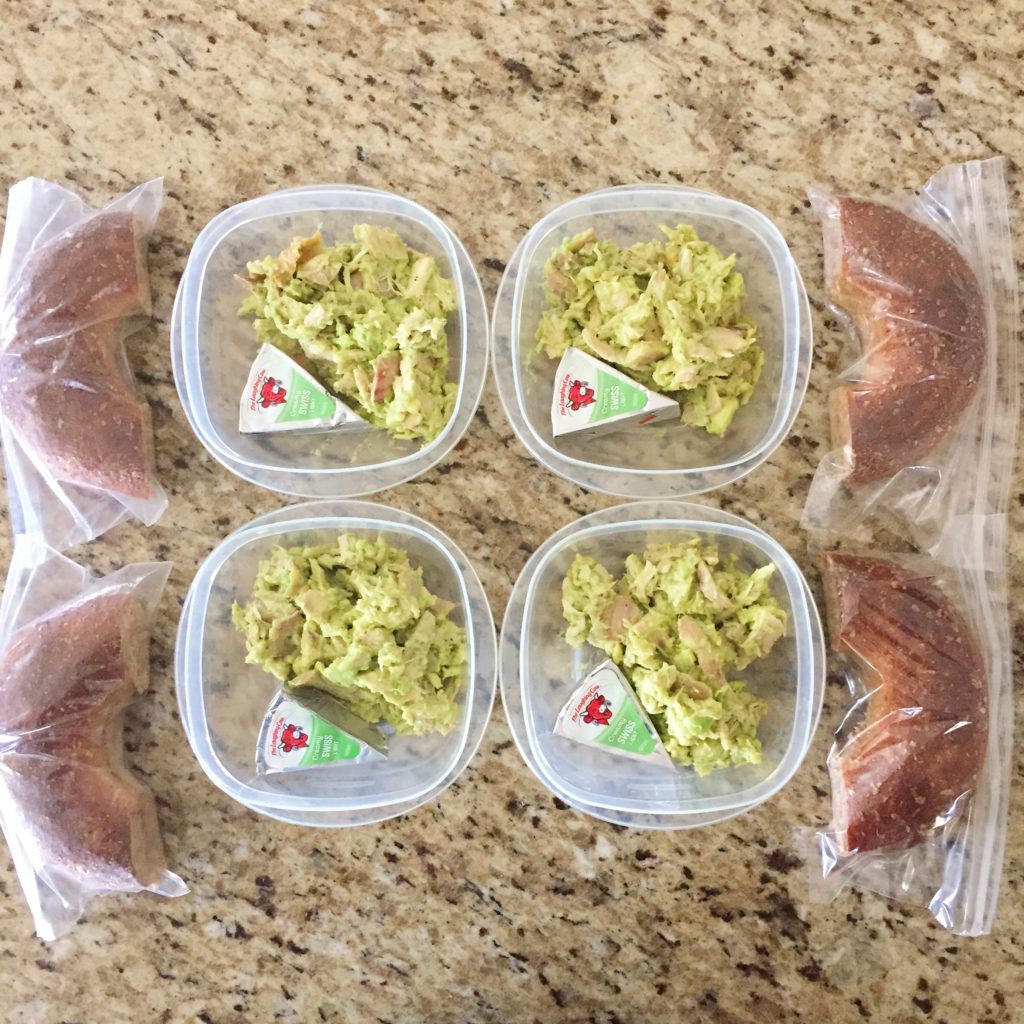 One thing that has sat really well in my pregnant tummy is bagels! I decided to change my afternoon snack up a bit and try a sandwich! I'm sure I won't be disappointed….
The last thing I made during meal prep was overnight oats. Here is the "recipe":
1/3c rolled oats
1/3c 1% milk
1/2 scoop vanilla protein powder
1/2Tbsp chia seeds
1oz Greek yogurt (plain)
My favorite way to mix overnight oats is to start by mixing the protein in the milk. Once it is mixed it completely, I add the oats and chia. Last but not least, I add the yogurt and use the back of my spoon to fully mix it in. Easy peasy!
I let the overnight oats set up before adding toppings.
Like I mentioned before, carbs have been really great for me while I've been pregnant! I've been try to keep my carb intake as whole grains and fruit! Both are healthy options with lots of fiber! Apples, oranges and bananas have been staples in my diet the last few weeks!
Well that was all the meal prep ideas for this week. If you have any questions about these healthy meals then please feel free to ask!
Email me anytime at eatliftplayrepeat@gmail.com or comment below.