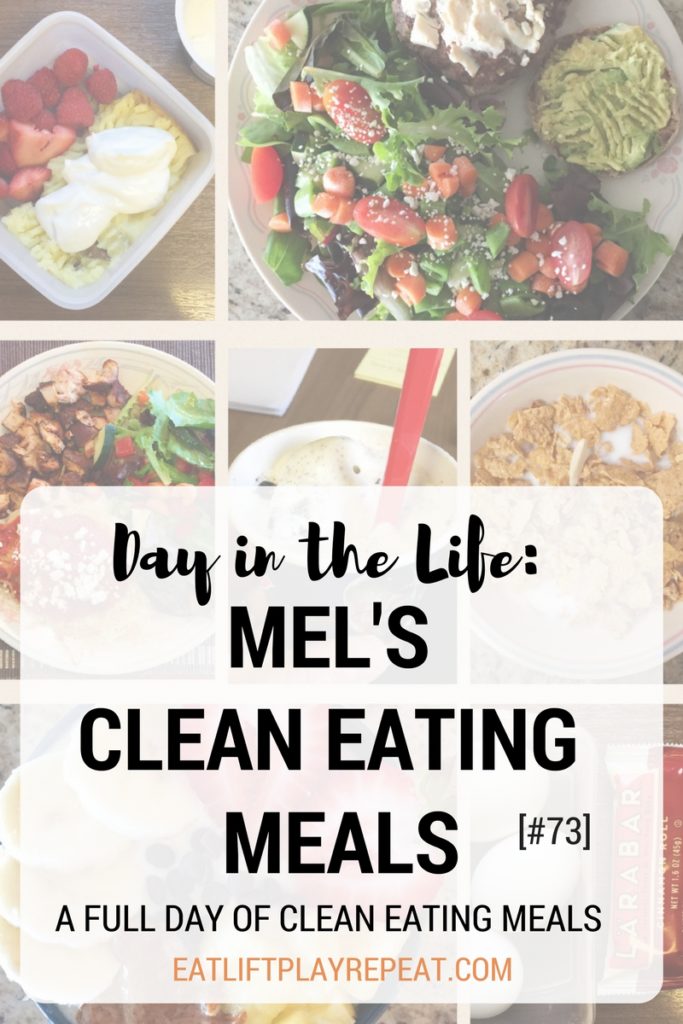 Mel's Clean Eating Meals posts show you what clean eating foods and meals I eat throughout the day from start to finish. Clean eating can seem overwhelming at first, but I make easy yet healthy meals each week… that still taste good!
Meal prep definitely helps me eat healthier throughout the week compared to flying by the seat of my pants. Check out this week's Grocery Shopping & Meal Prep Ideas Week 58 post to see what I did beforehand to have some of these healthy, clean eating friendly meals.
If you have any questions about these clean eating meals then please email me at eatliftplayrepeat@gmail.com.
4:30am – Pre-workout: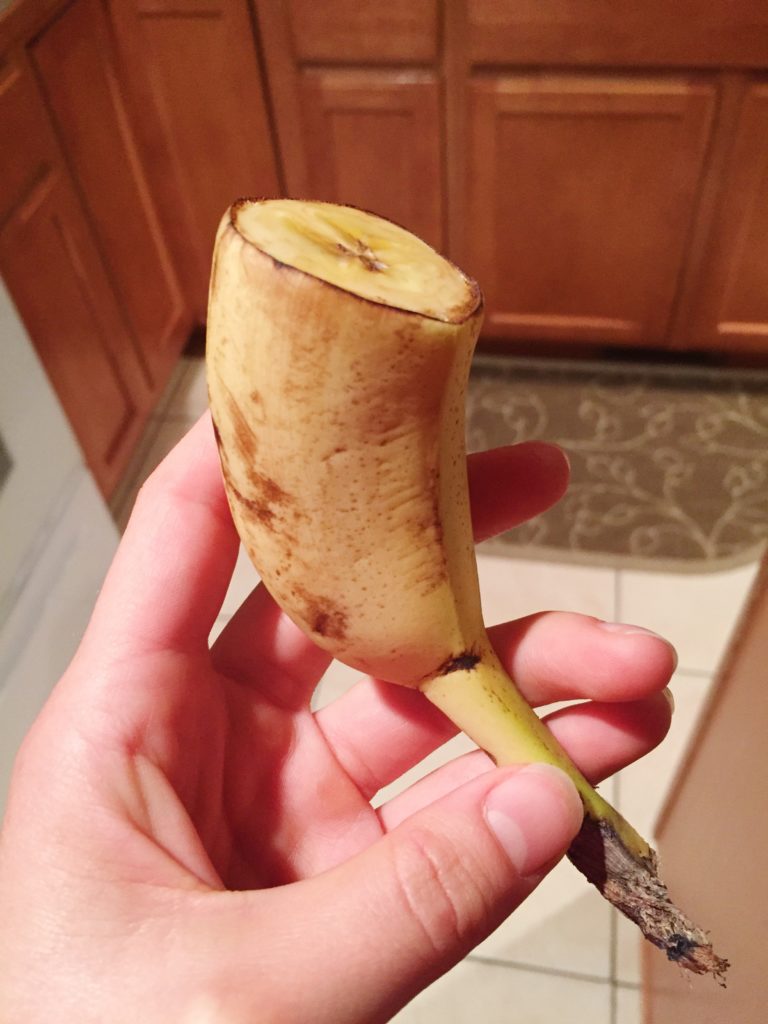 My day started pretty normal (I'm a creature of habit) by drinking close to one full liter of water and eating half a banana.
6:30am – meal #1: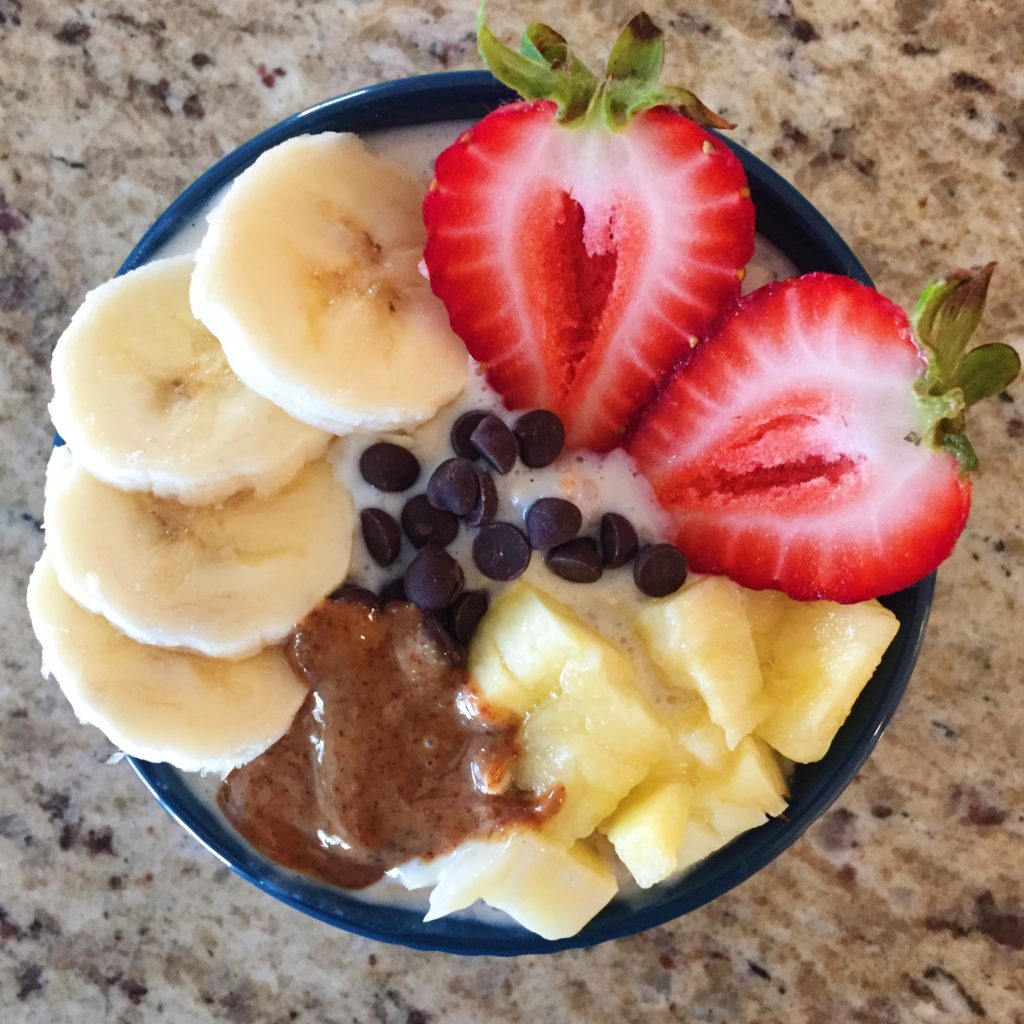 Before leaving for the gym I made some vanilla protein overnight oats. I made two batches so I didn't have to make them later in the week.
One serving included 1/3c unsweetened almond milk, 1/3c rolled oats, 1/2Tbsp chia seed, 1/3 scoop vanilla protein and 1/2 a container of vanilla Elli Quark. Once I got home I topped the oats with sliced banana, a strawberry, diced pineapple, Enjoy Life chocolate chips and a little almond butter. My thought was "banana split overnight oats". They turned out great!
8:30am – Snack #1: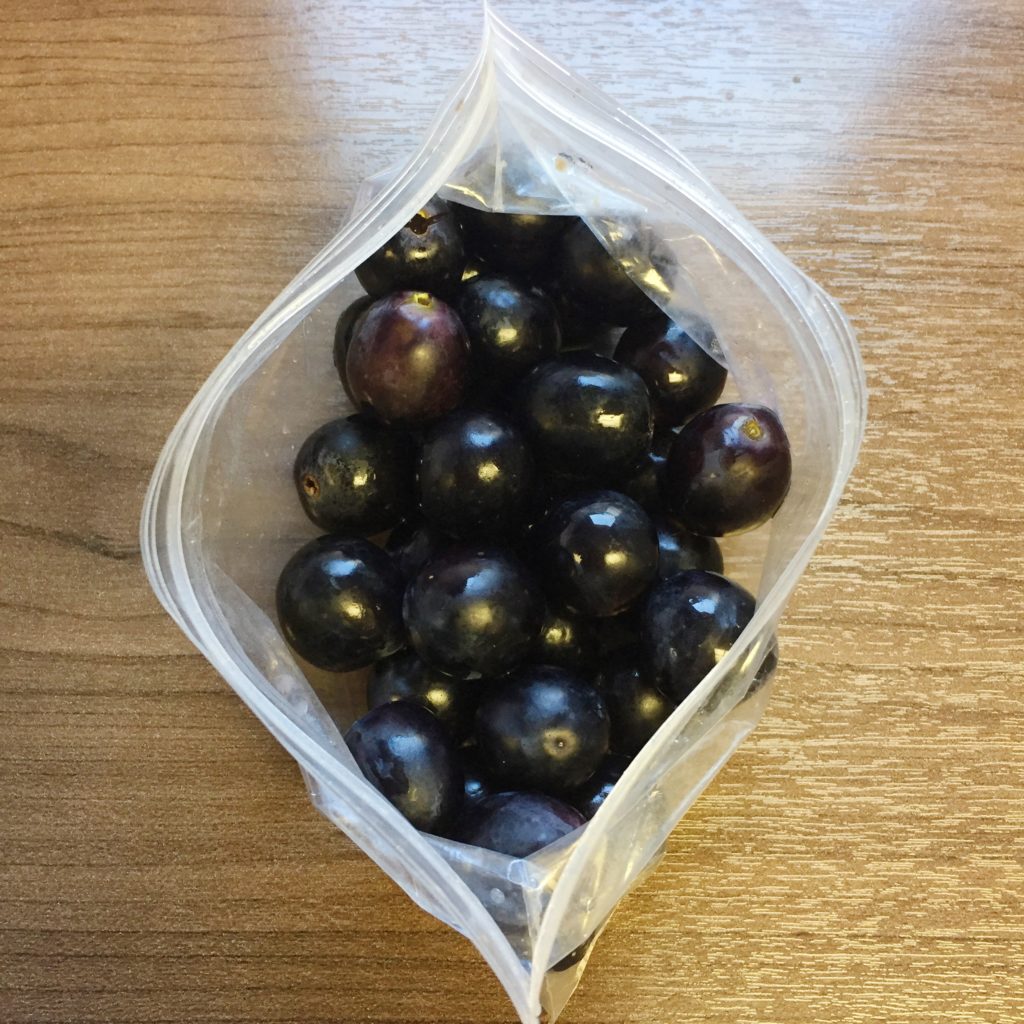 I thought I ate a lot before I was pregnant. Now I am eating all. the. time. I get a little hungry between meals in the morning so I usually snack on some sort of fruit. This particular morning I had some grapes to tide me over until my next meal.
10:00am – Meal #2: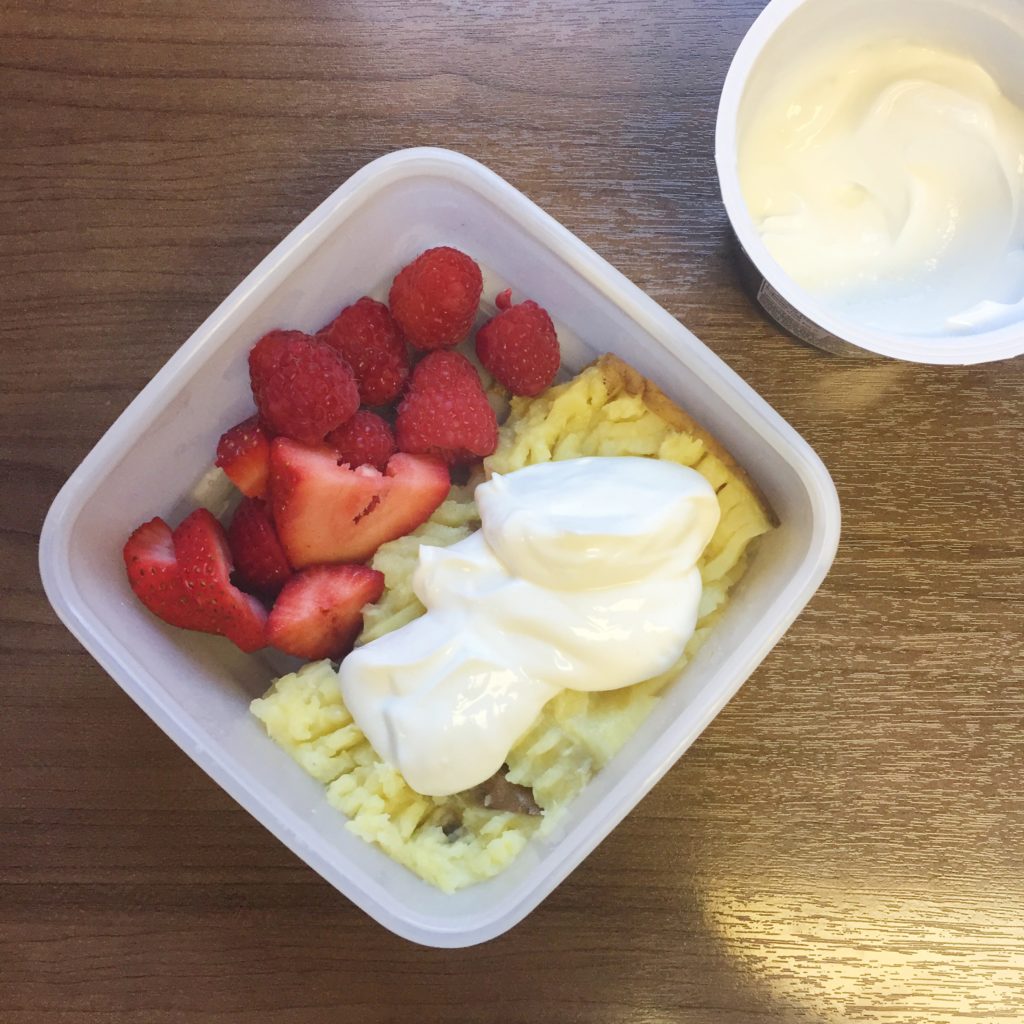 My mid-morning meal was a Sweet Potato Yogurt Bowl. I used a white sweet potato, rather than an regular orange one but it tastes the same. I topped the sweet potato with Oikos Triple Zero Vanilla Greek yogurt, raspberries and strawberries. If you haven't tried this snack yet, then you are missing out! It is SO good.
Later in the week I actually tried using mixed berry yogurt. Honestly I was nervous it would be weird, but it was just as good!
12:00pm – Meal #3:
My lunch for the day consisted of 4oz chopped chicken thighs, 1 cup spaghetti squash topped with 1/2 cup marinara, a small side salad with some chopped veggies and Italian dressing and a small gala apple.
I was suppose to pack a piece of bread to toast for lunch, but I completely forgot it. Luckily I had an apple in my lunch bag as a "just in case" snack.
3:00pm – Meal #4: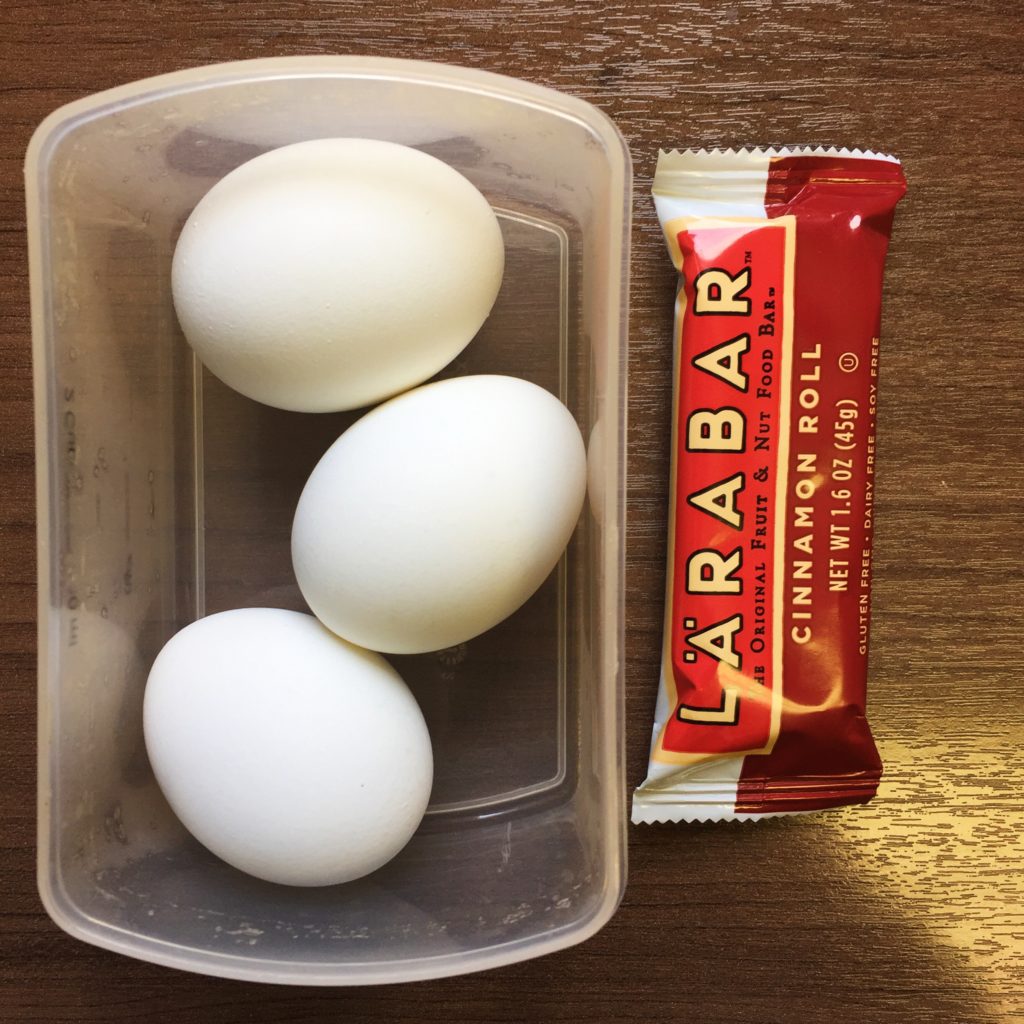 My mid-afternoon meal was a Cinnamon Roll Larabar, which is a limited edition flavor and really good! I also had three hardboiled egg. I peeled them all, but only ate two whites and one whole egg.
4:00pm – Snack #2: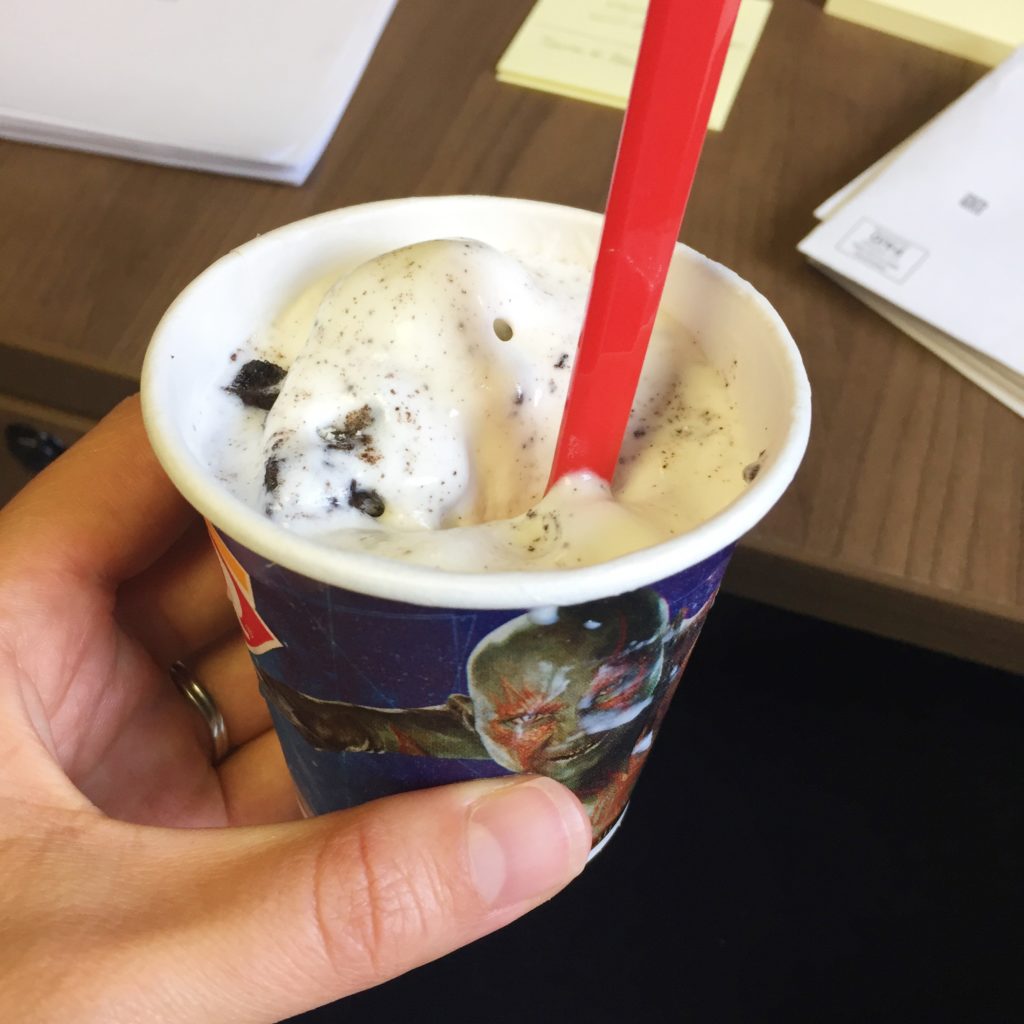 One of my coworkers was celebrating his 11th anniversary with the company so we celebrated with Dairy Queen! I had a mini Oreo Blizzard and it hit the spot. I could eat a gallon of Oreo blizzard if someone tempted me, but I held back and only had a mini!
6:30pm – Meal #5: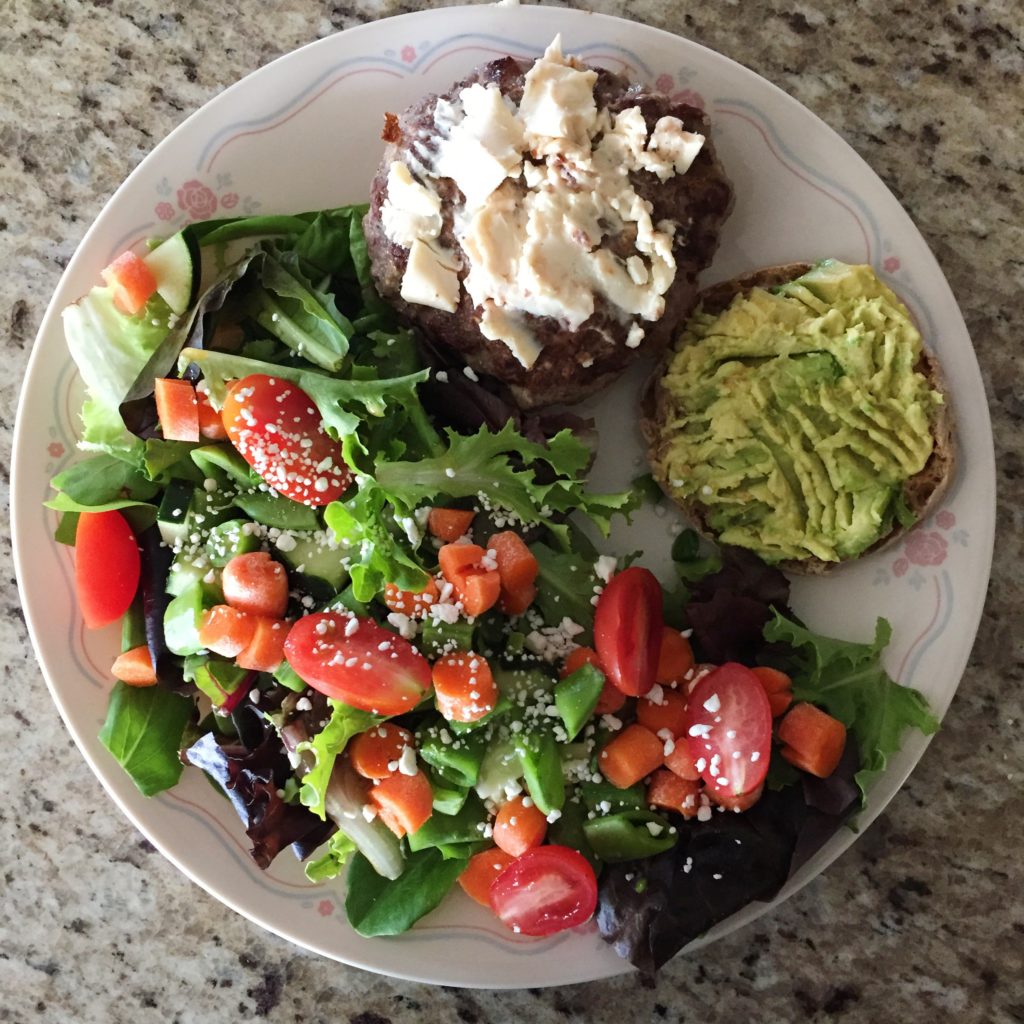 My dinner was pretty easy to whip up. I bought lean hamburger at the store over the weekend so I whipped up some simple burgers. I mixed 1lb lean hamburger, 1 egg, 1 tsp salt and 2 Tbsp quick oats together, formed that mixture into four patties and cooked on the stove at medium-high heat.
Don't forget to season both sides of the burger with salt and pepper before cooking. I promise it adds a ton of flavor!
I ate the burger on a whole wheat English muffin. One half of the English muffin was covered in mashed avocado and then I topped the burger with 1 wedge Laughing Cow Light Swiss cheese. It was SO good! Simple, healthy and delicious. Along with the burger I had a chopped salad with mixed greens, carrots, snap peas, cherry tomatoes, feta and Tessa Mae's Balsamic dressing.
8:30pm – Snack #3: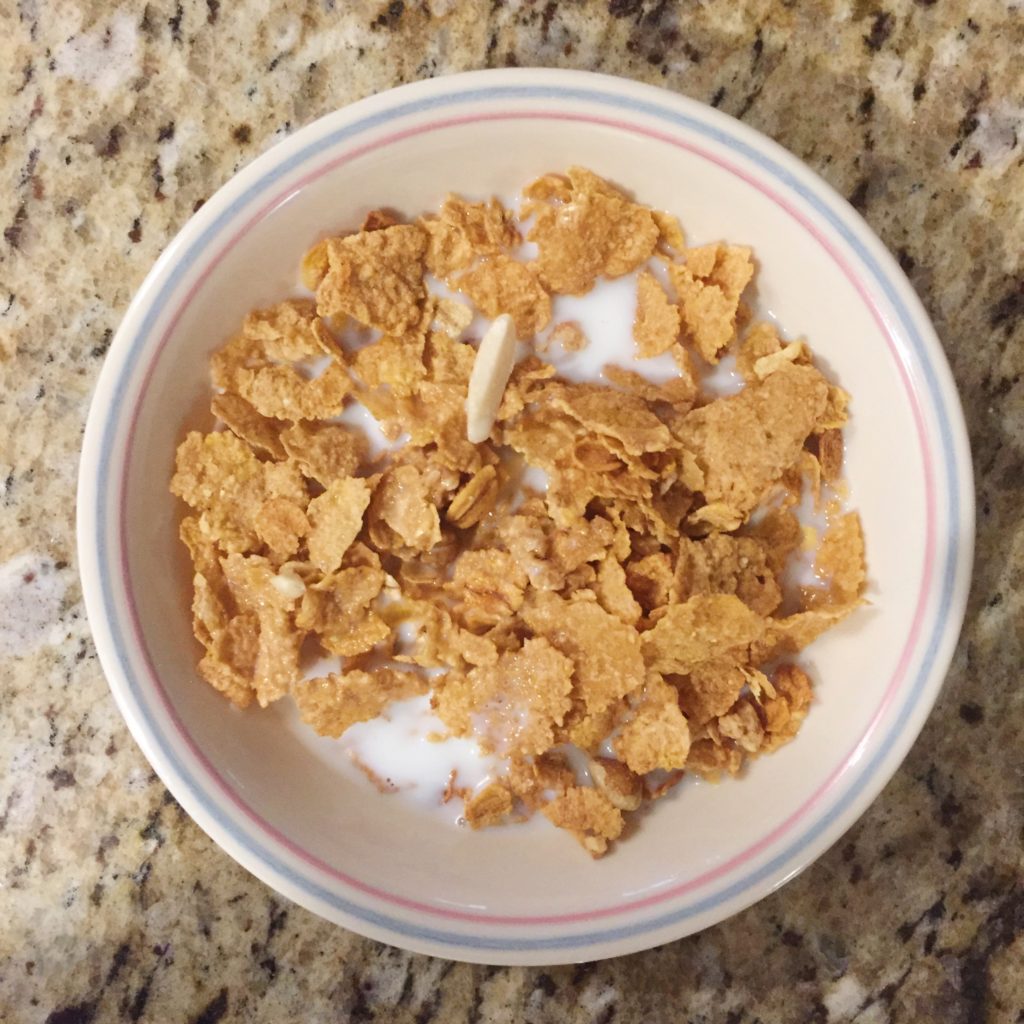 It is pretty typical of me to eat AGAIN after dinner these days… Baby E is growing and HUNGRY! Before bed I had a small bowl of Great Grains Banana Bread cereal with 2% milk.
Well that was everything I ate for Mel's Clean Eating Meals. I'm still trying to get adequate protein throughout the day, but this baby has me craving carbs more than before!
If you have any questions about Mel's Clean Eating Meals then please email me at eatliftplayrepeat@gmail.com or comment below. Don't forget to check out how I made some of these meals ahead of time with this week's Grocery Shopping & Meal Prep Ideas Week 58 post.