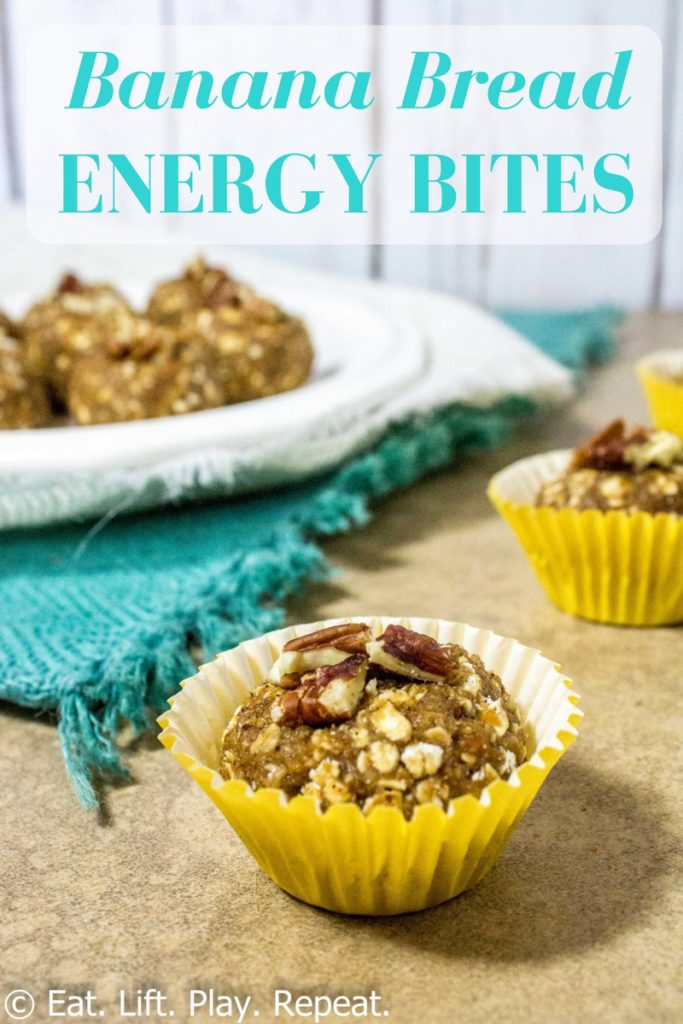 Certain recipes stick out in my mind when I think about my childhood. For example, my mom's green chile enchiladas, my grandma's cinnamon rolls and my dad's pancakes are the first ones that come to mind.
My mom's banana bread however gets it's own category in terms of memories.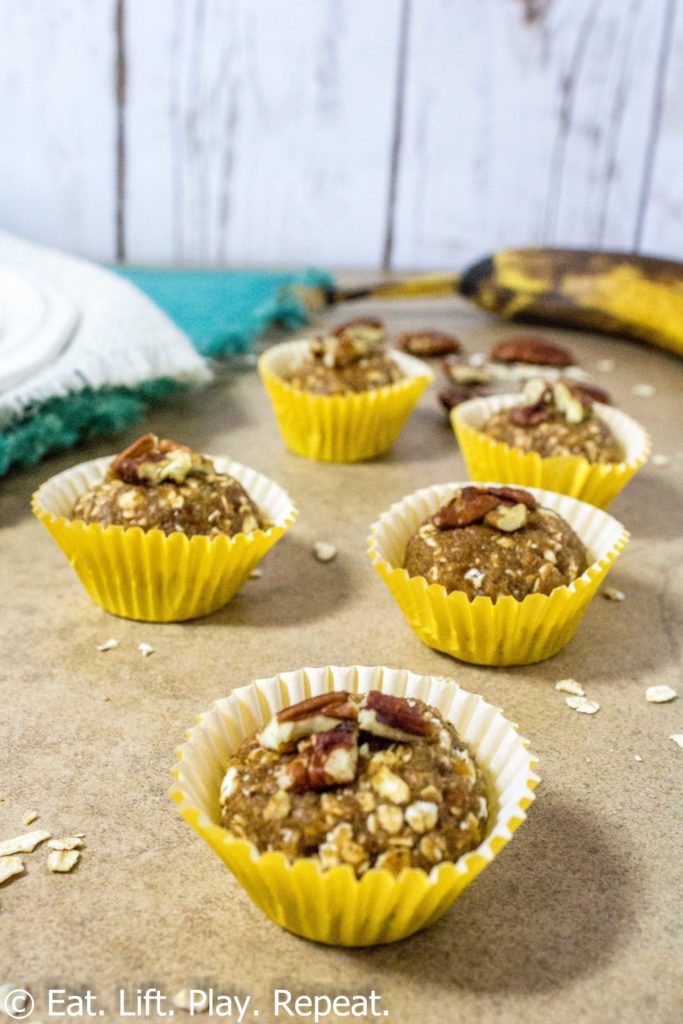 Breakfast foods are my favorite foods and bananas are towards the top of that list. Obviously bananas can be eaten at any time during the day, but I typically think about them as breakfast foods.
Bananas play double duty in a quick bread recipe by adding sweetness to the batter and also moisture. Be sure to use extra ripe bananas when baking in order to get the most flavor. Bananas with brown spots on the peel work the best because they are the most ripe and have the most banana flavor to them!
Bananas are clean eating approved, however banana bread is not always the most healthy option when it comes to breakfast due to the high calorie and high fat content. Like most quick bread recipes, banana bread is made with refined flours, lots of butter and a ton of sugar. As a result banana bread ends up as a cake-like treat, rather than a healthy breakfast choice.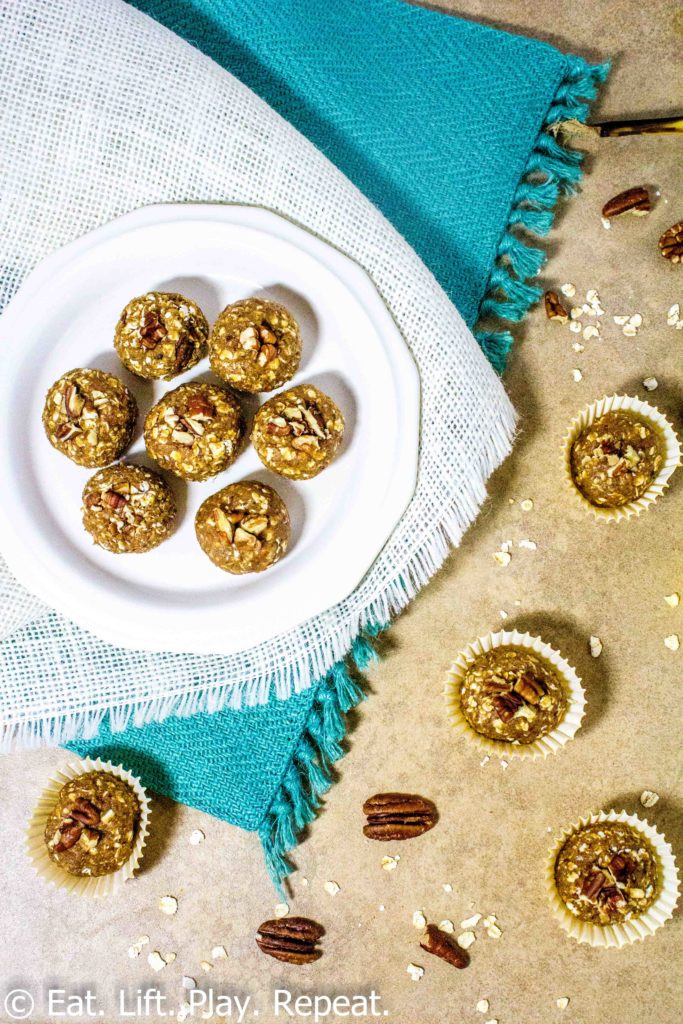 My mom has always made the best banana bread. Her version is a little bit more healthy, but it is still considered a "treat" for me.
Do you want to know the problem I have with her banana bread? Her banana bread cannot be re-created.
Have you ever eaten food made by your mom, grandma or someone you know that was so fantastic you asked for them for their recipe? Well my mom's banana bread is that way.
In fact, quite a few people have asked for her recipe after tasting it in order to make it themselves. The problem? Even following the recipe to a T, the banana bread never turns out like my mom's. My grandma is a good cook and bakes awesome treat. However, even her attempt at the recipe doesn't compare. I've tried my hand at making my mom's recipe as well, but it was not the same.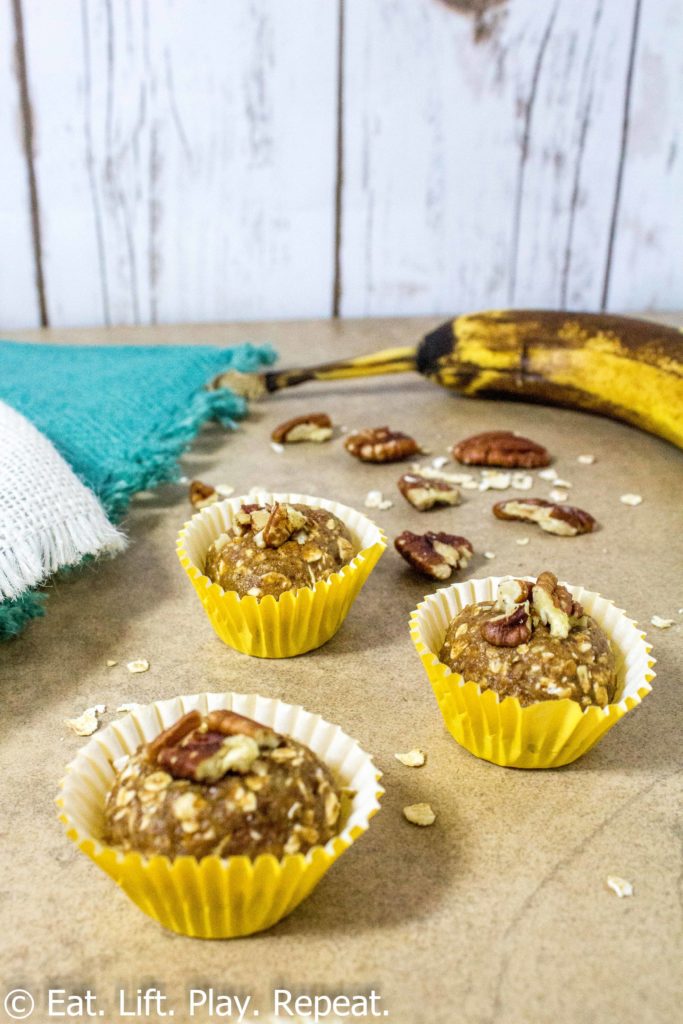 Tell me mom, what do you do to make it so delicious? Maybe it is the love that she puts into the batter. Hahahaha you never know!
Honestly, I am going to stop copying her recipe and instead beg her to make the banana bread for me!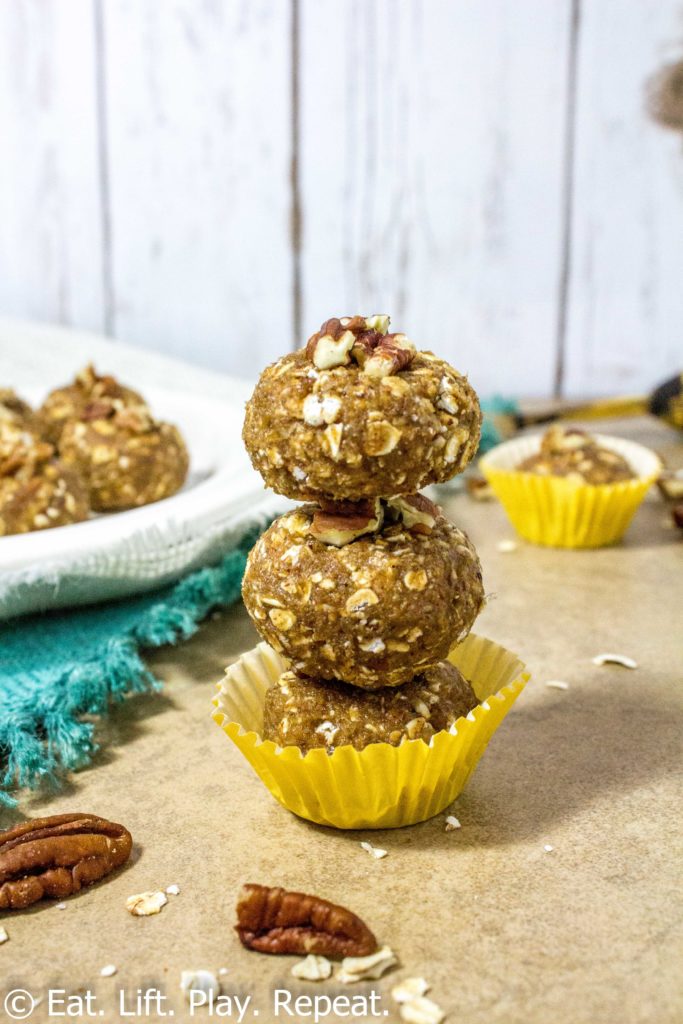 What do you do if you love banana bread, yet don't want the extra calories and sugars?
Enter Banana Bread Energy Bites. The taste of banana bread but without all the crap.
First of all, these Banana Bread Energy Bites are super simple to make. All clean eating ingredients are used in the recipe and they make a great grab-and-go snack. Another bonus, these are sweet enough to enjoy as a guilt-free after dinner treat! Each bite only has 70 calories and has a good ratio of carbs, protein and fat.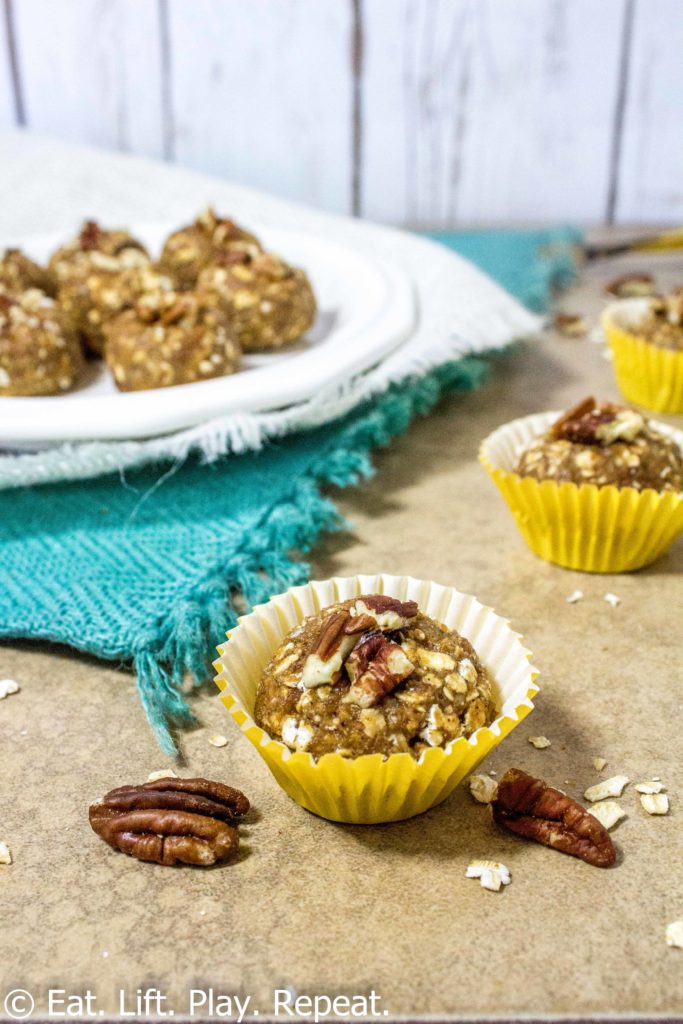 Make a batch of these Banana Bread Energy Bites to keep on hand for busy days. If you don't get all 18 eaten right away, then freeze any of the extras. Store them in a Ziploc freezer bag or in an airtight container in the freezer for up to 3 months. Bring a few out at a time and let them thaw in the refrigerator before eating.
Energy bites are one of my favorite things to make and grab as a snack. Check out my other recipes including Chunky Monkey Energy Bites, Peanut Butter Energy Bites & Coconut Cashew Energy Bites.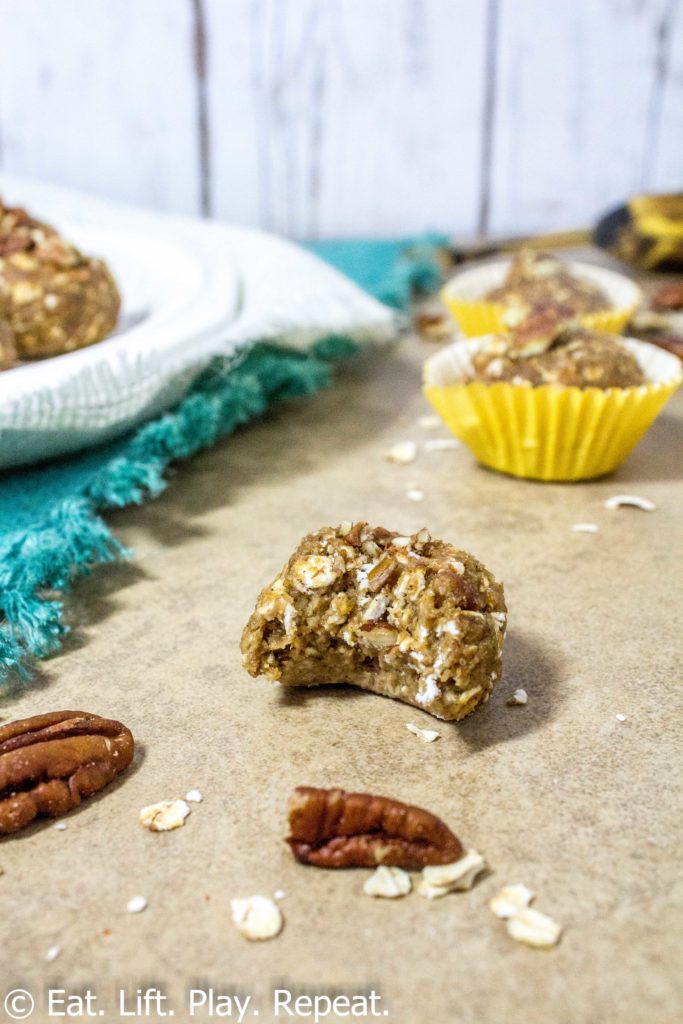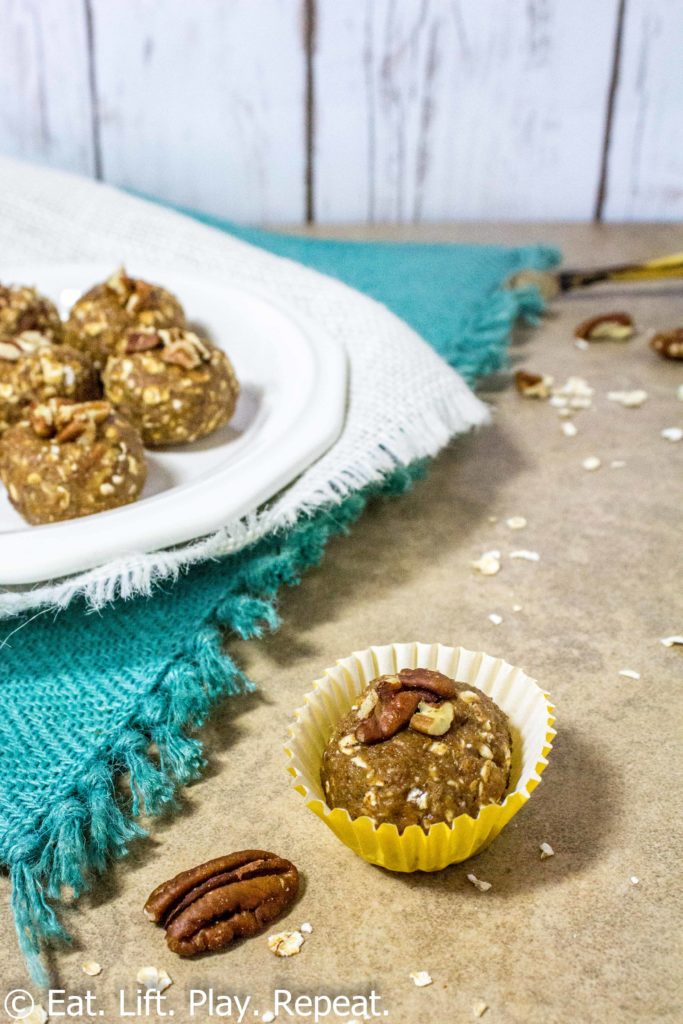 Banana Bread Energy Bites
2016-08-08 18:10:13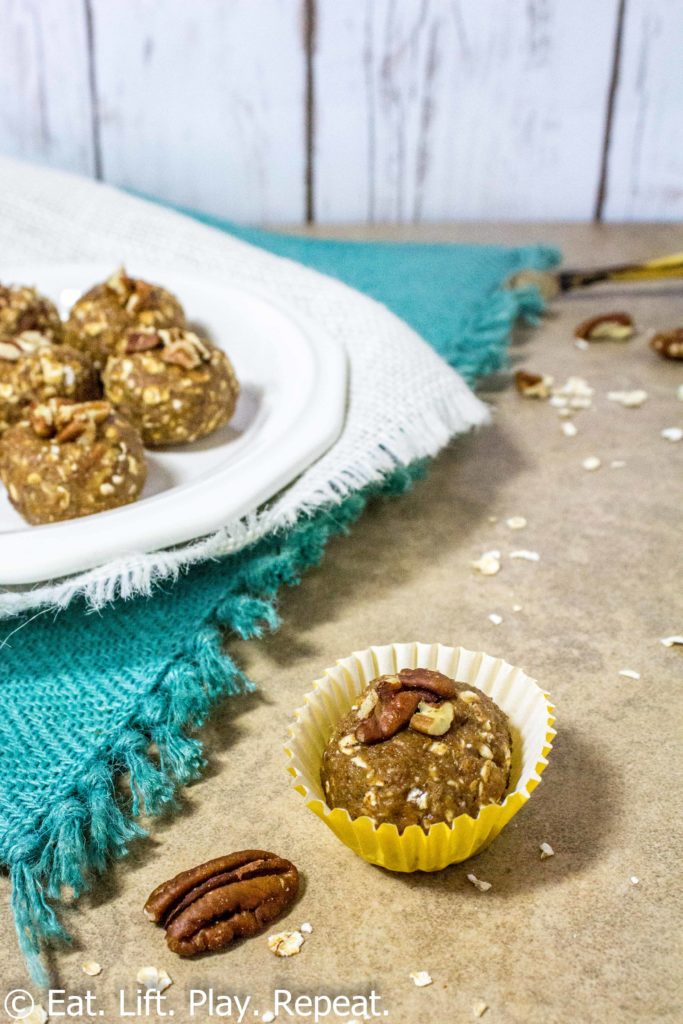 These healthy energy bites make the perfect grab-and-go snack. They taste like banana bread, but are made with all whole ingredients that are clean eating approved!
Ingredients
150 grams ripe banana, mashed (about 2 small)
3/4 cup quick oats
1/2 cup oat flour
1/4 cup almond butter
2 Tbsp coconut sugar
1 tsp vanilla extract
1/2 tsp cinnamon
1/4 tsp salt
1/4 cup pecans, chopped
Instructions
In a medium mixing bowl combine the mashed banana, oats, oat flour, almond butter, coconut sugar, vanilla, cinnamon and salt. Using a large spoon, stir until well combined.
Fold in the chopped pecans.
Using a tablespoon to measure, divide the mixture into 18 bites and roll into individual balls. Top each bite with additional chopped pecans if desired.
Refrigerate the bites for at least 20 minutes.
Notes
Store in an airtight plastic container in the refrigerator for up to one week.
Eat. Lift. Play. Repeat. http://eatliftplayrepeat.com/
What is a recipe that you specifically remember from your childhood?