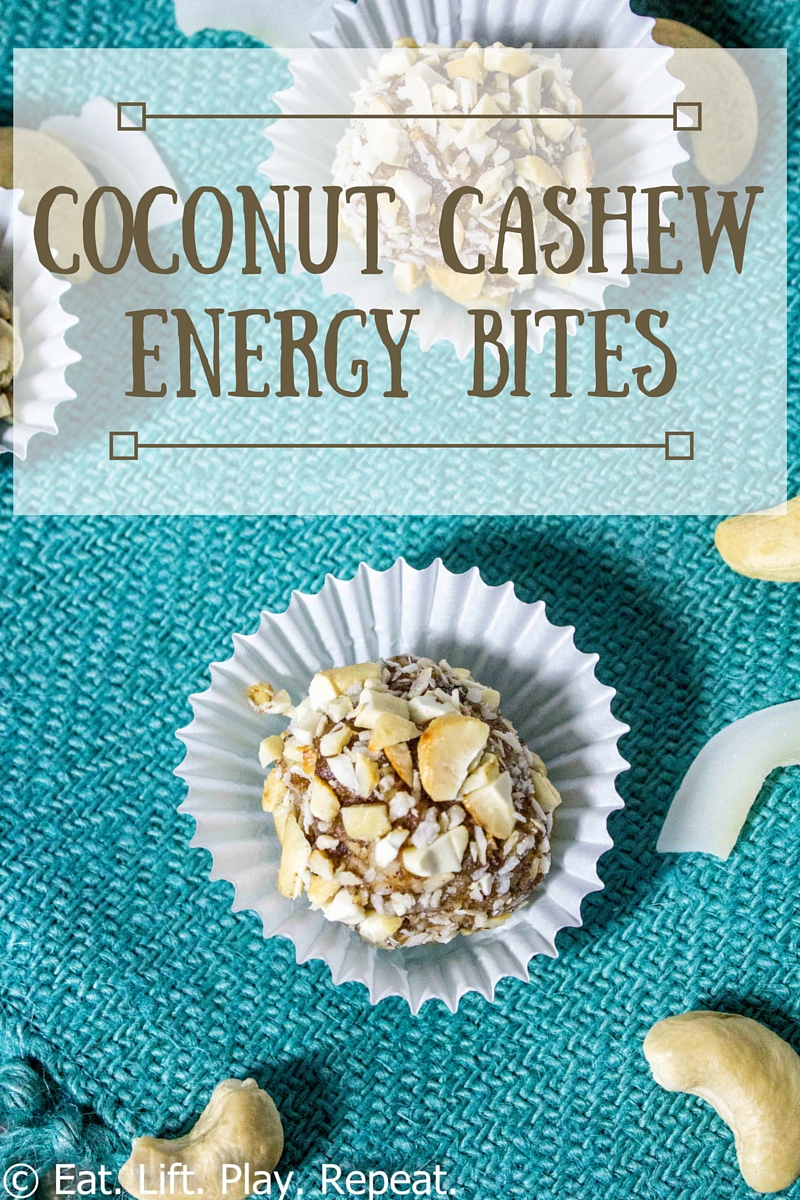 Coconut Cashew Energy Bites
Every couple years my parents go on a trip with my dad's side of the family. They go with my dad's two sisters, their husbands, and my grandma and grandpa. Over the years they've traveled together to Washington D.C., Oregon a couple times, and on a cruise to Alaska. This year they went on a 10-day cruise through the northeast part of the United States.
I typically go to my grandparents house for lunch, unless I have an appointment or meeting. However, with them gone I've been on my own. I don't mind eating alone, but it takes some getting used to. I wasn't quite sure what to do with myself those first few days because my sister was gone and so was Donny. One day I ended up going to Lindsey's to eat lunch and read. I actually really enjoyed that!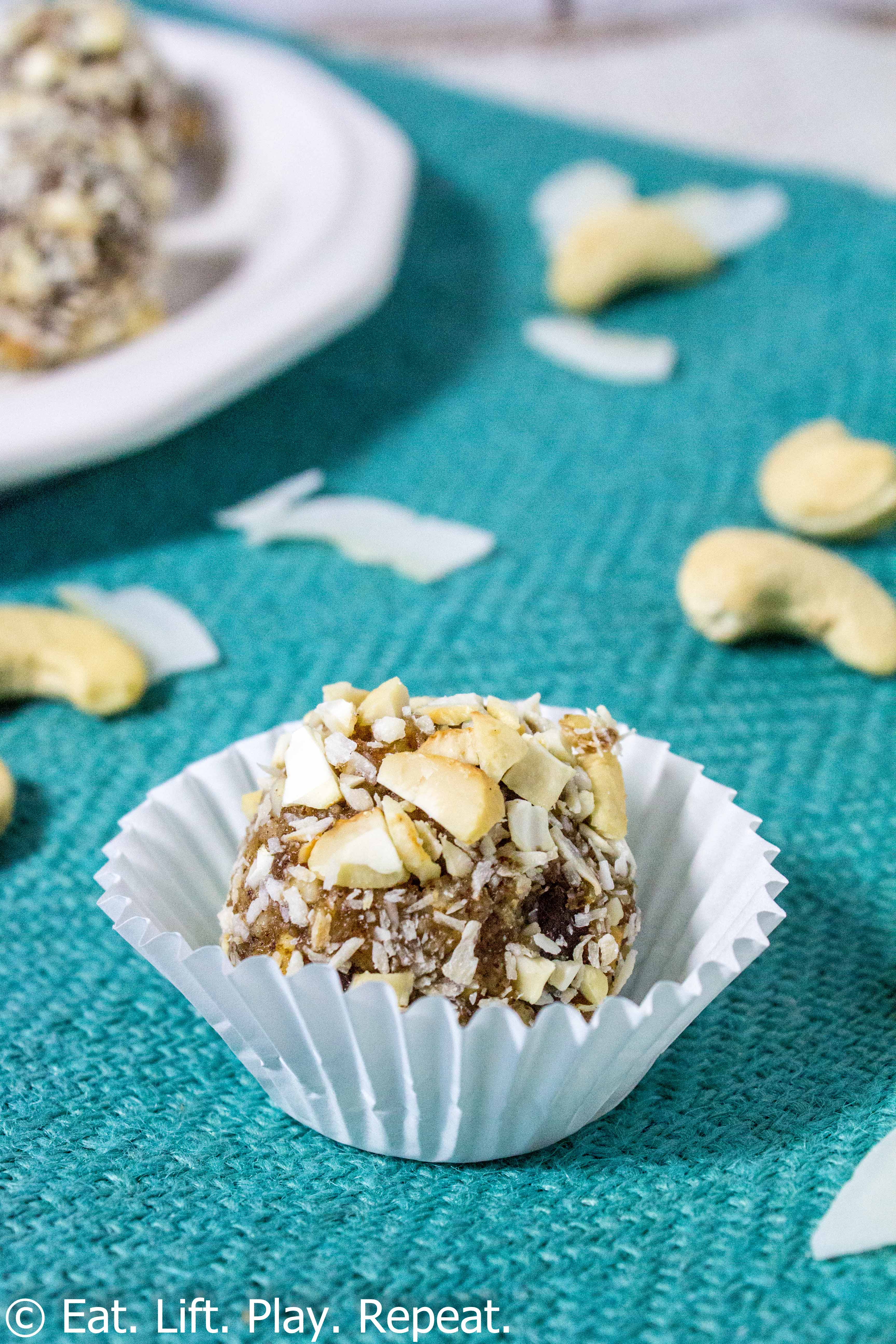 Another day however, I got the brilliant idea to go home and whip up some energy bites. I haven't made any in a while and I was craving them! Lucky for you they turned out amazing…..
I made these Coconut Cashew Energy Bites in about 30 minutes, with some moments of distraction in there as well (I could have shaved a few minutes off I think if I'd been super focused). They only require three main ingredients, then some stuff for added flavor. Dates, cashews, and coconut make up the base of these bites. Both the coconut and the cashews were toasted on the stove before using in order to bring out their flavors.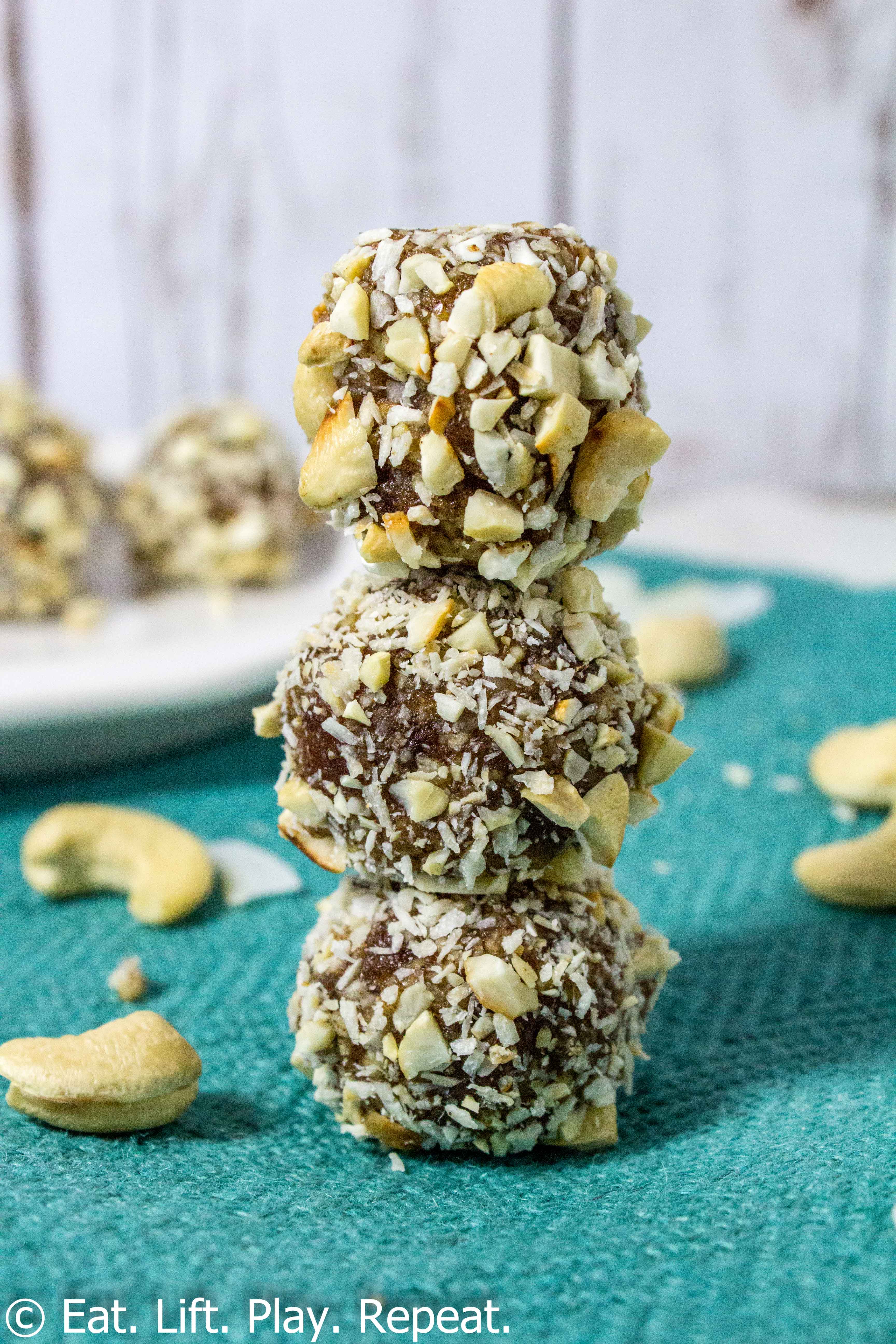 I used our food processor to make these Coconut Cashew Energy Bites and it worked great. I started by soaking the dates in hot water then processing them. As those were soaking I toasted the cashews and coconut. After the dates were processed I added part of the toasted coconut and part of the toasted cashews to the mix and continued to process until the mixture was nice and sticky.
I did end up adding some of the leftover water that I'd used to soak the dates to get stuff moving in the food processor, so make sure you save some of it! Regular water works too, but the dates leave a hint of sweetness to the water after they soak.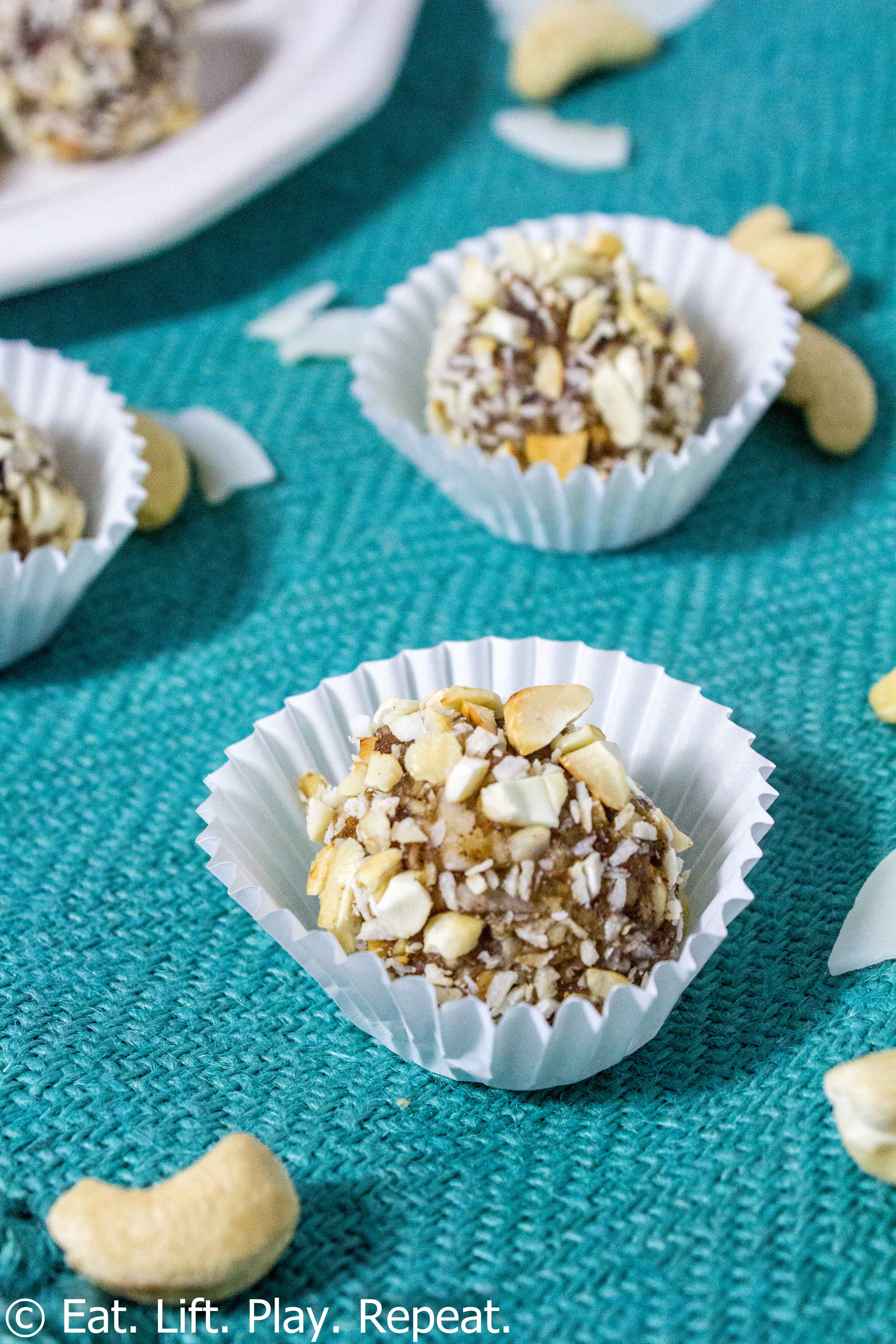 I added salt, cinnamon, and vanilla extract to the mixture for a little extra flavor, but if you don't have one of those then feel free to skip it. The date-coconut-cashew mixture is pretty dang good all by itself!
Once that was done I divided the mixture using a tablespoon and rolled those into balls. I chopped up the rest of the toasted coconut and toasted cashews and rolled the balls in it to coat them. After that, I refrigerated the balls and boom, done. I tried one when I got home from work and they were amazing! I honestly think these might be my favorite energy bites yet.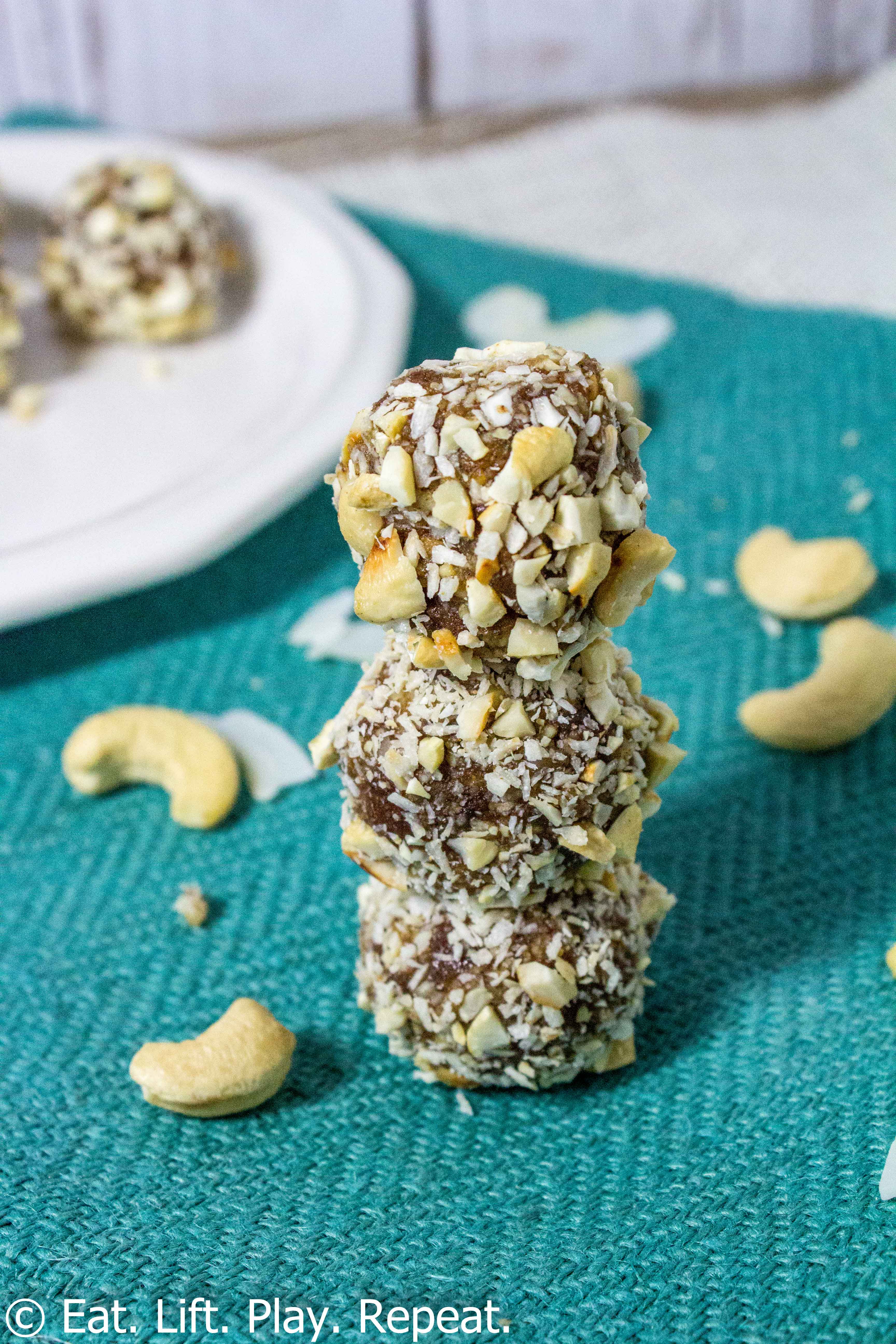 I put all the info into my My Fitness Pal app and they came out to 85 calories each! They are great as a quick grab-and-go snack or make a nice after-dinner dessert that is light, yet sweet!
If you like these Coconut Cashew Energy Bites, then check out some of my other energy bite recipes including Oatmeal Raisin Cookie Dough Energy Bites, Snickerdoodle Energy Bites, Trail Mix Energy Bites, and Peanut Butter Energy Bites.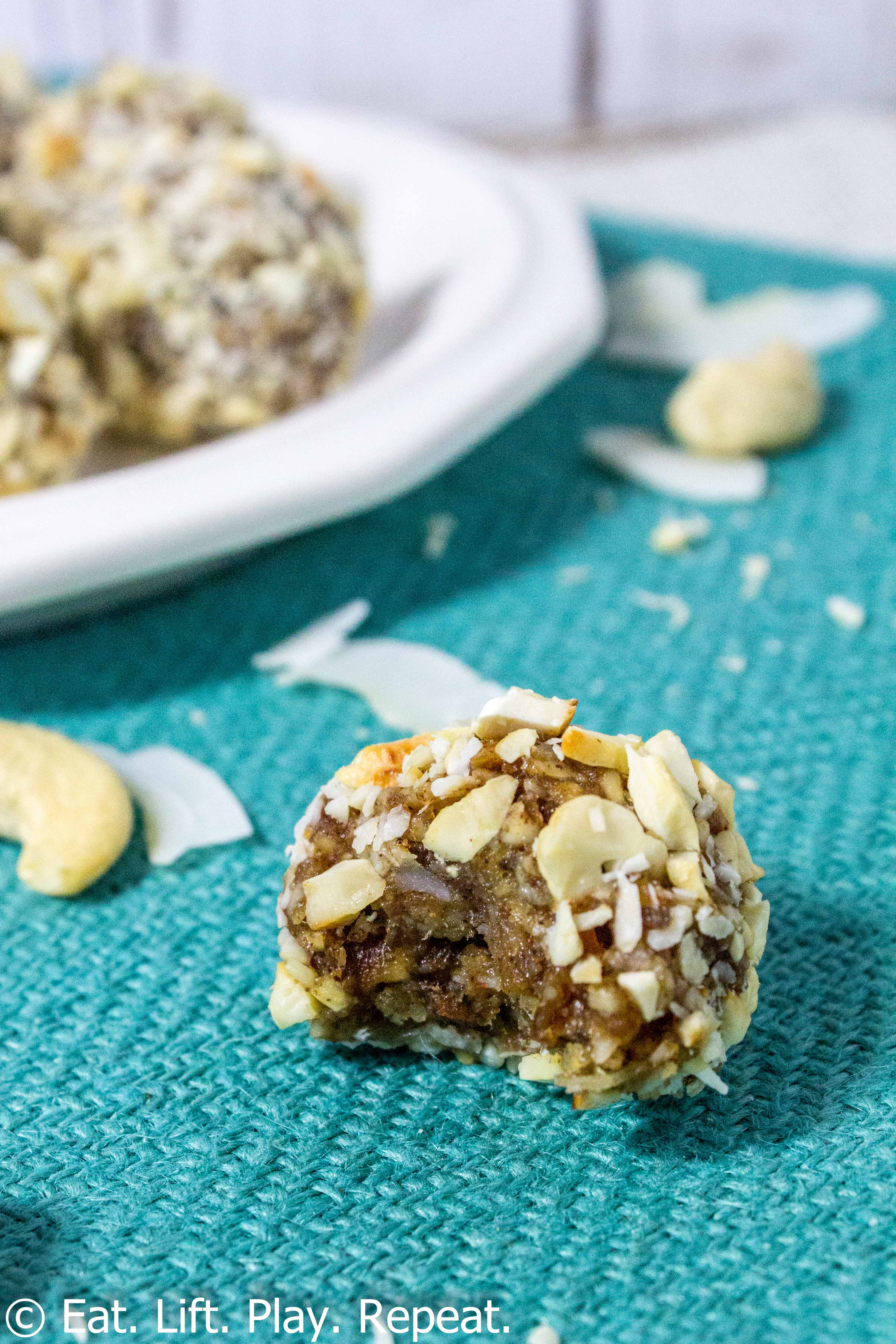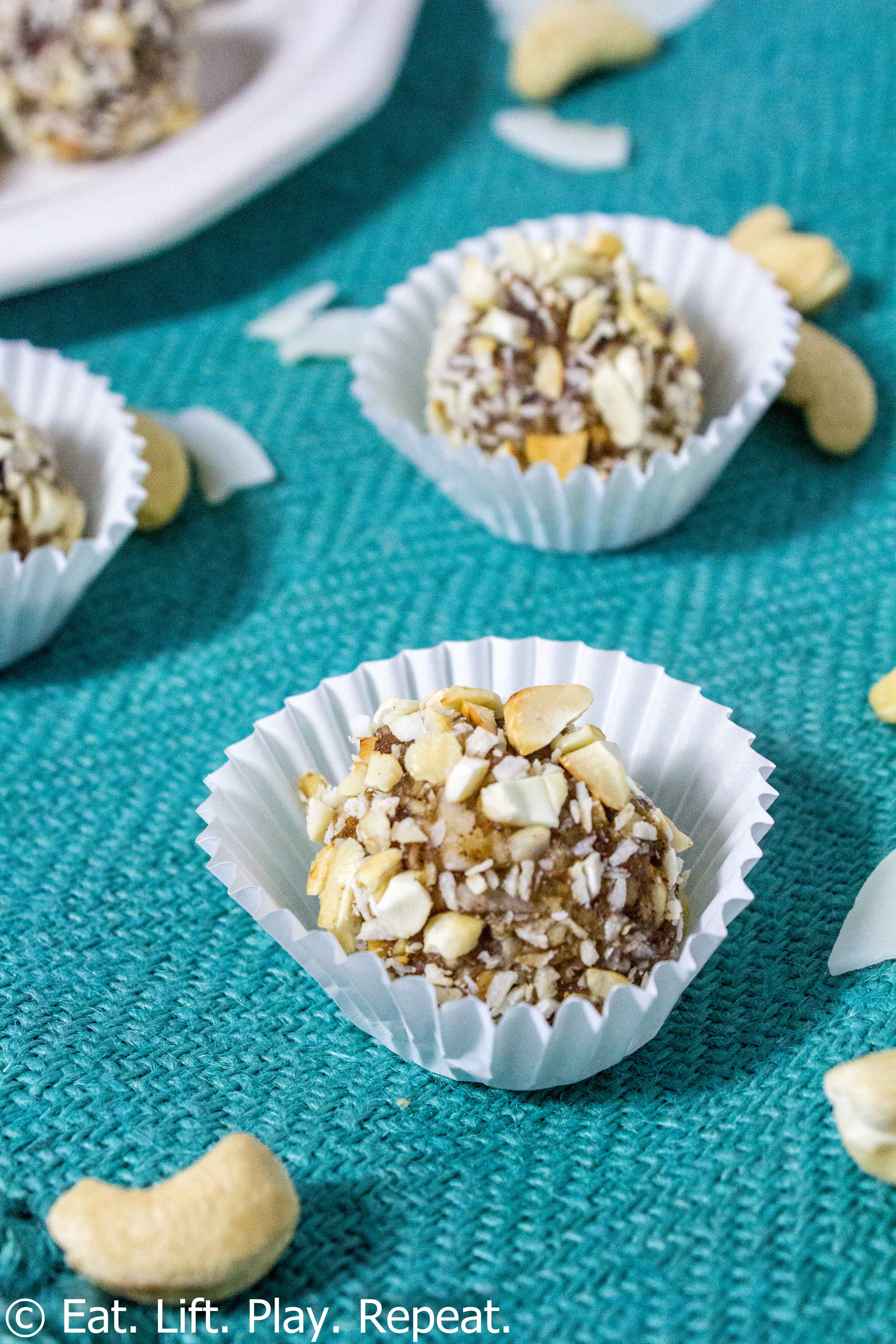 Coconut Cashew Energy Bites
2016-05-25 13:44:39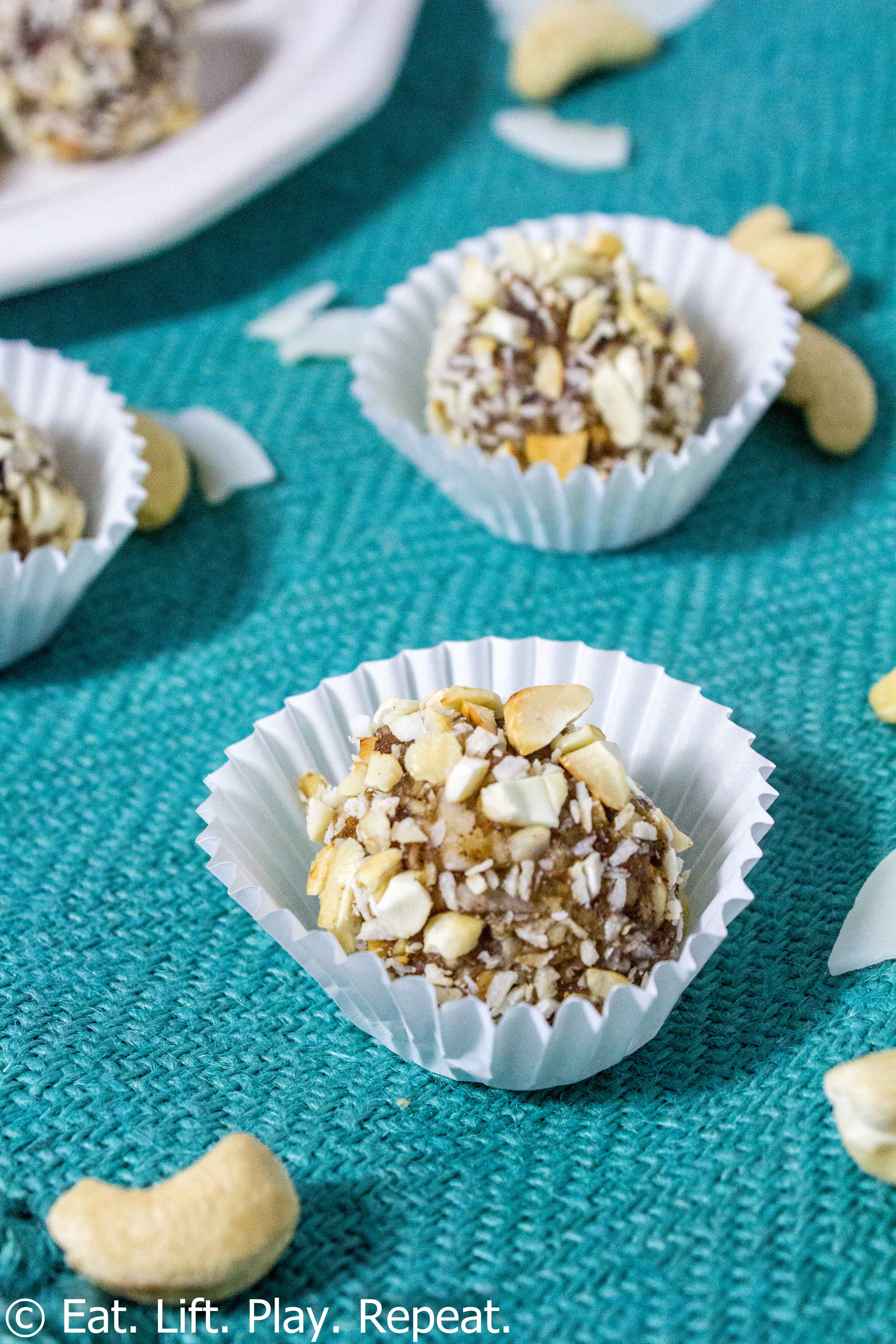 A quick, healthy snack that is made with all clean eating ingredients. The perfect grab-and-go snack to keep on hand for busy days.
Ingredients
1 cup medjool dates, pits removed
3/4 cup cashews, divided
3/4 cup shredded coconut, unsweetened and divided
1 tsp cinnamon
1 tsp vanilla extract
1/2 tsp salt
Instructions
Soak dates in hot water for 2-3 minutes (reserve the water for later).
While the dates soak, toast the coconut and cashews in a large pan over medium heat, stirring frequently. Toast until the cashews and coconut become fragrant and slightly browned. Be careful not to burn.
Take 1/4 cup toasted cashews and finely chop them. Add the chopped cashews to a small bowl with 1/4 cup toasted coconut. Set aside.
In a food processor, combine the dates, the remaining 1/2 cup cashews, the remaining 1/2 cup coconut, and 1/4 cup of the date-water. Process until all the ingredients have been broken down to form a sticky mixture.
Transfer the mixture to a small mixing bowl and add the cinnamon, vanilla, and salt. Using a spoon, stir until evenly combined.
Using a tablespoon to measure, divide the mixture into 14 bites and roll into individual balls.
Roll each ball in the chopped cashew-coconut mixture so that each bite is evenly coated. Transfer to a large plate. Continue until all the date-mixture is used.
Refrigerate bites for at least one hour.
Notes
Energy bites can be stored in the refrigerator for up to one week or kept in the freezer for up to 3 months.
Eat. Lift. Play. Repeat. http://eatliftplayrepeat.com/
What is your favorite energy bite flavor?