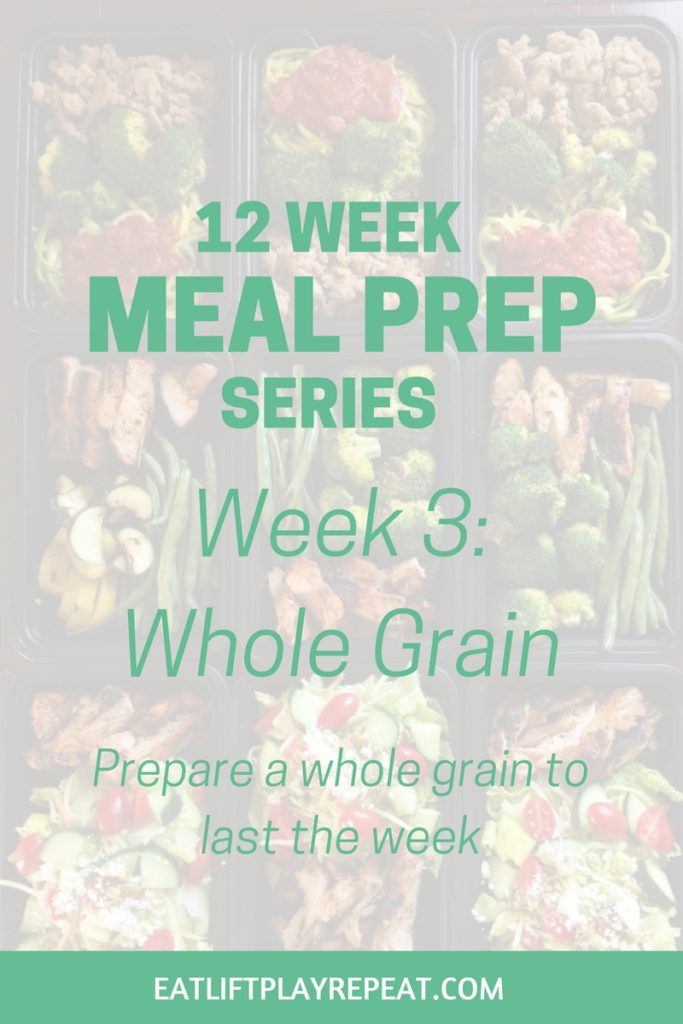 We are two weeks down in the 12 Week Meal Prep Series. How is it going? Did you prepare enough chicken during Week 1? Did you make a bunch of vegetables this last weekend to get you through the week?
If you missed the first two weeks, then check those out here and here.
For Week 3, I challenge you to make your favorite whole grain in bulk so that you can add it to meals throughout the week. An important component to meal prep is whole grains. Whole grains will keep you full longer and add more nutrients to your diet compared to refined grains.
Whole Grains:
A typical serving of whole grains is 1/2c cooked product, such as brown rice, quinoa, couscous, whole wheat pasta, farro, wheat berries, etc. You could get SUPER fancy and bake your own whole wheat bread! Whaaaaaat?
Whole grains are better for you and can keep you full longer compared to refined grains. Each grain is different in terms of nutrients, but overall, whole grains can decrease your risk for stroke, diabetes and heart disease. PLUS, whole grains have proven to be better for weight loss and weight maintenance compared to refined grains!
So what is a whole grain? Basically, a whole grain is the grain without having anything removed. Whole grains still contain the bran, germ and endosperm, while refined grains are missing one or more of those pieces. Refining grains takes out some protein and some nutrients from the original.
I don't know about you, but I want all that protein and all the nutrients I can get from my grains!
If you are not a whole grain eater, then try to start small. Choose whole wheat bread over white bread or brown rice over white rice. It might take a few times to get used to the difference, but you'll get used to it.
The whole grains that I make the most include quinoa, brown rice, oatmeal and I buy whole wheat bread. Occasionally I'll make millet, wheat berries or farro, just to change things up a little bit. Read all about my favorites in Staple Food Items: Healthy Grains.
Whole grains don't have to be just eaten plain – that can get SO boring. Throw brown rice into a burrito bowl or quinoa into your favorite soup (homemade or store-bought). Make a mixed green salad for lunch and add quinoa for additional fiber and protein to keep you full longer.
A few of my other favorite recipes for whole grains include Brown Rice with Grilled Vegetables, Southwestern Quinoa Salad, Caprese Quinoa Bake and Mexican-Style Quinoa Bake.
What are your favorite whole grain recipes for meal prep?