I am starting a new weekly post that documents my grocery shopping & meal prep. I made a list of the foods I buy at the grocery store and what I like to keep in stock in My Clean Eating Shopping List, but it didn't detail how often I have to buy these items.
I also wanted to give you a break down of my meal prepping. It is not difficult. It might be overwhelming at first, but it really does become routine and you pick up a lot of time-saving tricks. It takes a little planning and some trial-and-error, but the more you do it the easier it is.
I will start with the grocery shopping. I actually went to two different grocery stores, Edwards Right Price Market and Safeway. I don't typically hit up multiple stores, but Edward's was having a sale on some items I usually buy and I had the time to make a stop to pick up eggs, berries, and a couple other sale items. Everything else I purchased at Safeway.
Grocery Shopping List: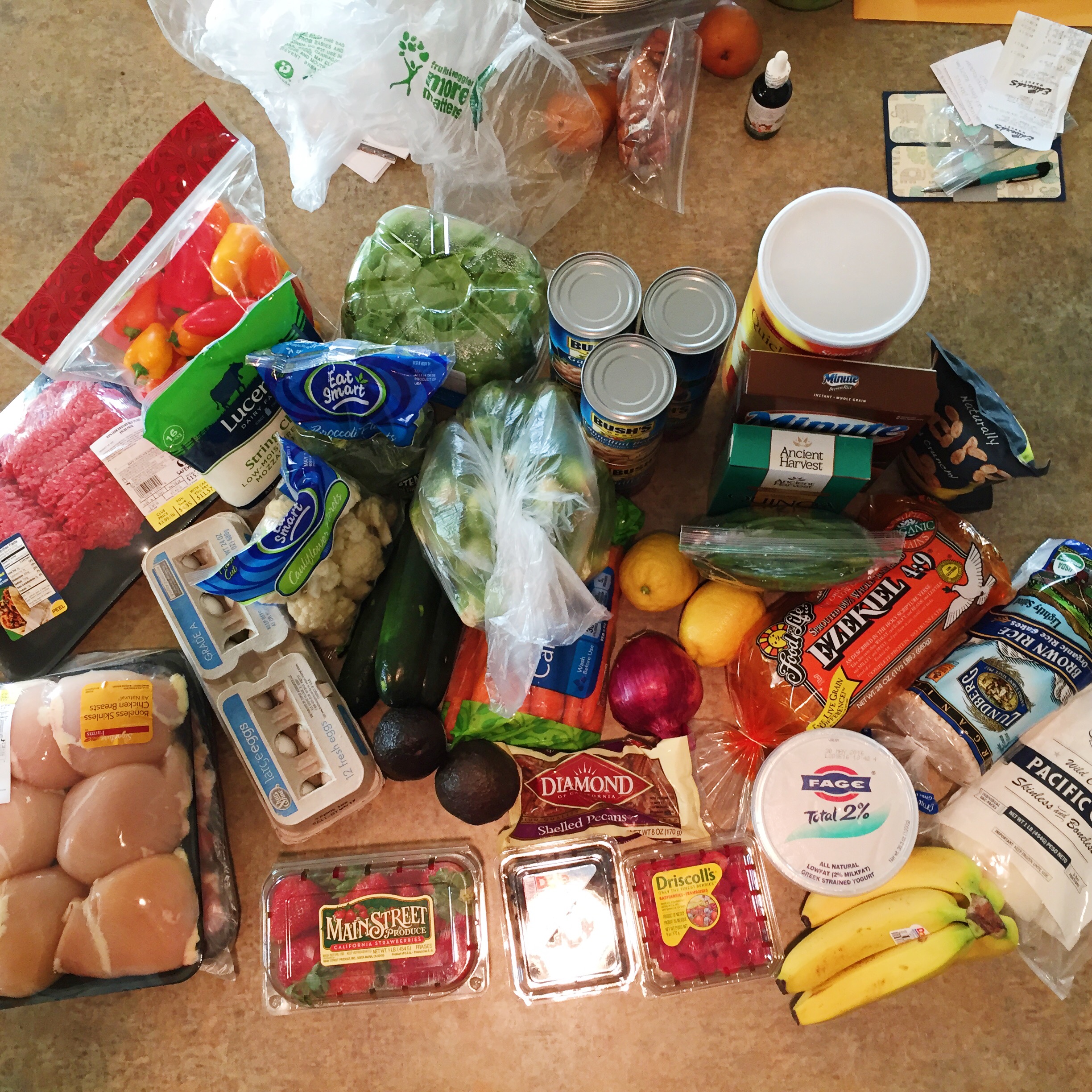 2- 1lb packages Pacific Cod (frozen)
4 lbs boneless, skinless chicken breasts
2 lbs boneless, skinless chicken thighs
3 lbs 93% lean ground beef
3 dozen eggs, large
35 oz contained 2% Fage Greek yogurt, plain
Ezekiel 4:9 Sprouted Whole Wheat Bread
Lundberg Brown Rice Cakes, lightly salted
42 oz quick oats
14 oz minute brown rice
12 oz tri-colored quinoa
2.7 oz Bare baked banana chips, cinnamon
6 oz bag of pecans
16 count Lucerne string cheese
1 can of each: garbanzo beans, great northern beans, chili pinto beans, cannellini beans, red kidney beans (reduced sodium), and black beans (reduced sodium)
Fruit: lemons, bananas, strawberries, blueberries, raspberries, & avocados
Vegetables: mini bell peppers, butter lettuce, broccoli, cauliflower, zucchini, carrots, red onion, Brussels sprouts, & green beans
Meal Prep: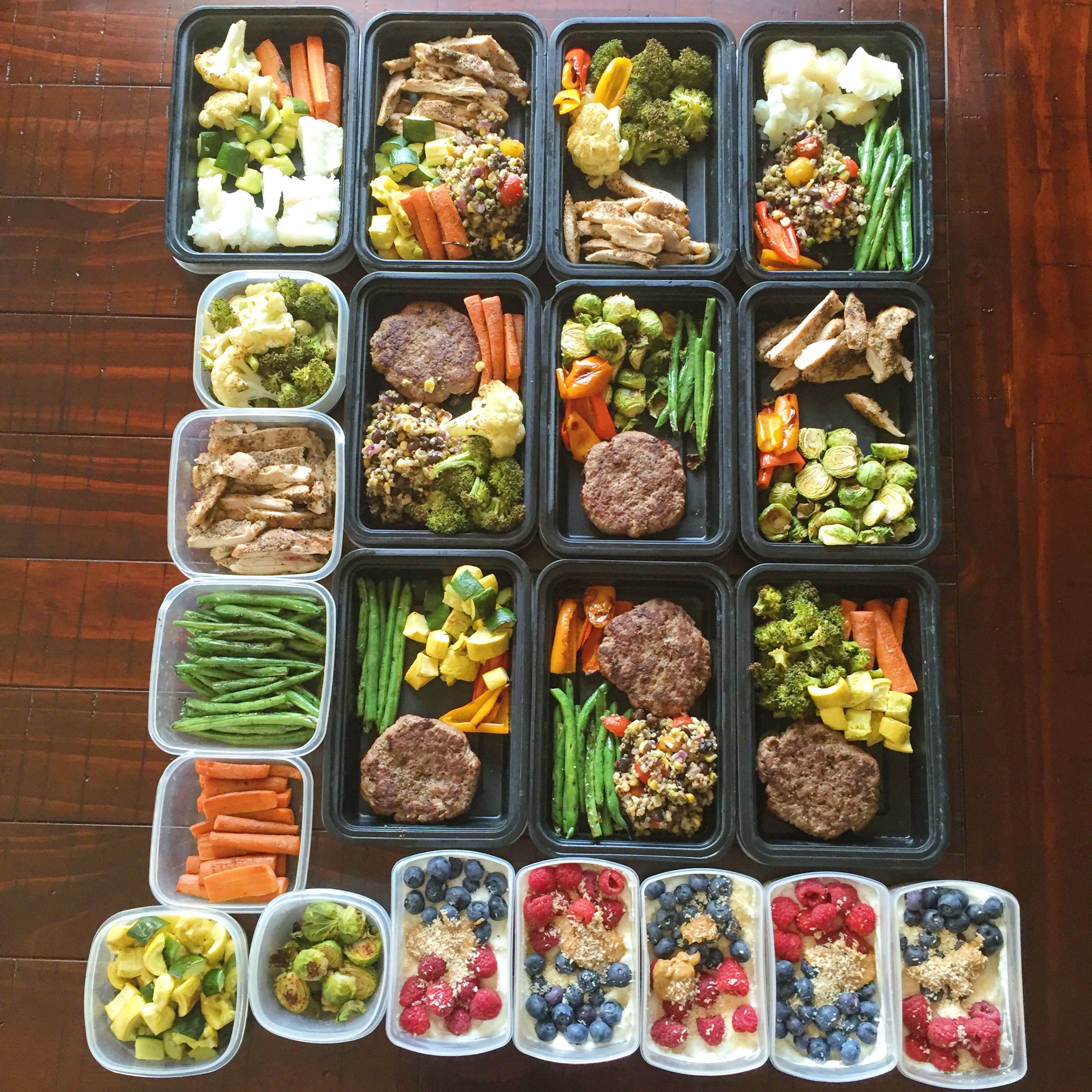 I am not going to lie… this meal prep turned out pretty! So many good colors. I do love summer because all the berries and so many veggies are at their peak that I eat a TON of produce. Here is everything I prepped.
I baked the chicken thighs in the oven at 425° for 15 minutes. I sprinkled them with lemon pepper seasoning and salt.
I also baked 1 lb of the cod fillets at 400° (this was one whole bag). I made two foil packets for the fish and evenly divided the fillets. I did spray the foil with non-stick cooking spray, but I didn't season the fish with anything.
I made a bunch of hamburgers using the 93% lean beef, eggs and whole wheat bread crumbs. I ended up with 13 hamburgers. I packed five for the week, left three in the fridge for Donny, froze 4, and ate one for lunch (while food prepping). I cooked these on a flat-top griddle just like the Hamburger Lettuce Wraps, only with whole wheat bread crumbs instead of the wheat germ.
I roasted almost all my veggies this week (400° oven) including: zucchini, yellow squash (still had this from last week), mini bell peppers, Brussels sprouts, broccoli, cauliflower and carrots.
I cooked the green beans on the stovetop using our grill pan.
I had quinoa salad already made in the fridge from the day before.
I also made some yogurt parfaits for my mid-morning meal using Greek yogurt, protein powder, berries, peanut butter, and coconut.
All the containers on the left are extra veggies, meat, etc. Donny will occasionally take some for lunch or we use them for quick dinners throughout the week.
I left some Brussels sprouts raw so that we could cook those up fresh this week. I also left the boneless, skinless chicken breasts alone thinking we'll either make them this week, freeze them, or a little of both (it was a huge package!).
My grocery shopping trips don't always look like this. Some of the non-weekly items include the oats, quinoa, rice cakes, brown rice, and beans. We were getting low on some of those items so I bought some to keep in stock.
What does your meal prep look like?