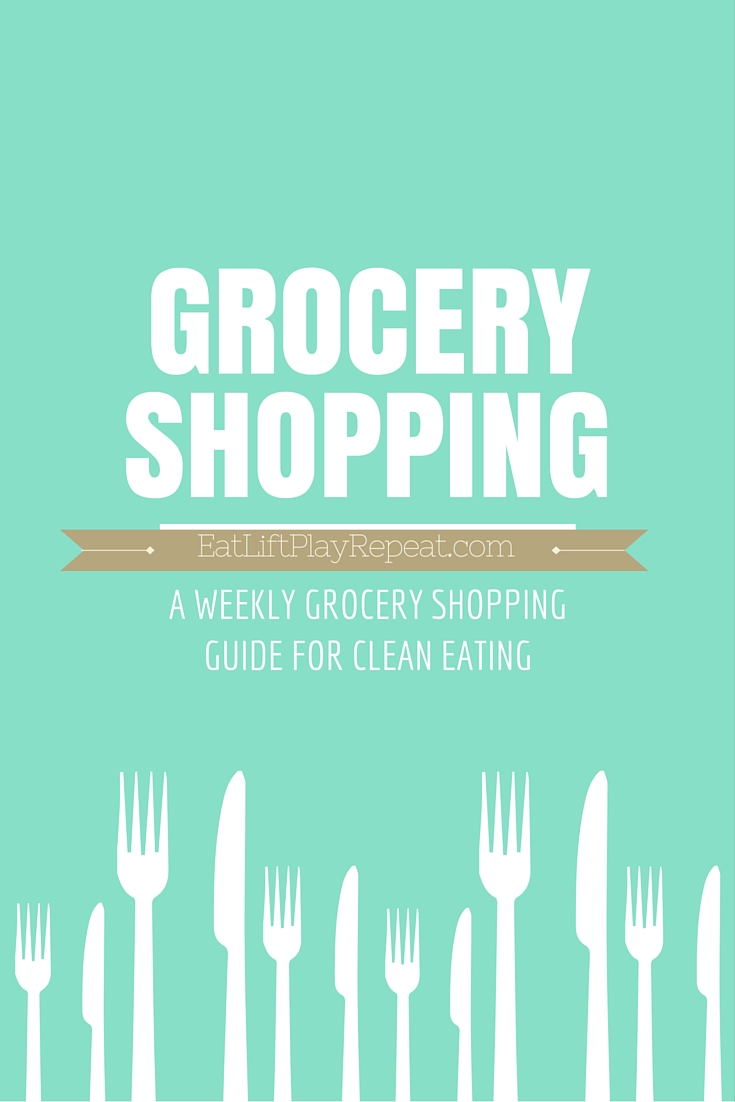 I honestly LOVE grocery shopping. I don't necessarily love crowds, but if I could walk up and down each aisle and look at all the food products, read labels, and check out new items then I would be in heaven! If I could get paid to grocery shop, then I totally would.
I feel like there are list-people in this world and there are non-list-people in this world. I, for one, am a list person. I hate going to the store and forgetting ONE item because I didn't make a list. However, I don't always shop with a list because I pretty much know my go-to items when it comes to filling my pantry and refrigerator. If I want to try a new recipe or have a couple items that aren't weekly purchases, then I definitely make a list. Otherwise, I have some grocery-store staples that I buy each week to use for meals.
Have you heard that it is healthier to shop on the outer edges of the grocery store and not in the middles aisles? This is true most of the time. Think about it, the packaged foods are usually in the aisles in the middle while the produce, dairy, and meats are generally on the edges! Makes sense. I try to stick to the outer edges, but certain items can be found in the aisles and still be healthy.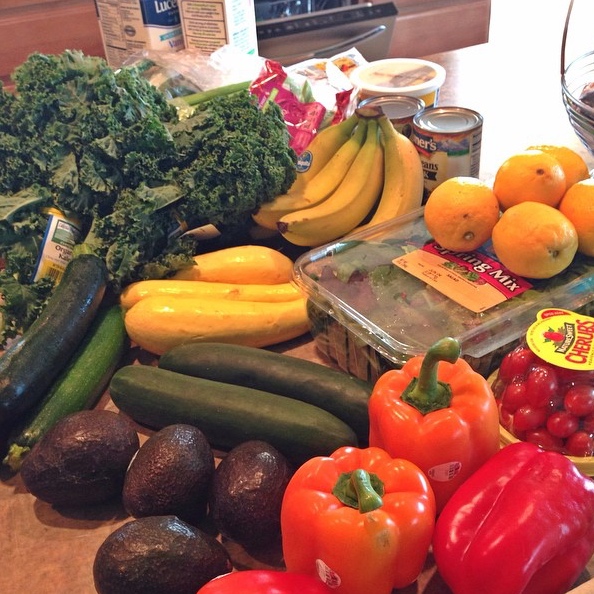 Here is a list of items that I try to always have on hand for quick, healthy meals. I don't have to buy these every time I go to the store, but I try to keep them in stock at all times. I will not buy all these fruits and all these vegetables at once either. I try to rotate them or, if seasonal, purchase them in their peak season. The asterisk* refers to foods that I purchase pretty much on a weekly basis. Everything else I purchase when I run out or will buy to mix up my meals.
Produce:
lettuce & leafy greens – romaine, spring mix, spinach, kale (usually one type per week)*
squash – zucchini*, yellow squash, butternut, acorn, spaghetti
Brussels sprouts
asparagus
broccoli*
cauliflower
green beans* or haricot verts
carrots* (baby & regular)
broccoli slaw
tomatoes* – generally grape or cherry
sugar snap peas
cucumbers
celery
bell peppers* – all colors
red onion
potatoes – sweet, russet, Yukon gold, red, fingerling
avocado*
apples*
bananas*
blueberries
strawberries
oranges
pears
peaches
lemons*
Dairy:
unsweetened almond milk*
unsweetened cashew milk
1% cottage cheese*
0% fat Greek yogurt*
Meats/Proteins:
boneless, skinless chicken breasts*
ground turkey
extra lean ground beef
beef tenderloin/fillet
pork tenderloin*
fish – cod, salmon, halibut
eggs*
canned tuna (packed in water)
canned salmon
Grains/Beans/Breads:
Cereals/Grains – quinoa, farro, brown rice, millet, oats (rolled & quick), puffed millet, popcorn kernels
Beans – black, pinto, chili beans, chick peas/garbanzo beans, northern beans/white beans
Breads – Ezekiel bread (plain or cinnamon raisin), English muffins (whole wheat or Ezekiel), whole wheat tortilla
Pasta – whole grain pasta, bean pasta, gluten free pastas (made with quinoa, brown rice, etc)
Canned/Jars:
tomatoes – diced, stewed
diced green chiles
marinara
green chile sauce
Nuts/Seeds:
raw almonds
cashews
dry roasted, unsalted peanuts
pistachios
chia seed
sesame seed
coconut – unsweetened shredded, unsweetened chips
nut butters – almond butter, peanut butter, coconut butter, cashew butter
Condiments:
mustard – yellow, Dijon, spicy
Cholula
Sriracha
soy sauce
Sweeteners:
raw honey
agave
maple syrup
molasses
coconut sugar
stevia
Truvia baking blend
Miscellaneous:
Oils – Extra-virgin olive oil, unrefined virgin coconut oil, sesame oil
Vinegars – balsamic, white wine, apple cider, rice,
Dried fruits – dates, cherries, cranberries, raisins
Protein powder – plain soy protein, whey isolate, whey concentrate, plant protein
That is pretty much what my pantry and refrigerator look like. I did not include items that I use for baking (flours, spices, etc). If you are interested in a list of those items then let me know!
I hope you can use this list as a tool next time you plan a shopping trip!