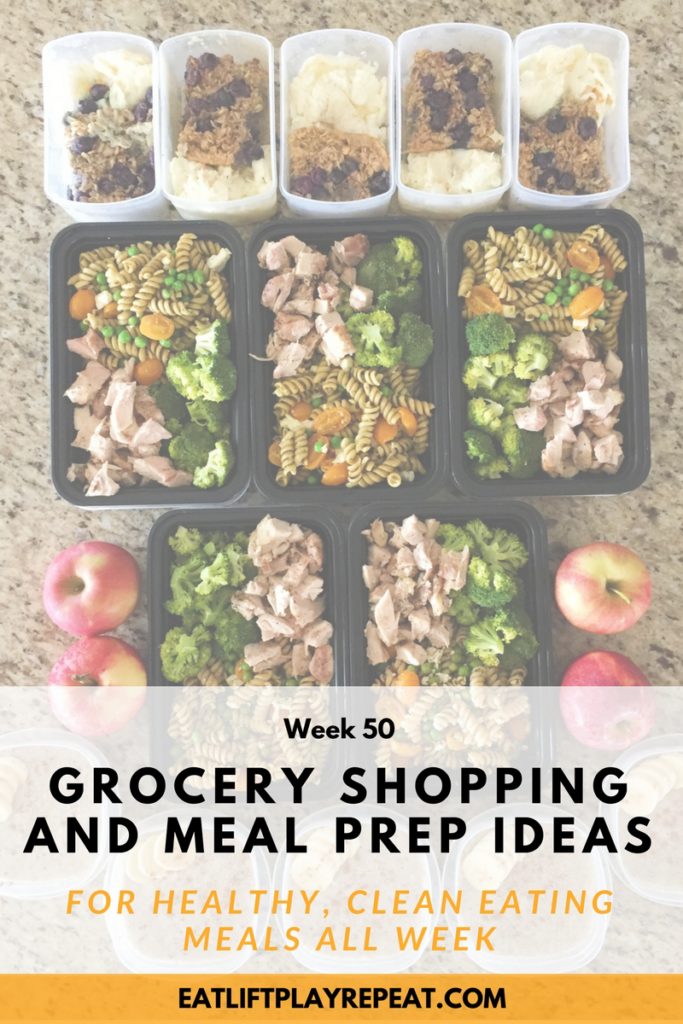 My weekend wasn't CRAZY busy, but I had some things to get done so I kept the meal prep ideas pretty easy this week!
We had a birthday party to be at Saturday afternoon so I did some meal prep when we got home, but finished it up on Sunday. Some weeks I can bust it all out at the same time, but others have to be split up. I've been doing a lot more of the splitting-it-up since I've been pregnant. It still gets done and I still have healthy foods, I just work it to my schedule and my desire to cook!
If you have any questions about the foods I bought at the grocery store or how I used them for these meal prep ideas then please ask!
Groceries: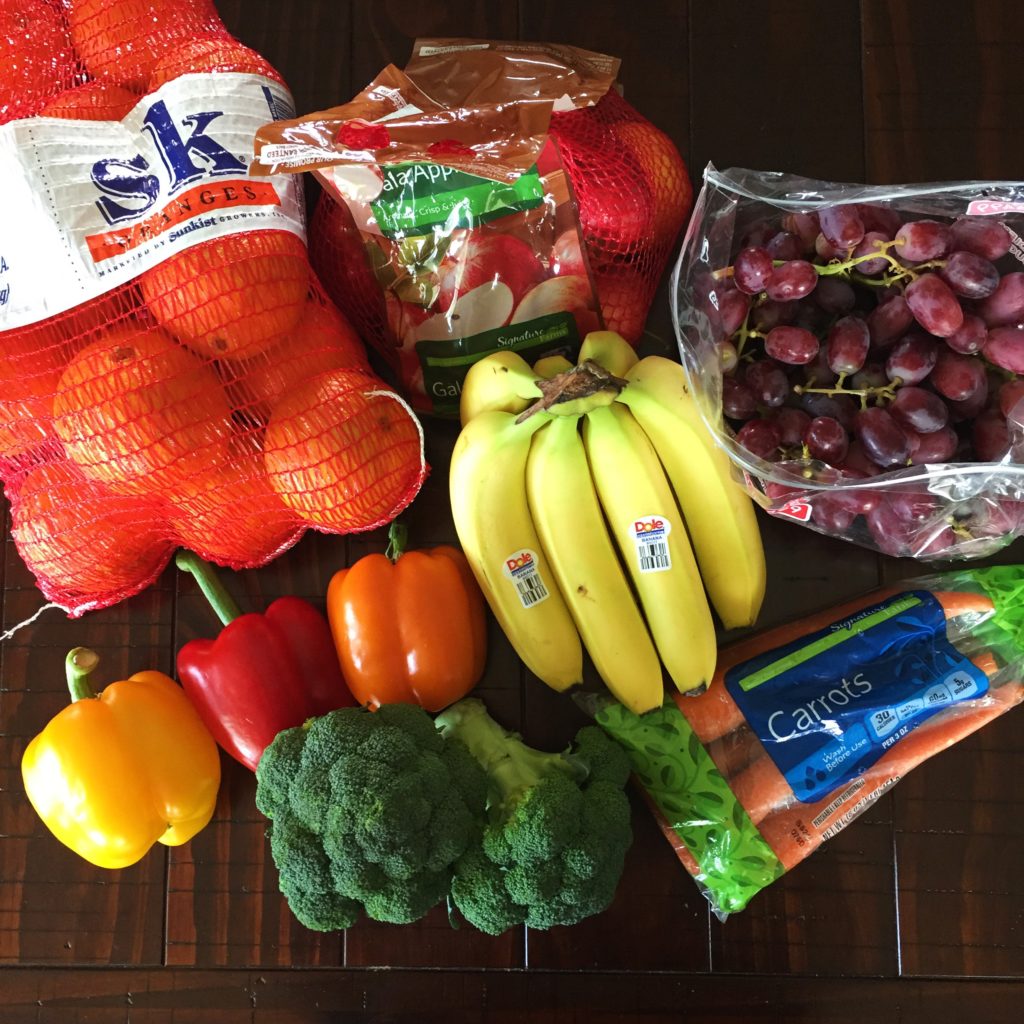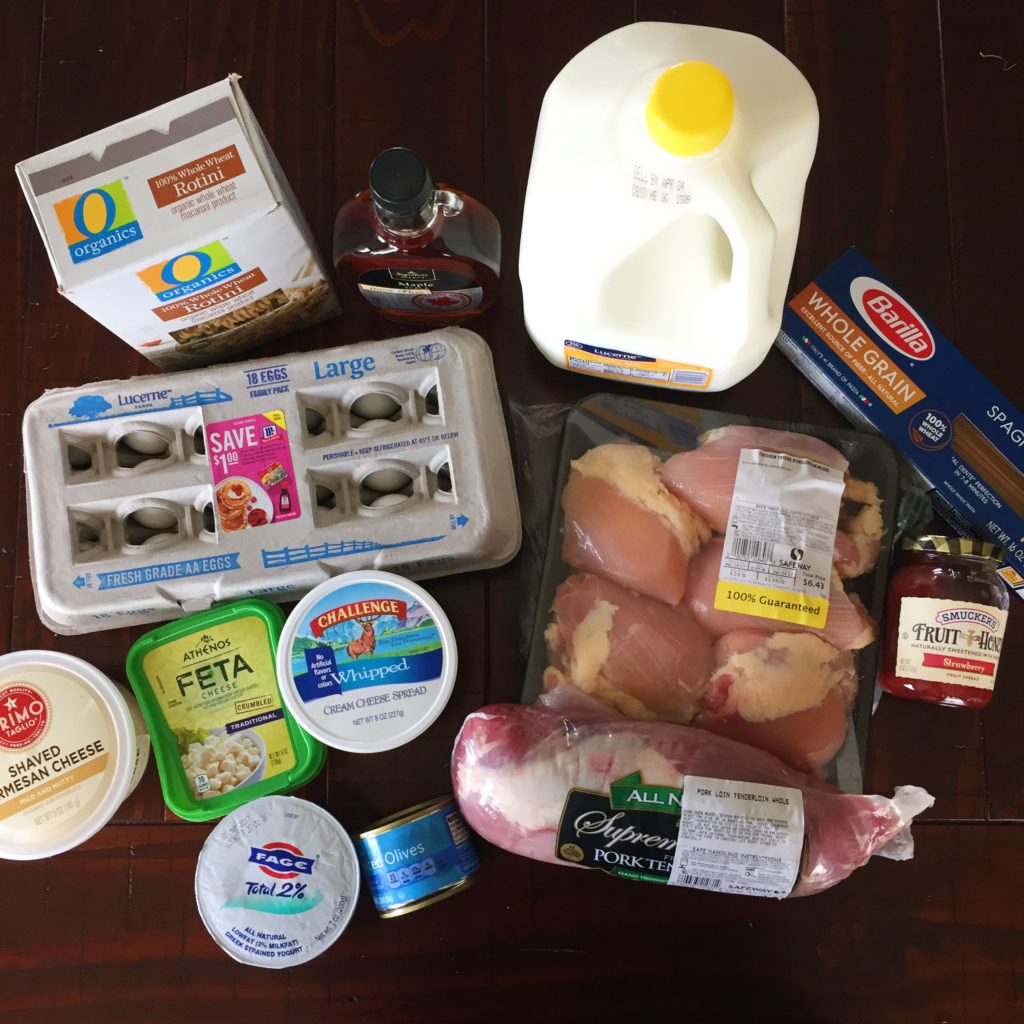 oranges, apples, grapes, bananas, broccoli, carrots and bell peppers
eggs, boneless skinless chicken thighs and pork tenderloin
1% milk and 2% Greek yogurt
Parmesan cheese, whipped cream cheese and crumbled feta
whole wheat rotini and whole wheat spaghetti
black olives, maple syrup and strawberry jam
Meal Prep Ideas: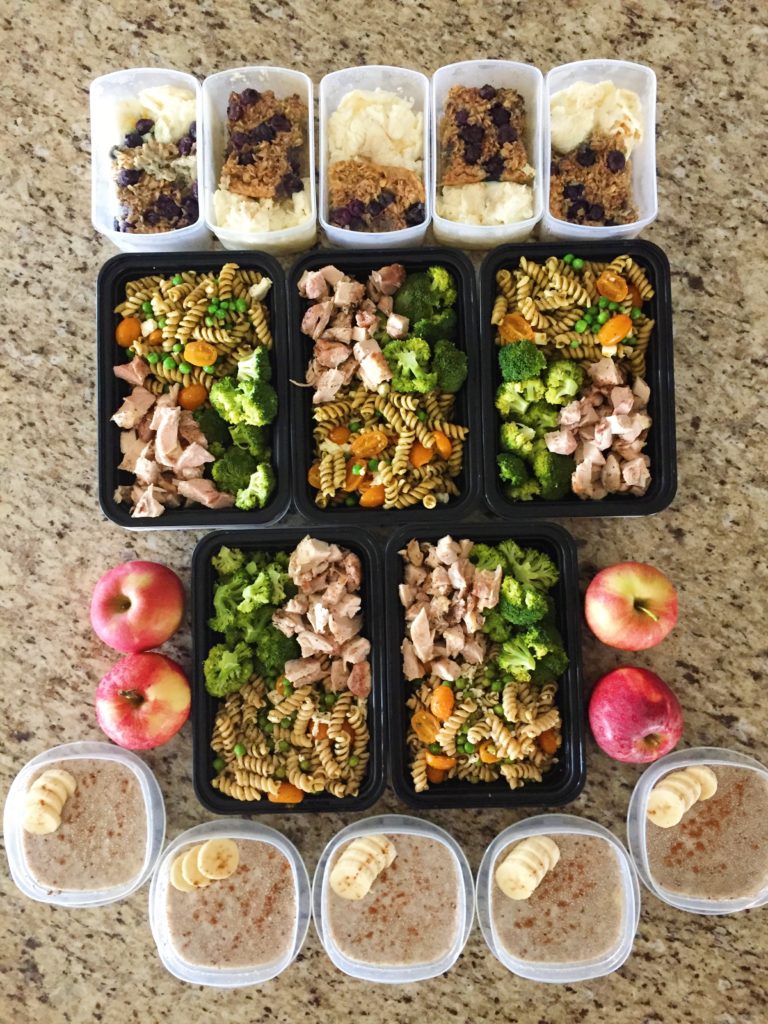 Meal prep this week was spread throughout Saturday and Sunday. I wanted to go golfing on Sunday, but I had some other things to do too so I made a few things Saturday afternoon.
I started by making protein chia pudding. It has been a while since I've made chia pudding and it is SO easy. I mixed 3/4 cup unsweetened almond milk with 1 scoop vanilla protein. Then I stirred in 3 Tbsp chia seeds. I did this four more times (each in an individual container) then put the containers in the refrigerator. As the chia absorbs the milk it gelatinizes and makes it pudding-like. Once it was set I added a few slices of banana.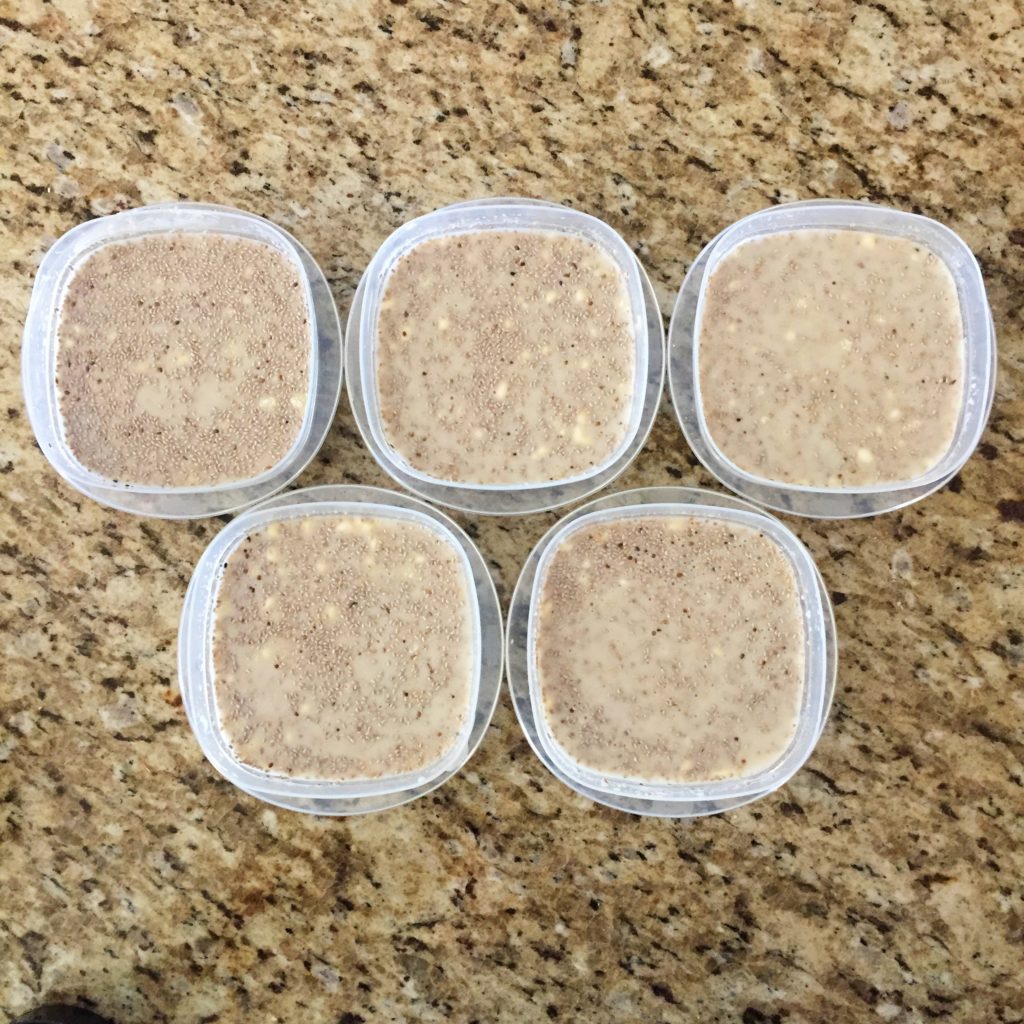 Next, I boiled water to cook pasta. My sister brought pasta salad for lunch one day last week and it made me want some! I made two different types, one pesto and one with Italian dressing.
Once the pasta was cooked I added halved cherry tomatoes, green peas and feta. I put two servings on pasta in one mixing bowl and three in another. Then I added three tablespoons of pesto to the bowl with three servings and stirred it until the pesto was well distributed.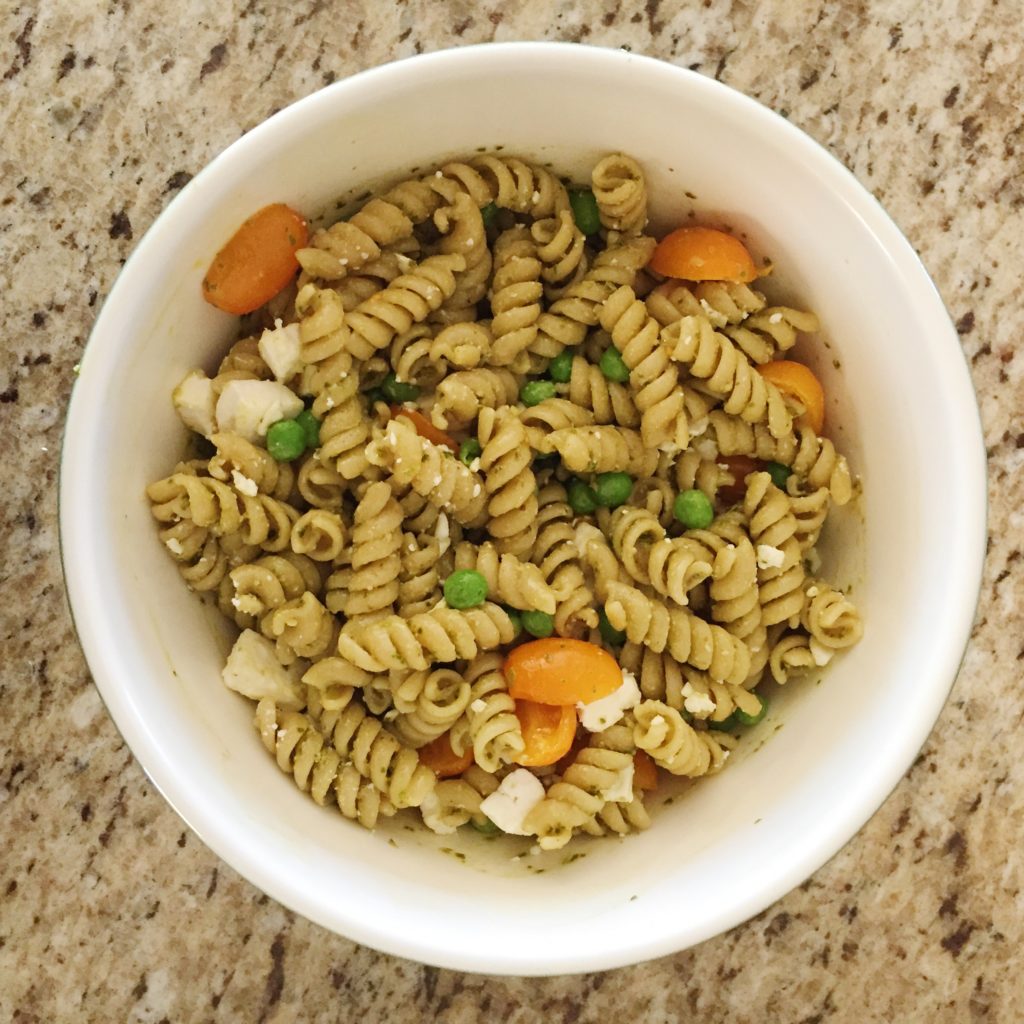 After the pesto pasta salad was ready I made an Italian dressing to put on the other pasta salad. I mixed 4 Tbsp extra-virgin olive oil, 2 Tbsp red wine vinegar, 1 Tbsp Italian seasoning and a little salt and pepper to a small bowl.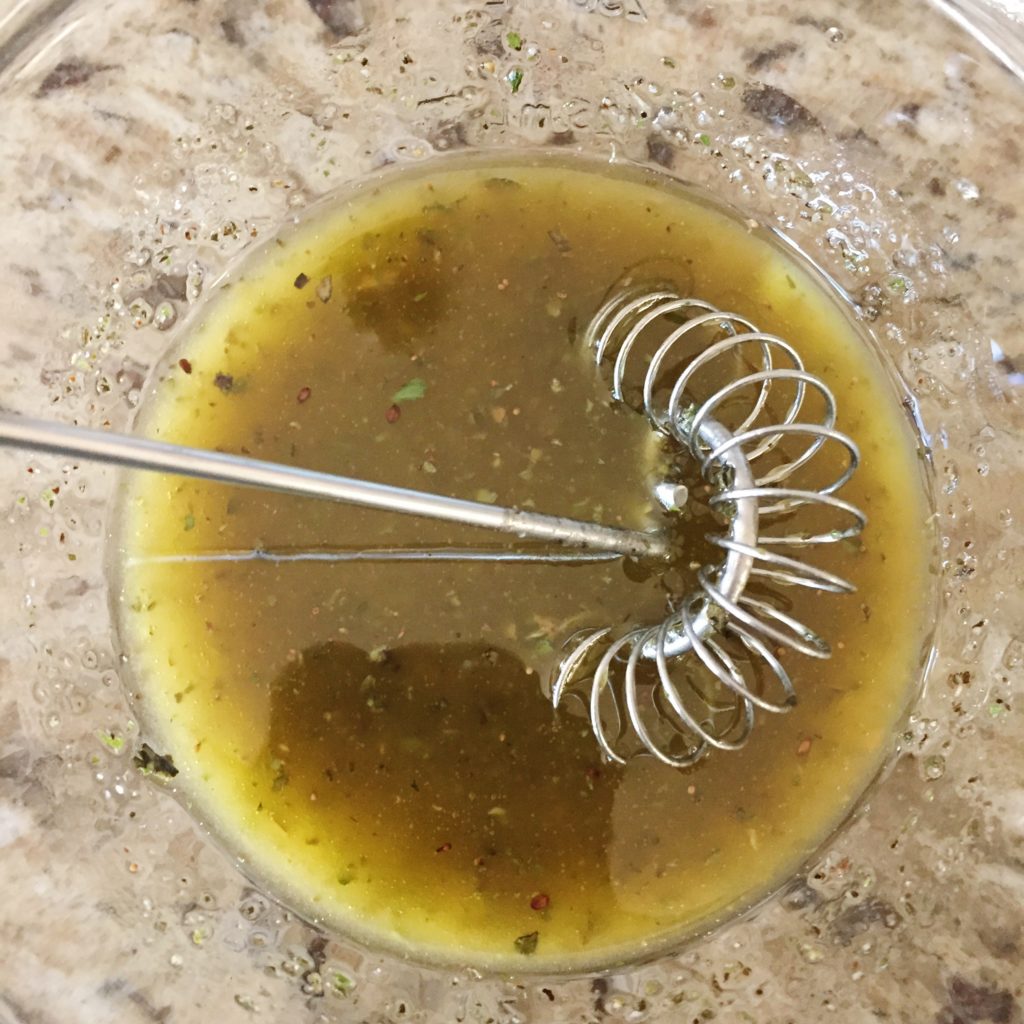 I whisked that mixture until the oil and vinegar were well combined and drizzled some on the pasta. If you don't use all the dressing then save it to add later. The pasta salad sometimes soaks up that dressing so you might need a touch more before eating.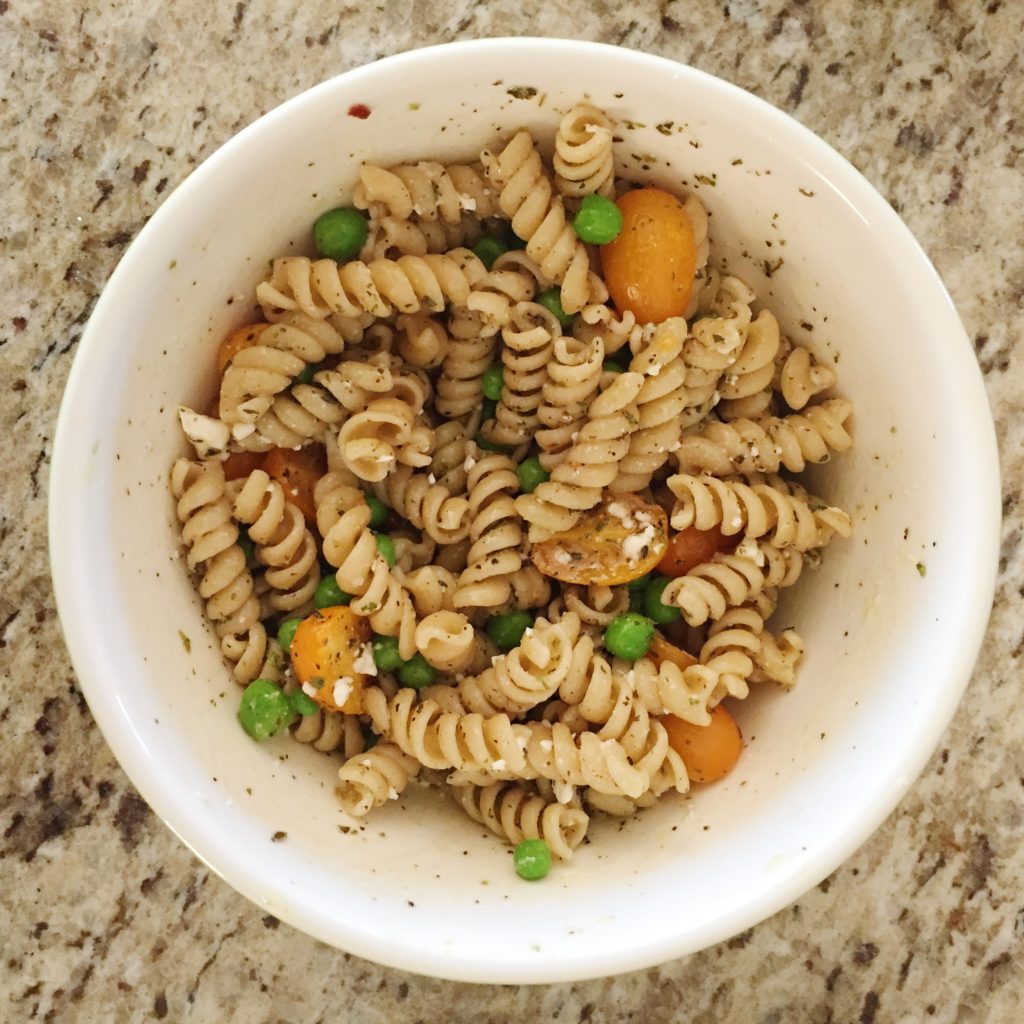 The last thing I did on Saturday was make blueberry baked oatmeal. Here are the ingredients:
2 cup rolled oats
1 tsp baking powder
1/2 tsp salt
1/2 tsp cinnamon
2 cups unsweetened almond milk
1 egg + 1 egg white
1 tsp vanilla extract
3 Tbsp maple syrup
1 1/4 cup blueberries ( I used frozen, but fresh would work too)
I mixed all of those ingredients together, poured it into a glass baking dish (sprayed with non-stick cooking spray) and baked for 45 minutes at 350°. It turned out great!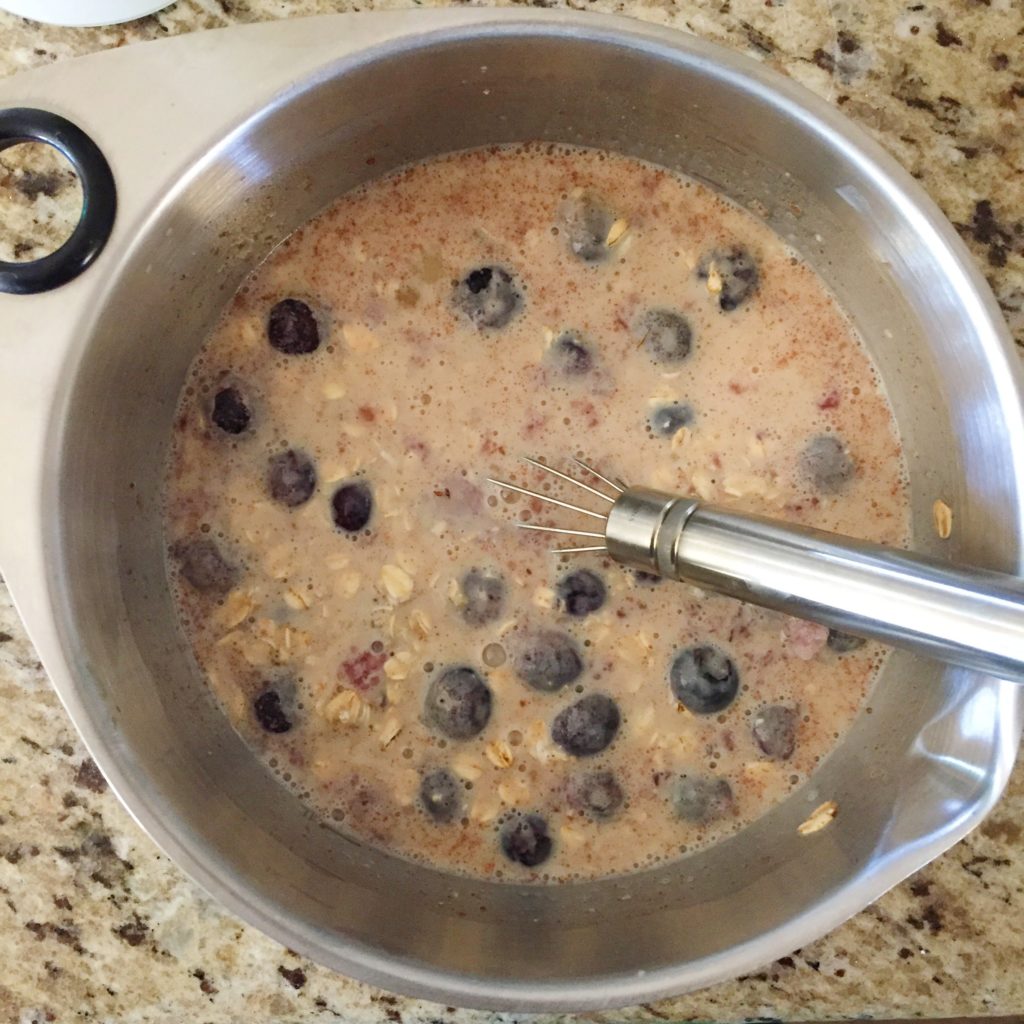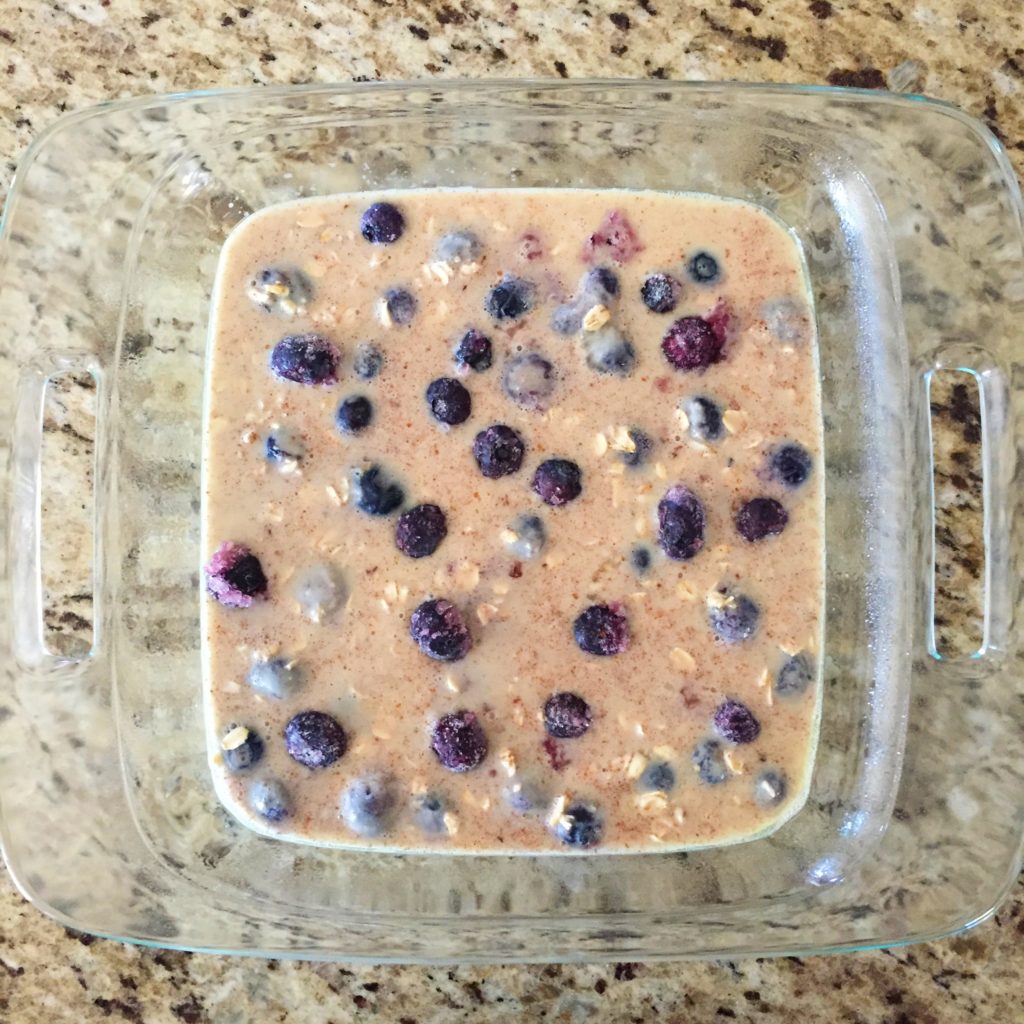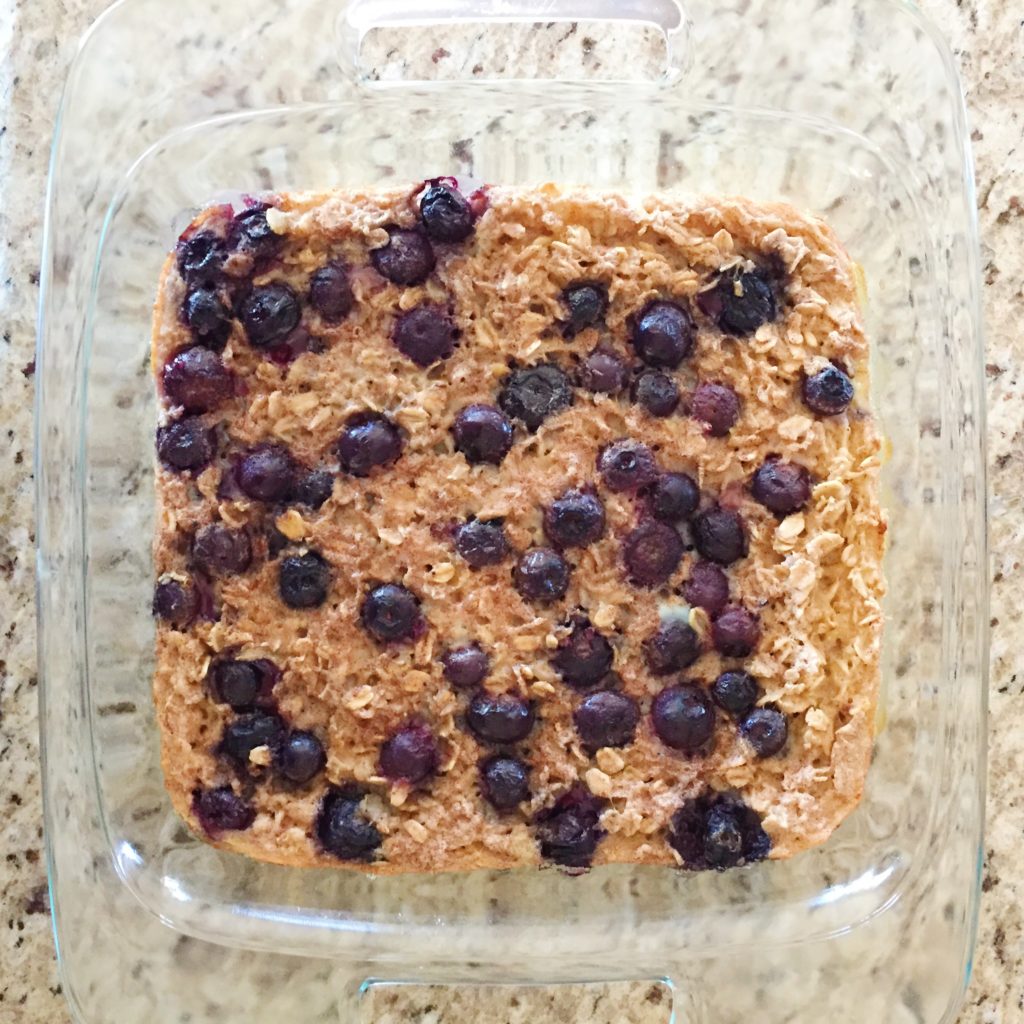 As the oatmeal was baking I cooked 3 scrambled egg whites for each day of the week for a little protein to accompany the oats.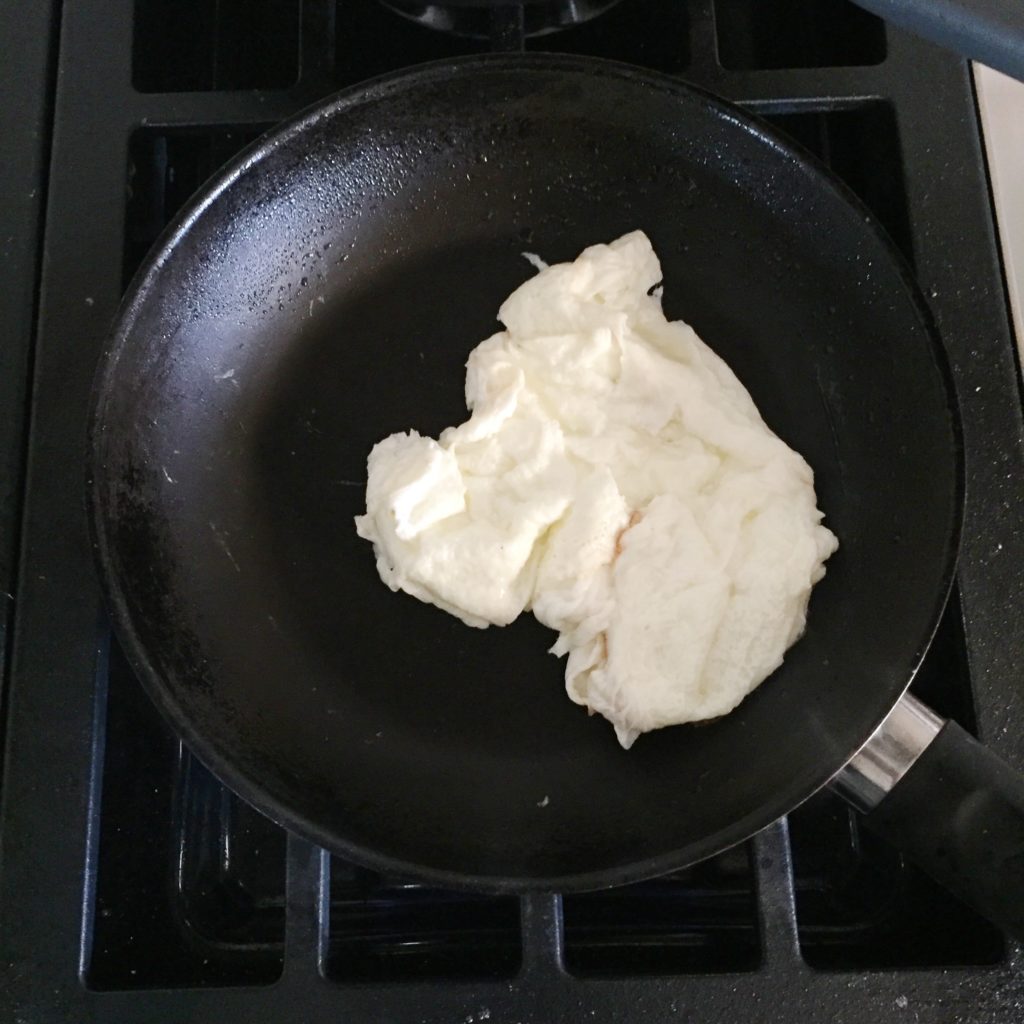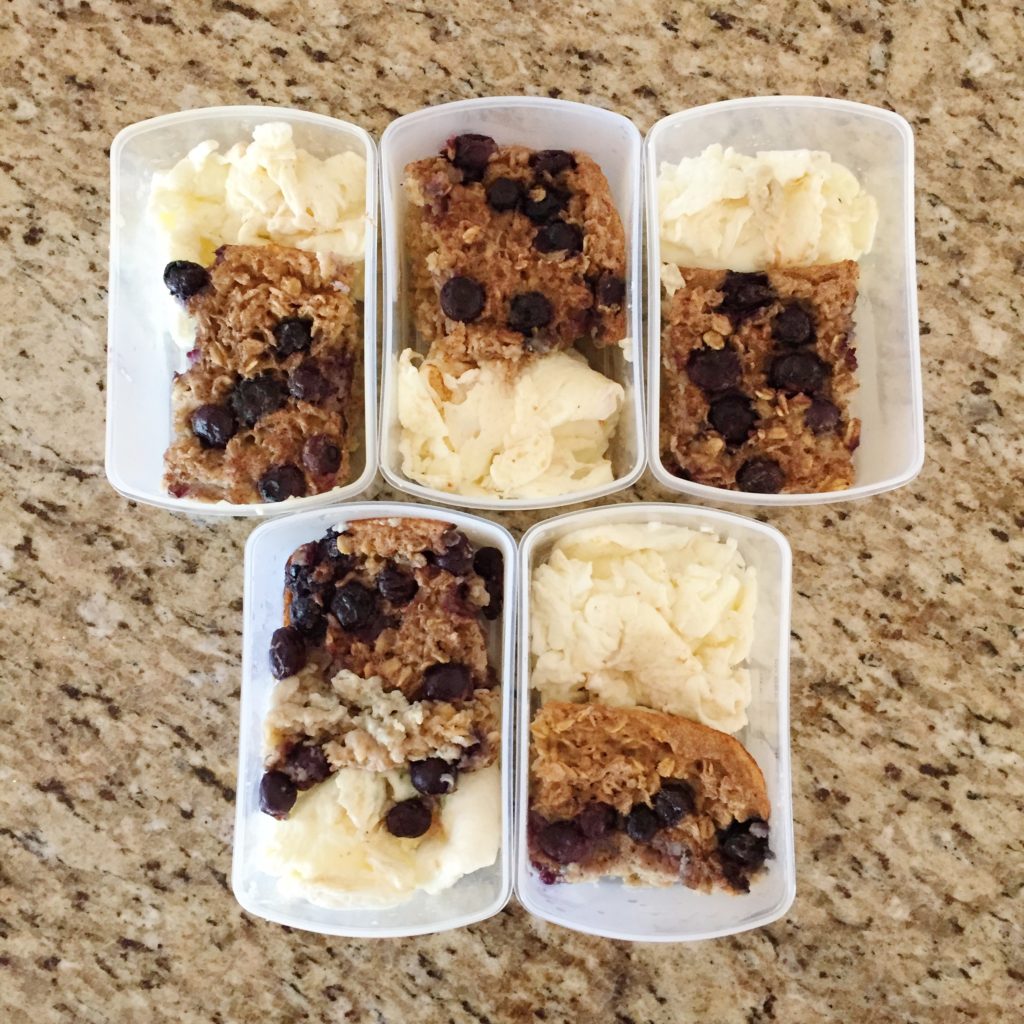 On Sunday I made chicken and broccoli. I roasted the boneless, skinless chicken thighs at 350° for 20 minutes. Before cooking I sprinkled each side with salt and pepper, then placed them on a foil-lined baking sheet. Easy peasy!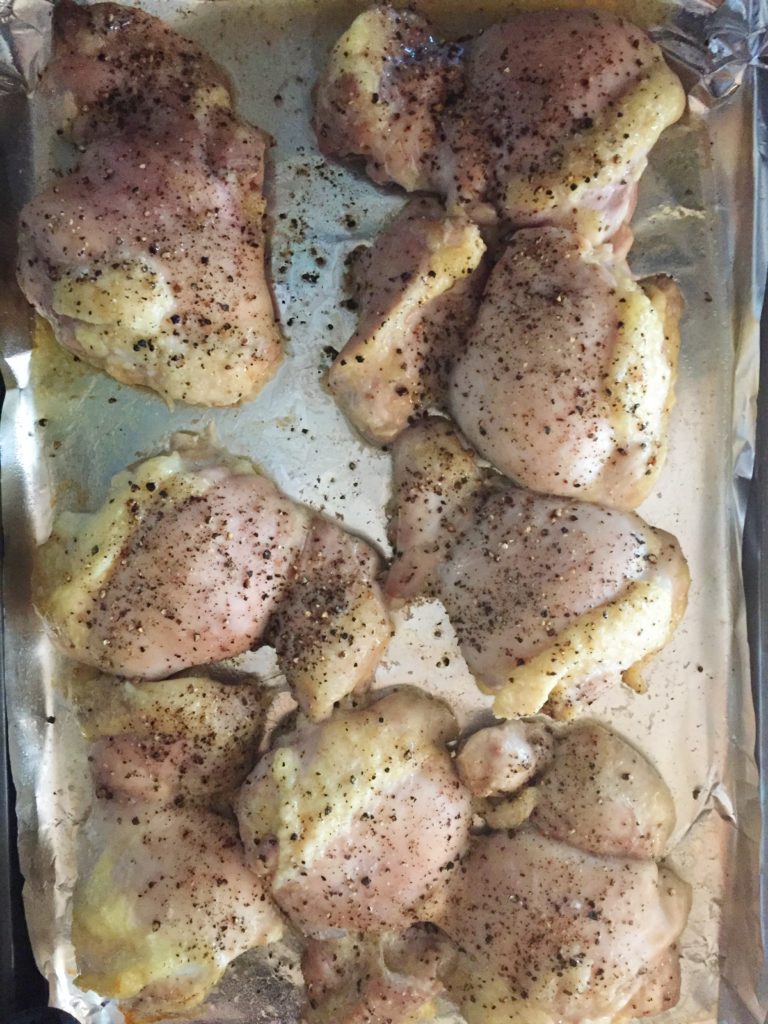 When we remodeled our kitchen we put in a wall oven, but also a wall steam oven! It is one of my favorite additions. I steamed some broccoli for 17 minutes and it turned out perfect. You could steam broccoli in the microwave or I also love blanching broccoli! Check out an easy way to cook it with How to Prepare Blanched Broccoli.
Well those were all the meal prep ideas I have for this week! After everything was cooked, I added the pasta salad to a container, plus 4oz cooked chicken and 75g cooked broccoli. Easy, yet healthy lunches for the entire week.
If you have any questions about these meal prep ideas then please ask! Email me at eatliftplayrepeat@gmail.com or comment below.