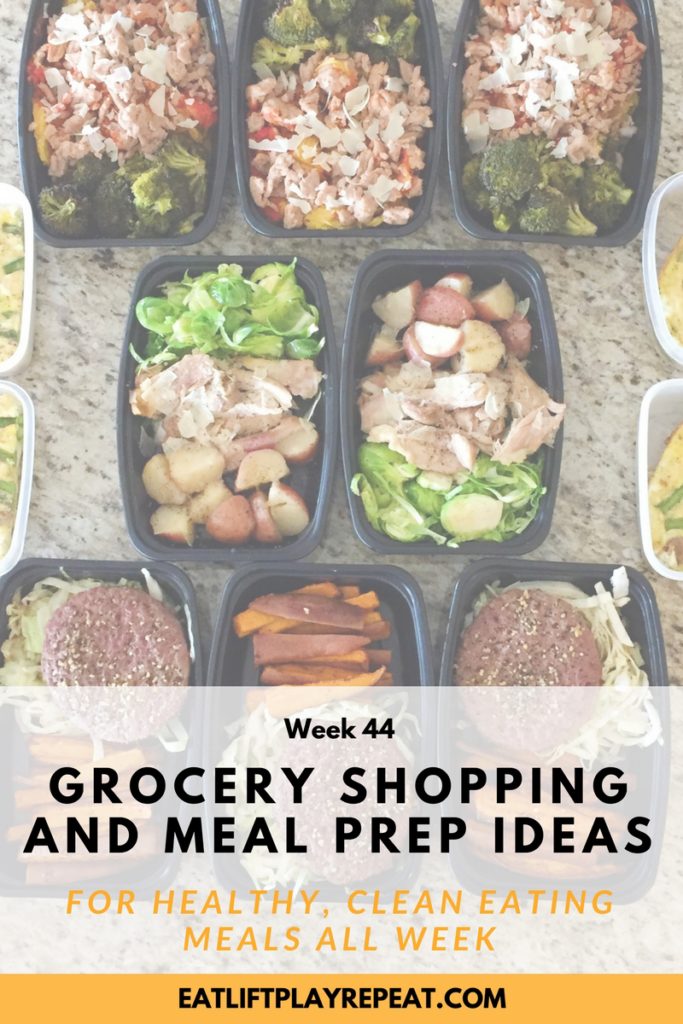 Meal prep this week took about four hours, from start to finish, but I did take some time in there to make some healthy blueberry muffins for my sister! My healthy meals this week involve a variety of protein and also a variety of vegetables!
One of my favorite meal prep ideas is to use a slow cooker. It is pretty much hands-off so you can prepare the rest of your food while the slow cooker works its magic! I actually made a recipe I found online and it was awesome!
If you have any questions about my meal prep ideas this week then please reach out. Email me any questions at eatliftplayrepeat@gmail.com or comment below. Don't forget to check out Week 11 of the 12 Week Meal Prep Series which was all about using slow cookers during meal prep!
Here are the healthy foods I bought at the grocery store and how I used those to make healthy, clean eating meals for the entire week.
Grocery Shopping: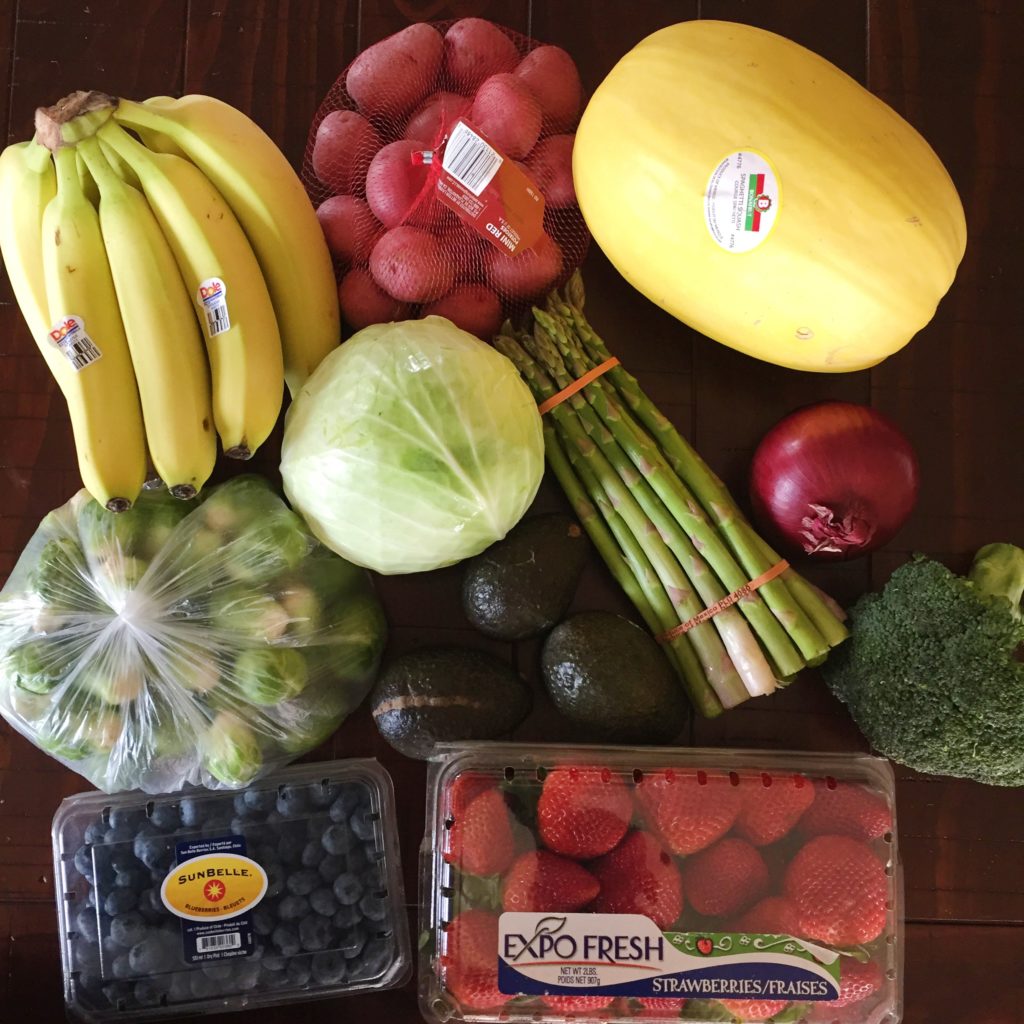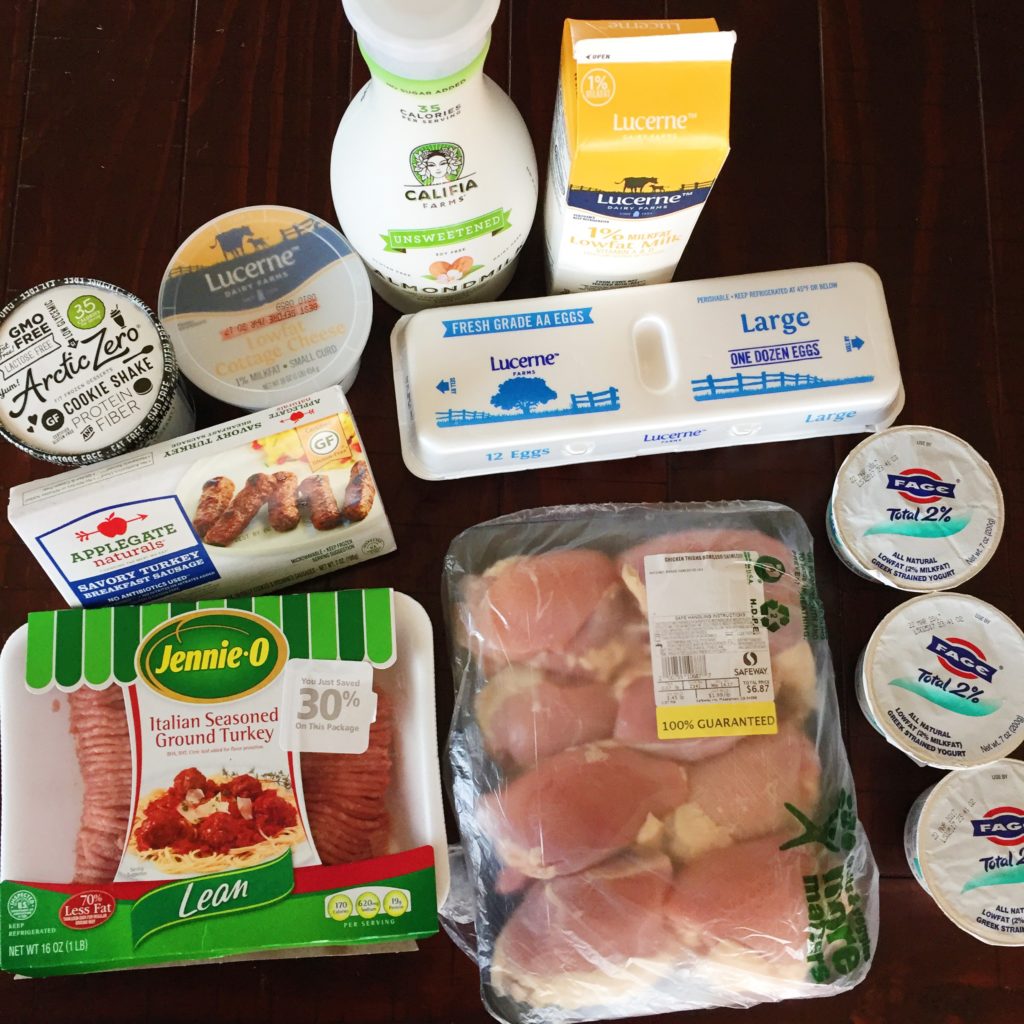 Brussels sprouts, broccoli, asparagus, spaghetti squash, red potatoes, green cabbage and red onion
bananas, avocado, blueberries and strawberries
Thomas 100% Whole Wheat English muffins and Dave's Killer Powerseed Bread
turkey breakfast sausage links, lean Italian-seasoned ground turkey and boneless, skinless chicken thighs
eggs, 2% Greek yogurt, 1% cottage cheese, unsweetened almond milk, 1% milk and Artic Zero Frozen Dessert (Cooke Shake flavor)
Meal Prep Ideas: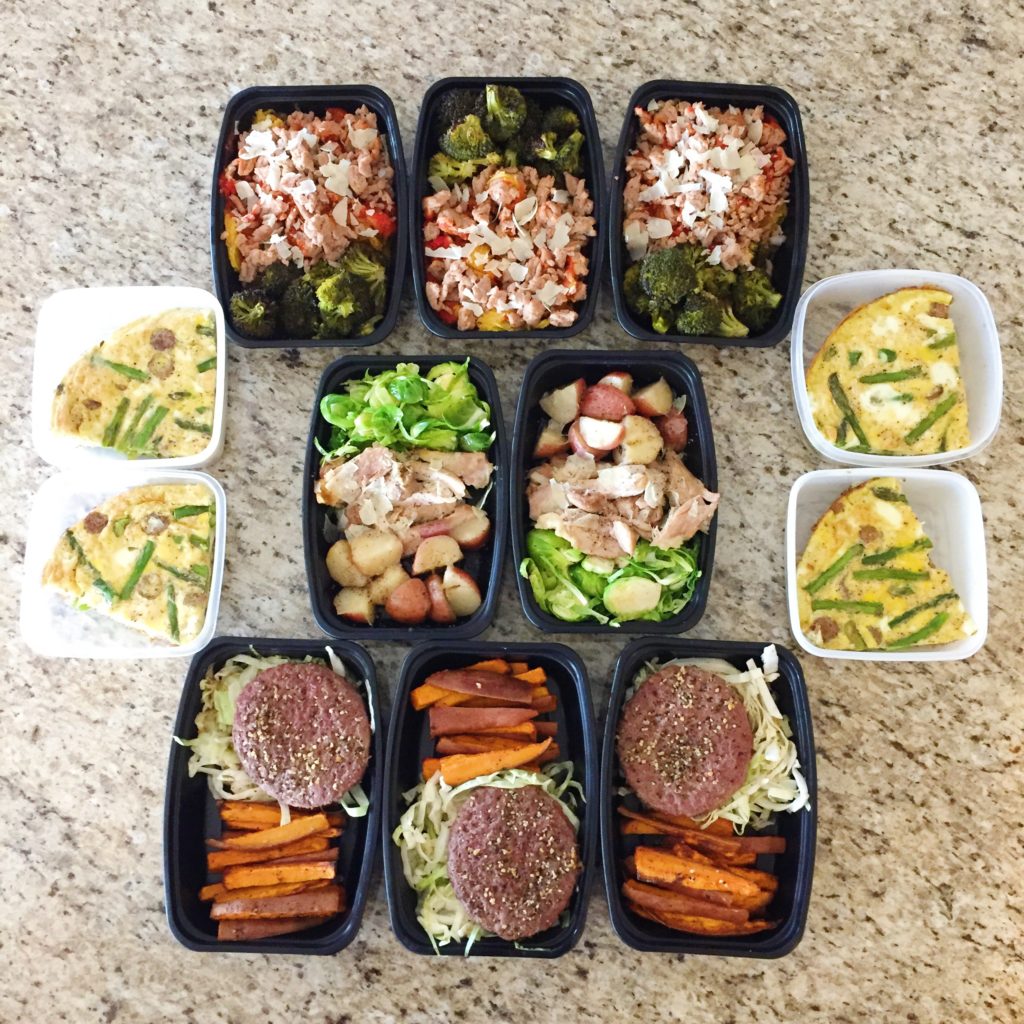 The 12 Week Meal Prep Series this week focuses on using your slow cooker to help you meal prep! I decided to make a recipe that I found online that looked awesome.
Do you ever watch Delish videos? They are the same type of video as those produced by Tasty, Cooking Panda, etc. Holy addicting, but they make everything look so easy!
Well honestly, this recipe WAS as easy as the video looked. It is on Delish.com and it is Slow Cooker Garlic-Parmesan Chicken. I followed the recipe pretty close, but I used a lot less oil and I used boneless chicken thighs rather than bone-in. Everything still turned out great! Check out the video if you have a chance. I cooked mine on high for about 4 hours.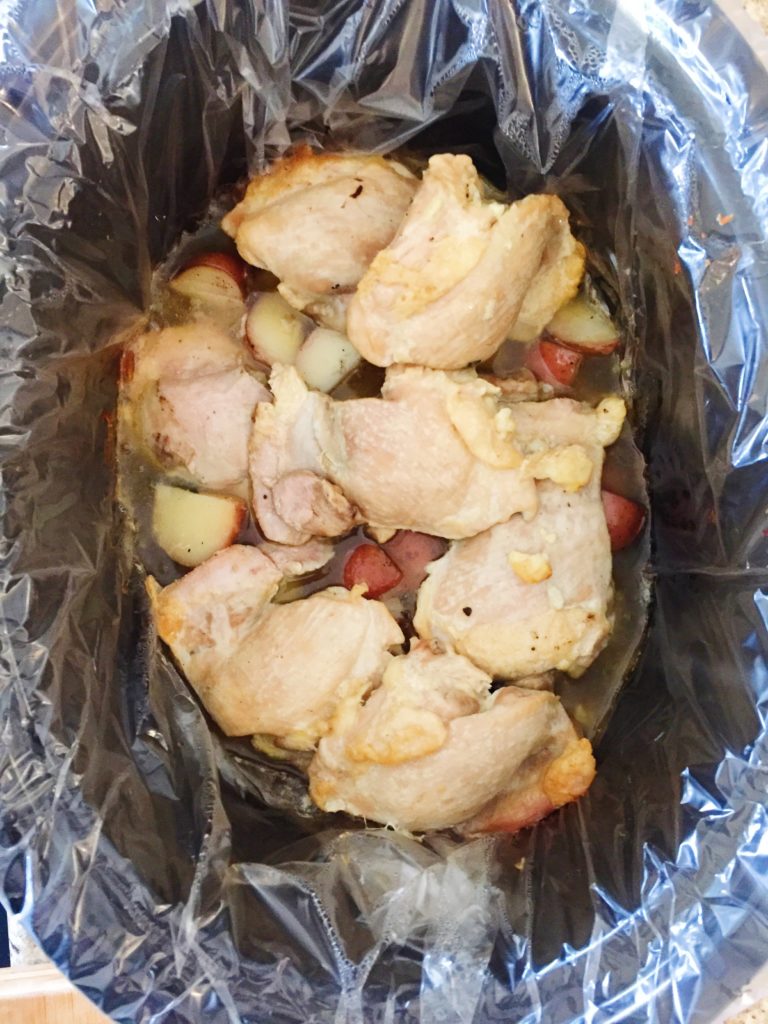 While the slow cooker was doing it's thing, I made sweet potato fries. I cut three medium sweet potatoes into fry-sized pieces, then put them in a bowl and drizzled 1 Tbsp extra-virgin olive oil on them.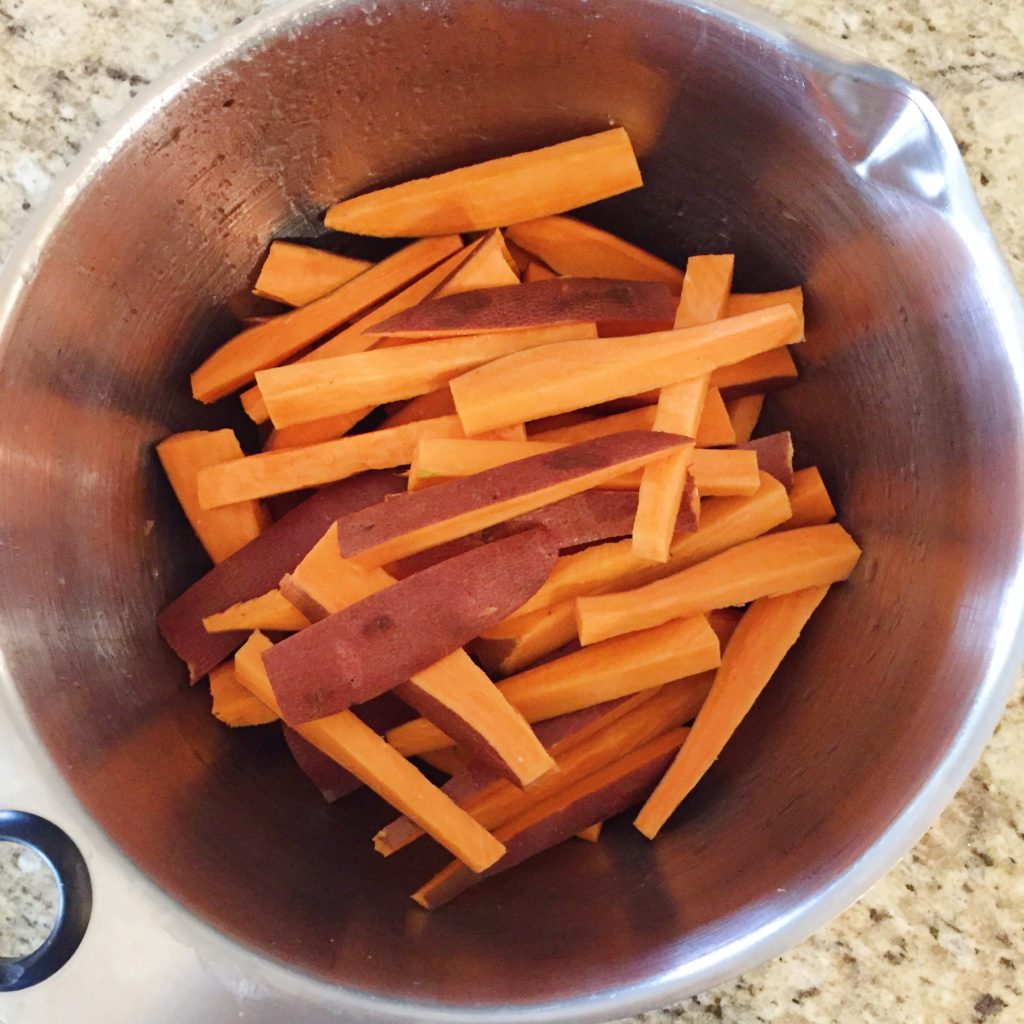 I sprinkled them with salt and pepper and baked them at 400° for 35 minutes.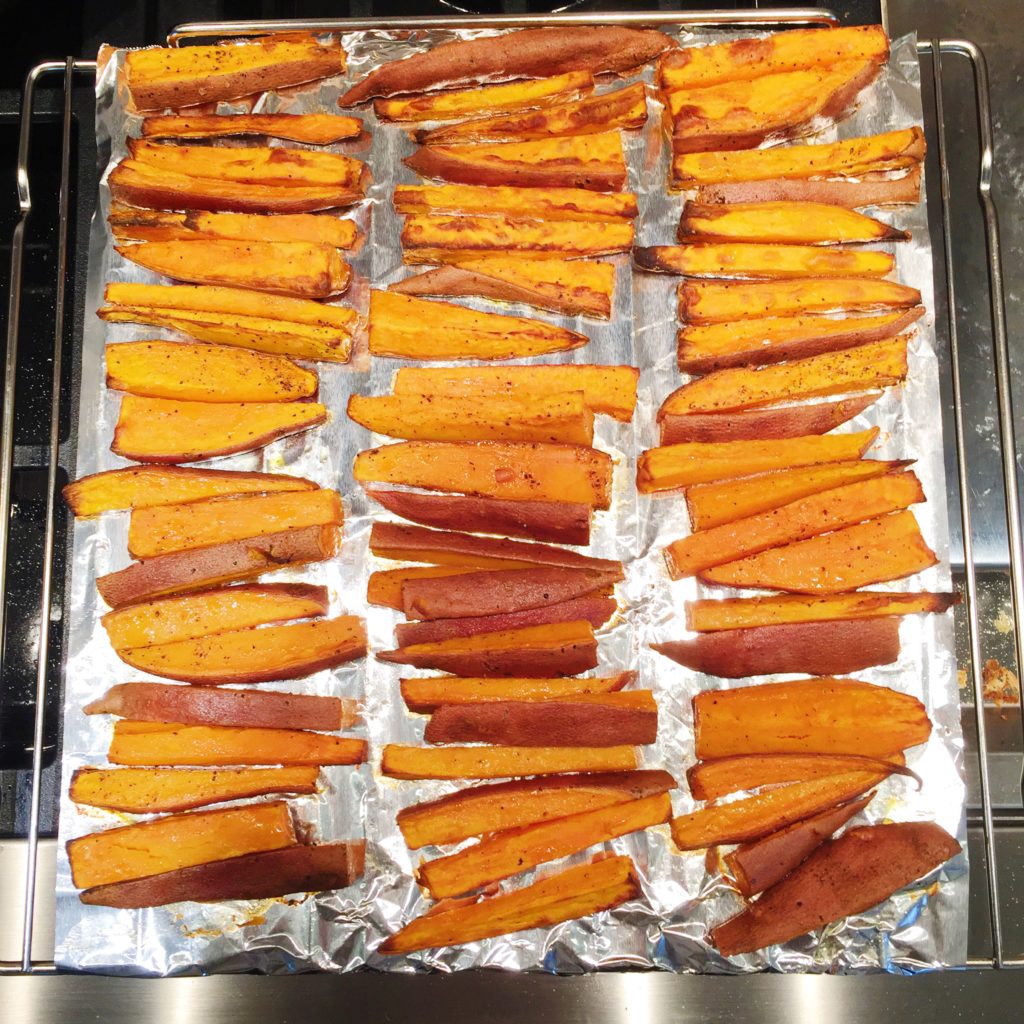 As the sweet potatoes were roasting I prepared the other vegetables. I cut the spaghetti squash in half lengthwise, scooped out the stringy pulp on the inside and placed it cut-side down on foil-lined baking sheet. Then, I roasted the spaghetti squash at 400° for 1 hour.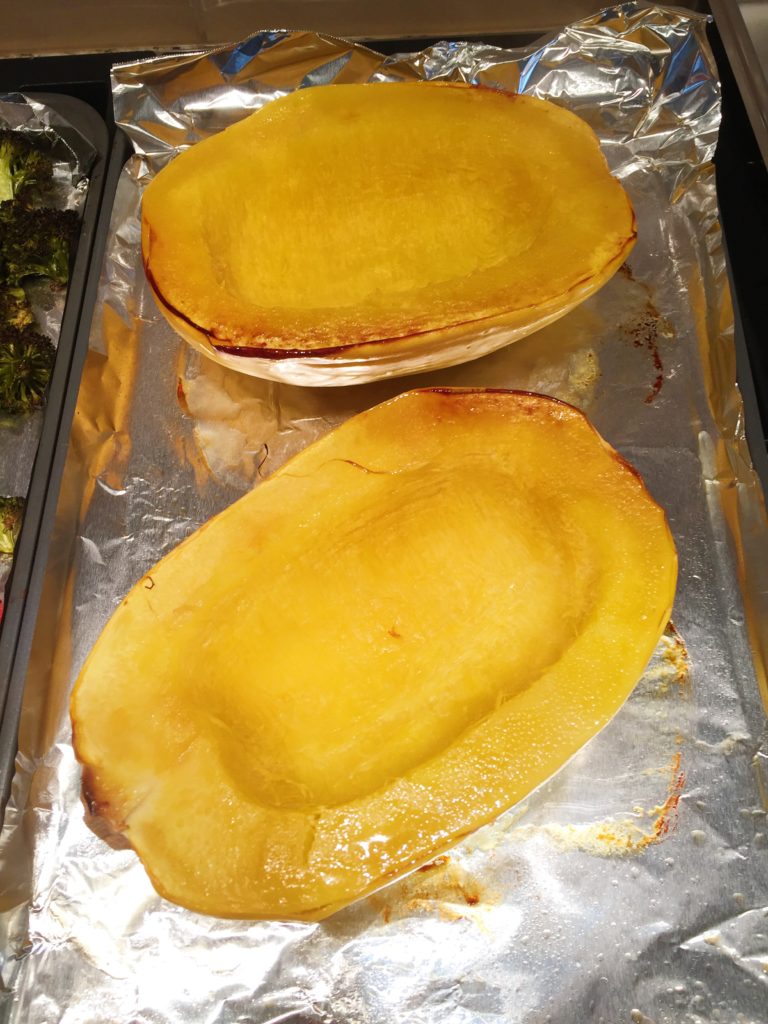 Honestly, I think one full hour was a little long. In hindsight, I should have cooked it for 45 minutes and then started checking it. For a full tutorial about roasting spaghetti squash see How to Cook Spaghetti Squash.
As the spaghetti squash was cooking, I also roasted broccoli, carrots and bell peppers. The oven was already heated to 400° and I cooked the vegetables for roughly 35 minutes.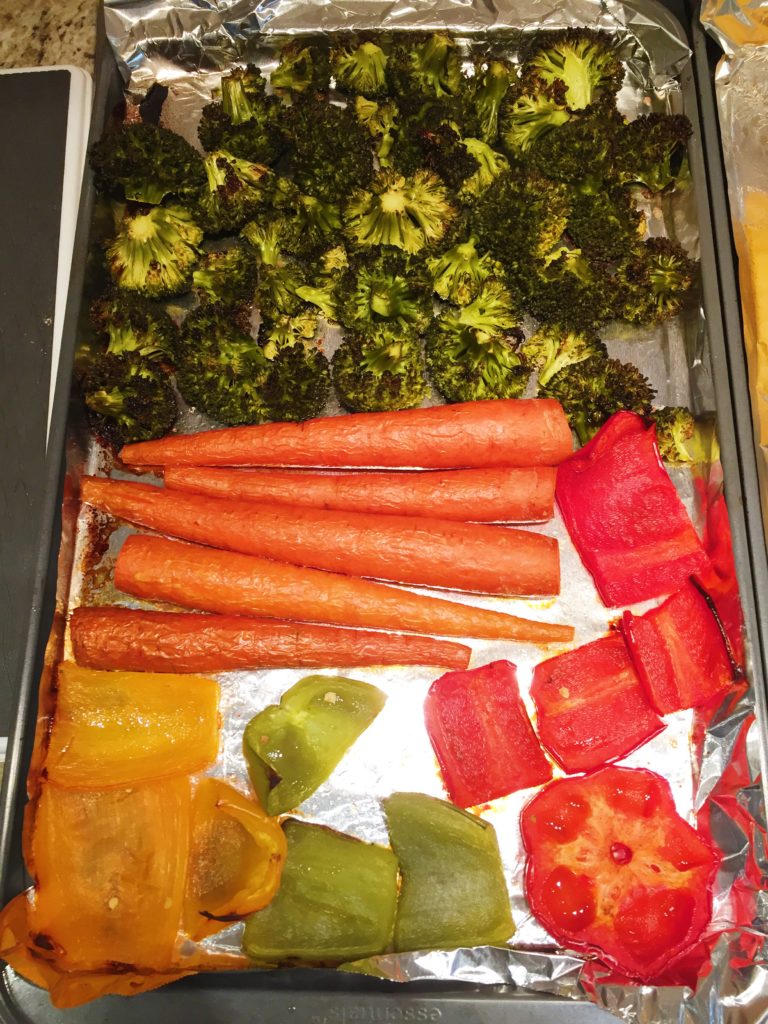 Then I made Brussels sprouts and decided to go with a no-cook version this week. Using a very sharp knife, I shredded the Brussels sprouts then drizzled them with a Weight Watchers Mustard Viniagrette. I found the recipe on Pinterest and it seemed perfect for Brussels sprouts. The dressing helps to break down the Brussels sprouts so they are softer and not quite as bitter. I liked the dressing, plus it was really easy to make!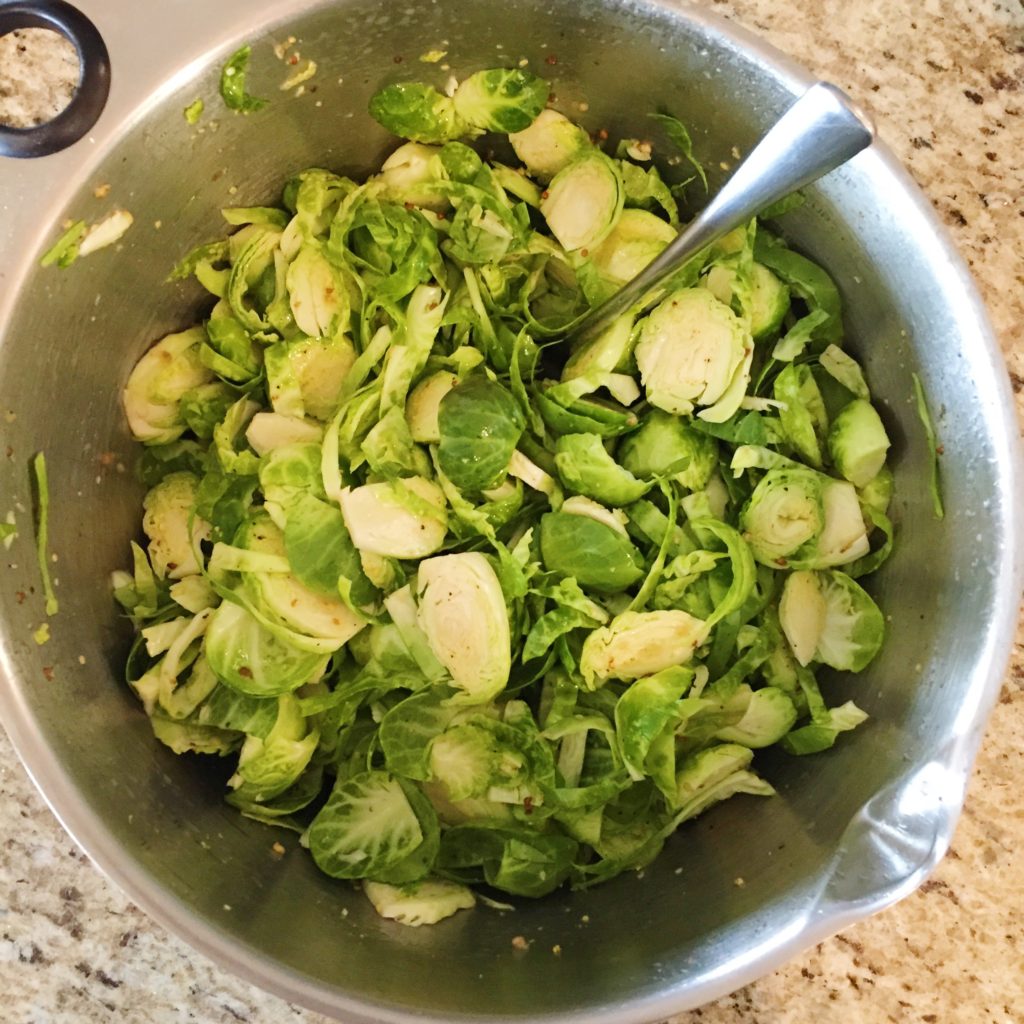 I also cooked a few hamburgers that I bought last week. First, I defrosted the frozen patties in the microwave then cooked them on our griddle at about 375°.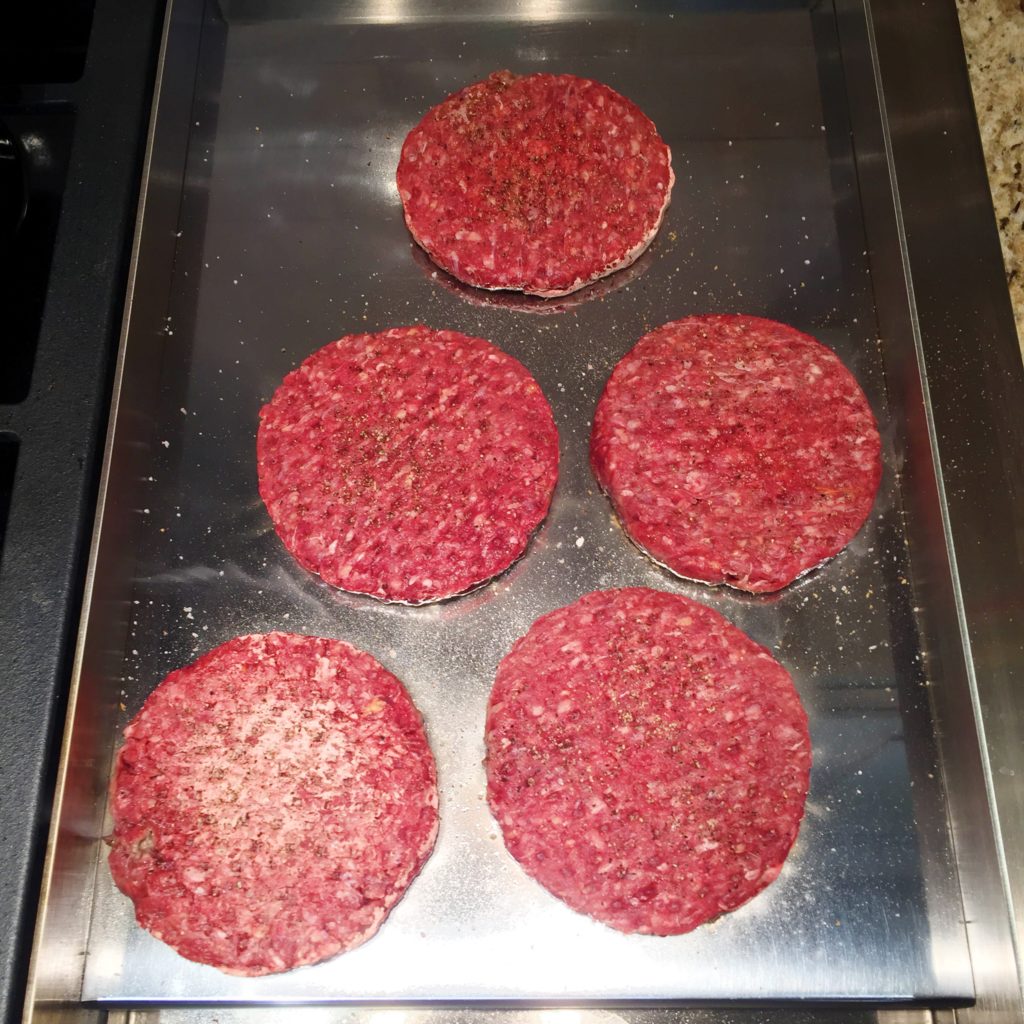 Next, I browned the ground turkey in a medium sauté pan.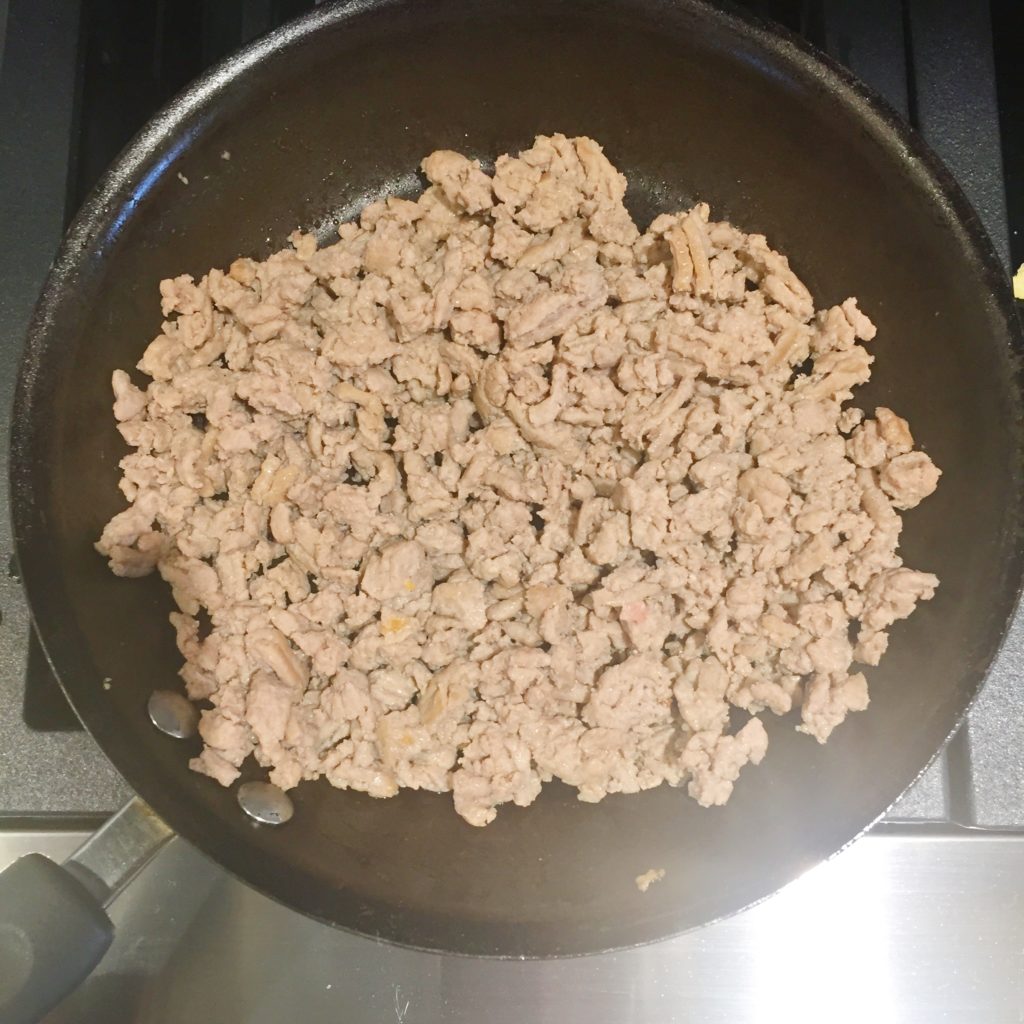 I was craving ground beef and cabbage when I was grocery shopping, but lean ground beef was pretty expensive at the store! Instead, I decided to sauté cabbage alone and eat it with a hamburger. Fairly similar, right?!
Over medium heat, I sautéed shredded cabbage with a touch of extra-virgin olive oil, salt and pepper. This is super easy to do and I LOVE cooked cabbage.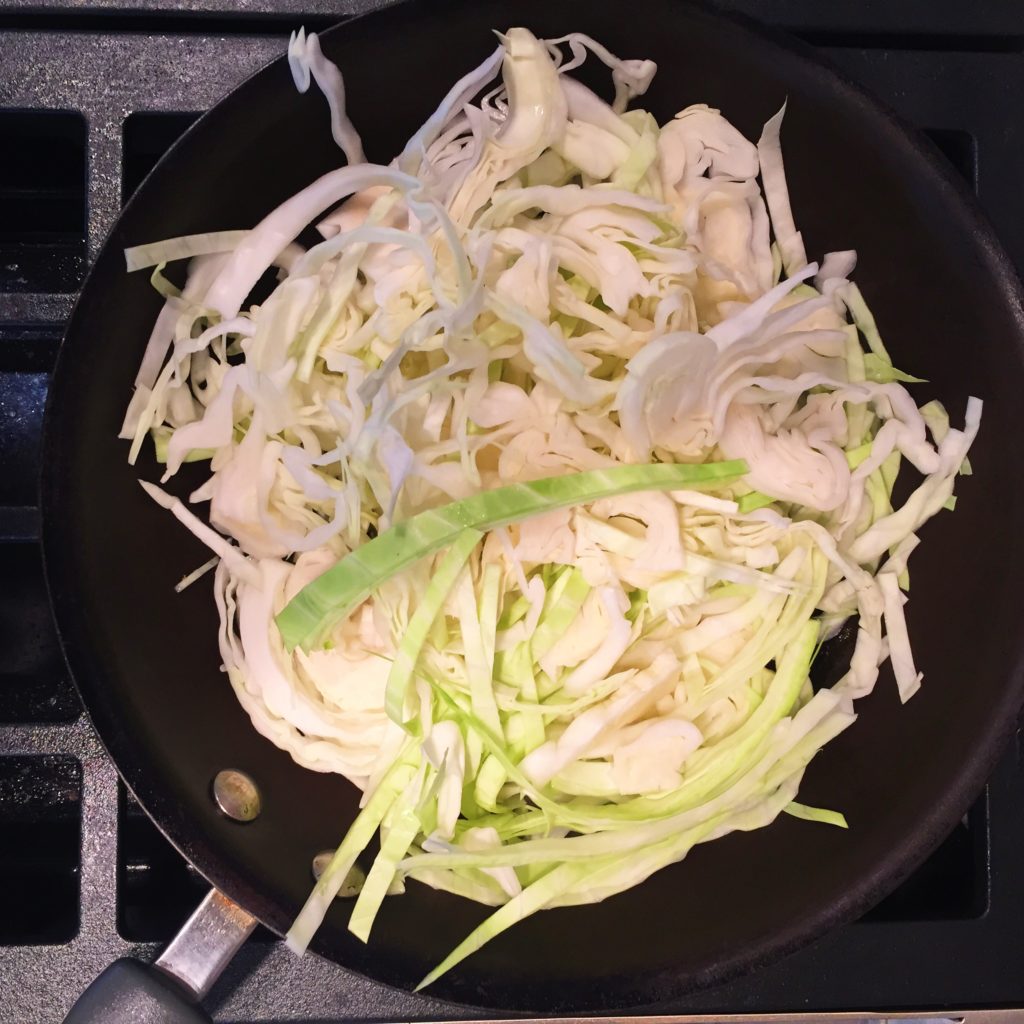 I had a bunch leftover, so I saved it to eat this week for dinner.
Last but not least, I made a sausage-asparagus frittata. First, I heated my large cast iron skillet over medium heat. I added 1/2 Tbsp olive oil to the pan and let it get hot. Then I added the asparagus and let it cooked for about 5-6 minutes. Next, I added the defrosted sausage links (chopped) and it cook a little longer.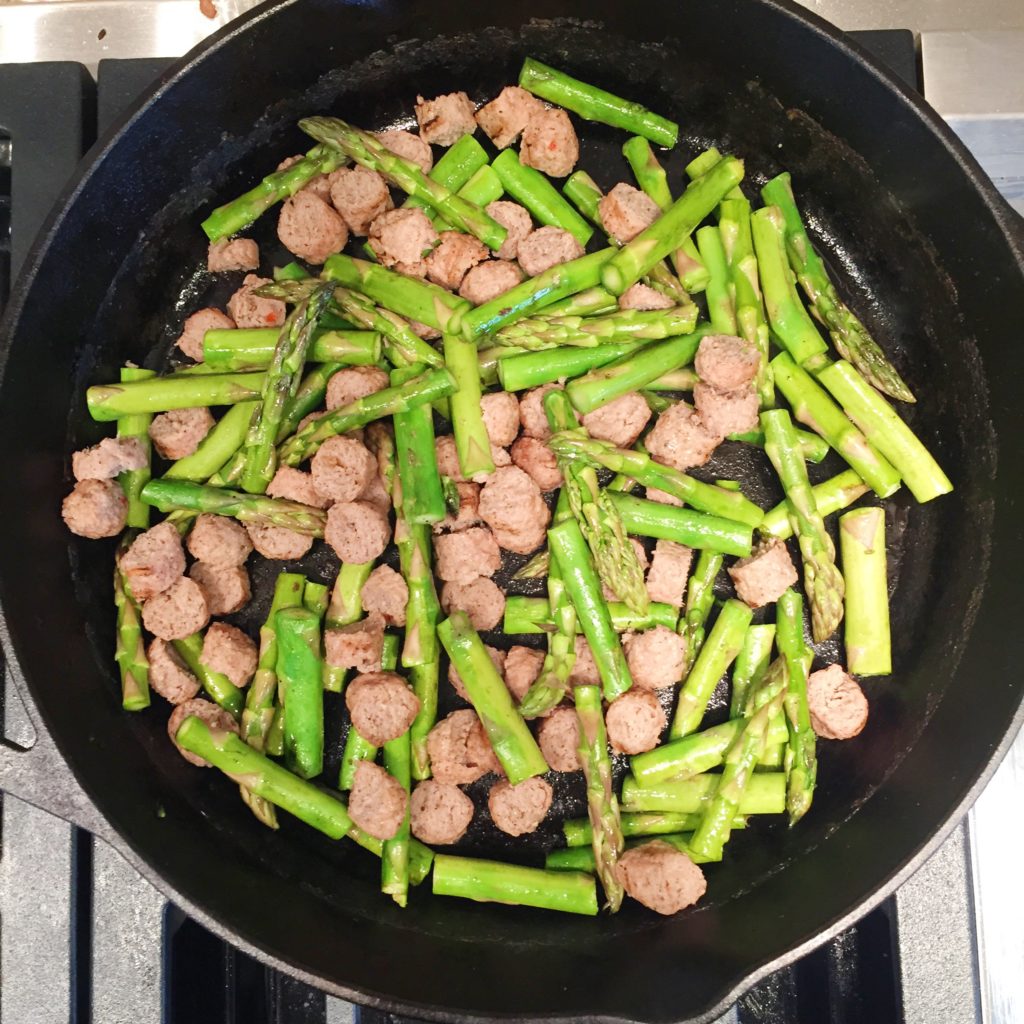 Then I added the egg mixture (10 whole eggs + 9 egg whites + 2 Tbsp milk + S&P) and let it cook until the bottom was just set.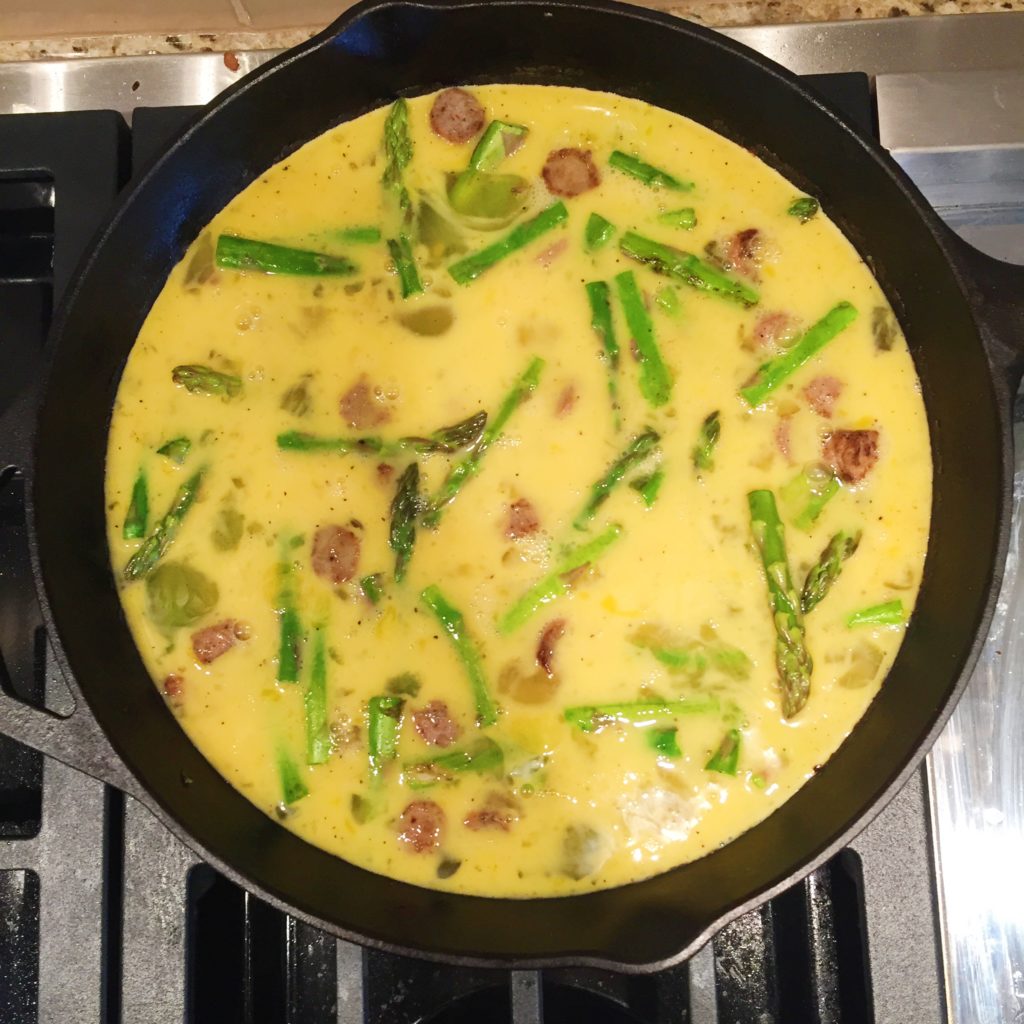 Finally, I added it to the oven and baked it at 350° for 25 minutes. I cut it into five servings to take each day as my mid-morning snack. For a more detailed recipe for a frittata, check out Kale & Red Pepper Frittata. They are much easier to cook than they look!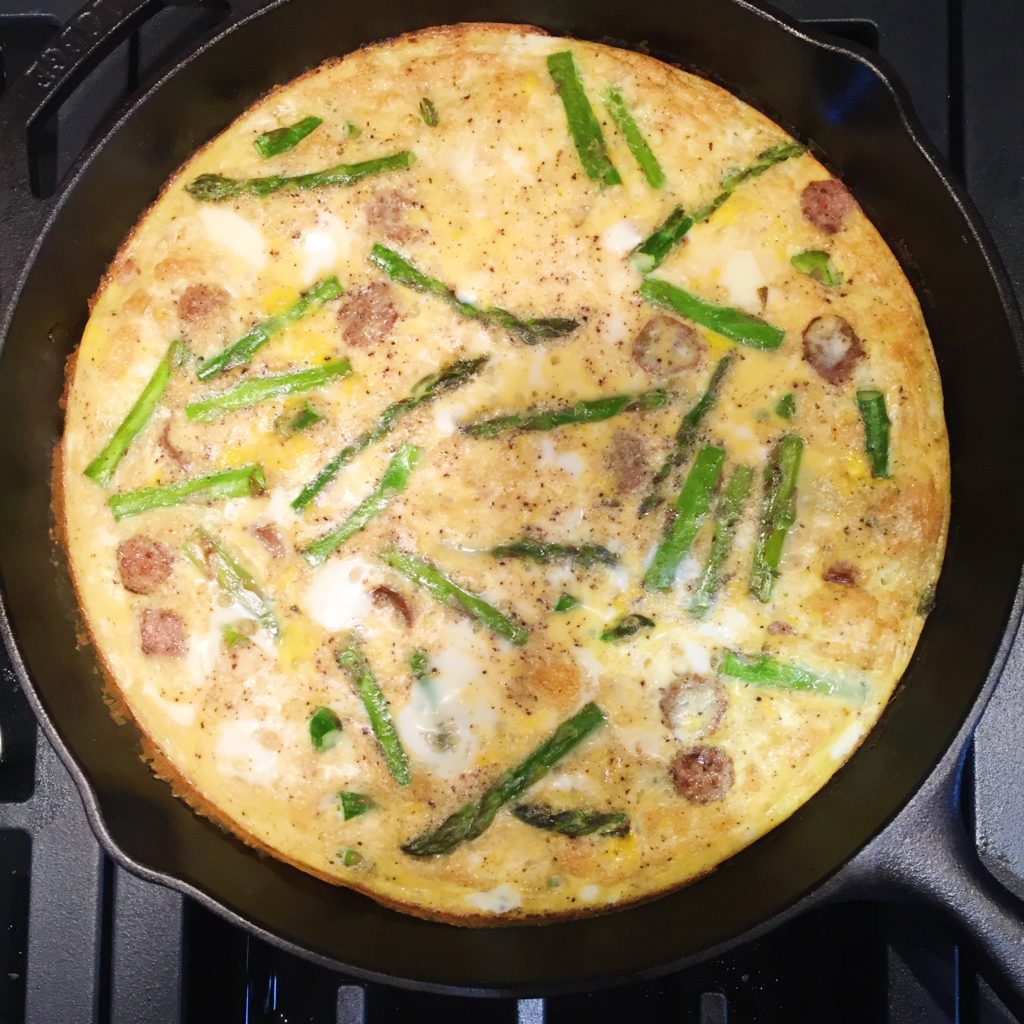 I started putting whole meals together once most of the food was prepared.
I put sweet potato fries, sautéed cabbage and a hamburger together for three meals.
Then I put spaghetti squash, jarred marinara (same as last week), lean ground turkey and broccoli in another three meal containers.
In two other containers I put Crock Pot chicken and potatoes, plus some of the Brussels sprouts.
I divided the frittata into five servings and put into individual containers.
Somewhere in the middle of all the meal prep I made some whole wheat blueberry muffins (the recipe calls for AP flour, but I used whole wheat)! I have really enjoyed baking lately… I always enjoy it, but I hadn't done it in a long time. Apparently I've been making up for it the last few weeks.
Anyway, I was trying to get my sister to bring me Subway for lunch and I bribed her with some muffins! We traded lunch for some muffins…. I like it! I actually used a recipe from Running with Spoons for Blueberry Oat Greek Yogurt Muffins.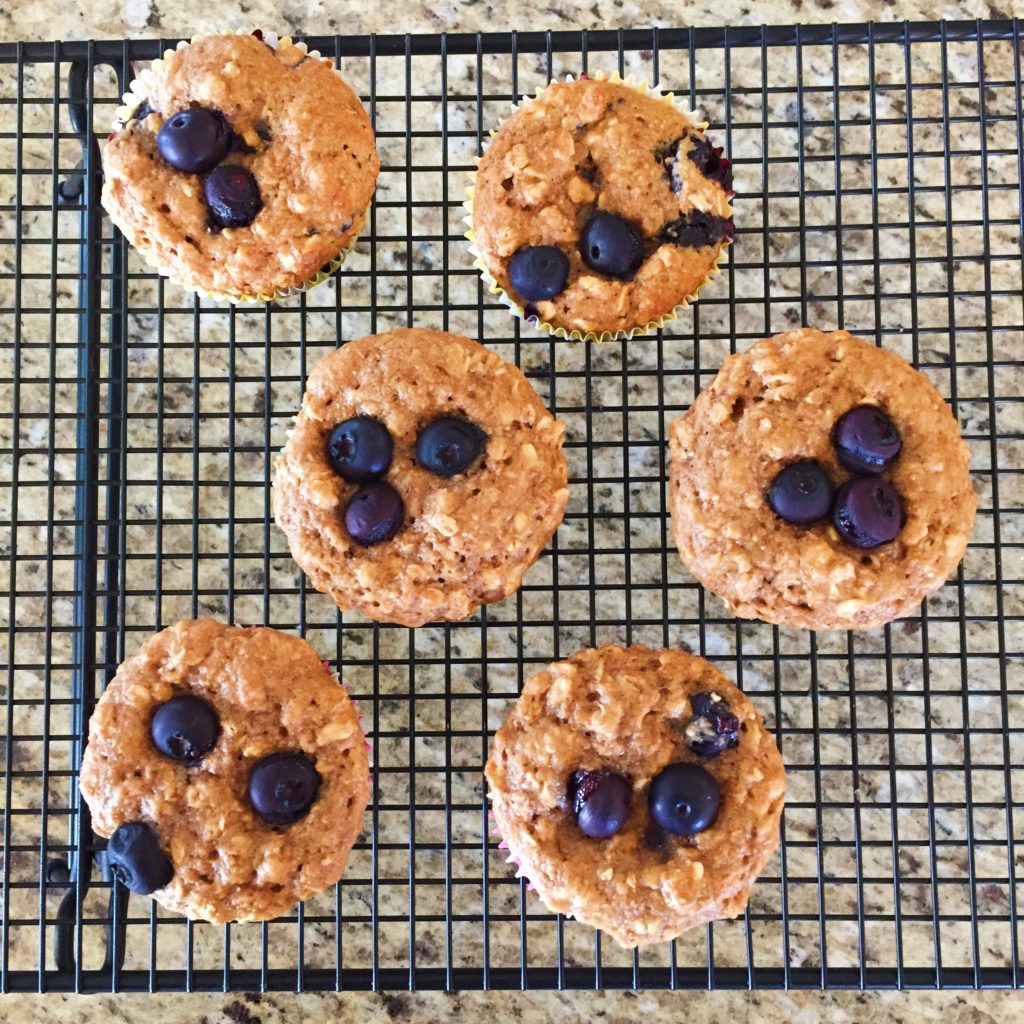 These muffins are made with all clean eating ingredients and according to her calculations they only have 115 calories each. I like it even more!
Well that is everything in terms of grocery shopping and in terms of meal prep ideas for this week! I have two lunch meetings this week, which is rare. I made 8 meals for lunch/mid-afternoon and I have 5 mid-morning meals.
Don't forget to check out Week 11 of the 12 Week Meal Prep Series, which is all about using slow cookers! Sign up below for emails to be sent straight to your inbox including tips, recipes and meal prep ideas. If you have any questions about groceries or meal prep ideas then please email me at eatliftplayrepeat@gmail.com.