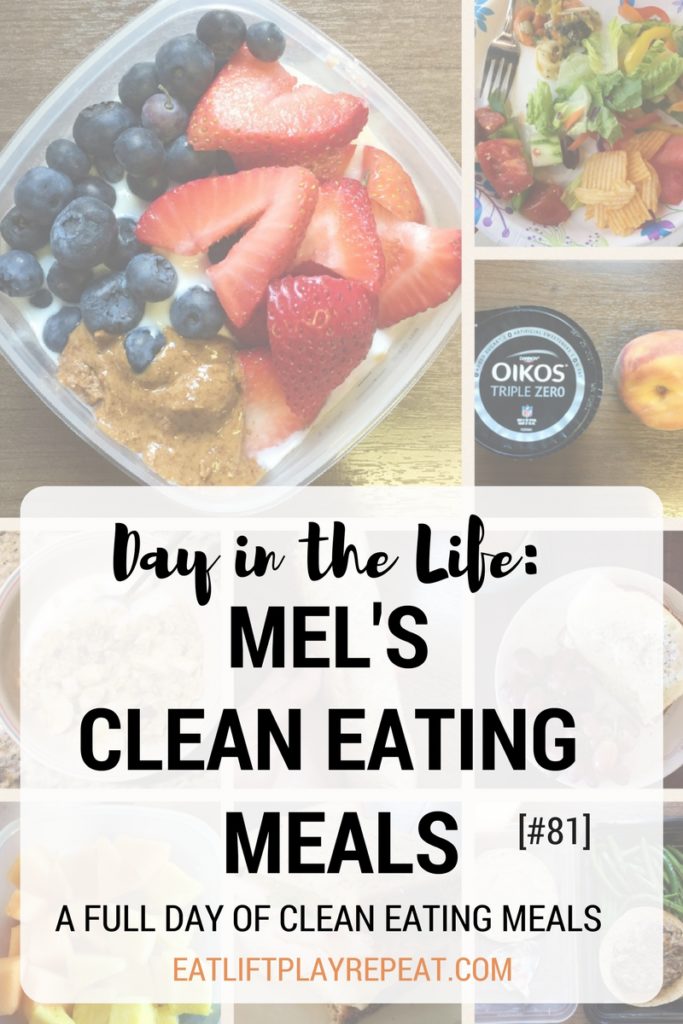 Mel's Clean Eating Meals is more like Mel's Clean Eating SNACKS this week! I felt like I ate all. day. long. Most likely because I did eat all day long.
I'm currently 36 weeks pregnant and this little baby is taking up some belly room! I have been getting heartburn a lot more and my nausea has kicked back up. Honestly, I was not expecting that to happen, but here we are! I can manage it, but it has changed my eating routine.
Small snacks throughout the day sits better on my stomach and I've had a hard time with protein. Eggs and beef are the best protein options for me at this point, because chicken doesn't even sound good sometimes.
Well check out Mel's Clean Eating Meals this week. Do you snack very often? What are your favorite foods to snack on?
4:30am – Pre-Workout:
Per usual, my morning started by drinking a liter of water. By liter, I mean real close to a full liter. At 36 weeks pregnant if I drink too much water at one time then I get sick. I've been trying to get a full liter down, but sometimes I make myself stop.
Along with water I also had a small banana.
6:30am – Breakfast: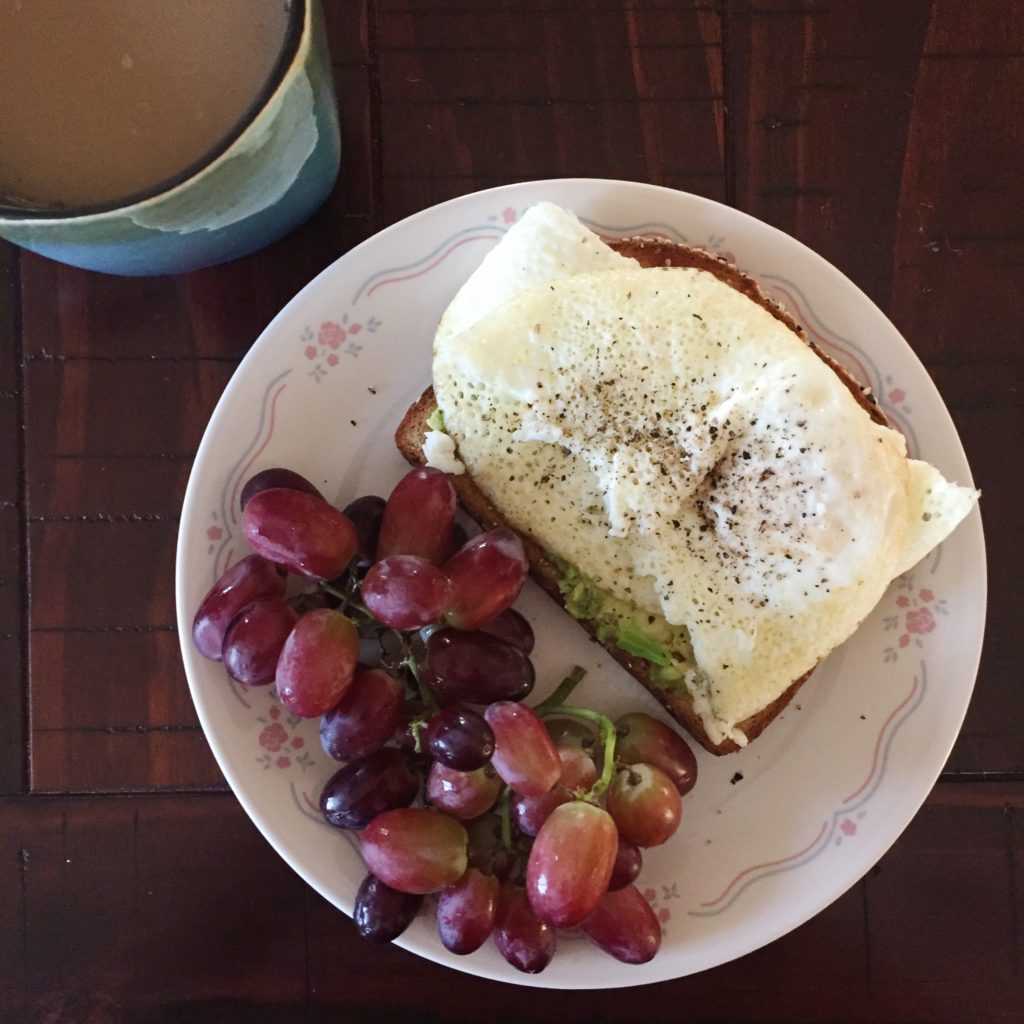 Breakfast was avocado toast topped with one egg + two egg whites. I like my eggs runny, so I cooked it over easy. I also had some red grapes with breakfast.
I am not going to lie, hot coffee has been extremely unappealing to me lately. Iced coffees I can do (usually decaf), but hot coffee didn't even sound good. However, Donny made some over the weekend and I loved it! I tried having it again and it went very well. I'm super stoked! This is half-caf coffee with some 1% milk and a touch of stevia in it. Delicious! I'd missed coffee in the morning.
8:30am – Snack: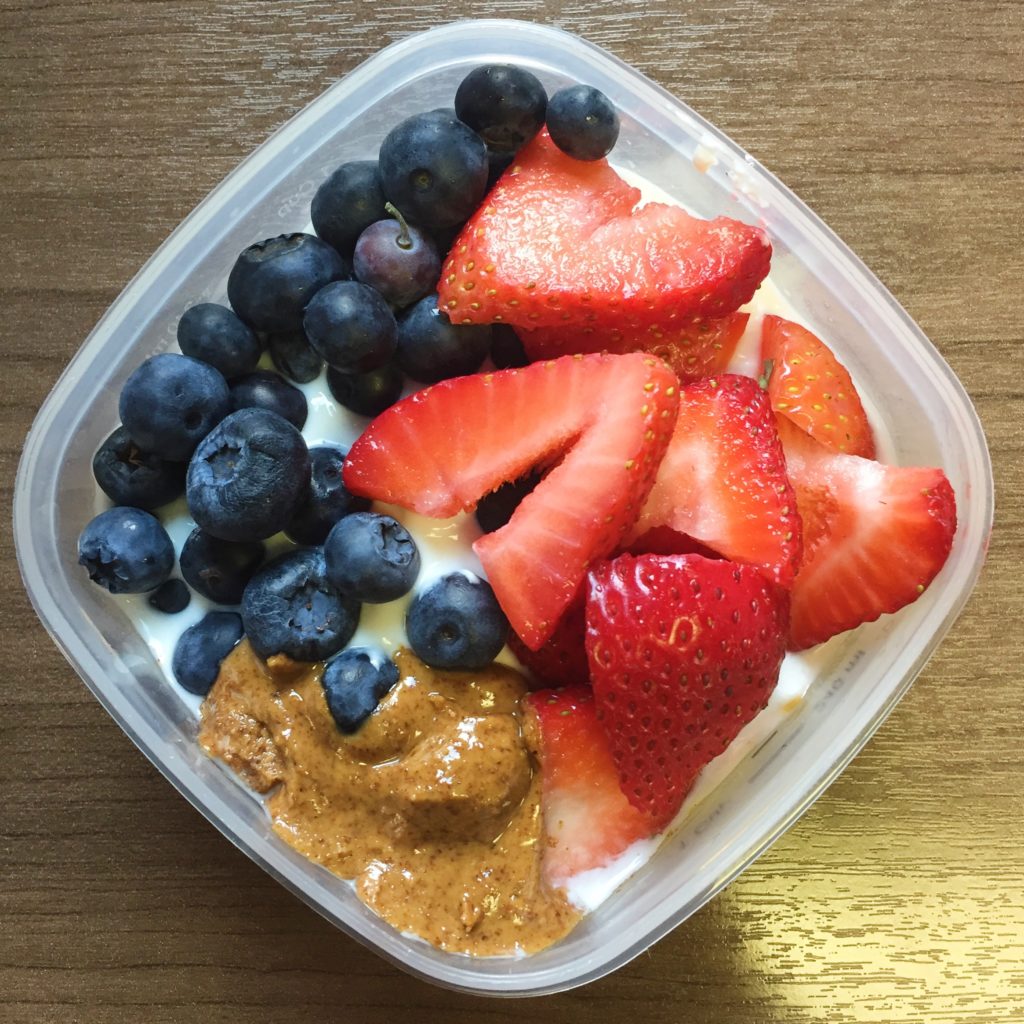 My stomach cannot handle big meals lately, so I had a normal breakfast then another snack a few hours later. I had 3/4 cup Oikos Vanilla Triple Zero Greek yogurt topped with blueberries, strawberries and almond butter.
10:00am – Snack: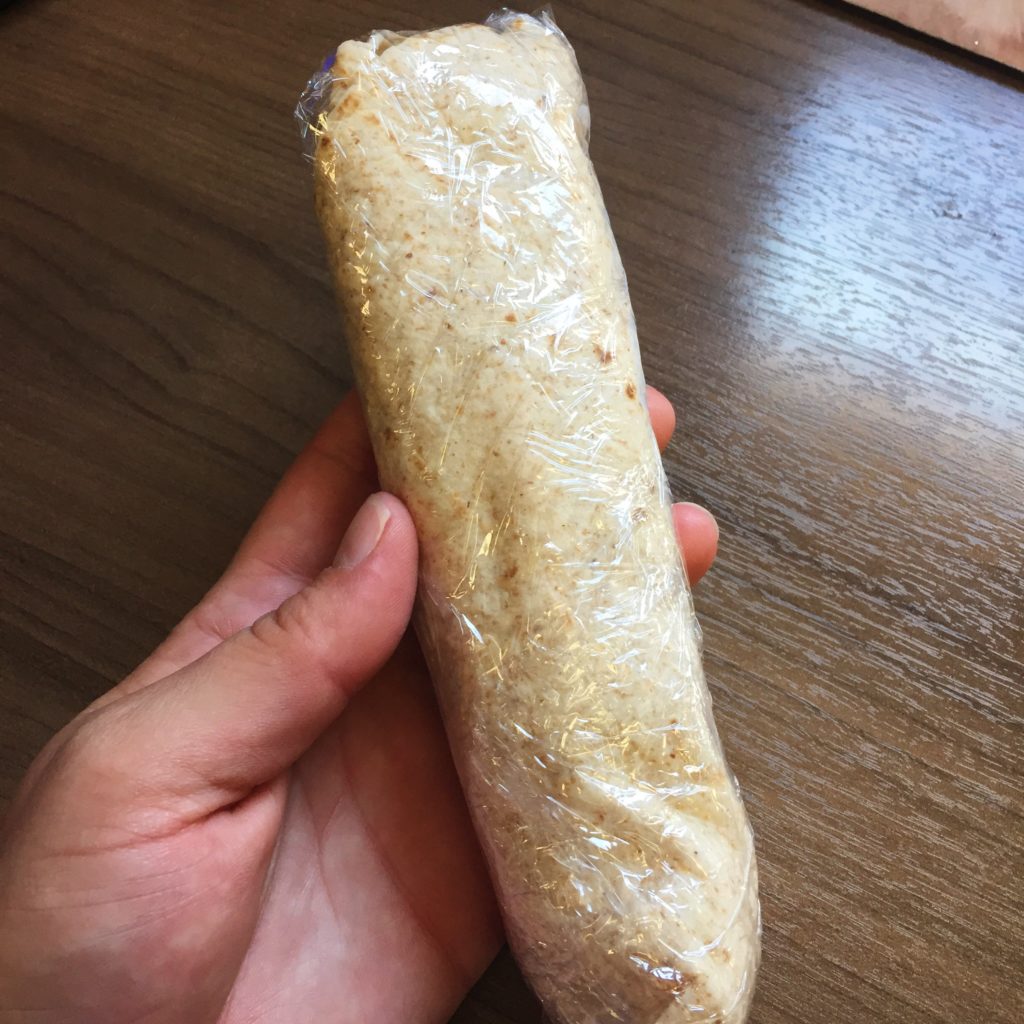 A little while after the yogurt I had the breakfast burrito that I made during meal prep. It included one egg + two egg whites scrambled and topped with mozzarella cheese and hot sauce. The wrap I used was a Xtreme Wellness High Fiber wrap.
11:45am – Lunch-ish:
My husband, Donny, invited us to his office for lunch to watch the solar eclipse. They'd made a bunch of food so I had a little while I was there. Chicken (which is what he'd made) has not been sounding very good to me lately, so I skipped it and decided to get more protein later.
I had a little veggie salad with some ranch dressing, a cucumber-tomato-olive salad, pesto tortellini, cheddar sour cream Ruffles and some fresh watermelon. Again, not as much protein but LOTS of veggies!
2:00pm – Lunch-ish (again):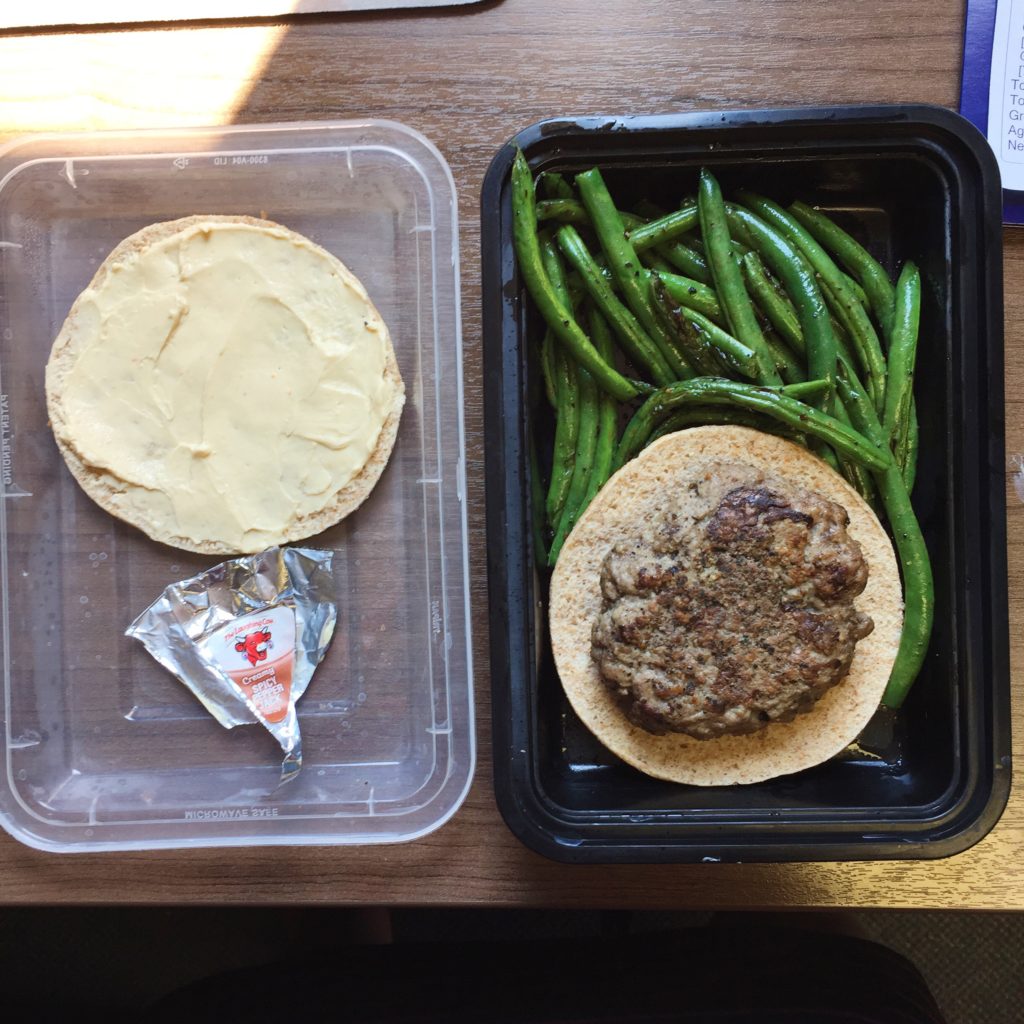 A few hours later I had my actual lunch, which was a lean hamburger (homemade) on a whole wheat thin bun with a Spicy Pepper Jack Laughing Cow cheese wedge spread on top. Along with the burger I had some grilled green beans.
4:30pm – Snack: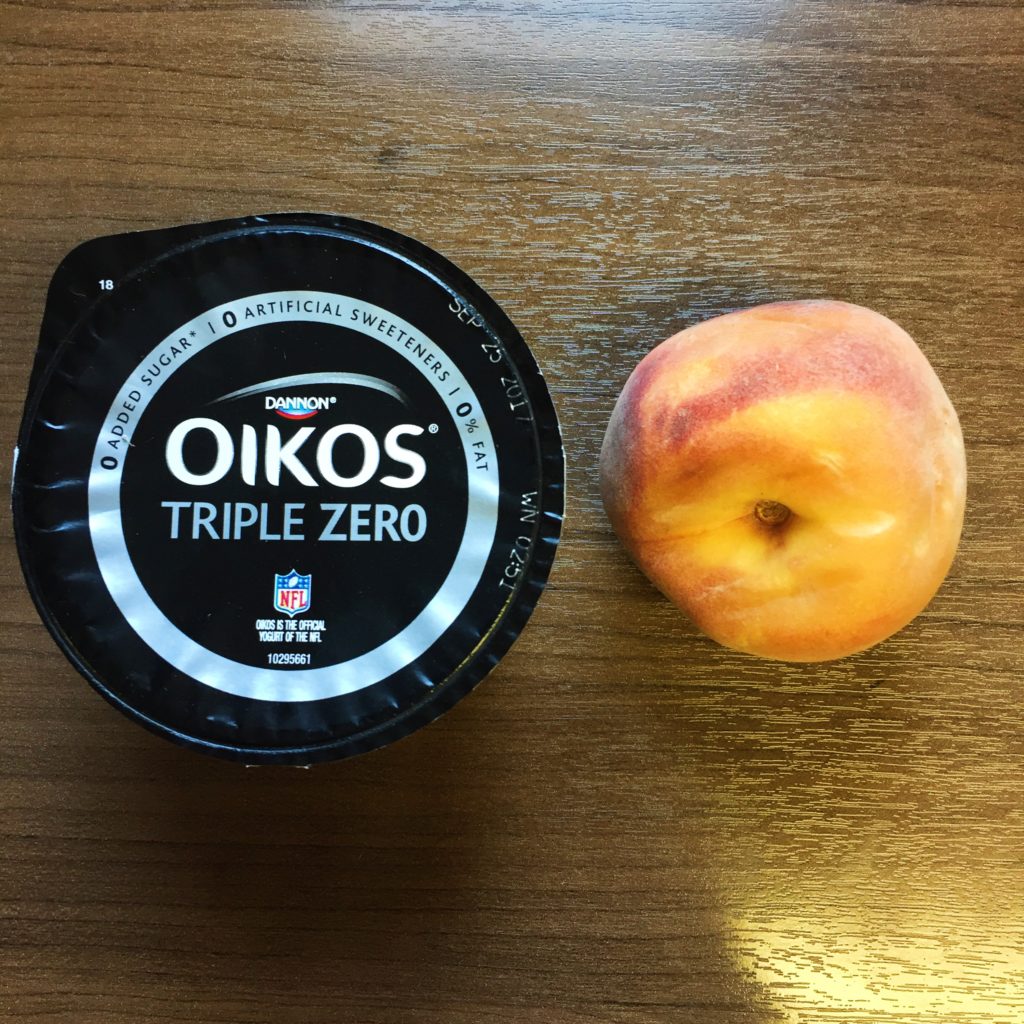 Before leaving the office in the afternoon I had a strawberry Oikos Triple Zero Greek yogurt cup and a peach.
5:30pm – Snack: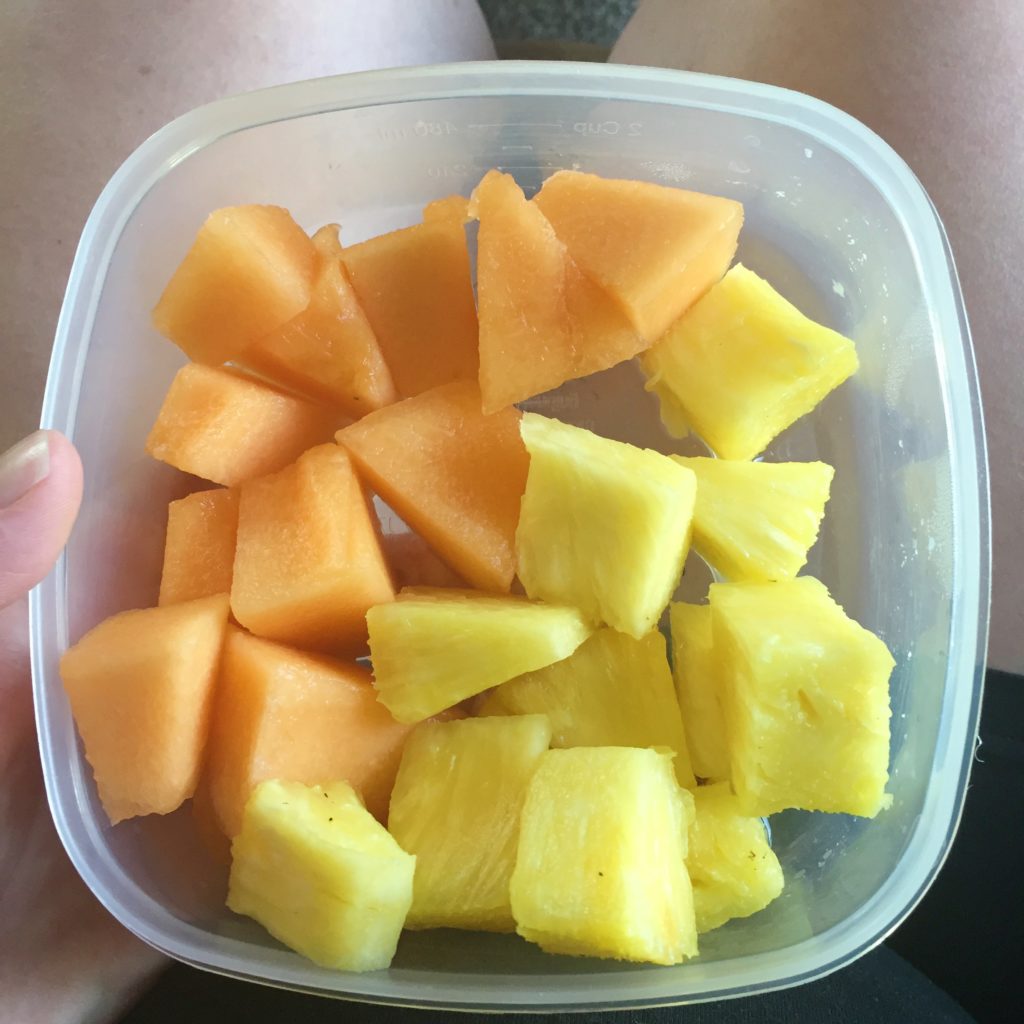 I was hungry, but my stomach was also upset once I got home from work. Oh the joys of a pregnant body! I didn't want to eat dinner so I had some cantaloupe and pineapple to test out how my stomach would do. It settled very well!
7:15pm – Dinner: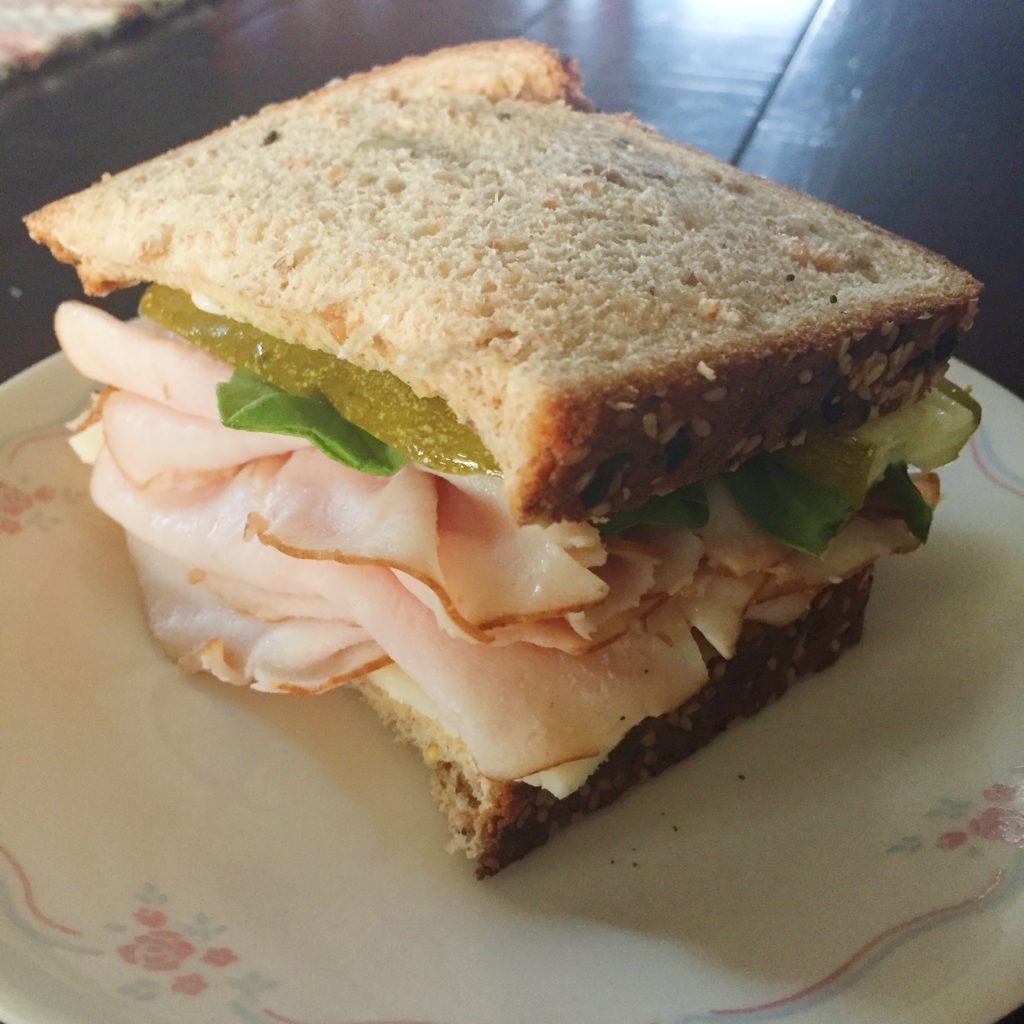 Sandwiches have also been sitting well in my stomach lately, plus they are perfect for a lazy dinner.
For dinner I made a turkey sandwich on whole wheat bread using sliced turkey, provolone, dill pickle slices, spinach, Miracle Whip (lite), and yellow mustard. It was such a good sandwich! Yum.
8:15pm – Bedtime Snack: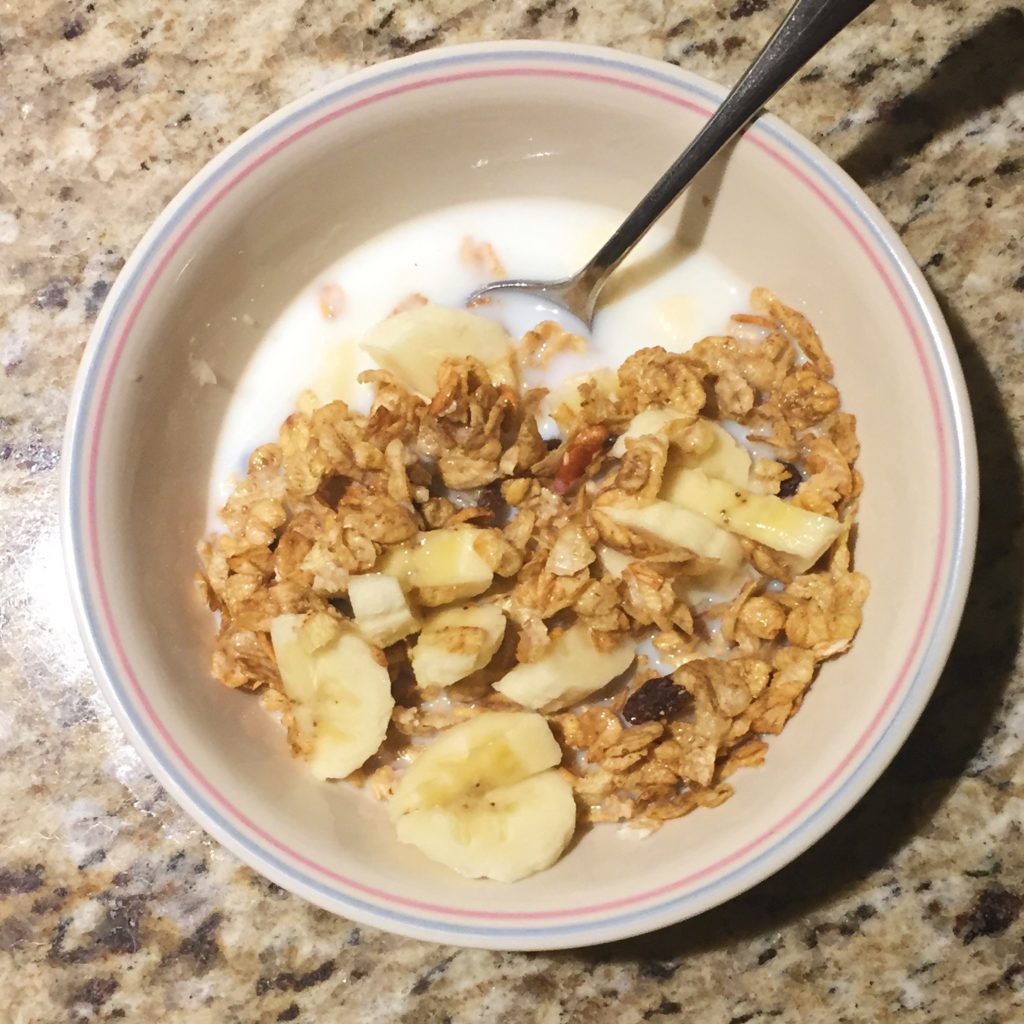 Before heading to bed I had a bowl of Great Grains cereal with a few slices of banana and 1% milk.
Well that is it for Mel's Clean Eating Meals. If you have any questions about these clean eating meals then feel free to ask! Email me at eatliftplayrepeat@gmail.com. Don't forget to check out this week's Grocery Shopping & Meal Prep Ideas Week 67 post to see how I made some of these foods ahead of time.