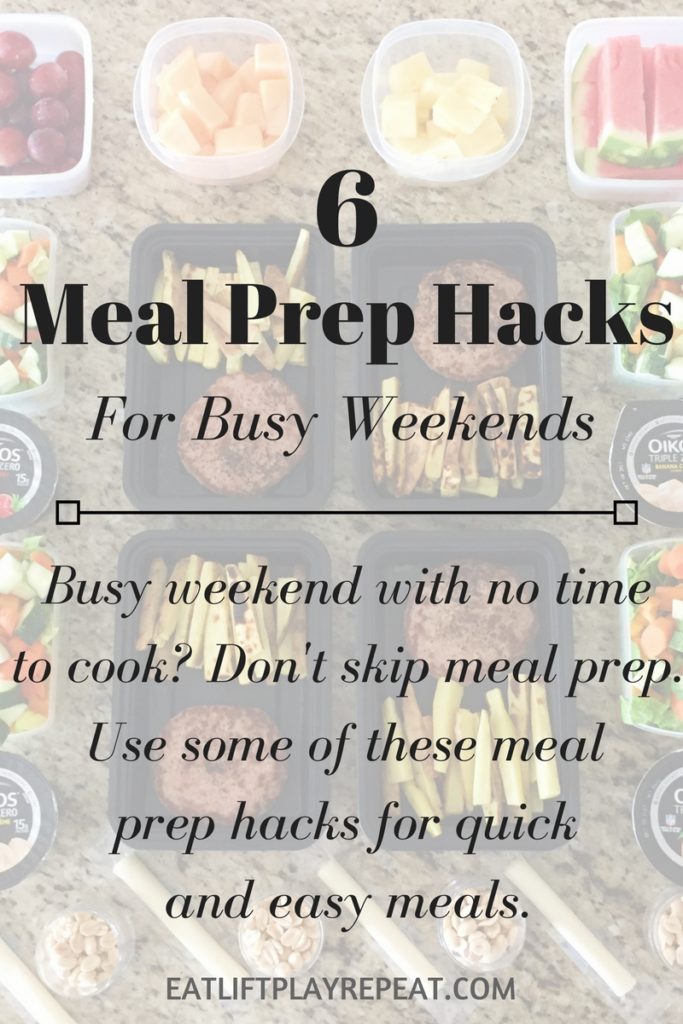 I love spending 3-4 hours on Sundays prepping foods and meals for the upcoming week. It is fun for me and I love trying new variations of the foods I enjoy.
What I do NOT enjoy is having to cram in a meal prep session in a crazy busy weekend!
Some weekends I have all day to cook and others I'm scrambling to find 15 minutes to get some things prepped! Sound familiar?
Over the last few years I've found ways to prep food each weekend. Sometimes my meals are elaborate with a variety of foods and others are well, not. I'd rather have my meals already prepared to take with me each day rather than going out to eat and choosing unhealthy foods, even if it means a somewhat boring menu for the week!
I've come up with some tips and tricks for how to get meals prepped in very little time.
Here are 6 meal prep hacks for busy weekends.
Split up your meal prep tasks. I'm the queen of cooking 1-2 items on Friday night, then 1-2 items on Saturday, and then finishing up meal prep on Sunday and building my meals.
Some weekends I won't have 3-4 hours to cook, but I might have 30-60 minutes here and 30-60 minutes there.
I try really hard to grocery shop the day before I start cooking. I'm not a big fan of going to the grocery store and then having to come home and cook all day. The ideal meal prep weekend would be to grocery shop on Saturday, then cook at some point throughout the day on Sunday.
Don't feel like you have to do all the cooking at once. Bake a casserole on Saturday and while it is cooking make your overnight oats. Then on Sunday you can roast vegetables, cook chicken and prepare a few snacks.
There have been times that I've randomly cooked foods here and there throughout the weekend, then Sunday night I pull all the cooked/prepared foods out of the refrigerator and I assemble all my meals.
Fire up your slow cooker. The slow cooker is awesome for so many reasons. You throw everything into the cooker, turn it on and it cooks while you are doing other things! Slow cookers do just that – cook foods slow. Most recipes take 4+ hours so you can get it ready and not worry about it for a long time!
If we are going to be out-and-about over the weekend then I will throw some things into the slow cooker and let it cook while I'm gone.
You can let it cook while you are away, then come back and dish it up into your meal prep containers. Easy peasy.
Slow cookers can be used for a variety of foods and meals. Don't just rely on them for soups and stews. You can make oatmeal, egg dishes, casseroles, etc in a slow cooker. I've even make "baked" potatoes in my slow cooker!
Search for slow cooker recipes on Pinterest or Google and you'll find a million different ones to choose from!
Some that caught my eye were Chicken Burrito Bowls, Parmesan Herb Chicken & Orzo & Overnight Pumpkin Steel Cut Oatmeal.
Make no-cook meals/snacks. #2 on the list for meal prep hacks for busy weekends is to get rid of any and all cooking.
Wait, can you meal prep without actually cooking anything?!
Of course. I do it all the time!
Make overnight oats for breakfast or a snack. Throw together a homemade Lunchable with deli meat, cheese, whole wheat crackers and some fruit. You could also make a bento-box with fresh fruit, hardboiled eggs, raw veggies & hummus, nuts & seeds, chips & salsa, etc.
Salad is another great choice for no-cook meal prep. Chop up a bunch of raw veggies and throw it on a bed of lettuce. Add some protein with hardboiled eggs, frozen cooked chicken, a rotisserie chicken, canned salmon or tuna, etc. For some pizzazz, add nuts, seeds, fresh fruit or dried fruit, etc.
One of my go-to lunch and dinner recipes for busy weekends is a No-Cook Meal Prep Burrito Bowls. Literally there is no cooking required! Buy the right groceries at the store and you can have lunch for the whole week prepared in a matter of minutes!
In terms of snacks, think fresh fruit with some nuts or nut butter, yogurt with granola, trail mix, snack wraps using whole wheat wraps, raw veggies with hummus or guacamole, etc. Protein bars or snack bars are a great option too. My favorites are Larabars and RX Bars.
Again, one of my favorite meal prep hacks for busy weekends is to minimize any and all cooking!
Rely on your microwave. The microwave can save you SO much time on busy weekends.
It is 2017 and the food industry knows that people are busy. They've catered to our needs by offering us products that can be cooked easily in the microwave. Plus, there are plenty of healthy foods on the market that can be cooked this way!
Steam-ready bags of vegetables can be found in the frozen food section and also the produce section. Pop the bag in the microwave, cook according to the directions on the package and voila, you have cooked veggies for the week! I generally have to cook two or more bags of steam-ready vegetables to get me through the entire week, but sometimes one package will do.
Not only can you find veggies that can be microwaved, but also whole grains! Uncle Ben's has a whole line of Ready Rice that take 90 seconds to cook. Seeds of Change has some good Ready to Heat Rice options that include both brown rice and quinoa. Find these microwave whole grains in the same aisle as the regular whole grains at your grocery store.
An easy recipe for lunch or dinner are these 15-Minute Meal Prep Chicken & Rice Bowls. You will use your microwave to cook some whole grains and some veggies, then combine those with some chicken and a little seasoning. Easy peasy.
Take a tour of the frozen food aisle. I'm not talking about a guided tour from a grocery store worker, but browse the frozen food section for items that might work on busy weekends.
One of my favorite hacks is to use a frozen meal as my lunch or dinner side dish! I'm not a big fan of frozen meals with meat in them. I typically buy vegetarian frozen meals and add my own protein to them.
On busy weekends I'll take that frozen meal and turn it into a side dish for multiple meals! Amy's Kitchen has a variety of healthy frozen meals that are meat-free. I'll buy 1-2 of those, cook them in the microwave, then divide it into different meal prep containers. I use them as a side dish, rather than a main entrée.
For example, Amy's Mexican Casserole Bowl can be used to make a quick burrito bowl. Add cooked chicken, part of the Mexican Casserole Bowl and any extra foods you like, such as chopped lettuce, guacamole, salsa, etc. to a meal prep container to take for a healthy lunch.
Another option would be to divide the Amy's Light & Lean Spinach Lasagna into two meal prep containers to take alongside a few meatballs!
The frozen food section is full of different frozen meals and frozen items, and plenty of them are healthy! Use those foods to your advantage as meal prep hacks for busy weekends.
Make a double batch of food the weekend before. I'm a big planner, which has helped me a lot in terms of food prep!
This particular hack does require planning. When you are prepping certain foods during a non-busy weekend, then prep extra food to keep in the freezer.
One week I'll make some lean hamburgers during meal prep. Instead of making 4-5 hamburgers for the week, I'll make 8-10. Then I'll freeze half of them to use for busy weekends down the road!
This meal prep hack works for a variety of foods. Cook soup, burgers, chicken, meatballs, muffins, mini frittatas, etc. in bulk and store leftovers in the freezer.
Check out my top 6 Foods to Cook in Bulk and Freeze for Later. It saves SO much time on busy weekends if you've done the cooking ahead of time!
Make sure you store these foods in zip-top freezer bags, not regular zip-top bags. These bags are thicker and will have "freezer" printed on them. I also like to write on the bag what the item is and what date I cooked it. Cooked meats will store for several months so don't feel like you have to use it the following week.
Well there you have it. Those were my six meal prep hacks for busy weekends!
Instead of skipping meal prep, use some of these hacks to make quick and easy meals and snacks for the week!
What are your favorite meal prep hacks?!