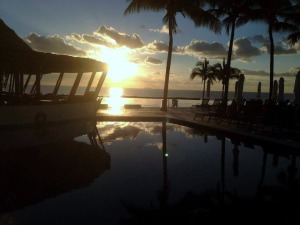 Back from Cancun and (sort of) getting settled back into things. Why does it seem that whenever you get back from a relaxing vacation everything gets chaotic? It feels like it is settling down though.
We had so much fun in Mexico. Jamie & Charlie's wedding was amazing! We stayed at Dreams Resort Riviera Maya in Cancun. Donny & I and then Lindsey, my sister, and her husband Cody all flew down to Cancun together. Cody had never been and the rest of us had not been since our senior class trip (which was anywhere from 13 years ago to 8 years ago….). Also, none of us had done the whole all-inclusive thing. Everyone we talked to that vacations to Mexico says that all-inclusive is the way to go. Now that I have experienced it, I completely agree! It was so nice not having to carry a purse or wallet around. Plus, you can pay for the whole trip before you even get there. Win win.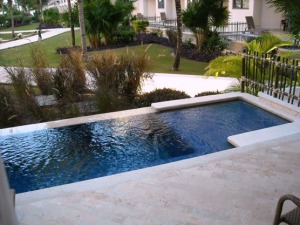 Donny used his charm to talk the front desk lady into upgrading us rooms. He did have to throw in that it was close to his birthday (which it is, she checked) so she went ahead and gave us a room with our own pool! Not only that, he sweet talked her into upgrading Lindsey & Cody too so that we could have rooms by each other. So basically we had two small pools outside our doors and just a tiny fence separating the two. We would just climb back and forth instead of using the front doors.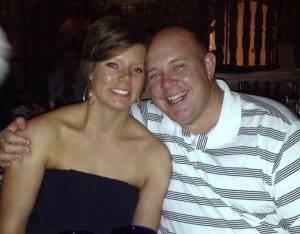 It took about an hour to get the room ready, so we grabbed a bite to eat. I had shrimp tacos and they were amazing! Once we got into our room and settled we ordered a few beers and got in the pool! What else is there to do?!?
We then got ready and went and joined the other folks that had come down for the wedding. Two of our other "couple friends", Heath & Mandy and Kyle & Kiley, arrived a few hours after we did. The eight of us went out to eat at the mexican restaurant at the resort. I had a filet and it was of the best steaks I have ever eaten. It was so good! We ended up walking around the resort and basically partying the rest of the night.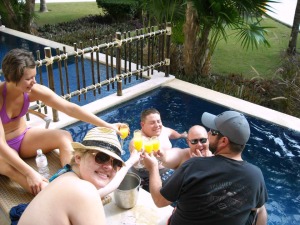 The next morning we hung out in the pool and Heath & Mandy joined us. They wouldn't bring us beer until 10:00am (as much as we tried), but we did talk the guy into bringing us 8 mimosas….the limit is 4. We enjoyed those in the pool.
It was pretty funny because we had multiple people tell us that we were the only ones that ever used the pool for our room. We literally used it everyday and apparently no one else did. The main pool for the hotel was heated, but these individual pools were not…that might have had something to do with it. It took a little while to get use to it.
The first full day we were there was "wedding day". It was a rough day. We hung out by our pool, ordered room service, went to the main pool, had a few drinks, swam, went to lunch, and had to get ready for pedicures at 2:00pm. Isn't that awful?!? Man, it was fun.
The above picture was us ladies hanging out at the beach.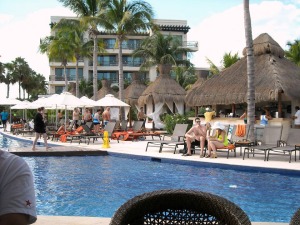 Here is part of the main pool for the resort.
The wedding was at 4:00pm, so we actually got ready before the pedis so that afterward we could throw a dress on and head to the ceremony. It started raining before the ceremony and didn't stop for quite a while.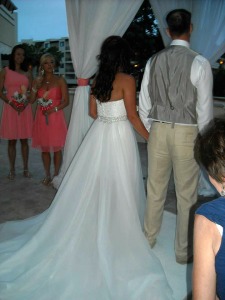 Sadly, they had to make the call to move the beach wedding indoors. It was still beautiful and technically still outside, just under an awning. To make matters worse, Jamie (the bride) got sick in the middle of the night before her wedding day! She spent several hours throwing up that morning… no fun! She was a trooper and made it through the day.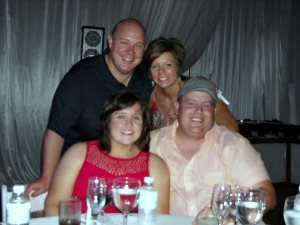 The reception was moved indoors too, but it was still so much fun. I love this picture of the four of us but, dang it, it is blurry! This is my sister, Lindsey, and her husband Cody. We had a blast at the reception and danced our butts off!
With the wedding being at 4:00pm we were actually back to our room and in bed pretty early. It was nice – I got quite a bit of sleep!
The next day was crazy. It started so innocently and then….tequila poppers. In the pool. Enough said.
We drank for a few hours (and by few, I mean several) in the pool, so after a late lunch we decided naps were in order. We slept a few hours and got ready for dinner. This trip basically consisted of eating, drinking, swimming, and sleeping…..exactly what I was looking for!
I woke up fairly early that last day and decided to go read on our patio. It was so peaceful! I wish I would have had more time to do that. Our flight was at 1:00pm so once everyone woke up we headed to breakfast then back to the room to pack. Say goodbye to Mexico.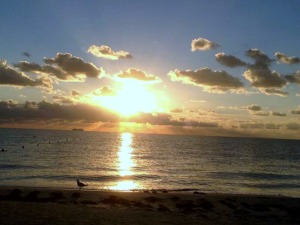 Besides those few hours of rain, the weather in Mexico was beautiful! It was mid-80s the entire time. Let's just say that was not the case back in Colorado.
The day after we left for Mexico it was 70 degrees in Colorado. The day we flew back to Colorado it was 13 degrees. That is not an exaggeration…..the pilot announced it after landed.
I was smart enough to look at a forecast before we left so I saw it coming. I am a huge baby in the cold so I took a wool coat with me. I was so happy I did because when we got back to Colorado I put it on before going to our shuttle bus.
Basically, I would love to go back to Mexico or any other "beach vacation". We don't tend to go on vacation like this one very often but we might just have to start….
Have you been to Mexico? Did you like it?
P.S. I am horrible at remember to take photos while I am on vacation. Thanks to Mandy & Lindsey for letting me steal some!!! Also, Congrats Jamie & Charlie!