As much as I love exercising, clean eating, and creating recipes, I do enjoy doing other things in my free time. Shocking I know…. But I thought I'd share with you some of my favorite things to do when I am not cooking, food prepping, working out, etc.
Beer Tasting. I love trying new beers. I love going to breweries and on brewery tours. I like quite a few different beers, but my go-to when picking a beer off a list is a brown ale. I am, surprisingly, also intrigued usually by stouts and will choose those occasionally if some of the ingredients look appealing.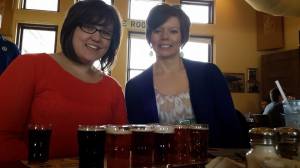 (Lindsey & I — Green Bay, WI)
One of my favorite breweries in Colorado is Denver Beer Company. It's in the Highlands area, so close to downtown and it's fantastic. It is a big building with large garage doors (see below) that open up to a patio out front. They conveniently park a food truck right next to the patio as well. One other thing I love about DBC is that you can bring dogs! Now, we never have Doug with us, but it's fun to see all the other dogs there.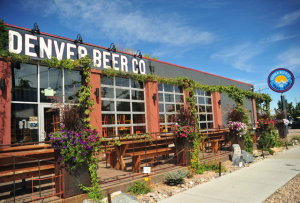 (Google – outside view)
The thing about beers at Denver Beer Company is that they are extremely flavorful. We had a beer once there that was suppose to taste like raisin. With other breweries a lot of times there is a small hint of the flavor they are going for, but not at Denver Beer Company. When they say they want to make a beer that tastes like raisins, they make a beer that tastes like raisins! It was like I had a mouthful of raisins and then decided to take a drink of beer. It was really cool. Their menu is always changing and you can get $1 sampler glasses so you don't necessarily have to commit to a whole one.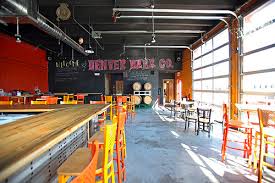 (Google – inside view)
Going to thrift stores and/or garage sales. I love going to thrift stores and was over-the-moon when we got a Goodwill in town! I try to get there at least once a month. I would prefer once per week, but that is just not always possible!
I will occasionally go through the clothes to find some gems (and let me tell you, I have!), but I typically spend most of my time in the home section. I go through all their frames usually first. The thing I love about frames there is that they are super cheap and frames are one of the easiest things to paint (if necessary) and to display around the house. A couple weeks ago I hit the jackpot and came home with 5-6 picture frames in great condition.
I then go through the kitchen section. I use to go through this part fairly quickly, until I started Eat.Lift.Play.Repeat. Now I go through it fairly diligently so that I can find plates, bowls, silverware, trays, etc to use for food photography. I have found some really cool items (just waiting for the right recipe to use them in). After that I head to the holiday/home décor section. I have a hard time spending $20+ on holiday wreaths, but you can buy them at Goodwill or other thrift stores for $5 or so. Pretty sure my entire wreath collection is from Goodwill & the ARC.
At our house we have space between the tops of our kitchen cabinets and the ceiling. I have completely filled all that space with random items, most of them that I have found at thrift stores. One of my favorite items is a vintage, wooden 12-bottle Pepsi carrier. It was one of the more expensive items I've paid for at the Goodwill (I'm talking like $17.00)but I am so glad I decided to pay that.
Travelling. I hope everyone enjoys travelling. It is so fun and interesting to find out about different cultures. I'm not even talking about going to foreign countries, I'm talking even finding out how they live on the other parts of the United States. Sometimes it can be very eye-opening! I have been fortunate enough to have been able to travel quite a bit after college.
(me in Barcelona, Spain in 2011)
Some of my favorite places that I've been have been Italy (of course). I have gone twice since college was over (never thought that would happen). Once was a wonderful cruise with my sister, her husband, and his brother and sister. We did a Mediterranean cruise and hit stops in both Spain and Italy. Prior to the cruise, we were smart and decided to spend 2-3 days touring Barcelona, Spain. The second time I was in Italy was for our honeymoon. So awesome! We had a blast drinking wine and eating pasta, pizza, & gelato.
I also loved Charleston, South Carolina. It honestly competes for my favorite city (Seattle currently holds that spot). We went down there to see the city and it happened to be the Lowcountry Oyster Festival. Yeah, oysters everywhere.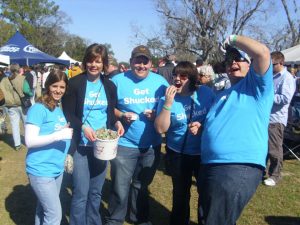 (from left to right: my cousin Latisha, myself, my brother-in-law Cody, my sister Lindsey, and Donny prior to being my hubby)
At the festival we bought a bucket of steamed oysters, bought a few beers, found a nice patch of grass in the shade, and started shucking! It was so awesome. We wore bright blue tshirts that said "Get Shucked" on it because, why not. By the end of the festival we were know by everyone as the "group from Colorado". Apparently they were a hit!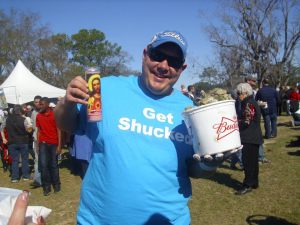 (Donny with the bucket of oysters & his "Get Shucked" shirt)
Last night Donny pointed out an interesting thing to me. This weekend I am going with some friends on our annual girls trip, this year to Austin, Texas! Then at the end of May, Donny & I are roadtripping to Florida to see my wonderful friend Kelsey and her husband in Naples (plus seeing plenty of fun things along the way). At the end of June I am going for a quick weekend trip to New York City with Donny for a food show (we are going a couple days early to see the city). Then that is not all… in the middle-to-end of July we are going to Green Lake in Wisconsin to spend a few days with my grandparents and family on my mom's side. Holy cow! And I wonder why we are always so busy……
As you can see, I love travelling! Some other places I have loved visiting were Dubai, Turkey, California, and Montana. Also, I just bought a new compact digital camera to take on my vacations so that I can share some photos with you, like a good blogger should 🙂
Home Improvements/DIY Projects. I would classify myself as thrifty (see #2 on the list about thrift stores). I think "cheap" is how I would describe myself, but that has such a negative connotation, right? So thrifty it is. I love do-it-yourself projects around the house and I love upcycling different items. It helps that I shop at garage sales and thrift stores, because I tend to buy stuff there and then re-do them. I will paint, stain, modge podge, etc until it is something I would display in my house.
Just last weekend I painted the furniture on my front porch. My mom (who I get my cheapness thriftiness from) found a bench seat and a small wooden bench at a garage sale and bought it for me when we moved to our new house. I left them the colors that they were for a long time because I was not ready to tackle a front porch project. I had plenty of things on my to-do list for inside the house, that I neglected the outside for a while. Well now that it is warming up, I decided it was time. I found some outdoor pillows with a cool pattern and chose paint colors based on those. I painted the large bench a darker, royal-like blue. The smaller bench I painted a lighter blue color. The pillows have both of those colors and also some lime green so I will "accessorize" with some lime green. It is just a start, but does give me something to look for at the Goodwill.
Reading. You might already know this about me. I love sitting by the fire in the winter or outside in the summer and reading a good book. It is so relaxing and fun when you really get into a book. Sometimes I find myself feeling like the characters are part of my everyday life. That's when you know it's a good book – when you think the characters in fiction novels are real!
If you want to know about some of my favorite books then check out my post here, about my favorite books. I just finished "Girl on the Train" and have not committed to a new one yet. Thank you to those of you that gave me some suggestions! I am leaning towards the JK Rowling ones (thanks Bernie!)…..I will need several different options now that I realize how much travelling I have to do over the next few months!
I'm sure there are other hobbies and things I enjoy, but I think that's enough. Quite the wordy post!
What hobbies do you have? What do you like to do in your free time?