In case you missed it, Road Trip 2015: Part One can be read here.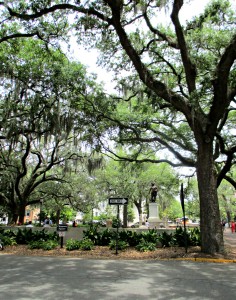 (Chippewa Square: this square was the one filmed in Forrest Gump)
Savannah was only a couple hours from Augusta so we only had to make a few stops (yes, we made multiple in that two-hour time frame). Once we hit Savannah we checked into our hotel, which was the perfect location! It was right on the river but faced downtown. We were in walking distance of everything we needed! We walked around for a little bit and decided to grab a bite to eat. It was fairly close to dinner time but we hadn't eaten lunch so we shared a meal at this New Orleans-style restaurant called Huey's on the River. We shared a shrimp po'boy that was smothered in gumbo. We had never seen that before! It also came with a side of red beans and rice. Donny was in heaven! Those are three dishes we love in the south… genius.
After lunch we started wandering around Savannah and came across Leopold's Ice Cream. I had sent Donny a link a few weeks prior to our trip and it was a list of the Top 33 Ice Cream Shops Across the US. Leopold's Ice Cream was one of them and we were going – no matter what! At the time, the line was really long so we decided to wait until the next day.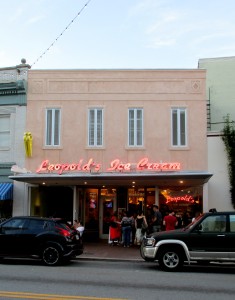 Donny wanted a bunch of seafood and had heard that The Original Crab Shack was where we needed to go. It was on Tybee Island, which was about 20 minutes away. We drove down there and ate shrimp, crab legs, crawfish, and mussels. So. Much. Seafood. It was pretty tourist-y but we did enjoy the food.
We went back to Savannah after dinner and decided to walk around a check out a few bars. We wanted to go on a ghost tour, but it didn't start until 8pm. As we were walking we happened by Leopold's again (I swear not on purpose…) and the line was much shorter. We decided we would get some ice cream! We had to wait in line about 15 minutes but it was so worth it! I wanted to try so many different flavors but I knew if I got two scoops I would be full and miserable.
I decided on pistachio ice cream in a waffle cone. Best decision ever. It was delicious! Donny got two scoops in a cup, chocolate chip and peanut butter. I tried a bite or two of his and it was fantastic! If you go to Savannah then you have to go to Leopold's. It is 100% worth the wait.
We wandered around downtown for a while and Donny got a text from the ghost tour folks and they said they were pushing our tour back an hour. We are lame, but that one hour seemed way too late so we told them we would pass. Instead we walked through City Market and went to a brew pub for a tasting of beer. We were really tired so we headed back to our hotel (it was literally across the street…really convenient).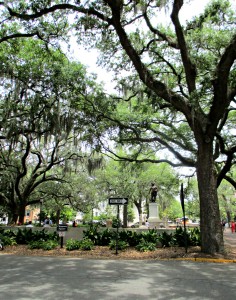 The next day was all about exploring. We had a list of some places and shops that looked cool. We ate breakfast at our hotel. Donny ordered the Shrimp & Grits (which I believe is his favorite southern dish) and it had two poached eggs in it. Delicious! He is still talking about that.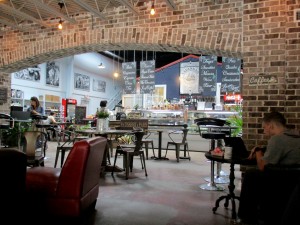 (Inside Savannah Coffee Roasters)
We wandered around for hours and went to the Savannah Coffee Roasters, The Bee Company, an vinegar and olive oil shop, several dog stores, a flip flop store…a few hours in and we had our arms full of bags and tons of goodies!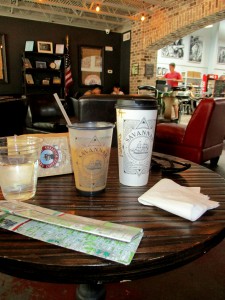 (I had a plain iced coffee with some half & half, Donny had an Americano)
The Bee Company sells everything made with honey and you can buy all sorts of different kinds of honey. We tasted a few of them and in the back they had mead. I guess mead is a type of alcohol that is made using honey. It had apparently been around forever, in fact the guy telling us about it said that was what the Vikings drank. He honestly could have been making it up, but he sounded convincing! There were five different types of mead and we got to try all 5. It was really cool. I would compare it more to wine than liquor, and definitely not like beer. Interesting.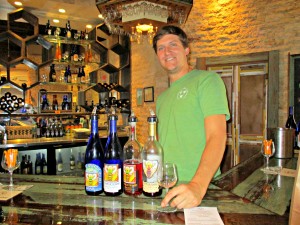 (our mead-tasting)
We were still thirsty after the mead so stopped by the World of Beers. I had their local flight.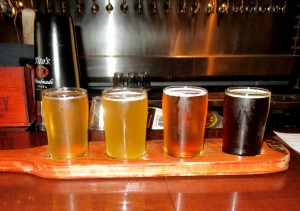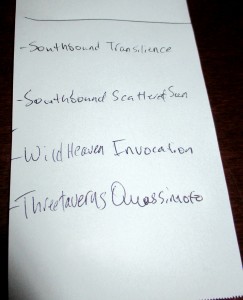 There was a guy working at the olive oil and vinegar store that was very friendly and told us to check out an African restaurant called Zunzi's. We had planned to go somewhere else so we decided to do the only logical thing in order to choose: flip a coin. I guess that is what happens when two non-decision-makers have to make a real decision. Hahaha the coin chose Zunzi's and we are SO glad it did! We shared a sandwich (which was HUGE) to tide us over until our dinner reservations.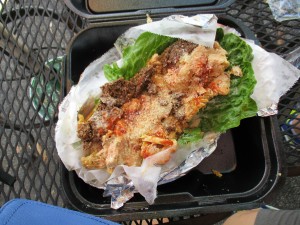 We ordered "The Godfather", which was a sandwich with lettuce, tomato, chicken, then homemade sausage, their homemade African sauce, marinara and then sprinkled with Parmesan cheese. It was fantastic!
Dinner reservations were at the Olde Pink House. We tried a couple appetizers that, honestly, weren't anything fantastic. In fact, Donny wasn't "wowed" by them so he ordered another appetizer that had been on "Best Thing I Ever Ate". It was a BLT salad that had a fried green tomato and bacon on lettuce. Pretty simple but amazing! We were glad we ordered the extra dish. For our main course, Donny had the pork shank, which was gigantic! I had the special that night, which was grouper stuffed with crab. It was awesome! We were very full and very happy when we left.
We went to relax a little and put different shoes on after dinner because we were signed up to go on a ghost tour and we were not going to miss it this time! The ghost tour was fun. I don't necessarily get into the actual ghost part, I just like hearing the old stories of why the ghosts are there and how they came about. You get to hear a little history about the house and also about the city. We did two ghost tours in Charleston and now one in Savannah. I definitely recommend them!
We walked so much that day — I logged 21,000 steps! Needless to say, my feet were pretty tired on the way back to the hotel.
The next day was a long one again, lots of miles to get in. We were heading to our final destination: The Straubhaar House in Naples, FL (aka Kelsey's house). We made quite a few iced-tea-stops again. We also stopped at the PGA Hall of Fame. We didn't go on the tour but we hit up the gift shop and walked around outside. It is cool; they have the signatures of famous golfers etched into the pathways around the lake out front.
We arrived to Kelsey's right around dinner time. She made us dinner and we hung out for a couple hours before heading to bed. Let's just say her two dogs did not like Donny & I staying over. They were angry and mostly terrified of us the entire time. All I wanted to do was give them some lovin' but they were not having it!
The next day we did Bikram yoga while Donny golfed and then we went to the pool. Perfection. Donny wanted shrimp cocktail and wanted it badly, so he said he would make dinner that night. We picked up a couple pounds of shrimp, some grouper, veggies (zucchini, yellow squash, and asparagus), and brown rice at Publix. I roasted the veggies while Donny prepared the seafood. I also made the brown rice, aka we bought the microwave kind that cooks in 90 seconds so I was in charge of getting that ready. It was a delicious dinner and I was loving the two home-cooked meals after several days of eating out.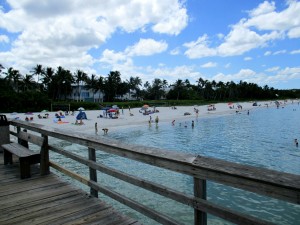 The next day we lounged for a little while then headed out. We wanted to get some Kick Ass Coffee in downtown Naples. We had come across it the last time we were in Naples and Donny wanted to go back. They freeze leftover coffee into ice cubes and use those in their iced coffees. So smart, especially in Florida!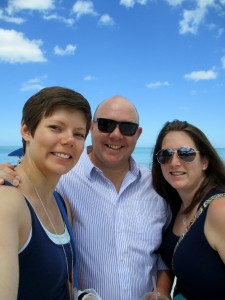 (beach selfie!)
We went there then walked on the beach and went to Tin City (a cheesy, touristy place with LOTS of trinkets and trash). We grabbed lunch at a cool taco restaurant and then went to one of the outlet malls.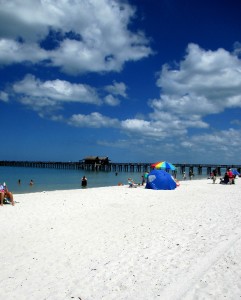 We bought so much crap stuff along the way that we honestly were going to need a box or something to take stuff home. Donny needed a new traveling suitcase for work so we went to the Samsonite outlet store and he picked one up. I'm slightly embarrassed sharing that, but I am also happy with everything we purchased along the way!
I also scored because the outlets had a New York & Company, which is one of my favorite stores! I found several different tops and two pairs of yoga pants. Score! Again, this is why we needed a new suitcase. Oh well…
We went back to Kelsey's and waited for Brandon to get home. They took us to this restaurant called Cracklin' Jacks. You order what you want for dinner (ribs, fried chicken, fish, etc) and then all the sides (called vittals) come out family style. They bring coleslaw, pickles, mashed potatoes, gravy, collard greens, white beans, stewed tomatoes, etc. Then you take what you want from the bowls and put it on your plate. It was really neat and again, a ton of food!
We went back to Kelsey's and started packing all of our stuff. We were leaving in the morning to head to Fort Lauderdale. Donny decided he wanted Cuban food for lunch while we were close to Miami. More specifically he wanted a Cubano so I did some research on the way over and found this cool place that specialized in Cubanos called 925 Nuevo's Cubano's.
It was such a good find! You sit outside on bar stools facing inside to the kitchen. You can watch as they prepare everything and Donny kept quizzing the guy working on our sandwiches. They were so good, I mean SO good! Definitely a great way to end the trip.
I honestly did not drive one mile the entire road trip. Donny drove the entire time and I sat shot gun and offered humor, sarcasm, and companionship all 2,700 miles. I read two magazines, but didn't even touch my book! Not sure why, just enjoyed hanging out with my husband I guess.
We were smart and decided to fly home on Saturday afternoon so that we could have all day Sunday to get laundry done, go grocery shopping, and just catch up on everything back in the real world. Very good decision on our part!
Again, I love going on vacation and eight days was a long time, but I love coming home and getting back into a routine! It is fun to be gone and see things but it is fun to get back. I also enjoy seeing how excited Dougie is when we come home! Needless to say, he was pretty jazzed!
Have you been to Savannah?! What was your favorite part?