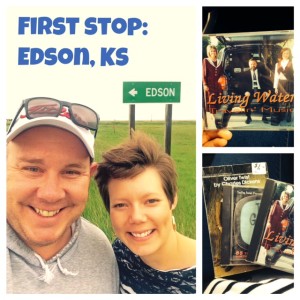 Well Donny & I are both back to our normal routines (pretty much at least). I always have fun on vacations, but I am very much a routine kind of person and I am a home-body so I also enjoy coming home from vacations!
We had such a fun time on our road trip. We drove a total of 2,700 miles, leaving from Fort Morgan, Colorado and ending in Fort Lauderdale, Florida with a bunch of stuff in between! I am going to apologize now….I did not take very many pictures the first part of the trip but I did get a few on Instagram so I will share those (they aren't great because they are iPhone pictures… but they are better than nothing).
We left Friday at noon and made our way through Kansas. Donny requested a stop in the booming metropolis of Edson, Kansas. I was happy to check out the town (honestly, there isn't a lot going on in Edson, Kansas). We did stop to take a nice picture though (for those of you that don't know, our last name is Edson). Notice the crazy hair…imagine that, it was windy in Kansas!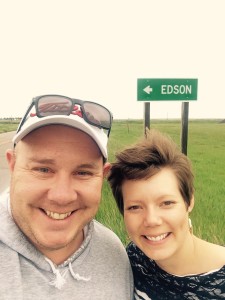 As we were driving around we noticed a barn with a sign that said garage sale. Obviously we had to stop. We ended up spending $3.00 on two CD's and a book. We bought Oliver Twist, a CD that comprised of famous TV show theme songs, and a CD called "Livin' Water: Travelin' Music". We happened to be "travelin" so we had to buy it. Turns out it was gospel music. We listened to the whole thing on our way to Wichita.
We kept seeing billboards for this town called Lindsborg, which was a "little Sweden", if you will. Apparently it was settled by a group of Swedish immigrants back in the 1800s and they still show that heritage today. They have these horses everywhere and on everything.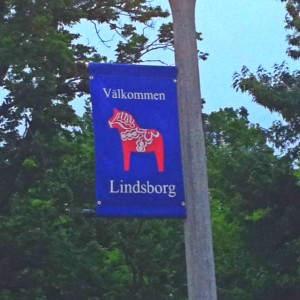 These small statues were pretty cool too….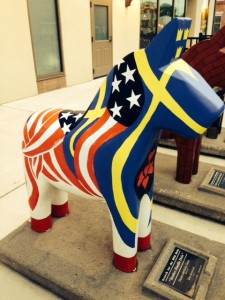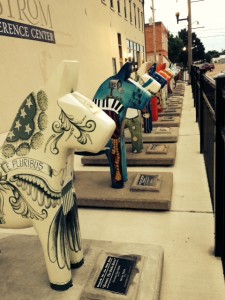 We didn't make it to Wichita until late Friday night. My cousin, his wife, and their daughter live there and were kind enough to let us stay with them! We stayed up and talked to them for a couple hours and went to bed. We ate breakfast with them at a cool little diner in Wichita and then hit the road.
We weren't 100% sure where we were going to stay the night. We knew we had to get to Augusta, Georgia by Sunday evening but we didn't have to be anywhere Saturday. We decided to make it a shorter day and drive to Little Rock. Riverfest happened to be going on at the time so downtown Little Rock was packed! Apparently Riverfest is an annual concert event with some other stuff going on as well. We didn't actually go into the event, but walked around downtown. We found a piano bar called Ernie Bigg's and hung out for a little while. I'm going to be 100% honest, I don't know that I need to ever go back to Little Rock. It was not my favorite stop along the way, but we had a good time together.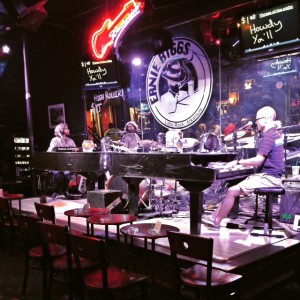 The next day was a long drive. We woke up early and hit the road. We were meeting Donny's friend Paul and his wife for dinner so we needed to head out early. I swear along the trip we stopped 25 times to buy iced tea. Donny has been on an iced-tea-kick for a while now and I didn't mind because that meant I could stay hydrated while traveling! We would get the biggest fountain iced teas they had and then stopped to pee every hour. Hahaha no problem for me! It got tricky in certain places because in the south they drink sweet tea. No sweet tea was consumed here, I prefer unsweetened iced tea… that's the way to go! I would never make it in the south. If I were to estimate our iced-tea-consumption it would be around 8 gallons. No joke. We found these 52-ozers and couldn't resist…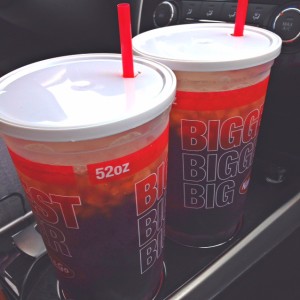 Anyway, we stopped at quite a few truck stops and picked up trinkets and trash at most of them, including two sweet shirts for my sister and her husband. One of our stops on our way to Augusta was in Muskogee (you know Merle Haggard….Okie from Muskogee…). While we were there we stopped at an Amish Country Store and a few thrift stores. Nothing too exciting, but now we can say we have been there!
We made it to Augusta and met Paul and Deb for dinner. They took us to a restaurant called Boll Weevil which was nothing special in terms of food. However, they are known for their cakes and their desserts! We each got a different dessert. Deb got the strawberry cake, Paul got the banana-chocolate-chip cake, Donny got the peanut butter pie, and I got the lemon cake. The slices were huge and they were sooo good! I stopped myself before eating the entire piece because it literally would have made me sick. I would go back in a heartbeat though.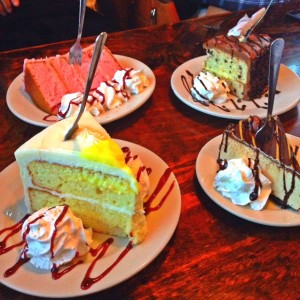 The restaurant wasn't too far from the river walk so after dinner we went for a walk. It was really nice to stretch my legs after sitting all day! We went back to Paul & Deb's house and they graciously let us stay the night! We went to breakfast the next morning and hit the road again. We were definitely eager to get to Savannah!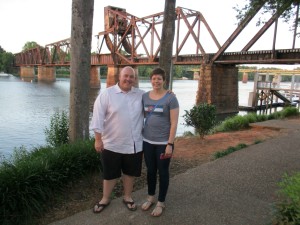 Please do not judge our appearance. It was a long day of traveling! Hahaha there is a lot to tell you about Savannah and Naples…part 2 will be up soon!