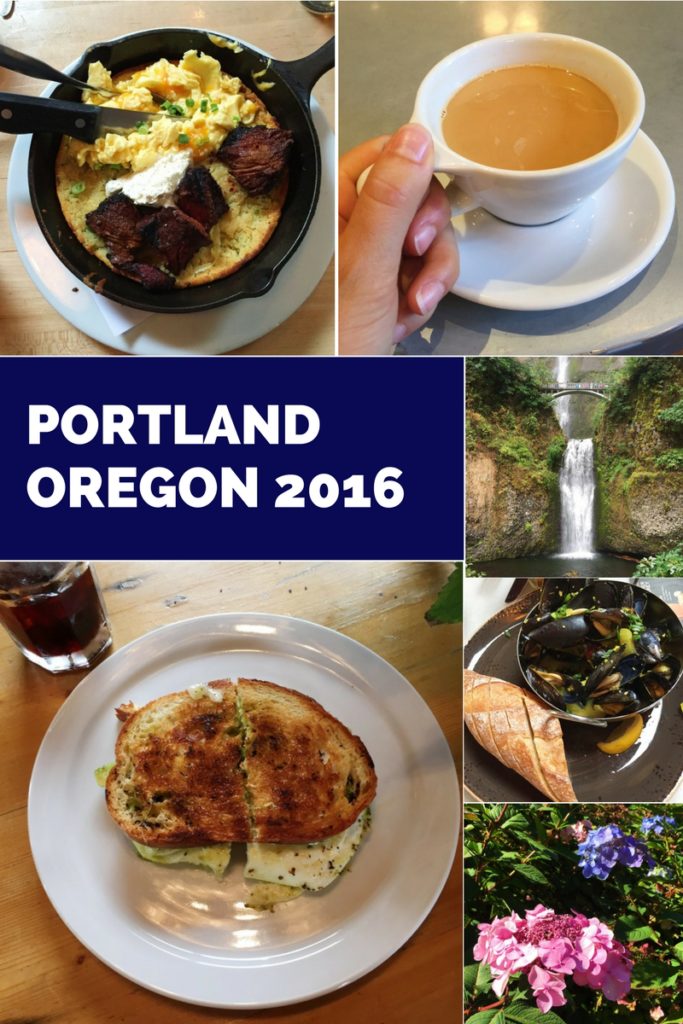 We had a fantastic time in Oregon. My cousin and his wife planned a fantastic wedding that was beautiful and well put together, yet so much fun and 100% them. The wedding took place in Eugene then on Sunday we drove to wine country in Oregon, stopping at two different wineries.
We stayed the night in McMinnville at a historic hotel downtown called The Hotel Oregon. It was a small town, but very cute. One surprise at the hotel was that they had communal bathrooms. I opened the bathroom door to instead find a closet! We had to walk across the hall to a bathroom. Hadn't done that since college! We survived and have a great story now!
Monday morning we made our way to Portland and stayed there for three nights. Thursday morning we took an early flight so we could get back to Denver in time for the Broncos game, aka the Kickoff to the NFL season! So much fun. We stayed the night in Denver that night and made our way home the next day.
Whew, it was a great trip and we had so much fun. Donny & I travel well together because we both like doing stuff everyday, but do not like to be go-go-go throughout the entire trip. We enjoy getting lost downtown in whatever city we are in, venturing to coffee shops, bars, restaurants, shops, etc.
That was a very quick version of our trip to Oregon! I took a few pictures of the highlights of the trip, so I thought I'd share those with you. I broke this post up into two categories, one is Activities and the other is Food. And the answer is yes, we ate more food that did activities…. did you expect anything else?!?!
Activities: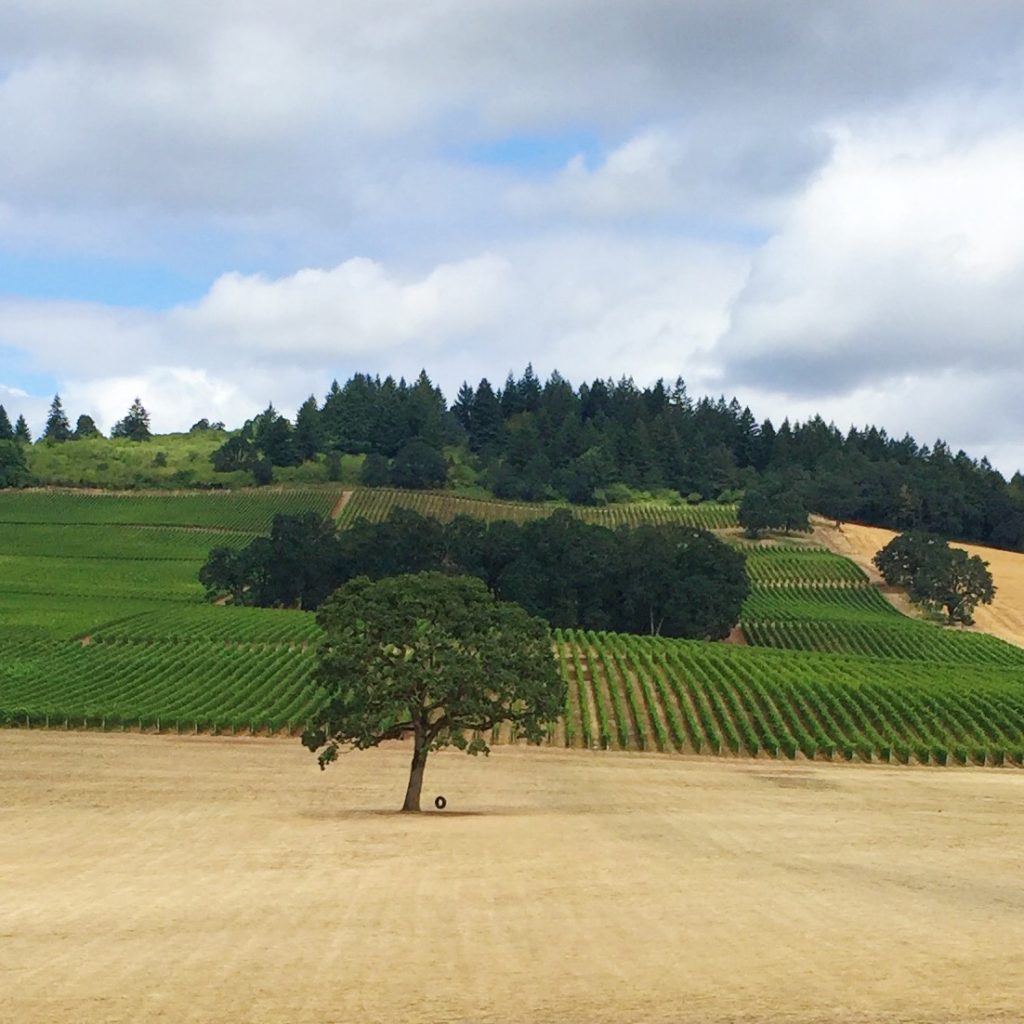 Here is one of the wineries that we went to, Stoller Family Estate winery. Isn't it beautiful?!?! We sat outside on their picnic tables and tried five tasters of their wines. There was a couple that we sat with outside who were from Denver! They were in town for a wedding too, then wanted to spend a couple days afterwards. We had a great conversation, plus great scenery!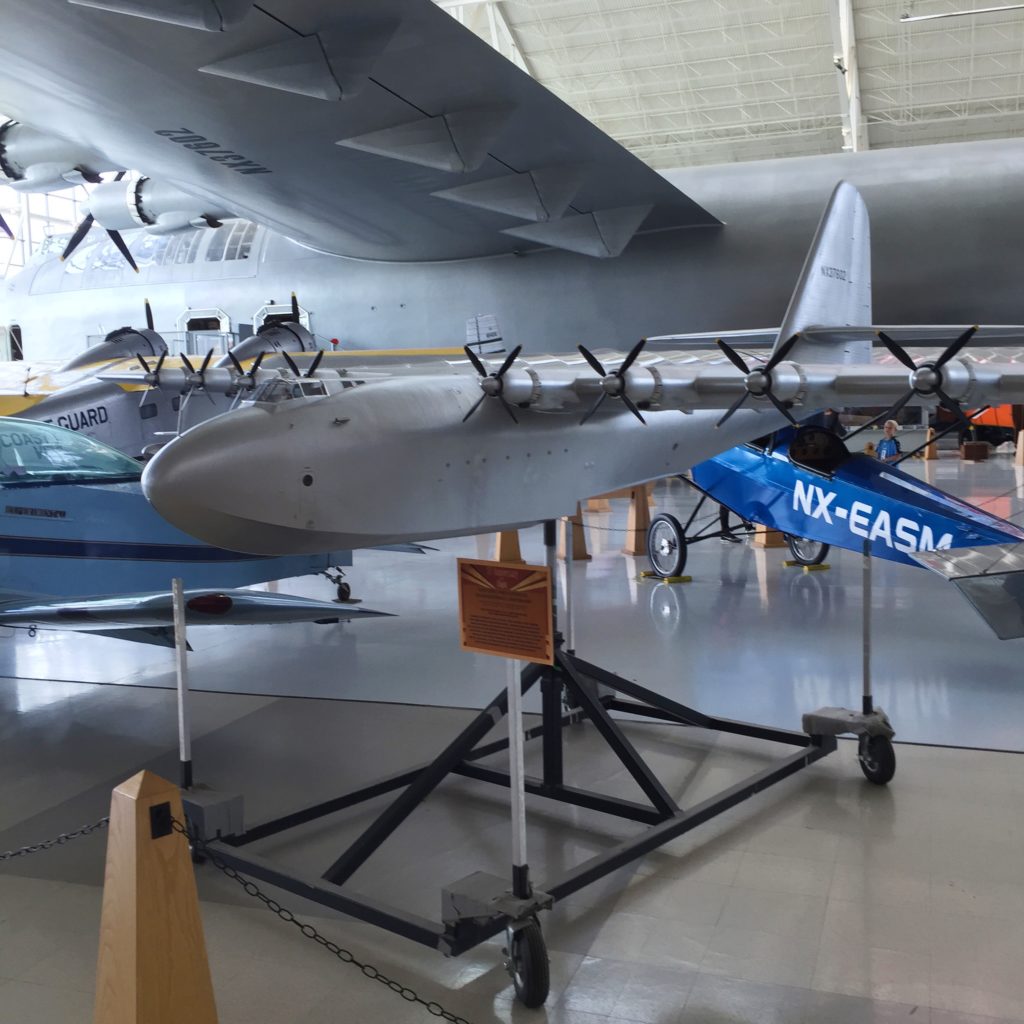 After checking out of the hotel in McMinnville we stopped by the Evergreen Aviation & Space Museum. The Spruce Goose is at that museum!!! The picture above is a small model of the Spruce Goose, then the actual Spruce Goose is the huge plane behind it. I don't know very much about airplanes but regardless, I enjoyed the museum.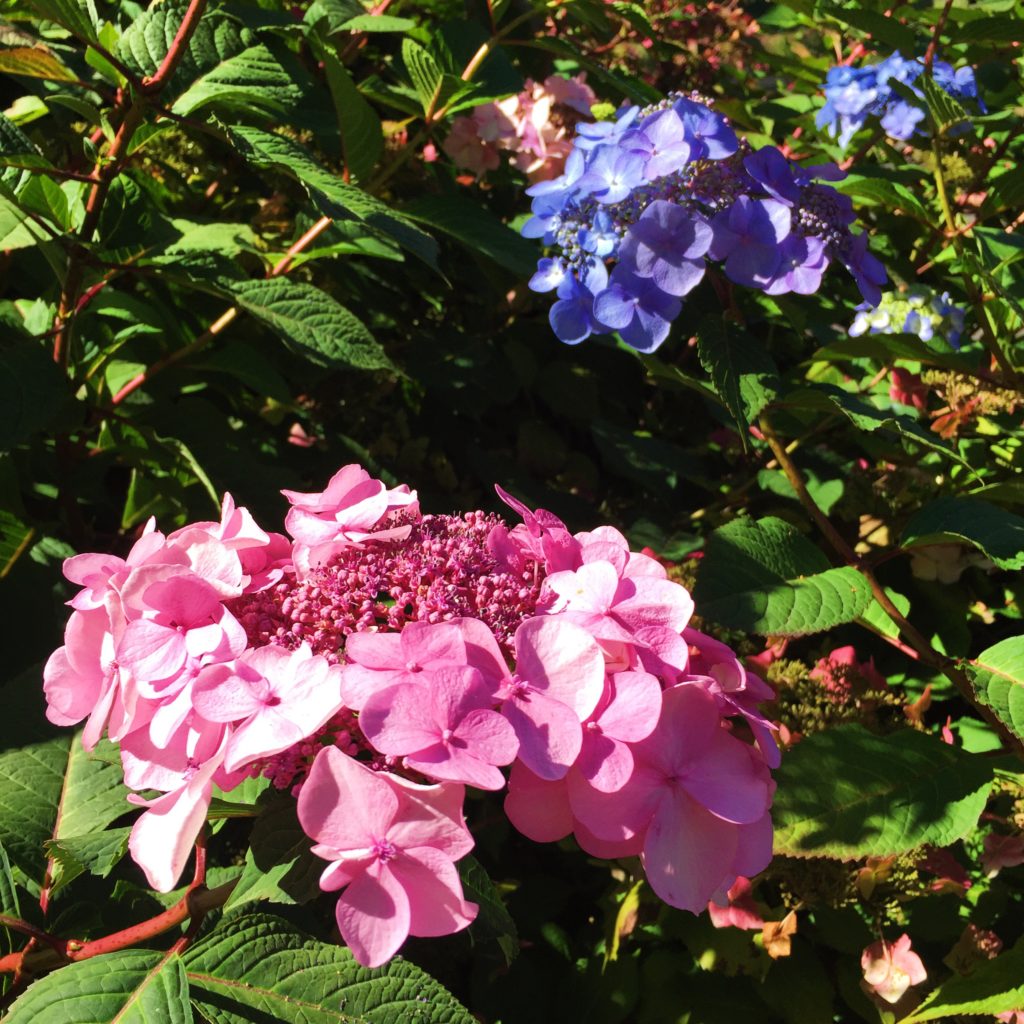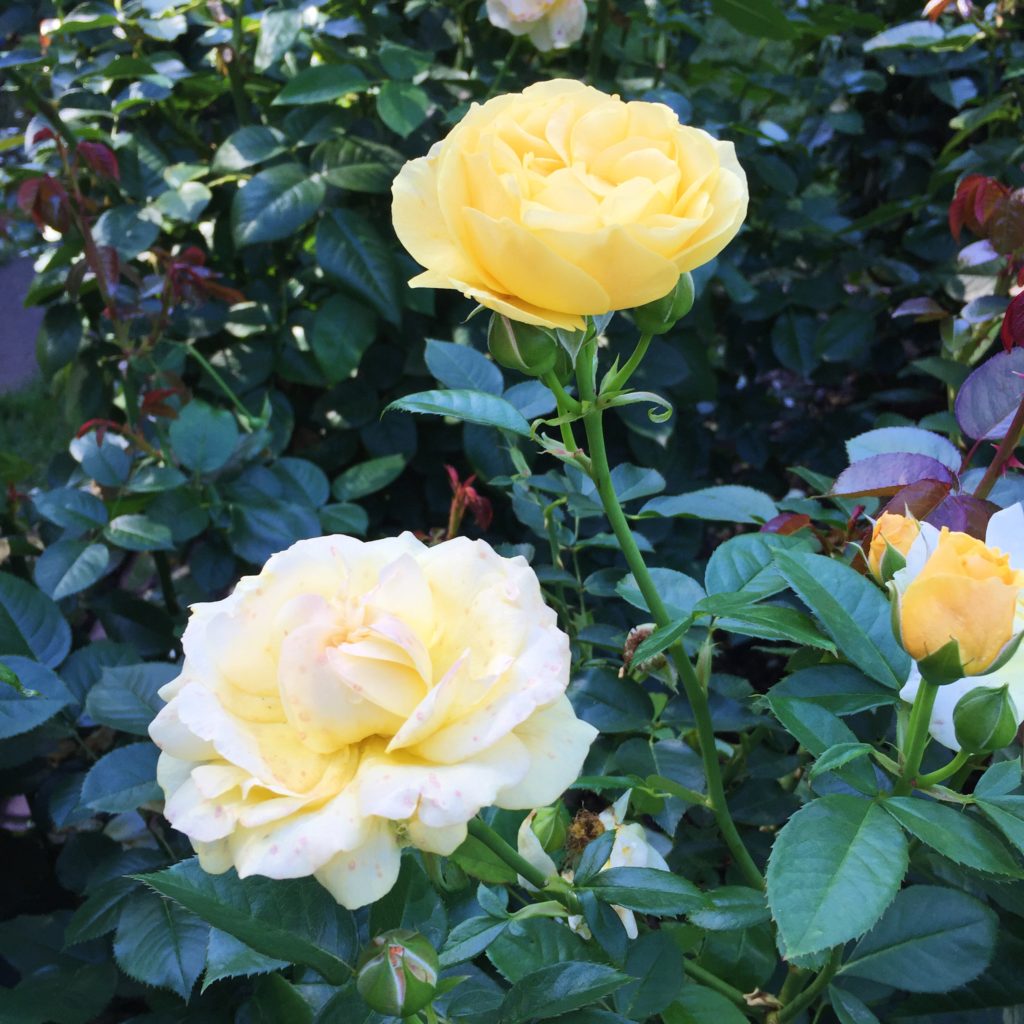 Monday was sunny and beautiful in Portland. We decided to go to the International Rose Test Garden to wander around. So many roses! It was wild to see how many different varieties of roses there are.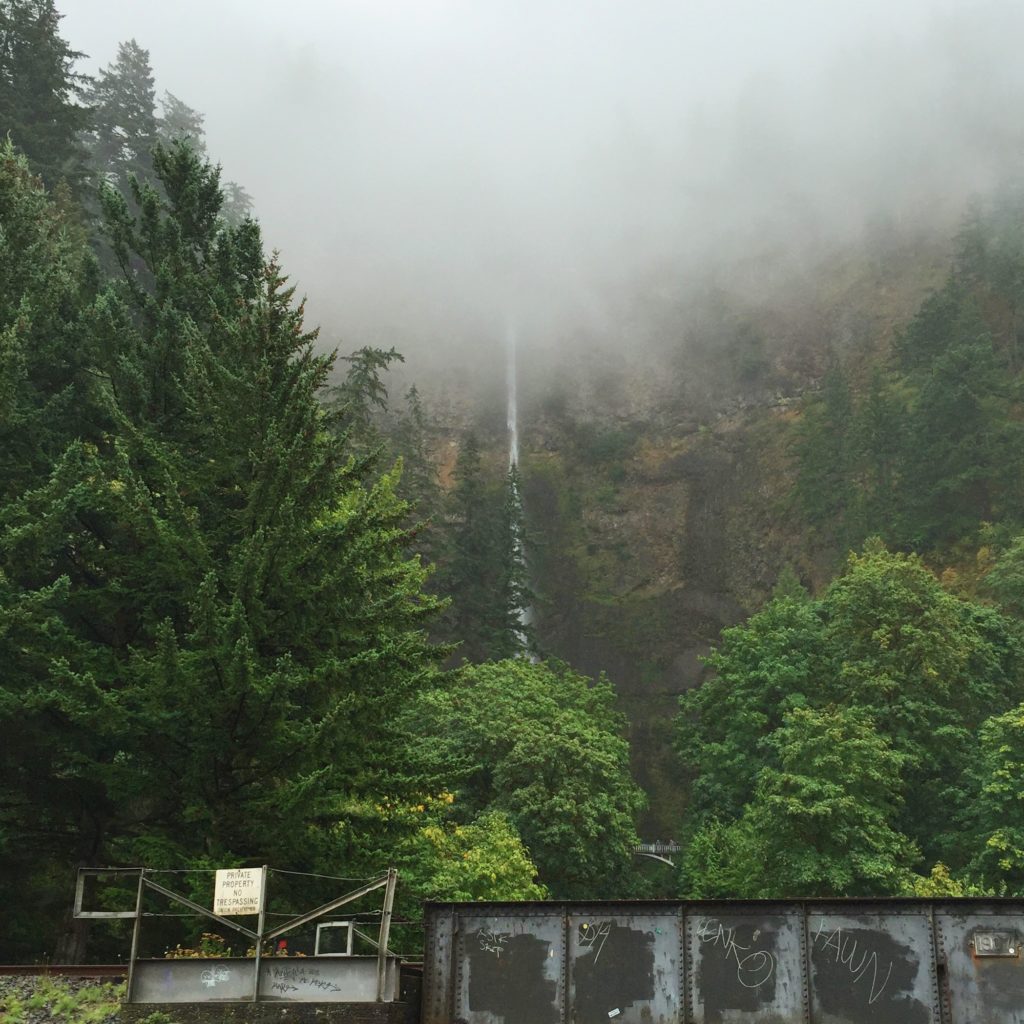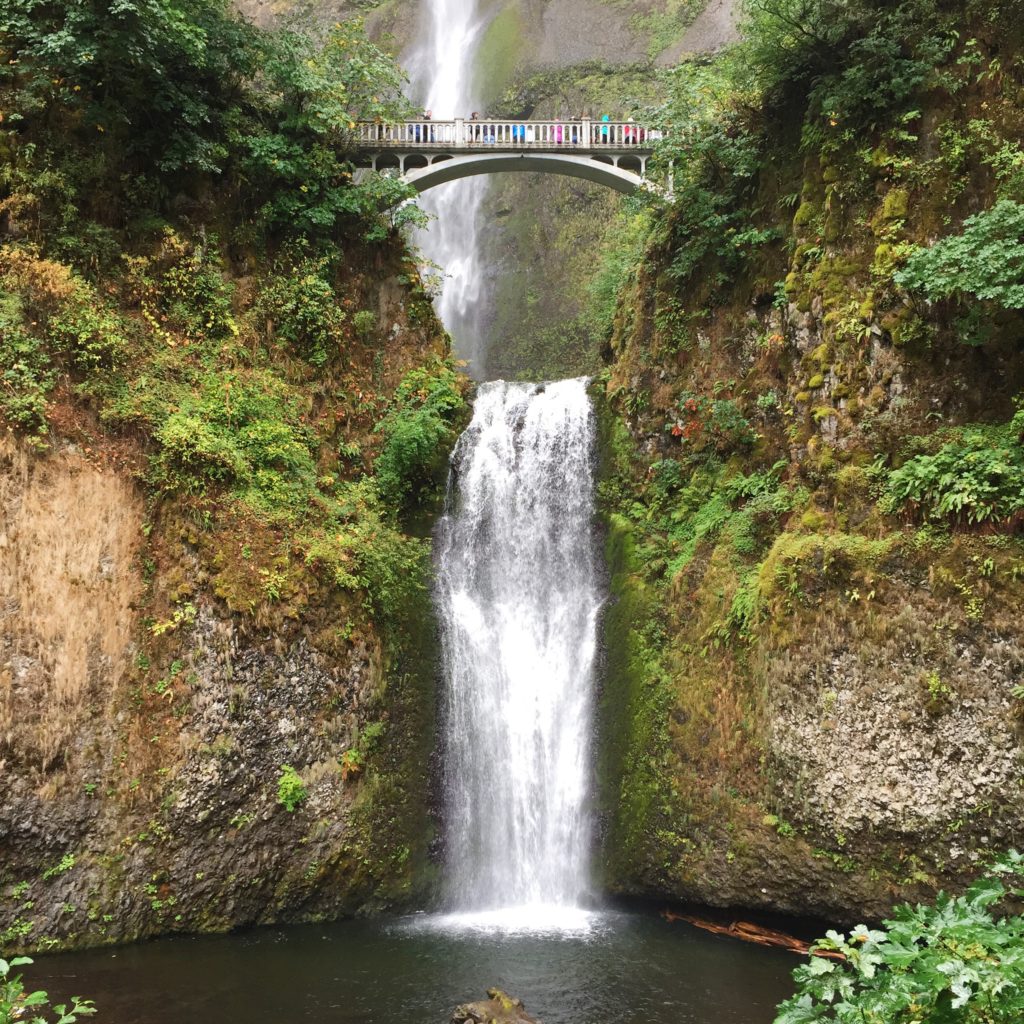 Donny's friend Dante took us to see Multnomah Falls and drove us up the Columbia River Gorge. I didn't get pictures of the gorge, because we were driving. It was so pretty though! It was rainy and misty when we stopped by the waterfall, but it was clear and beautiful a little further up the gorge. The pictures above are both the same waterfall, one is from far back and the other closer up.
Our end point was Hood River Distillers in Hood River, Oregon, which is the company behind Pendleton whisky.
Food:
Now the more important part of the trip….the food!!!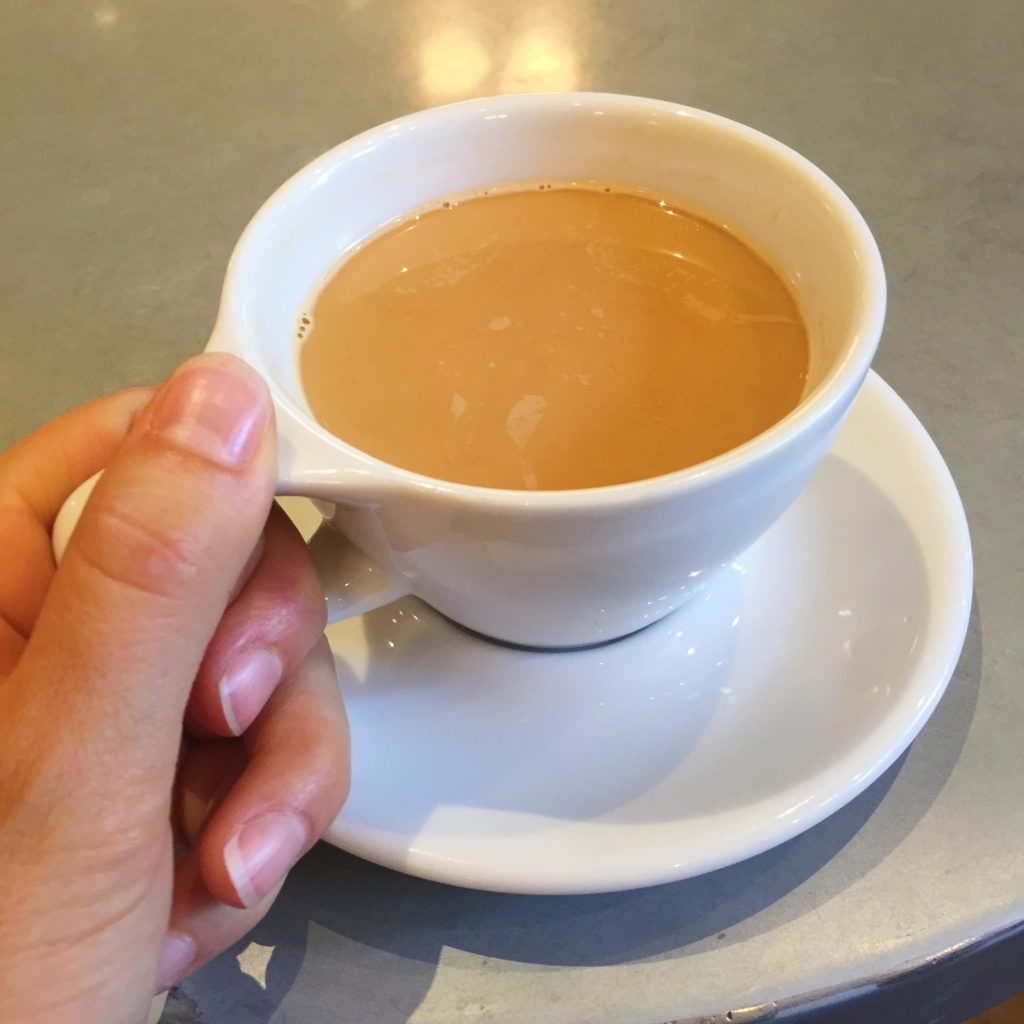 We drank a ton of coffee on this trip. Portland, and Oregon in generally really, has great coffee! I drank Americanos every time we stopped for coffee, which was quite often. Before we left, Donny & I made a pact that we couldn't go to the same coffee shop more than once. We had so many options that we needed to try as many as possible!
I ended up asking to break the pact, because Barista had my favorite Americano and I wanted needed another one before leaving town! Donny allowed it so we stopped by one afternoon for my second Americano. Yes, it was just as good as the first! We bought some coffee beans from them too. It won't be quite as good, but it will still be delicious. The picture doesn't look to exciting, but I am drooling thinking about it…..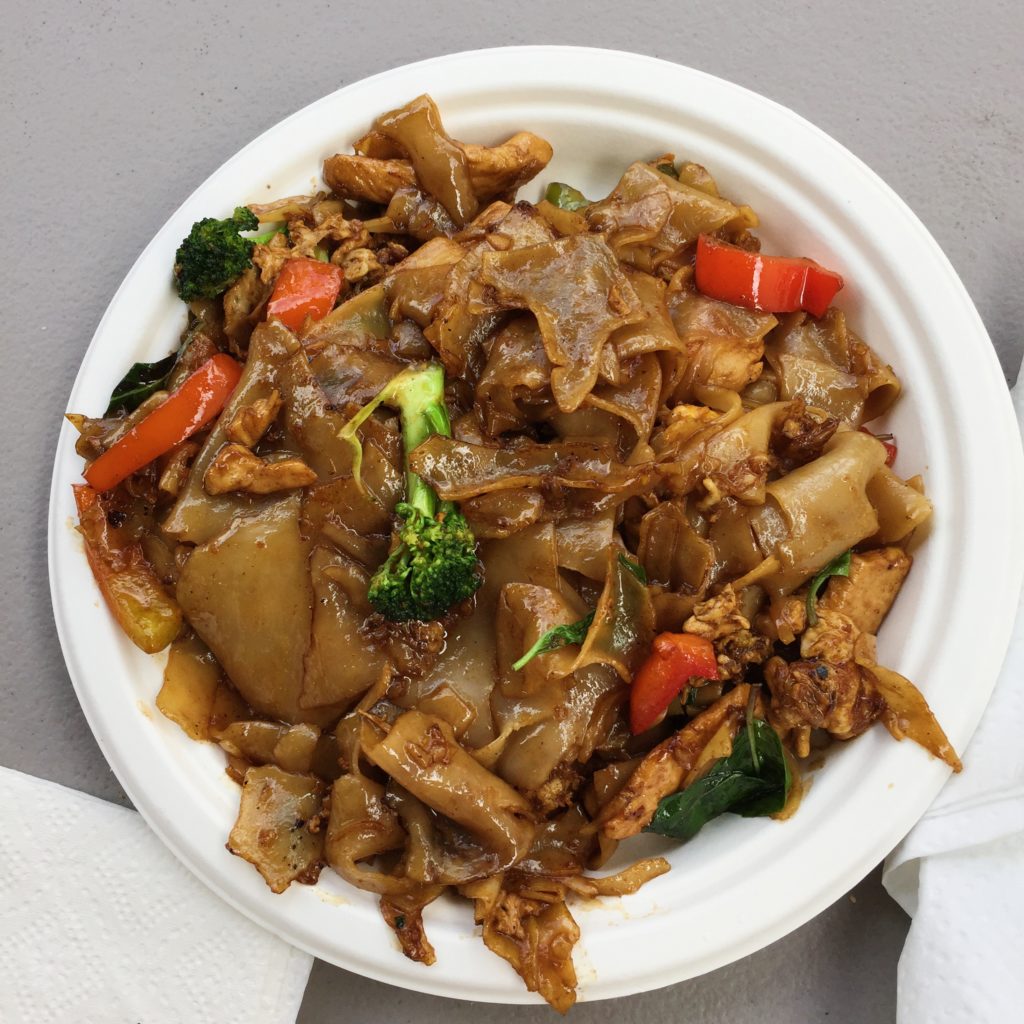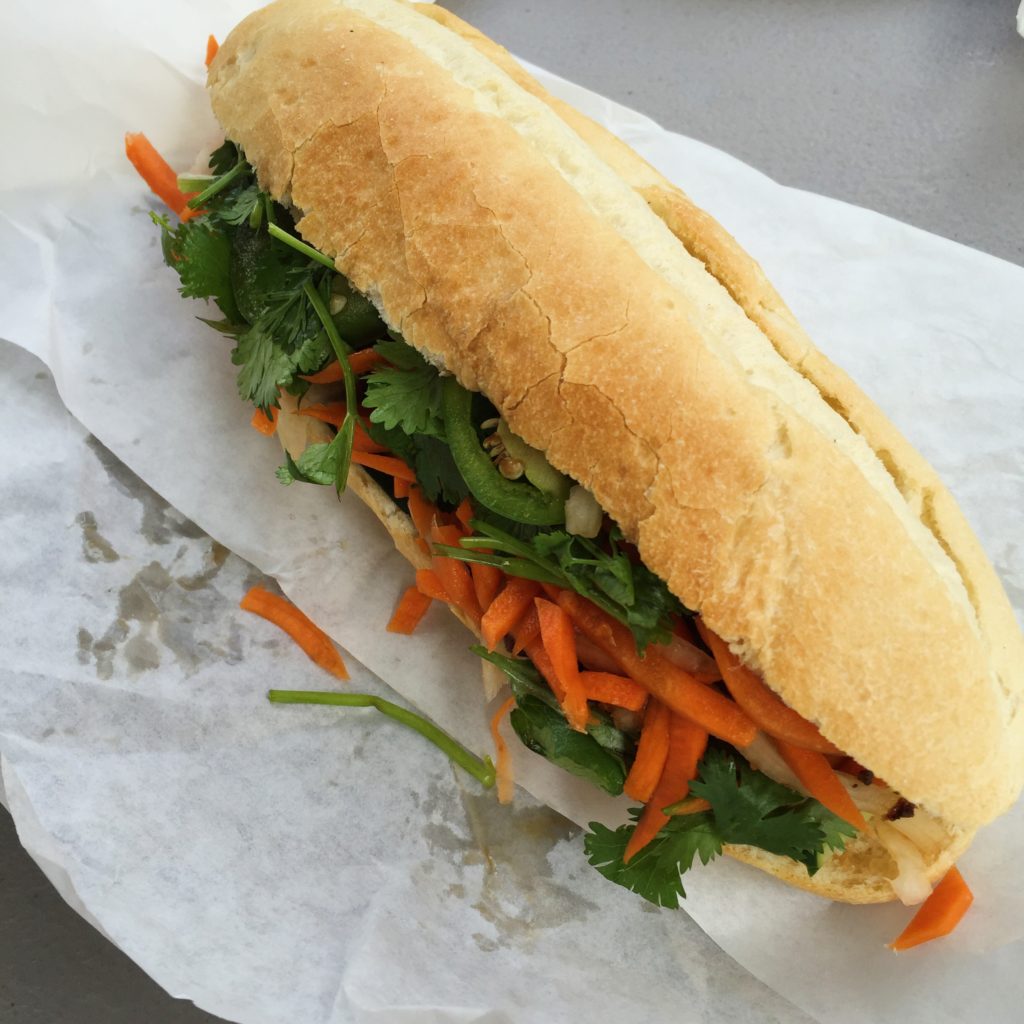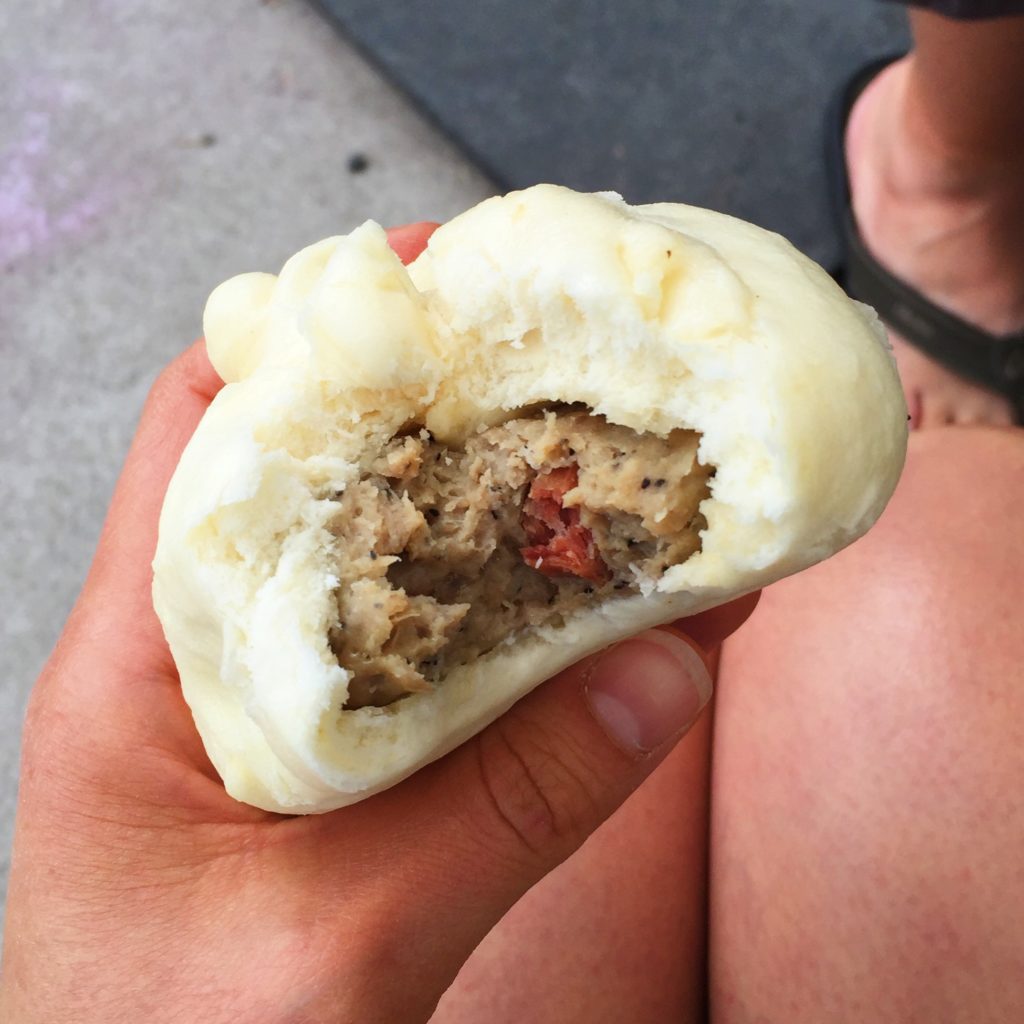 Portland has all kinds of food courts around town completely made up of food trucks. We stopped by Rose City Food Park and shared three different items.
We shared a Mr. Drunken Noodle with chicken (top picture) from the Thai truck. Then we also had a pork banh mi sandwich and bao bun. I'd never had a bao bun and I'm still not 100% sure of all the ingredients, but it was good!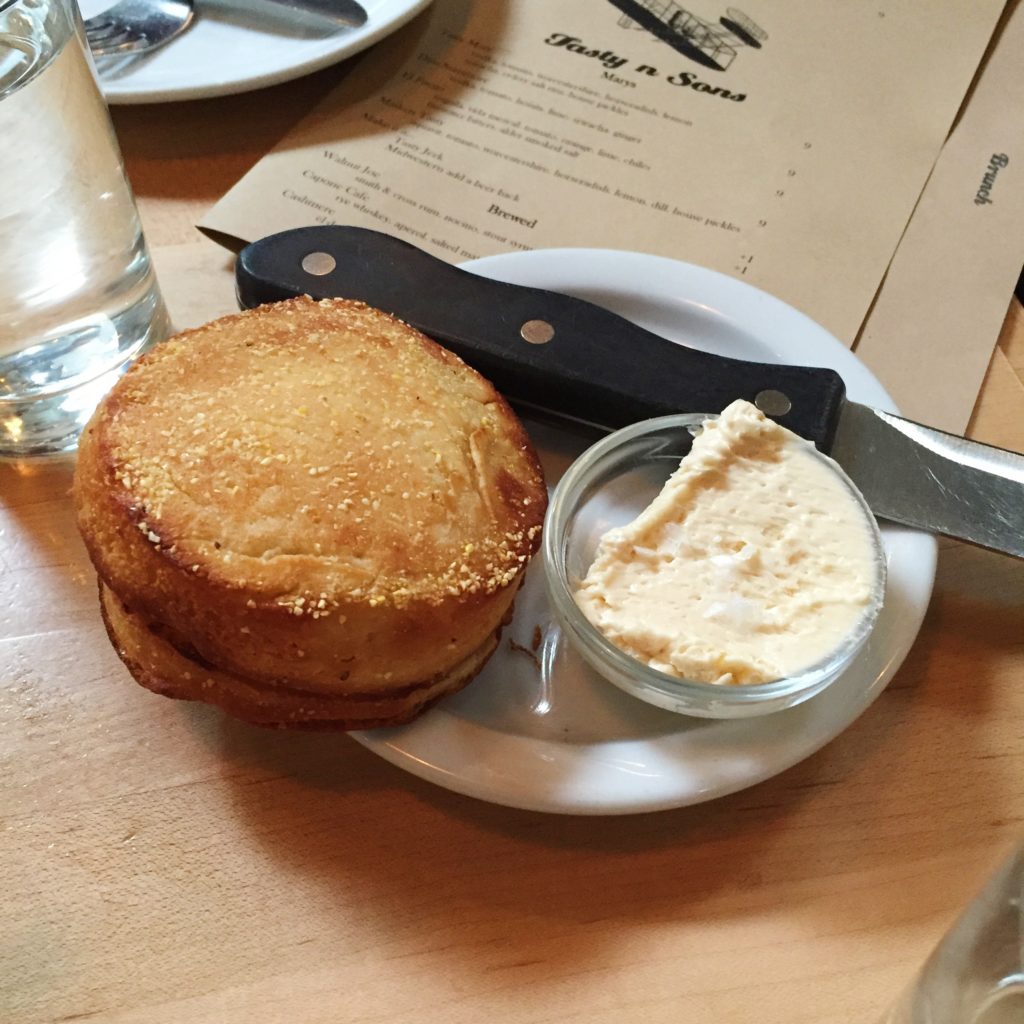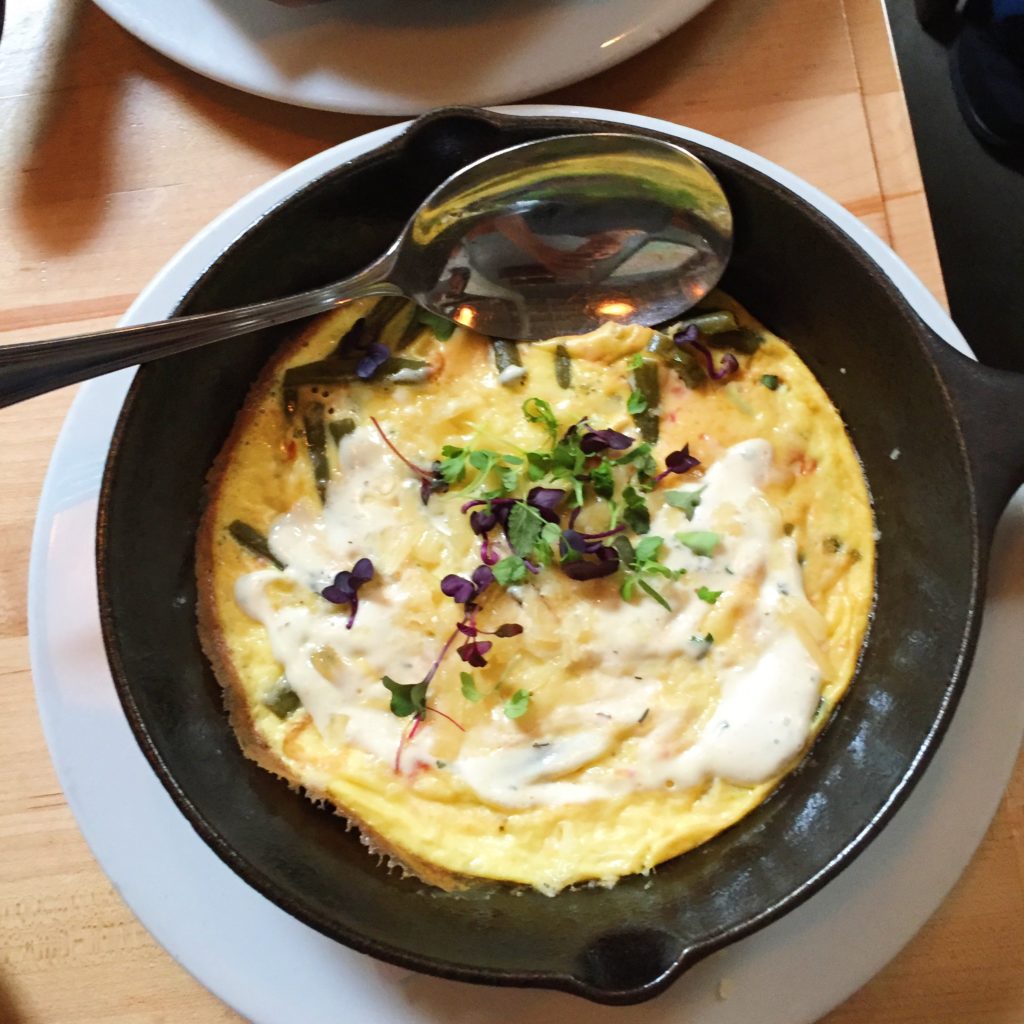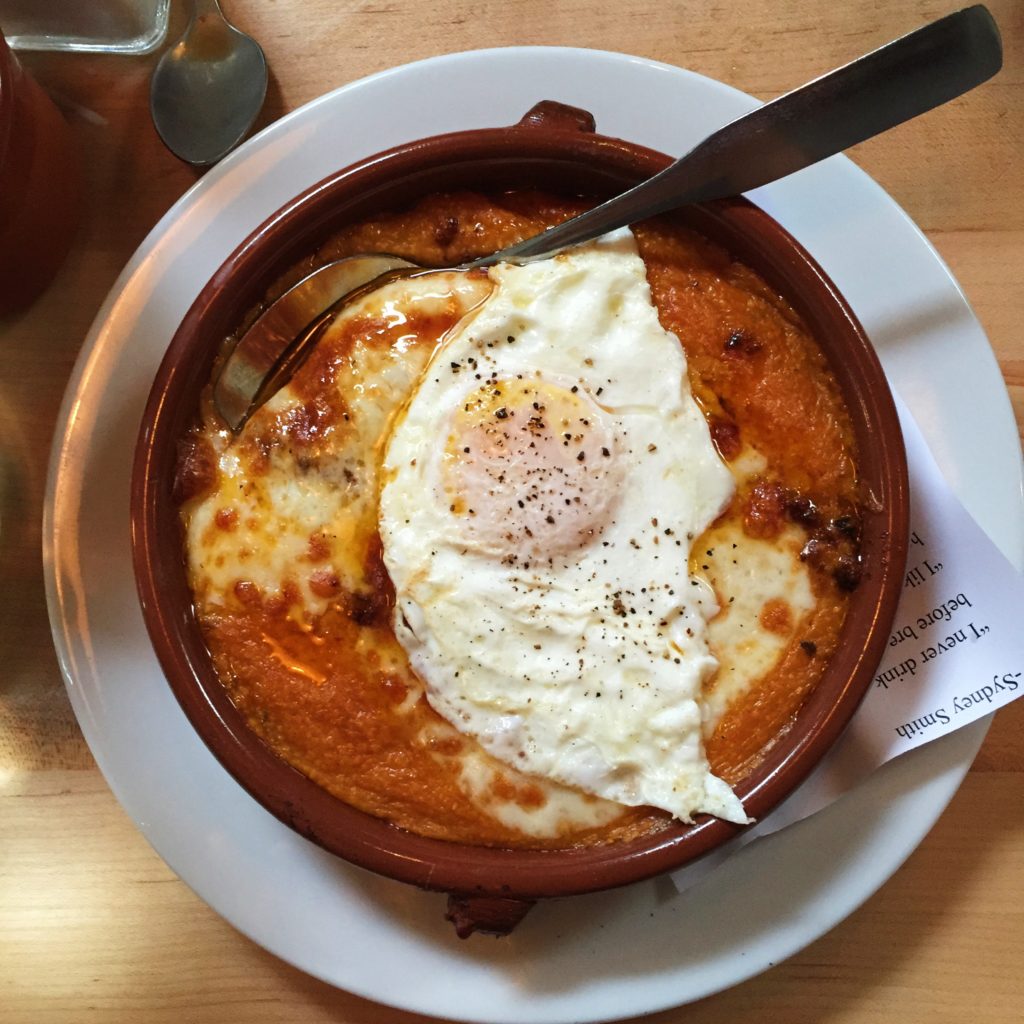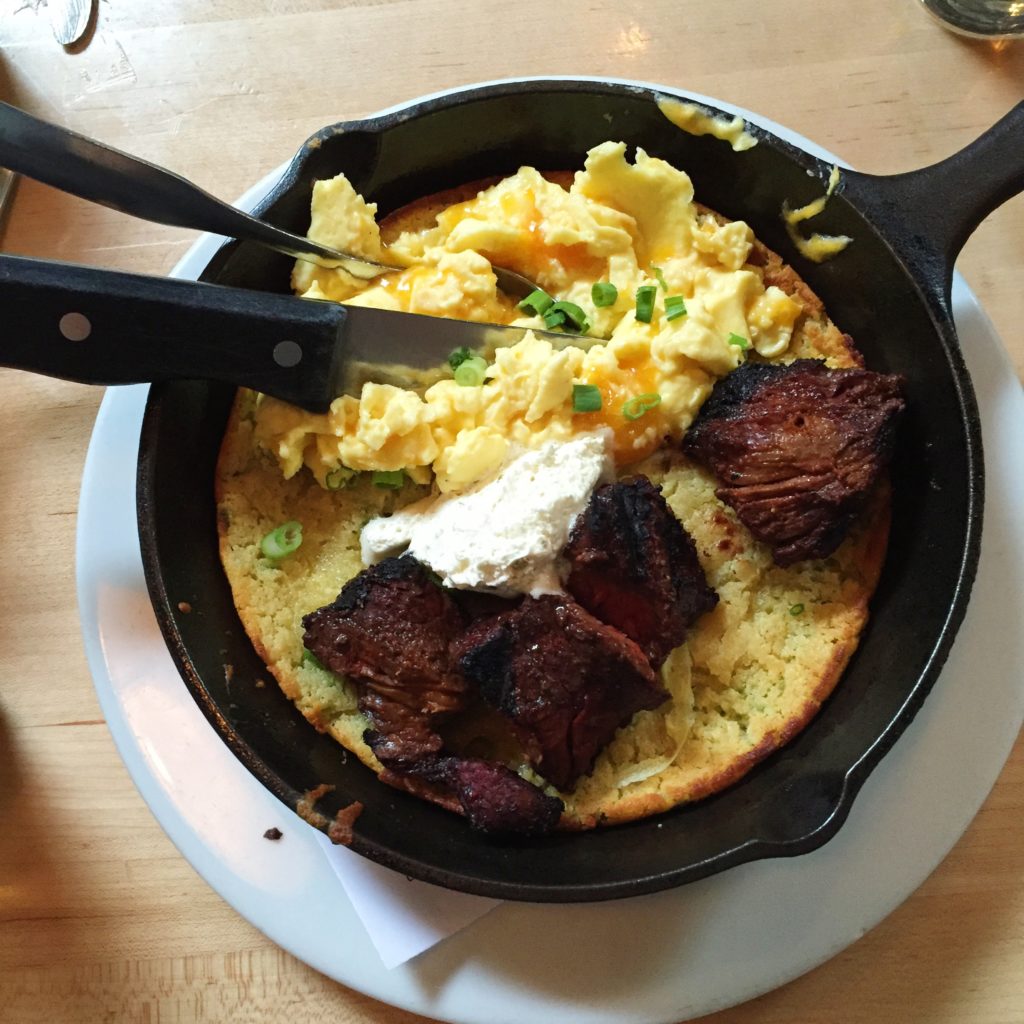 My favorite meal we had was actually brunch (at about 12:30pm, because there was a wait) and it was at Tasty & Sons. Donny talked about their gigantic homemade English muffins for a while before the trip so we had to get one. We also had a frittata and a polenta dish with a sausage ragu, mozzarella and an egg. The highlight however, was the steak 'n eggs. They were the bombdigity! I think it was my favorite dish of the trip. They made cornbread in a skillet, then topped it with jalapeno butter, steak and cheddar scrambled eggs. And yet again I'm drooling.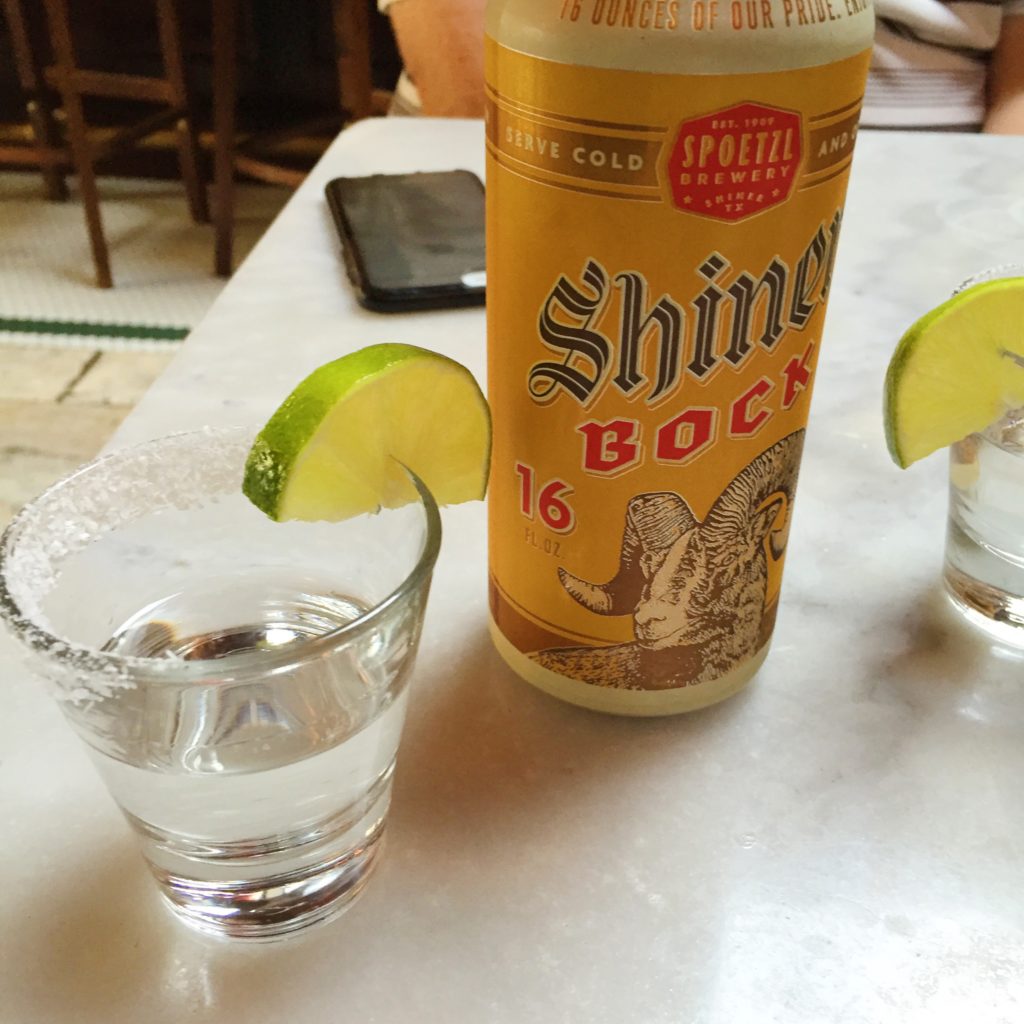 We stopped into a cupcake/popcorn shop to check it out and chatted with the gal working. She suggested we go to this bar a couple blocks away to get a drink and try their mussels. She said they had the best mussels in town. We accepted that challenge to see how good they really were. They were excellent! We also opted for the special of a Shiner Bock beer and a shot of tequila. Hey, we were on vacation!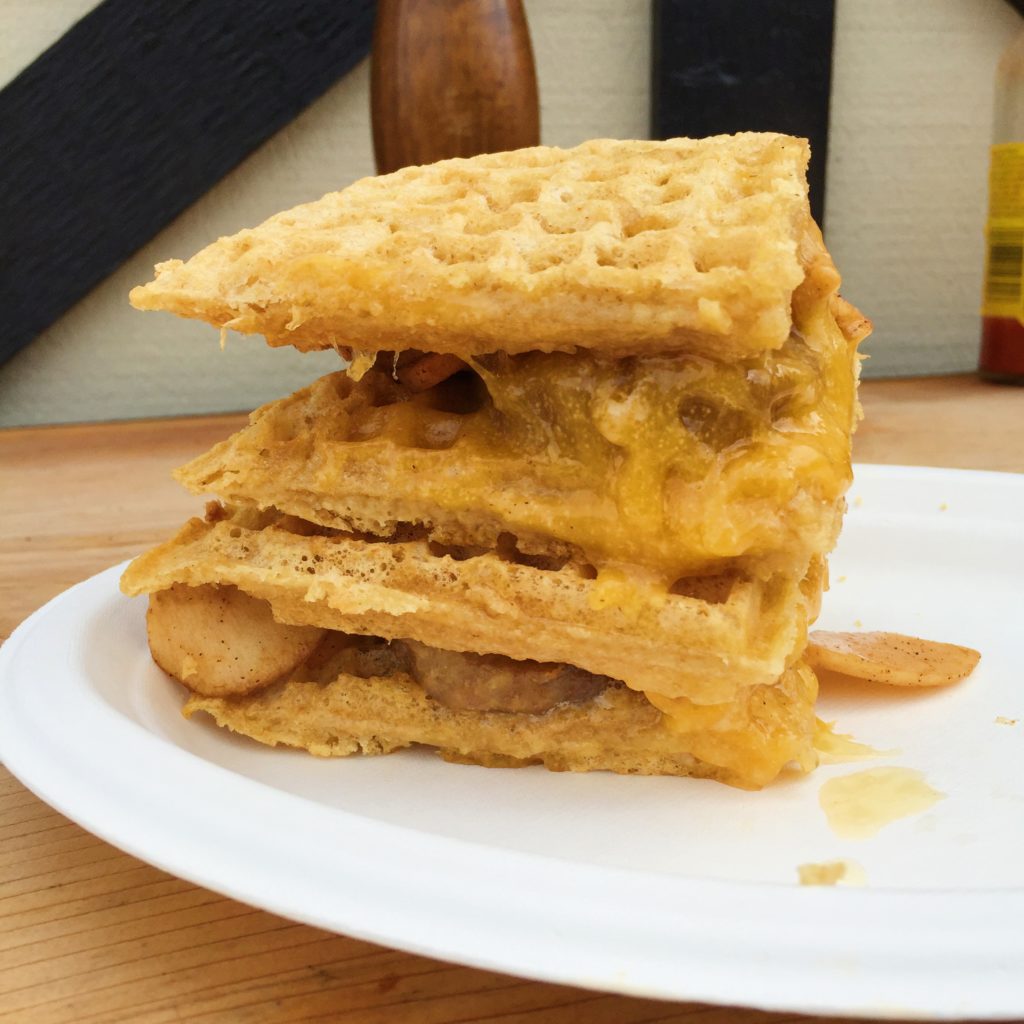 We ran into another food truck court and decided to have a waffle sandwich. Sandwiched between the waffles was sausage, griddled cinnamon apples and syrup. Yum. They had savory and sweet waffles, which was pretty neat.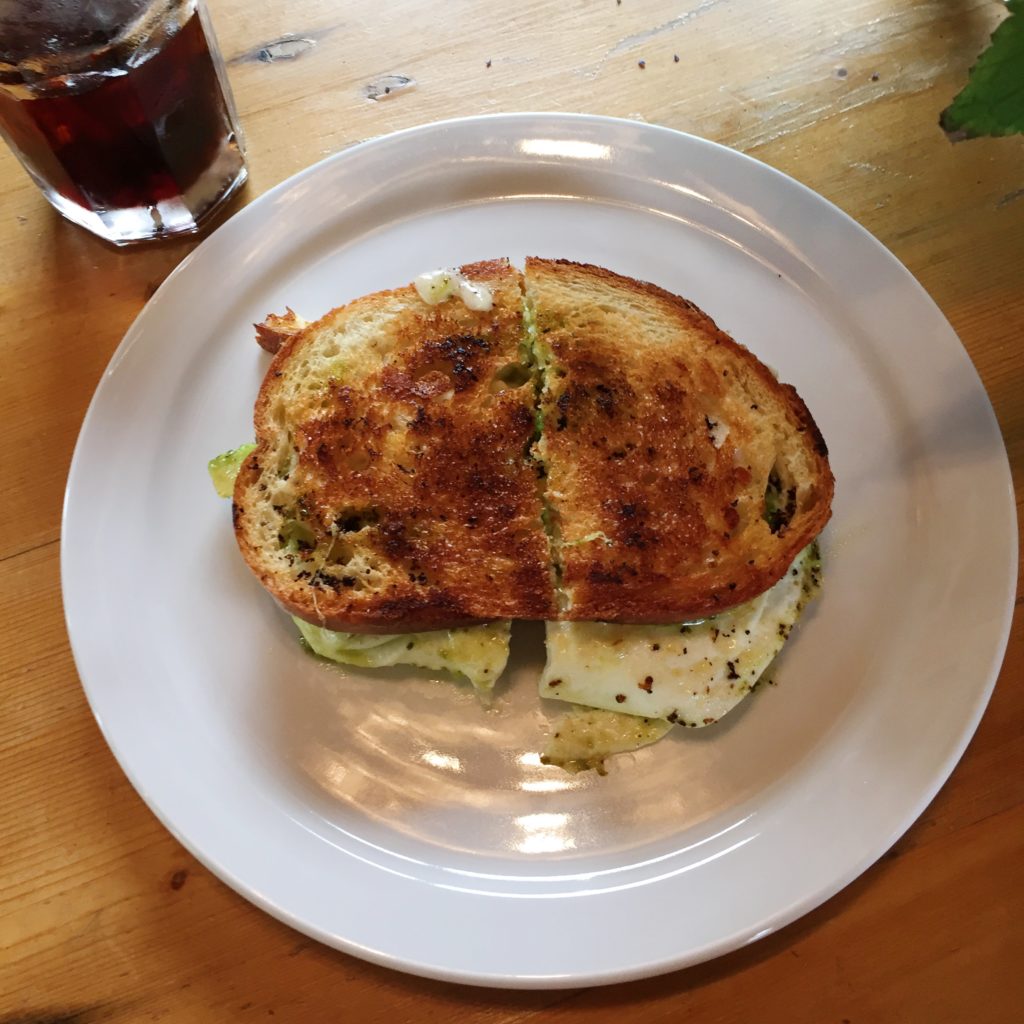 I made a healthier version of this sandwich once I got back from Oregon because it was really good! It was called the Green Egg Sandwich from a restaurant called Breken and it had egg, Havarti cheese, avocado and chimichurri between two slices of bread. So much flavor going on! I liked the combination of chimichurri with eggs that I made some homemade chimichurri when we got home!
There were several other things we ate and restaurants we tried, but I didn't take pictures. We enjoyed a restaurant called Bang Bang and also one called Ox. We didn't shy away from ice cream, because duh. We hit up Salt & Straw and Cool Moon for ice cream. I liked Salt & Straw better, but they were both good. We shared a junior scoop of ice cream at Salt & Straw. We intended to go back, but never made it. Huge mistake! I want to go back now….
We tried quite a few beers, but didn't fall in love with any. I was surprised at how much I didn't like the beer, to be honest. I personally like Colorado beer better, at least in terms of what I tried in Oregon.
That was a very short version of our trip to Portland. If you have any questions then let me know. Comment below, email me or send me a Facebook message!
Have you been to Oregon? What did you enjoy about it?