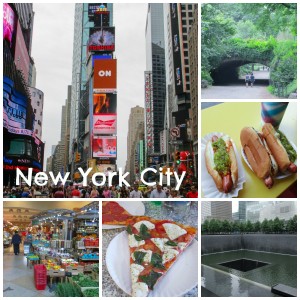 First of all, I am officially an owner of a brand new laptop! Walking in to the store Donny told me "if there is one you like that is only a couple hundred dollars over what you were thinking about spending, then just upgrade to it. You won't regret it". I thought that was good advice since I have a hard time making large purchases like this.
I walked in, went straight to the laptop area, and found someone to assist me. I had quite a few questions for them about purchasing a computer. The first thing she asked me was "what will you be using this for". When I told her "editing pictures, but I'm not a professional photographer", she immediately narrowed my choices down to three because she recommended one with a graphics card. I was glad that the choices were down to only three (helps my lack of decisiveness) but I did not like the prices of the three she recommended! All three were several hundred dollars more than what I had intended to spend.
We went back and forth a little bit getting to know more of the differences in devices. She then showed me where Lightroom 6 was, which was a great distraction from the fact that I did not what to spend an arm and a leg (in my opinion) on a laptop. I narrowed it down to two and Donny sent both options to our technology consultant, Jason (he works for high fives and hand shakes). Jason said the Lenovo Edge 15 was killin' it in all areas of comparison. That made the choice very easy, so thank you Jason!
I spent a lot more than I had intended, but I am happy with my purchase! Mission accomplished.
Now let's switch gears and talk about New York City! I love New York City. It is such a cool city…..I mean Alicia Keys thought you would be inspired by the big lights and that dreams were made there (Empire State of Mind anyone?! Duet with Jay-Z?). It is a fantastic city. I would never ever (ever) live there, but I like to visit it once in a while.
We left Denver late on Thursday evening and landed in New York at 11:00pm EST. They were doing construction so it took us forever to get to the hotel. We were staying at the Grand Hyatt on 42nd Street which happens to be attached to Grand Central Station. It is really convenient to stay there so you can hop on and off the subway if need be and you are in walking distance of Times Square.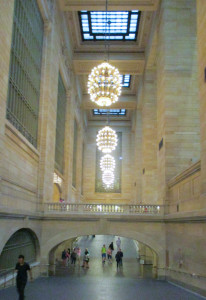 Grand Central Station is so beautiful. Have you seen the remake of Arthur with Russell Brand? Well first of all, I think that movie is hilarious. Second of all, there is a scene in the movie where he rents out Grand Central Station so that he can take a girl on a date there. I kept thinking of that movie while were in the terminal.
There is the subway terminal part of Grand Central but there is another part with shops, bakeries, a market, restaurants, etc. We ate breakfast down there on Friday morning before heading out.
We had reservations to go on a guided tour of the 9/11 Museum Friday morning. After breakfast we headed that way so that we could check out the memorial.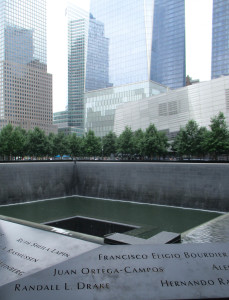 It was hard to get a good picture of the 9/11 Memorial. There are two of these huge pools, one at each location of the Twin Towers. They were actually placed exactly where the buildings once stood and have the same size perimeter as the buildings did.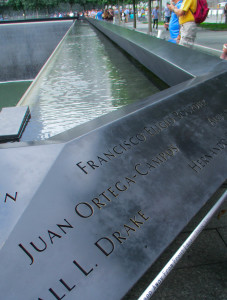 All the way around the ledge there are names of those that died in each tower inscribed. The museum is actually underground and is placed between the two pools. Throughout the tour, our guide referenced each pool and use them to understand the location of the buildings while talking about other aspects of 9/11.
I personally thought the museum was wonderful. I thought they did a great job displaying certain artifacts from the event (a firetruck, parts of the steel shafts that held the buildings up for so many years, the retaining all that was created when the buildings first went up, etc.) Our tour guide was born and raised in New York City and she helped bring out some of the emotion in a different way. She helped remind us of the impact that was felt city-wide, nationwide, and even worldwide. I thought she did a phenomenal job.
If you go to New York City I think the 9/11 Memorial and 9/11 Museum are both a must-see. I would also suggest paying the extra few bucks to go on the guided tour. It is still an audio tour, but instead of a recording there is an actual guide that walks and talks with you along the way.
After the museum we went back to hotel to change clothes really quick. We had lunch reservations with a couple people Donny works with that are from the New York area.
Janet & Jeff took us to Wolfgang's Steakhouse, a steakhouse by Wolfgang Zwiener. We had such a fun time with them! Donny had talked about them several time but I had he chance to meet them yet. We started lunch with a round of dirty martinis…so you know Janet & Jeff are a good time!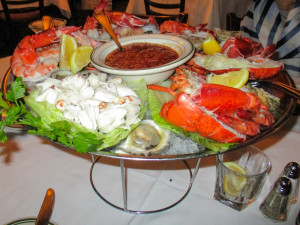 Once our drinks arrived, we chatted for a while and ordered some bacon. Turns out, it was not ordinary bacon.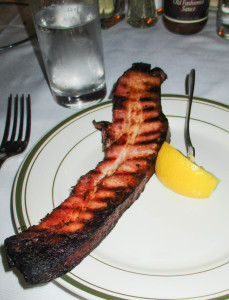 It was gigantic! Look how thick that is… it had to have been close to half an inch thick. No joke. It was incredible. They brought each of us one slice, which was more than enough for me, and it literally couldn't fit on the plate! It was so good.
As our mouths were watering over the bacon, our seafood platter appetizer came out. Needless to say, it was intense. It had lobster, shrimp cocktail, crab meat, and oysters.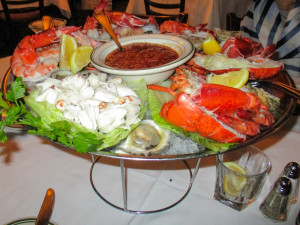 I honestly would not have even needed steak at this point. I am content with chilled seafood anytime! I can dominate some shrimp cocktail and crab – just ask Donny.
However because were at a steak house and it would be rude to order pork and seafood, we ordered porterhouse steaks for the table.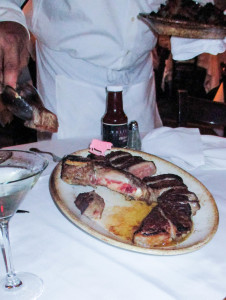 Two different platters came out like that and the waiter served each person a piece or two (they leave the platters on the table for seconds, don't worry). You can kind of see it in the picture above, but there was a pool of steak juices and butter that was leftover after the steak was gone. It just so happened to make a prime dipping sauce! Healthy, no. Delicious, why yes.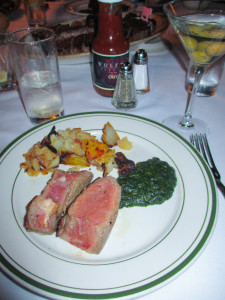 The porterhouse steaks are actually ordered for the entire table (in our case for 5), rather than individually. Then you get a couple sides with it, served family-style. We chose their most popular sides which were potatoes and creamed spinach. Above is a picture of my plate. It was heavenly. We ate…and ate…and ate… and ate! We were there for three hours chatting and eating. It was so fun.
Our waiter asked if we wanted dessert and we did not. However, somewhere along the way we were persuaded and ended up with a gigantic hot fudge sundae (which I just so happened to forget to take a picture of)! We managed to find a little bit more room for ice cream and hot fudge. Amazing how that works.
We were ready to go and basically needed to be rolled out of the place, so we decided to go check a few things out around the city. Jason (who works with Donny and also happens to be our technology consultant mentioned previously) found out there was a temporary pop-up apartment that you could go see that was designed identical to the one on Seinfeld. We went that way but the line was crazy long.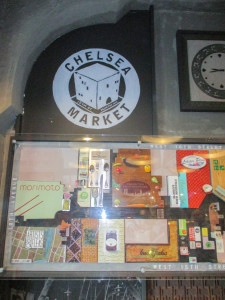 Luckily it was a block away from Chelsea Market. Chelsea Market is in the Meatpacking District and is just that, an indoor market. There are cute shops and restaurants inside and then upstairs they film different shows on the Food Network such as Chopped and Iron Chef.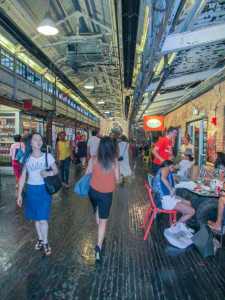 We ended up buying a couple things along the way – an awesome picture of Chelsea Market for our travel room, a vintage map of Manhattan, and some fig vinaigrette to name a few.
Right by Chelsea Market there is the High Line, which is a park that was built on a historic freight line that use to run above the streets in the city. They were not sure what to do with it after the rail stopped coming through, so they turned it into a giant walkway with beautiful views and gardens all along. Very creative.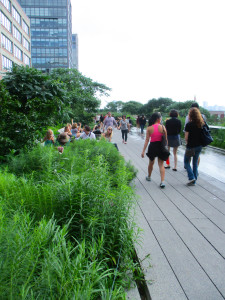 We walked along there for a little while just enjoying the nice weather.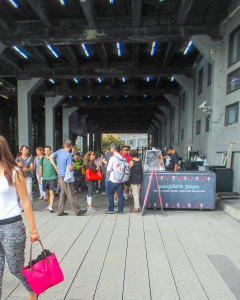 Little booths set up and sold different things along the way too. We found artwork, t-shirts, ice cream, coffee, etc. We didn't purchase anything but it was fun to see.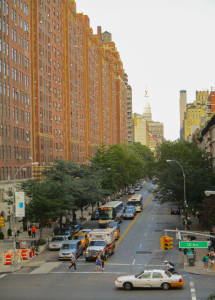 Some of the views from the High Line are awesome. This particular photo was taken at some point while we were walking and I liked it because you are above the streets. It is a different view than you would normally get at street-level.
After a short walk we went back to the hotel to change for dinner. Yes, more eating.
The warehouse that Donny uses in New York is family-owned and they took us to Dos Caminos. They told us they wanted to take us somewhere "fun" and they did! It was a great atmosphere and had some cool food too!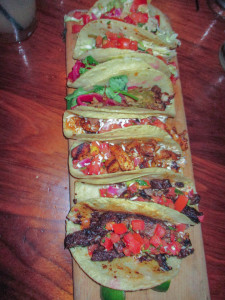 We weren't all that hungry (but can always eat, right!) so Donny & I shared some tacos. I cannot imagine ordering this dish by myself. It is four different types of tacos and you get two of each kind! Too much for one person but seemed perfect for sharing though.
We were going to have one of each, but I was so full still from Wolfgang. I had once fish taco, half a chicken taco, half a pork taco, and gave Jason the steak taco. I tried to pawn the other two halves off on him too, but he wouldn't let me!
I was exhausted after dinner so Donny & I went back to the hotel to go to bed. Jason went down to Times Square and had some fun. I am the 100 year old in the group and just cannot handle staying out that late. See once again, I could not handle living in New York because I have the wrong sleep schedule. That city is late to wake up and late to go to bed… completely the opposite of me.
We did get to sleep in on Saturday. Donny & I woke before Jason so we went down to Grand Central Market and looked around.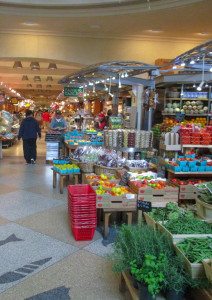 Again, all sorts of different vendors – produce, coffee, bakery, fish, grocery, etc.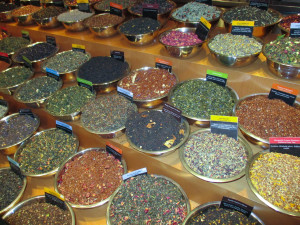 We bought some tea at Spices and Tease (get it?!). We bought Pomegranate White, Peach Apricot Hibiscus, and Kir Royal Hibiscus. So far I tried the Peach Apricot Hibiscus and it is wonderful!
We grabbed coffee and a biet to eat then went back to our room to wake up Jason. He needed to buy a new pair of sunglasses and knew the kind he wanted so we went to Times Square to the store he looked up.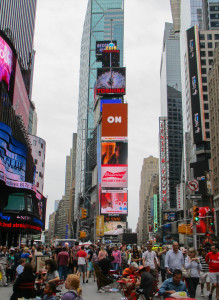 Last time I was in New York (June 2002) I was in Times Square at night. The day time is cool too but busy. Holy cow it is busy. I'm sure it is busy at night I just didn't notice it when I was 14.
Next stop was Central Park. There was rain in the forecast and we wanted to get there before it hit! One goal of the trip was to walk around Central Park and then eat a hot dog. Once again, mission accomplished!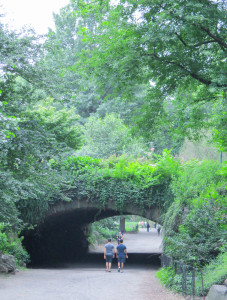 We weren't in the park for a whole lot of time but long enough to get the jist of it. It is huge! Have you ever looked at it on a map? It takes up a huge area, but it is gorgeous.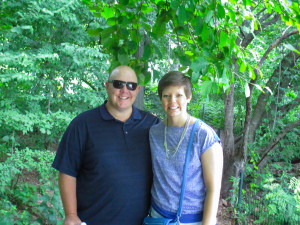 Donny & I don't take many pictures together, but it helped to have Jason there to be our photographer. Without him we would have had to bring our selfie-stick…..it was much more convenient having him around!
We were not too far from Gray's Papaya so walked there for our hot dogs. I always remember Gray's Papaya from Fool's Rush In with Matthew Perry and Salma Hayek (good movie, but they reference Gray's Papaya in it). Anthony Bourdain also has that on one of his stops in his New York City episode of The Layover (yes, we watched it prior to visiting).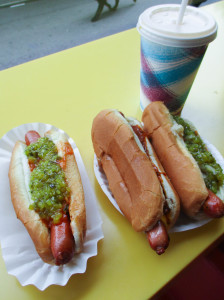 Donny got two dogs, one with relish, onions and sauerkraut and the other with chili and cheese. I got one dog with onions and relish. They actually were pretty good hot dogs and bonus, they were cheap. We took Anthony Bourdain's advice and tried their papaya drink. Meh, I didn't love it but I can now say that I've tried it!
We weren't sure what to do next and we had some time before we needed to be back to the hotel. One place that Donny had wanted to go but hadn't made it yet was Eataly. It was back down by Times Square, so poor planning on our part. Or well, lack of planning.
Eataly is a building with all sorts of things inside: shops, restaurants, bars, etc all with Italian influence. It was really cool but extremely busy (surprise, surprise). We actually decided to grab a drink on their rooftop bar called Birreria.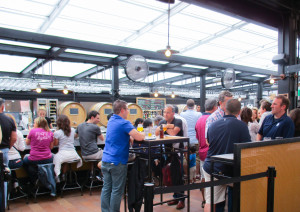 We went up for a drink and ran into some customers of Donny's that are actually from Colorado. Random, I know. I didn't know this at the time, but the guy in the blue shirt in the picture is actually who Donny and Jason know. I took their pictures and didn't even realize! We stayed and talked to them for over an hour.
Gray's Papaya did not fill me up quite as much as Wolfgang, so I was hungry again. Previous discussions had been about pizza so we felt the need to go try some New York-style pizza!
It finally started raining and was raining hard so we grabbed a taxi and had him take us to Joe's Pizza.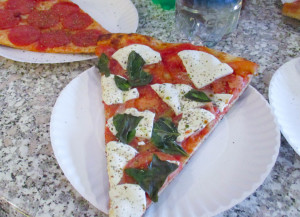 Joe's Pizza is a pretty famous pizza joint around New York City. There were pictures of celebrities enjoying Joe's hung up on the walls. It was fantastic pizza! You order by the slice so I had the margherita pizza. We were done eating and a guy behind the counter said they burnt one so we could have another slice on the house. Uh, yeah. Jason had a slice and Donny & I shared another slice. It was pepperoni and fantastic!
We hung out for a little while (out of the rain that is) and then had tickets to see Kinky Boots at 8:00pm. To say it was amazing is an understatement. I loved it so much! I mean, it has won six Tony Awards…not too shabby. I like musicals in general, but this one was funny, entertaining and the music was fantastic. I heard Cyndi Lauper wrote the music for it… not sure if that is 100% true or not, but it was great.
After the show we went to a bar and hung out for a few hours. Two of Donny's good friends that he met through work went with us to the play so we partied with them a little bit afterwards. Dennis is from Holland and can drink. A lot. Carl works for the same company as Dennis, but actually lives in Kansas (not too far from Colorado). They are a riot. I think they even enjoyed Kinky Boots!
We went to bed way to late and then had to get up early Sunday morning so that I could get to the airport. The food show started Sunday so Donny and Jason had to get ready anyway. We grabbed a quick breakfast, I grabbed my luggage, and hailed a cab. Easy peasy. The flight home was a breeze and I was home early enough to get a few thing prepped for lunches/snacks for the week! All in all it was a great trip. Quick, but well worth it.
Have you been to New York City? What is your favorite part?