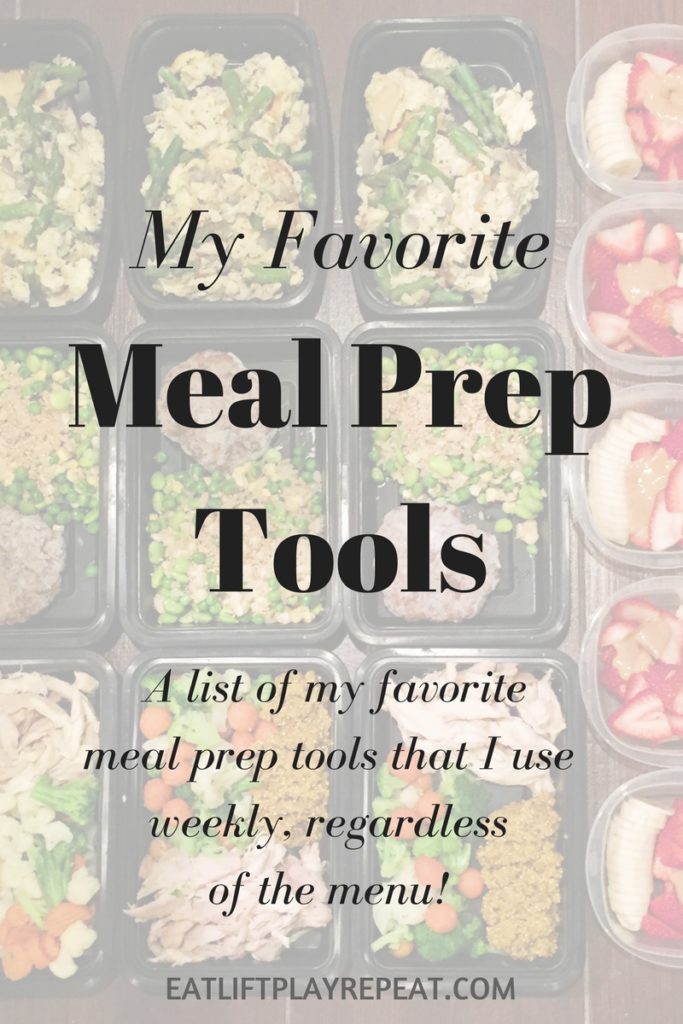 Meal prep is a huge part of my weekly routine. I try to make all my lunches and snacks for the week at some point over the weekend. I use a variety of appliances of course, including my oven, stovetop, microwave, etc. However, I also use a variety of meal prep tools as well.
So what do I use the most? Each week is different in terms of what I make and how I make it. However, these meal prep tools are the ones I use pretty much every week, regardless of the menu.
Meal Prep Containers:
One of the most important things when it comes to meal prep is having enough clean containers to store my meals! I make lunch for each day of the week, plus two snacks per day so I go through a LOT of meal prep containers!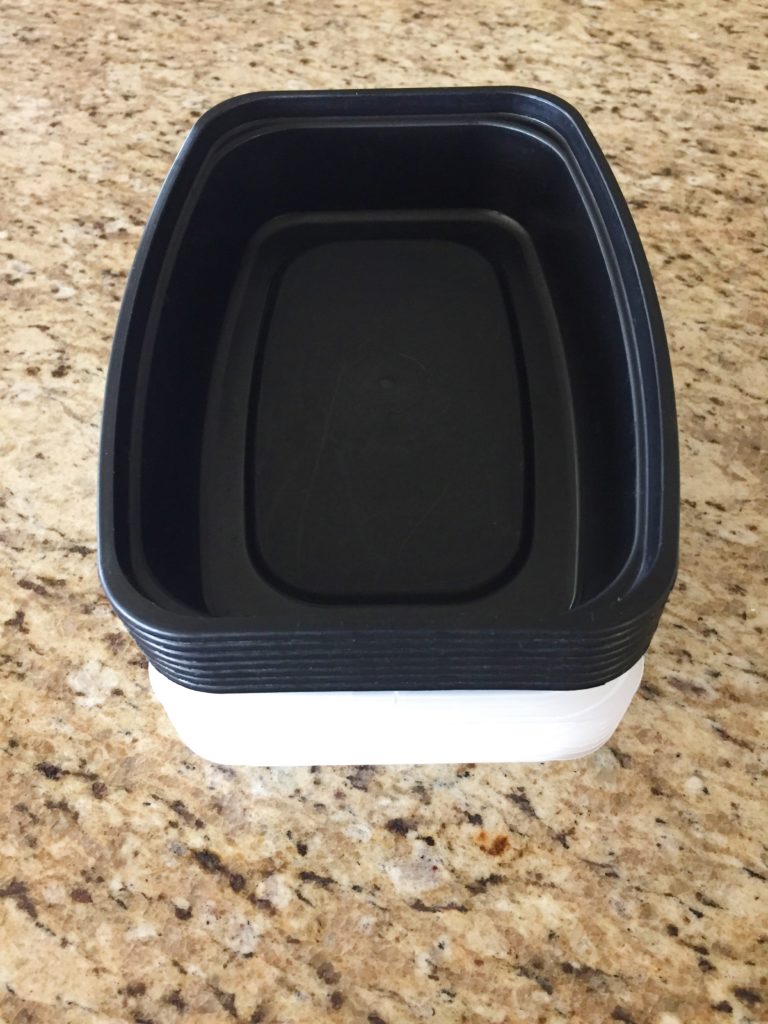 My favorite ones for lunches are the plastic, black containers that are dishwasher and microwave safe, plus easy to stack for storing! I usually buy mine on Amazon, but a friend of mine found some at Costco too. They are inexpensive and last for quite a while.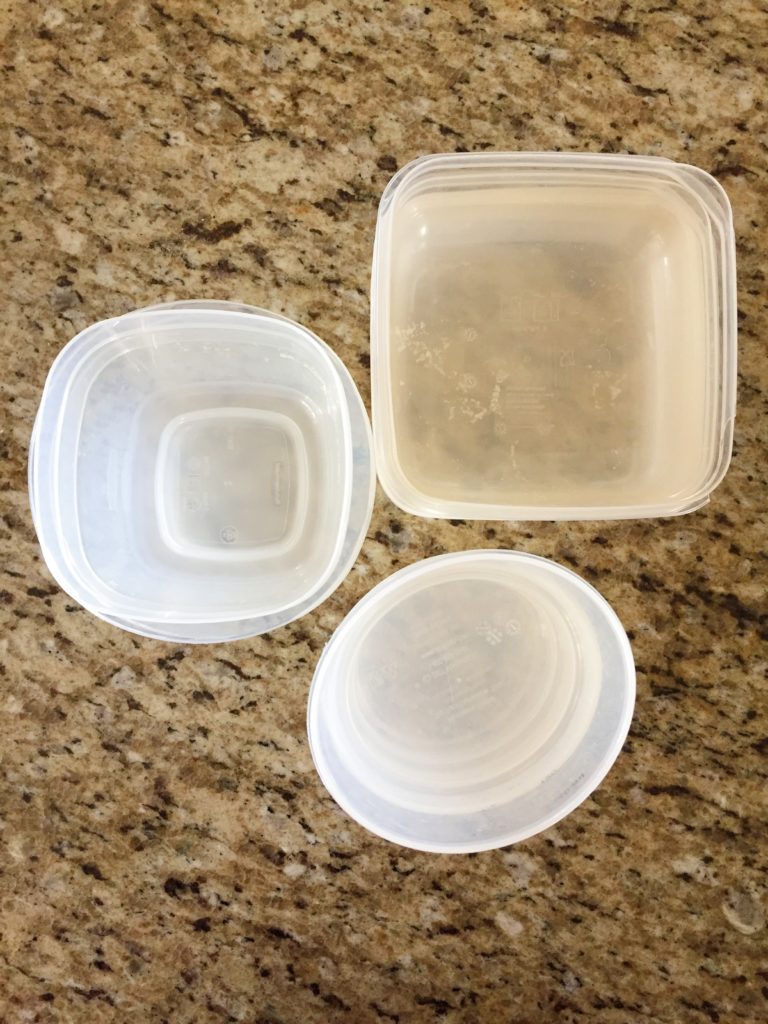 I also have a variety of other containers for snacks. Try to keep a variety of shapes and sizes available so you can choose ones that fit the foods you need best.
Food Scale:
Another key part to my healthy diet, especially meal prep, is my food scale! Since I track everything I eat, including calories and macronutrients, I need to make sure I am eating the correct portions.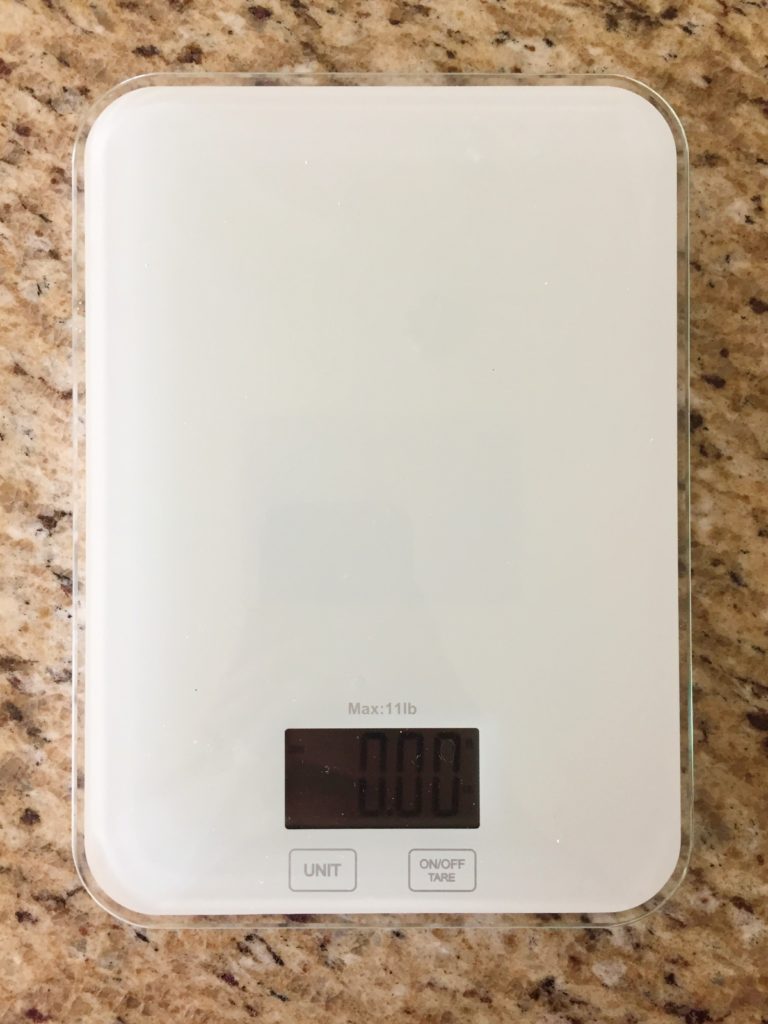 When I meal prep I measure out foods like meat and vegetables using my food scale. I'll also use my food scale to measure liquids occasionally. For example, if I am making baked oatmeal then I will pour the milk straight into the mixing bowl instead of into a liquid measuring cup. It occasionally takes some math to get the correct weight that I am look for, but it is easy. Honestly, I like that it is more accurate this way but really it saves me from having to wash more dishes!
There are a variety of different food scales available at different prices. There is no need to drop a ton of money on a food scale, but definitely look for one that can calculate various measurements.
Measuring Cups & Spoons:
Again, I measure everything when it comes to meal prep meals but some foods I measure using measuring cups and spoons, rather than a food scale. For example, I'll measure dry ingredients like oatmeal or chia seeds using a measuring cup or measuring spoon.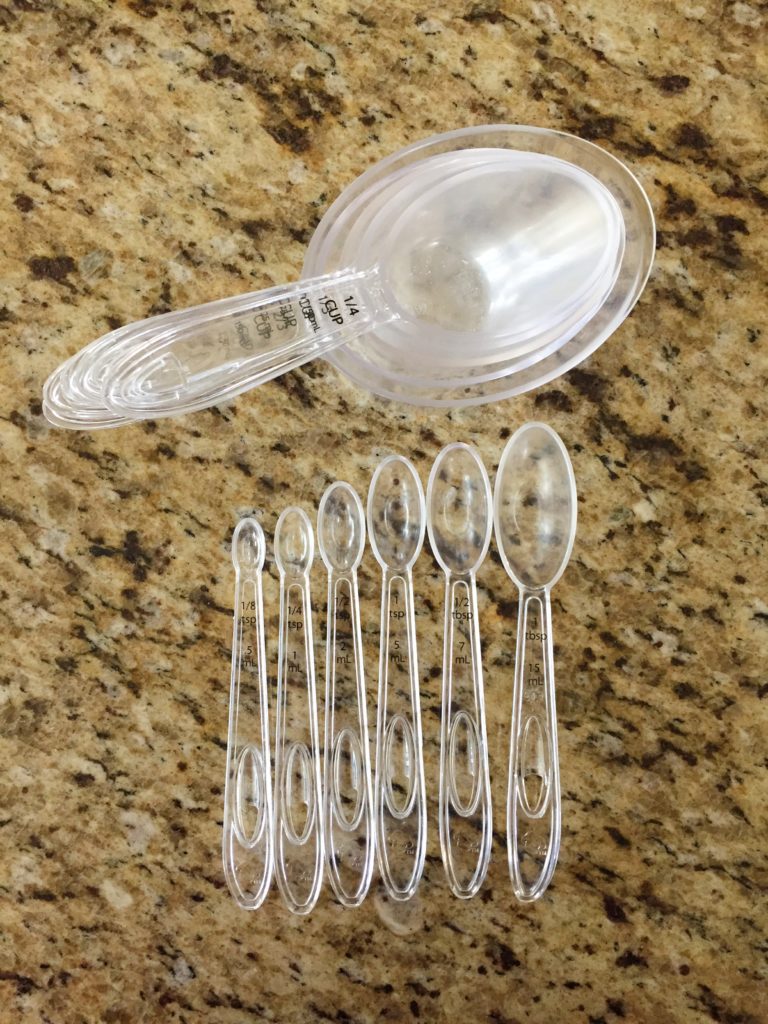 Once again, this is mostly because I don't want to have to do more dishes! I could easily measure peanut butter with a measuring spoon, but then I'd have to wash it. However, measuring dry ingredients isn't as big of a deal as wet ingredients.
I also keep several different sets of measuring cups and spoons. I like having a back-up in case the one I need is dirty!
Knives:
Good knives make all the difference in the kitchen! Don't be afraid of a sharp knife. Yes, you still have to be careful, but a sharp knife is actually more safe than a dull knife.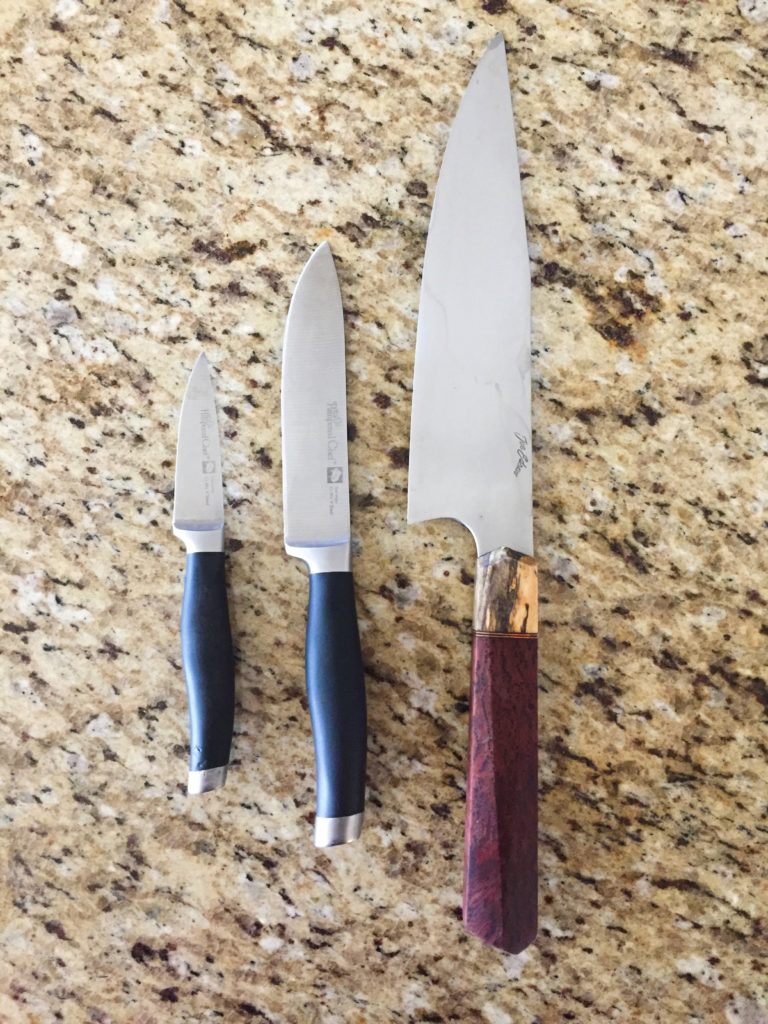 I remember when Donny first started teaching me different techniques with knives and it really is much easier with a good, sharp knife.
I'm not super fancy or skilled with knives, but these are my go-to ones that I am comfortable with. Two of them are part of our Pampered Chef set and the large knife on the right was made my Donny's cousin Joey. He makes really amazing knives! They are expensive, but are handmade and amazing. Definitely check out his website EdsonRazors.com.
Lunch Bag:
Last but not least, you need something to transport your meals in if you are going to be gone during the day. Since I work 8:00a-5:00p I take several of my meals with me to work. I'm lucky and get to keep my lunch bag in a refrigerator. If you don't have access to a refrigerator, then you will want to put some ice packs in your lunch bag to keep everything cold.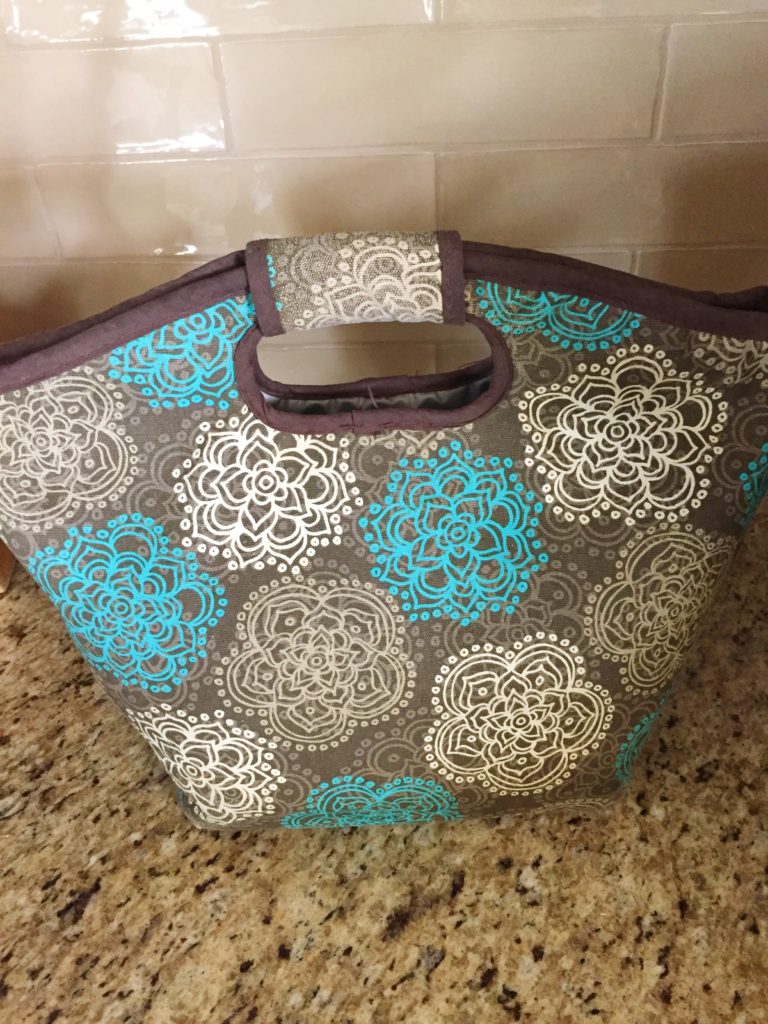 I bought this particular lunch bag at TJ Maxx and it is perfect for the large quantities of containers that I need to cart around!
Well those are the five meal prep tools that I probably use the most. They are key to getting healthy, clean meals to last the week and make meal prep a breeze!
If you have any questions about these meal prep tools then please let me know! Email me at eatliftplayrepeat@gmail.com or comment below.