We are back from Cancun and had a great time! The weather was awesome down there, I'm talking mid-80s the entire time. Even better, we landed in Denver and the pilot came on and said "the current temperature here in Denver is 13 degrees". Can you sense the sarcasm? I mean, 13 degrees!!! Yikes, talk about a shock. We were completely spoiled through October and the first part of November with beautiful weather. However, it would have been nice to have a gradual decrease in temperature. Sunday was in the 70s and Monday was in the teens. Gotta love Colorado! I will post some pictures and tell you more about the wedding later.
Picking up from where I left off, here are the last two dishes from the museum dinner and also some pictures of the table settings.
Fourth Course: Lamb Meatball with cheesey polenta and ricotta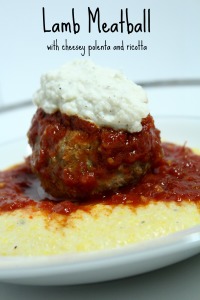 Some people may not like lamb, but I think it is fantastic! Donny actually mixed the ground lamb with a little bit of ground pork, so it wasn't just ground lamb. If you have not tried lamb then I suggest it. The meatball was made with the lamb and pork, also breadcrumbs, egg, Parmesan cheese, oregano, salt, and garlic.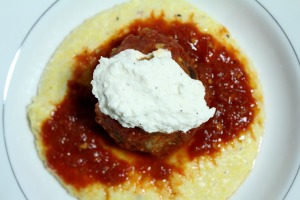 I am not a huge fan of polenta, but adding cheese to it makes quite a bit of difference. Donny made the polenta using chicken broth instead of water for a little extra flavor. Once the polenta thickened he added a three-cheese mix and cream.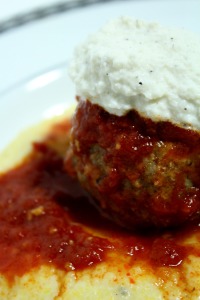 The tomato sauce was quite a bit of work and required technique that is beyond my kitchen knowledge. Donny saved the bacon fat from when he cooked the bacon for the salad and used that fat to saute onion and garlic. He added smoked salt and red wine as well and reduced that down. Then added crushed tomatoes and cooked it on low for quite a while. The tomatoes break down and thicken the sauce quite bit. Fresh basil was added and voila….delicious tomato sauce.
Donny actually took part of the tomato sauce, added chicken broth to it and then cooked the meatballs in the sauce. The remaining sauce was used to pour over each meatball before we served it. We had some leftover sauce, so I brought it home to freeze to put it on pasta or something later!
The ricotta was pretty basic – ricotta, Parmesan cheese, half & half, salt a pepper – that's it. It was actually quite difficult to get the ricotta to stay on top of the meatball! It kept slipping off because of the tomato sauce. We made it work and luckily, people dug in quickly after plating!
Fifth Course: Cinnamon Roll Pumpkin Bread Pudding with pumpkin pie ice cream, pecans, and caramel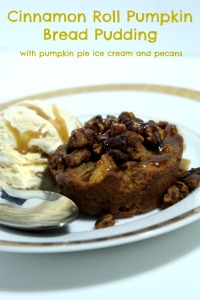 I am a sucker for dessert and every year Donny does this event I eat SO MUCH of the dessert. One, we have to test it out ahead of time (obviously). Two, we generally make extra and I can't control myself around sweets and desserts. Third, this was freakin' cinnamon rolls and pumpkin made into a bread pudding! Hello.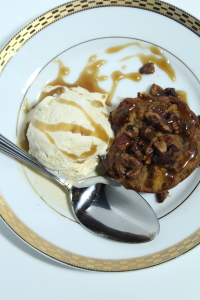 It was my job to make the dessert (it was pretty easy so Donny trusted me). The bread pudding was made using cinnamon rolls that were a cooked a little too long to eat by themselves. The actual cinnamon rolls were not pumpkin flavored. We actually mixed pumpkin pie filling (not pumpkin puree) with the heavy cream and wet ingredients for the recipe. We also added pumpkin pie spice to the recipe.
Donny made the caramel sauce, but (sshhhh…) we actually bought the ice cream (shame on us, but sometimes store-bought is the way to go!). The ice cream was pumpkin pie so it actually had little pieces of crust in it as well as the pumpkin flavor. After drizzling with caramel we topped the bread pudding with some pecans that had been pumpkin-pie-spice-sugared (like cinnamon-sugared but different….and yes, I made that up on my own).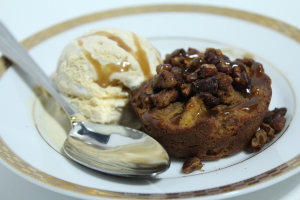 Man, this was so good! I did forget to mention that the bread pudding was baked in muffin tins to make pretty, individual servings. Just looking at the pictures make me drool….I am such a sucker for pumpkin!
As for the table settings, this event is very fancy so they get a full table! Each person had a napkin, three knives, three forks, a big spoon (for soup), a water glass, red wine glass, white wine glass, and a coffee cup with saucer. Yowza.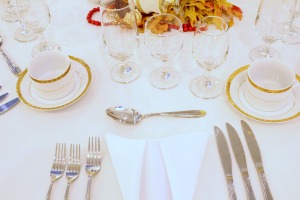 The museum and the Heritage Foundation take care of the center pieces and this year they went with the fall theme! It paired nicely with the gold-rimmed dishes that Donny picked out.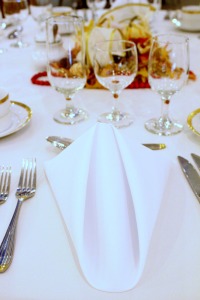 I mentioned this before, but whenever we do this dinner I always think of the movie Titanic. The scene were Jack comes to the First Class dinner for the first time. He looks at the silverware and doesn't know what to do. Before I met Donny I felt the same way! Our table settings aren't nearly as fancy as the ones from Titanic, but it still reminds me of that.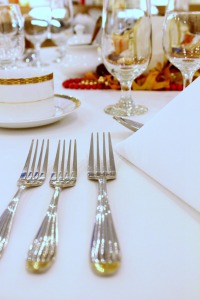 Donny uses this company in Denver that allows you to rent anything and everything you need to cater. We rent all the plates, bowls, glasses, silverware, tablecloths…everything. The best part about this particular company is that they have you bring everything back dirty. Yes, dirty! Meaning that my position, wife-of-the-chef, is not stuck washing 25 peoples dishes from 5 courses! It is fantastic.
Terry, one of the ladies that helped out with the dinner, also washed all of our personal kitchenware that we used to plate the food. She washed every spoon, ladle, whisk, pot, pan, etc at the museum. We took everything home clean! The only thing I had to wash the next day was the pancake griddle and the muffin tins! Thank you so much Terry! If you can imagine, we are usually beat by Sunday and the last thing we want to do it wash dishes!
Well that is everything from this year. There will be more catering posts to follow! Donny travels a lot so he doesn't cater quite as much as he might like, but it happens every now and then! If you have any questions about how these were prepared then let me know. I most likely cannot help, but I happen to know the guy that can!