Vacation starts tomorrow! Yay, I am super excited about this trip. I have never stayed at an all-inclusive resort but everyone tells me that is the way to go! Not having to pay for food and booze all the time?! I am in.
On an unrelated note, my hamstrings have been screaming at me both yesterday and today! At bootcamp we did Romanian dead lifts on Monday morning and then we did a "Baby Got Back" workout on Wednesday. It was all back body lifting and we did Good Mornings. Yowza. I was sore from the deads and then to add Good Mornings…woah, they were not happy. But a toned butt is a happy butt. Isn't that what they say? If not, it'll catch on.
Moving on…. let's talk food and let's talk unhealthy, very unclean food. Donny had a big catering job this last weekend. It is a fundraiser for the Heritage Foundation in Fort Morgan (for the museum here) and they raise money by auctioning off tickets to a five-course fancy dinner. It is really cool too. Donny has catered this for four years now but I have only helped him for three years. It is a lot of work but it is a blast! Donny prepares a fancy schmancy five-course meal IN the museum. No kitchen. Yes, I stress no kitchen. It is pretty impressive.
Now I would like to brag about my wonderful husband for a minute. He is a fantastic chef. I know he prefers cooking BBQ but I love when he does nice and creative dishes like these. He does such a good job. Let's get too it… again, I stress this is not clean food. We will categorize this under the "Play" portion of the blog.
First Course: Crispy Egg Salad with bacon, avocado, baby heirloom tomatoes, and honey mustard dressing.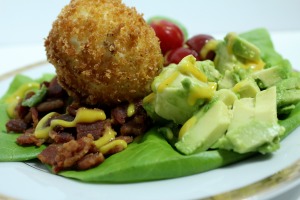 This is such a cool dish. Basic salad with the tomatoes, bacon, and avocado but this crispy egg takes it to the next level. The eggs were soft boiled, then breaded, and flash fried to make them crispy yet still have a runny center. If you like eggs and can handle the runny yolk then you HAVE to try one of these. Amazing.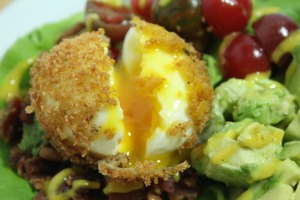 I happen to love runny eggs so this was right up my alley. The not-so-fun part was the peeling of the soft boiled eggs…. it is not an easy task! Thank goodness our friend Cody helped me with this or it would have taken me forever. However, 100% worth it.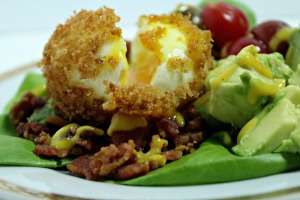 Man, I want another one of these eggs. Several people referred to these as Scotch Eggs. I will trust them. I call them Crispy Eggs….yes, very technical term.
Second Course: Chipolte Cream Corn Soup with smoked chicken, cilantro pesto, and bread with toasted cotija cheese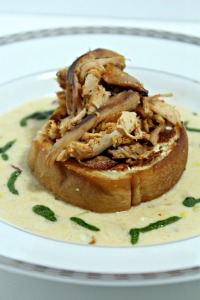 We had quite a few people help us with the dinner. We don't have to serve the food but we have to plate it all. Several of the helpers said this was their favorite. Cotija cheese is salty and adds a whole new dynamic to the soup.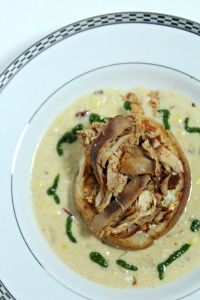 I am usually not a big fan of cilantro but will eat it. It helped that he made the pesto out of the cilantro using pepitas (pumpkin seeds), instead of pine nuts. It was really good and not too heavy on the cilantro. It helped to have just a tiny bit on it and also have it with the rich, creamy soup.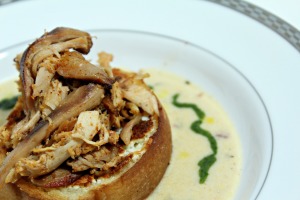 Mmmm… makes me hungry!
Third Course: Baltimore Crab Cake with lobster sauce and avocado, heirloom tomato, and corn salad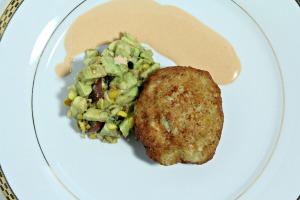 Donny generally does a theme to his menu but this time the theme was "All Donny's Favorite Dishes", which I am fine with! He loves crab cakes, but who doesn't. He also made the lobster sauce from a lobster/seafood stock. In case you were wondering, he made the stock himself with a real, live lobster. We joked that on Halloween we were probably the only people in Fort Morgan that had a live lobster at their house. I'm guessing that was pretty accurate.
The salad was so simple. We make that fairly often for side dishes because it is so flavorful and yet, pretty easy. The sweet corn was from right here in Morgan County even! When the sweet corn is at its peak we take a bunch and cut it off the cobb and freeze so we can eat it throughout the year. It is so good and adds such a nice flavor to this salad.
So there are three of the five courses. I will post the other two courses later. I also have a few pictures of the table settings. Every time we set up for this dinner I always think of the movie Titanic. The scene were Jack goes to the fancy dinner and doesn't know what piece of silverware to use when….it is a little bit less intense than that, but still a lot of silverware!
Did you have a live lobster at home on Halloween?!?!