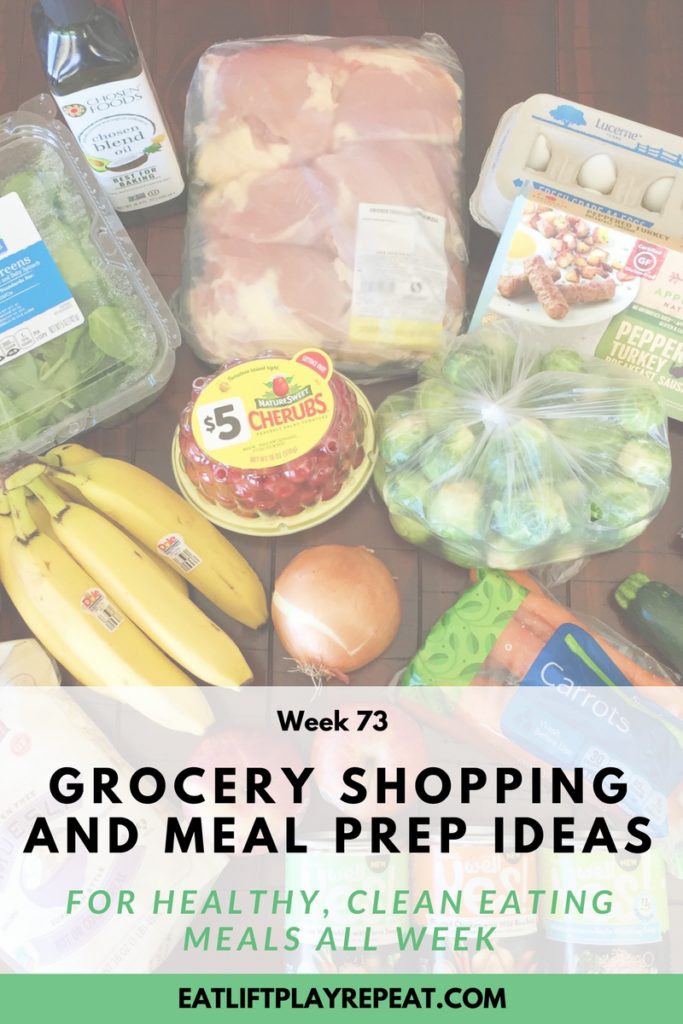 Even though I am not back to work yet (still a couple more weeks of maternity leave), I have been meal prepping a few things over the weekend.
My days can get crazy in a hurry, so I have been keeping healthy, cooked foods in my refrigerator. That way I have some easy lunch, dinner and snack options that I can throw together in no time! My meal prep ideas this week include a sheet pan chicken dish, plus some egg muffins.
I also bought a couple new items at the grocery store this week. Check out what I bought at the store and how about I turned those foods into meal prep ideas! If you have questions then email me at eatliftplayrepeat@gmail.com.
Groceries: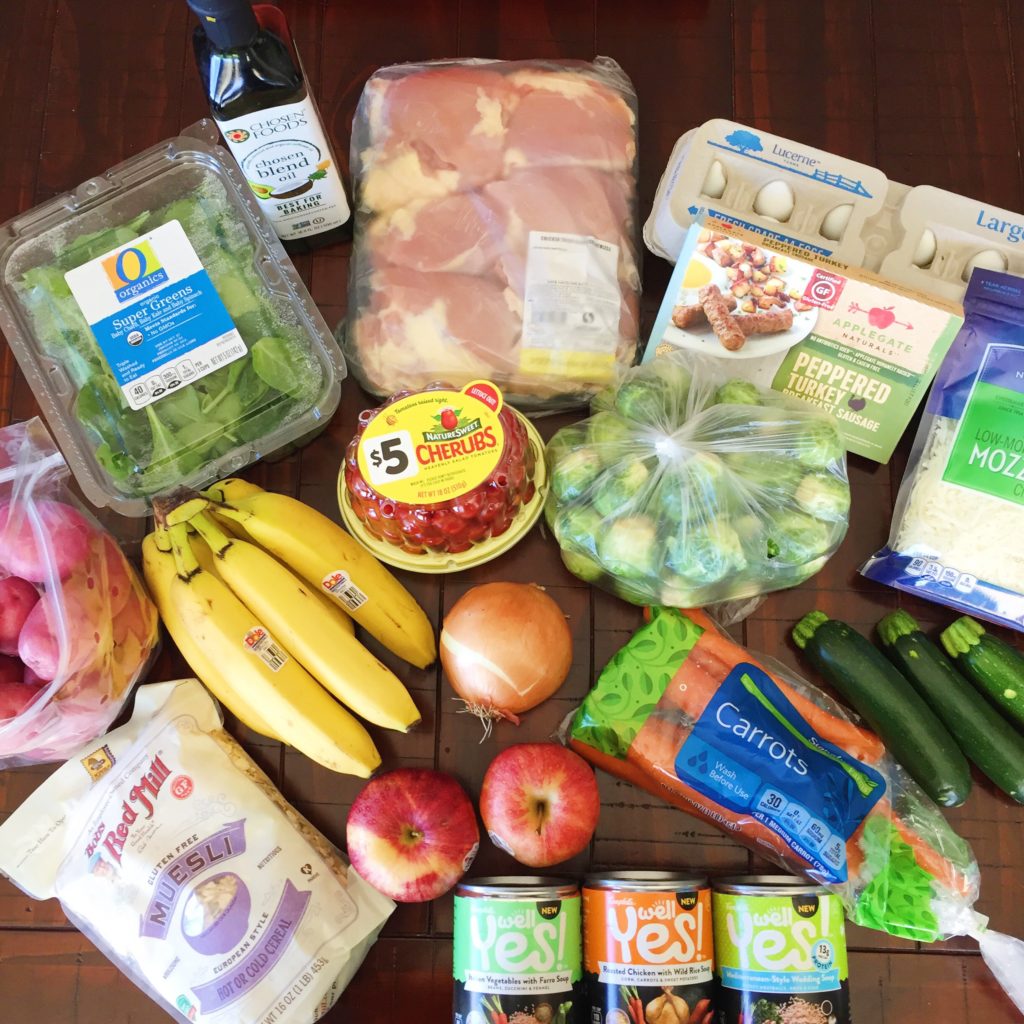 mixed greens, Brussels sprouts, zucchini, carrots, yellow onion, cherry tomatoes and red potatoes
bananas and apples
boneless skinless chicken thighs, eggs, mozzarella cheese and Applegate Peppered Turkey Breakfast Sausage
Bob's Red Mill Muesli, Chosen Foods Oil Blend and a variety of Campbell's Well Yes canned soups
Meal Prep Ideas:
First of all, I bought a few new items this week at the grocery store! I needed a neutral tasting cooking oil for when EVOO is too overpowering. After doing a little research on clean eating oils I found one that ended up being a blend. It is the Chosen Foods Oil Blend that combines avocado oil, coconut oil and safflower oil, which are all clean eating friendly!
I didn't use it this week during meal prep but I think it will come in quite handy later on.
The other new item (or items I guess) that I found was this variety of Campbell's soups called Well Yes. I didn't try one yet, but the ingredient list is pretty awesome for a canned soup! A few of the flavors have a few grams of sugar in them, but the sugar is from vegetables and not added sugar. I love it!
After looking through all the flavors I went with Italian Vegetables with Farro, Roasted Chicken with Wild Rice and Mediterranean-Style Wedding. These will be great on cold days/nights when I am short on time!
Well lets get to these meal prep ideas! I kept this simple this week. Technically I haven't gone back to work, but it is getting close!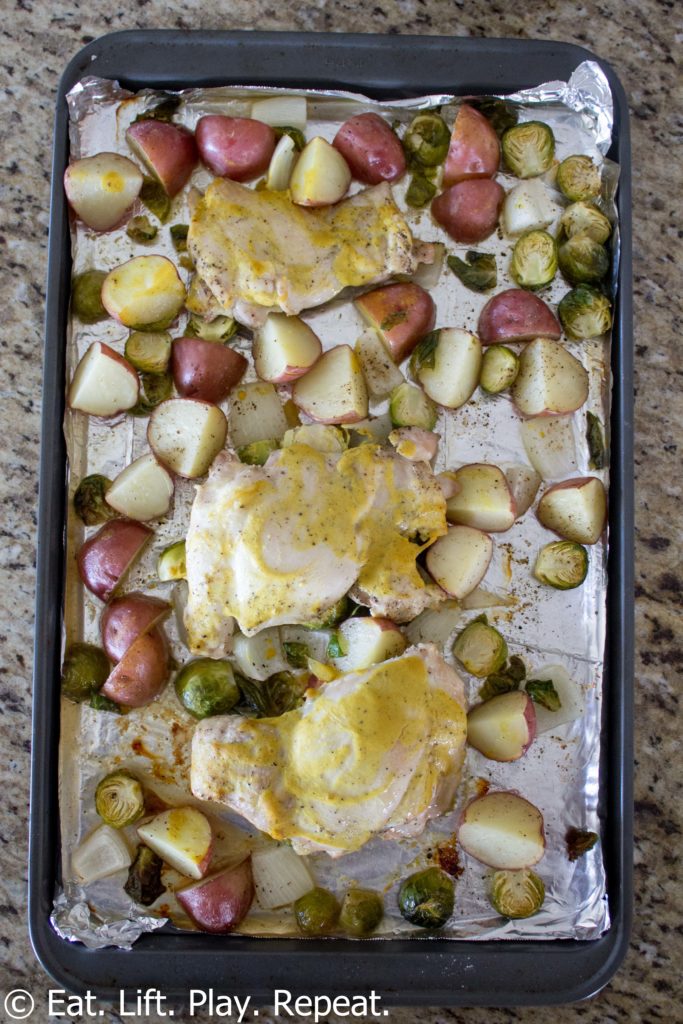 I made a sheet pan meal this week during prep. These are so easy because everything cooks together in the oven and all the flavors sort of meld together.
First I prepared the vegetables by quartering some red potatoes, de-stemming and halving the Brussels sprouts and roughly chopping the yellow onion. I combined those in a large bowl and drizzled them with 2 tablespoons extra-virgin olive oil.
Next, I spread that mixture on two foil-lined baking sheets and sprinkled them with salt and pepper.
Then I trimmed the fat off the chicken thighs and laid them on top of the vegetables.
I mixed together 2Tbsp yellow mustard, 2Tbsp Dijon mustard, 1Tbsp honey, a splash of apple cider vinegar, salt and pepper. After whisking that together until it was combined, I brushed it on both sides of the chicken.
Next, I put both pans in the oven at 350° and baked them for 40 minutes. It would have taken less time, but I had two sheet pans in there.
After the chicken had an internal temperature of 160° I took the pans out, let them cool slightly and divided it among six meal prep containers.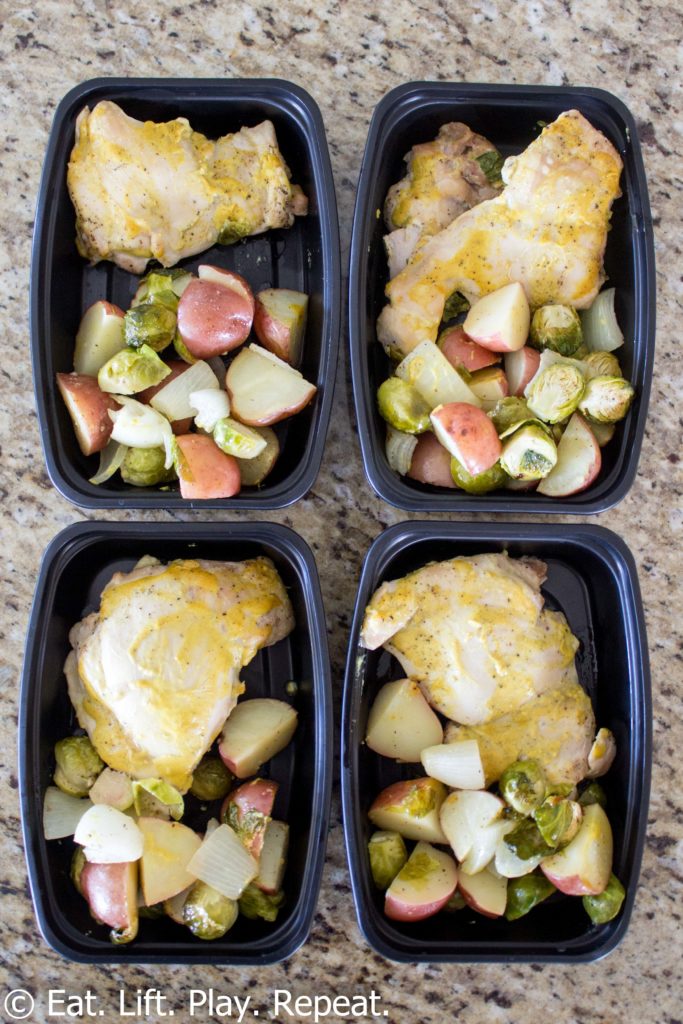 The only other thing I meal prepped this week was some egg muffins. Abby Jo tends to need to be fed right around the time I am eating breakfast, so I needed some quick, easy breakfast options available.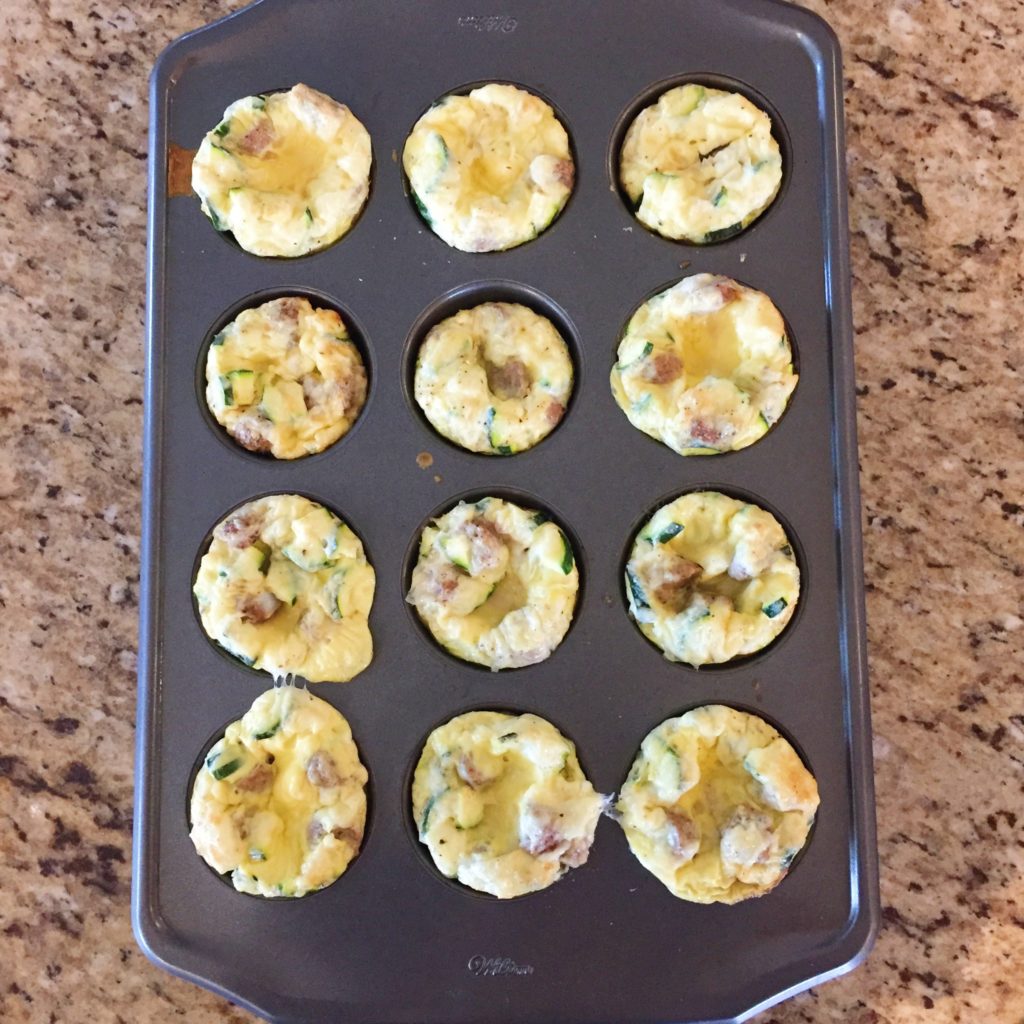 I combined 12 eggs + 12 egg whites in a large bowl and whisked them with 1 tsp salt and 1/2 tsp pepper.
Then I diced 1 small zucchini and cut up 6 turkey sausage links and added a few pieces of each to the cups of a greased muffin pan. Then I divided the egg mixture among those cups. I ended up with 12 of the egg muffins with sausage and veggies, but I had some egg mixture leftover. Instead of dumping it, I poured it into 6 cups in a different muffin pan so that I had cooked eggs, just without the extra goodies!
***I would estimate needing 9 eggs + 9 egg whites if you wanted 12 egg muffins with little leftover egg mixture.
Next, I sprinkled 1/2 cup shredded mozzarella cheese onto the 12 egg muffins with sausage and zucchini. Then I baked those at 350° for 25 minutes, let them cool and stored them in meal prep containers in the refrigerator.
Egg muffins are super easy to make and so convenient to grab out of the refrigerator for a quick breakfast. These can also be kept in the freezer for later.
Well those were the meal prep ideas I had this week. I will slowly start adding more things into my meal prep ideas because I'll need to start packing my food for the day again. Right now I am trying to eat healthy, but my meals vary from day to day based on Abby Jo's schedule.
If you have any questions then please email me at eatliftplayrepeat@gmail.com.