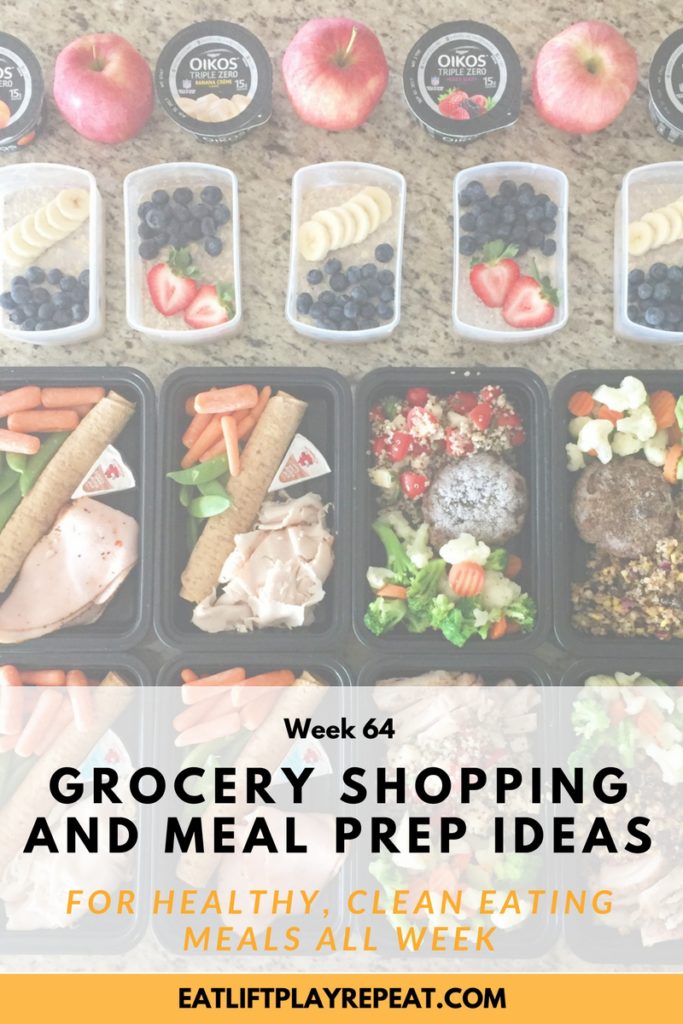 My weekend was fairly busy, but I still managed to meal prep. Planning is the key to making sure you prep healthy snacks and meals for the week ahead. I only had a limited amount of time to get things cooked and packed, so I made the most of it.
My meal prep ideas included several no-cook recipes so that I wasn't waiting on things to get done. I could move at a faster pace because nothing needed cooking time!
If you have any questions about these meal prep ideas then please email me at eatliftplayrepeat@gmail.com or comment below.
Did you manage to prep any meals or snacks this week?
Groceries: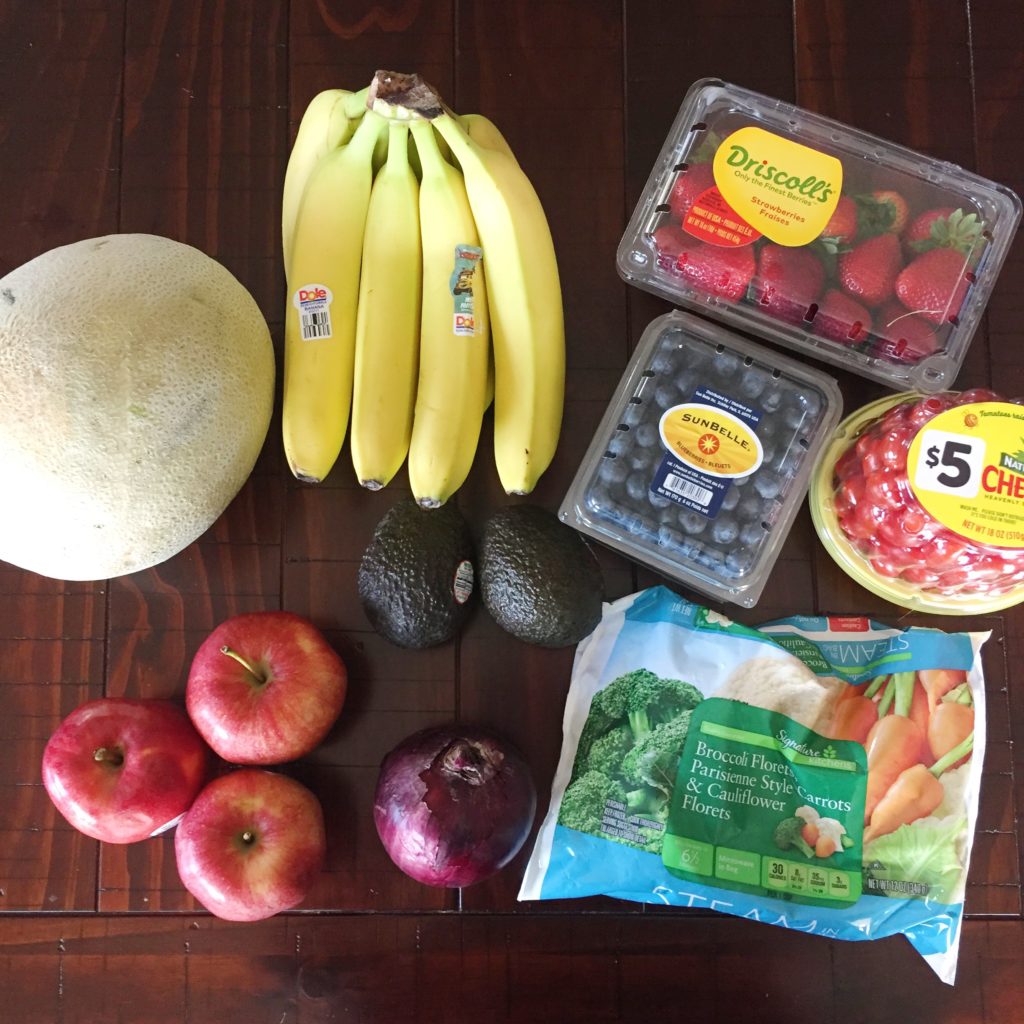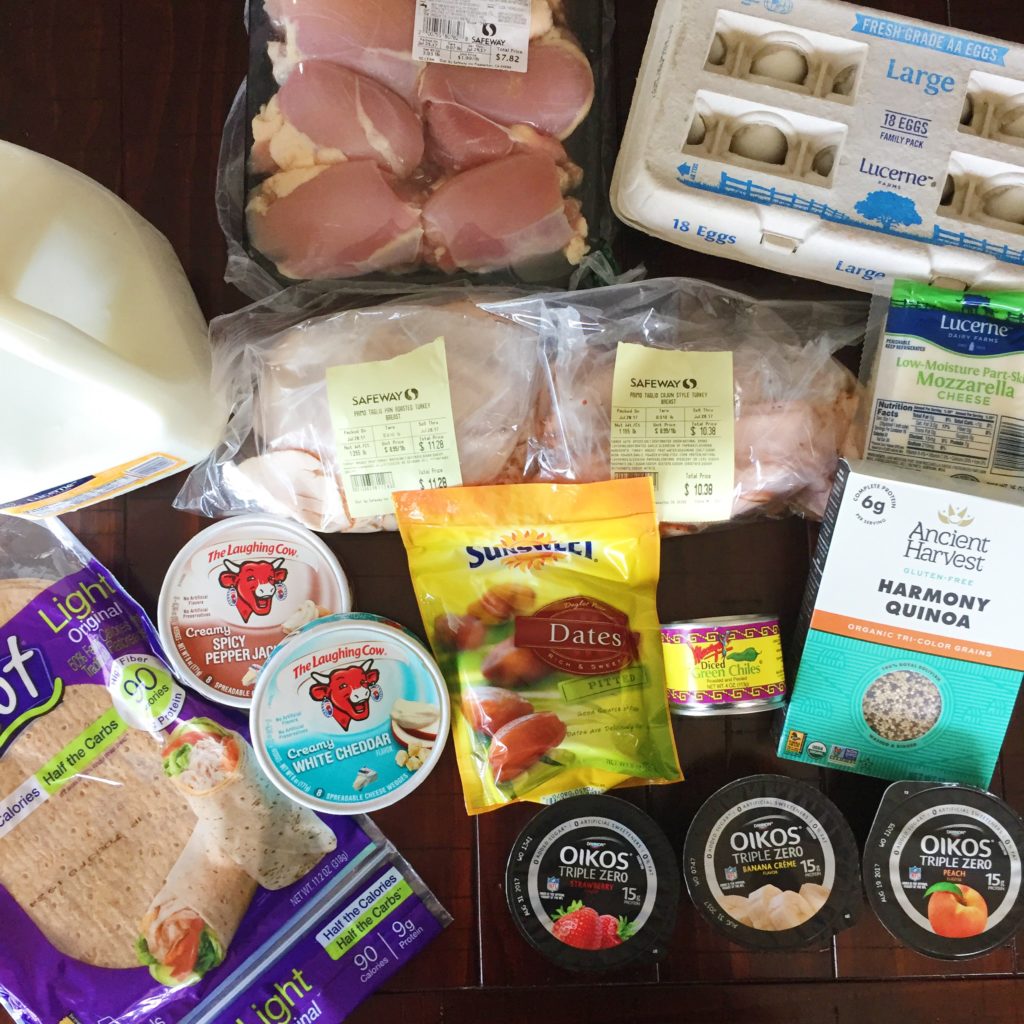 cherry tomatoes, red onion and frozen broccoli cauliflower and carrot blend (steam bag)
apples, bananas, blueberries, strawberries, cantaloupe and avocado
boneless skinless chicken thighs, deli turkey (plain and Cajun), eggs, 1% milk, a variety of Oikos Triple Zero Greek yogurt cups, mozzarella cheese and Laughing Cow cheese wedges (Spicy Pepperjack & White Cheddar)
Flat Out Light Wraps, tri-colored quinoa, pitted dates and canned green chiles
not pictured from Trader Joe's – watermelon, cauliflower pizza crust and individual bags of Kettle Corn popcorn
Meal Prep Ideas: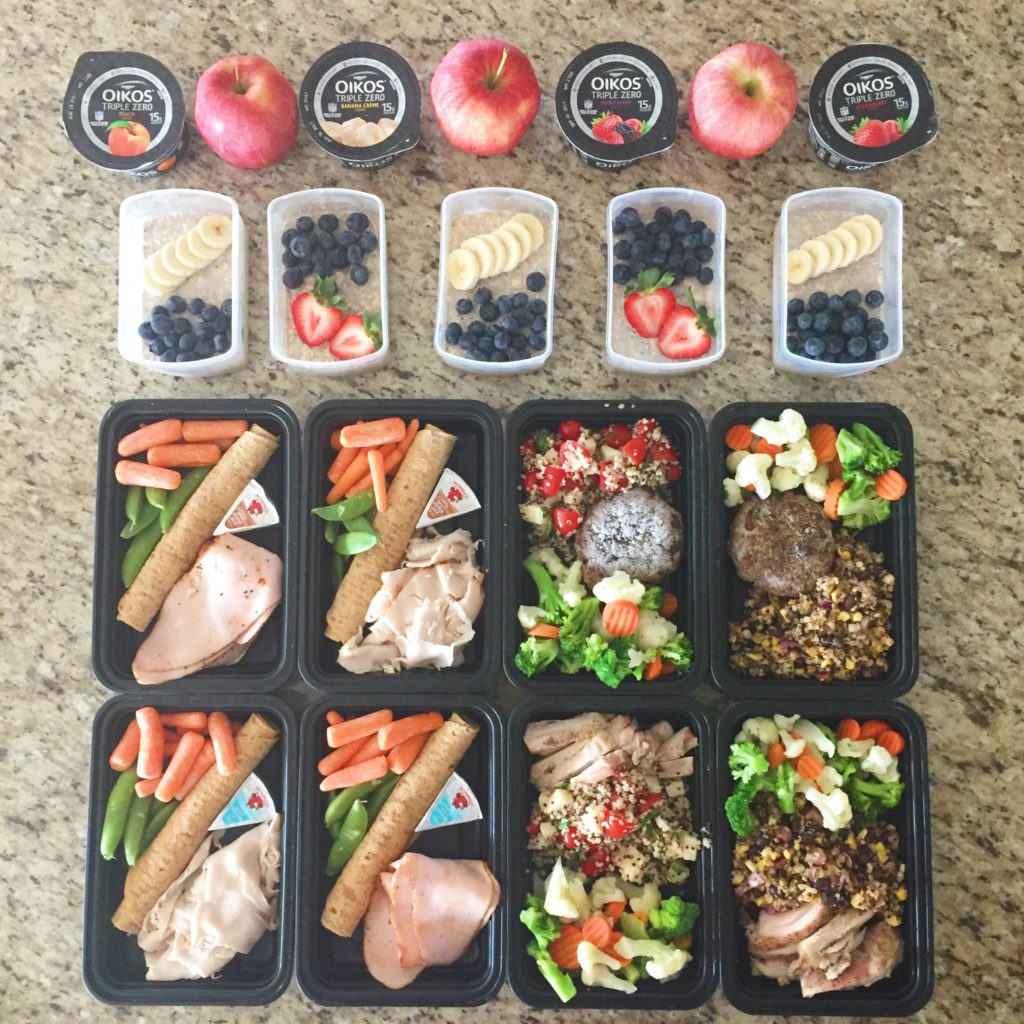 Donny & I were going to be gone half of Saturday & half of Sunday to go to Denver. I didn't think I'd want to meal prep after I got home Sunday and I was 100% correct!
Luckily, I'd planned ahead of time and managed to get it done before we left on Saturday.
I actually went grocery shopping on Friday after work. Since I'd planned to make a couple different quinoa salads I decided to make the quinoa on Friday night while I was cooking dinner, rather than having to do it Saturday morning.
Quinoa is really easy to make and you can freeze any leftover cooked quinoa, so I decided to make the entire box (I cooked it on the stovetop according to the directions on the package). Then I allowed that to cool for a while before putting it in a container to keep in the refrigerator until the next day.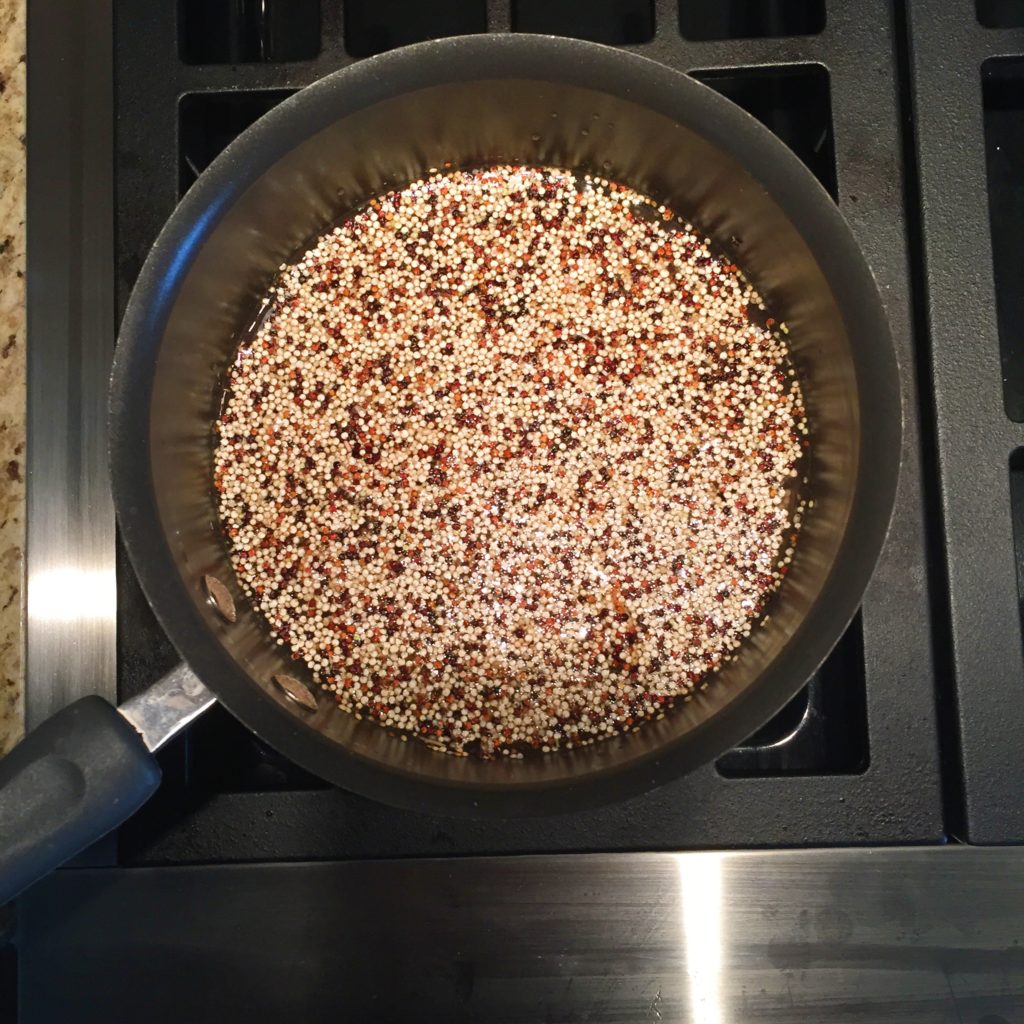 I ended up with roughly 2 cups of extra quinoa after making my two salads. In resealable freezer bags I measured out 1 cup cooked quinoa, poured it in the bag, got as much air out as possible and sealed it up. Then I flattened the quinoa to make it easier to store/stack in the freezer. Next I used a sharpie marker to put what it was and the date on the baggie.
It will stay good in the freezer for several months. When I am ready to use it, I'll pull the baggie out of the freezer and let it thaw in the refrigerator or microwave it until it is thawed out. One-cup portions are good for just Donny & I, but you could portion them out into bigger quantities.
On Saturday morning I made two quinoa salads – one caprese and one southwestern. Here is what I put in each salad:
Caprese Quinoa Salad — 2 cups cooked quinoa, 2 cups diced cherry tomato (halved or quartered), 1 cup cubed mozzarella cheese, 1/4 cup shredded fresh basil and 1/2 tsp salt
Southwestern Quinoa Salad — 2 cups cooked quinoa, 1 can black beans (drained and rinsed), 2 cups sweet corn, 1 6-oz can diced green chiles, 1/2 red onion (diced), 1Tbsp Mrs. Dash No Salt Fiesta Lime seasoning and 1 tsp salt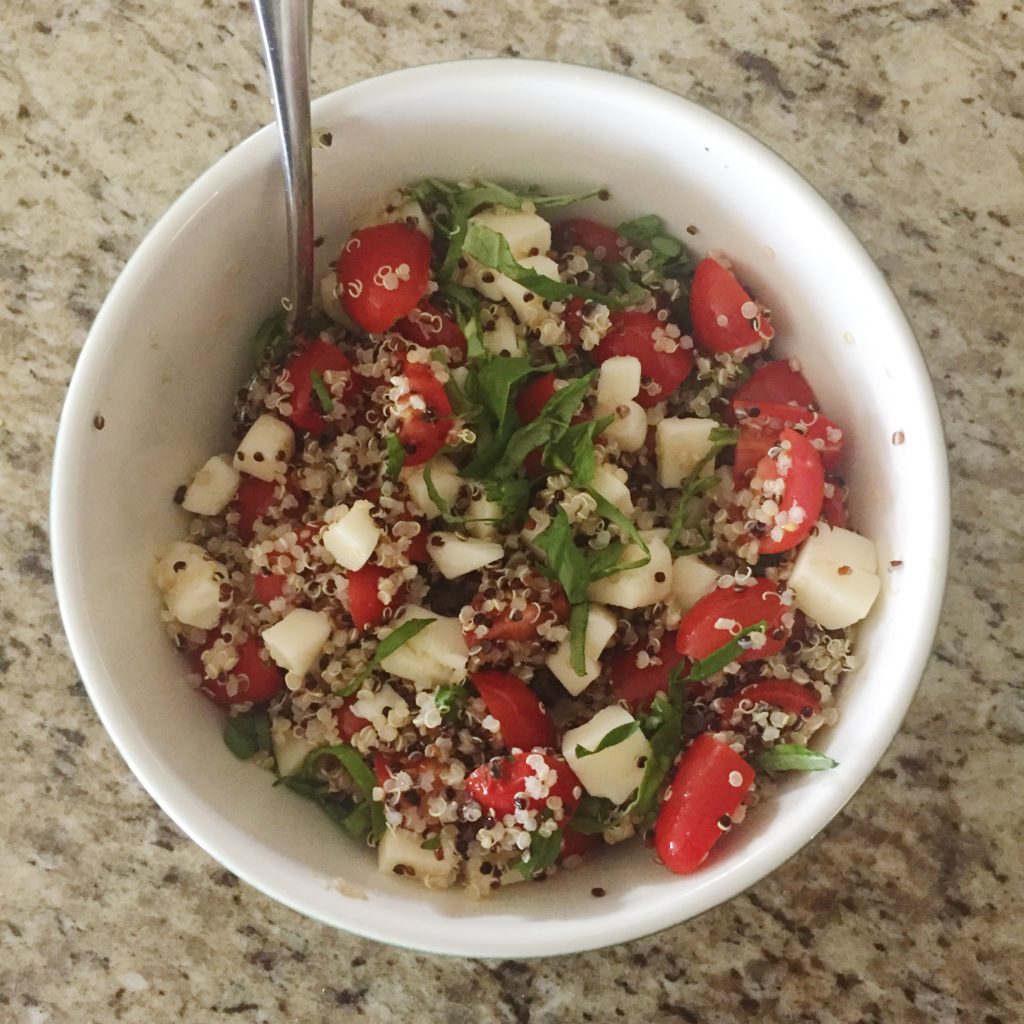 [Caprese Quinoa Salad]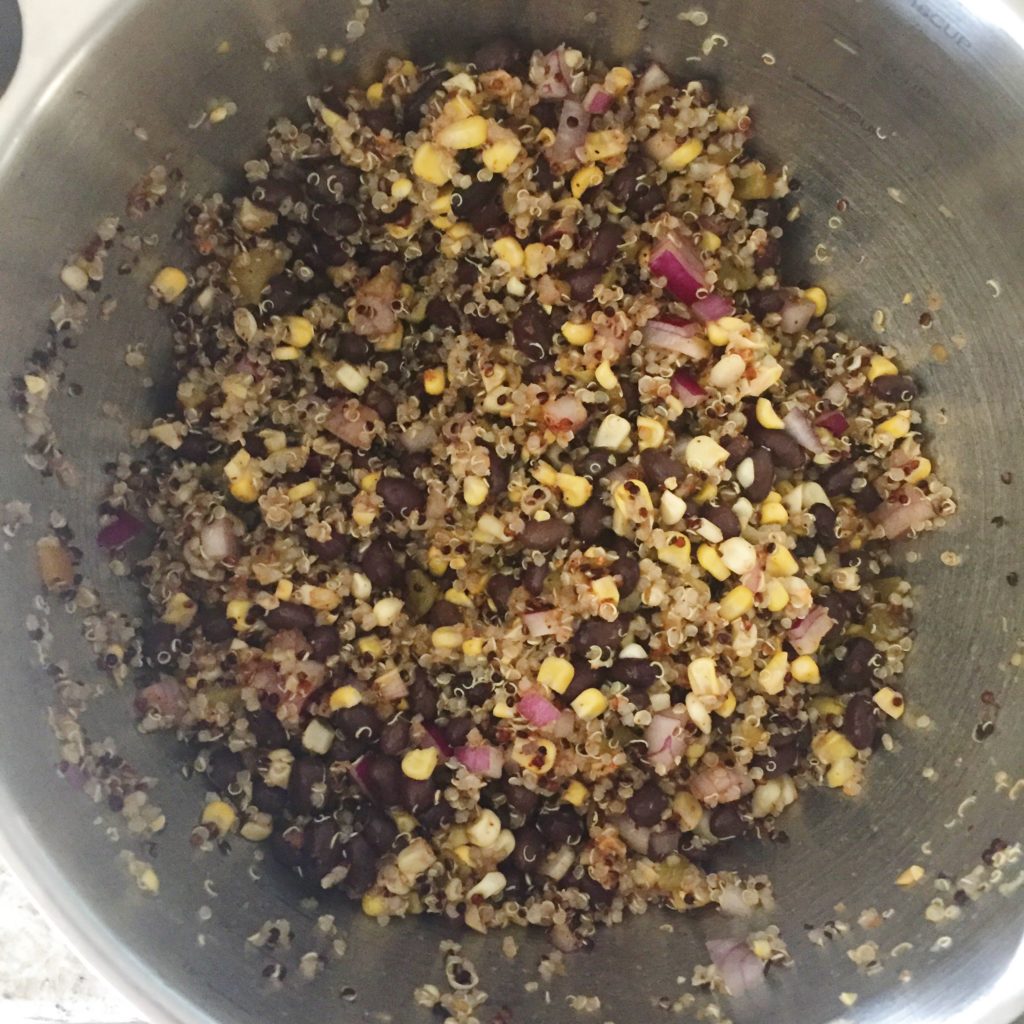 [Southwestern Quinoa Salad]
First I mixed all the ingredients for each salad together in bowls, then measured out 3/4 cup into five meal prep containers.
Next up was to cook chicken! I covered a baking sheet with aluminum foil, sprayed it with non-stick cooking spray and placed the chicken in a single layer on the sheet. Then I sprinkled each thigh with some salt and pepper, flipped them and sprinkled the other side too. Next, I baked the chicken at 350° for 25 minutes.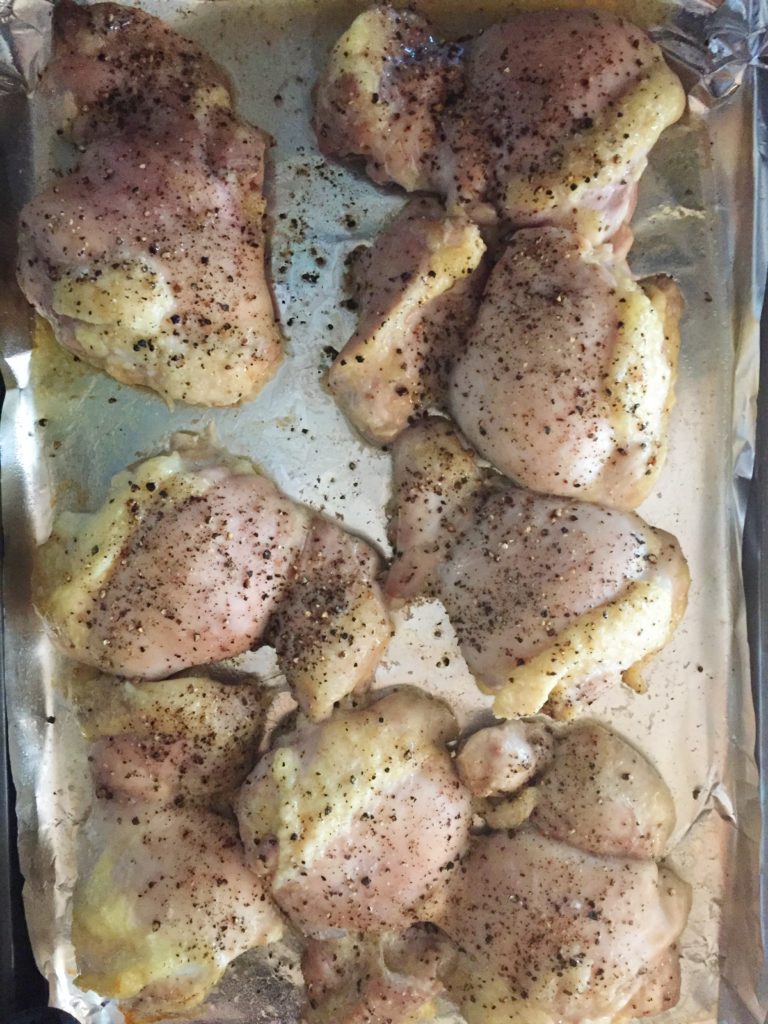 Chicken varies in size and thickness. Cook the chicken until the internal temperature of the chicken reaches 160°.
Knowing I didn't have a ton of time Saturday morning I bought some steamable bags of frozen veggies. They are quite handy and only take 3 minutes in the microwave! I cooked two bags of the broccoli, cauliflower and carrot blend, then divided that among five meal prep containers.
I wanted to use chicken for a couple meals, but also have beef a few times this week. Instead of cooking any beef I pulled two cooked lean hamburgers out of the freezer. Two burgers will go with the quinoa salad and veggies and I added 4oz chicken to the other three containers.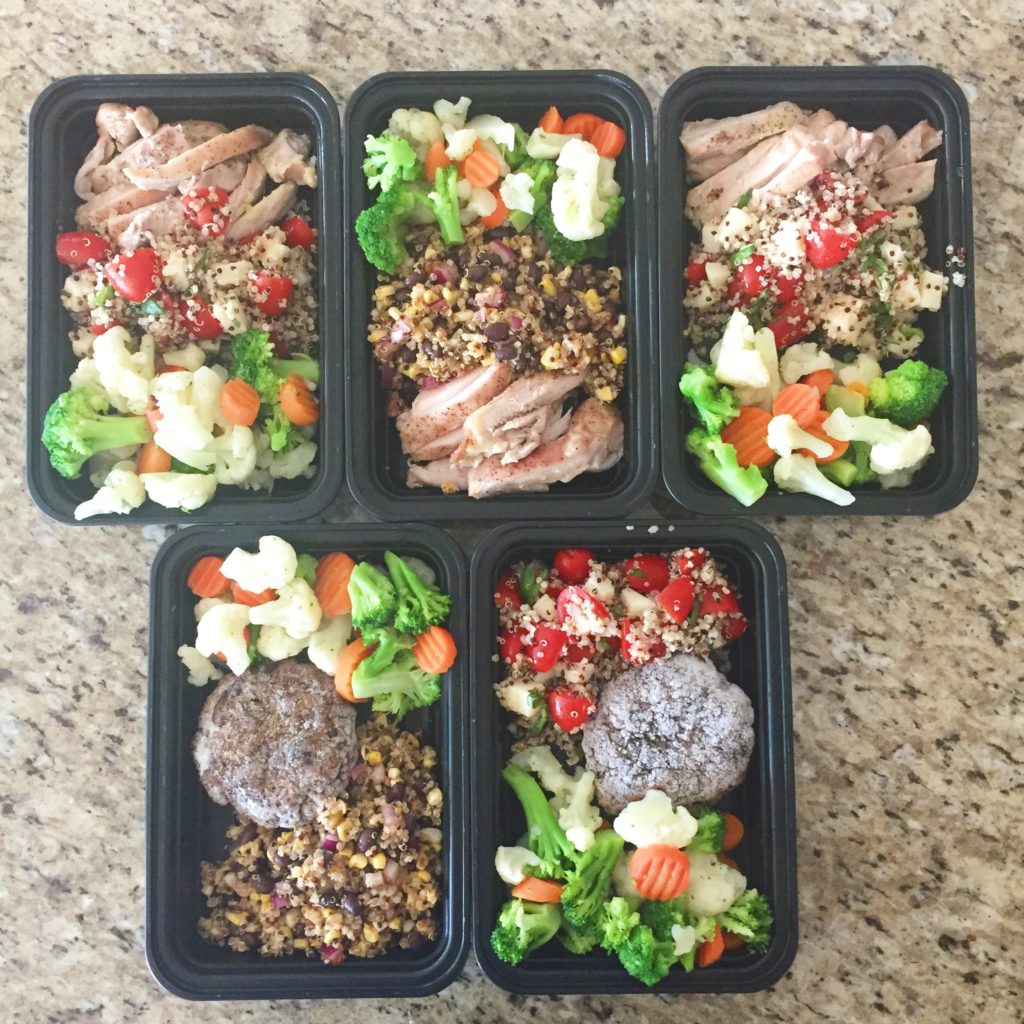 At one point I thought about stopping there and leaving the rest for Sunday. Instead, I powered through and made snacks for the week. I'm SO glad I did this because I was exhausted Sunday afternoon when we got home and I had very little motivation!
My mid-morning snack is overnight oats made with 1/3 cup rolled oats, 1/3 cup 2% milk, 1/3 scoop vanilla protein powder, 1 Tbsp chia seed and 1/5 container of strawberry Oikos Triple Zero Greek yogurt. I took one container of yogurt and distributed it among the five overnight oat containers.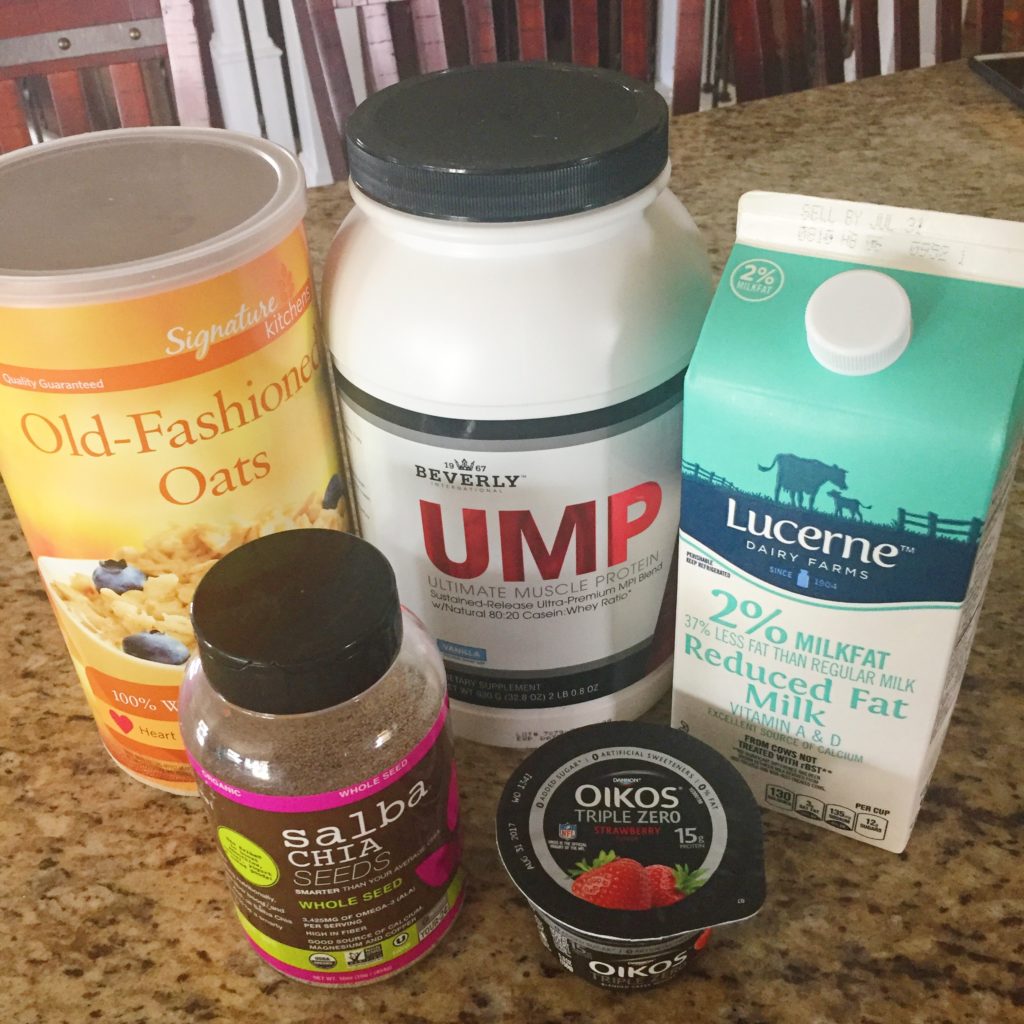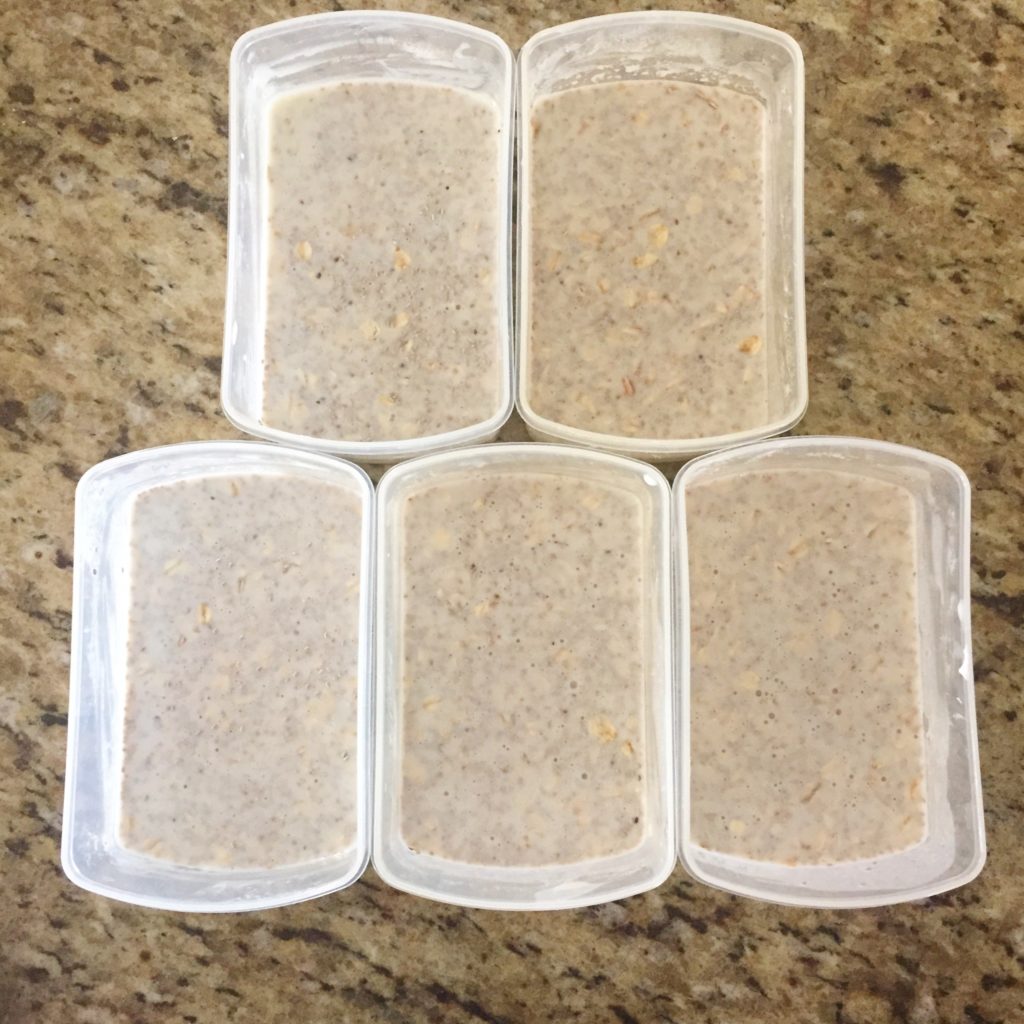 Once the oatmeal and chia had time to sit in the liquid and soak it up, I topped them with a variety of banana, strawberries and blueberries.
As for my mid-afternoon snack I went with another no-cook recipe! I packed containers with ingredients to make a turkey-cheese wrap. Each one had 1 Flat Out Light wrap, deli turkey and 1 wedge Laughing Cow cheese. Some of the containers had Cajun turkey while others had regular. A few containers had white cheddar cheese and the others had spicy pepper-jack. I also added some carrots and snap peas for a serving of veggies.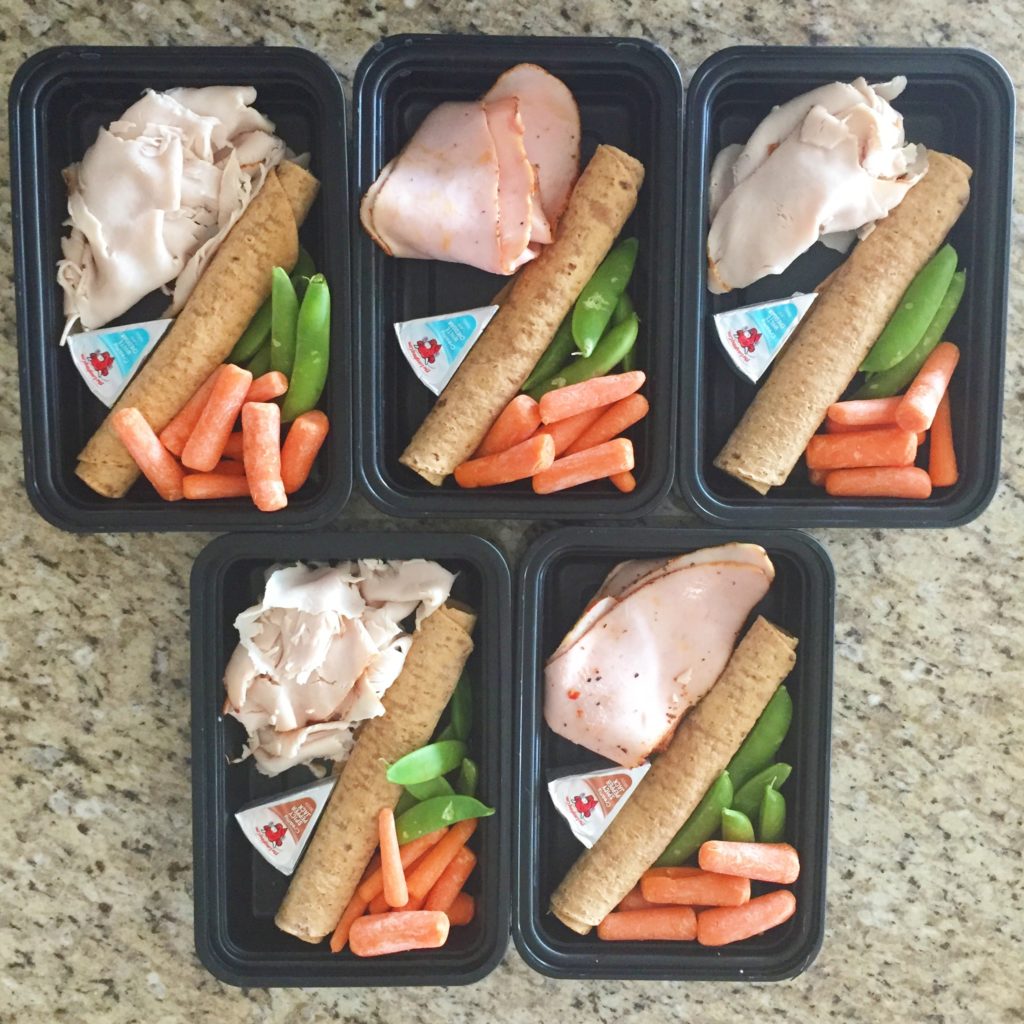 Since I'm eating more and more throughout the day (Baby E is hungry hungry hungry) I packed an apple and a Greek yogurt cup to snack on randomly when I need it.
Well that was everything in terms of meal prep ideas. My key to an easy meal prep session is planning! I didn't have a ton of time to get much done this weekend, but planning ahead of time helped me still get it done.
If you have any questions about these meal prep ideas then please email me at eatliftplayrepeat@gmail.com.