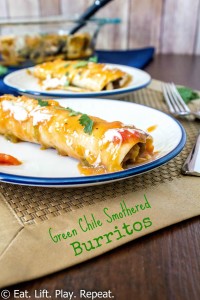 We had a blast this weekend and Guard and Grace was amazing!!! We started with seafood towers, which included oysters, shrimp, crab, and lobster, and then some platters with burrata cheese, speck ham, and grilled bread. I barely touched the ham and cheese because I was all about that seafood (it is like being all about that bass, but different)!
I ended up ordering the 4oz grass-fed filet mignon and it was fantastic. The waiter brought a bunch of sides out for us to share including sweet potato hash, crispy Brussels sprouts, spaghetti squash au gratin, truffle macaroni and cheese and foraged mushrooms. I didn't have any of the mushrooms (because I hate them), but by far my favorite side dish was the sweet potatoes. They are so amazing. Turns out they deep fry them to make them crispy (which I expected) but then they add a light dusting of powdered sugar to them to make them even more sweet. The sugar dissolves on the potatoes so you can't tell it is on there, but man, it was so good!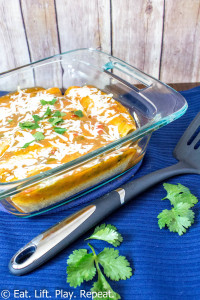 My friend Adrianna (another wife of a Smirk's employee) & I hung out beforehand on the 16th Street Mall. The boys wanted to go to Denver early to watch football (Kansas City vs Houston) so we did a little shopping and walking around. It was surprisingly nice out Saturday!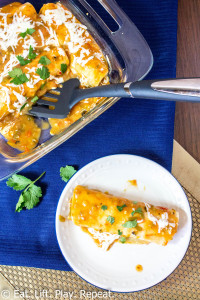 Our first stop was The Tea Cloud. I love tea and there were a million options at this place! I ended up getting the White Peach Blossom and loved it. There weren't very many seats inside so we ended up walking around downtown. We shopped for a while and then met up with the guys back at our hotel, where they were watching football in the lobby bar. It was a great afternoon. Adrianna is a hoot!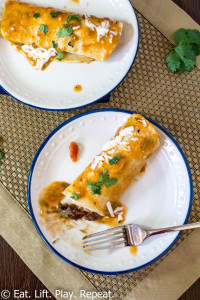 Before we headed for home on Sunday we made a couple stops. One was at Ocean Pacific Marketplace, an Asian market that sells everything you need for Asian cooking. We bought some dashi so we can make homemade miso soup. We also picked up a few bowls, spoons, and chopsticks. This Asian-cuisine kick is getting intense! I am really excited to play around with a few things.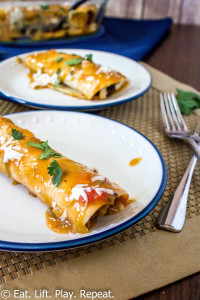 Our other stop was for groceries. I try to make a stop at Trader Joe's, Whole Foods, or Sprouts when we are in Denver. This time we hit up good ol' Sprouts. I bought a ton of stuff, including a bunch of chicken and pork chops that were on sale. Ayo! I also picked up a few fun items to play around with in the kitchen.
Speaking of chicken….how about some Green Chile Smothered Burritos with chicken inside them?! Yes, please.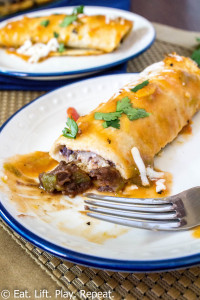 One of my favorite things that my mom makes is her green chile enchiladas. They are very American-ized, as are the ones that I made, but delicious. These are filled with mostly refried black beans, but I also threw some chicken in there for a little more protein!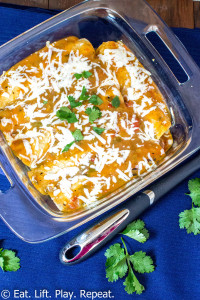 One of my favorite additions is cream cheese… not just any cream cheese, but Greek yogurt cream cheese! Yes, Lucerne makes a cream cheese from Greek yogurt. Awesome. I bought mine at Safeway, but if you cannot find any then you could use regular cream cheese.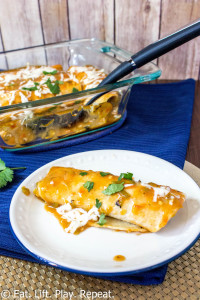 If you have a favorite green chile (maybe you make your own) then feel free to use it. Our favorite is 505 Green Chile, which is surprisingly clean. We eat a ton of 505 Green Chile….mostly with our eggs for breakfast or when we make breakfast for dinner. We will also throw some on top of grilled chicken to spice it up a little bit. I love it! I usually buy the mild, because the medium is pretty spicy!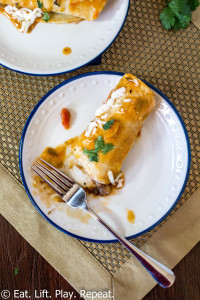 I bought fresh mozzarella and shredded it myself. I've mentioned it before, but cheese is more "clean" when you buy it in the block and shred it yourself!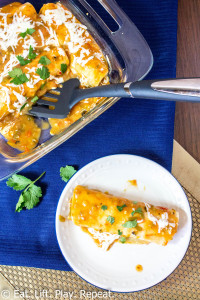 Green Chile Smothered Burritos
2016-01-04 20:37:03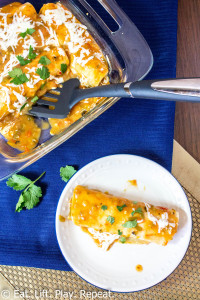 Black beans and chicken make up the majority of the filling in these burritos. Greek yogurt cream cheese adds a touch of creaminess and flavor as well.
Ingredients
12 corn tortillas (6")
6 oz chicken, cooked and shredded
1 can organic refried black beans
1 6-oz can diced green chiles, drained
4 Tbsp water
1/2 yellow onion, diced
2 tsp chili powder
1 tsp cumin
1 cup mozzarella, shredded
6 Tbsp Greek yogurt cream cheese
1 jar 505 Green Chile, mild
Instructions
Preheat oven to 350 degrees.
In a medium sauce pan over medium heat combine water, black beans, diced green chiles, onion, cumin, and chili powder. Stir occasionally and heat until water becomes well incorporated into beans, about 5 minutes.
Spread 1/2 Tbsp of cream cheese on each tortilla. Divide bean mixture evenly between 12 tortillas. Add 1/2 oz of chicken to each tortilla plus a small sprinkle of cheese.
Spray one large or two medium baking dishes with non-stick cooking spray.
Roll each tortilla and place seam side down in the baking dish. Pour green chile over the burritos and evenly distribute. Top with remaining cheese.
Bake for 20 minutes. Serve warm with cilantro and/or plain Greek yogurt.
Notes
Cilantro and Greek yogurt are optional toppings and can be omitted.
Chicken may be substituted for beef or left out for a vegetarian version.
Eat. Lift. Play. Repeat. http://eatliftplayrepeat.com/
Do you have a good green chile recipe? What is your favorite store-bought version?