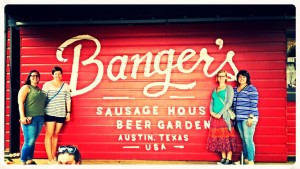 We basically spent four days eating and drinking, which honestly, was expected.
My sister met Katie when they were in school at the University of Northern Colorado in Greeley. They were best friends right off the bat. Katie has a sister my age, Brandy. Brandy & Katie are just as close and Lindsey & I, which made it really easy for all of us to hang out in college! We had a ton of fun in college (I would drive to Greeley to see them) and we partied. A lot.
It only made sense to start going on an annual girls trip after Brandy & I graduated from college. The first year we went to Phoenix/Scottsdale, Arizona. Year two we went to New Orleans and year three we went to Green Bay, Wisconsin to visit my cousin Latisha and her new husband. We typically can only manage to all take one full day off of work so it's usually a very quick weekend. That works out great because I have found I cannot party like I use to….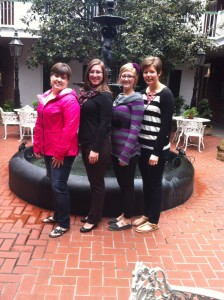 (New Orleans, LA 2013)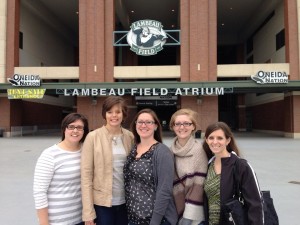 (Green Bay, WI 2014)
This year I found some inexpensive flights that left Denver at 9:00pm so we actually had two full days in Austin. We got to our house (rented off AirBnB) about 2:00am and immediately went to bed. We slept in Saturday morning and then got ready and went to breakfast. We decided to walk to Bacon, a restaurant that specializes in well, bacon! Lindsey & I shared their bacon waffle which had bacon chopped up and cooked inside the waffle. We each also had a breakfast taco and a beer. Yes, we started the day off with a beer (ok, Lindsey had a cider). I had a 512 Pecan Porter which was fantastic, heavy for breakfast, but fantastic!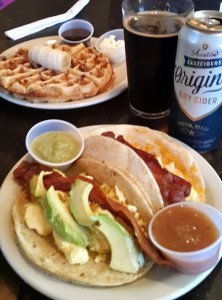 (Breakfast at Bacon)
One of the things on my to-do list for the trip was to make it to South Congress Ave. I had read quite a bit about it and it is a street that is lined with awesome shops, boutiques, thrift stores, coffee shops, bars, restaurants… pretty awesome. The shops were really eclectic and unique. I bought Donny a pink flamingo chip clip. You're welcome Donny. It is hilarious. The beak opens and closes to latch on to the chip bags. Best $5 spent in Texas thus far.
We walked and shopped for a few hours. Then it was time for more beer (of course). We stopped at a restaurant/bar that happened to have some Saturday drink specials going on. They had pitchers of Dos Equis for $5.50 or something like that. We ended up drinking quite a few of those (three to be exact) and snacking on chips and salsa.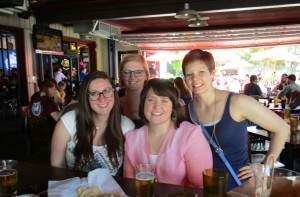 We were there a couple hours and left with a little buzz. As we continued walking down South Congress we came up to our first food truck called Ms P's Electric Cock…she made fried chicken. Interesting name Ms. P, interesting name.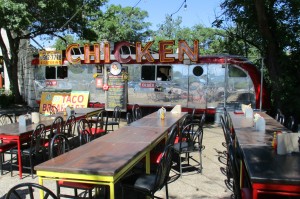 We shared the sliders on sweet rolls. The sweet roll definitely added a nice twist to the fried chicken. First food truck in Austin in the books!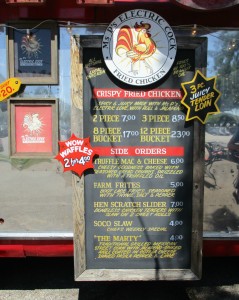 (Ms P's Menu, PS don't ask about the Wow Waffles because they get confused)
We walked for quite a while after that. We actually ended up walking all the way to downtown Austin, which is not really that close to where we were (I definitely got my steps in!). We needed to cool down so we stopped in at a Mexican food restaurant for a margarita. Are you catching on to why we can't go for very many days? Endless drinking!
(View of downtown Austin)
We went back to the house and changed clothes to go to dinner. We didn't plan very well and ended up going to 6th Street to grab a bite to eat. We wanted to see what 6th street was all about party-wise, but I do wish we would have grabbed food somewhere else. It wasn't bad food, just nothing spectacular.
Regardless of the food situation, we did manage to find a rooftop bar that was serving $1.25 drinks. Katie's jaw dropped when she heard that and asked the bartender "Why are they $1.25?" Hahaha the bartender's response was "because it is before 11:00pm". Well alright then.
We drank for a while there and then went to a club-like bar a little ways down that a guy recommended. Not many people in there, but we got to dance. Not well by any means, but we did dance. We had a blast that night but probably drank too much Deep Eddy's Vodka. Whoops.
The next morning we walked to a corner bakery and had coffee and breakfast. We were a little hungover and I needed to sleep a little more. We went back to the house and napped for a few hours. That was the best decision because I felt like a million bucks after that.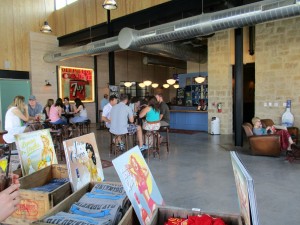 (Inside Deep Eddy Vodka distillery)
We had no idea that Deep Eddy Vodka was in Austin so we ended up going to the distillery to check it out. It was awesome! They use really bright colors and the décor inside is awesome. You buy the drinks and it automatically comes in a souvenir glass. It was really cool. I ended up buying an aluminum sign for our basement bar! It is pretty smooth vodka too. I am shocked that I could drink it Saturday night and then still drink it hungover the next day. That is usually not the case….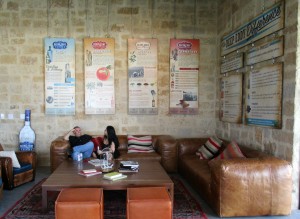 (We hung out here most the time)
There was a food truck parked outside the distillery so we just had to go! I am so glad we did. It was awesome. It was called Gibroni's Texitalican Kitchen. They basically had the same meat options, but you could get it over pasta, on a sandwich, or as a "postada".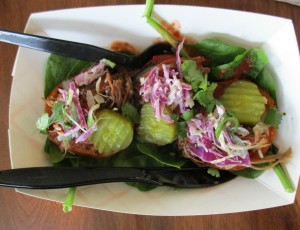 (Texas Brisket Postada)
I got the Texas Brisket Postada, which was pulled brisket, coleslaw, pickles, and cilantro on their postadas, which were basically three sweet potato slices (fairly thick) that were cooked and grilled I believe. They were awesome! I am going to have to try a "clean-eating" version of these, because they were fantastic.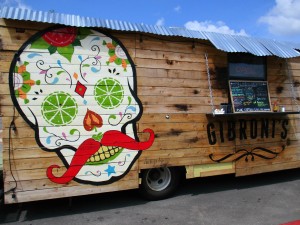 (side view of the truck)
It was a different type of truck too. Instead of ordering at the side window, you ordered at the back.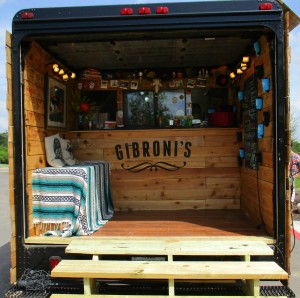 (back view of the truck)
After we were done we went back to the house to drop off our stuff and then went to Rainey Street. Lindsey had wanted to check out Bangers Sausage House & Beer Garden. The name is enough to make me want to go. Rainey street has all these bars, restaurants and food trucks up and down it. It had a really chill-vibe to it…perfect for a Sunday evening.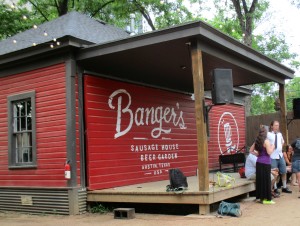 Bangers specializes in sausages and bratwurst. We decided to drink some beers and share a couple things. It was really good! We sat outside and had a great time. We didn't want to eat too much because we wanted to hit up a few food trucks. We ended up going to a parking lot that had five different trucks in it, including pizza, thai, sliders, donuts, and tacos. Random, but awesome. We ended up trying some Pad Thai, some sliders, and some mini donuts. Holy crazy foods all mixed in my belly! Everything was great though.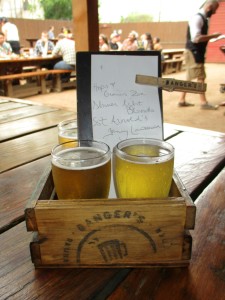 (The beer taster that I chose)
After that we went to a couple different bars and just hung out. We didn't really drink too much or party too hard. Just sort of went bar hopping checking out the scene. If you are planning to go to Austin then definitely head down to Rainey Street. Worth it, for sure!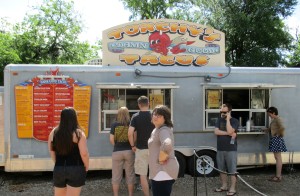 I was told I had to go to Torchy's Tacos while in Austin because they have the best tacos in town! We got up Monday morning and went there before heading to the airport. All I am saying is they were the best tacos in town! I had the Trailer Park, which had a giant fried chicken strip and I got it "trashy" which meant they put queso on it, instead of lettuce. Holy delicious. It was so good! I also got a salmon taco (called the Mr Orange), which was really good but no Trailer Park!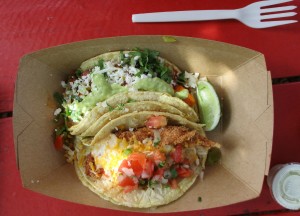 (on top is the salmon, on bottom is the trailer park)
We had a little extra time before needing to go to the airport so we looked at a map and weren't that far from South Congress. We ended up walking (with bags – ugh) there and hung out for a while on a patio of a restaurant. Lindsey & I headed to the airport an hour or so later and that is that!
I really loved Austin. It is such a cool city and has such cool food trucks. There were so many that we didn't get a chance to eat at! I must go back. Donny, if you are reading this then take me back to Austin!!!
Have you been to Austin? Did you enjoy it?