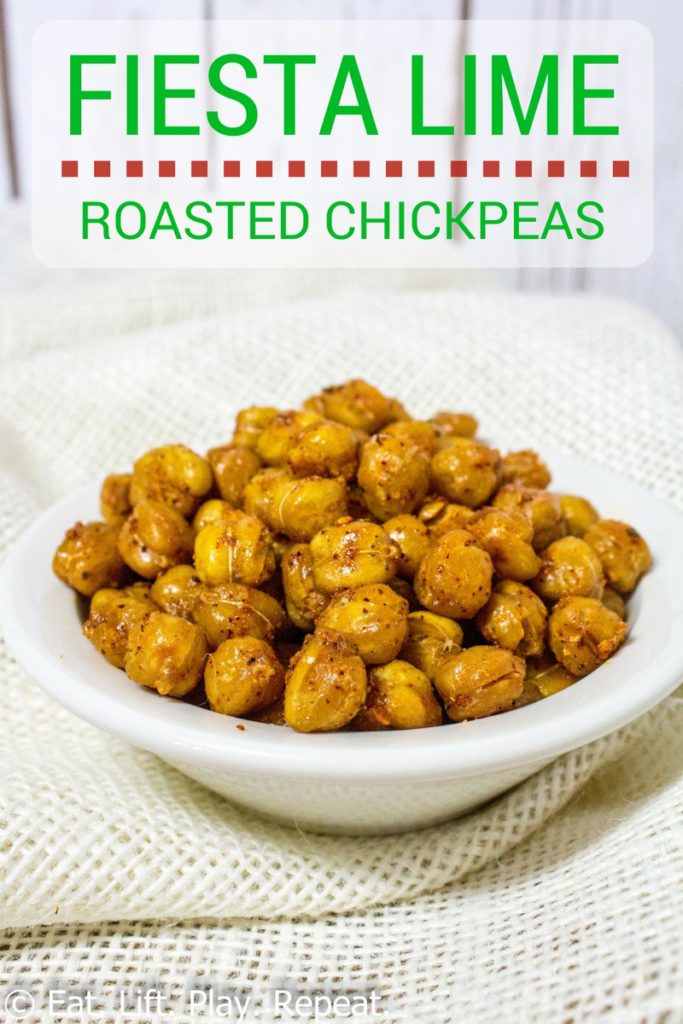 Today's recipe involves roasted chickpeas, but first let's talk about sweet corn. It is prime sweet corn time right now in Colorado. My father-in-law spoils us, because he plants 2 acres of sweet corn every year. The only plans he has for that sweet corn patch is to allow his family and friends to pick it! How lucky are we?!
The last couple years we've picked a bunch of sweet corn to last us through the year. We don't freeze the whole cob, just the kernels. First, we shuck the corn, then cut the kernels off the cob, and lastly, portion it in Ziploc bags and store them in the freezer. No cooking. No blanching.
The corn gets bagged raw and is cooked before eating it. We usually microwave the sweet corn in the freezer bag for 2-3 minutes before eating and that is all it needs! Add some salt, pepper and sometimes butter…. oh man, I'm drooling! Sweet corn is SO good!
Last year we ended up with 35 bags of corn (2 cups in each bag) and we went through almost all of it! In fact, I pulled two bags out to use for meal prep this week and realized we only have one bag left! We occasionally use the sweet corn for catering, but mostly keep it for our dinners or lunches.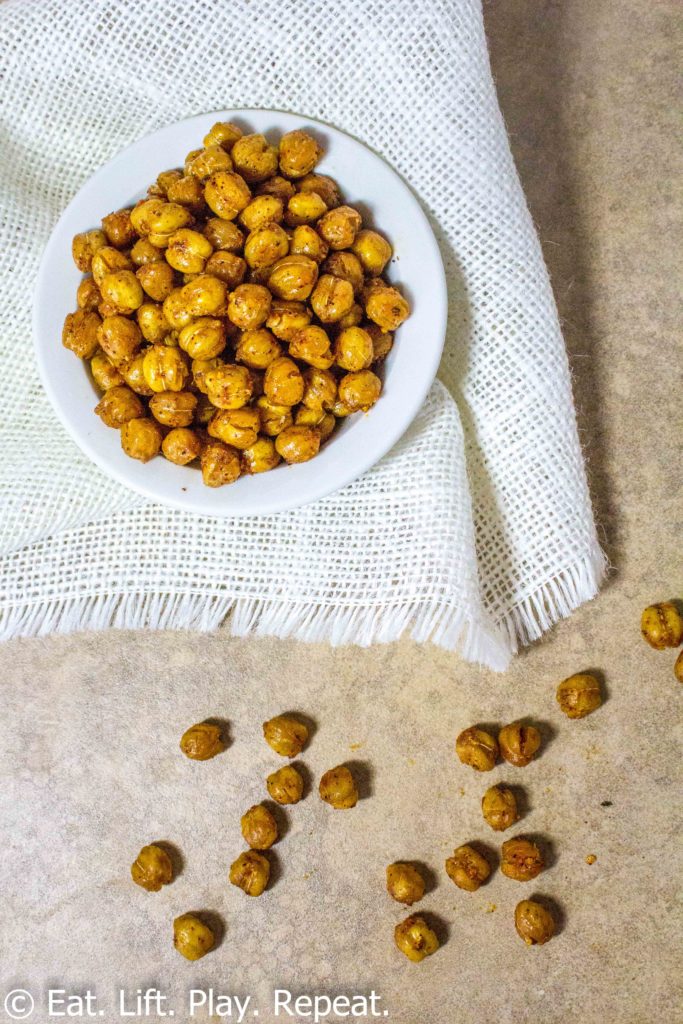 Moving on to chickpeas. Have you ever had roasted chickpeas? They make a great healthy and crunchy snack, plus this recipe uses all clean eating ingredients!
First of all, another name for a chickpea is a garbanzo bean. Some brands label their cans with "chickpeas" and others use "garbanzo beans". Don't worry, they are the same thing!
These Fiesta Lime Roasted Chickpeas are easy to make and only require a few ingredients, again all clean eating friendly. The two basic ingredients are extra virgin olive oil and chickpeas, while the other two ingredients are seasonings. Feel free to change the seasonings to fit your flavor preferences.
I am a huge fan of the Mrs. Dash Salt-Free Seasoning Blends, because of their versatility and low-sodium content. They work great to season both chicken and fish, as well as chickpeas!
I chose to use the Mrs. Dash Salt-Free Fiesta Lime Seasoning. Salt-free seasonings are nice, because it allows you to control the amount of salt that is on the foods you are seasoning. I know it sounds silly to add salt to foods that you are using a salt-free seasoning on, but I like to know how much salt I am consuming!
One key to roasting chickpeas is to make sure they are completely dry before putting them in the oven, otherwise they will not get crispy. First, I rinsed the chickpeas in a colander and got rid of any of the shells that were still attached. Next, I took a large platter and lined it with some paper towels. After that, I poured the drained chickpeas over the paper towel, then laid more paper towels on top of the chickpeas. Next, I placed my hands flat on the top paper towels then moved them in a circular motion so that the chickpeas rolled around and were dried by the paper towels. Once dry, I removed all the paper towels and let the chickpeas sit out until the oven was preheated. Finally, I spread them out evenly on a baking sheet and baked them for 30 minutes, stirring halfway through.
Once the chickpeas were done baking, I put them in a small mixing bowl with one tablespoon of olive oil. Be sure to stir well so that each chickpea is evenly coated with the oil. Lastly, sprinkle the seasoning into the bowl and stir until each chickpea is evenly covered with seasoning.
I poured the chickpeas back onto the baking sheet so that they could cool a bit. Feel free to eat them right out of the bowl! Add roasted chickpeas to salads, snack mix or eat them by themselves.
Fiesta Lime Roasted Chickpeas
2016-08-11 17:43:22
Serves 7
Only four ingredients are needed for this high protein, clean eating snack. Add some crunch to salads, snack mixes or enjoy by themselves!
Ingredients
1 can chickpeas, drained
1 Tbsp extra virgin olive oil
1 tsp Mrs. Dash Salt-Free Fiesta Lime Seasoning
1/2 tsp salt
Instructions
Preheat oven to 400 degrees.
In a strainer, rinse the chickpeas well and shake off any excess water.
Line a large plate or cookie sheet with paper towels. Pour the chickpeas out evenly onto the plate. Using a few different paper towels, pat the chickpeas dry* and remove any shells.
Spread chickpeas out on a baking sheet lined with non-stick aluminum foil. Transfer the baking sheet to the preheated oven and bake for 30 minutes, stirring after 15 minutes.
While the chickpeas roast, pour the oil into a small mixing bowl.
Once the chickpeas are done roasting, pour them into the bowl with oil. Stir the chickpeas to make sure they are evenly coated with oil.
Add the Fiesta Lime Seasoning and salt to the bowl. Stir until well distributed. Pour the seasoned chickpeas back on to the foil-lined baking sheet and let sit for 5 minutes. Serve warm or allow to cool completely.
Notes
*Make sure the chickpeas are completely dry or they will not crisp up in the oven.
Eat. Lift. Play. Repeat. http://eatliftplayrepeat.com/
What is your favorite seasoning blend?