So, I married a foodie and he is slowly but surely turning me into a foodie as well! One of our favorite things to do for "date night" is to either cook a nice dinner together at home or go out to a cool restaurant. This particular date night included one of the best restaurants in Denver: Acorn. (Literally one of the best, 5280 Magazine just came out with their annual list of the Top 25 Restaurants in Denver and Acorn is #2!!)
If you have not been to Acorn, you need to go. One, because it is a fantastic restaurant and two, because it is located inside the Source. The Source is this really cool industrial building that has been turned into a little market. It has several different shops and two restaurants inside. Acorn is one restaurant, and the other is Comida, a modern taqueria. Some of the shops include a French bakery, a liquor store, bar, coffee shop, flower shop, meat & cheese shop, etc. It is so awesome. We are partial to going to the Source because a friend of Donny's opened up Mondo Market (the meat and cheese shop, plus tons of other things) inside the Source, so we love going and supporting him… plus he carries some of the coolest spices! Check our Mondo Market online here or even better, stop by the Source and say hi to Nic!
Moving on to Acorn…… We went to Acorn for the first time back in July for a little one year anniversary celebration (yay for making it through the first year!). It was fantastic! We decided to go back and take a couple that we are friends with along. Acorn suggest sharing dishes (they are served family style) and they recommend 2-3 dishes per person. It was really fun to go with Donny the first time, however there were so many things on the menu that we wanted to try but just could not order knowing we would be way to full in the end. Going with 4 people was completely different. You could taste a little of everything and order quite a few dishes off the menu! We chose 8 different dishes to share between the four of us.
Quick disclaimer: I completely forgot to take pictures of the food we ordered so I found some online from Acorn's site and on Google…. these photos are not mine and I could not find all the dishes that we ordered. My apologies.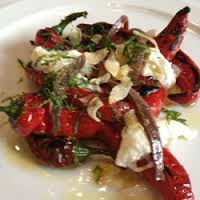 This is their Oak Grilled Jimmy Nardello Peppers and it has anchovy, burrata, crispy garlic, and mint. Let me be honest… those peppers scared me. They look terrifyingly hot. I had to ask the server if they were spicy before eating and she said no, that they were slightly sweet. And she was correct. It was more like a red bell pepper taste rather than a hot pepper taste. Very good. This was also my first time trying anchovies…. I don't know that I would like anchovies on their own but they were delicious in this dish!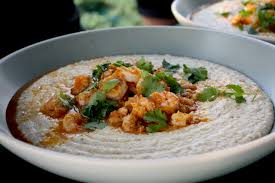 Here is their version of shrimp & grits… they call it their Key West Royal Red "Shrimp & Grits" with tabasco soffrito and white wine. This was awesome. The Tabasco flavor was money. Shrimp and grits is just such a cool dish.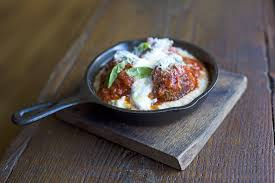 This was one of my favorites – Tomato Braised Meatballs with anson mills stone ground grits, burrata, and basil. It was so good! I definitely recommend getting this. The original dish comes with three meatballs but because we had four people the waitress added an extra meatball for us. Awesome!
The other dishes we had included Oak Grilled Octopus, a Fall Market Salad, Carrot & Ricotta Ravioli, and Lamb "Shawarma". Here is the dinner menu for Acorn. Donny has gotten me in a habit of looking at restaurant menus before we go so I highly suggest taking a look! They also have cool cocktails and several different craft beers. Take a look at the menu and then if you are in the Denver area check out both the Source, and Acorn!
What is your favorite restaurant in Denver?