Can you tell that breakfast is my favorite meal of the day? Luckily, it is considered the most important meal of the day. I have been known to eat breakfast, have a second breakfast around 10:00am and finish the day with breakfast-for-dinner. No joke, I love it that much.
If you've followed Eat. Lift. Play. Repeat. for very long then you know that a lot of my recipes are intended for breakfast. I apologize if you hate breakfast, but I can't stop my love for it!
First of all, growing up we rarely had grits. I don't even recall having grits until I was in Florida visiting my grandparents when I was 13 years old. Grits are more popular in the south and just weren't part of our diet in Colorado.
However, I did grow to love grits after I met Donny and was introduced to shrimp & grits. What a great way to enjoy grits…full of butter, cream, shrimp and hot sauce. Delish!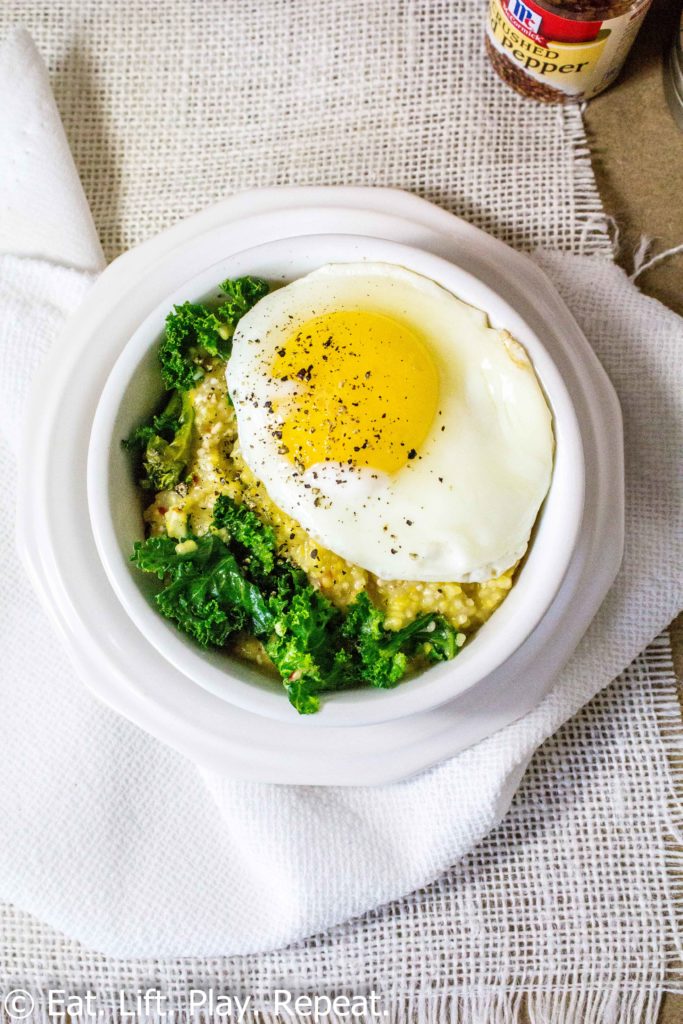 Of course now that I like grits I found a way to eat them for breakfast…..
These Breakfast Grits with Kale will keep you full all morning long or make a great option for breakfast-for-dinner! Butter is added to the grits after cooking and the healthy fats in grass-fed butter help keep you feeling satiated longer. Kale and the egg yolk also provide nutrients to the dish.
I used Organic Sprouted Gluten-Free Yellow Corn Grits from To Your Health Sprouted Flour Co. To Your Health specializes in sprouted grains and flours, but have created quite a large product line of sprouted ingredients. I love their products, but most of all I love them.
Donny introduced me to the owner, Jeff a couple years ago and he is awesome. His wife, Peggy, was the one who became interested in sprouted grains. I have not met her yet, but one of these days I will get to! They have grown a great business and To Your Health actually provides sprouted flour for Kashi's sprouted cereal that was released not to long ago. You can find Peggy's picture on the back of the box!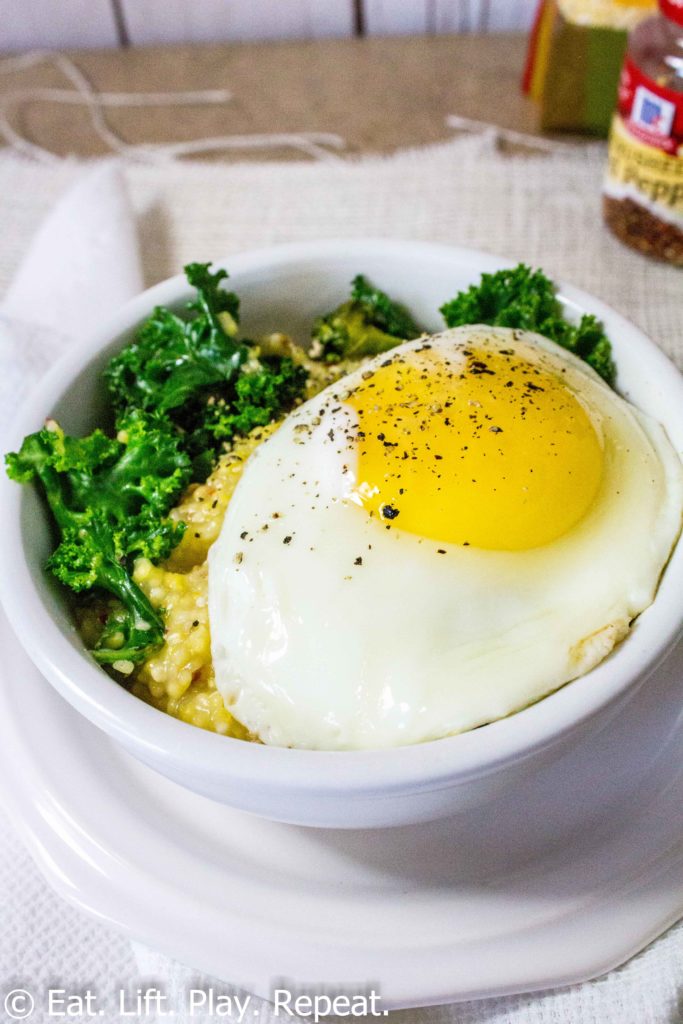 I have not experimented a ton with sprouted grains or flours, but these grits are awesome! After the grits were cooked I added some butter. Butter adds richness to the grits and, let's get real, grits are even better with butter!
Don't skip the egg! The runny yolk mixed into the grits is money.
If you were making this recipe for dinner then you could add cooked chicken or steak to the grits after cooking to add even more protein. You can substitute a different leafy green if you don't have kale on hand.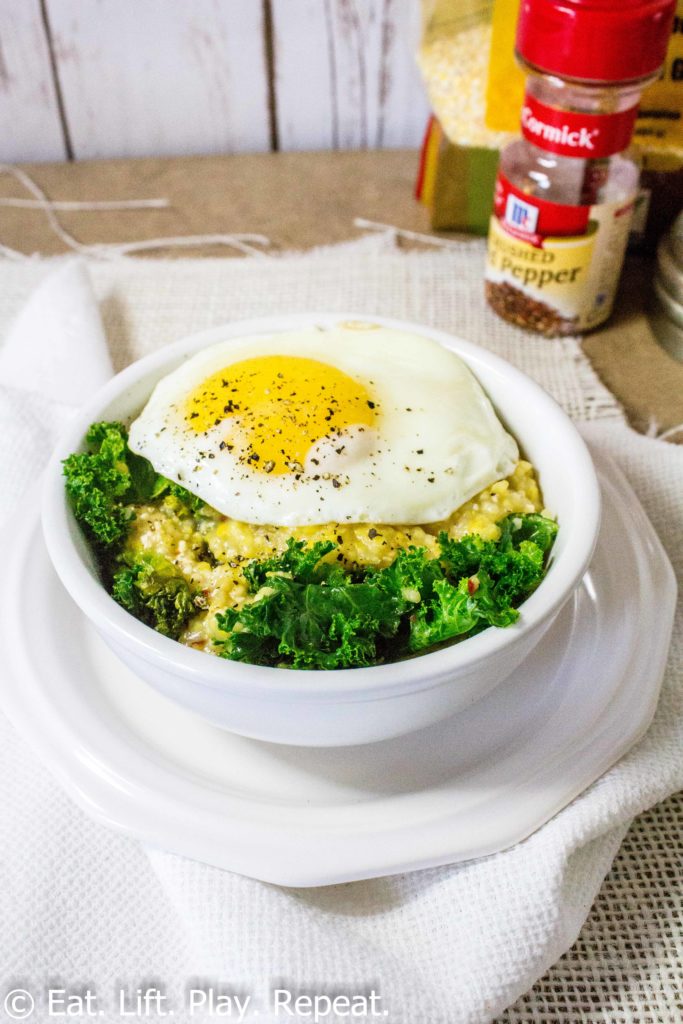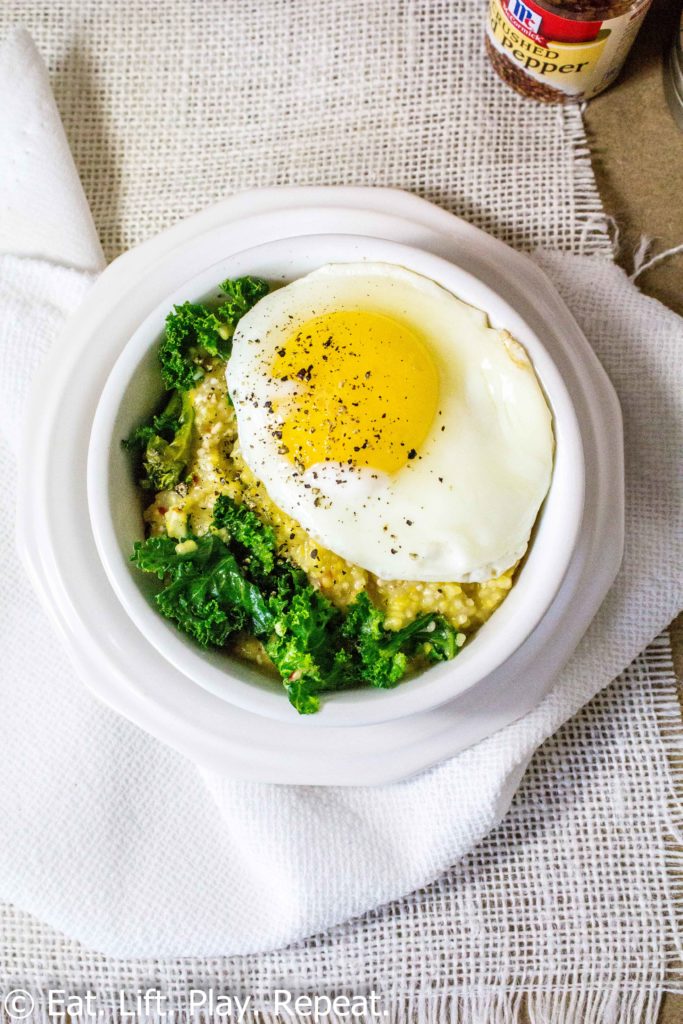 Breakfast Grits with Kale
2016-08-28 14:27:16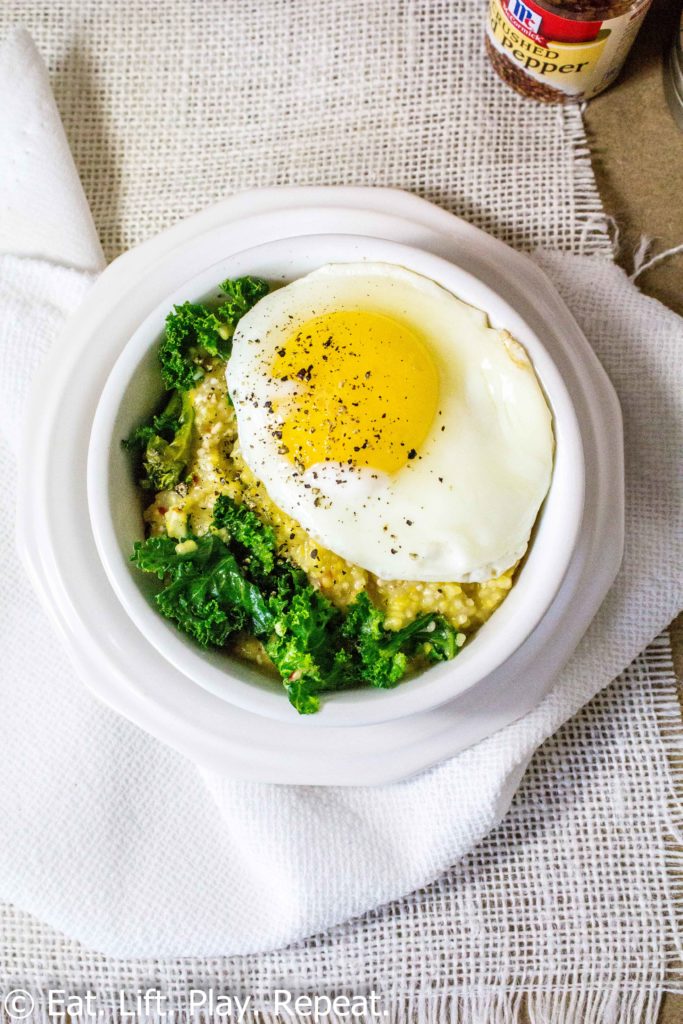 Serves 1
A savory breakfast recipe of hearty grits mixed with sautéed kale and topped with a fried egg.
Ingredients
1 cup water
1/4 cup yellow grits
1/4 tsp salt
1/2 tsp butter, grass-fed
1/4 tsp red pepper flakes
1 cup kale, stems removed
1 egg, large
Instructions
In a small sauce pan combine the water, grits and salt. Cook according to package directions.
While the grits cook, saute the kale over medium heat in a small pan using non-stick cooking spray. Put the cooked kale in a bowl and set aside.
Spray the saute pan with cooking spray again and cook the egg to preferred doneness.
Once the grits have finished cooking, add the butter and red pepper flakes and stir until butter melts and is well distributed. Pour the grit mixture over the kale and give the mixture a rough stir to incorporate the kale into the grits.
Top grits with the egg*.
Notes
*Season with additional salt, pepper and/or hot sauce if desired.
Eat. Lift. Play. Repeat. http://eatliftplayrepeat.com/
Do you enjoy grits? What is your favorite recipe using grits?