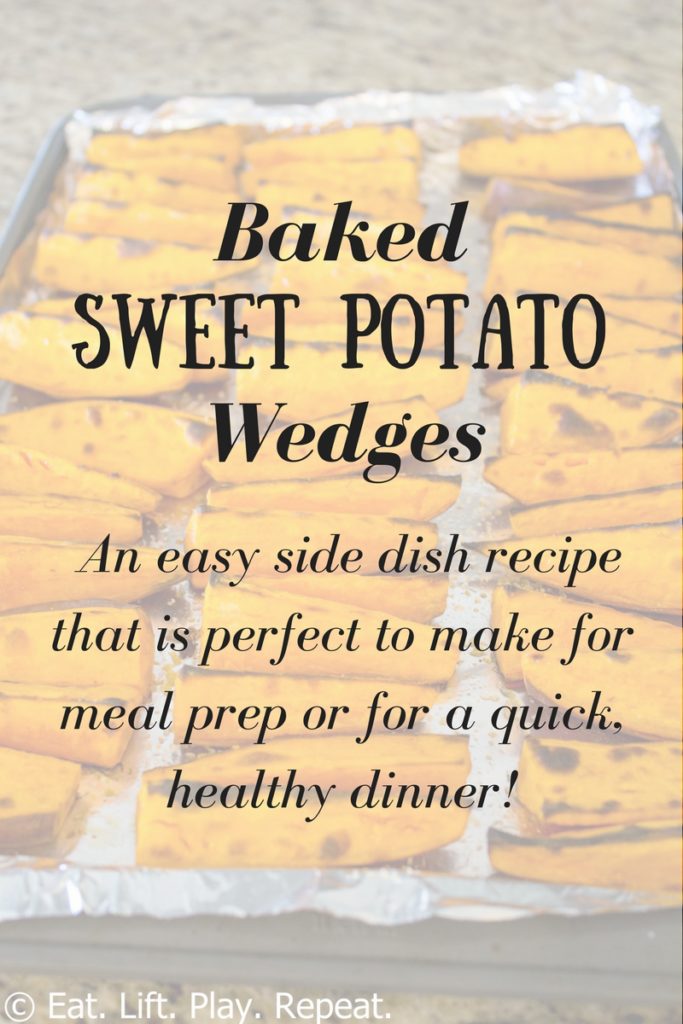 Baked Sweet Potato Wedges make an easy, yet healthy side dish.
Sweet potatoes are sometimes considered a "fall" food, but I love them any time of year. I enjoy them baked, sautéed, mashed, fried – you name it, I like it!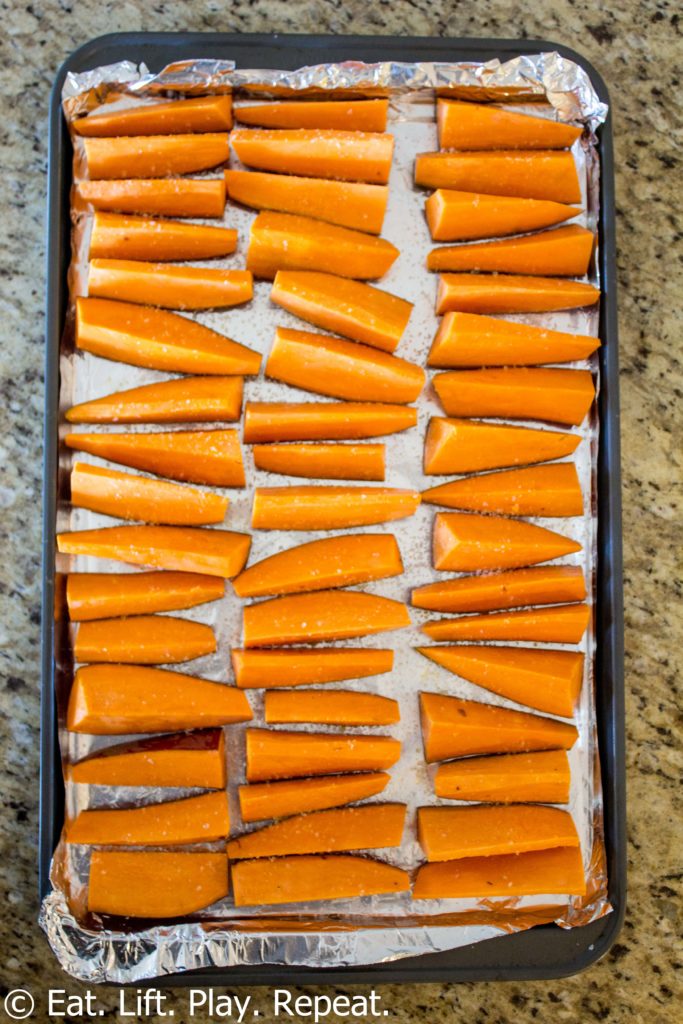 Sweet potatoes are loaded with healthy nutrients, full of fiber (especially with the skin on) and low in calories. One cup of sweet potato is just over 100 calories! It does have a slightly sweet taste compared to other potato varieties, but can be used for savory dishes as well.
One of my favorite ways to eat sweet potatoes are in fry or wedge form! Most sweet potato fries or sweet potato wedges that you get at restaurants are deep fried. Make your own version the healthy way by baking them.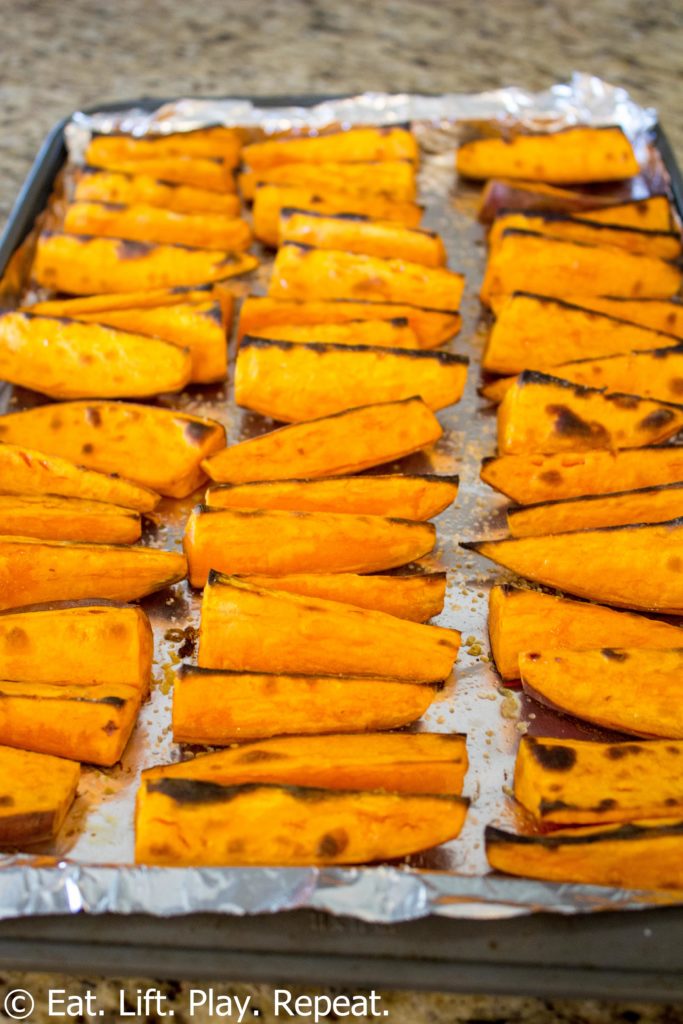 These Baked Sweet Potato Wedges are really easy to make and are great to add to your meal prep session. Make a batch during meal prep and enjoy them all week long alongside a burger, chicken or pork loin!
Not only are these Baked Sweet Potato Wedges healthy, but they only require 3 ingredients! I suggest always keeping salt and extra-virgin olive oil on hand, so the only thing you'll need to pick up at the grocery store is the potatoes!
You'll bake the wedges first to make sure that they are cooked all the way through. Then you'll switch the oven to broil to finish them off. Broiling the potatoes gives them a nice crispy char on the outside.
Once the potatoes are cooked you can serve them warm or pack them up in your meal prep containers!
Not into sweet potatoes? Don't have any on hand? Try my recipe for Easy Parmesan French Fries .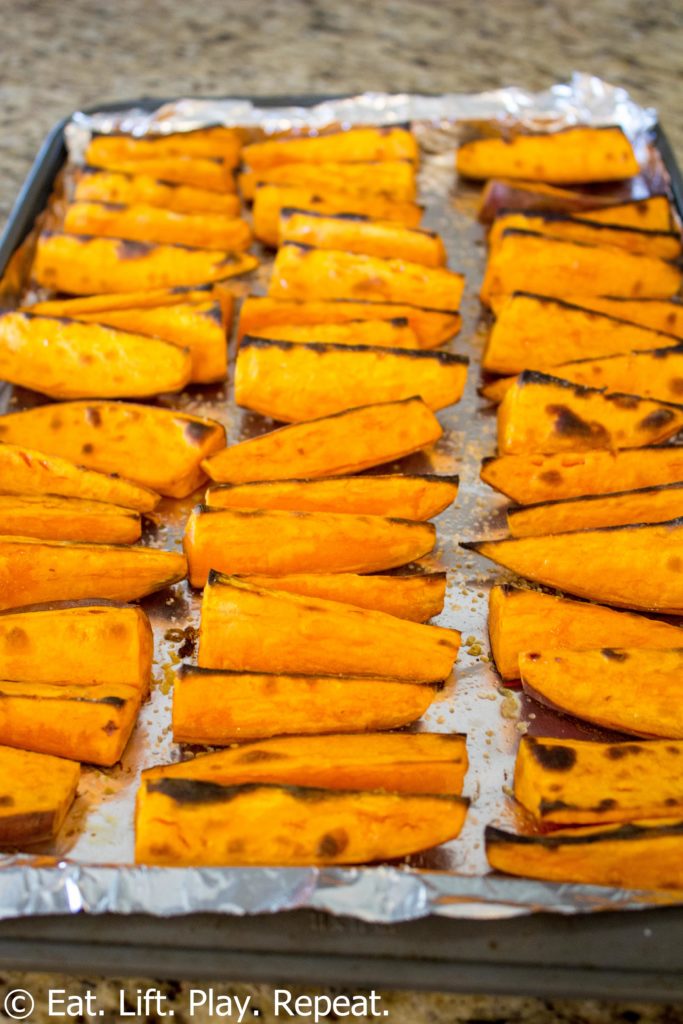 Baked Sweet Potato Wedges
2017-10-15 17:13:54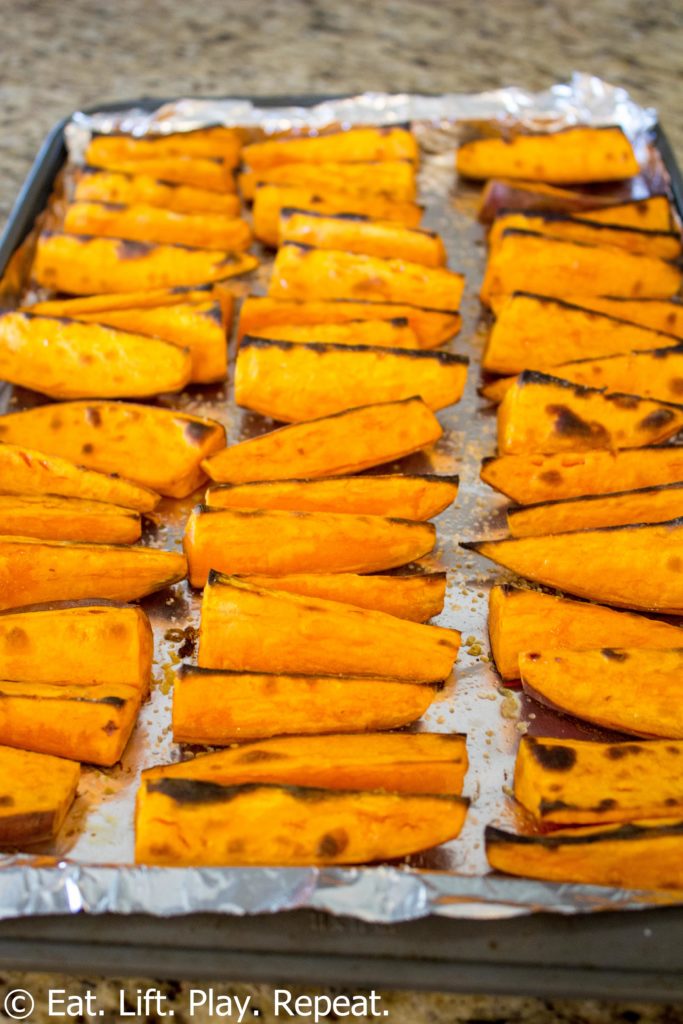 Serves 6
An easy side dish that is perfect for meal prep or for a healthy dinner. Plus, they only require three ingredients!
Ingredients
3lbs sweet potatoes (about 4 medium potatoes)*
2 Tbsp extra-virgin olive oil
2 tsp salt
Instructions
Preheat oven to 425 degrees. Line a baking sheet with aluminum foil and set aside.
Wash the sweet potatoes and cut the ends off. Cut the sweet potatoes in half lengthwise and then slice into wedges.
In a large bowl, toss the sweet potato wedges with the oil.
Arrange the wedges on the foil-lined baking sheet in a single layer. Sprinkle with salt.
Bake the wedges for 30 minutes. Turn the oven to broil and broil the wedges for 5 minutes.
Allow to cool slightly before serving or placing in meal prep containers.
Notes
*Sweet potatoes can be peeled before cutting into wedges.
Eat. Lift. Play. Repeat. http://eatliftplayrepeat.com/