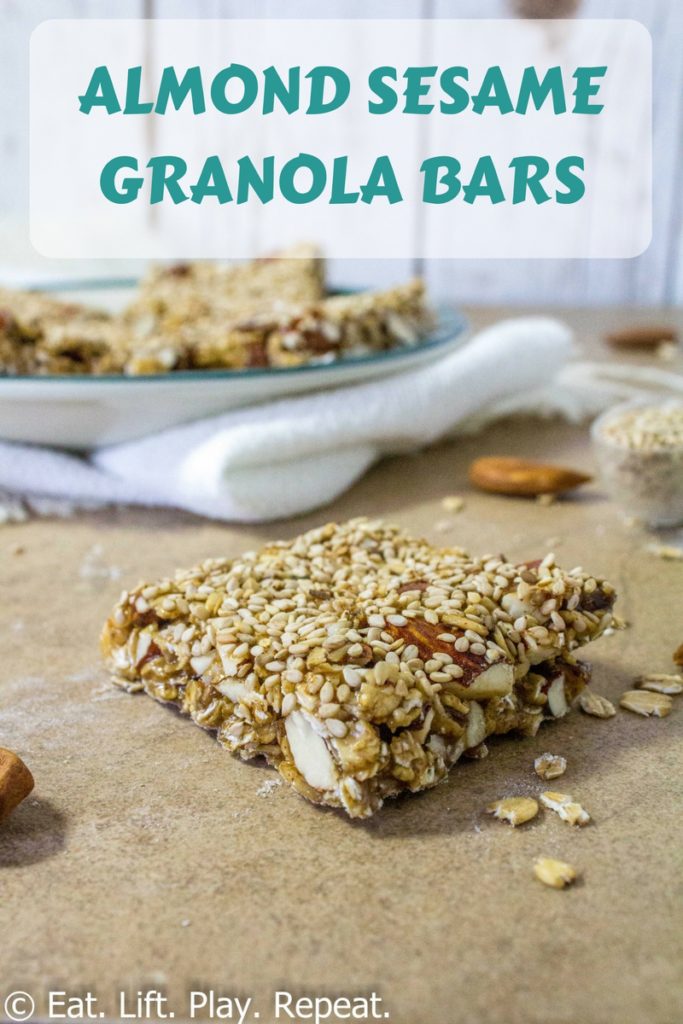 We do not have any small kiddos in the family (on my side), so holidays like Easter, Christmas and Halloween are still adult friendly. Neither my sister nor I have kids yet, so there are no munchkins to spoil.
My mom still gives us Easter baskets and, the last couple years, has even made us hunt for them! We always enjoy it, because they are packed with fun stuff like beer or the ingredients for Moscow Mules. Can't be mad about that?! She also packs the baskets full of snacks and candy. Some snacks are healthy, while others are not.
Last Easter she gave both Donny & I Honey Sesame Cashews from Walgreens.
Holy cow.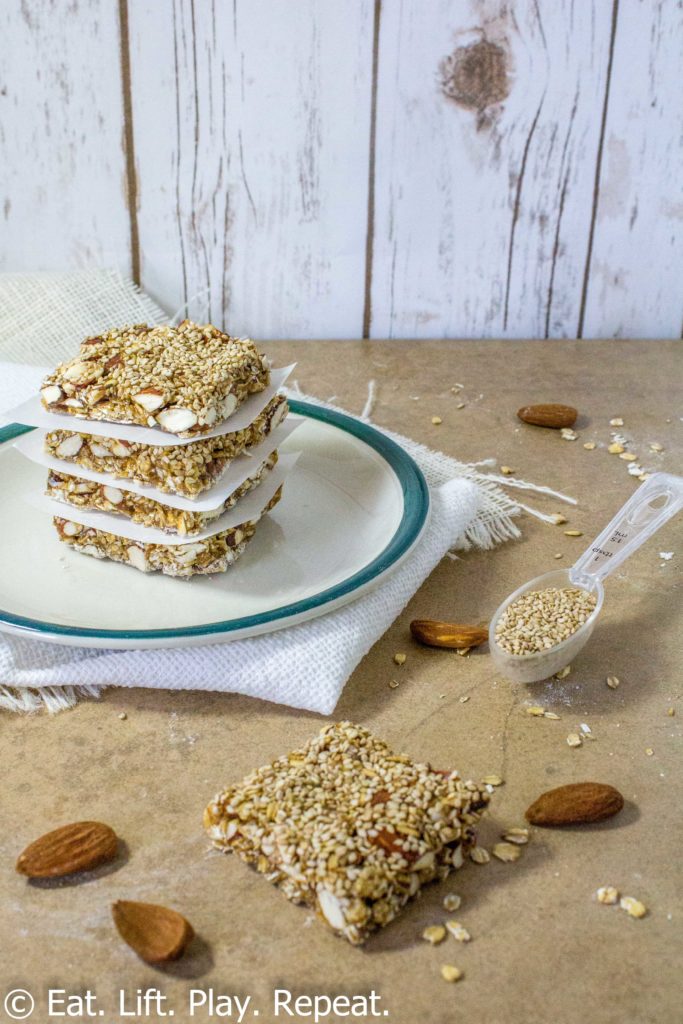 I cannot keep those dang things in the house because I will eat them all ! Let's just say they are NOT clean eating approved, but are so delicious!!! One day I decided to try them and honestly couldn't stop eating them. I would open the pantry to get something else, see them and decide I needed one or two. I won't lie, this happened multiple times per day.
I resisted opening the second bag for a very long time. One day however, I noticed the bag was open. Game over. Once again, I would grab one or two or three each time I went to the pantry! Yikes. We I finally finished the bag and told myself I could never buy those dang things again!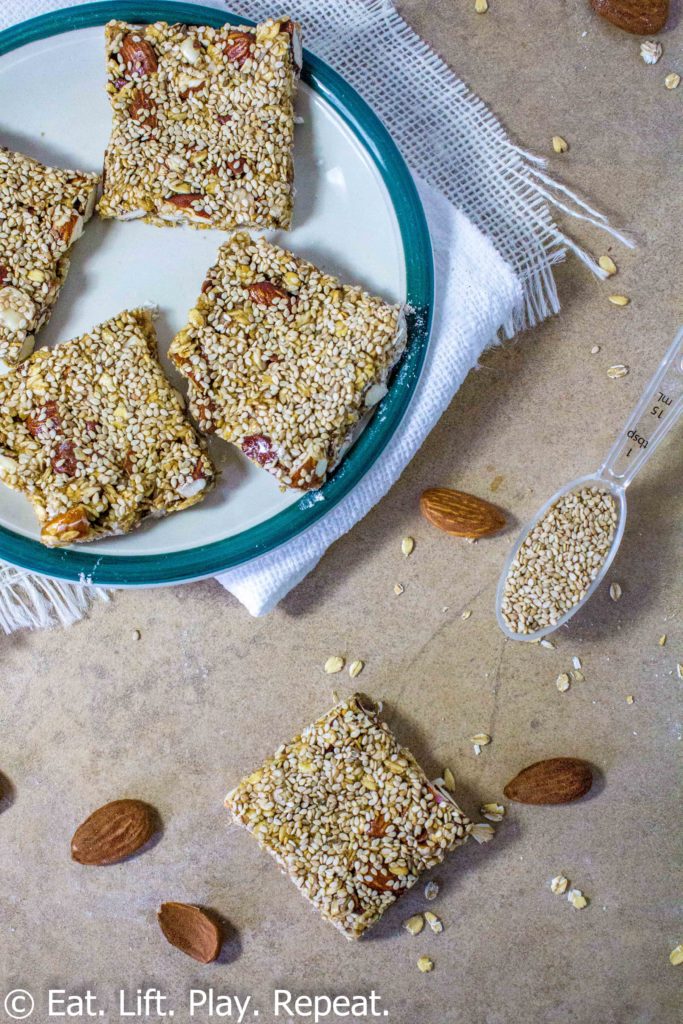 Instead I made some clean eating Almond Sesame Granola Bars that I don't have to feel so bad about when I eat them all. Instead of cashews, I chose to use almonds for a little more crunch.
No need to use the oven at all for these bars. Thirty seconds in the microwave to make the sweeteners nice and running and you are good to go!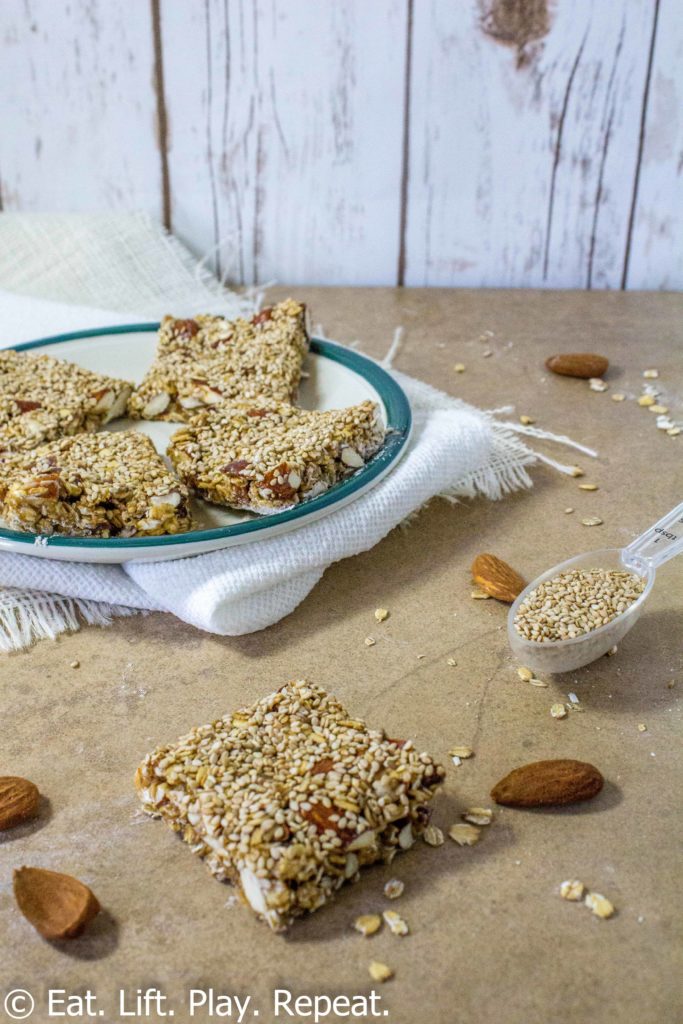 Not only are these no bake granola bars quick and easy to make, but they also make a healthy grab-and-go snack for a busy day. Wrap each granola bar in plastic wrap and pull one out of the refrigerator before you head out of the house. This way you will then have a healthy snack with you wherever you go.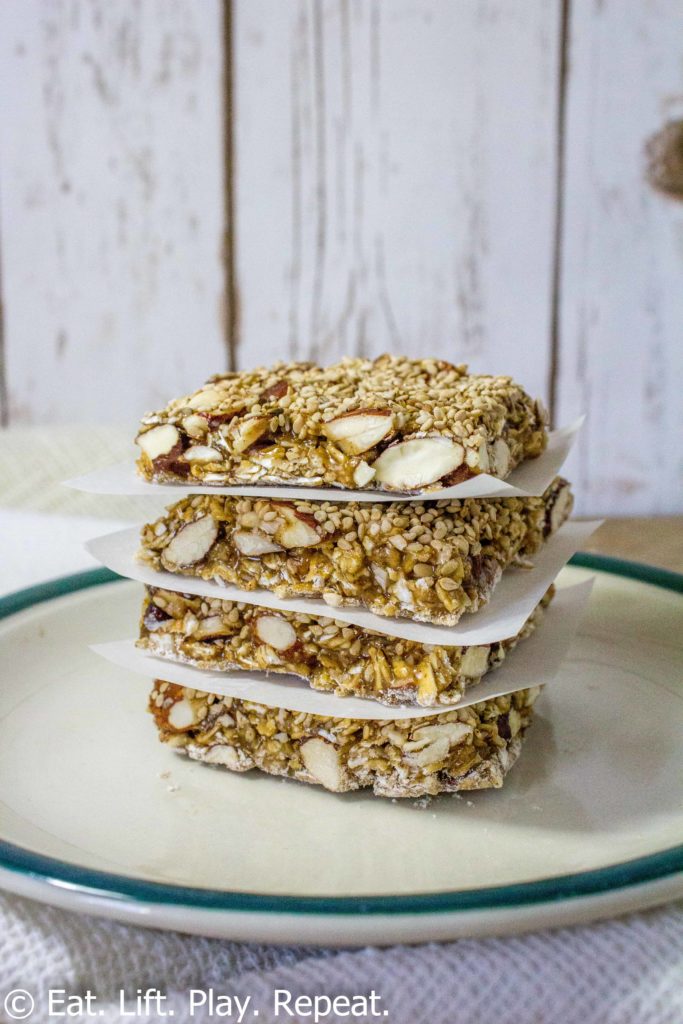 After cutting these granola bars, I left them in the refrigerator so they stayed somewhat chewy. You could leave them on the counter if you wanted, but they will get quite soft.
Check out my other granola bar recipes include Coconut Cashew Granola Bars and Nut & Seed Bars.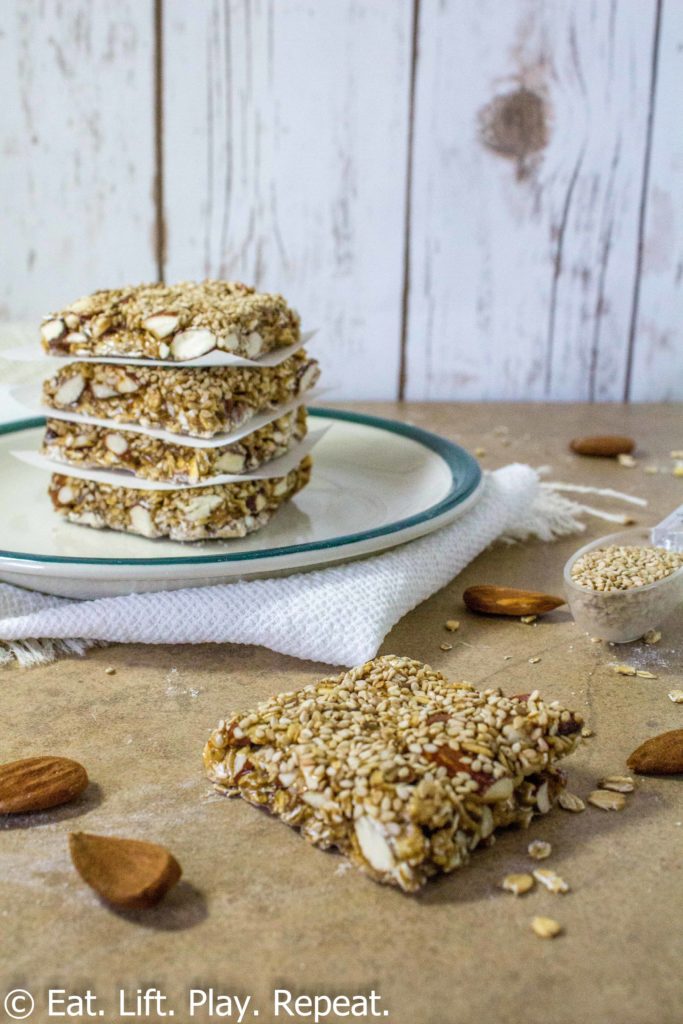 Almond Sesame Granola Bars
2016-08-18 19:18:19
Almonds and sesame seeds make a great combination in these clean eating granola bars. They make a great grab-and-go snack for busy days!
Ingredients
1 cup rolled oats
1 cup almonds, roughly chopped
2 Tbsp sesame seeds, divided
1/2 tsp salt
1/4 cup almond butter
1/4 cup honey
1/4 cup brown rice syrup
Instructions
Line an 8x8 inch baking dish with parchment paper. Set aside.
In a medium mixing bowl combine the oats, almonds, salt and 1 Tbsp sesame seeds. Stir to combine.
In a small microwave safe dish combine the almond butter, honey and brown rice syrup. Microwave for 30 seconds. Stir and immediately add to the mixing bowl with the oat mixture. Working quickly, stir all the ingredients together until well combined and evenly distributed. Spoon mixture into the parchment paper-lined dish. Spread evenly in the pan and press into a flat layer using the palms of your hands or a spatula. Sprinkle remaining sesame seeds on top.
Refrigerate for at least one hour.
Remove from refrigerator and let sit for 5 minutes. Cut into 9 even bars and serve immediately or wrap each granola bar in plastic wrap and place back in the refrigerator for later.
Eat. Lift. Play. Repeat. http://eatliftplayrepeat.com/
What is your favorite portable snack recipe?