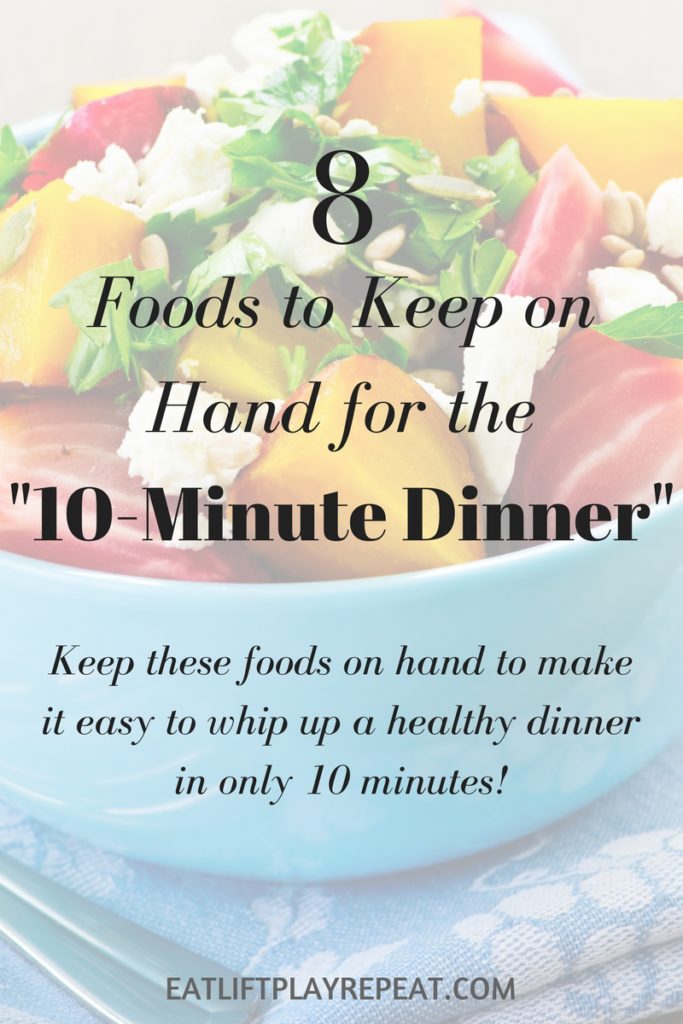 Healthy dinners do not have to take hours and hours to make. In fact, there are plenty of healthy meals that can be thrown together in a matter of minutes if you have the right ingredients.
On busy weeknights I'll throw together burrito bowls, a simple stir-fry or even chicken tacos. I don't spend an hour preparing food because I stock my pantry, freezer and refrigerator with healthy, yet convenient foods. These foods can be throw together, microwaved and on the table in 10 minutes flat.
So what ingredients do I keep on hand for healthy, yet simple meals? Check out these 8 Foods to Keep on Hand for the "10-Minute Dinner".
Pre-cooked proteins. Keep pre-cooked chicken, pre-cooked hamburgers, pre-cooked meatballs, etc in your freezer! You can pull some out, thaw in the microwave and add the meat to whatever dish you are cooking up!
I try to always have both frozen chicken and frozen hamburgers in the freezer so I have a choice when it comes to making a healthy dinner. You can cook your own meat in bulk and freeze, or buy pre-cooked meats at the grocery store. It will be more expensive to buy it at the grocery store, but sometimes convenience is worth the price!
Canned beans. I try to keep canned black beans and canned garbanzo beans on hand at all times, but choose your favorite and stock up! It is easy to stack cans in your pantry and they can provide protein and fiber to your meal without the long cook-time.
Canned beans have the same nutritional value as dried beans that you cook at home. If you are worried about sodium intake, then look for low-sodium varieties or rinse the beans before adding them to your meals.
Frozen vegetables. Frozen vegetables are a great substitute for fresh. In fact, they have the same nutritional value as fresh because companies flash-freeze them at their peak. There are a bunch of options in terms of frozen vegetables and even frozen vegetable blends.
Keep your favorites in the freezer to add to quick, yet healthy dinners. Our freezer is usually stocked with corn, broccoli/cauliflower blend and a stir-fry blend of some sort.
I also suggest looking for steam-ready vegetables. Throw the bag in the microwave, cook according to package directions and a few minutes later you'll have several servings of cooked vegetables ready to eat!
Microwaveable grains. There are a lot more options for quick-cooking grains than there were a few years ago. Uncle Ben's makes a brown rice cup that only needs 60 seconds in the microwave and boom, its ready-to-eat! There are also several options for quinoa or even quinoa-rice mixtures. Look for seasoned varieties to add a little more flavor to plain dishes or buy unseasoned varieties for dishes that you'll add a sauce or spread.
These packages are easy to store and save so much time in the evening! Sometimes even thinking about cooking 10-minute rice seems like too much. Instead of skipping a whole grain, just look for the convenient microwave kinds.
Whole wheat breads & wraps. On that same note of whole grains, keep healthy breads and wraps in the pantry or freezer for quick dinner options. Whole wheat wraps can be used to make a healthy burrito, quesadilla or tacos. Use whole wheat breads to make a healthy version of grilled cheese or make an open-faced sandwich with your favorite protein!
I don't usually go through a whole loaf of bread on my own, so I keep my bread in the freezer. Take a slice or two out of the bag, defrost in the microwave for a few seconds and it is ready to go! I don't notice a difference in taste or texture when it comes to frozen versus fresh bread.
Pre-made sauces & condiments. Keep a variety of pre-made sauces on hand such as marinara, pesto, curry, stir-fry sauce, etc. I also like to keep a hot wing sauce handy, plus normal condiments like mayonnaise, mustard and ketchup.
Look for sauces with no-added sugars. There are plenty to choose from at the grocery store and it can help save a ton of time in the evening. It will add lots of flavor without much work.
Cheese. Cheese can be added to so many dishes throughout the day and can add a lot of flavor to dinner without much time. Feta and bleu cheese are great, because a little goes a long way! Sprinkle some on your food just before eating.
Mozzarella cheese is another item we try to keep on hand. It works great for a variety of different dishes, so I try to keep a block in the refrigerator.
I prefer to buy blocks of cheese, rather than shredded. The block can be cut in different ways depending on what you are making for dinner, rather than only being able to use shredded.
Spices. Try to keep a variety of spices and spice blends on hand. My favorite are the Mrs. Dash Salt-Free Seasoning Blends. There are a ton to choose from and they can add a lot of flavor without any calories to meals.
To save money you can make your own seasoning blends. Check out Pinterest for ideas for different homemade seasoning blends.
Those are the 8 foods to keep on hand to create healthy, yet easy dinners in minutes! The 10-minute dinner is possible, even on a busy weeknight, if you are prepared.
Would you add anything to this list of foods to keep on hand for healthy dinners?! If so, what would you add?