We definitely live in beef country here in northeast Colorado, but I happened to have turkey on hand! You could make this recipe using lean ground beef or even ground chicken.
I was craving spaghetti and meatballs for dinner so I headed to Pinterest to find some recipes to start with. I am still new to recipe-creation so I look to other recipes for a basic idea and then tweek the recipe to our personal preferences. I found one I liked at HeAndSheEatClean.com called "Power Meatballs". I was a newby to this blog, but I will have to go check it out again!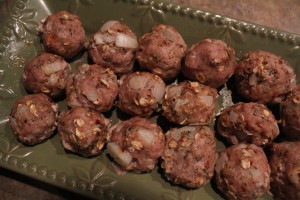 If you have experience making your own meatballs, then you know they are actually really easy. You meausre all the ingredients, mix them together in a bowl, and then take the mixture and form balls. Easy peasy.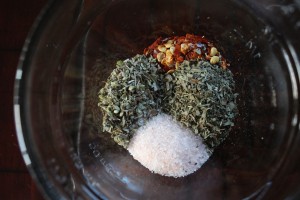 Mix together garlic powder, dried basil, dried oregano, sea salt, and red pepper flakes.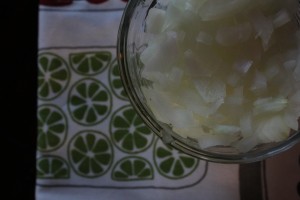 I wanted to use fresh onion in the meatballs (the original recipe called for onion powder). Chop the onion.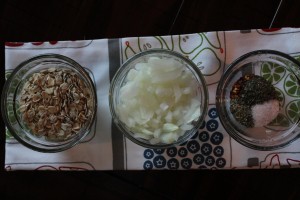 Measure your oats.
Put all these ingredients into a mixing bowl. Add the turkey (or other ground meat). Add one whole egg. Use your hands to mix away and get all the ingredients incorporated.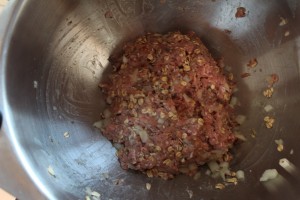 I happen to have a cookie scoop that is about 1″ or so and I used that so the meatballs were relatively similar in size.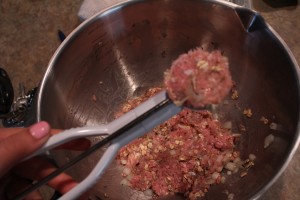 Take the mixture from the scoop and, with your hands, toss it back and forth from palm to palm rather forcefully. This will help all the ingredients stick together. Then roll them into a ball.
I forgot to take a picture of the meatballs before putting them in the oven! We placed them on a foil-lined baking sheet and put them in the preheated oven. I tend to spray my foil with cooking spray so nothing sticks, but it might be alright without. You can also put them directly on the baking sheet (I just like less clean-up!).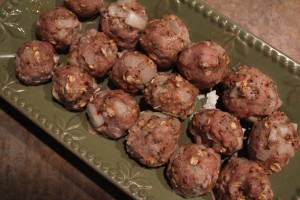 As you can see in the picture, we used a lot of onion! You could use less if you are not a fan of onion. Using our cookie scoop, this made about 23 meatballs.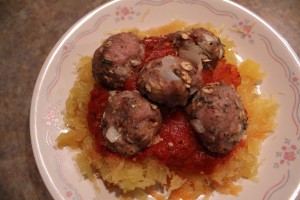 We ate our meatballs with spaghetti squash and marinara. We had quite a few meatballs leftover so we put them in baggies for lunches later in the week. You could make sandwiches for dinner another night with the leftovers or just eat them by themselves. Yum!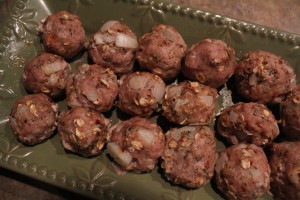 Turkey Meatballs
2014-09-16 20:56:00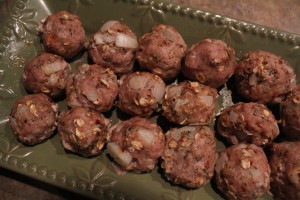 Serves 5
Ingredients
1 1/2 tsp garlic powder
1 tsp dried basil
1 tsp dried oregano
1/2 tsp sea salt
1 tsp red pepper flakes
1/4 cup onion
1/2 c rolled oats
1 large egg
1 1/4 lb lean ground turkey
Instructions
Preheat oven to 400 degrees. Use your hands to mix all ingredients in a mixing bowl. Use a cookie scoop or tablespoon to measure meatballs about 1" in diameter. Shape mixture into round balls.
Place meatballs on a foiled-lined baking sheet. Bake for 20 minutes, or until meatballs are fully cooked through.
Adapted from He and She Eat Clean
Eat. Lift. Play. Repeat. http://eatliftplayrepeat.com/
What is your favorite way to eat meatballs?