This is by far one of my favorite meals and it also happens to be one of the easiest! Perfect. Lettuce wraps are so refreshing and they can be made using whatever ingredients you already have. You can even use leftovers from a different meal to make these. I am telling you, the possibilities are endless.
Donny & I got the idea to make our own lettuce wraps after we ate at La Sandia Cantina in Denver. It is one of Richard Sandoval's many restaurants and he really caters to gluten free. You can get tacos and fajitas in lettuce wraps instead of tortillas. They are amazing!
We happened to have leftover smoked chicken from a benefit dinner that Donny had done the weekend before so that is where I got the smoked chicken. It is also prime harvesting time around here so everyone keeps giving us cucumbers, squash, tomatoes, etc. I am not mad about that at all!
We usually make our lettuce wraps with broccoli slaw to give it a little crunch. When I opened the bag of the slaw I realized I had let it sit in the fridge a bit too long…whoops! So I had to improvise.
I chose to add chopped cucumbers instead….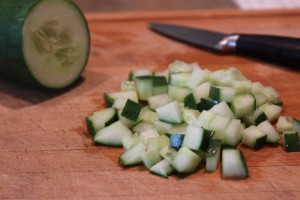 Tomatoes were next. Our neighbor Mary had just given us a few cherry tomatoes from her garden (thanks Mary!)…they almost didn't make it into the dish. They were so delicious I almost ate every single one the second I got them. With a little self control I managed to save a few for the lettuce wraps. I cut each cherry tomato in half.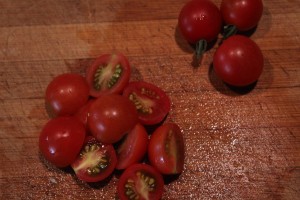 Next, I added mango salsa to the smoked chicken. I decided to mix the salsa with the chicken, instead of putting them on separate. Either way would work fine.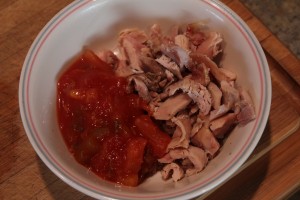 Everything tastes better with avocado and Chalula so I added some of both to each lettuce wrap as well (the avocado is on the plate but I put Chalula on each wrap before eating).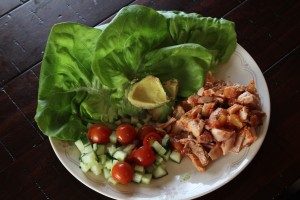 Done and done. Super easy and delicious!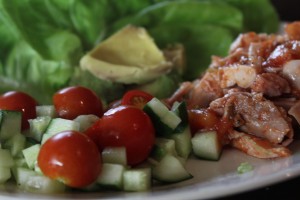 Here is one assembled…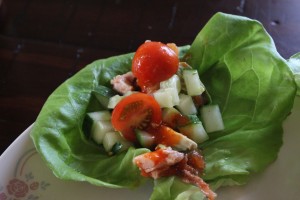 Yum! I really enjoyed the cucumber in the wraps. It was a good replacement for the slaw and added the crunch that otherwise would have been missing.
Remember, get creative and don't think too hard about these dang things! Leftover quinoa salad, tuna, fish, pork, steak…..anything will be good. You can make them fajita style too with sauteed peppers and onions. I chose to keep the ingredients cold, but you could also heat them up if you prefer it that way.
What is your favorite way to use up leftovers?