When I plan what I want cook during meal prep I try to get a combination of healthy proteins, carbs and a lot of vegetables.
Why not get all of those things while only using ONE PAN? That's what I have for you here.
One pan and easy clean up, but best of all you have a delicious and well balanced meal ready in no time.
One-Pan Italian Chicken & Vegetables combines chicken, potatoes and a couple different vegetables into a healthy, clean eating meal. Top it with Parmesan cheese after baking for even more flavor!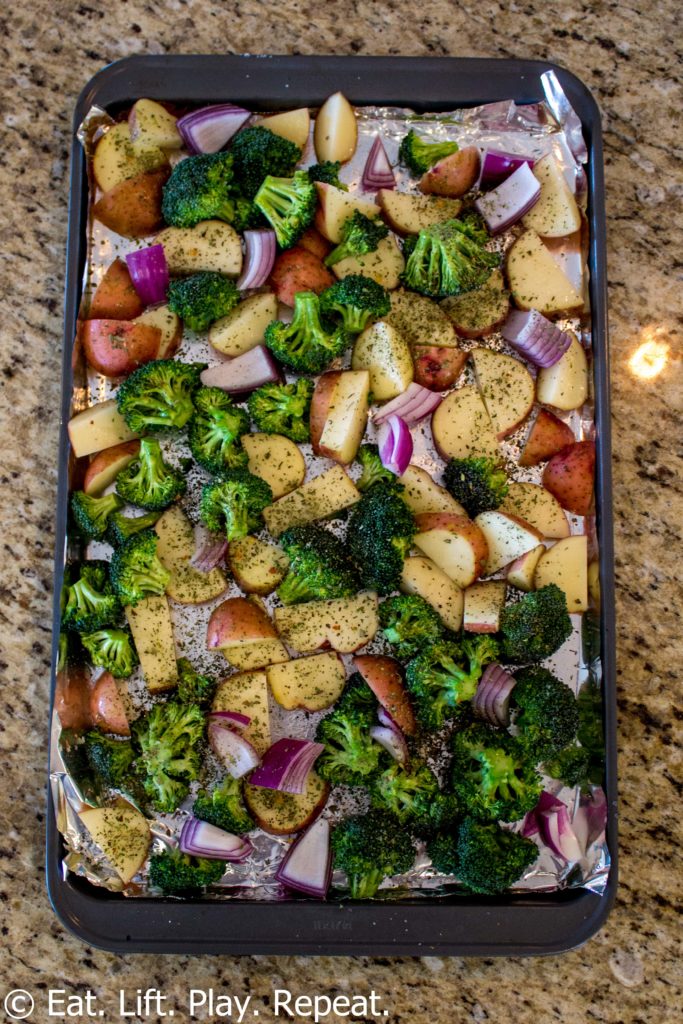 First of all, I suggest lining the baking sheet with aluminum foil for easy clean up. Once you've eaten or packed up the food you can throw the foil away and the baking sheet is clean! Whhaaaaatt? So easy.
Second of all, take the extra five minutes to broil everything at the very end. Baking the chicken and vegetables will soften and cook everything. The broil setting will brown everything a little more and caramelize it too.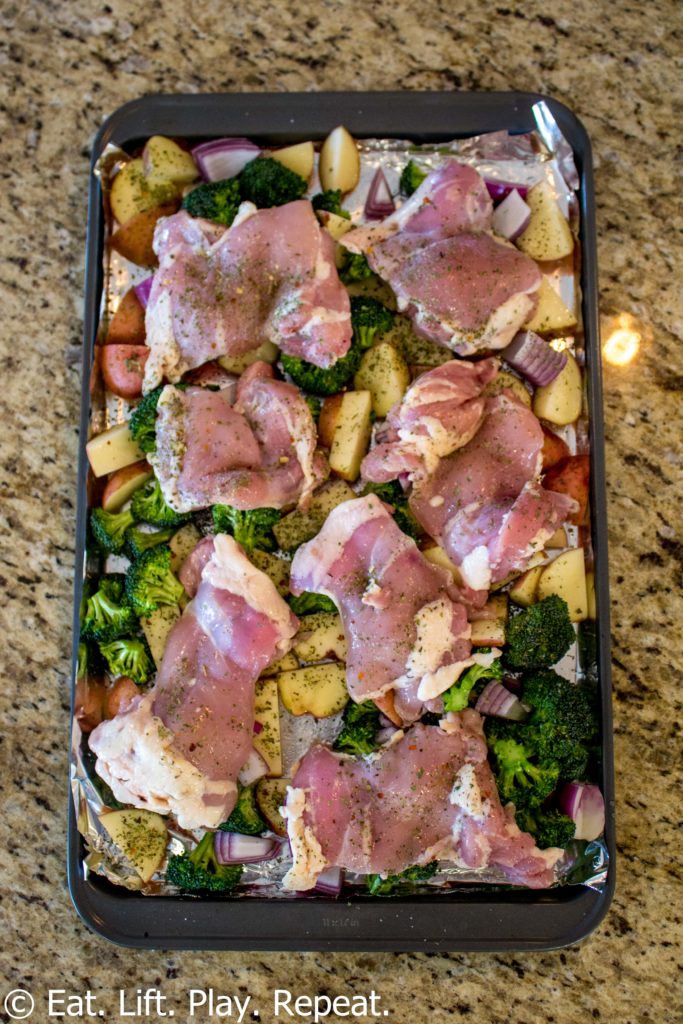 One-Pan Italian Chicken & Vegetables is perfect for meal prep. You'll get that combination of healthy foods, but will only have to cook one pan of food. If you use this recipe to meal prep, then divide into your meal containers rather than serving immediately. Store in the refrigerator for up to 5 days.
One-Pan Italian Chicken & Vegetables
2017-04-01 16:07:10
Serves 4
A healthy and delicious meal that can be made using one baking sheet! This meal is complete with protein, healthy carbs and vegetables!
Ingredients
1.5lb boneless, skinless chicken thighs
6-8 red potatoes, cut into 1/2-inch pieces
3-4 cups broccoli, stems removed
1/2 red onion, roughly chopped
1 Tbsp extra-virgin olive oil
1 1/2 Tbsp Italian seasoning, divided
2-4 Tbsp Parmesan, grated
1 1/2 tsp salt, divided
Instructions
Preheat oven to 375 degrees. Line a baking sheet with aluminum foil.
Prepare the potatoes, broccoli and onion and place on the foil-lined baking sheet. Drizzle with olive oil and sprinkle with 1 tsp salt and 1 Tbsp Italian seasoning. Stir to evenly coat the vegetables with oil and seasoning (use your hands or a spoon).
Season the chicken thighs with the remaining salt and remaining Italian seasoning. Layer chicken on top of the vegetables.
Once the oven is preheated bake for 20 minutes. Turn the oven to broil and cook an additional 5 minutes.
Sprinkle chicken and vegetables with Parmesan cheese.
Serve immediately or store for future meals throughout the week.
Eat. Lift. Play. Repeat. http://eatliftplayrepeat.com/
What is your favorite quick, yet healthy meal?