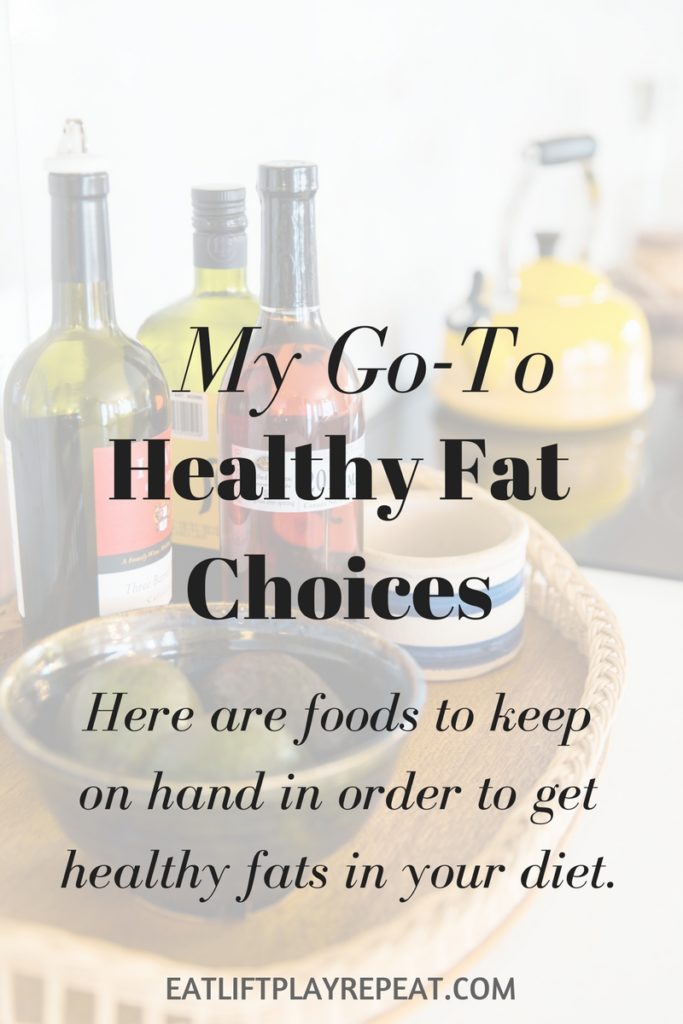 Back in the day fats were frowned upon in the health-food-world. However, let's get one thing straight: eating fat does not make you fat. The right fats sources have some great benefits and should be added into any clean eating diet.
Fats are higher in calories compared to proteins and carbohydrates. Fats contain 9 calories per gram, while protein and carbs contain 4 calories per gram.
Here's the kicker though, if combined with the right foods, healthy fats can keep you feeling full longer! Combining healthy fats like extra-virgin olive oil, avocado or peanut butter with whole grains and lean protein is a great combination for a healthy meal.
Here are my go-to healthy fats that I try to keep on hand for clean eating meals and snacks.
Oils. Extra-virgin olive oil, canola oil, vegetable oil, avocado oil, coconut oil, peanut oil… the list of different cooking oils goes on and on! Some are healthy, while some are not so much.
The ones I keep on hand for healthy meals include extra-virgin olive oil (EVOO) and coconut oil. Both are clean eating approved and pretty versatile. Use them for sautéing or rub on vegetables before grilling. I use EVOO to make homemade salad dressings and marinades too.
Coconut oil is great for a variety of things, including cooking. I've actually used it as a butter substitute in baked goods! Make sure to choose virgin coconut oil when purchasing at a grocery store.
Avocado. Avocados are very popular these days. I'm addicted to them, so we usually have a few on hand for meals. They can be eaten at breakfast, lunch, dinner and even for snacks. Avocados are full of vitamins and nutrients, plus contain lots of healthy fats.
I don't recommend cooking avocados, but rather adding them to a dish after it has been cooked. For example, I won't add avocado to enchiladas but I will cook the enchiladas and throw some mashed avocado on top before eating. Avocado is great on toast, cottage cheese, savory oatmeal, etc. I'm not very familiar with this, but avocado can also be used as a butter substitute in baked goods.
Egg Yolks. Whole eggs are a great addition to a clean eating diet! The yolks are where all the nutrients and healthy fats are. I eat a lot of egg whites, but I try to always incorporate a whole egg too. Whole eggs keep me satisfied longer than if I were to eat the whites only. For breakfast I'll make an egg scramble with 1 whole egg + 3 egg whites. I still get the nutrients and healthy fats from the whole egg plus additional protein from the whites.
Nuts & Seeds. I love snacking on nuts and seeds! They can be added to trail mix, used as a topping for yogurt or oatmeal, or enjoy a handful while on the run. Look for dry roasted varieties, which means they are not deep-fried in oils. I also really enjoy raw nuts, like almonds, walnuts, pecans, pepitas, etc.
Some of my favorites to keep on hand include raw almonds, dry roasted peanuts, chia seed, pepitas (hulled pumpkin seeds) and sunflower seeds. I also enjoy walnuts and pecans, but I don't eat them quite as much so I keep those in the freezer.
Nut Butters. Nut butters have the same benefits as nuts, but they are ground into a spreadable butter. Peanut butter is a very affordable nut butter and found at most grocery stores. Check the nutritional label when buying nut butters (especially peanut butter) because companies will add sugar and other things to them. Look for nut butters with one ingredient: the nut.
I have to be careful with nut butters because they are addicting! I could sit and spoon peanut butter or almond butter straight out of the jar until the jar was empty. The problem is that nuts and nut butters are fairly high in calories, so I have to keep myself from doing that. Make sure you are getting a proper serving by measuring with a food scale or with a tablespoon.
The nut butters that I tend to keep on hand include peanut butter, almond butter and coconut butter.
Butter. Sometimes you just can't substitute for butter! I love the flavor it adds to foods, which is hard to mimic with other fats. I'm talking about the real stuff too, not margarine. Yes, it is high in fat but a little goes a long way. Plus, healthy fats like butter help you feel full for longer periods of time, especially when combined with complex carbs and protein.
I don't usually sauté many items in butter, but rather I use it to add flavor to foods. It is great spread on toast or other whole grain bread products, but you can also add a small amount to vegetables, like sweet corn or baked potatoes. Again, a little goes a long way.
So what about carbs and protein? If you haven't gotten the chance to check out those posts then find them here: My Go-To Healthy Protein Choices & My Go-To Healthy Carb Choices.
What are your favorite healthy fats to keep on hand for meals and snacks?