Last Saturday night Donny catered the Fort Morgan Heritage Foundation's Dinner in the Gallery. The Heritage Foundation is the foundation for the Fort Morgan Museum. Each year they have a dinner and auction where they auction off a "Dinner in the Gallery". They sell around 25 tickets to the dinner and I believe this was Donny's 4th or 5th year making all the food.
Each year he picks a different theme and this year he chose Italian. He worked several years at Buca di Beppo before moving back to Fort Morgan, so he knows a lot about Italian cuisine. The amazing part about the whole dinner is that there is no kitchen at the museum. There is a sink and fridge but no oven or stovetop. Donny has to be very strategic when planning the menu.
He served five courses and this year included Amuse-bouche, or a "gift from the chef". If French it means "amuse the mouth" and it is a small bite of food that gets delivered as you sit down for dinner.
Amuse-bouche: Shrimp wrapped in prosciutto in a lemon-butter sauce topped with capers.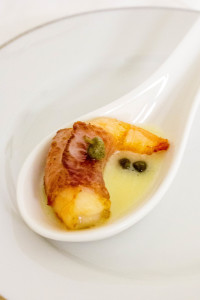 Course One: Grilled Peach Salad.
The peaches were cut in half, pit removed and then grilled for a few minutes. It was then sliced and placed on the plate with mixed greens. Sliced almonds were sprinkled on top as well as two different types of goat cheese: a soft goat cheese and a hard goat cheese. I didn't even know there was a hard goat cheese. I liked it! Before plating, the greens were tossed in a peach vinaigrette that we made from some Georgia peach white balsamic that we picked up in Savannah back in May. It is fantastic. They reduced the balsamic so it is thick and really sweet. Awesome.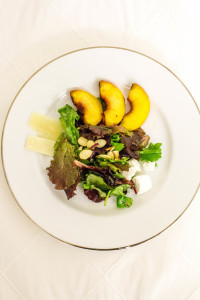 Course Two: Lobster Aranchini.
Donny made risotto and let it cool down on cookie sheets. Next, lobster was coated with a semi-thick layer of the risotto and formed into a ball. It was then breaded with panko bread crumbs, and deep fried for a couple minutes. Donny made a lobster sauce using homemade seafood stock. The sauce we really rich and had chunks of lobster in it as well. The sauce was poured into the bowl with a little extra mound of lobster added. Then the risotto ball was placed on top. I didn't get to try the sauce, but the risotta ball was pretty rich on its own. Very good.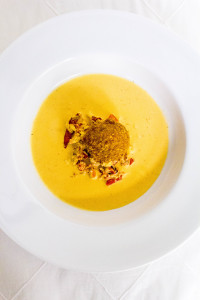 Course Three: Pasta Duo.
One of Donny's favorite meals from our honeymoon in Italy was pasta with pesto. It was so simple, yet amazing. He wanted to do something similar. The spaghetti noodles were simply coated in homemade pesto. Done. He also made homemade gnocchi. I don't know about you, but I LOVE gnocchi. It is like a potato-pasta, which just so happens to be two of my favorite carbs! He made a crab cream sauce using seafood stock, lump crab, and cream. The hand-rolled gnocchi was then tossed in the sauce and extra crab was put on top. Each pasta dish was topped with freshly shredded parmesan. This dish seemed simple, yet it was full of flavor. Exacty what Donny was going for!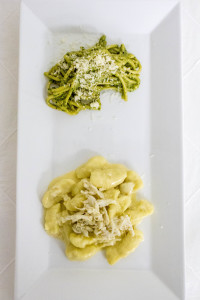 Course Four: Porchetta Rustica.
He changed this dish up several times throughout the development of the menu. The final product was crispy pork belly that was rolled and then sliced into "steaks", if you will. It was served with a roasted red pepper sauce, and grilled eggplant. On top, he put microgreens that had been tossed in a lemon vinaigrette. We had some microgreens on pork belly in Cleveland and we both really like the combination. Donny nailed it on his own too. The pork belly was served with a side of grilled eggplant.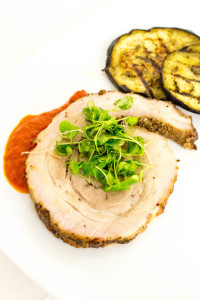 Course Five: Almond Grazia.
The dessert was a combination of almond cake and raspberries. The almond cake had a little orange zest in it, which was great with the berries. Donny made a raspberry sauce and poured it in the bottom of a bowl. A tiny slice of almond cake was placed on top. He mixed mascarpone cheese with some sugar and rum and put that on top of the almond cake. Another tiny slice of cake was placed on top of that, followed by more raspberry sauce, fresh raspberries, and homemade whipped cream. It was delicious. Almond cake and raspberry is awesome, plus mascarpone cheese is to die for!
All in all I think it went really well. We were very prepared and never had any "oh sh*t" moments that I know of. People paid a lot more money to get tickets this year so I hope they felt like they got their money's worth.
We had a blast and enjoy cooking like that every once in a while. I love to see how Donny comes up with dishes and executes them. Let's just say I'm better at coming up with the recipe ideas and flavor-combinations than I am executing! I'm no Donny Edson! Just happy to be married to him 🙂
If you have any questions about the dishes or thoughts about the dinner let me know. I can't help too much but I happen to live with the guy who can answer those!
Tomorrow I've got my Anything & Everything Friday post. I'm talking about Halloween (obviously), low-calorie foods, booties, and I've got some amazing chocolate recipes for you to check out. Yesterday was National Chocolate Day!