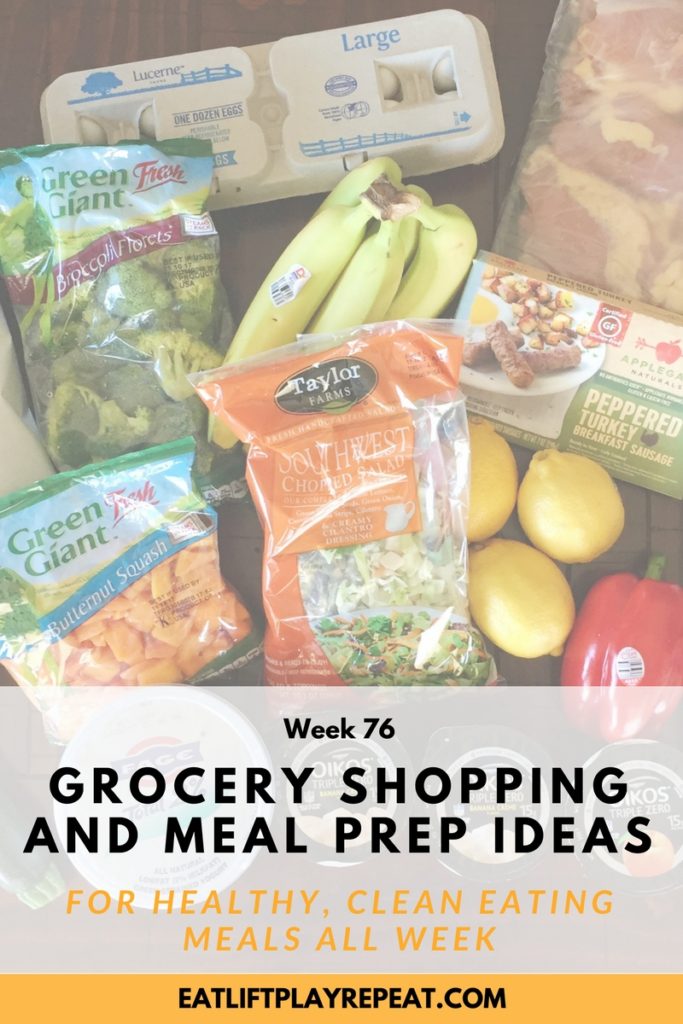 The first week of work post-maternity leave went quite well. I am SO glad that I meal prep because it saves me a ton of time in the evenings. Plus, I'm still up a few pounds so it is nice having healthy food available to grab and go!
Check out this week's meal prep ideas. I stuck with one lunch option because I am trying to take things slow as I get back into meal prep. Personally, I like a variety of lunches but I need to keep things simple right now.
What foods did you make during meal prep this week?
If you have any questions about the groceries I bought or what meal prep ideas I discuss then please ask! Email me at eatliftplayrepeat@gmail.com.
Groceries:
broccoli, pre-cut butternut squash, zucchini, red bell pepper, Taylor Farms Southwest Chopped Salad, bananas and lemons
boneless skinless chicken thighs, eggs, Fage 2% Greek yogurt (plain), a variety of Oikos Triple Zero Greek yogurt cups and Applegate Peppered Turkey Breakfast Sausage links
a variety of canned beans and Quinn Sea Salt Popcorn
Meal Prep Ideas: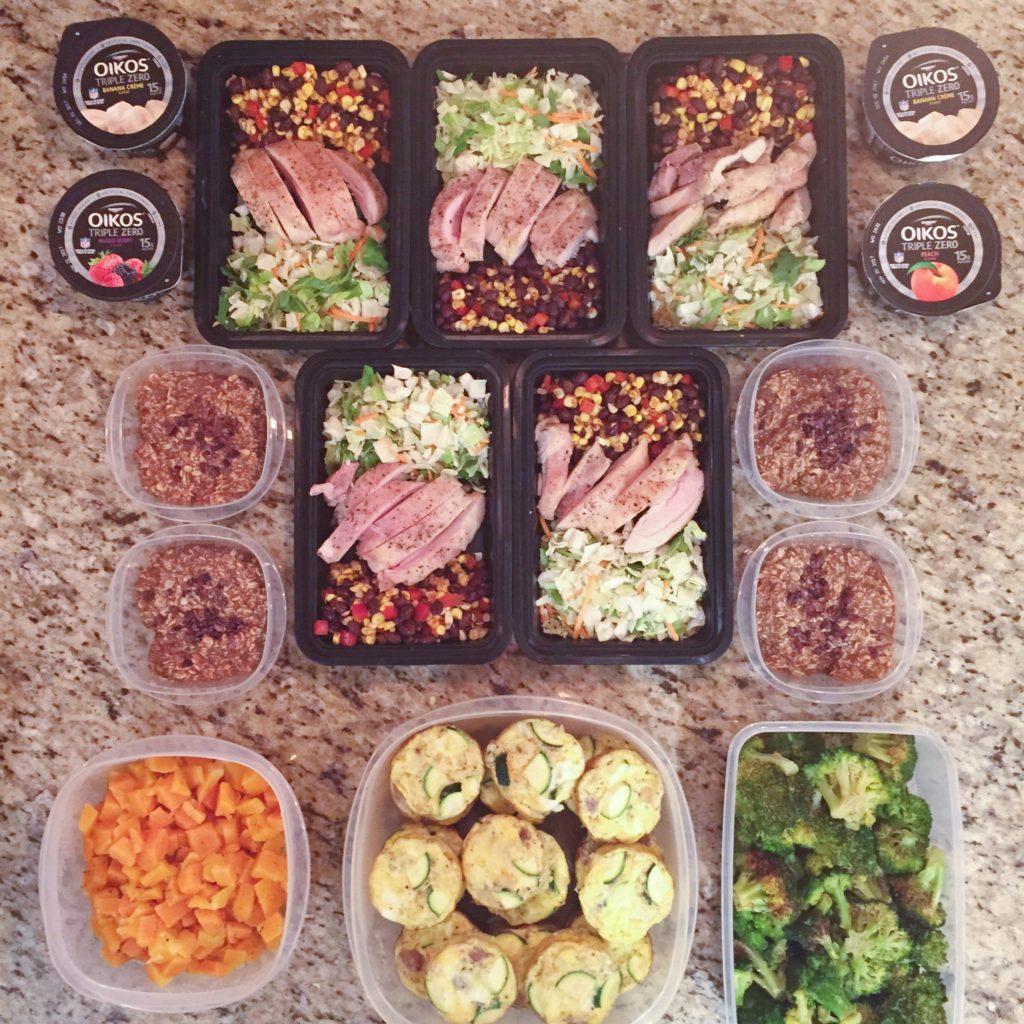 roast broccoli and butternut squash
prepare overnight oats
make mini frittatas
cook chicken thighs
make burrito bowls
measure out popped popcorn
slice lemons
I split up some of the meal prep tasks into two days.
First, I cooked the broccoli and butternut squash on Saturday night and I also prepared the overnight oats. Everything else was done Sunday afternoon.
Before roasting the veggies, I covered the tray with aluminum foil and sprayed it with non-stick cooking spray. Then I poured the broccoli onto the tray, drizzled it with olive oil and sprinkled it with salt and pepper. Next I put it in the oven at 350° and cooked it for 20 minutes.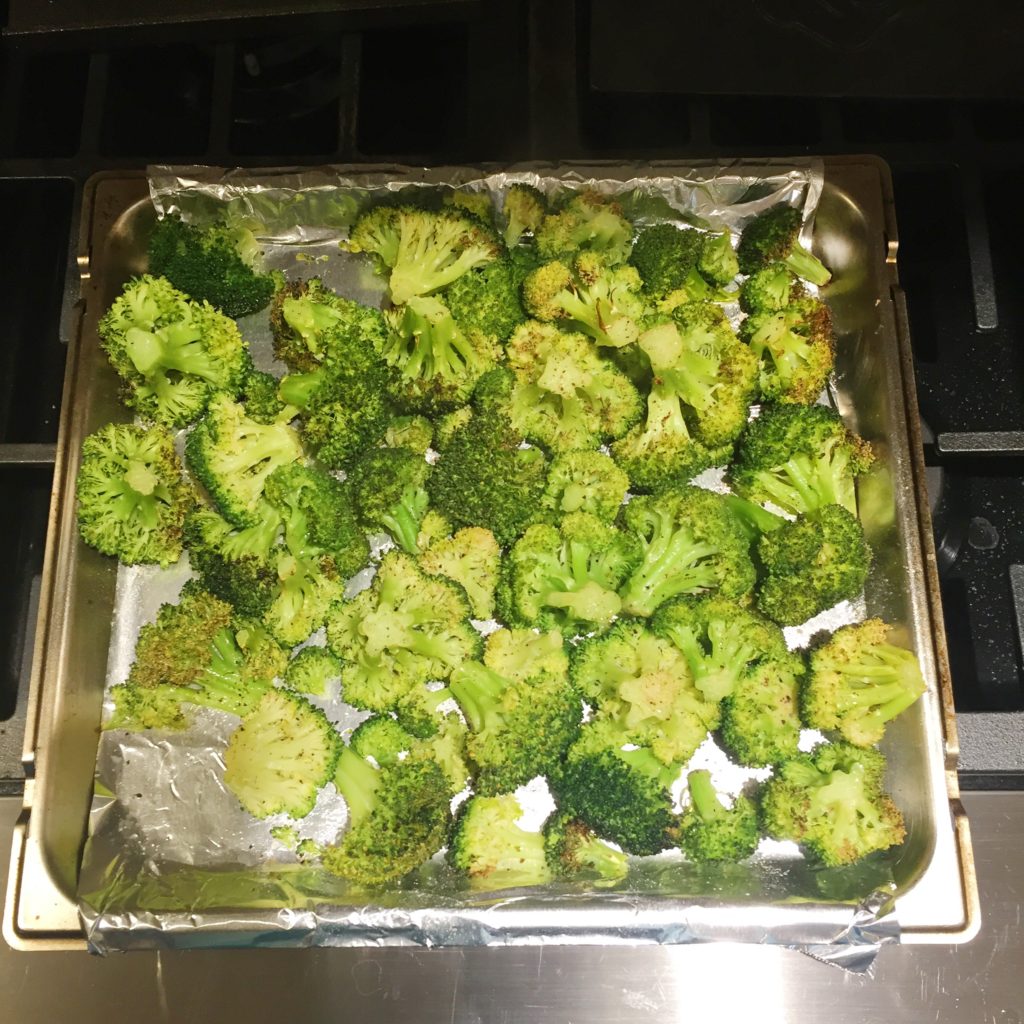 I removed the broccoli from the tray and poured the butternut squash onto it. Just like the broccoli, I drizzled the squash with oil and sprinkled with salt and pepper, then cooked at 350° for 20 minutes.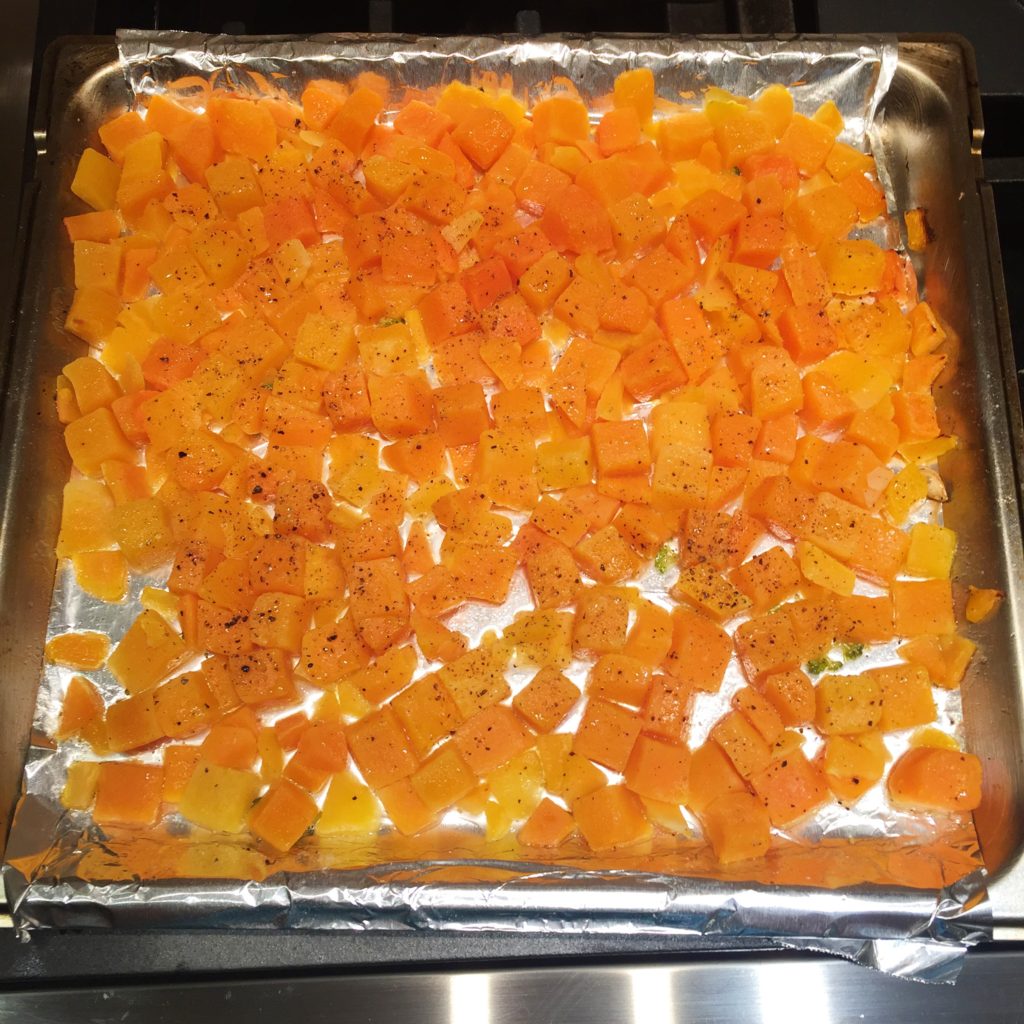 Up next on the list was to make overnight oats. I had some leftover coffee sitting in our French press that we never finished, so I decided to make mocha overnight oats!
For this particular flavor, I mixed together 1 & 2/3 cup brewed coffee, 1 & 2/3 scoops chocolate protein, 5oz plain Greek yogurt, 1 & 2/3 cup rolled oats, 2 & 1/2 Tablespoons chia seed and a pinch of salt in a large mixing bowl. I let that sit overnight in the refrigerator, then divided it among five containers the following day. Next, I sprinkled each servings with a few cacao nibs.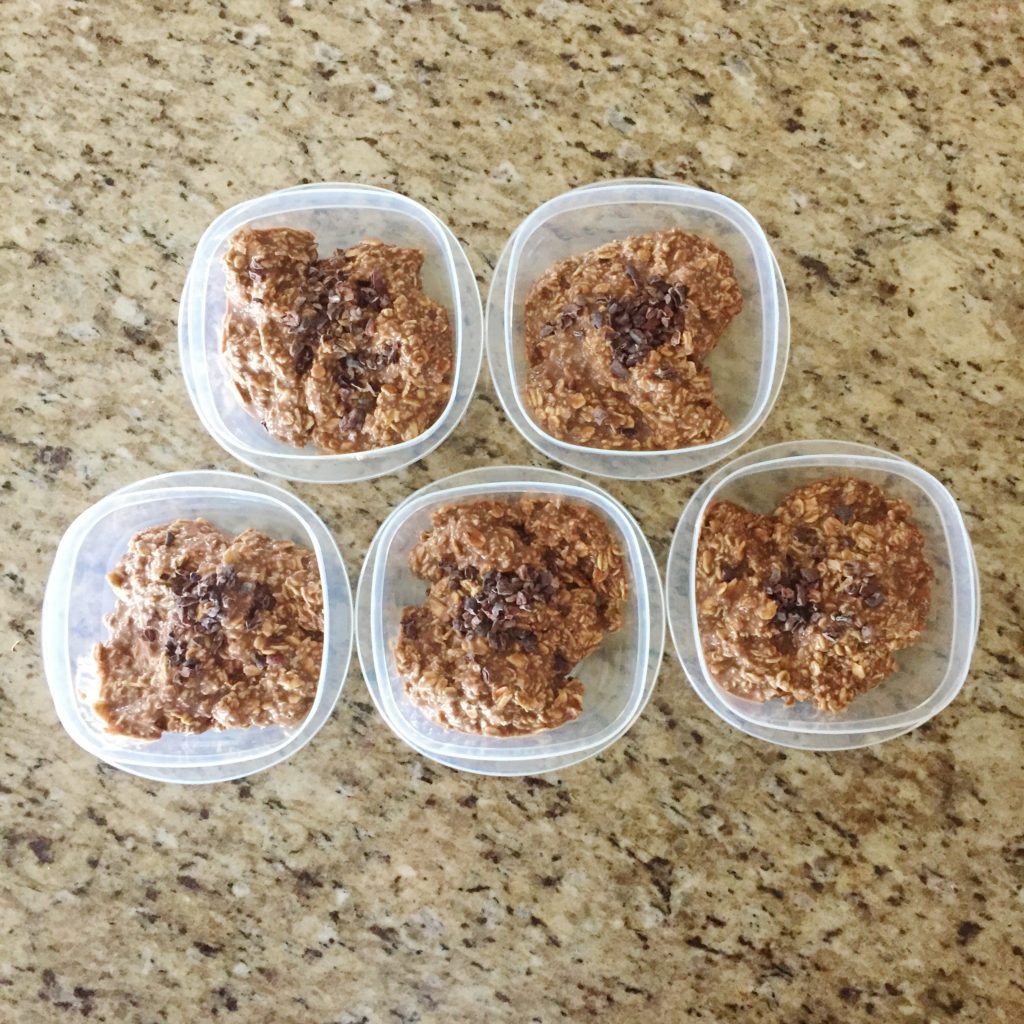 Super simple and it will make a great mid-morning snack!
On Sunday I cooked the chicken thighs in the oven at 350°. First I trimmed the fat off the chicken (the picture below does not show the fat removed), then placed it on a foil-lined baking sheet and sprinkled both sides with salt and pepper. I let that cook in the oven for 20 minutes (cook until the internal temperature of the chicken is 165°). Once it was done I let the meat rest for a few minutes, then sliced it and put 4 ounces into 5 different meal prep containers.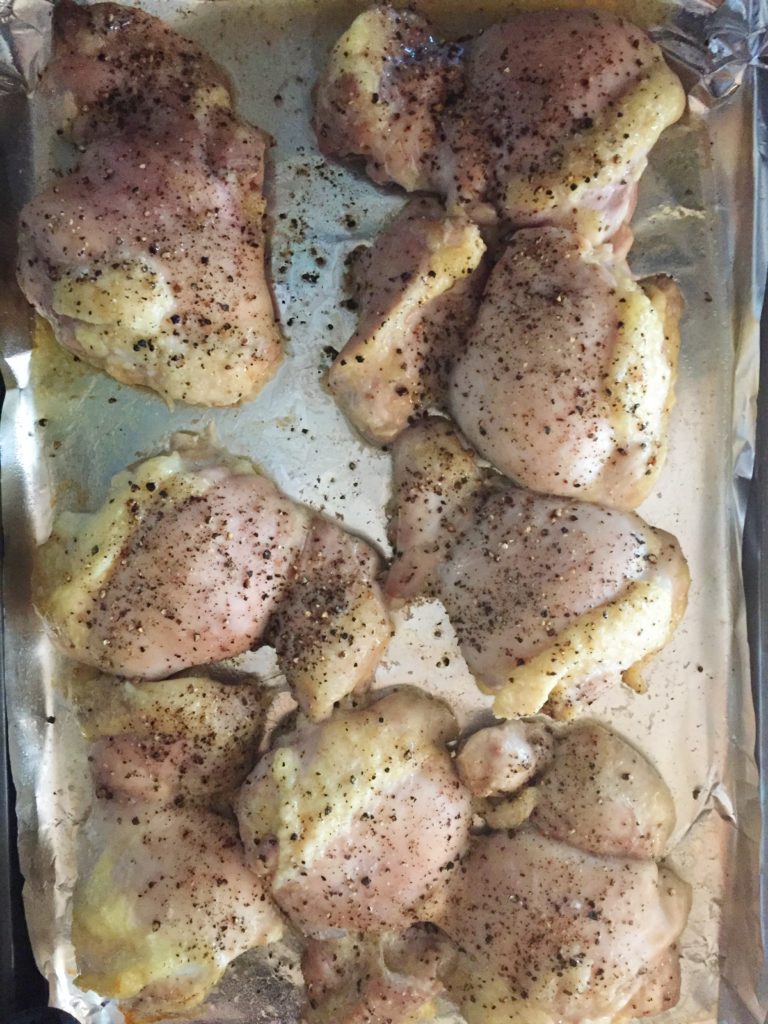 Preparing the burrito bowls was next. I bought a Taylor Farms Southwest Chopped Salad mix at the grocery store, but I didn't want to use the dressing. Honestly, I skipped using the dressing AND the toppings and just used the greens! I divided that bag among the five meal prep containers and stored the dressing and extra toppings in the refrigerator.
It is more expensive to buy these mixes, especially if you don't use the dressing. However, it saves me so much time compared to buying each individual ingredient and chopping it up.
Next, I mixed together one can of black beans (drained and rinsed) with 1/2 red bell pepper (diced), 1 cup-ish of sweet corn, 2 teaspoons of Mrs. Dash Salt-Free Fiesta Lime seasoning blend and some salt. Then I divided that mixture among the five containers so that I had some chicken burrito bowls each day for lunch.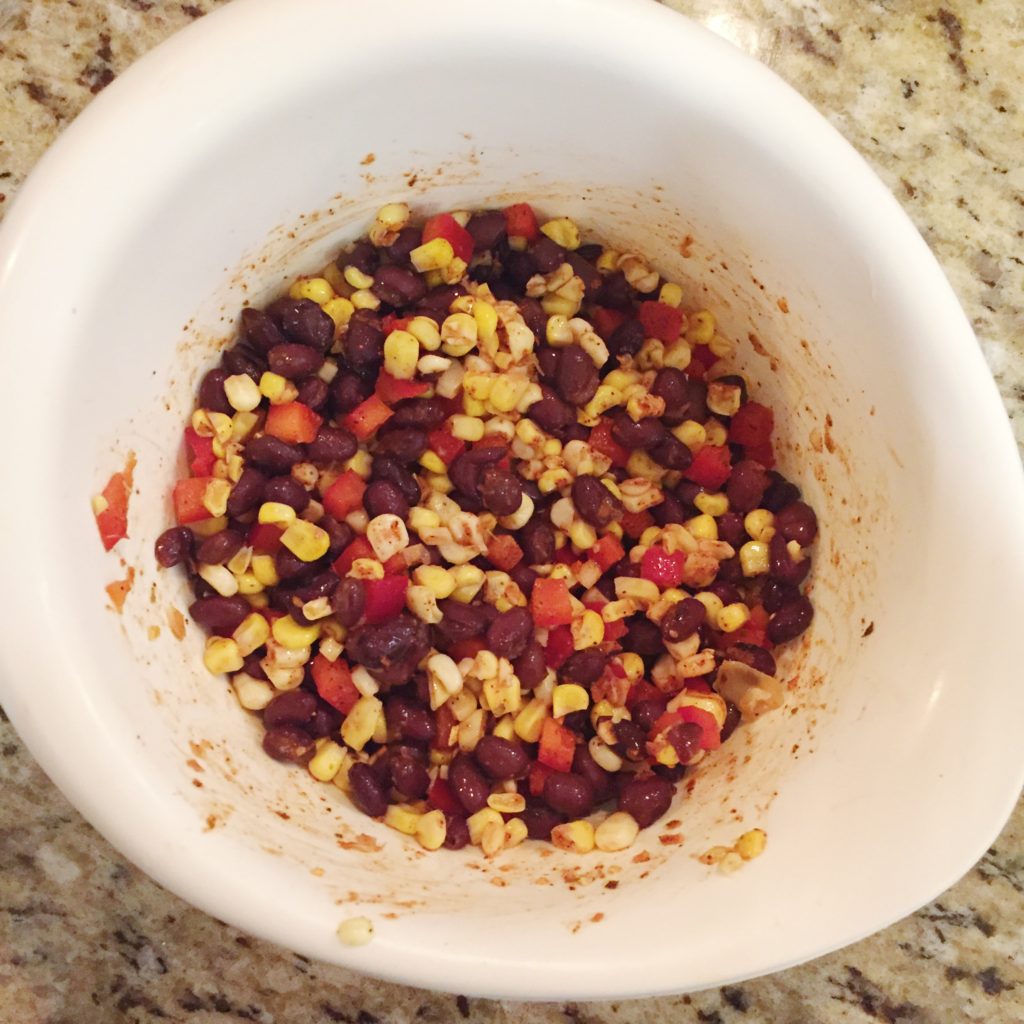 The last thing I made was some sausage & zucchini mini frittatas. I made these a couple weeks ago, but tweeked the recipe slightly. First, I whisked together 9 eggs + 9 egg whites with some salt and pepper. I diced up 10 Applegate Peppered Turkey Breakfast Sausage links and 1 small zucchini and distributed those evenly among 18 muffin tin cups that had been sprayed with non-stick cooking spray. Next, I poured the egg mixture into each of those cups until they were roughly 3/4 full and baked them for 20 minutes at 350°.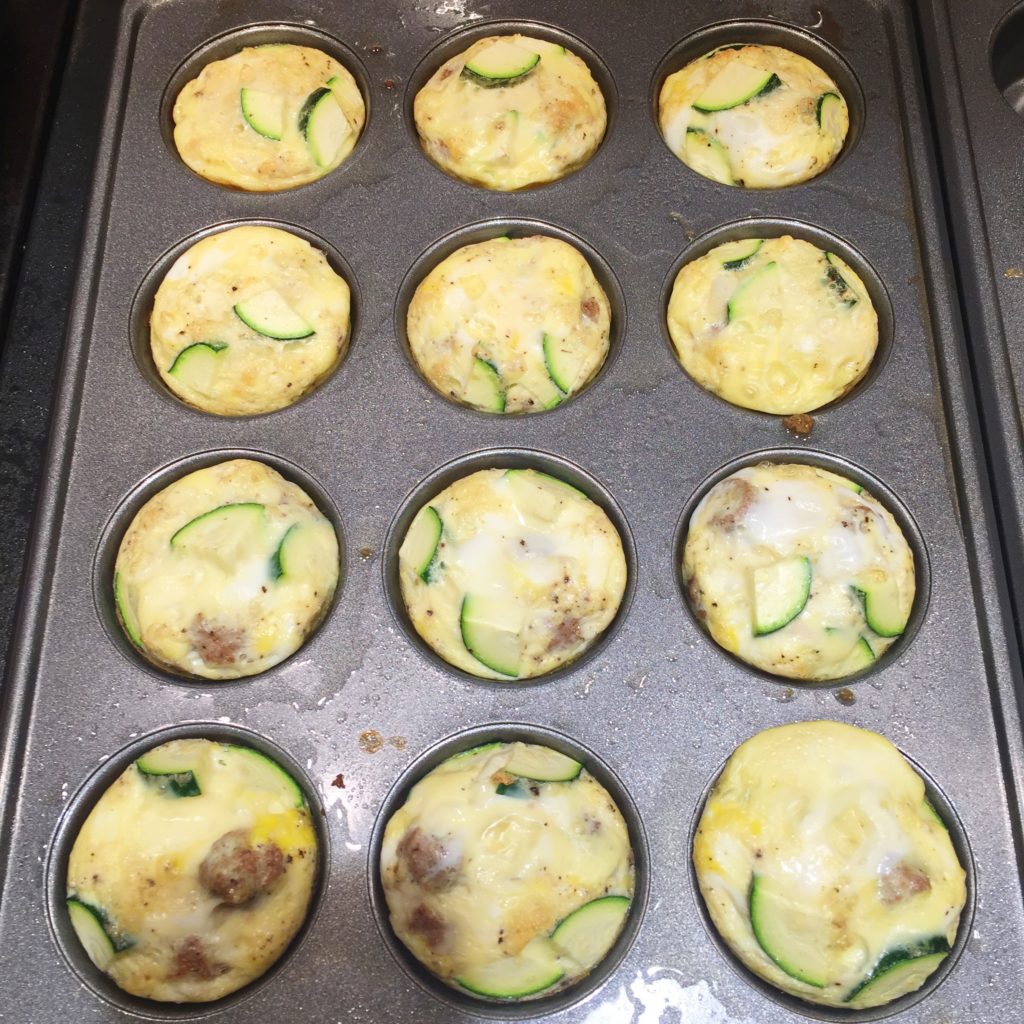 All my cooking was done at this point. I was planning to take yogurt for an afternoon snack and wanted a little something to go with it. Instead of granola this week, I decided to bring popcorn.
Don't worry, I don't eat them together. I will eat the yogurt, then the popcorn. To make it easy in the morning, I measured out 2 oz popcorn into plastic baggies.
I also like to put lemon in my water bottle, so I sliced two lemons.
Well that wraps up my meal prep ideas for this week! If you have questions about these meal prep ideas or about the groceries I bought then feel free to ask! Email me at eatliftplayrepeat@gmail.com.